0074: The Puma Hunters of Patagonia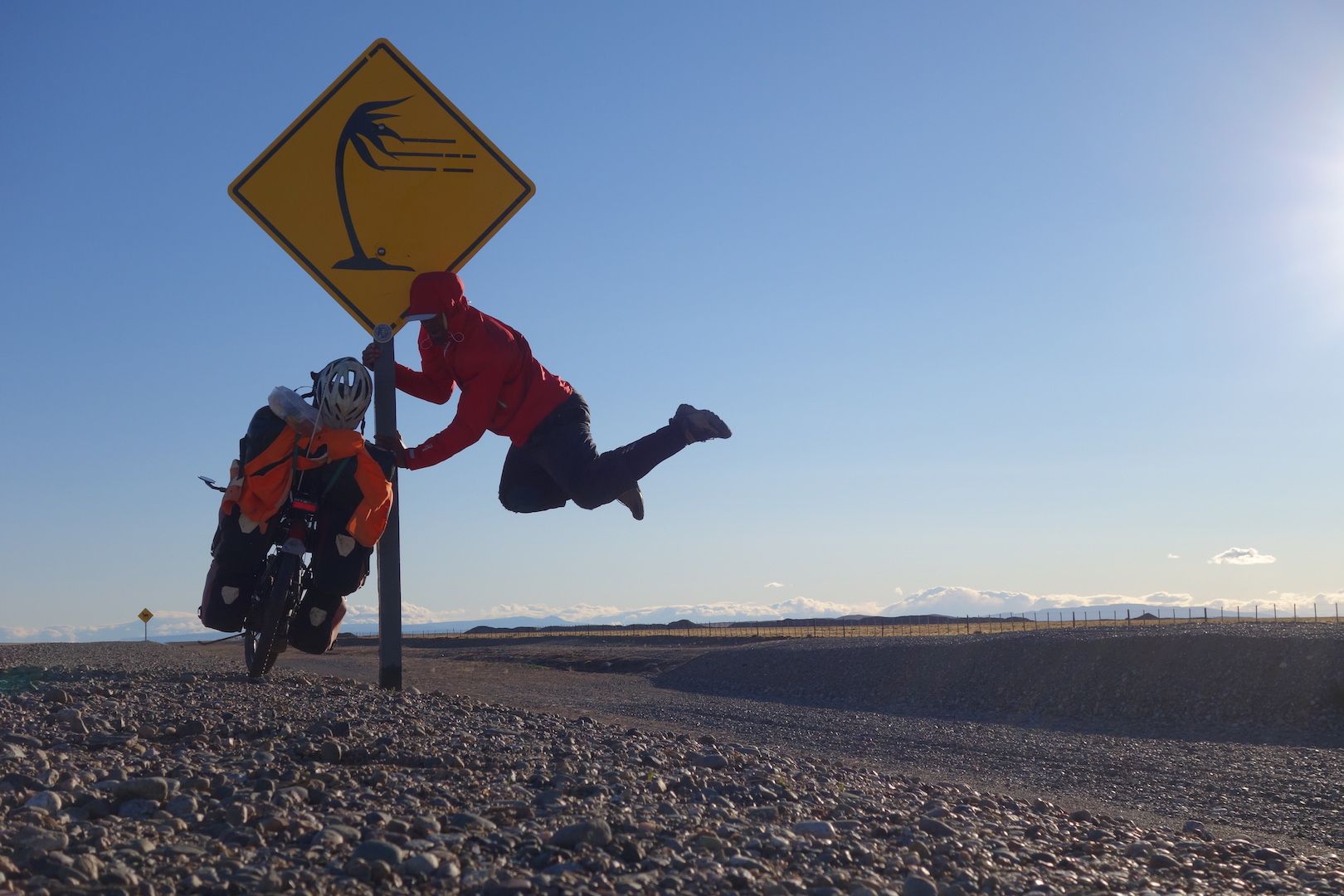 I turned on my mobile, as I have an Argentina SIM card.
And sent a message to my host somewhere in this darkening little border town.
But they never replied to my messages.
Tired and annoyed, I asked in the tourist office, which oddly was open till 1 am, about a camp ground.
They gave me directions, but the gate appeared locked. It was only 10 p.m. And dark now.
I waited for a security guard and called a few times, but nobody arrived.
Back to the office and I asked for the cheapest hostel.
It wasn't cheap. By any stretch of the imagination.
"We don't accept cards here, sorry"
(Here we go again I thought!)
I had just enough cash left from before, so handed them to the Hotelier.
After unpacking my bags and before a shower, I went out to get some cash and food.
Of course the machine would not accept my card. Telling me I had already "withdrawn my maximum allowance" for the day.
I wandered back to the hotel and asked the Hotelier if there was another machine.
No, he told me then gave me back some money to buy food.
I walked back the couple of blocks into the dark town to find a cheap burger bar and bought several Empanadas.
Better than nothing.
The following morning, I had no choice but to accept a lift from the hotelier to ride to Perito Moreno.
The bank here in Los Antiguos would not allow me to withdraw money and I owed the guy half my room.
Which was still more than it was worth!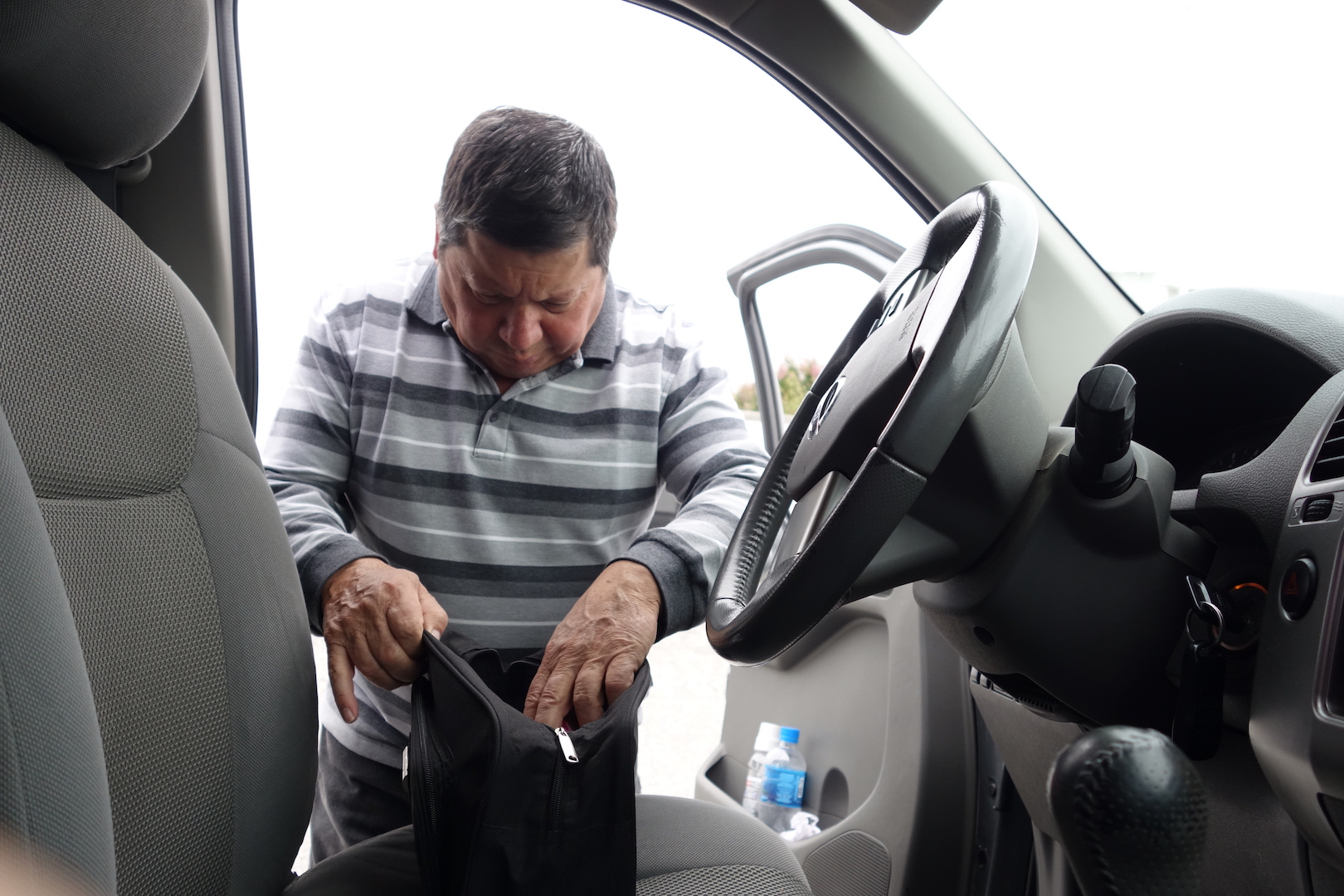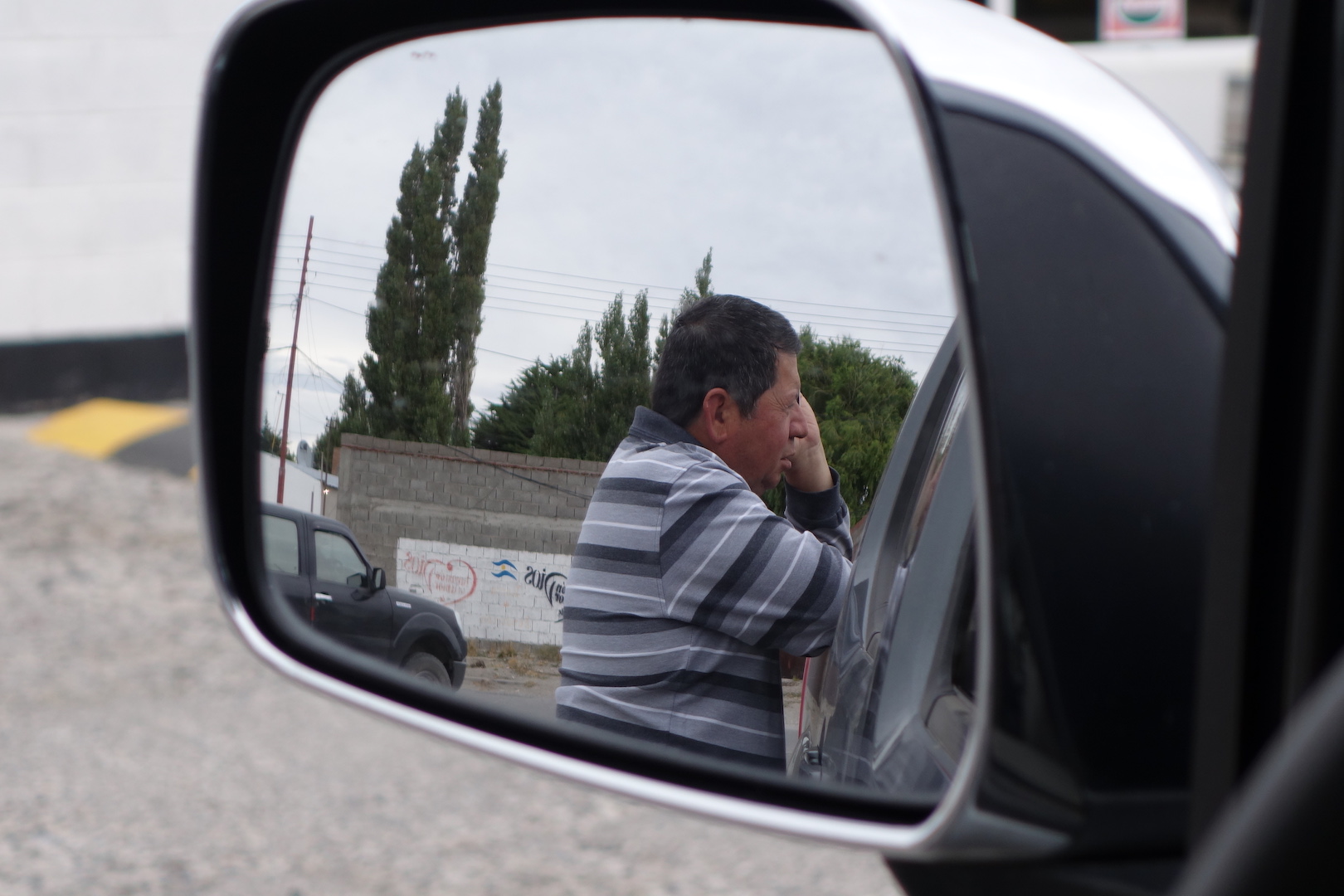 Annoyingly, even though he knew I was going there, he didn't allow me to take my bike.
We made the 70 kilometre journey very quickly in a huge and empty pickup truck. Collected my money and he did his chores.
Then we returned the same way.
Fast. And in a huge empty pickup truck.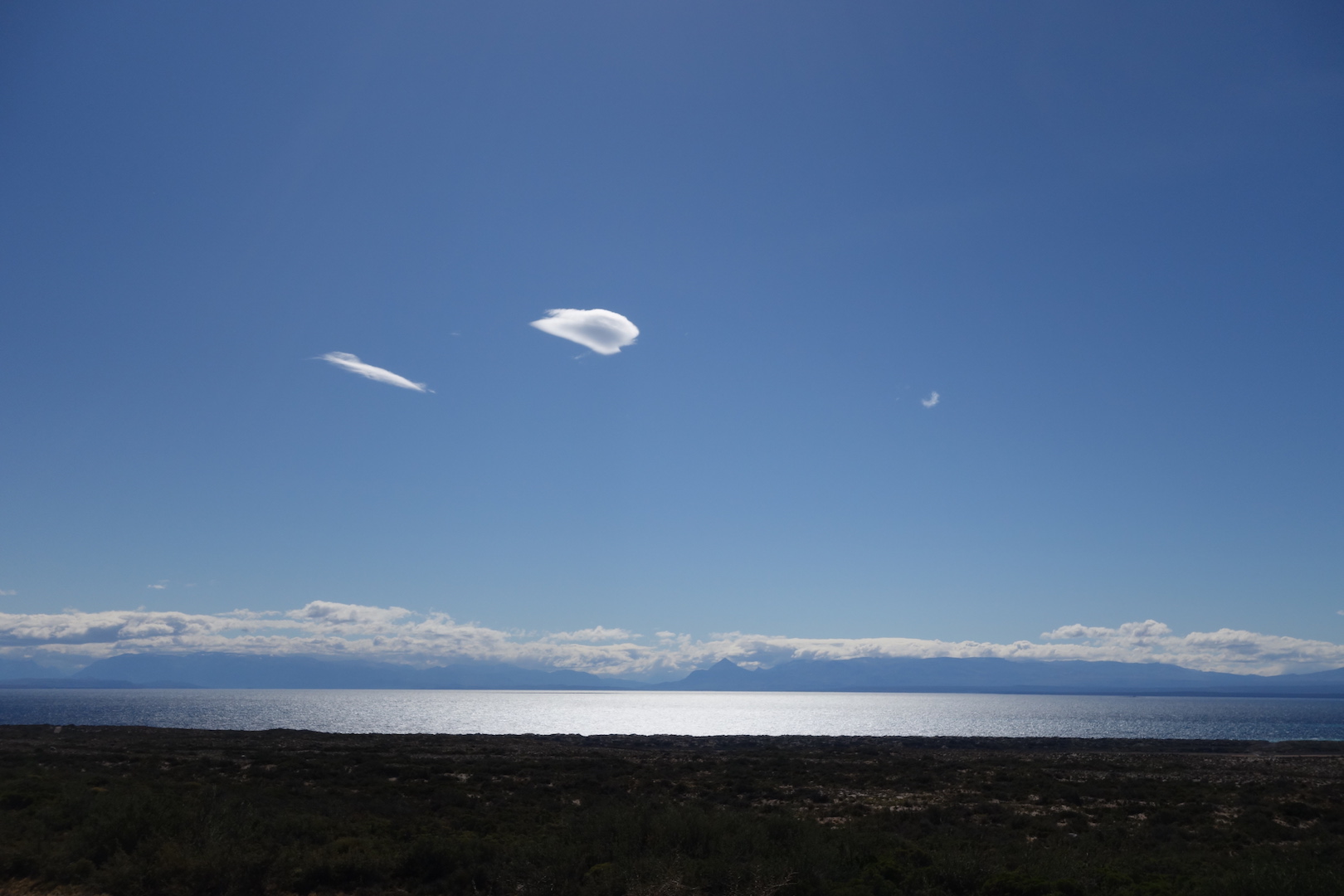 On the weay back, I was annoyed but at least I knew now the road was not too challenging and that I had a tailwind all the way there.
And as I pedalled out of town, I came across this little chap who entertained me for a few minutes.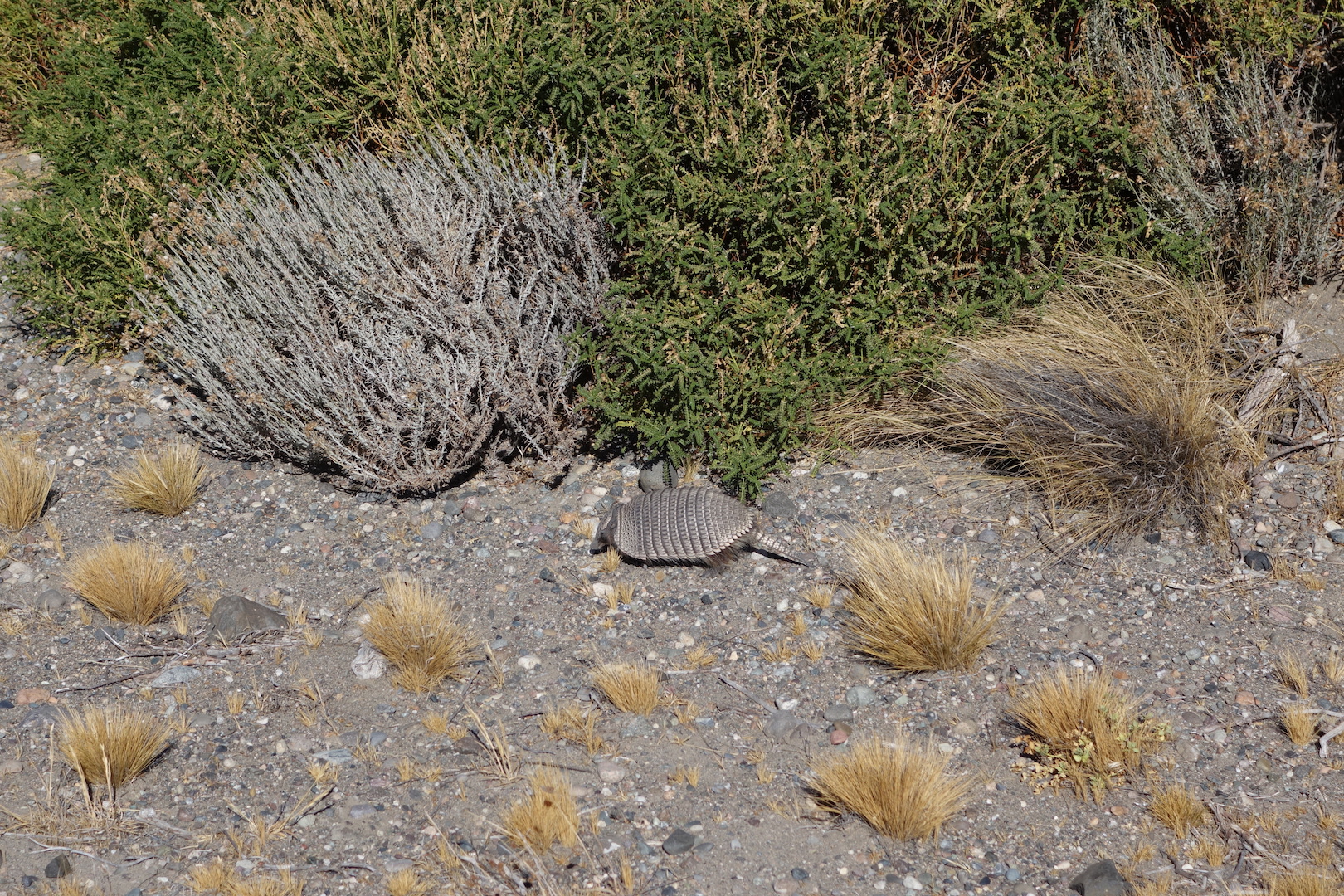 I arrived in the late afternoon in Perito Moreno and the directions I was given put me diagonally opposite the cash machine I had withdrawn money from just a few hours before.
Facundo is a young Veterinarian in the town and he had previously travelled through Europe. Couchsurfing along the way.
He left me in his home and I did a few more chores then went to the supermarket.
Looking at the map, I knew the road ahead would be very isolated.
I am deep in the Pampas now.
We had a good conversation in the evening and though he was a self confessed "lazy cook" actually prepared a very nice meal.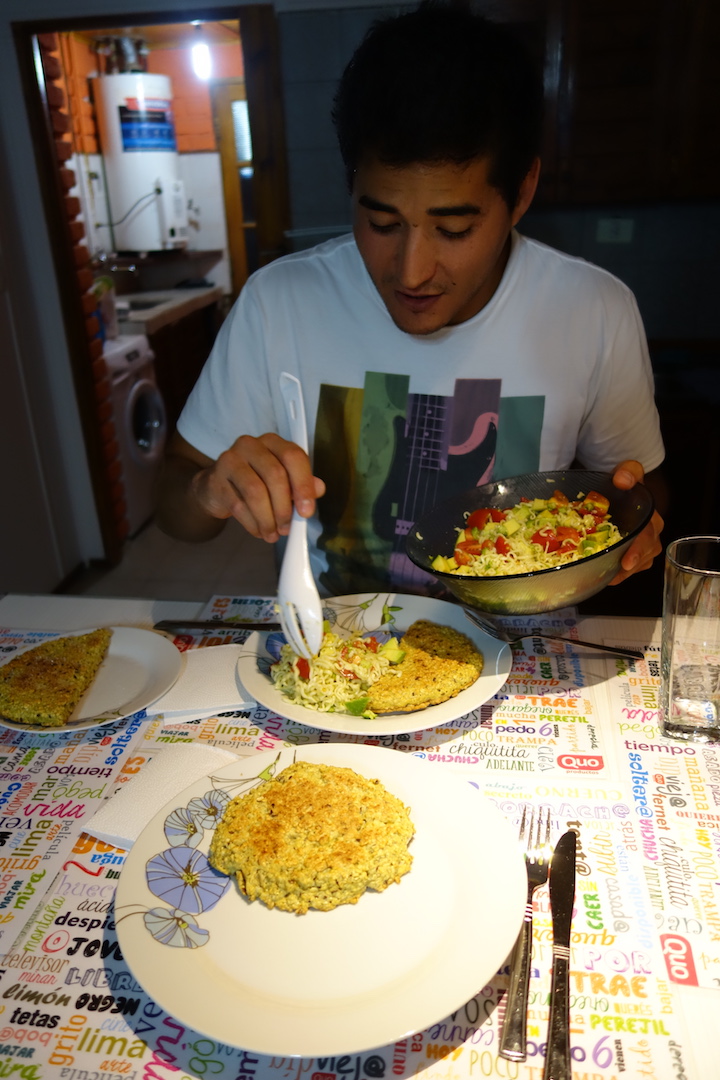 Leaving the next morning, I passed the cash machine again to withdraw a bit of extra money for the next couple of days, but the machine was out of service. Great!
The landscape became very isolated very quickly.
It was immediately evident from the dry plants and dead riverbeds that finding water was going to be an issue.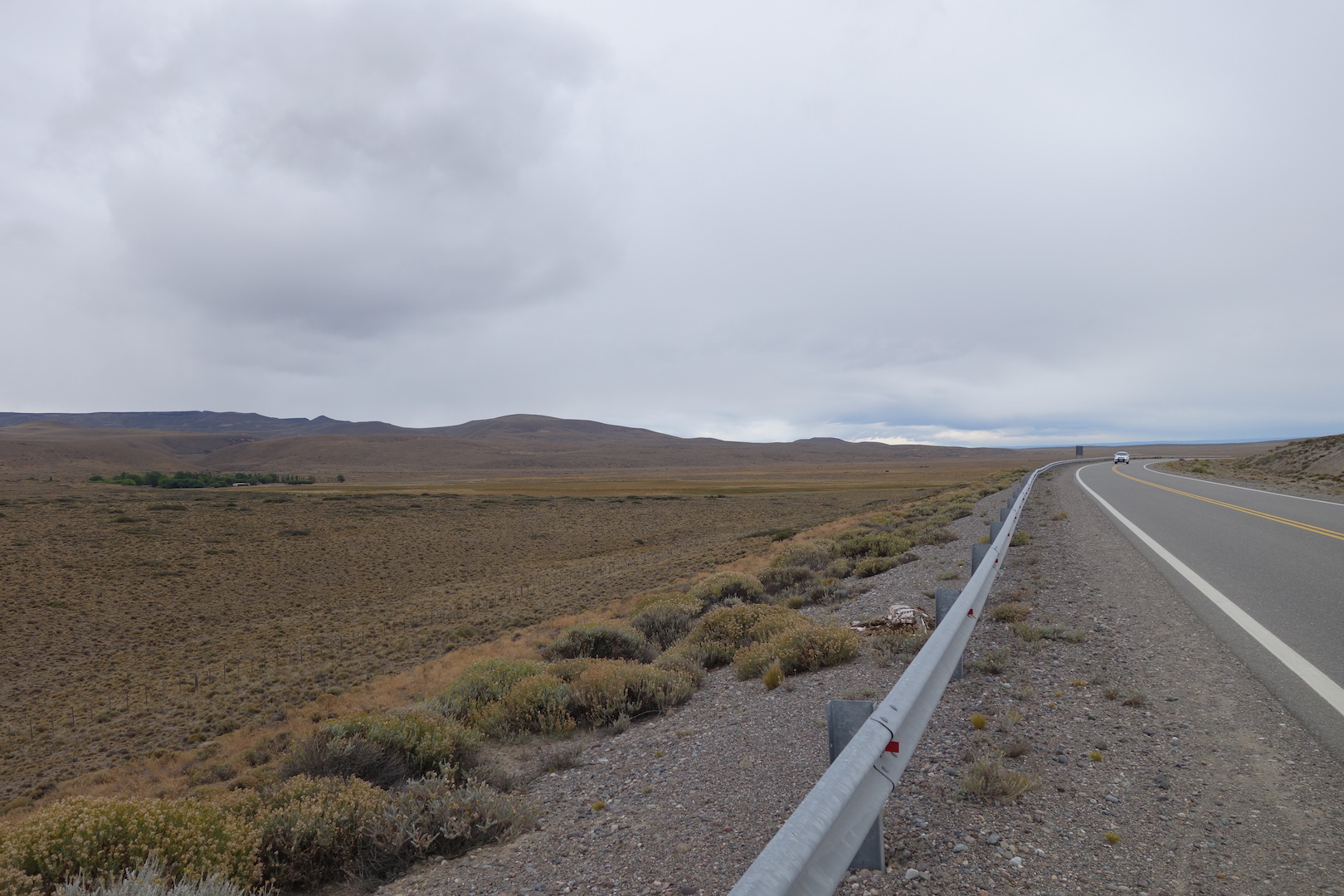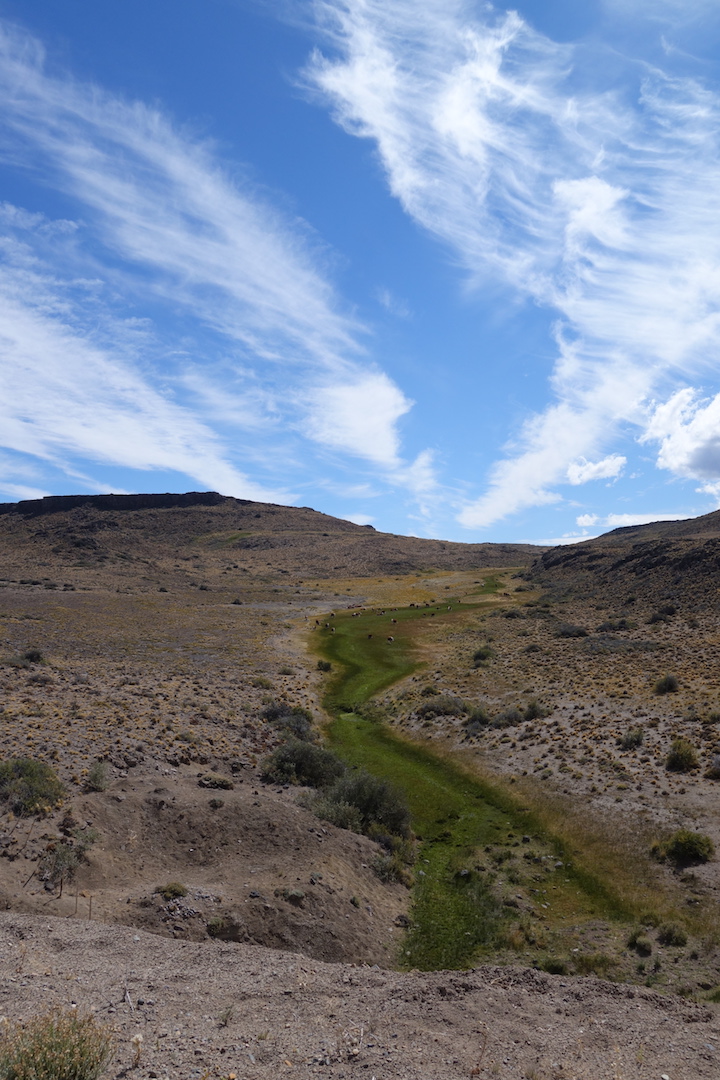 A few patches of green were fenced off and herds of cows or sheep were exclusively feeding on the verdant pastures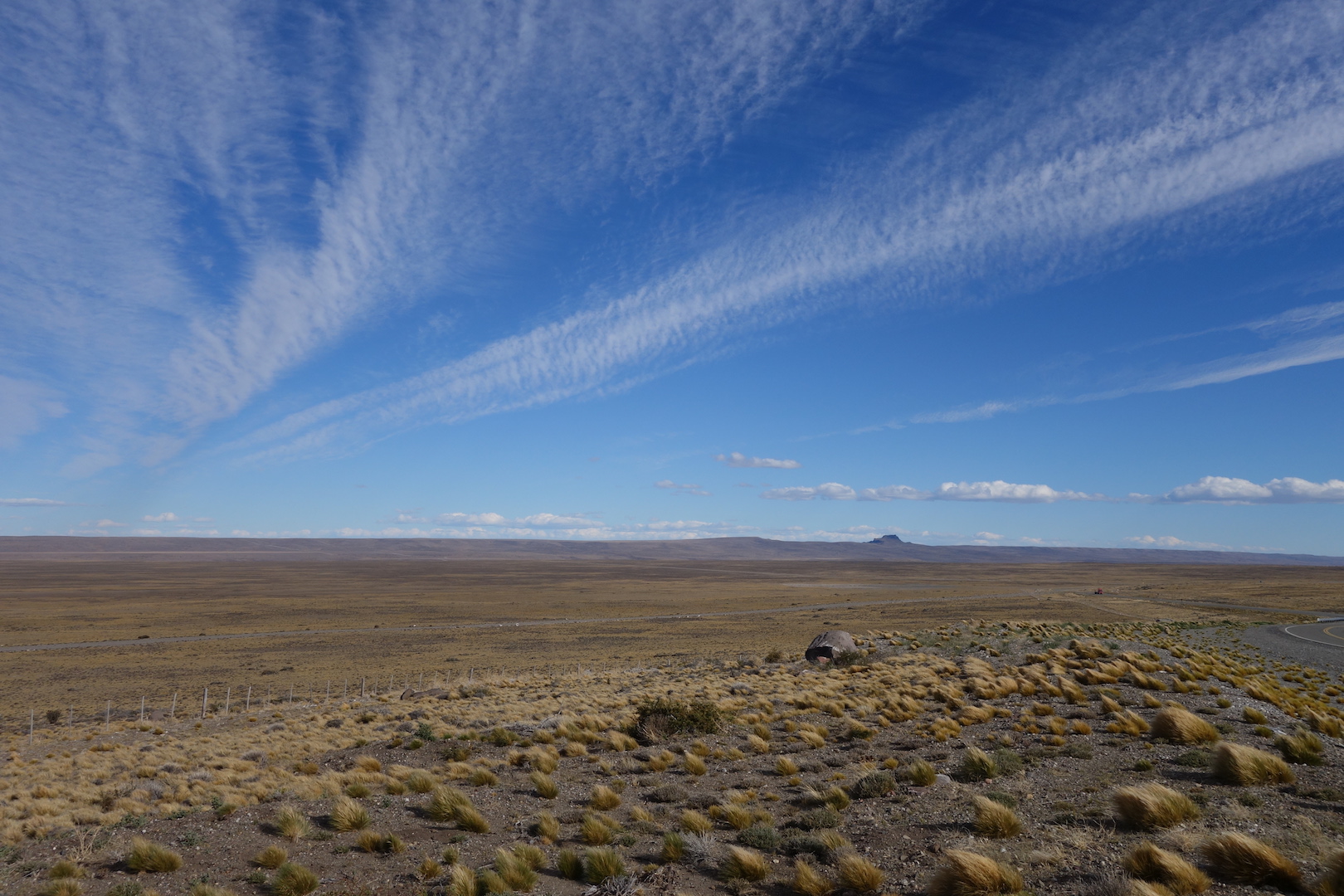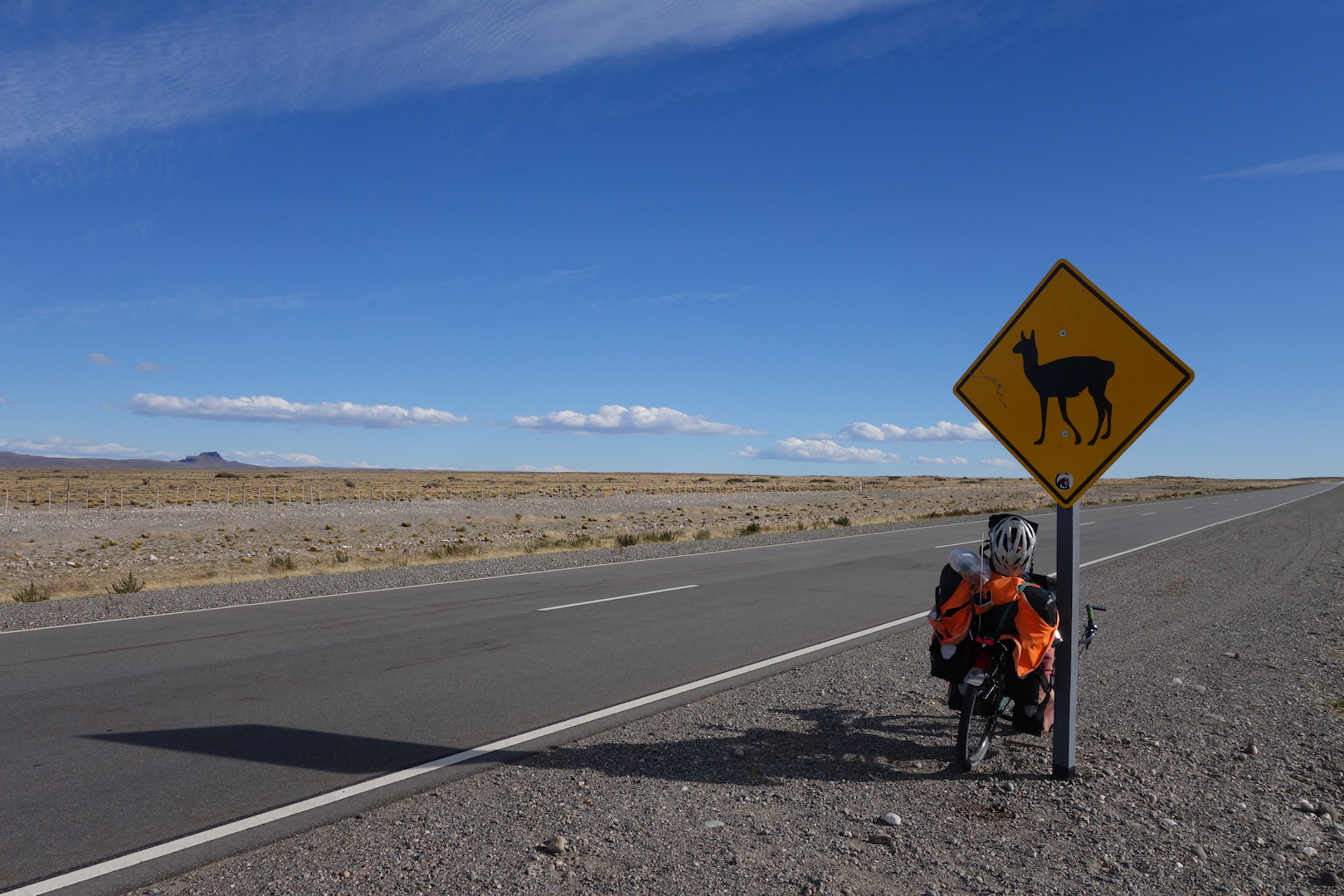 But occasional abandoned farms, a gold mine and hundreds of Guanacos showed there was still life in this barren region.
The strong tailwind meant I was making good distances but with nothing but dry cold Pampas in between. And a lot of Guanacos. More than I have seen in other areas.
A highlight to the day was crossing a very significant milestone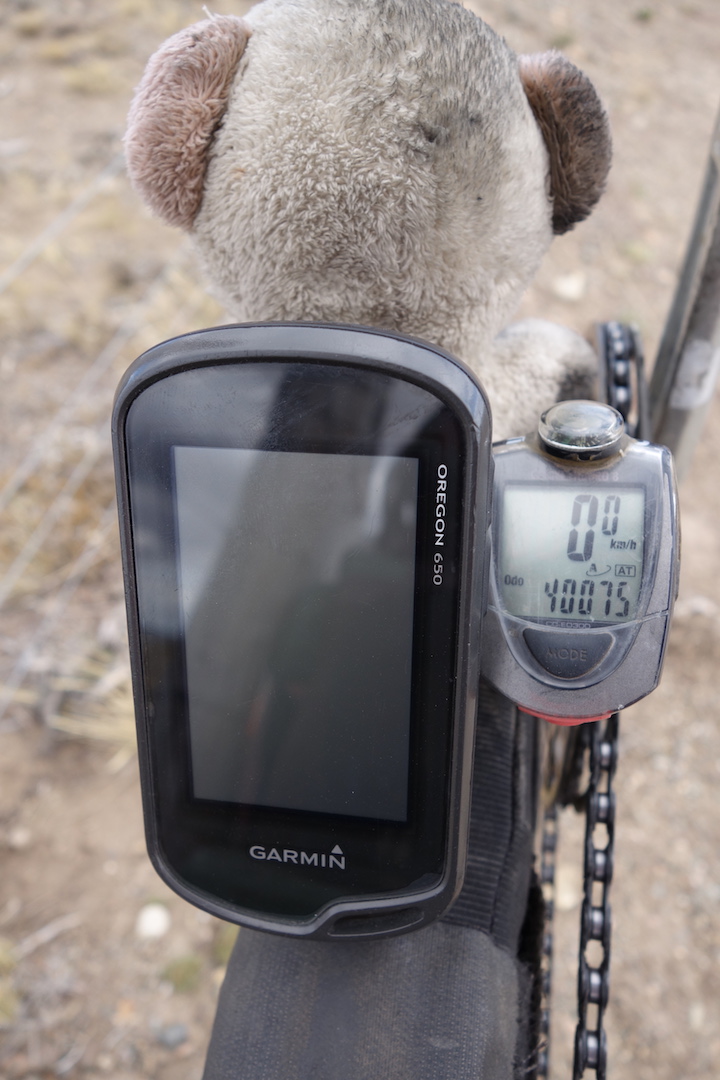 Tamal Aike was literally just a junction on the road. The main road turned east and another dirt road disappeared over some mountains to the west. Along this section of road, I noticed a lot of dead Guanacos.
Both skeletons, fresh corpses and skins drying on the fences in the desiccating winds.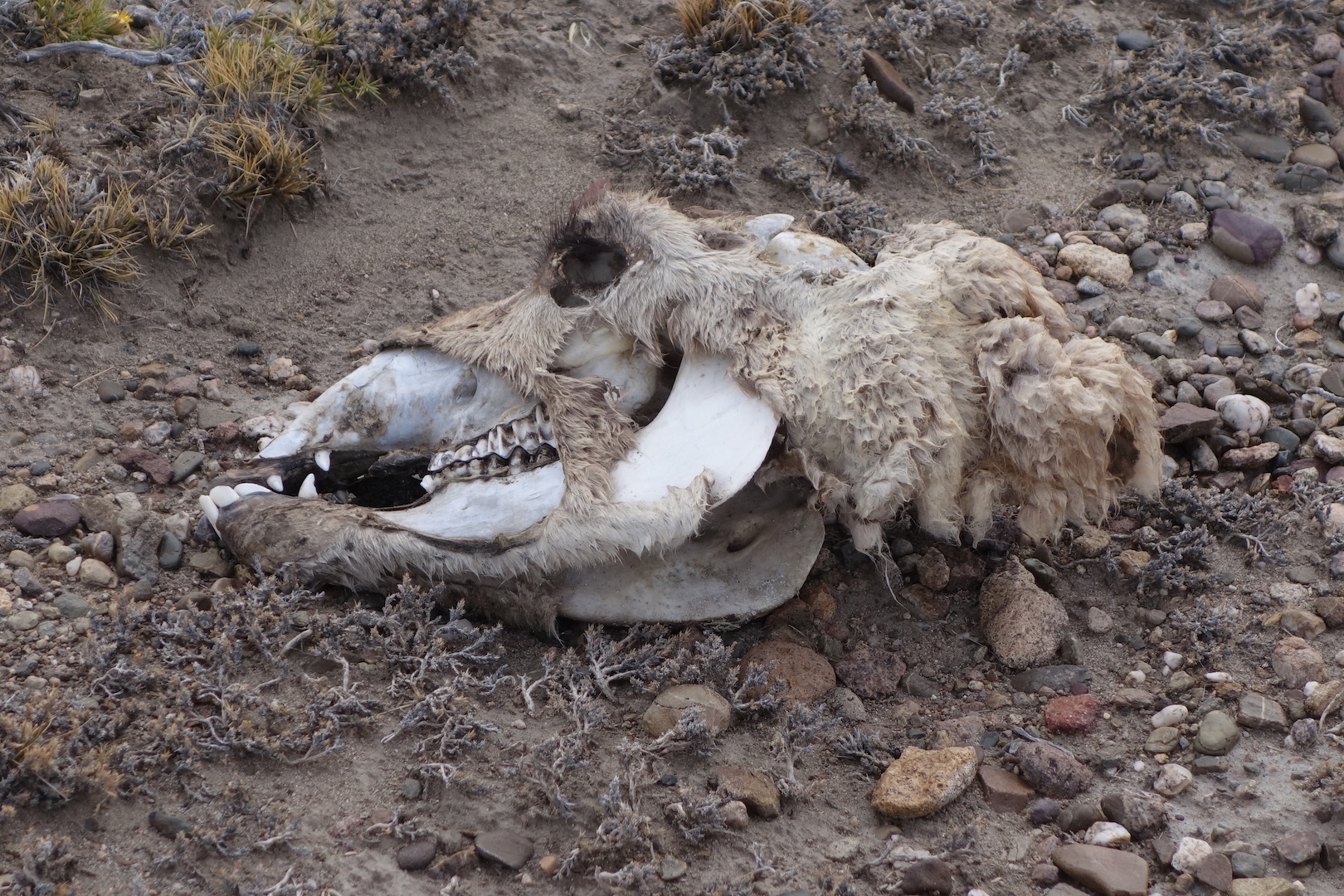 I continued and approximately 20 kilometres further on, I found a road maintenance station who let me camp in their yard.
---
A violent night as the powerful winds rushed down the valley.
The night guard offered to help me move my gear into one of the warehouses but I was happy in my little tent and confident it would not be damaged. I slept very well despite the raging storm outside.
The next morning, I had a little respite for about 2 hours and it was pleasant to see and hear Patagonia without the static noise from the wind continually in my ears.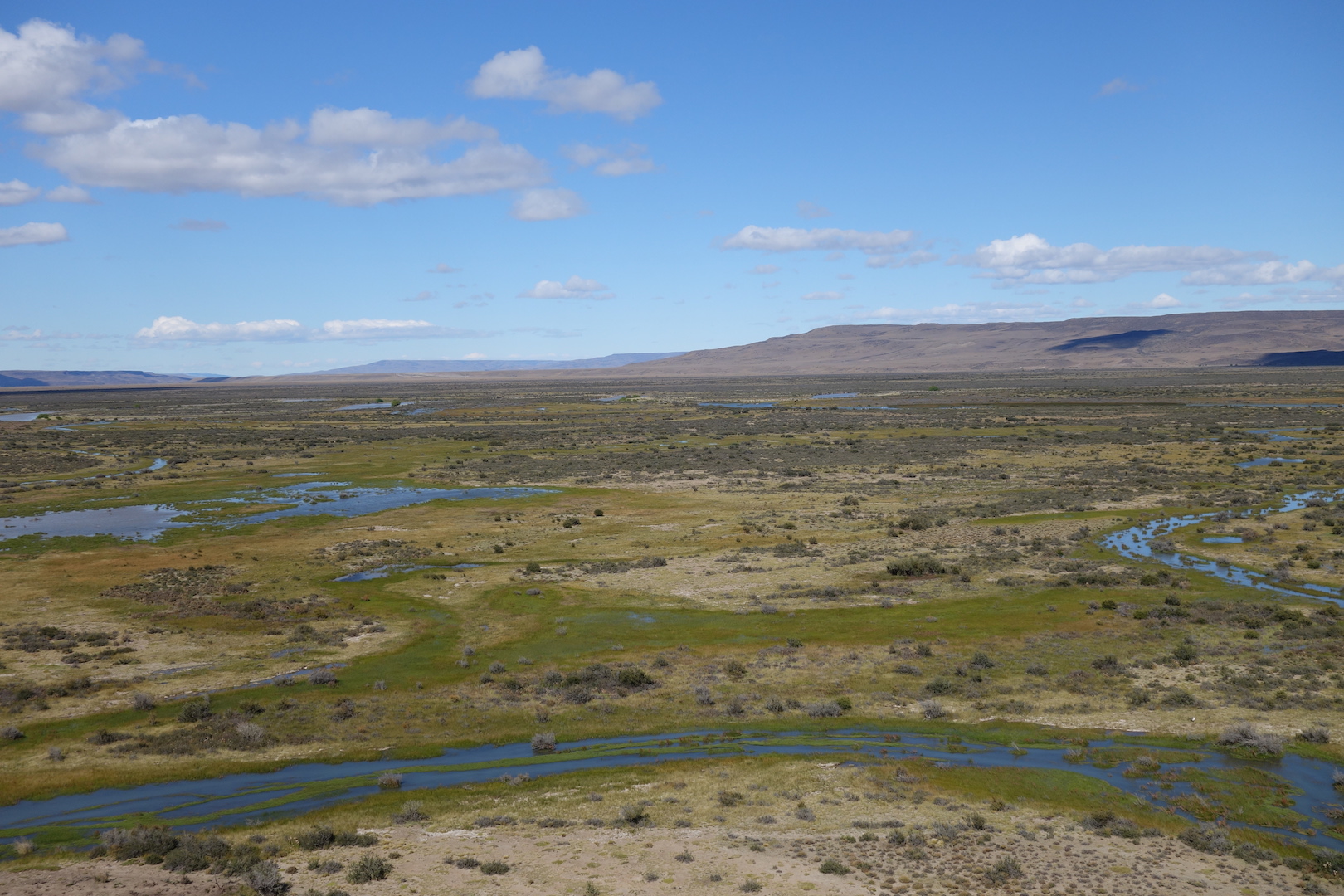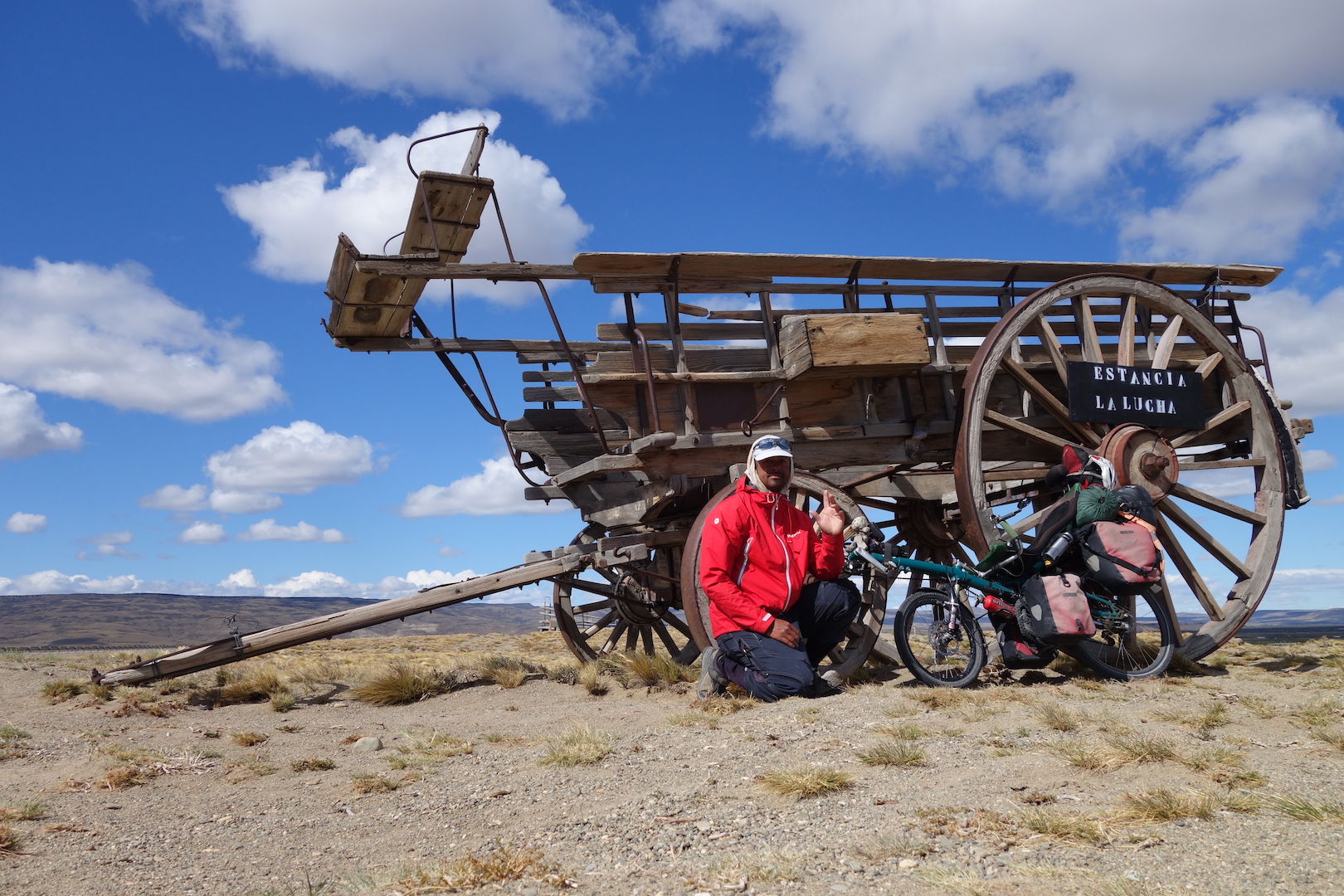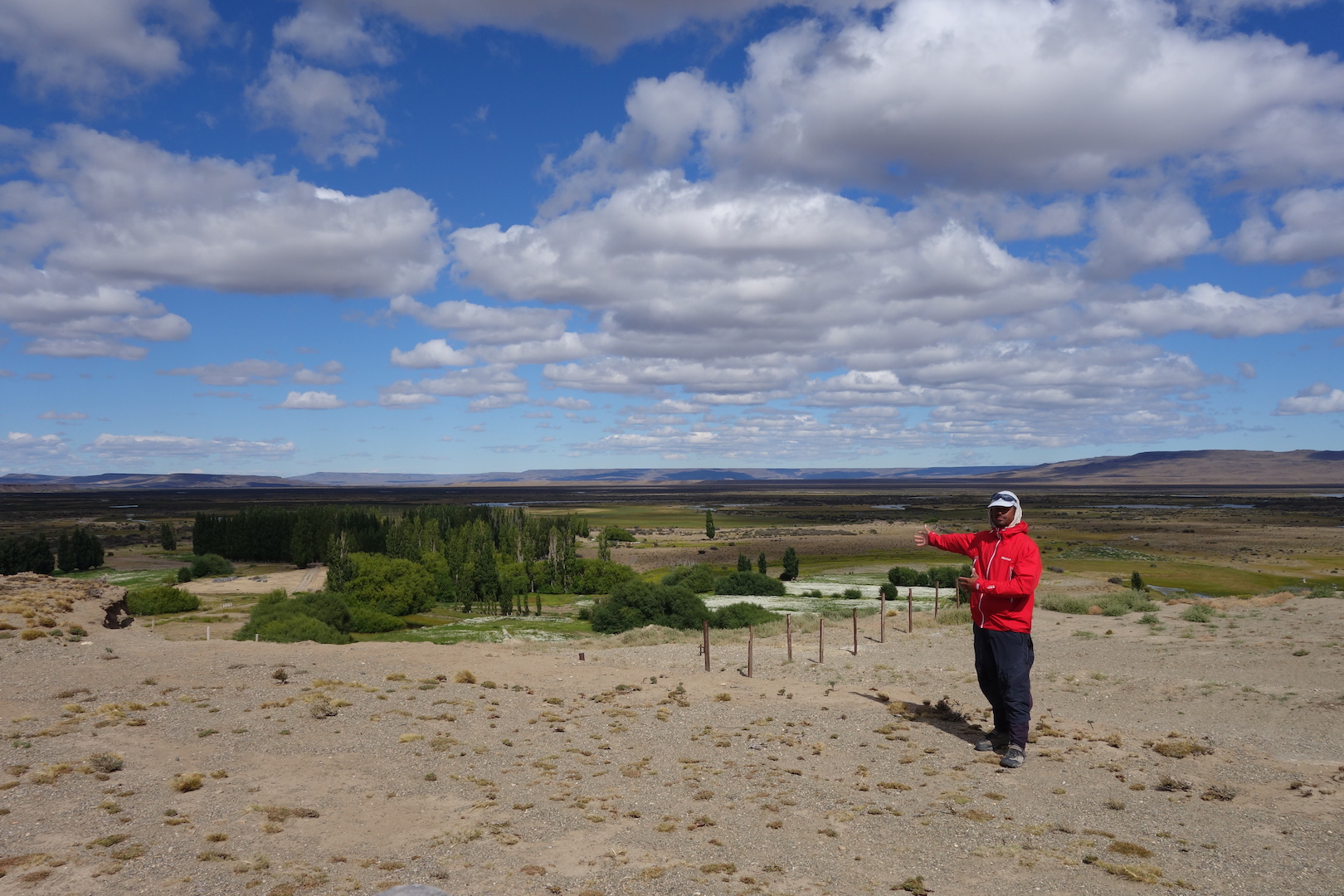 But it wasn't to last long. And in the afternoon it pushed me ever faster, the final 30 kilometres to the free municipal campsite at Gobernador Gregores.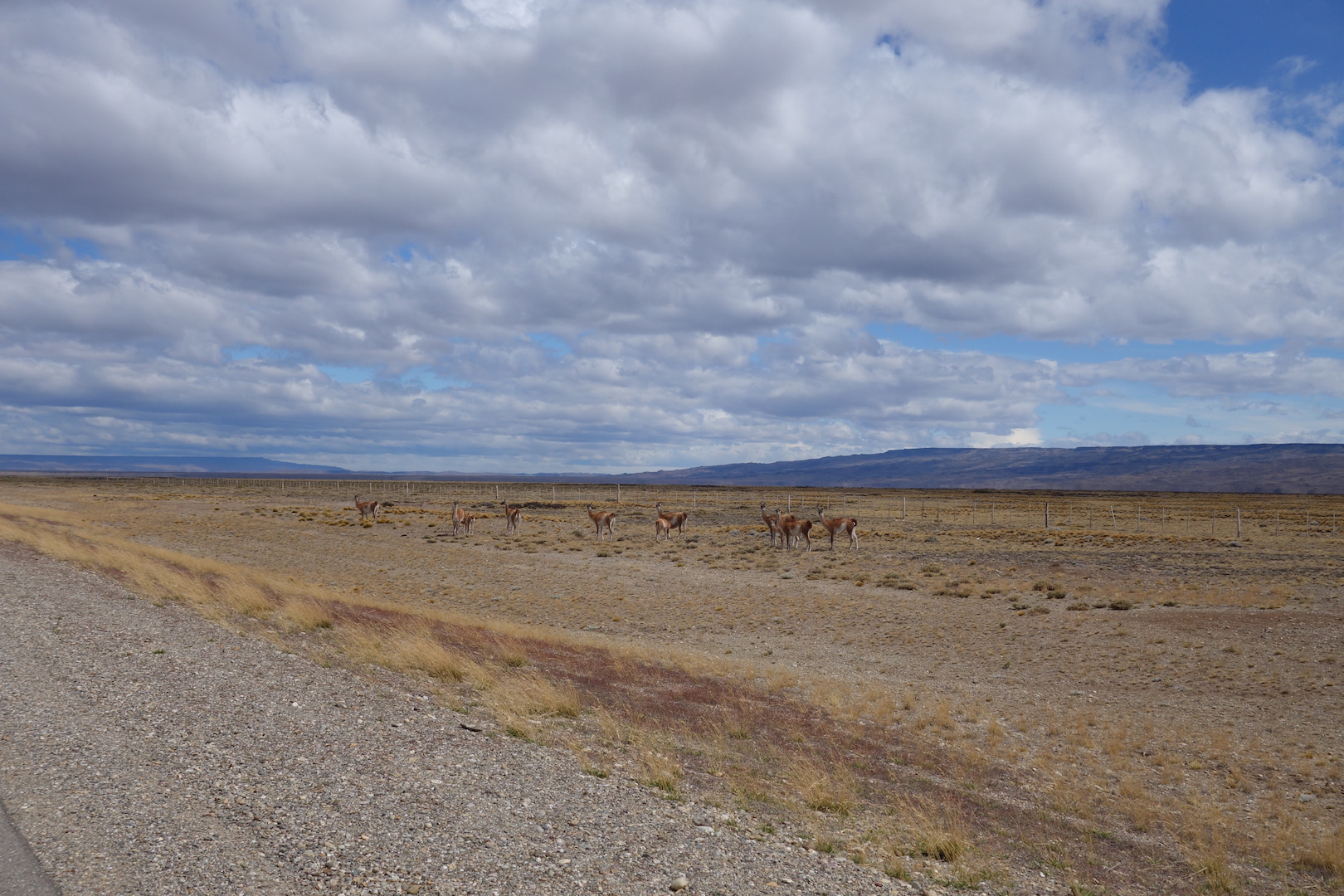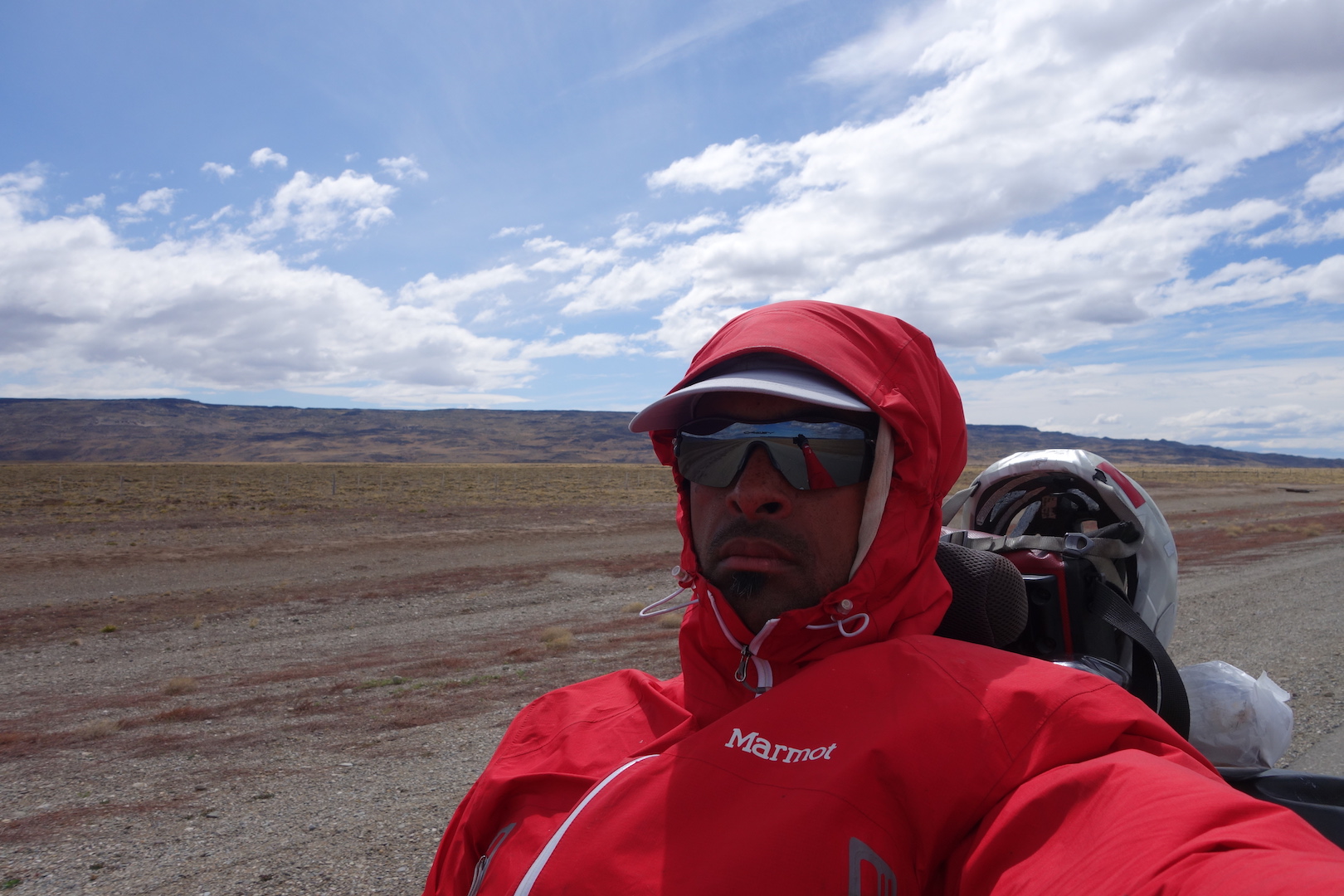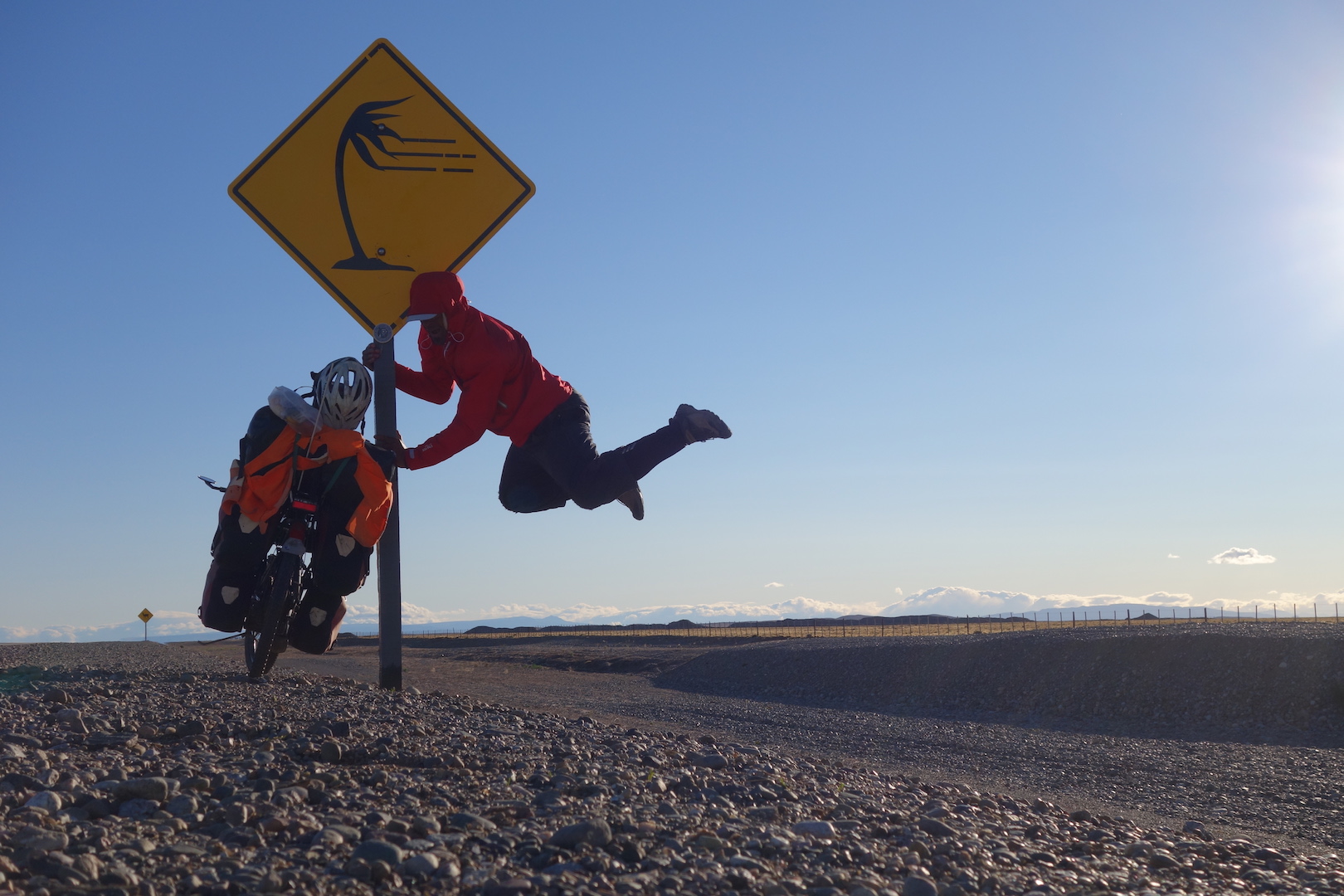 Here I had the same problem again.
The cash machine would not accept my card.
And the bank staff were completely disinterested.
These little towns only have one banks, one machine and are connected to a telephone network that does not accept international cards.
There is no internet access here, but my phone sends me text messages telling me I am still being charged $3.90 pesos for the 50 Mb of data I cannot access....I switched it off.
I went to ask at the tourist information office and waited while an Italian couple had exactly the same argument I was about to have.
I joined in. But the young girl there, could do nothing but suggest we sign a petition in the town hall.
"We have this problem a lot. Most tourists cannot take out money. I'm sorry.."
She seemed genuinely upset and sympathetic.
" Great" I said, "My signature on paper does not buy me breakfast today"
(It also means most tourists cannot eat in your restaurants or sleep in the hotels in your little town as most tourists travel with credit cards for convenience and security. And if they cannot pay, they will take their tourist money elsewhere...)
The Italians were in a similar situation having rented a campervan but could not use their card or withdraw cash to fill up the fuel tank. And they had a rental time limit and needed to keep moving.
I left the office and a local resident looking over my bike told me that I could use my card in the supermarket.
"They have their own satellite internet, and they give cash back"
Excellent.
I bought a few needed groceries but they still did not give cash back on international credit cards.
At least I had some food.
I saw the Italians in there as I left.
"You can buy food, but you can't withdraw money" I told them.
Their faces lit up then sad then angry as their frustration bubbled inside.
I kept moving. Food is my fuel. I might put that on a T-shirt?!
Soon after, the asphalt ended and I was riding on Ripio again.
I made it another very difficult 20 kilometres or so to a second road maintenance camp.
The three lads there invited me to camp and offered to share a meal with me later. "We had a Spanish cyclist here yesterday, and a Brazilian and Mexican last week"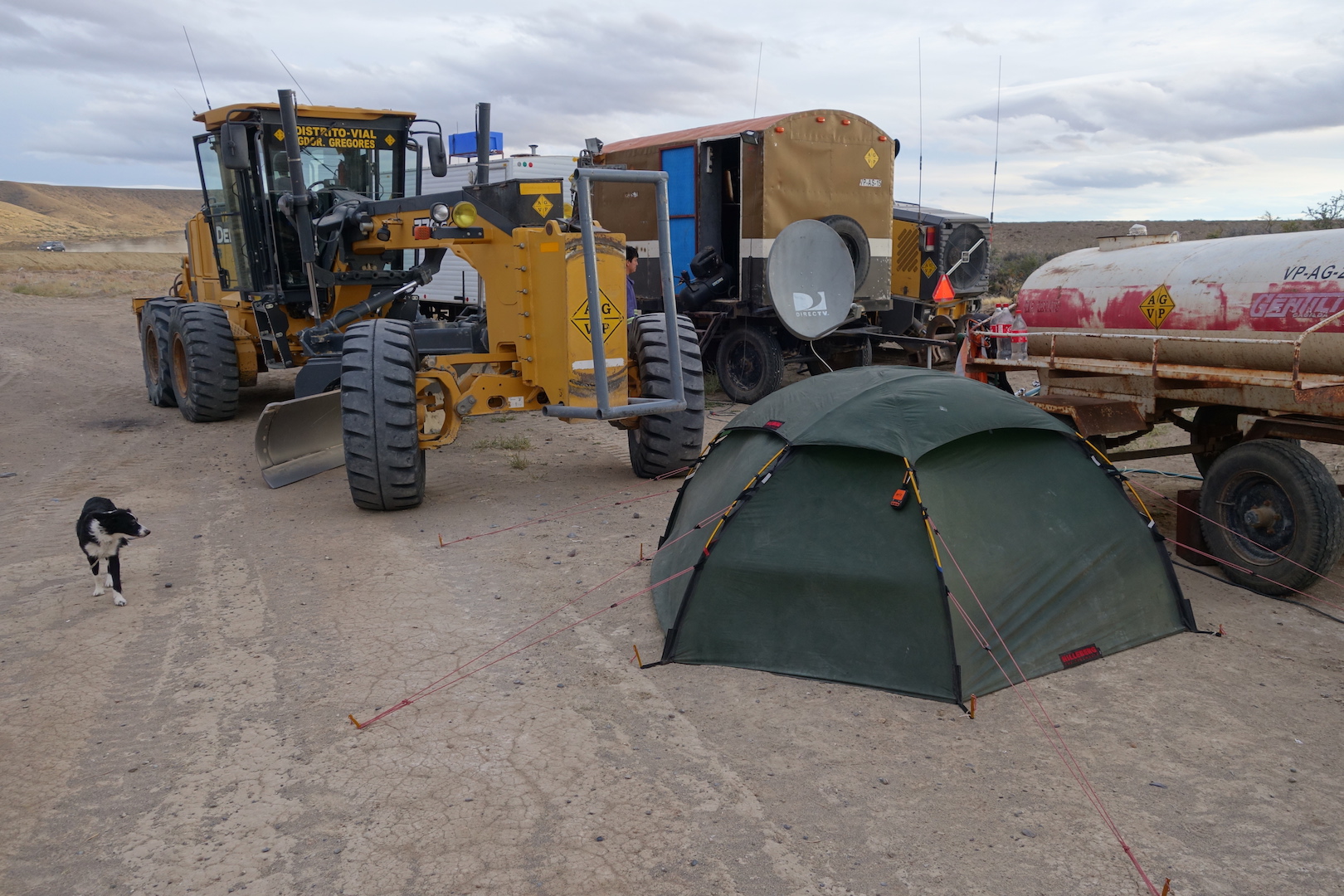 I set up my tent between the machinery and asked about the new road.
"No, we just keep this one in good condition" they told me.
"They began a diatribe of insults about corruption in the last government. How being so far south and isolated from the "Powers" in the capital meant they were last on the list of priorities.
"We have been abandoned here" They complained.
"Turn the channel over, my program is about to start"
Their Caravans were equipped with filtered running water, Satellite TV, Heating. Flushing toilet and Shower. And a surprisingly large bedroom area. A full kitchen and all their food was paid for.
They camped in the wilderness and only had to submit their papers to their bosses about once a month. Who himself only visited occasionally.
As Jose prepared a Lamb stew, the other lads disappeared outside.
"I'm 22 now and I've been doing this job since I was 16" he complained to me. He operated one of the graders that levels the Ripio and maintains a smooth surface.
"But I want to be a Chef really".
"Tourism is coming" I told him. "They will fix the road permanently and more travellers will pass through the region" You should think about opening a proper restaurant"
His mind started whirring
He had a good job and a lot more freedom than many other people I had met. I guess we all want change and a better job but I know many who would love the freedom these guys had.
While the food cooked, I wandered around outside. The Lads were butchering a Guanaco leg, "For dogmeat..." they told me
"What about the rest?" I asked.
"Oh..., we just dumped it in the bushes." They said casually.
I'm not sure their rather pathetic little collie guard dog was worth killing a 200 kg Guanaco for and then discarding 3/4 of it in the bush.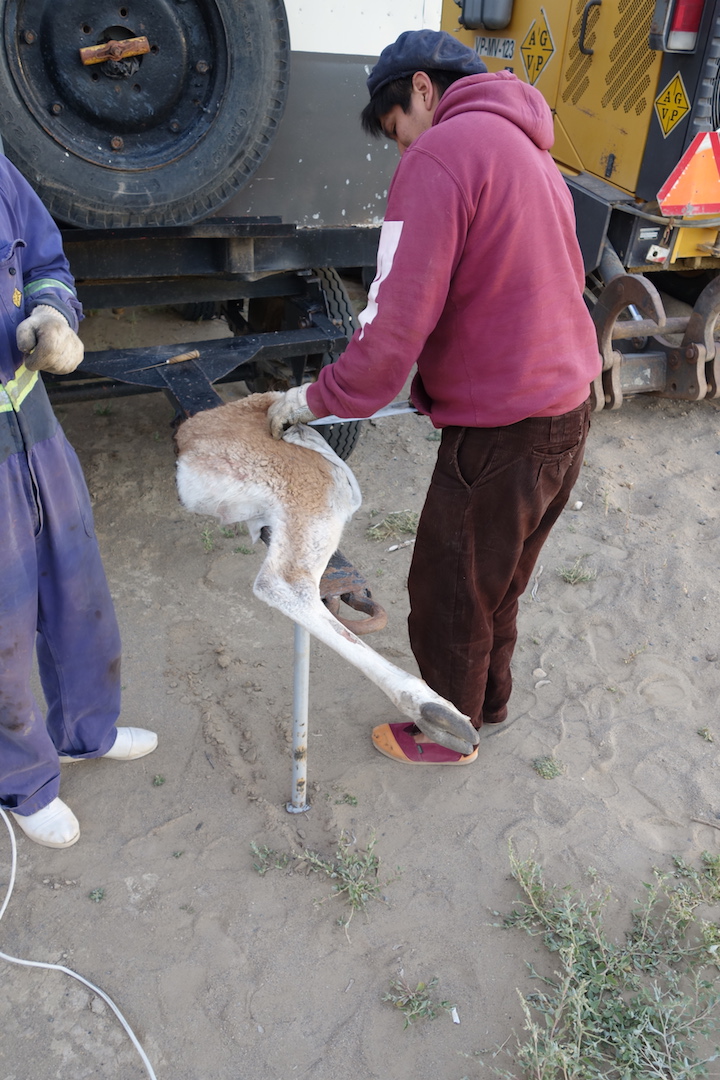 One lad pulled out a "Piche" from a Plastic bag.
The local name for an Armadillo.
You just run after them and pick them up the told me, as he began gutting it.
"They make good eating"
"How do you prepare them?" I asked curiously while simultaneously wondering what was going into the pot in the kitchen.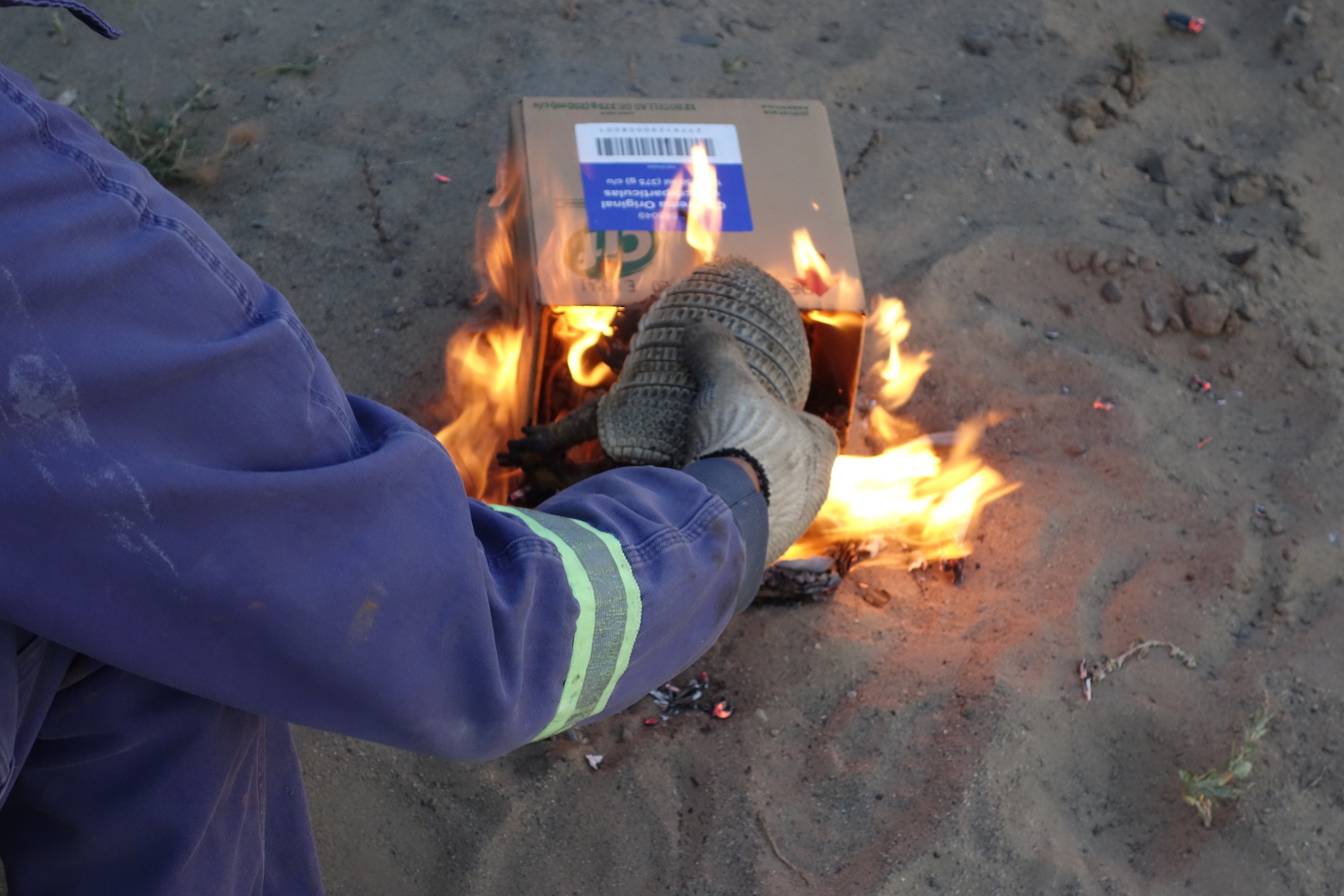 "Oh I don't eat them, I don't like the taste....Have you seen that?"
He pointed behind me to the carcass of an animal drying on the side of the water tank.
At first I thought it was a sheep. It was big enough. But a closer look and massive Canine teeth told a different story.
"It's a Puma. There are lots round here. We eat those too.....Well some people do. I just wanted the skin....."
I felt sorry for the poor animal. These 'hunters' bored in the wilderness didn't seem to care of the repercussions of their actions.
As we ate what I was assured was a lamb stew the wind outside blew fine sand against the windows making a fine hissing sound and shook the caravan violently.
It did the same to my tent all night.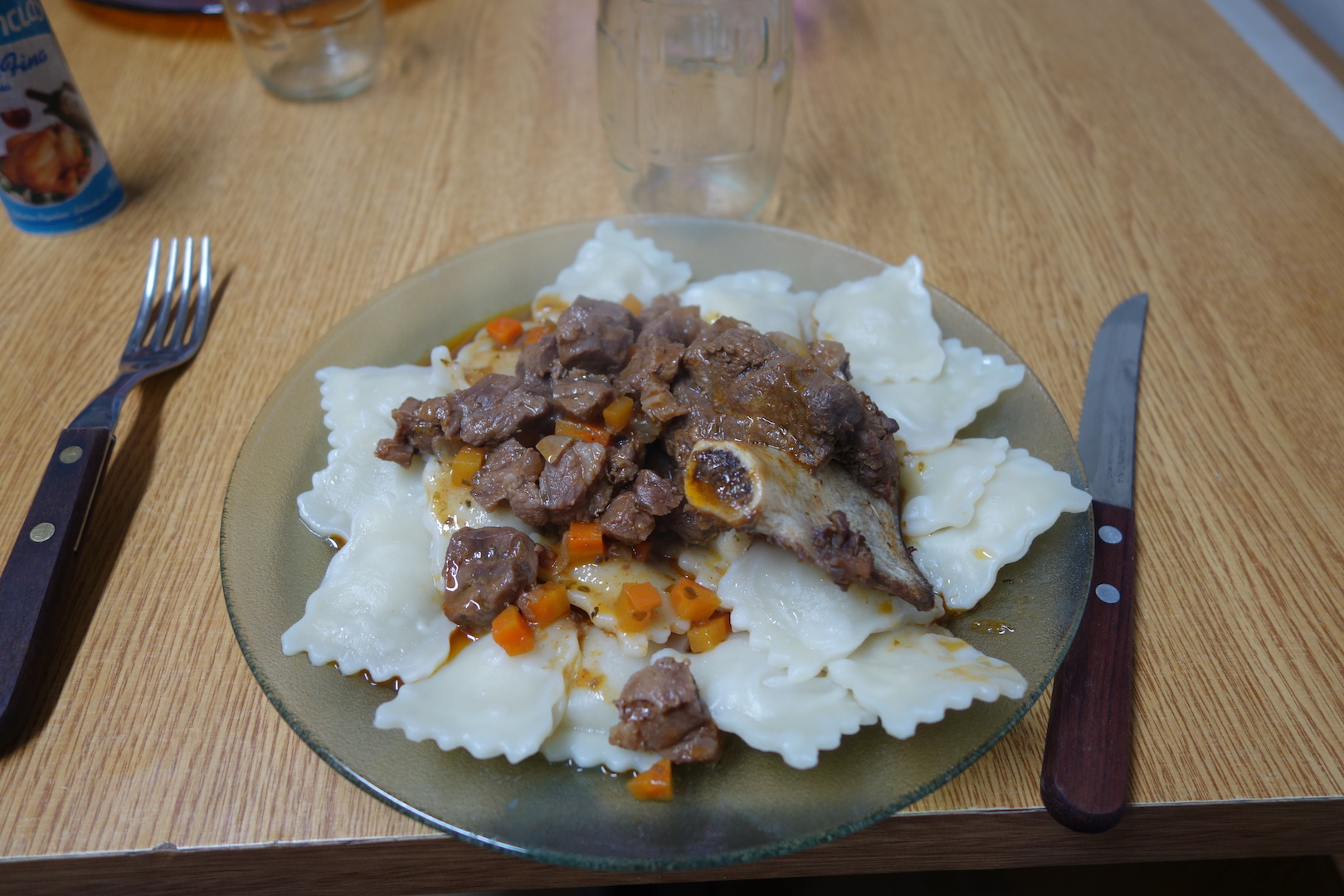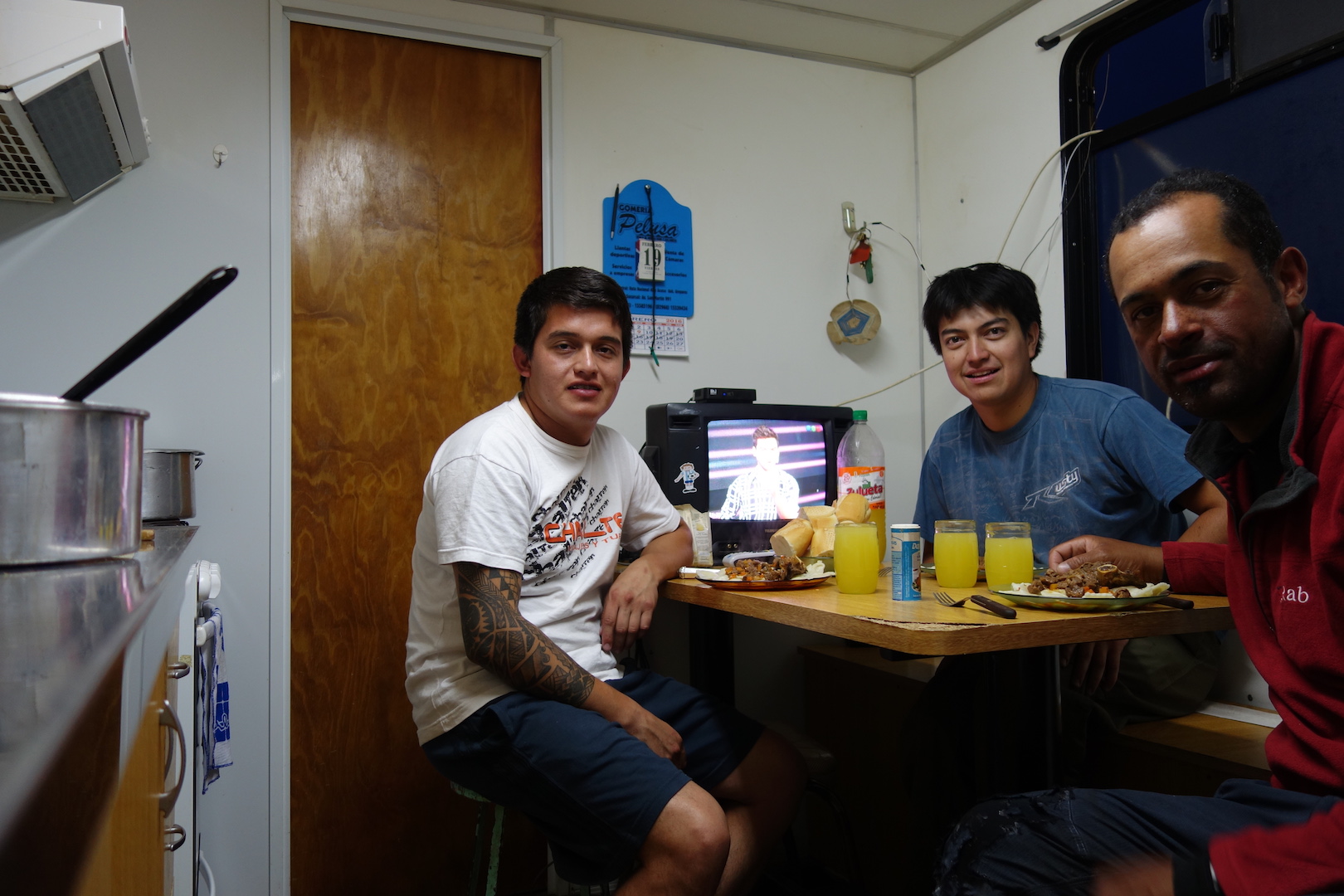 The next morning my outer tent was full of sand.
With the wind still blowing it was impossible to remove all of it and I packed up with a lot between the layers of the tent.
I didn't get far.
About 10 kilometres before the Ripio was too loose to ride and the wind literally blew me off my bike.
I landed hard on my elbow and punched myself in the ribs in the process.
It hurt. A lot...
So I started walking.
After an hour, Several vehicles passed.
Most took photos, grinned and waved.
One guy gave me a can of Red Bull then helped me pick up my bike which turned a full 90 degrees on the loose soil and strong wind. I laid the bike down and sat on the roadside while the wind showered me with fine dust.
After an hour, a pickup truck asked if I was OK.
"I can't move" The wind was still blowing fiercely.
I had hoped to arrive in Tres Lagos a mere 50 kilometres away but The truck driver loaded my bike and took me on to El Calafate. Putting me 2 days ahead. Possibly more in this wind.
"I'm going to see Ricky Martin!" he told me excitedly. "He is in concert tonight!"
"Nice" I said somewhat sarcastically as I picked sand and grit from between my teeth.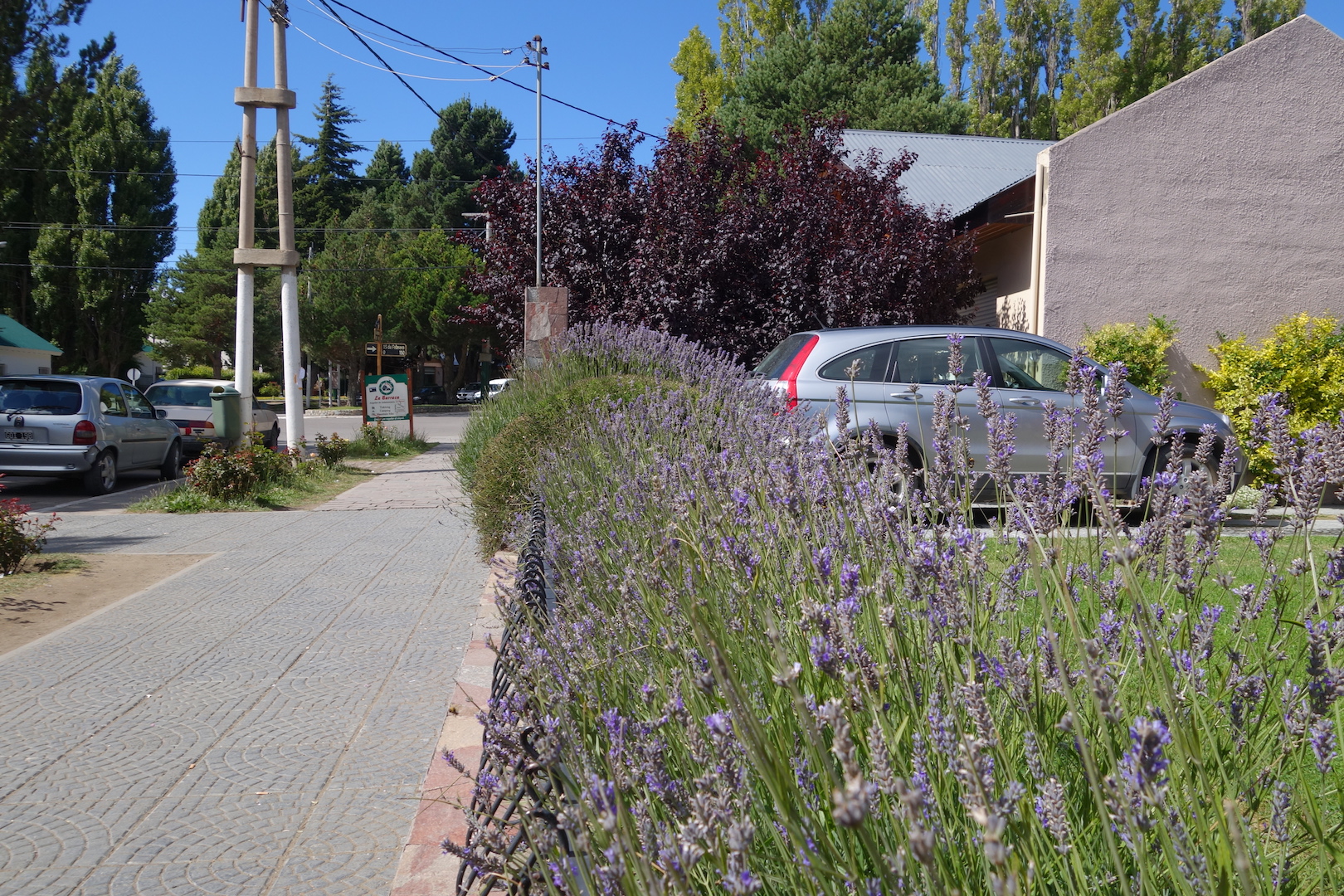 ---
El Calafate was typically touristy.
Pretty and a base for the Torres del Paine park and the Perito Moreno Glacier
But expensive.
And everywhere was full because of Ricky Martin.
I managed to get a dorm room bed in a hostel who had double their prices, as had everyone else in town.
I bet Ricky didn't pay double?!
I needed a rest and spent 2 nights in the town.I considered going to see the Glacier, but two other cyclists told me the 80 kilometres of road was bad, busy with traffic and there was no place to officially camp once you arrived.
I didn't want to pay the $80-$150 US dollars to take a tour.
The cyclists arrived late managed to hide their tent in some bushes, saw a bit of the glacier. But security spotted them and they were kicked out and threatened with a fine for trespassing!
I decided not to go. But in hindsight I wish I had.
---
The wind didn't let up as I left El Calafate. But another strong tailwind pushed me along 170 kilometres to La Esperanza.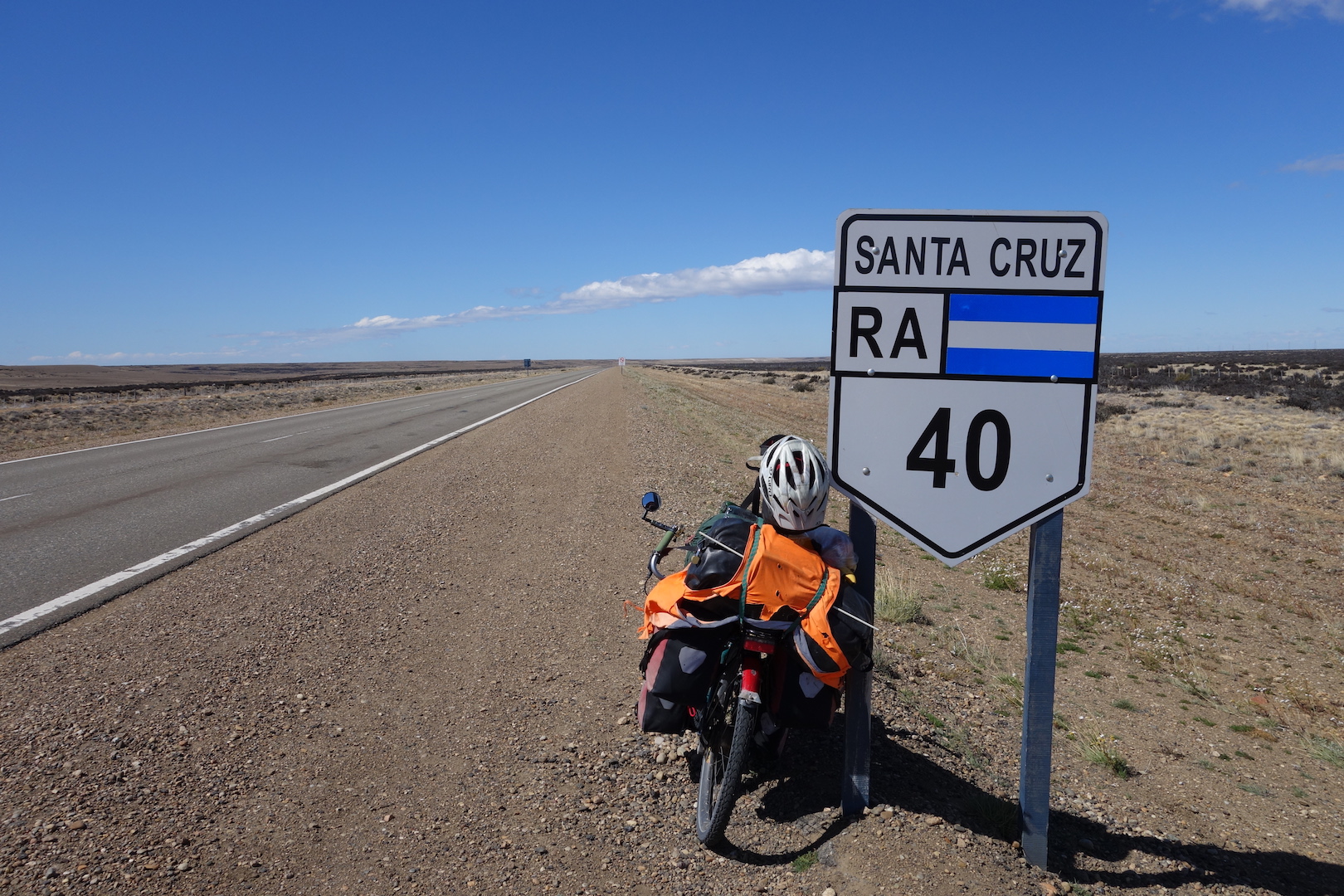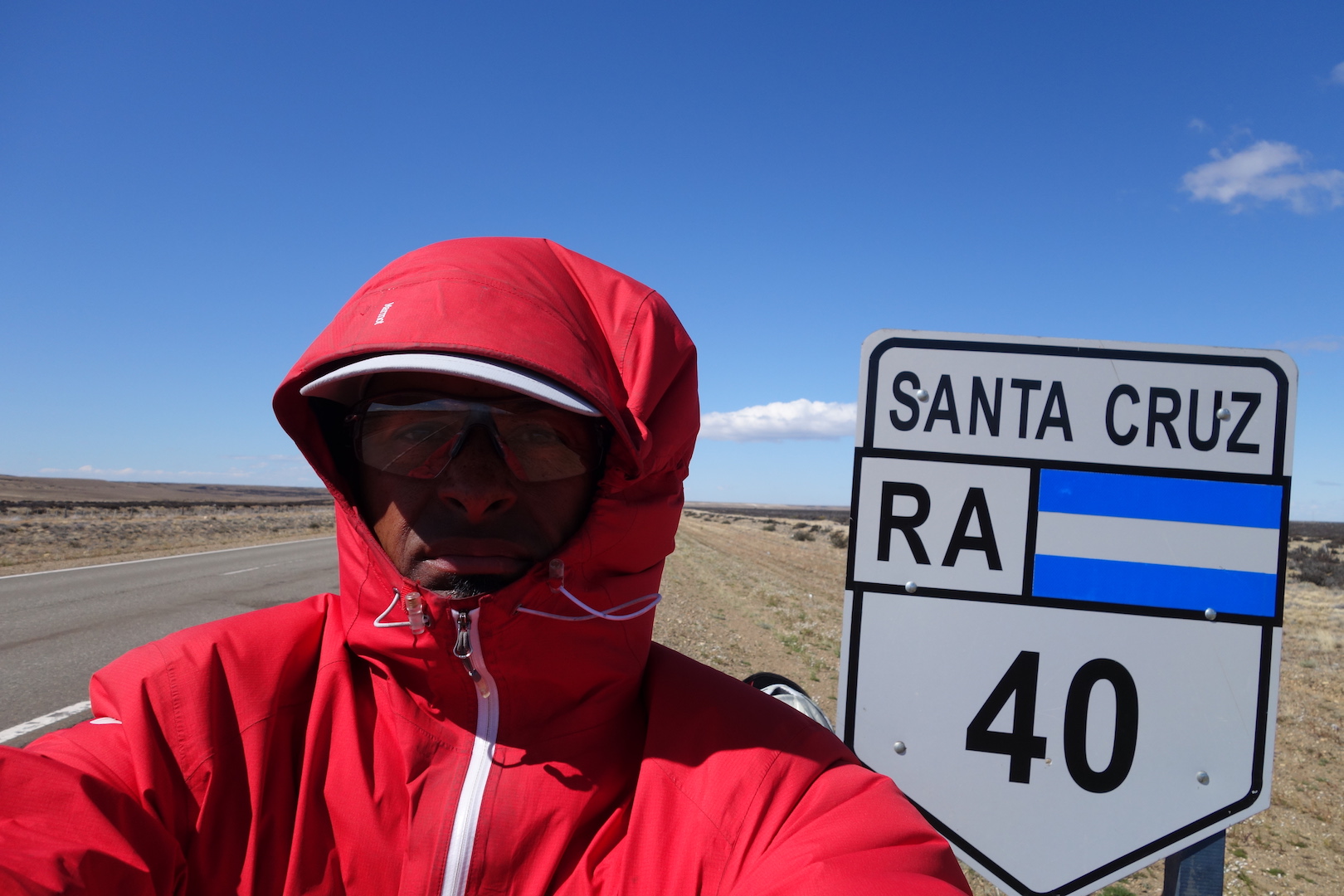 And a comfortable night in a very cheap hotel.
The lady in the hotel made some fresh biscuits and I bought some to take with me. She put 2 extra in as she said it would give me extra strength on the journey.
She wasn't wrong either!
Fortunately the wind was barely there today, but it was still a tailwind an pushing me along nicely.
Later I had an excellent meal in a roadside hostel restaurant
A really good Lamb broth with some home made bread.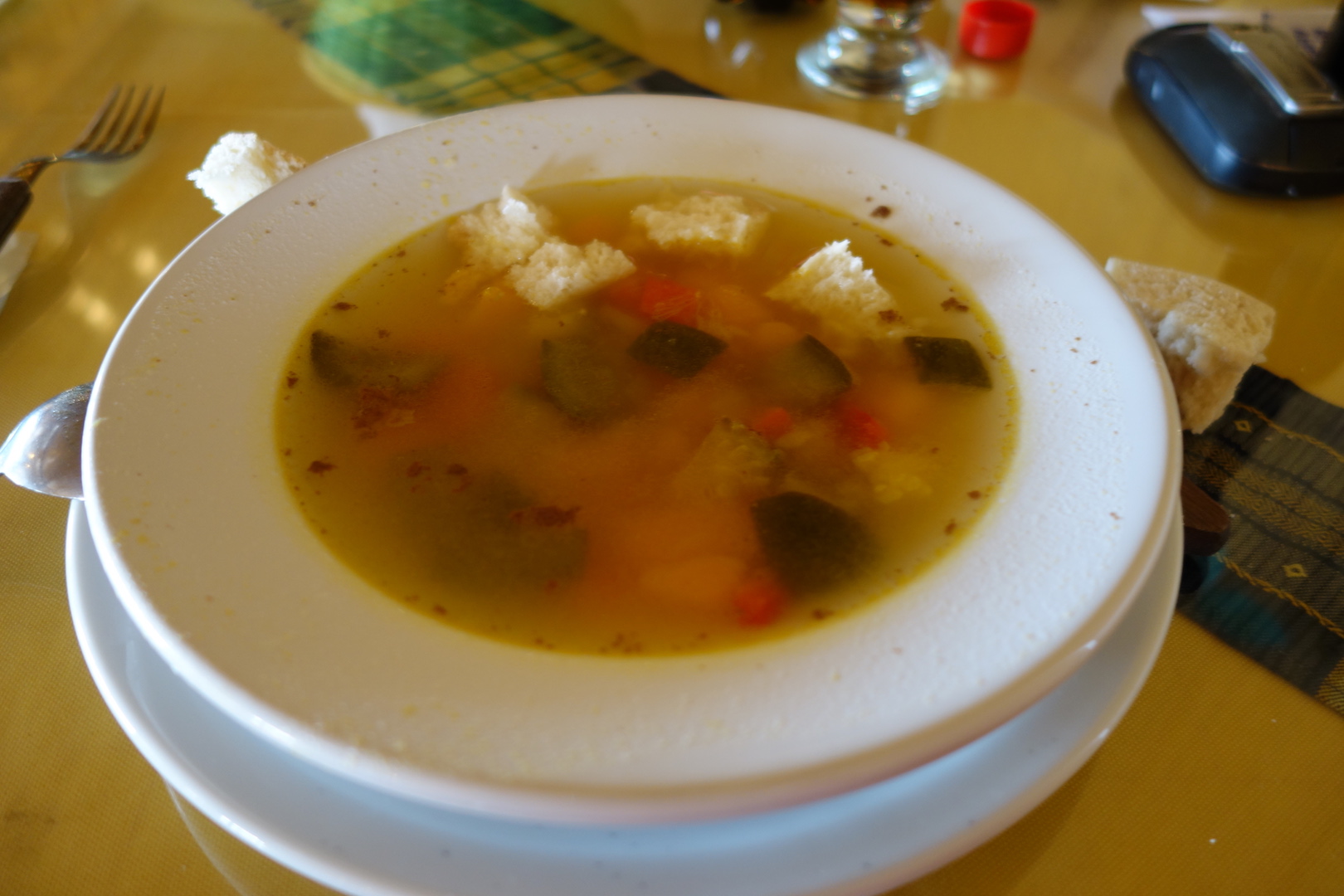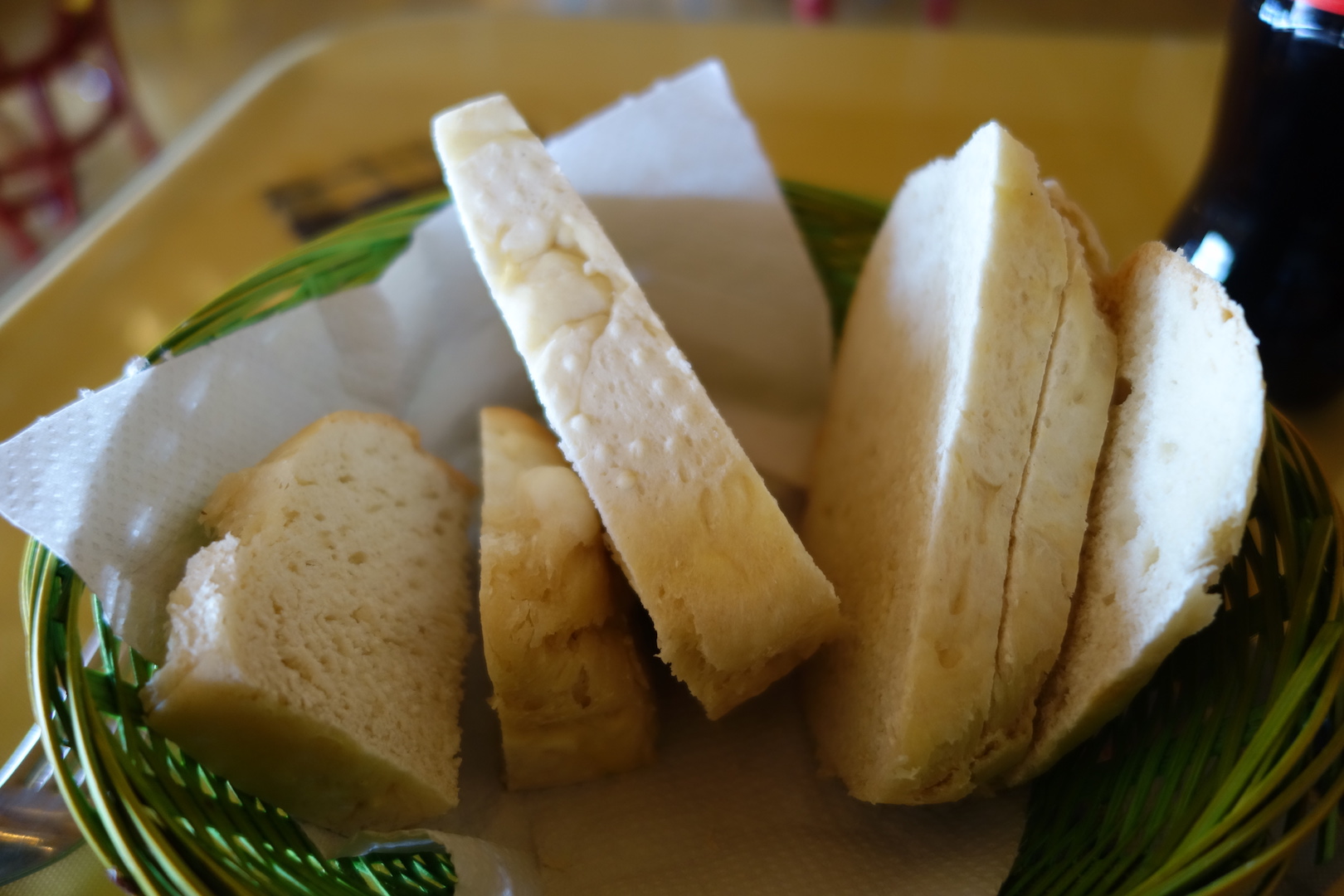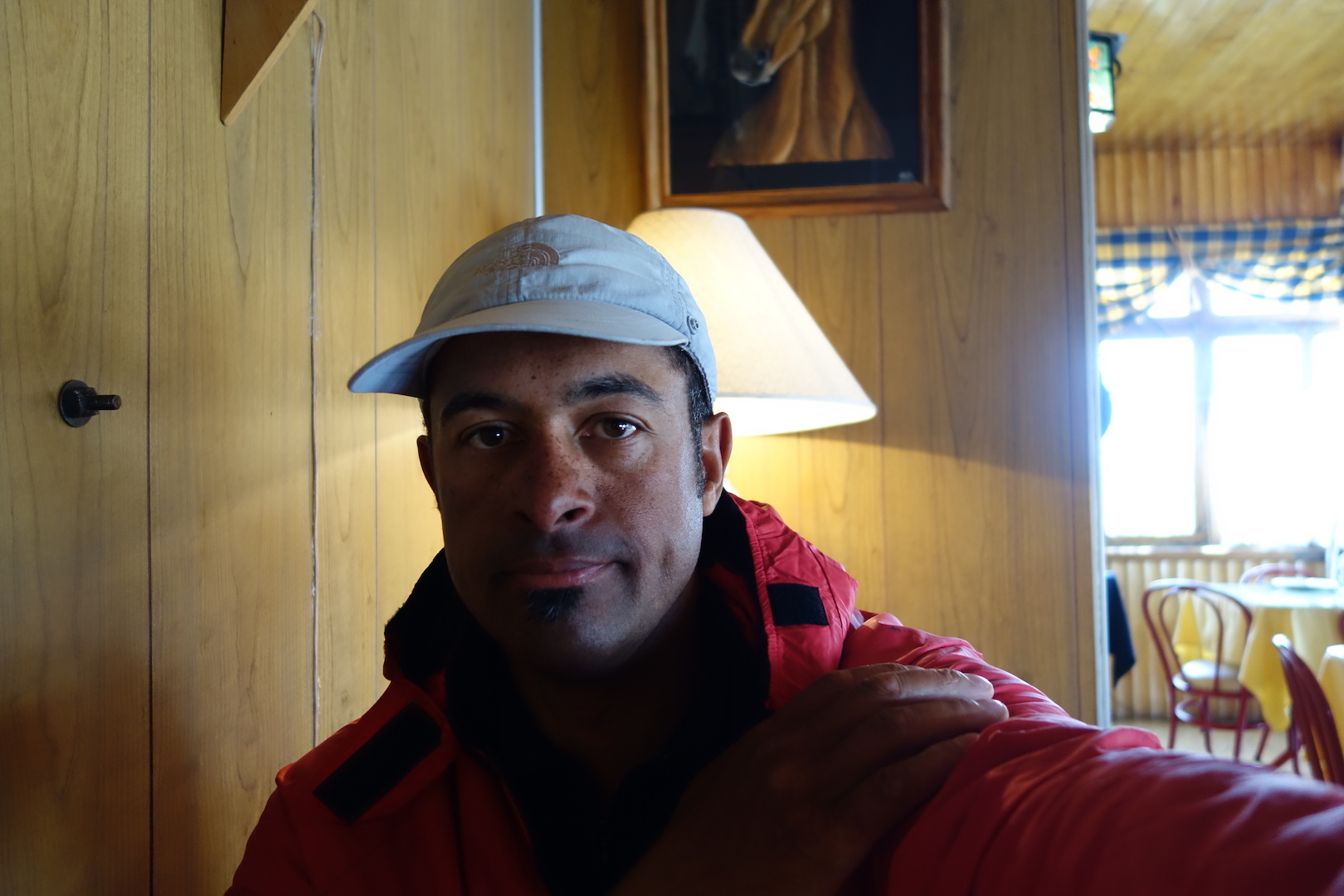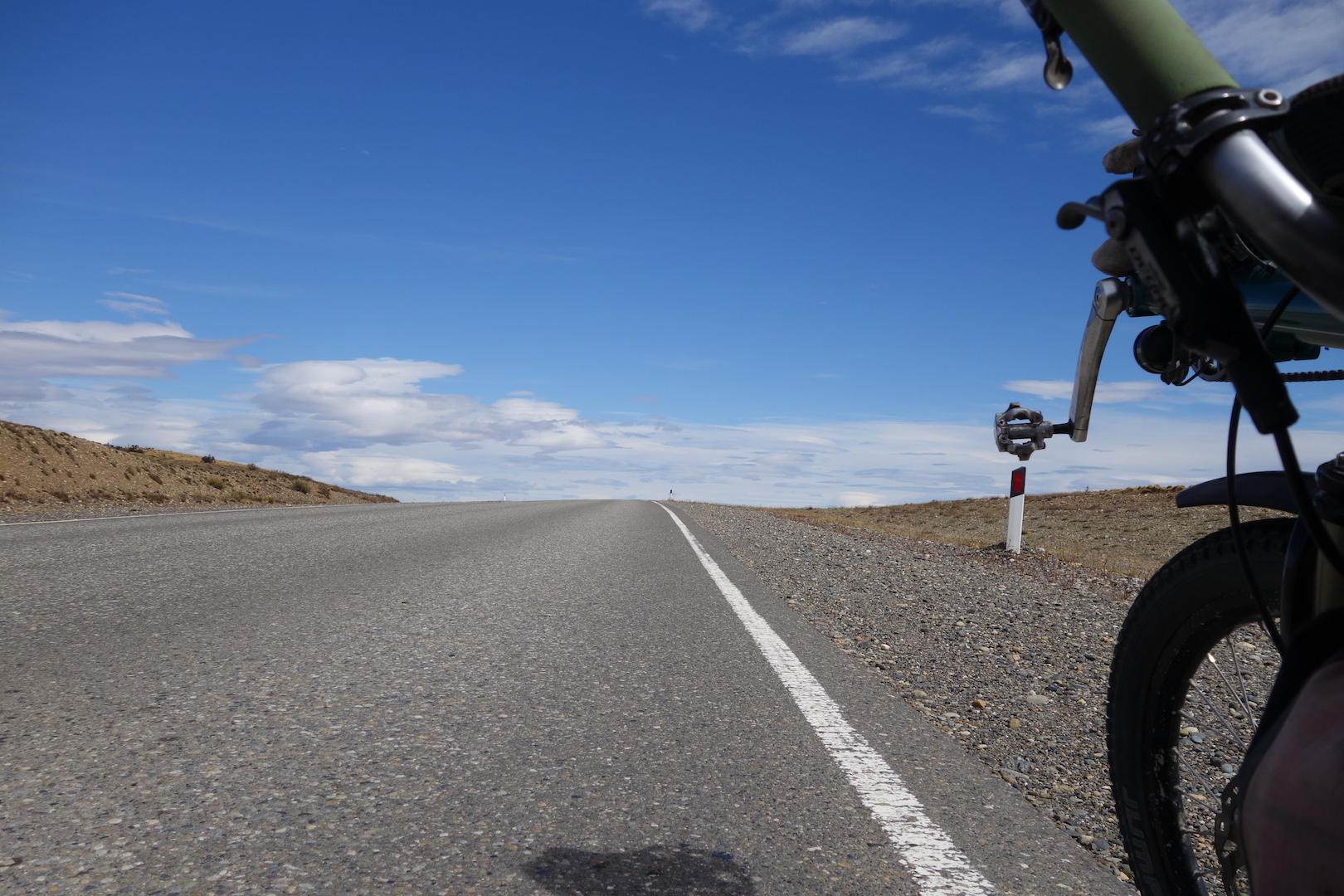 As I arrived in Rio Gallegos, I was stopped at another Police checkpoint. The young female officer had to ask her colleague "Where's Alaska?" And was somewhat stunned when she realised.
The city is the end of the Ruta 40 that travels from the Northern border of Argentina and Bolivia and I guess I was expecting grander things rather than the dirty scruffy former commercial port that I was now cycling through.
The last time I saw the Atlantic Ocean was in Santa Marta in Colombia last July 2015 and as the ocean I am most familiar with seemed to add to the finality of my journey.
On my chosen route, I have approximately 750 kilometres left to ride.
It's really not that much...