0029: on to TO.ON: part 2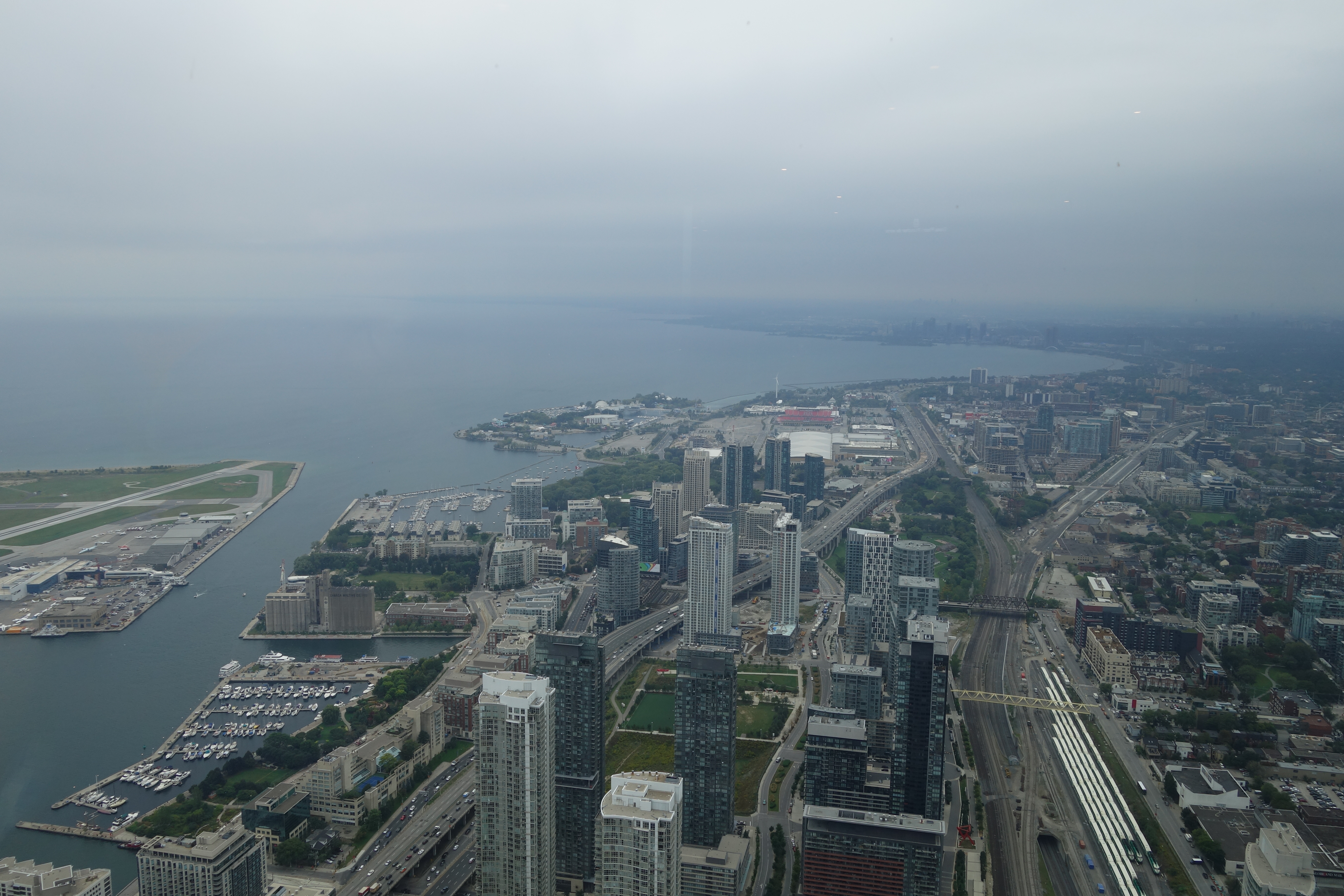 The Soo was kind. The sun shone. I rested, I grilled and ate steak and donuts and muffins and nachos and more pizza. I washed my clothes, chatted with bike people, gave my bike a quick service in Velorution. Then ate some more.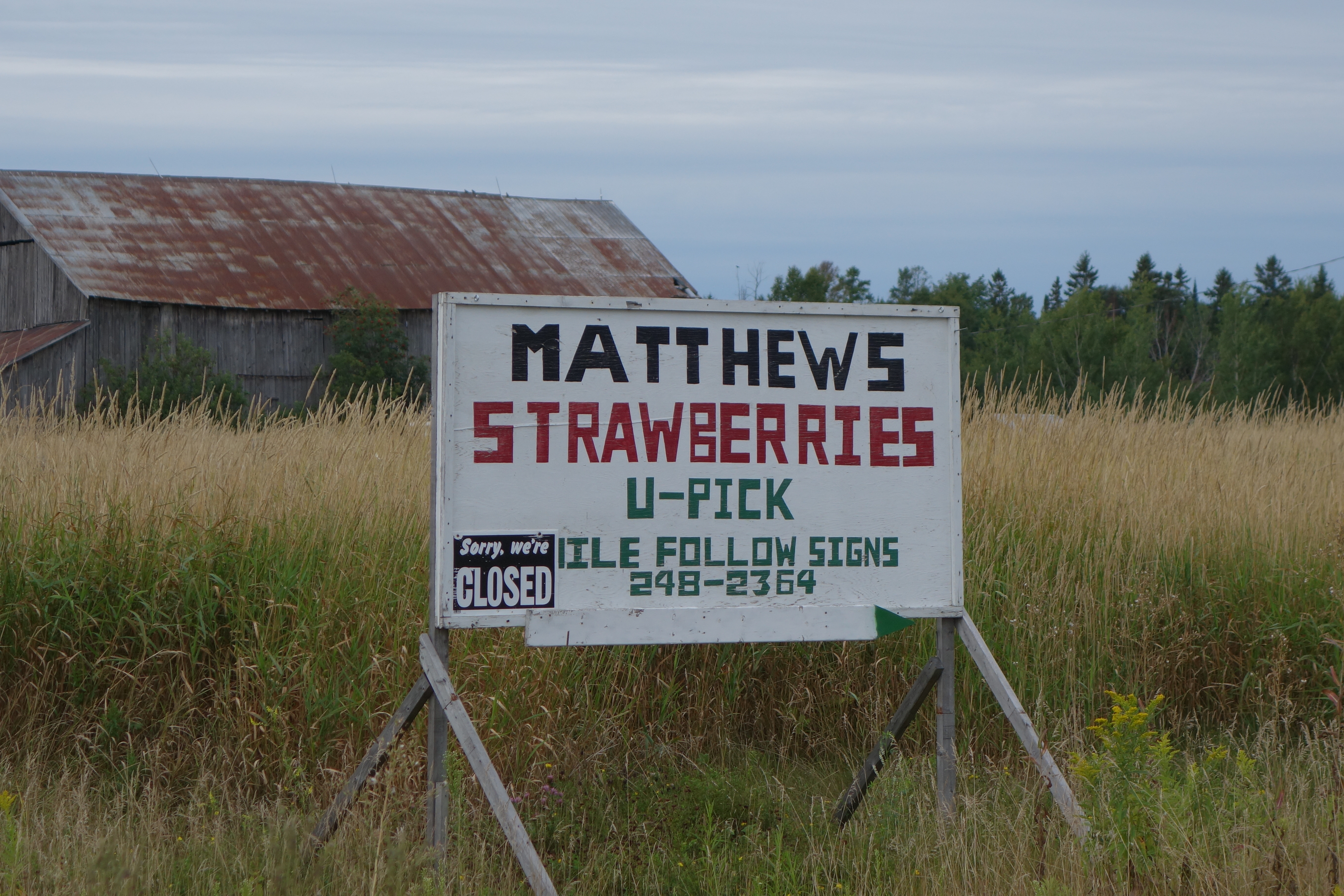 I rested, relaxed and packed up the next day and the rain came down hard.
Very hard!
I left the Soo and the wind came back.
Ah well. Here we go again!
I headed south then east on the 17B highway.
Around here, I was suddenly in Amish territory.
These peaceful and distinctly dressed farmers living a traditional way of life centuries old and in tune with the farmland they live off.
I bought some excellent biscuits from an Amish lady at a roadside stall. Though polite she was reluctant to talk to me.
Why, I don't know.
Across the road a team of men were hand loading a horse drawn hay cart with sheaves of wheat.
I watched, fascinated by this two hundred year old scene.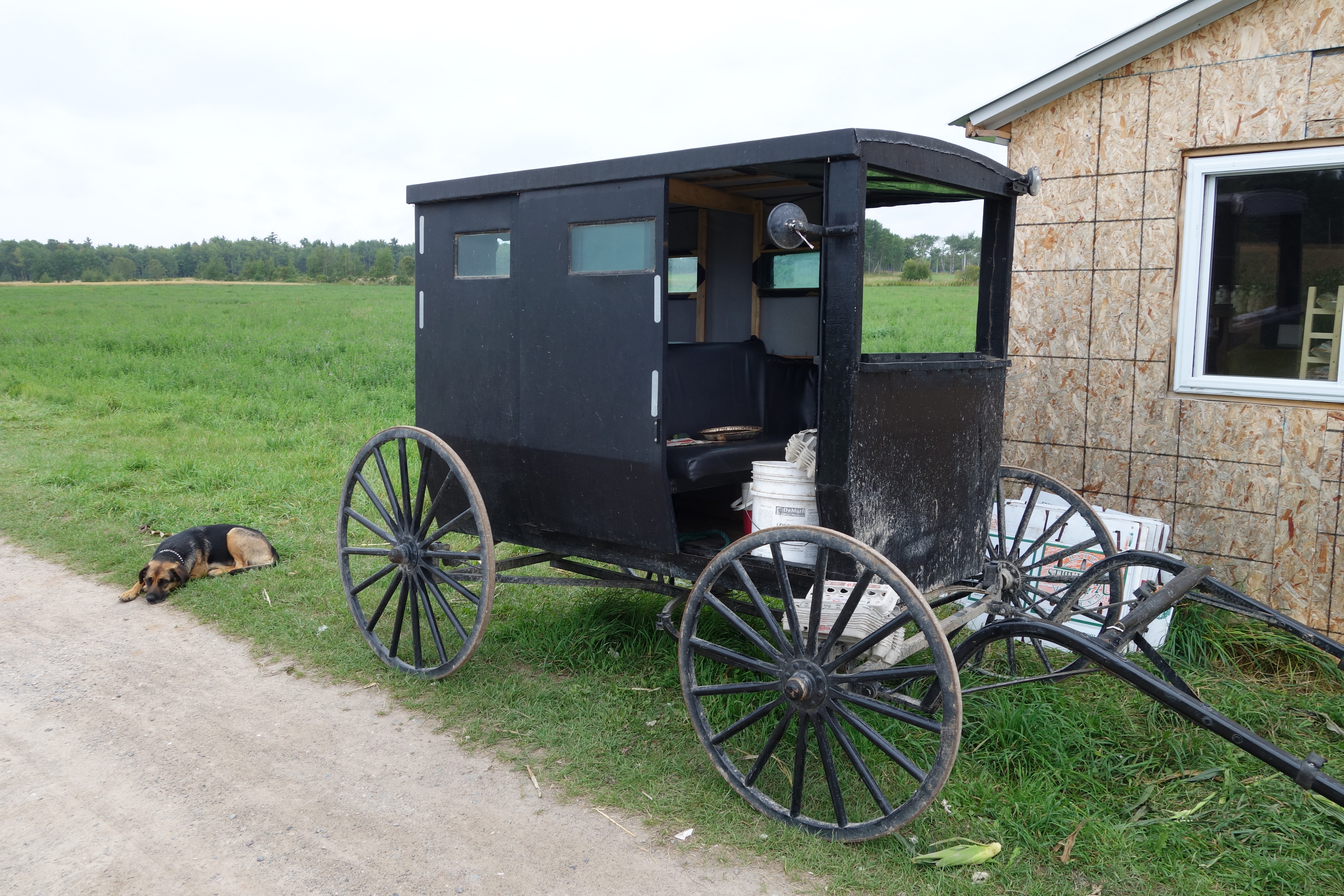 The afternoon brought heavy rain and I eventually found shelter in a gas station.
I sat, cold and wet drinking a coke, watching people filling up with fuel. Not caring about the miserable weather.
A big white 4x4 arrived and the driver got out and ran through the rain to pay while the passenger filled up.
"Not a good day for cycling" he said and sat down next to me.
I could hardly disagree.
We started chatting and his politely curious and inquisitive nature had me wondering who he was?
He described my adventure as inspirational, brave and difficult. Congratulating me on my achievement so far.
As is often the case, I hadn't introduced myself and so I did.
"My name is Isadore" he replied. " I am Chief of this territory"
That surprised me and I sat up in the presence of a real first nations Indian chief.
We exchanged contact details and he offered me some money for food.
I refused.
I might have looked like a mess and was certainly in need of a good feed, but I asked him to give it to someone who needed it.
Not me.
He understood, and we went on our journeys.
In hindsight, I wish I had asked him more about the first nations peoples in this region and Canada in general.
It's one subject that fascinates me and my very limited experience of these people is sadly not entirely positive.
The few communities I have passed through have all appeared poor, dirty and with a lot of unhealthy, overweight and alcoholic people.
I know I have only seen a tiny percentage of the population but my childhood image of the mighty, proud and powerful Red Indian braves doesn't quite match the reality I have seen so far.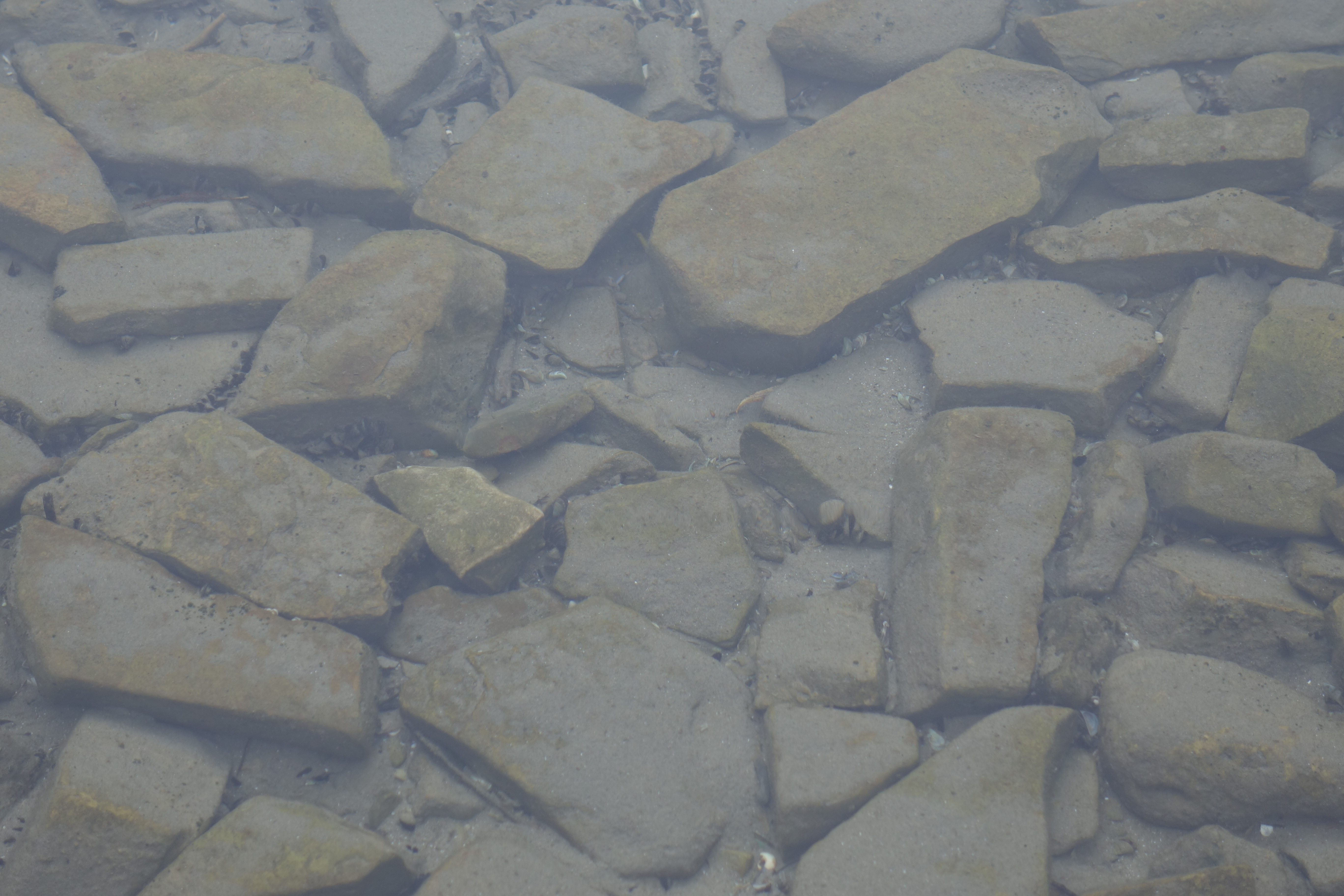 I continued on and though it was now, lighter so did the rain.
At Espanola I made a last minute plea to a Warmshowers host, but they were not available unfortunately.
Instead I spent the night camped next to Apsey Lake in VERY humid conditions and packed everything up wet the next day.
Manitoulin Island was not much drier.
I think it would have been a good place to explore on a dry day or today from inside a dry car, but I wanted the sun to come out.
My next Warm Showers host was available and after being chased by five of the fifteen or so loose dogs I encountered after I left Little Current I arrived at my next hosts homestead.
Here was a scruffy but functioning ecoproject in self-sufficiency.
Food, water, power etc.
A team of people were slowly setting things up to be able to live off the land in an ecologically responsible manner.
And while all the people here were polite, friendly, interesting and provided everything I need, I really was not happy or comfortable here.
Cold, tired and wet, within 5 minutes of arriving I was asked to help shovel a tonne of gravel onto a new roadway.
I don't mind helping out but a warm drink and a few minutes to rest would have been preferable.
Richard a world touring recumbent rider arrived later in the afternoon and we chatted briefly before bed.
My clothes were smelly and wet, after several days wear and wet weather. I asked to wash them, but they came back not as clean as I hoped.
The damp weather meant they did not dry and they were soon as smelly as before they were washed.
I had hoped to spend an extra day here to recharge but moved on early the next morning.
Under these circumstances, it wasn't a relaxing or comfortable environment for me.
At M'Chigeeng I spotted a tour trailer for a Woman's cycle holiday group.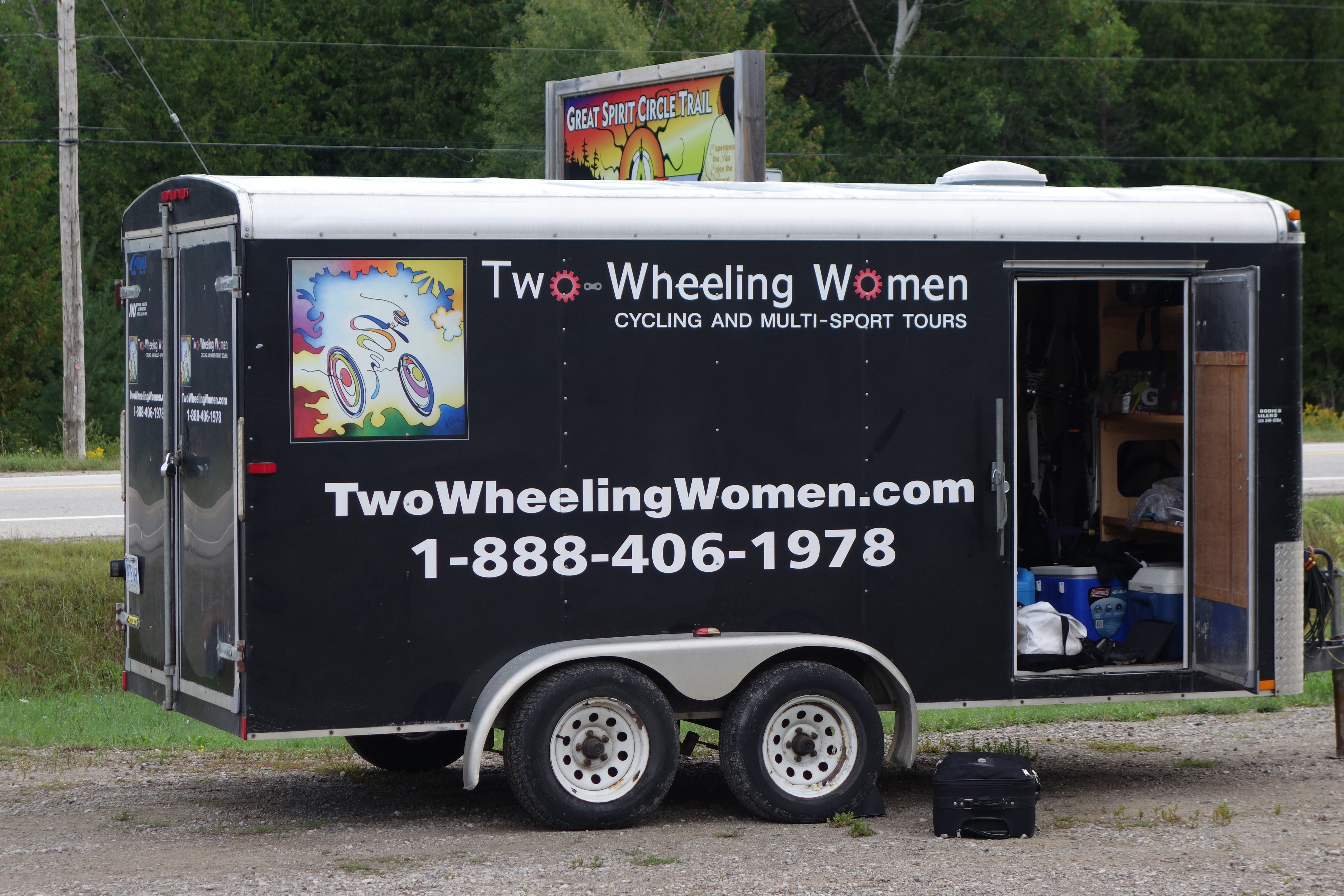 I looked in to see if I could borrow their floor pump and was soon invited to also share breakfast.
The ladies were on a tour of the island and were heading home so were making the most of the last meal.
Though in good spirits, I think they hadn't enjoyed the rain either.
So it wasn't just me.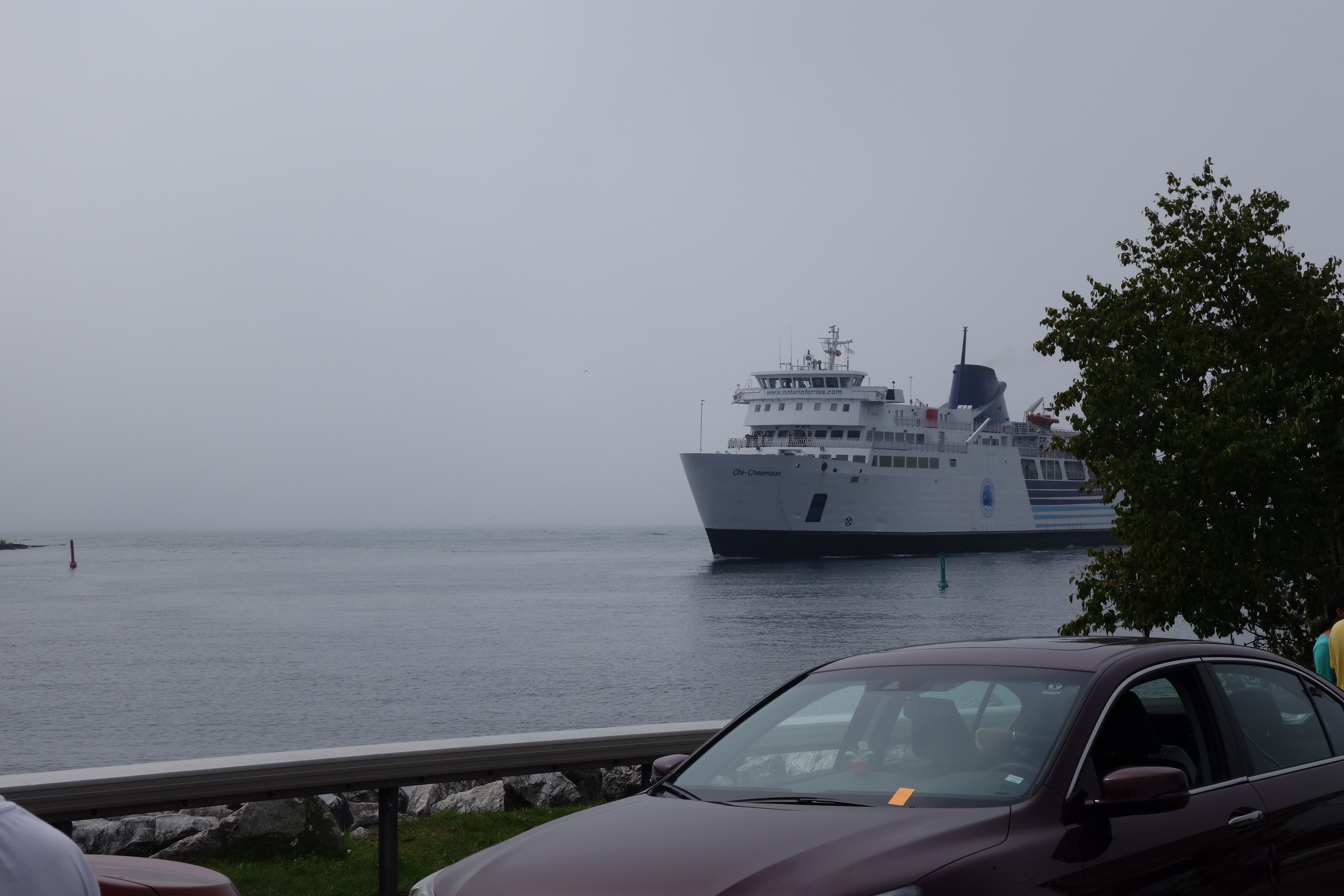 The Ferry ride to Tobermory was quick and uneventful. The fog was thick so it was only the last few minutes of the journey that I saw any scenery.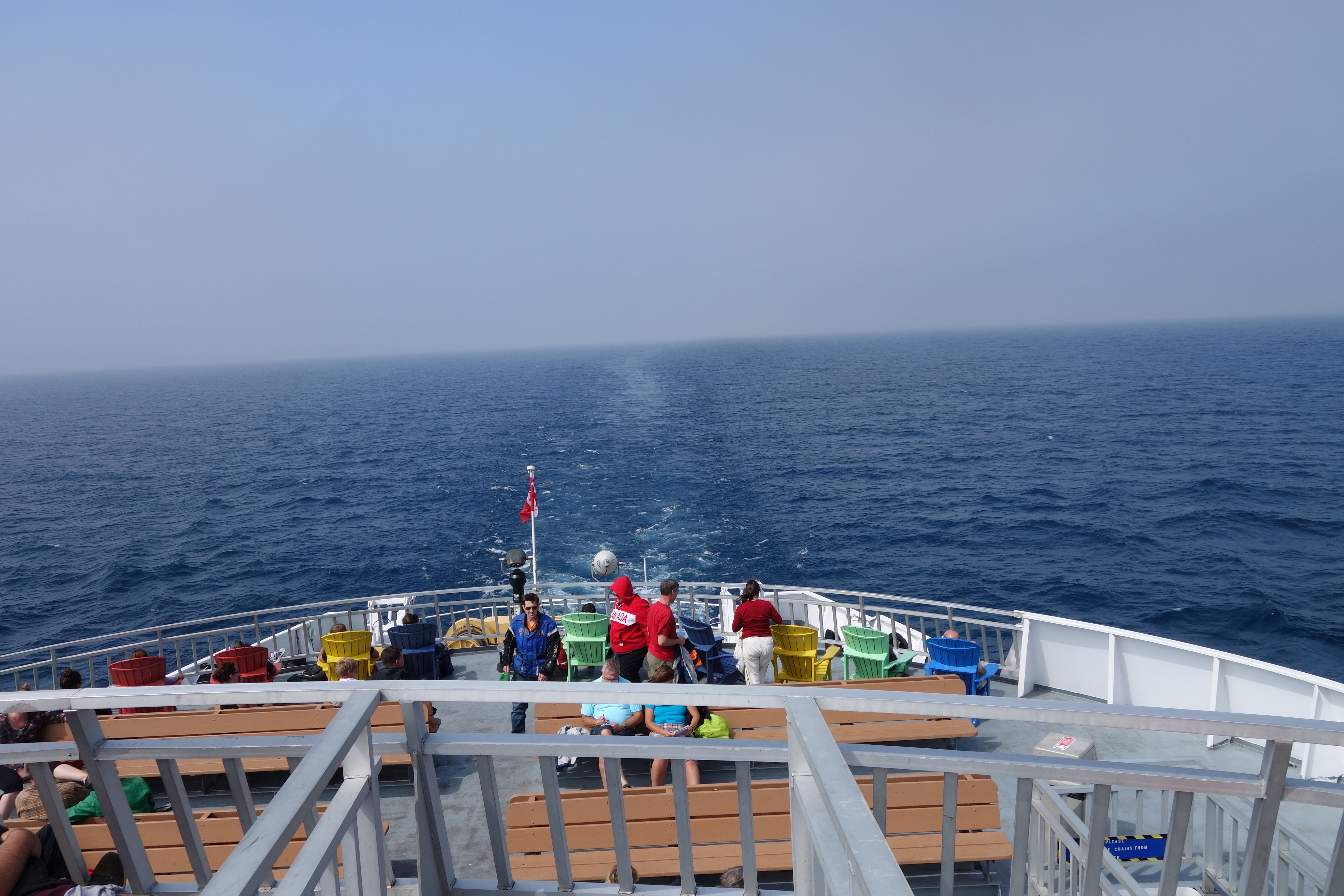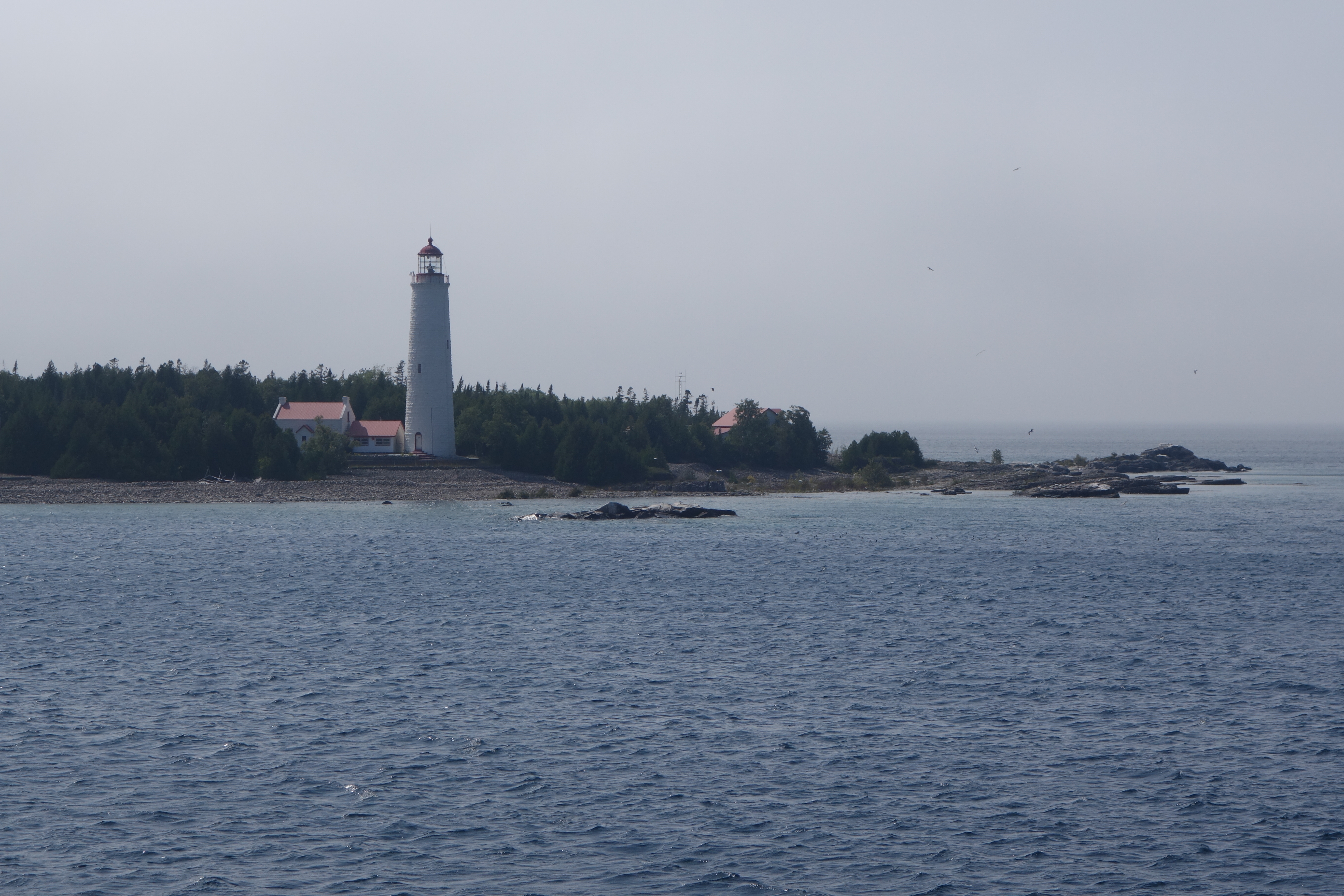 And as soon as I stepped off, the sun came out.
Richard was also on the same ferry, but I hadn't seen him. We rode together for a while down the Bruce peninsula then
BANNGGG!!
My rear tyre blew out. Again!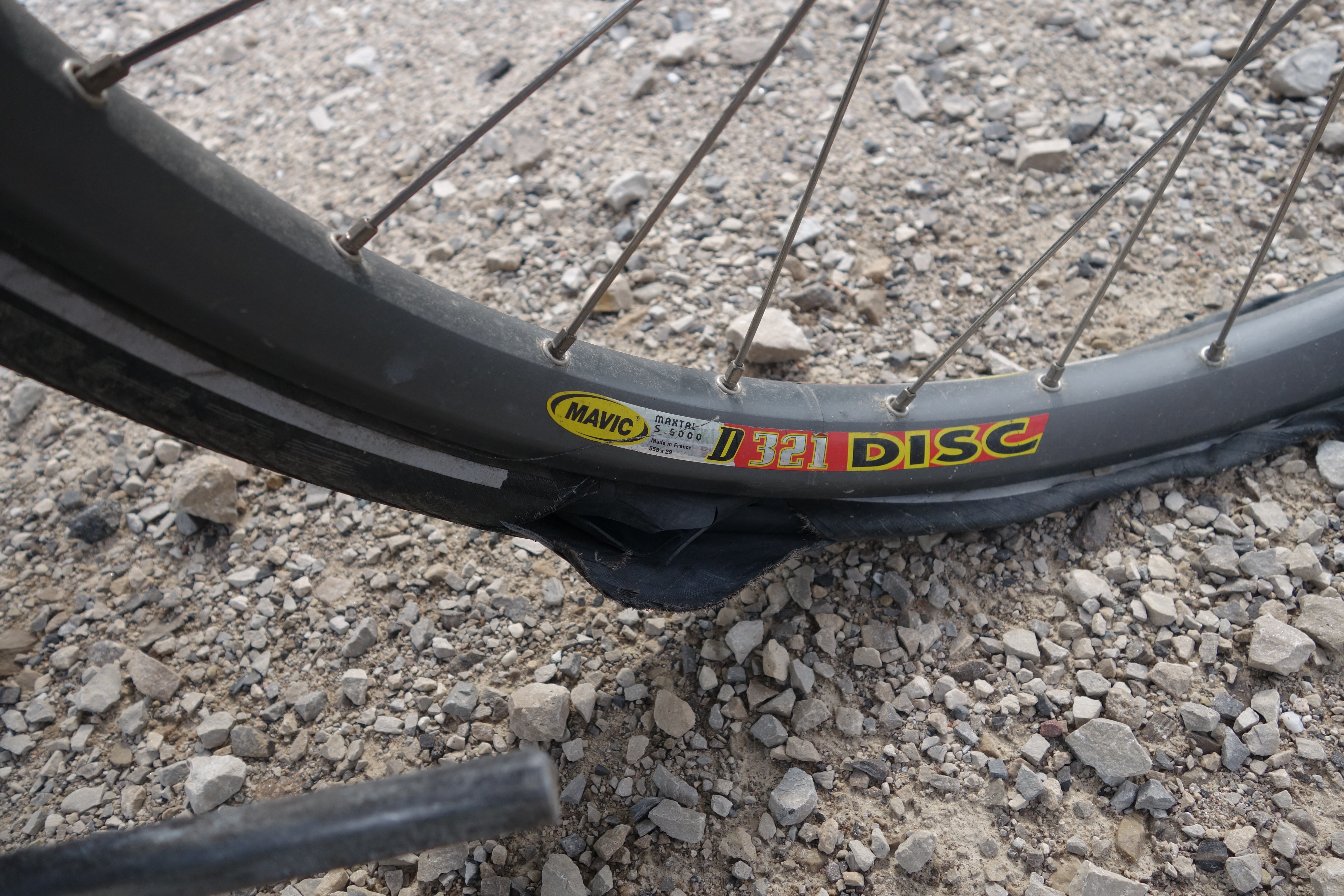 The last time this happened was back up the road near Fairbanks. So Richard left me as he was on a tight schedule and I sat on the roadside replacing my tyre.
At Miller lake campground they had a washing machine and drier so I was pleased. But they also only accept cash and I did not have enough left over to be able to wash my clothes again.
Plan foiled!
The next evening after a pleasant sunny but windy ride I arrived in Southampton and checked into a very expensive budget draining Bed and Breakfast.
I needed it. And deserved it after all that rain, wind and misery.
I was given a huge suite of a room with a large bed, bathroom and an additional lounge room.
Immediately though, I walked around the corner to the Laundromat and properly washed my clothes. While waiting, I ate a rather good Pizza.
Cheese free of course, much to the confusion of the person who was making it.
"What will hold it all together?! " she proclaimed, looking again at the order request.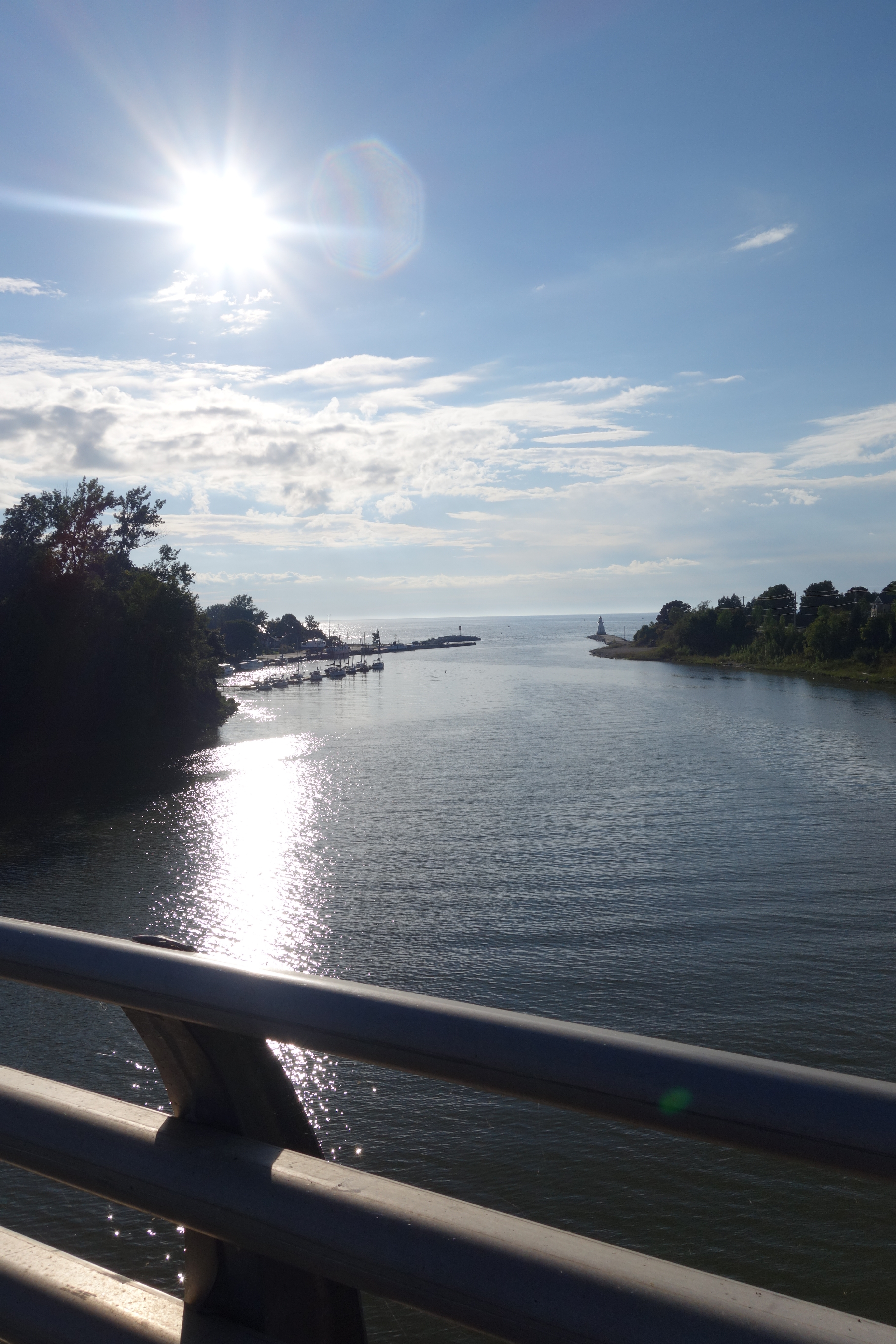 Though the sleep and bed were good, the breakfast was light and I pedalled with little energy.
Lunch at Paisley was in an organic farm shop cafe and was three plates of food, soup and dessert. The ladies couldn't believe how much I had eaten.
I personally just though the portions were a little small, which is why I ordered more!
Still hungry, I passed a fruit farm and decided to stop and buy a little snack.
After eating a few excellent plums, a rather excited Feliciana and Raphael Keyzer took photos of my bike and listened to my story.


"Oh our Sons would love to see your bike, why don't you camp here for the night?"
They were at school.
Well it didn't take too much to convince me.
My intended host for that evening was again, not available and though it would have meant a long following day, I pitched my tent and waited the arrival of Michael and Gabriel from school.
While waiting, I spoke with Frank and Ann. They leased a small garden on the farm and were busy harvesting a huge trailer wagon full of Tomatoes as well as many other fruits and vegetables.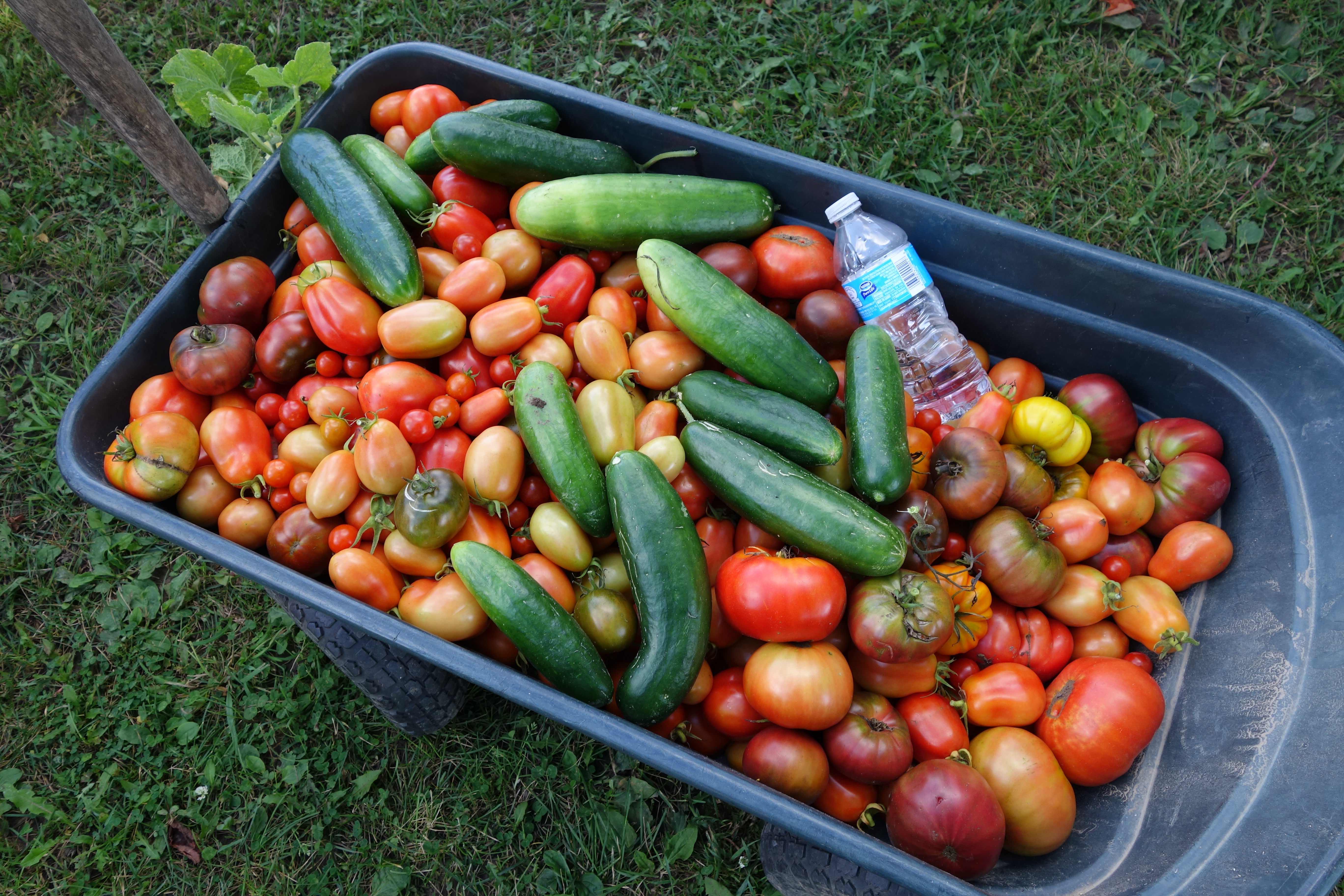 I was given a big handful and later made an excellent fresh vegetable soup on my camp stove.
Evening meal sorted, I now faced a torrent of questions from inquisitive boys and spent a pleasant evening relaxing in the meadow of the farm.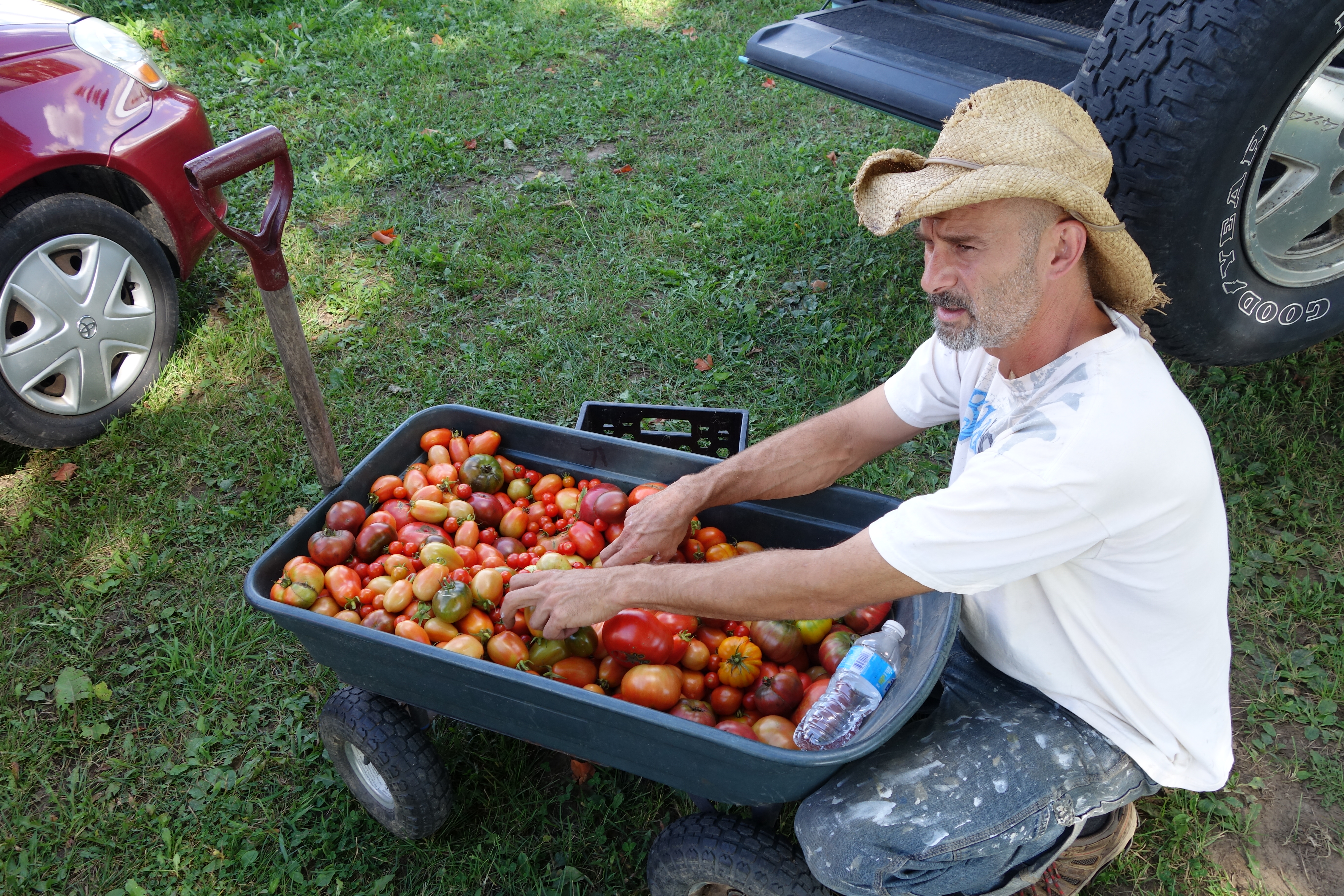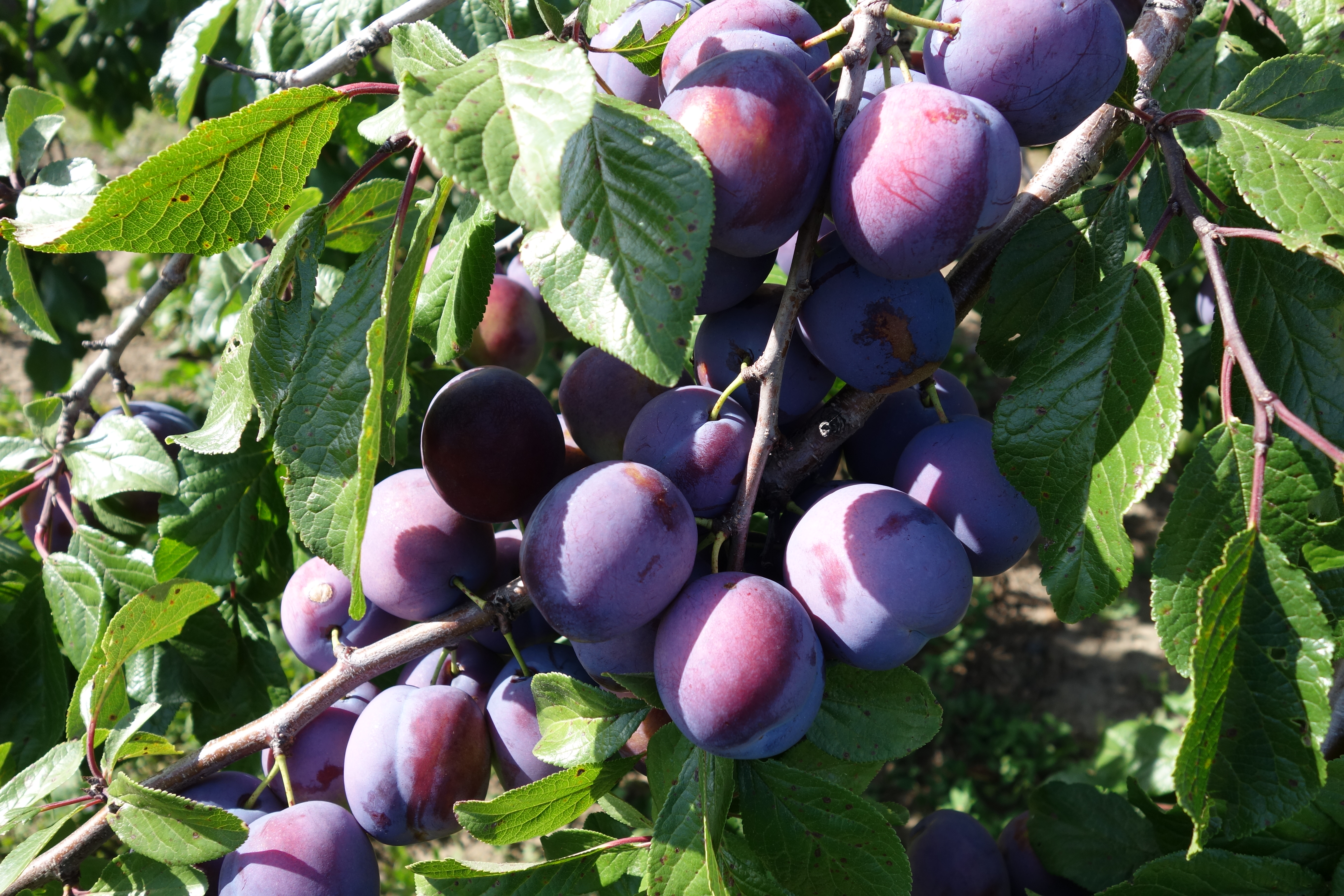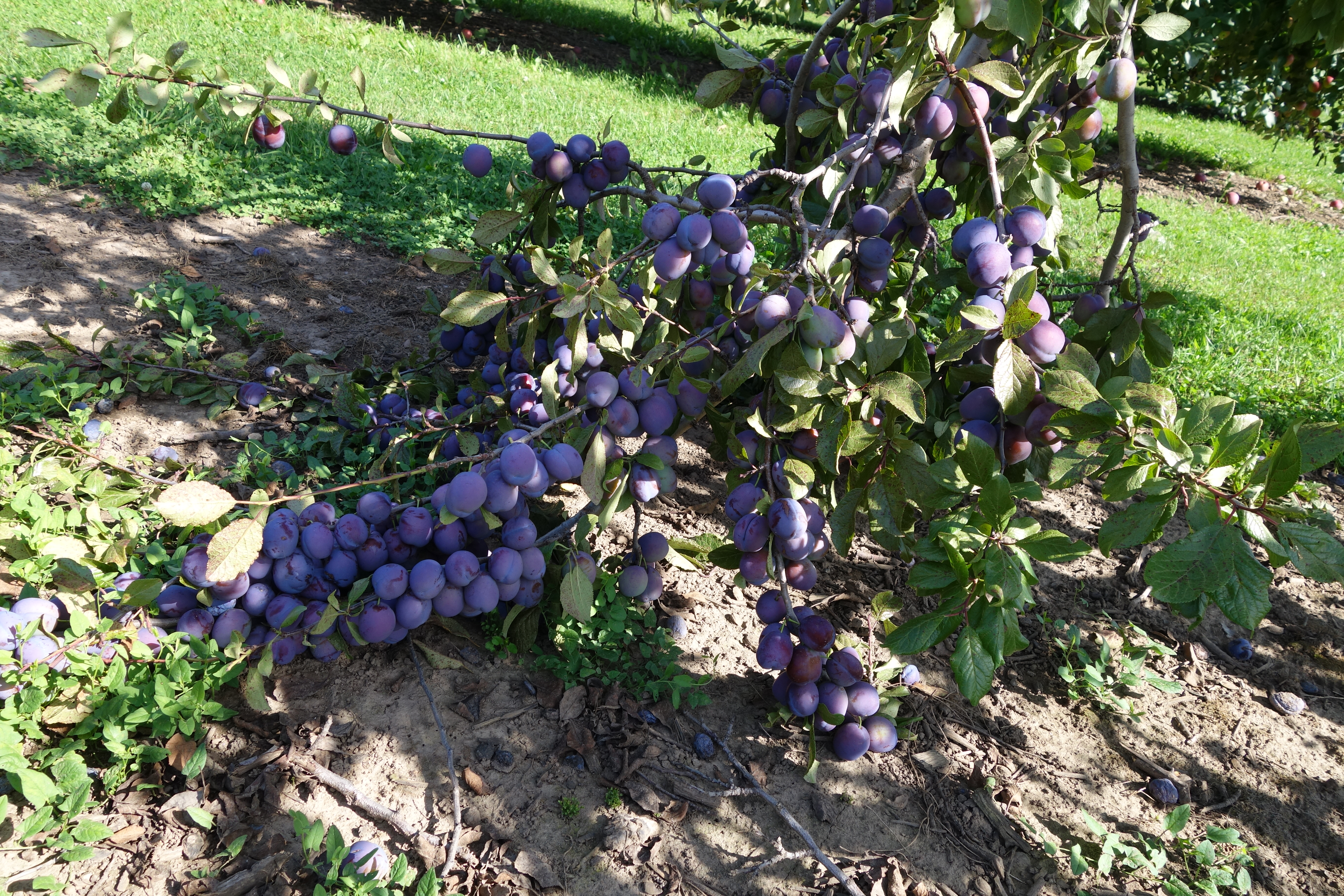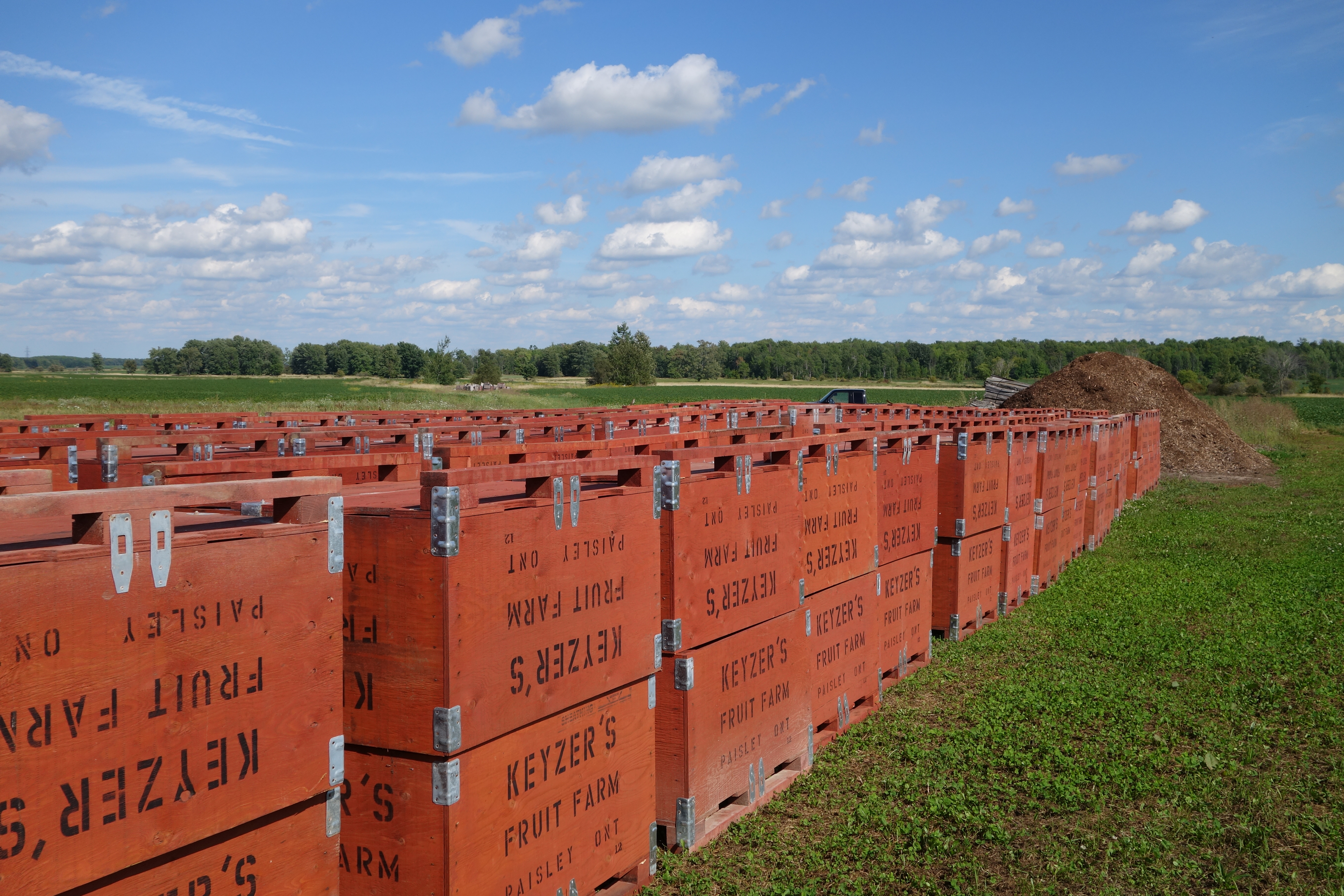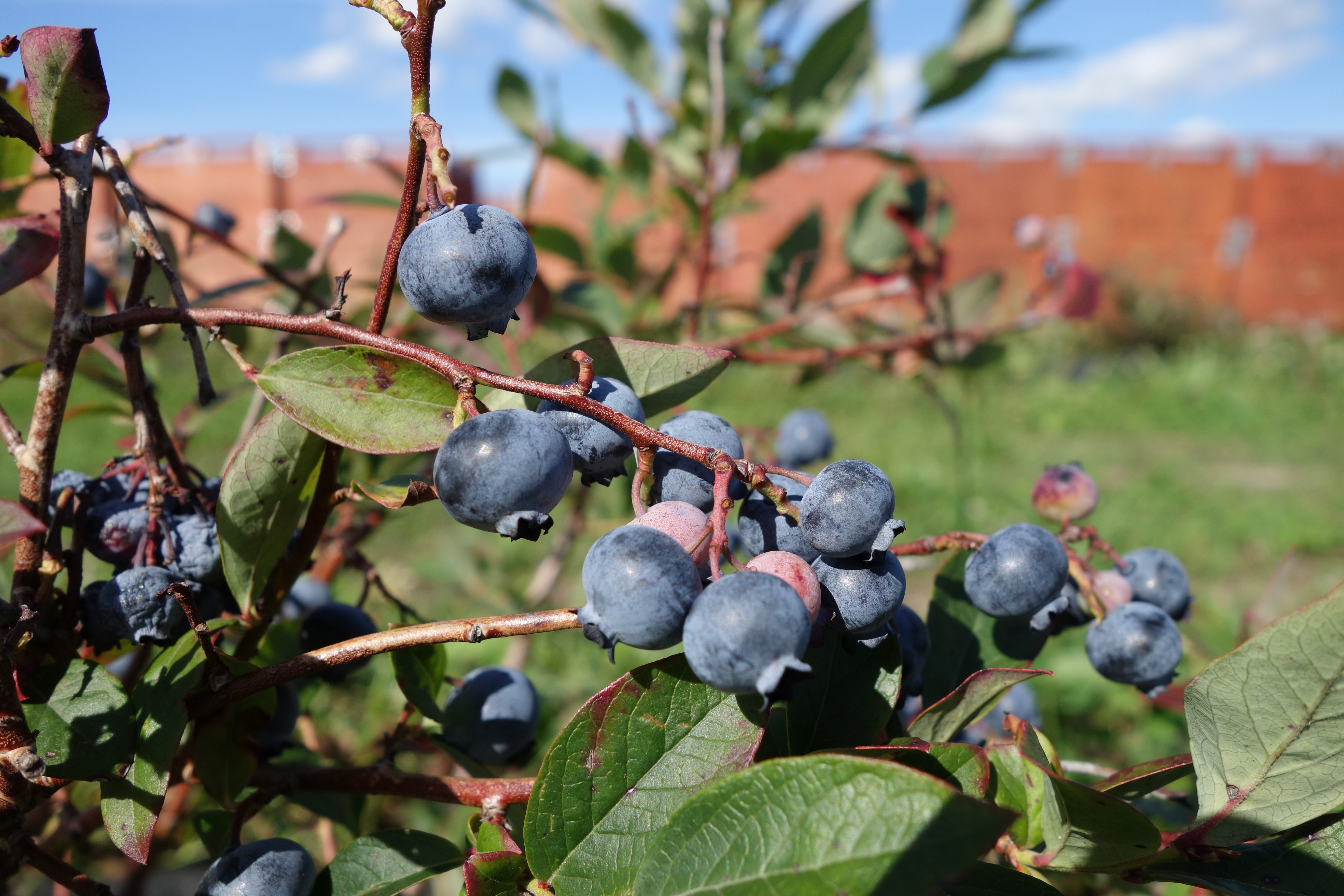 Breakfast on the farm was equally good. More curious questions from the boys and delicious home made bread and jam got me off to a good start.
The journey to my next host was uneventful and I arrived in Stratford to the home of Jim and Julia.
However, Julia, with whom I had been communicating was in Kenya and left her husband Jim at home to cook probably the BEST steak I have had in Canada, if not ever! Maybe it was just hunger but it was fantastic!
It turns out that Stratford is the home of Justin Bieber the 'alleged' singer and bar brawler. However I will be remembering my time in Stratford for that amazing steak and good company!
The following day, breakfast was large and equally good and after a quick tour of the town I stopped in the centre for an extra hot chocolate. The locals were excited as their boy Justin was in town somewhere as he had been caught fighting and was trying to avoid the paparazzi.
I continued.
Again an fairly uneventful day passing through fields of Maize, and beans as I headed south to London and an invitation from Dan, the recumbent rider I met back in Ignace.
Dan and Ruth made me very welcome as I settled into their home.
I had sent Dan a message a few days earlier about my damaged tyre, so he ordered some on my behalf from his local store First Cycleworks who also gave me a big discount on the tyres which was nice but unexpected. Thanks Guys!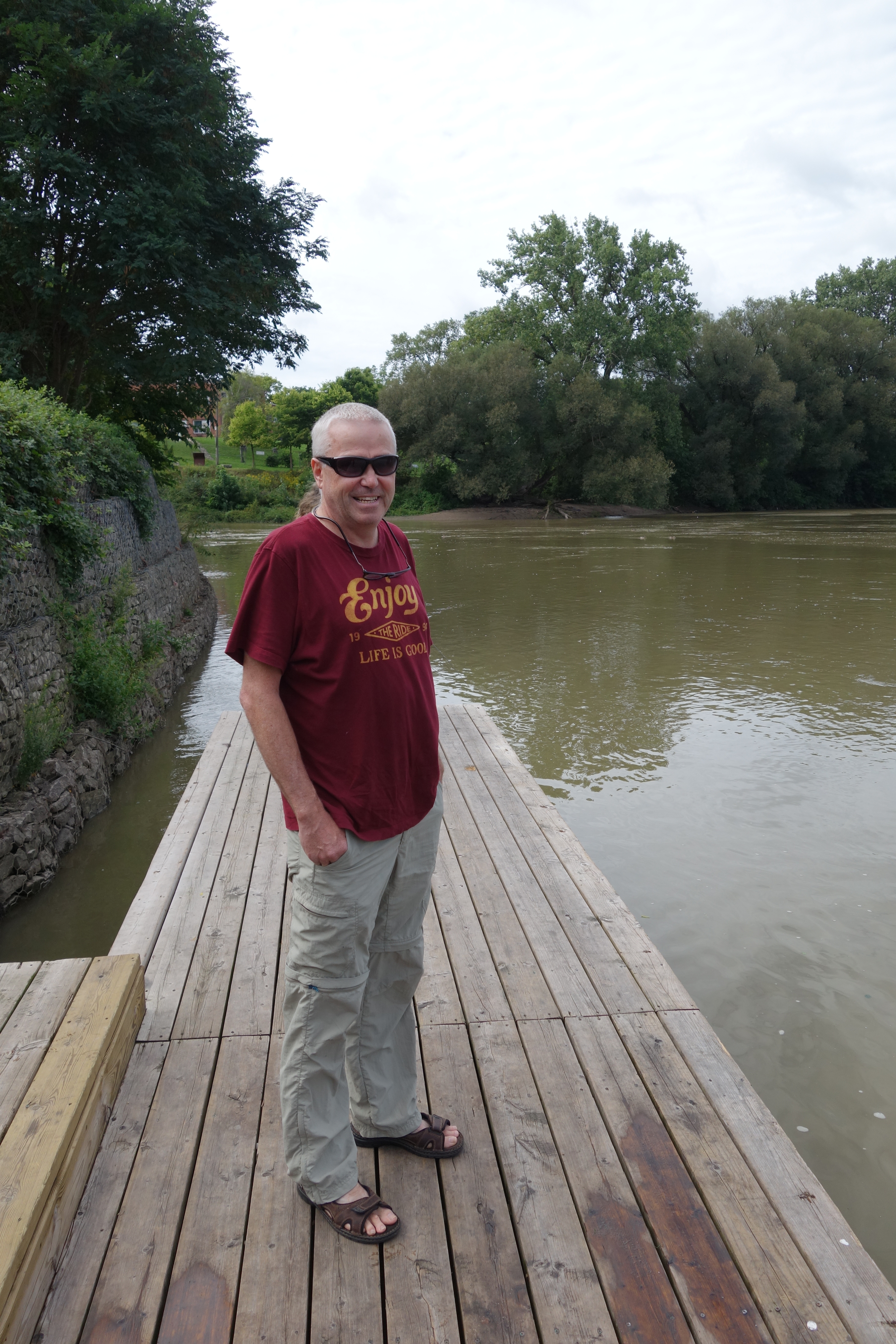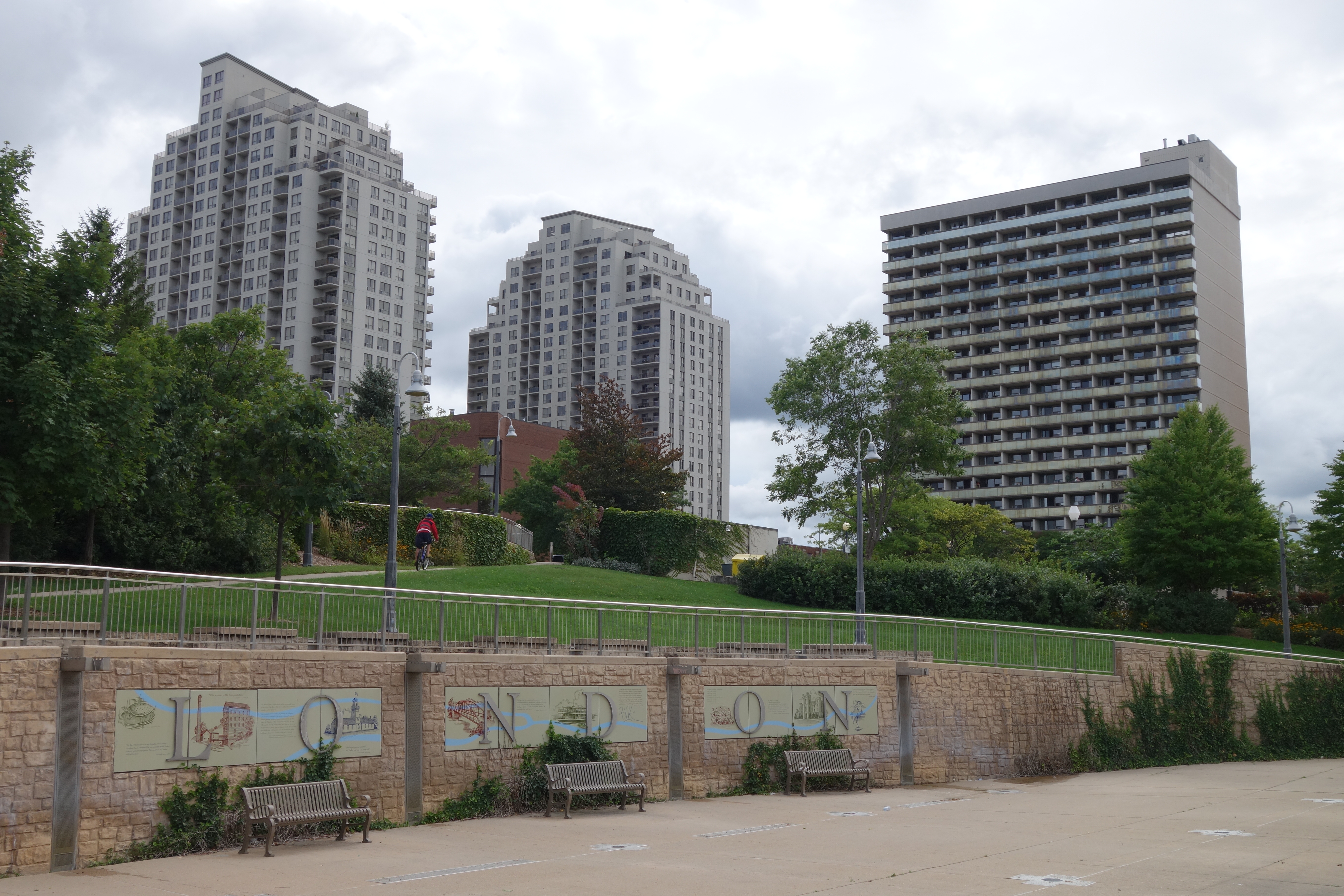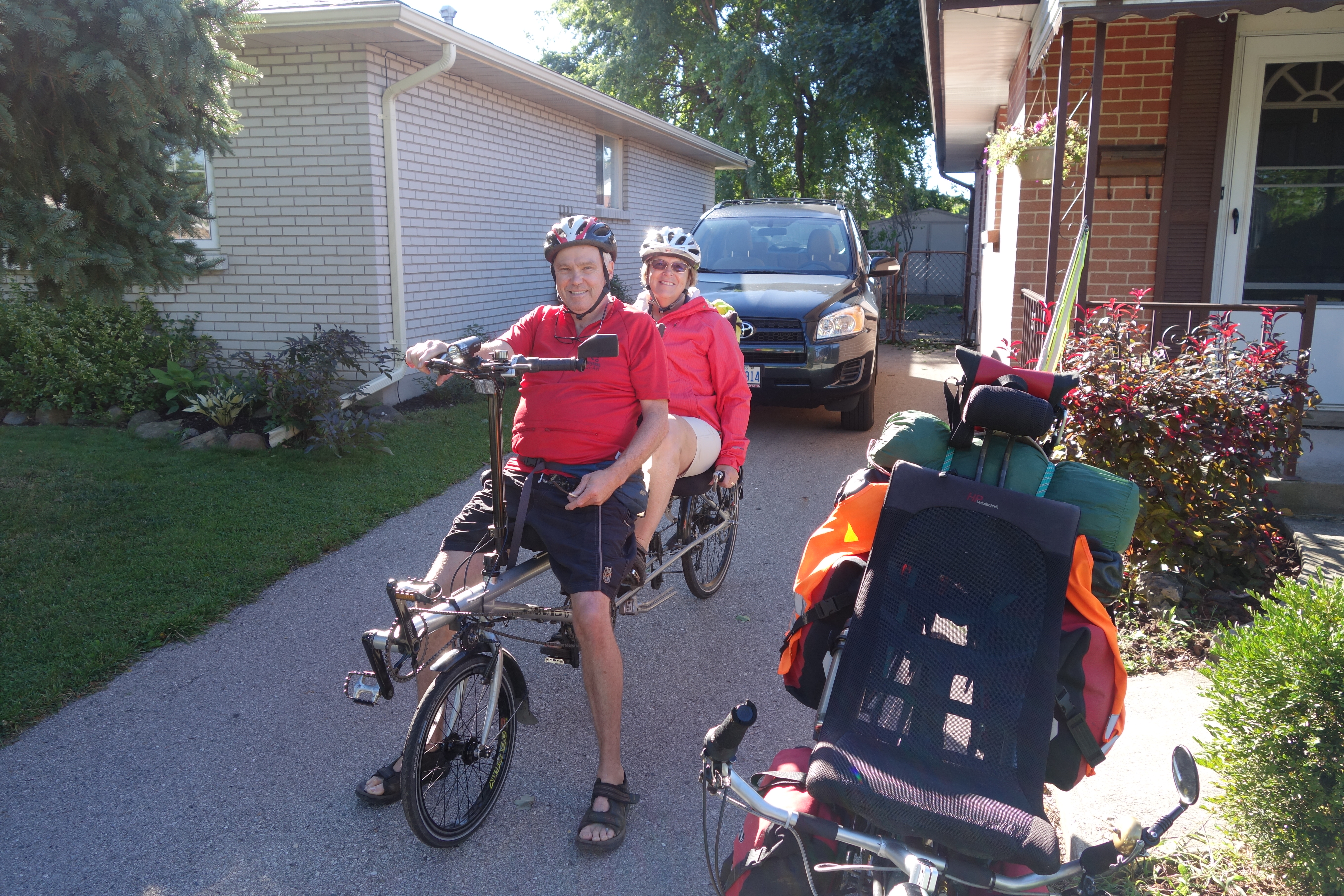 My journey the continued to Kitchener and an overnight stop with Brent and Natalie Curry.
Keen cyclists themselves, Brent has also written a program called Bike CAD
As a bike mechanic I have played with this many times over the years, but to unintentionally meet the author was quite a surprise.
Brent had a cool, if eccentric collection of bikes from his business called Bike forest including this amazing HULA BIKE.
Then finally the last stage to Mississauga and to the home of Andrew, My Warmshowers host for a few days.
Except I never met him!
He was away on business but still offered to host me. I was given the location of a key and full access to his home.
It was an odd sensation walking round someone else's property. Especially as I never met him but I soon relaxed and used my time to clean and repair my bike. As well as use it as a base to explore Toronto.
By chance, an old school friend who moved to Canada many years ago finally got in touch.
I had been trying to find him for several months. I knew he was in the Toronto area, but didn't know where.
As it turns out, our houses were about 6 miles apart! So we met up for a meal and filling in 23 years of each other's histories.
It was a nice reunion.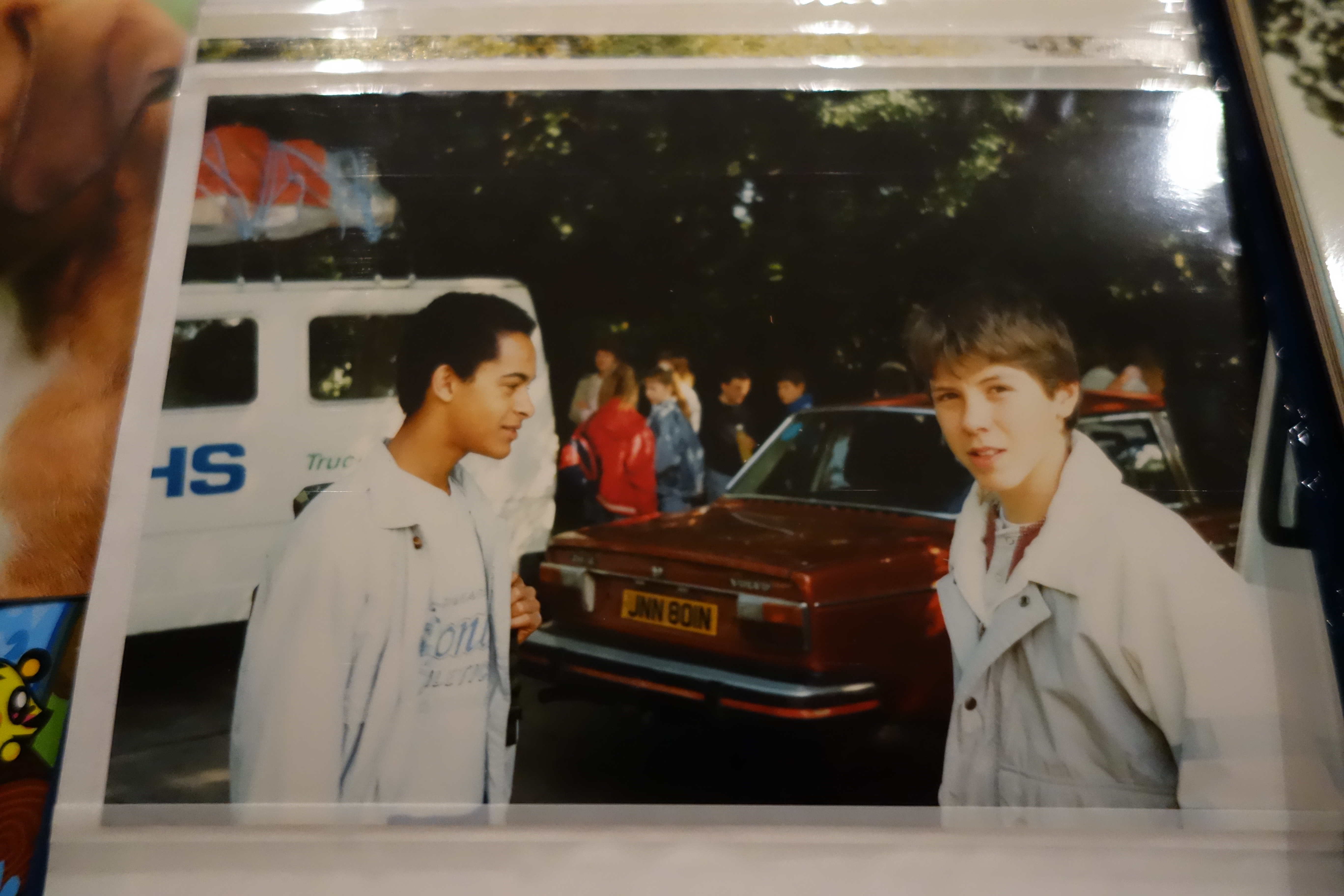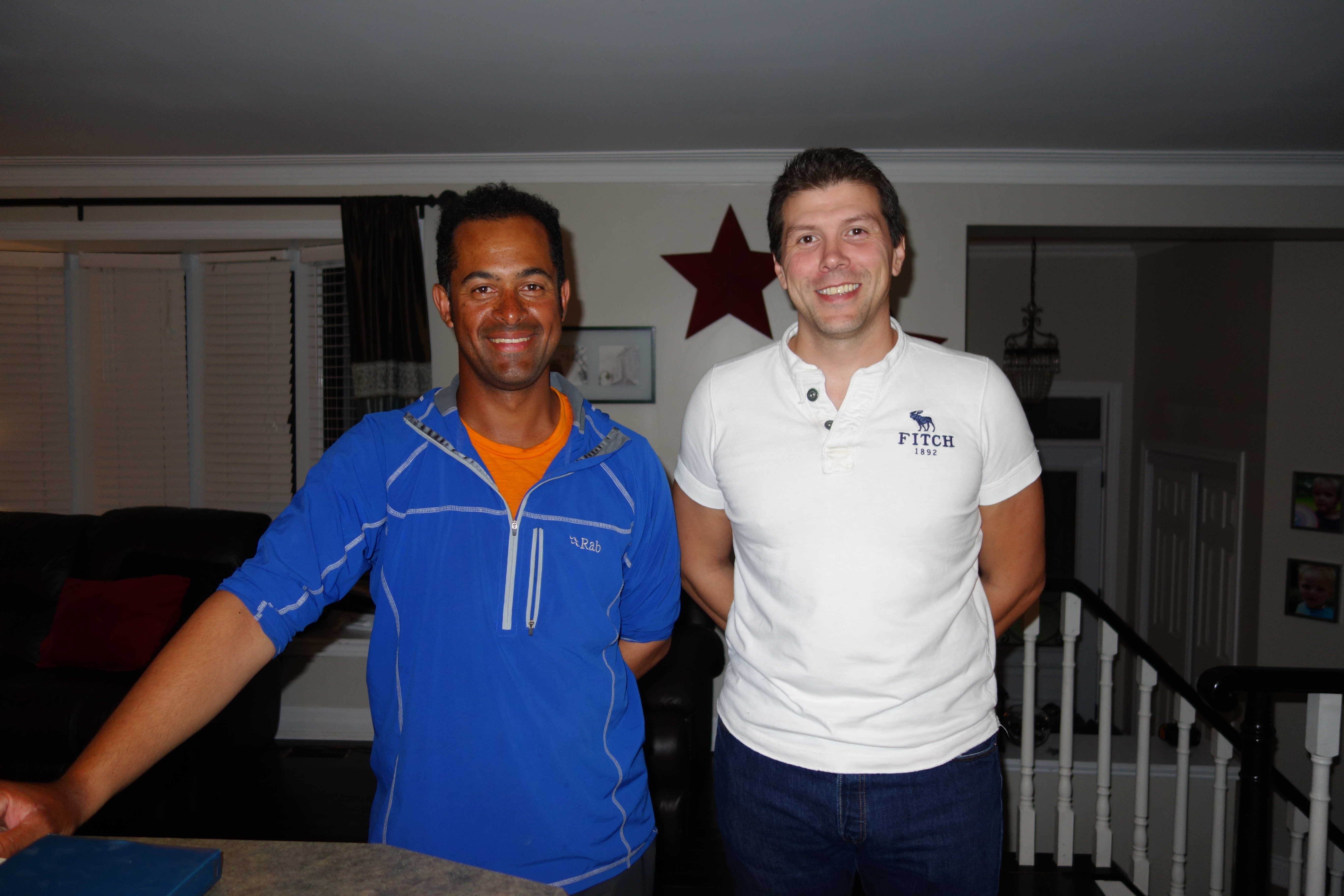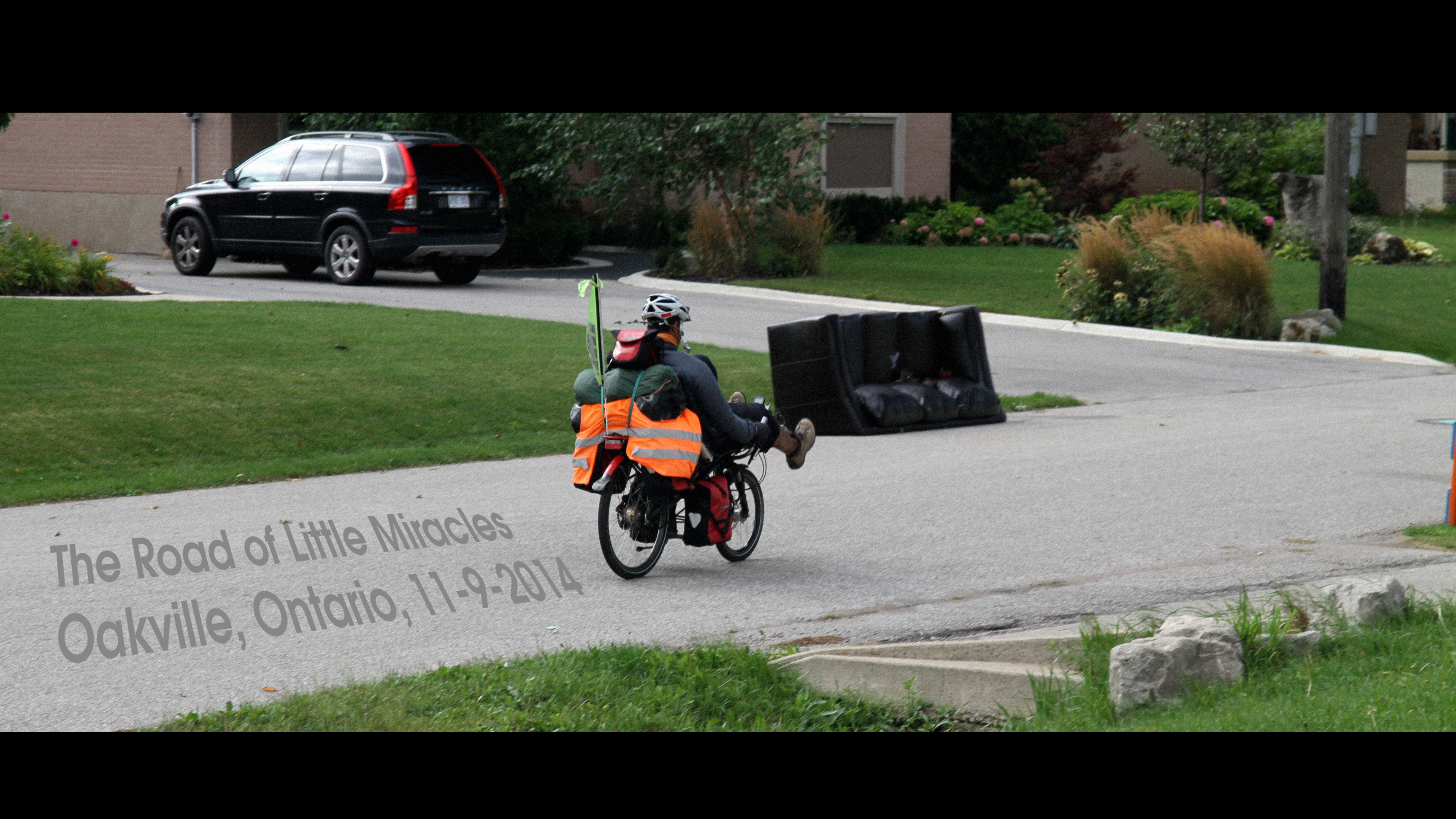 Then began the final stage of my journey through Canada.
I cycled around the bay to the famous Niagara falls to the home of Mike and Joan Stoll. Joan is the sister of Jim, of Stratford steak fame and kindly organised for me to spend a night there as it is next to the border.
Mike is an engineer who specialises in water jet cutting various components for industry and it was amazing to see the machine working.
Using nothing but high pressure water and a special grade of sand this machine will cut almost any shape through steel, stone and just about anything else up to about 7 inches thick!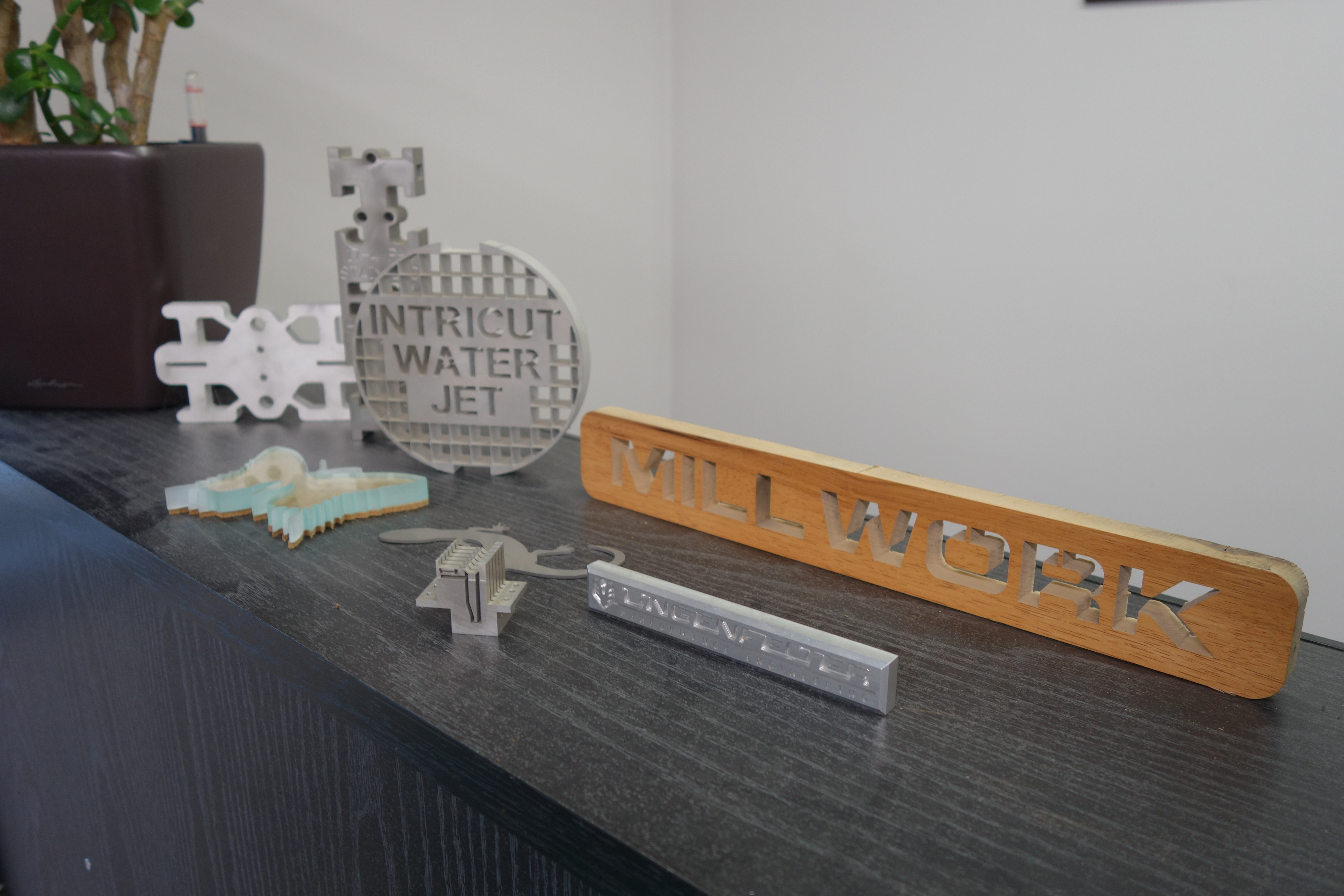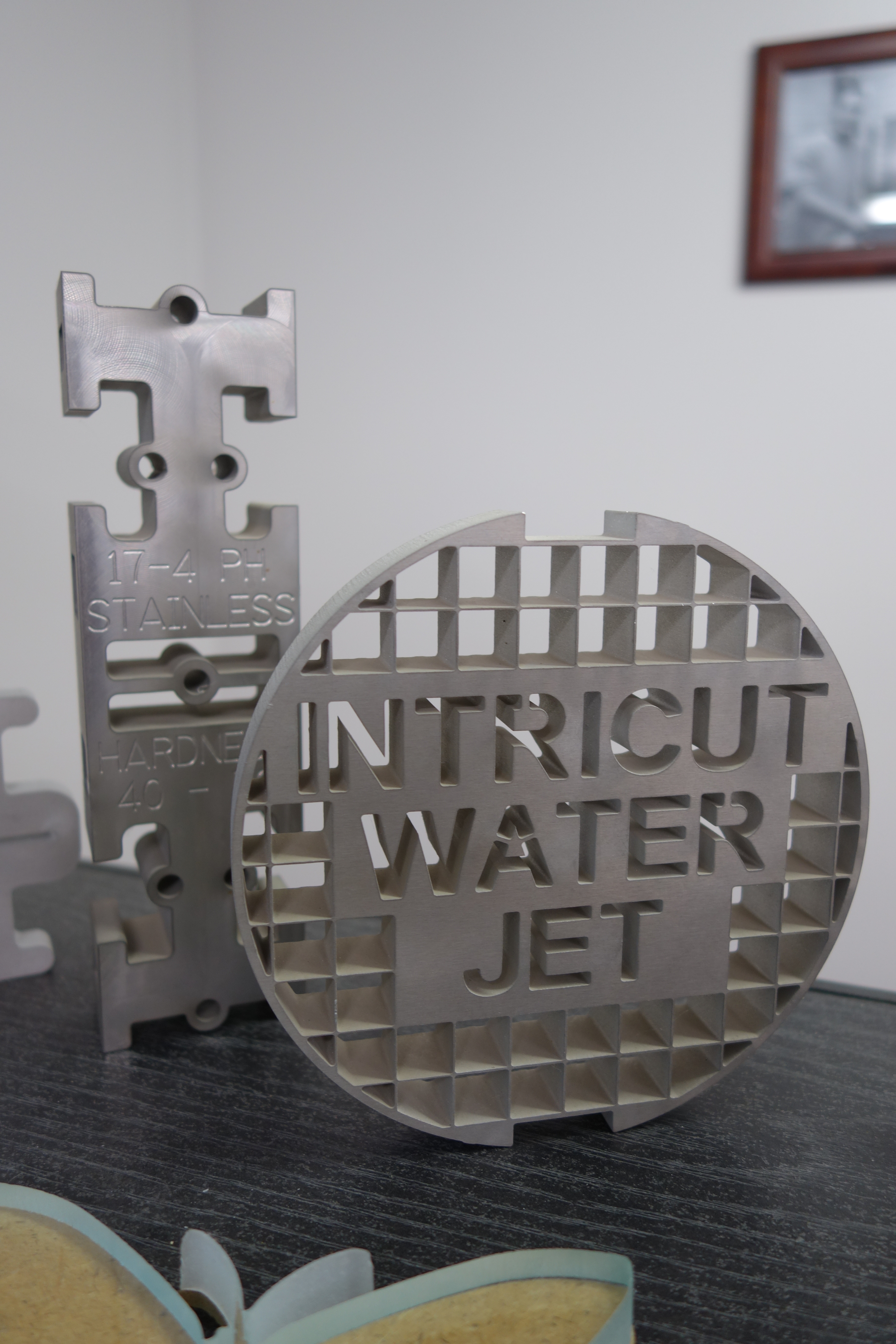 The following day I spent several hours as a tourist looking at the amazing Niagara falls.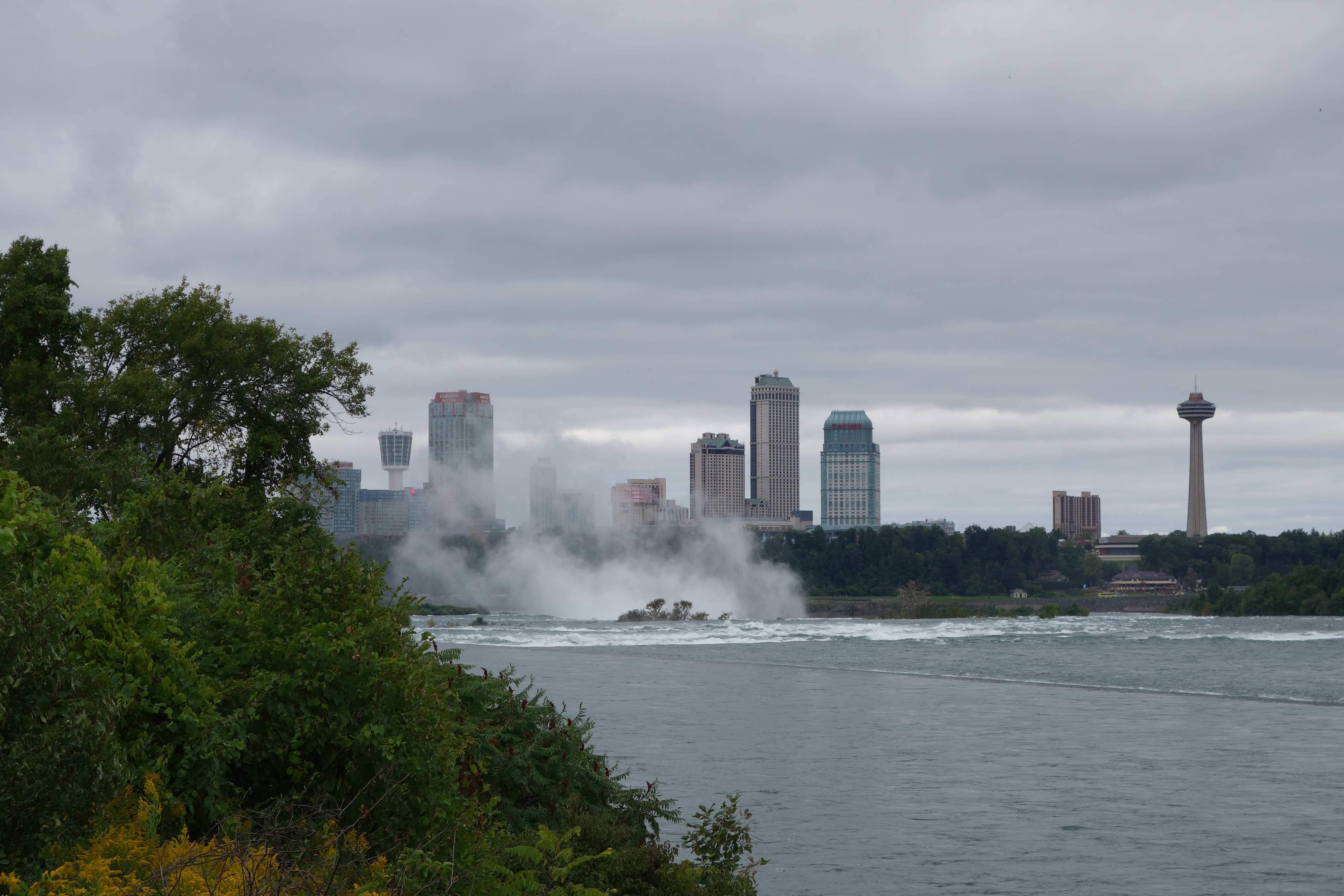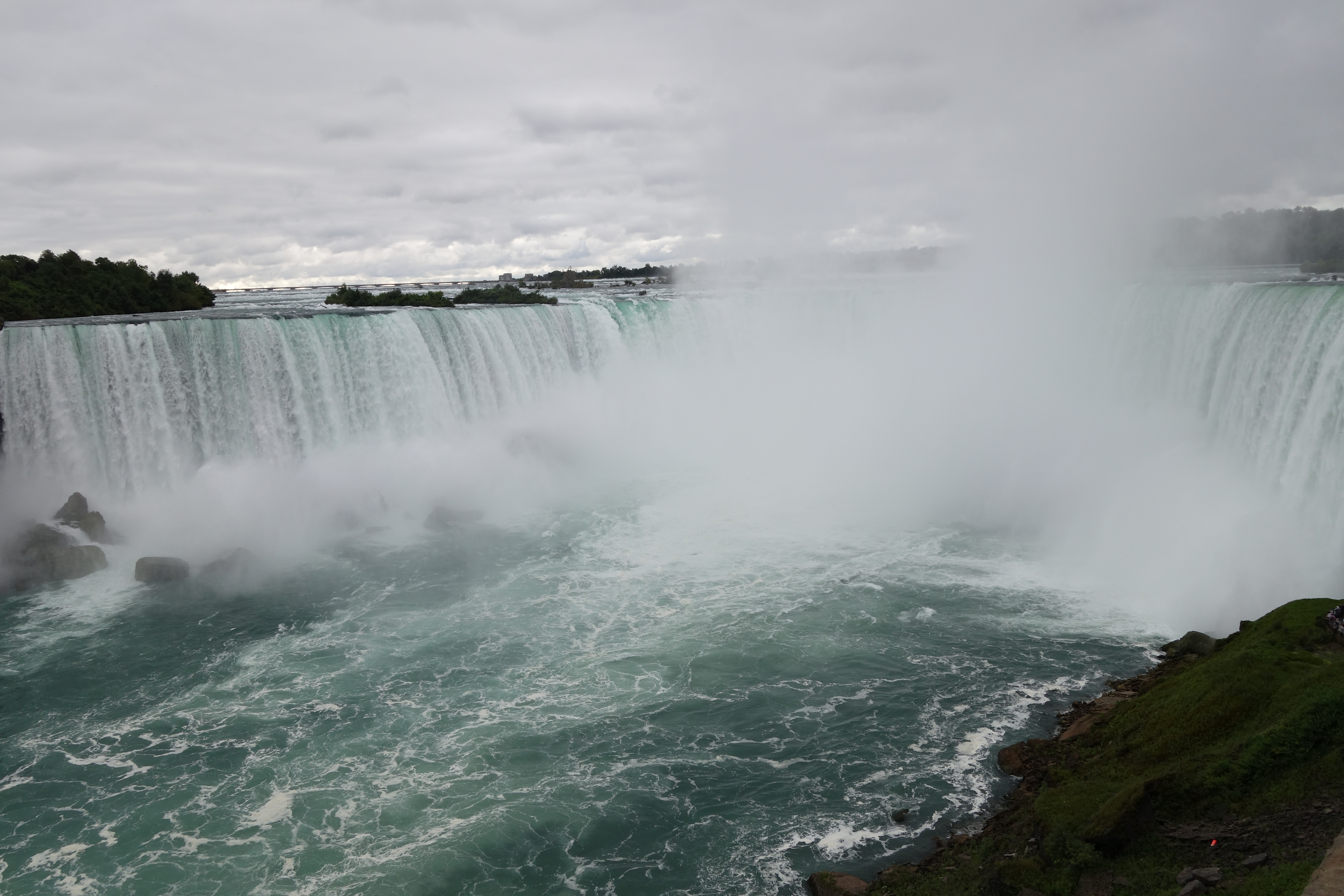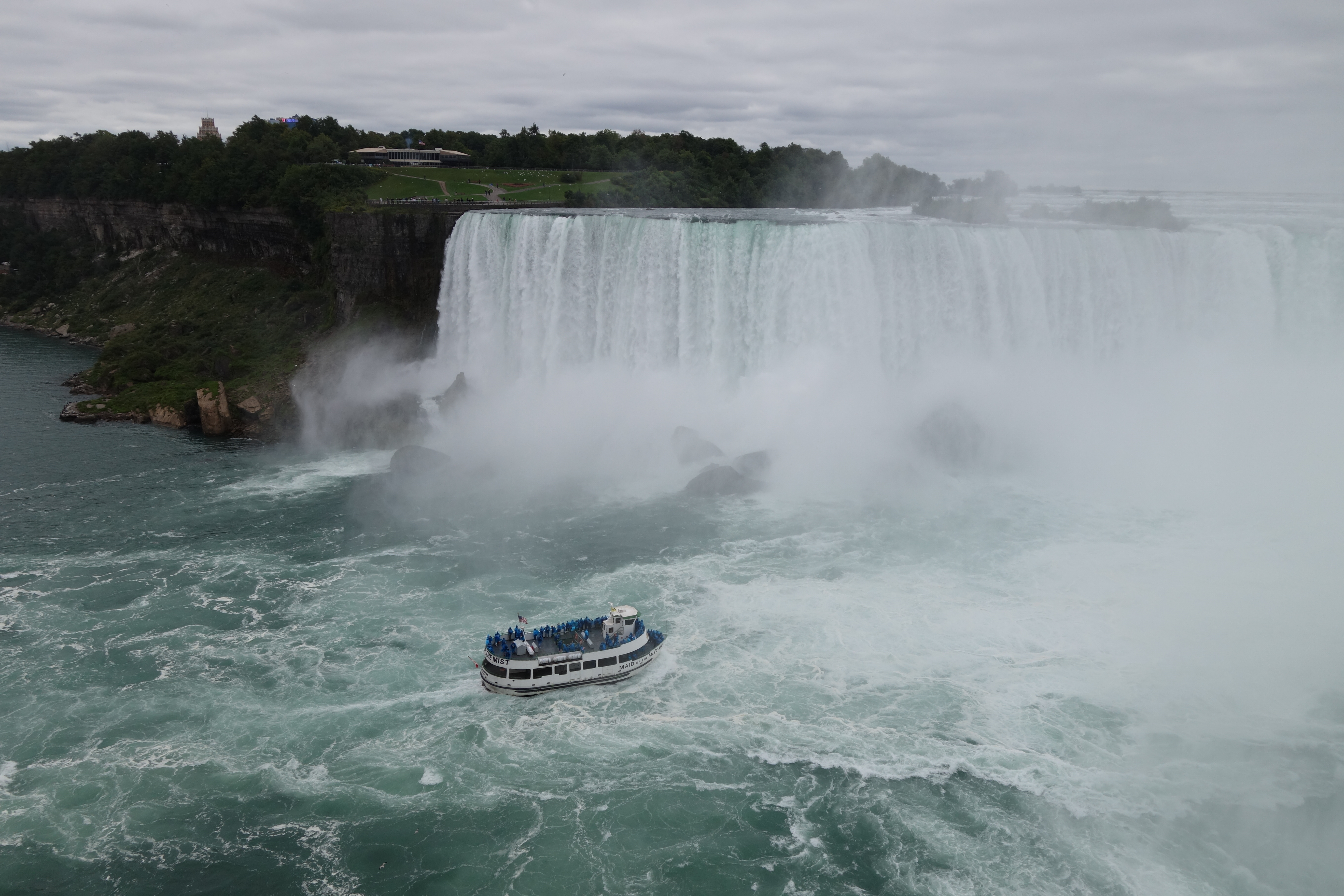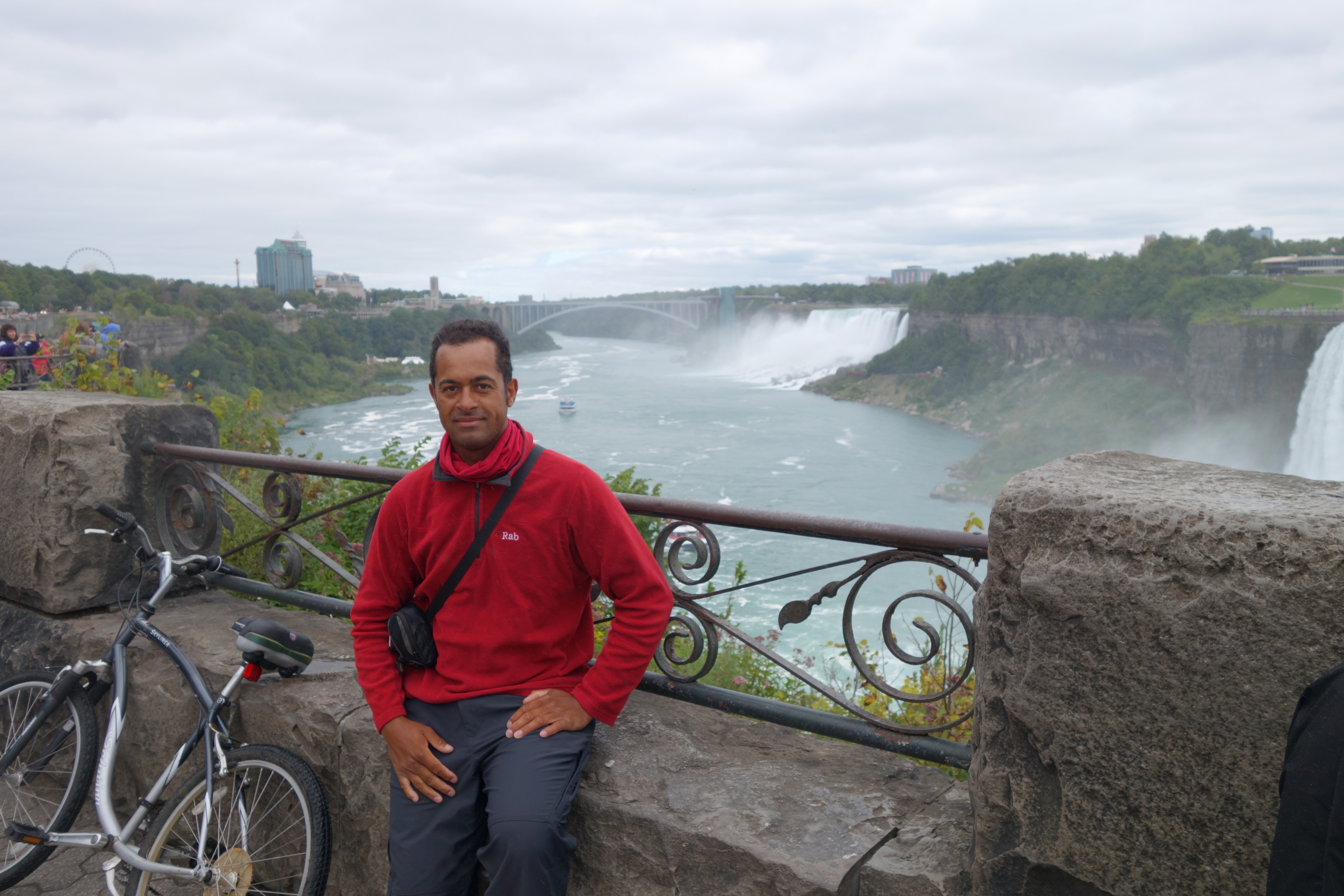 My final significant landmark in Canada and a massive sense of pride for riding the whole width of the country.
Of course I treated myself to a good meal though it was a little lonely celebrating on my own I thought of the amazing time I have had travelling through a country I knew little about and the wonderful and generous people I have met along the way.
Since I started I have travelled 108 days from Prudhoe bay to Niagara Falls and cycled approximately 8460 km / 5257 miles.
Though I cycled alone for the most part, I could not have achieved half as much as I have without the support of all these people.
THANK YOU CANADA!##
I collected my bike from Mike and Joans house. Said my thanks and goodbyes then cycled the final few kilometres to the Rainbow bridge and patiently waited in the queue to cross the border back into the United States of America and my next few months of adventures.
This I hope, will be the highlight of my whole adventure.
10 years of dreaming an over 2 years planning.
America here I come!#