0023: To AB from BC. Yellowhead Tears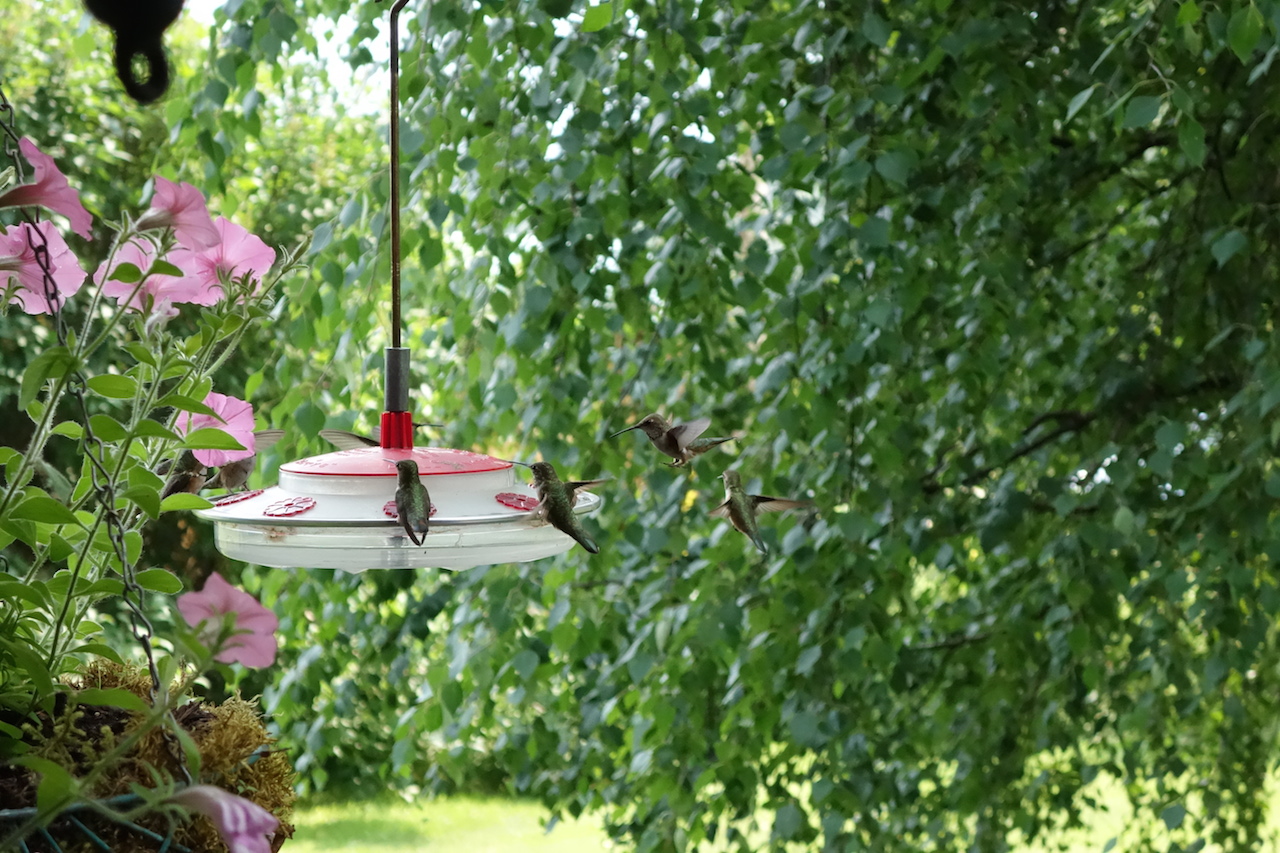 ---
Sadly, this road is appropriately named.
I have come to both love and hate highway 16 for many different reasons.
Joining it at Kitwanga and the junction with the Cassiar highway, it was immediately apparent that this was a different road to the ones I have travelled along so far.
There was much more traffic. Not just the ubiquitous RV's but now huge lumber trucks, hauling timber, trees, and wood products of every type.
Add to that a greater number of industrial, mining, and petroleum equipment that gets moved around from place to place on these huge trucks.
Also, dotted along the roadside, posters of missing girls, who hitchhiked to who knows where and sadly never returned home.
Then the little shrines of some unfortunate people.
I don't know if these were car accidents, victims, or simply a roadside tribute by a family missing a loved one.
The road to Smithers was not much fun. Variable width shoulders. Sometimes there, sometimes not, sometimes a slippery litter strewn strip of gravel on the side of the road.
But because of the volume and frequency of traffic, you have to ride in it.
I was relieved to arrive at the house of Lothar Shaefer in Smithers. My host for a few nights.
He owns an amazing modern styled wood house on the edge of the town.
I arrived quite late on a Thursday night and in the middle of a dinner party.
As I was casually introduced, I became quite self-conscious of my dirty sweaty self and asked to be excused to clean up. I hadn't had a shower for 5 days!
I was given the remainder of a very delicious meal, and we chatted about my journey so far.
I originally planned to stay a couple of nights, but as Lothar mentioned a music festival that weekend, I had my arm twisted into staying a few days more.
And I needed it. After 10 gruelling days on the Cassiar Highway, I was completely exhausted. I slept very heavily that night.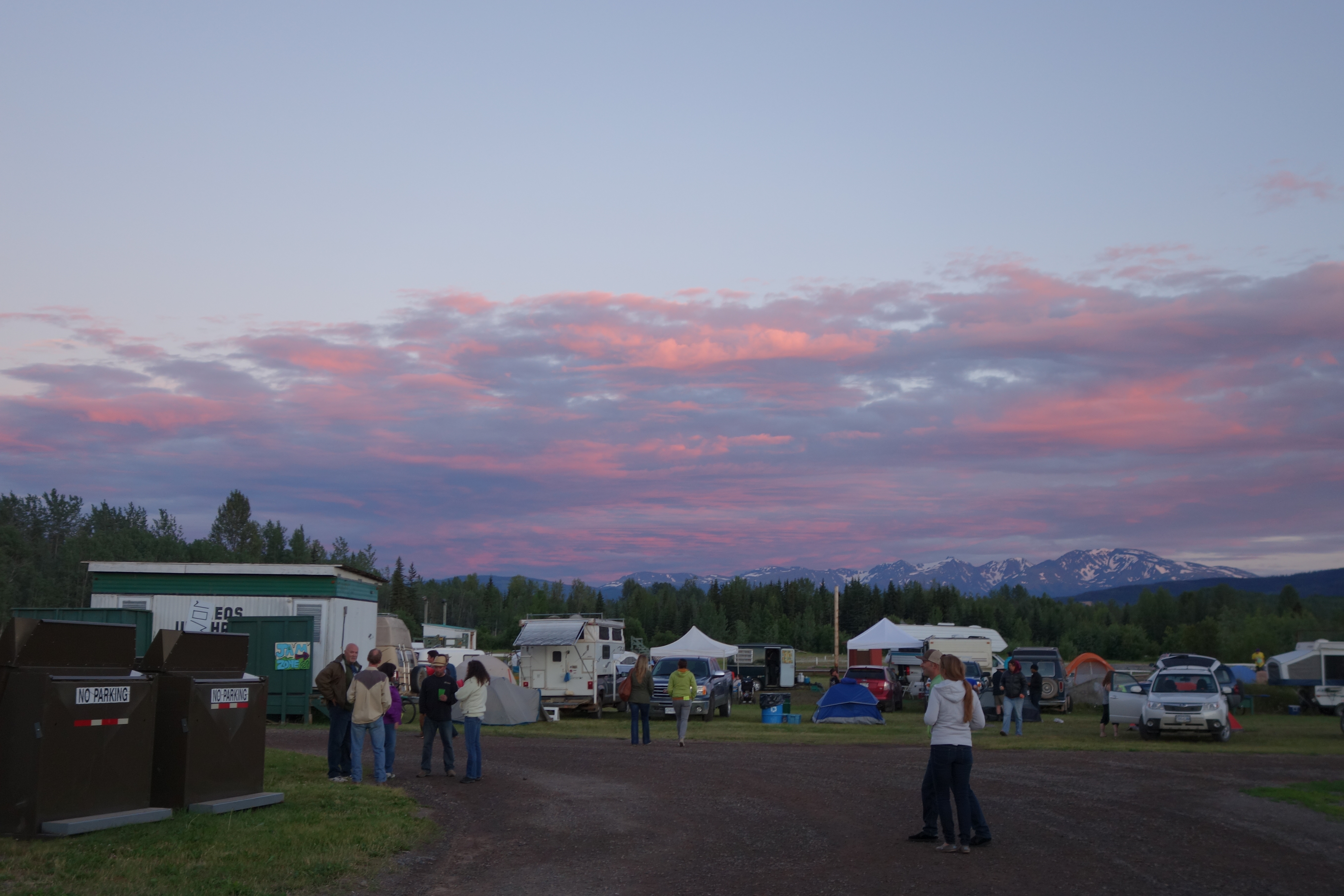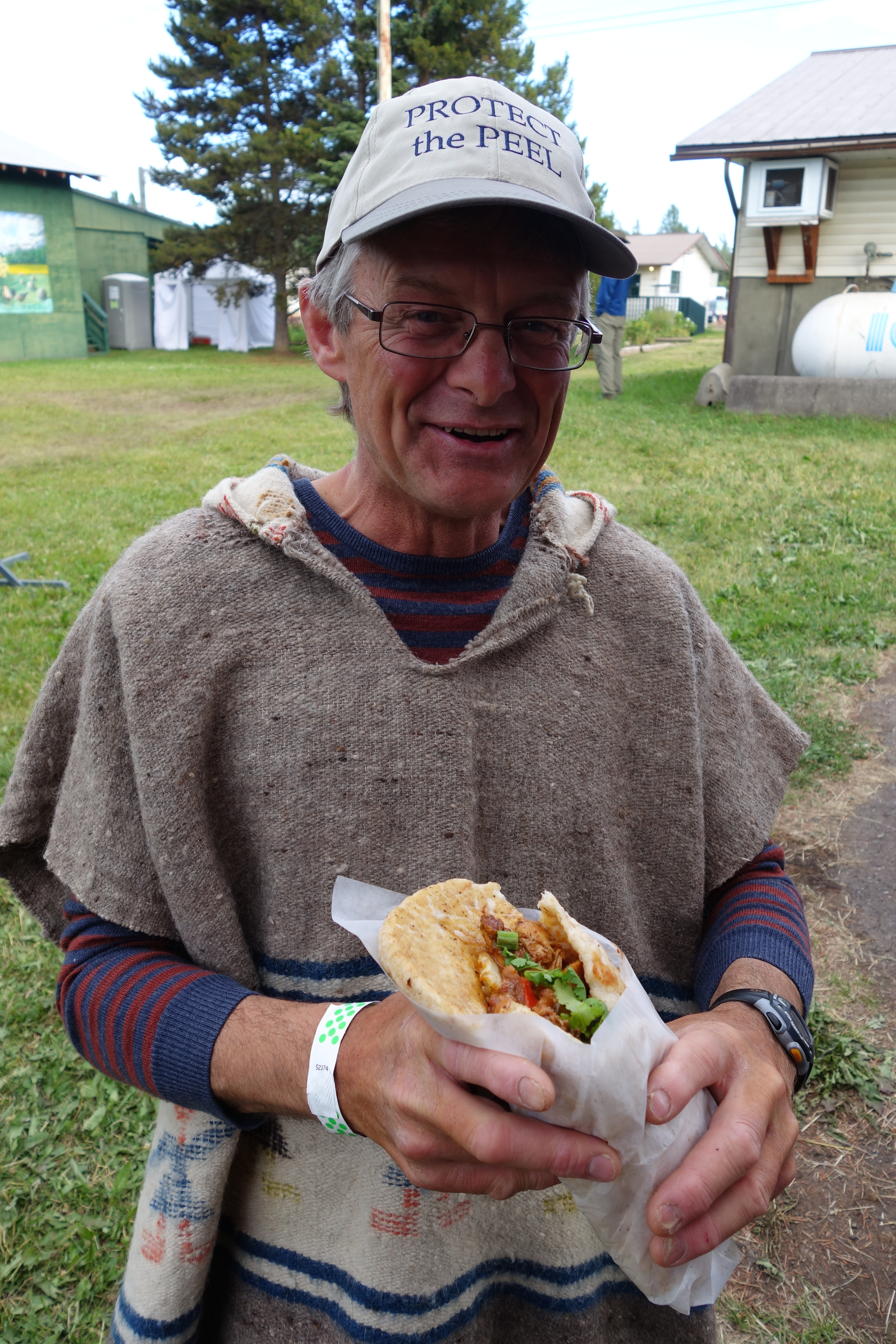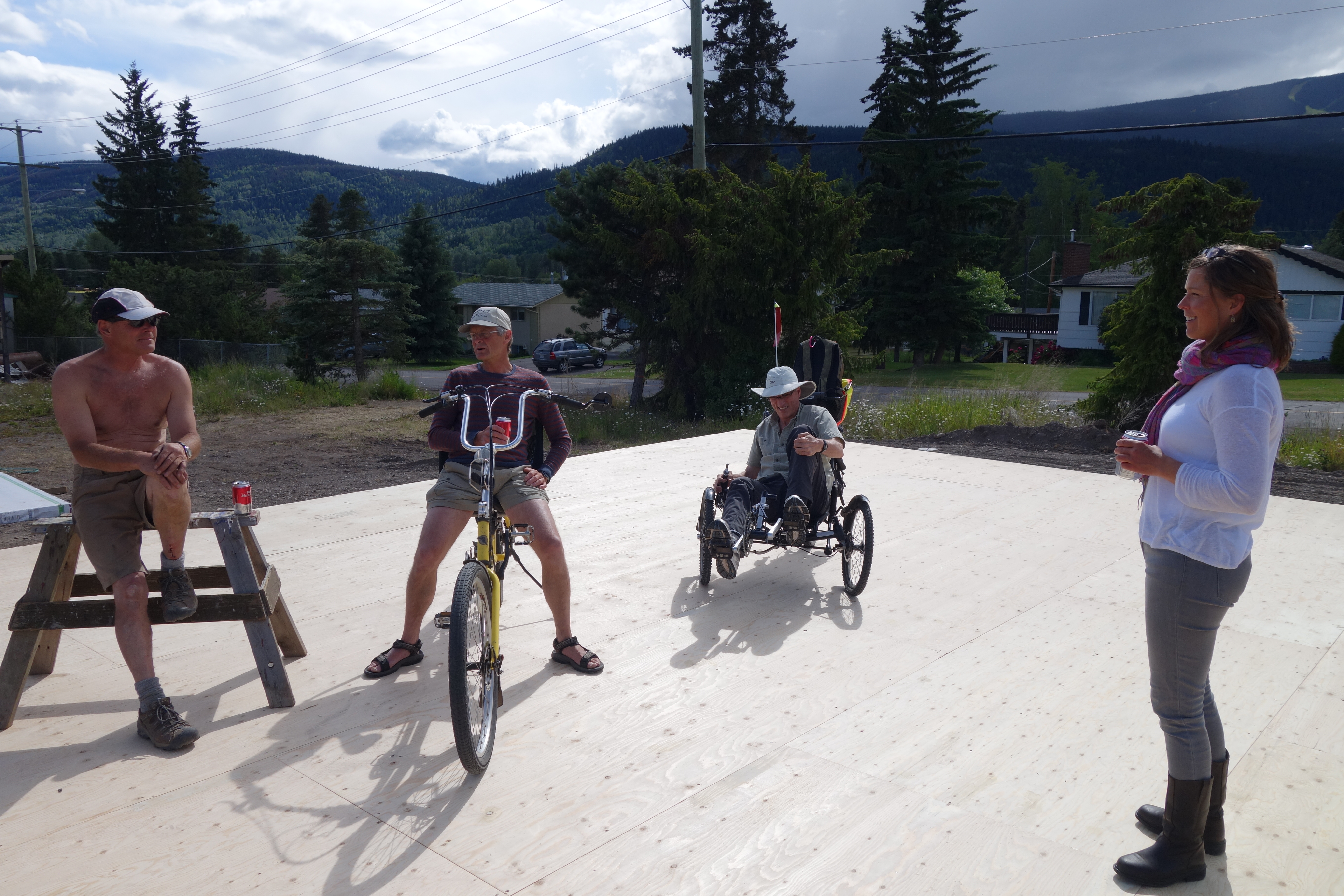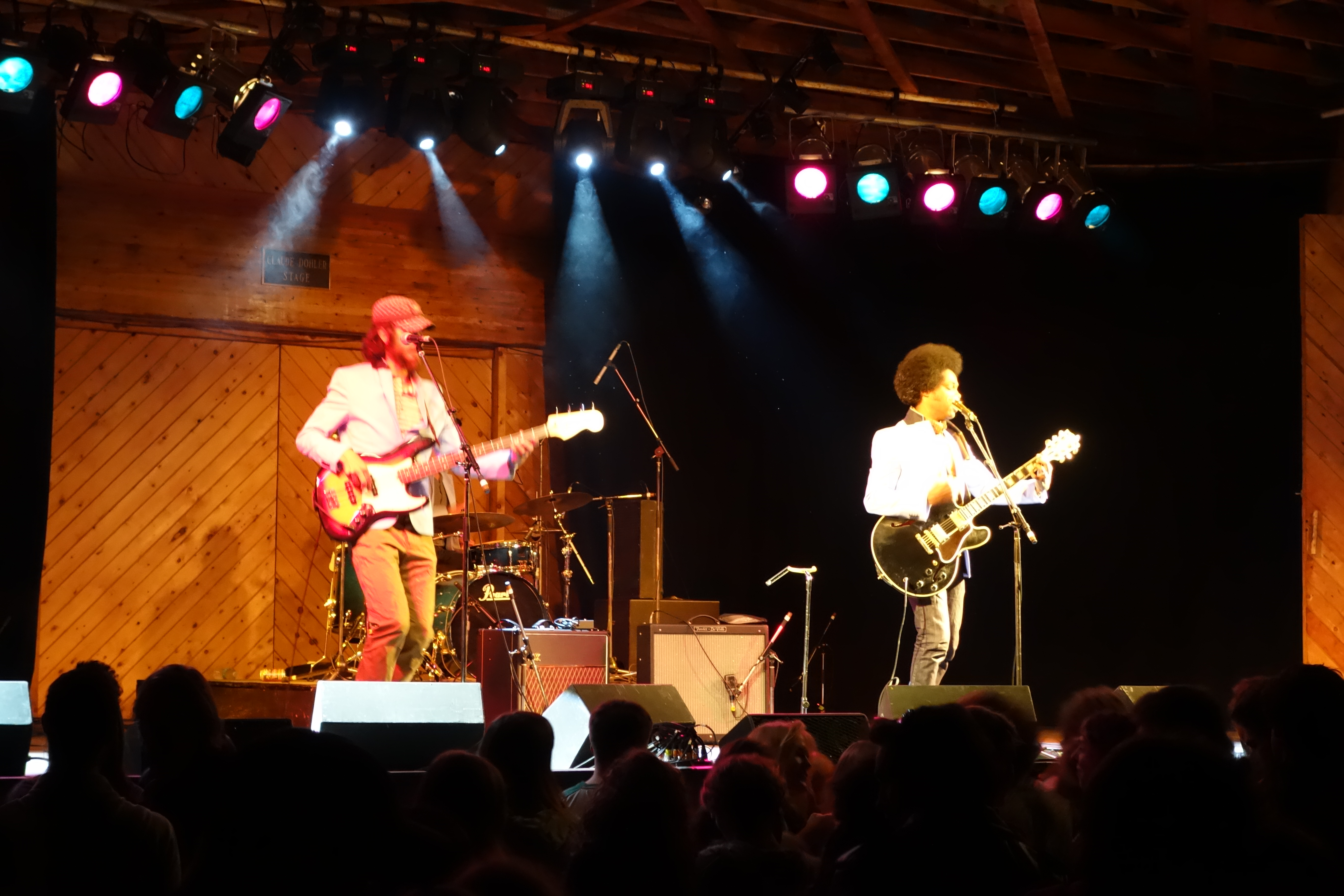 Lothar and his partner Debbie are planning their own cycling trip for next year and we had many long conversations on cycling, bikes and touring in general. They are both keen sea kayakers, so have plenty of experience of the outdoors, but cycling touring was a relatively new experience.
The music festival was a fantastic experience and I met two other cyclists Megan and Isaac there. They were cycling from Austin, Texas to Anchorage partly as something to do over the summer before going back to university and partly to raise funds for their charity.
It was nice exchanging notes as we were both heading on the same roads.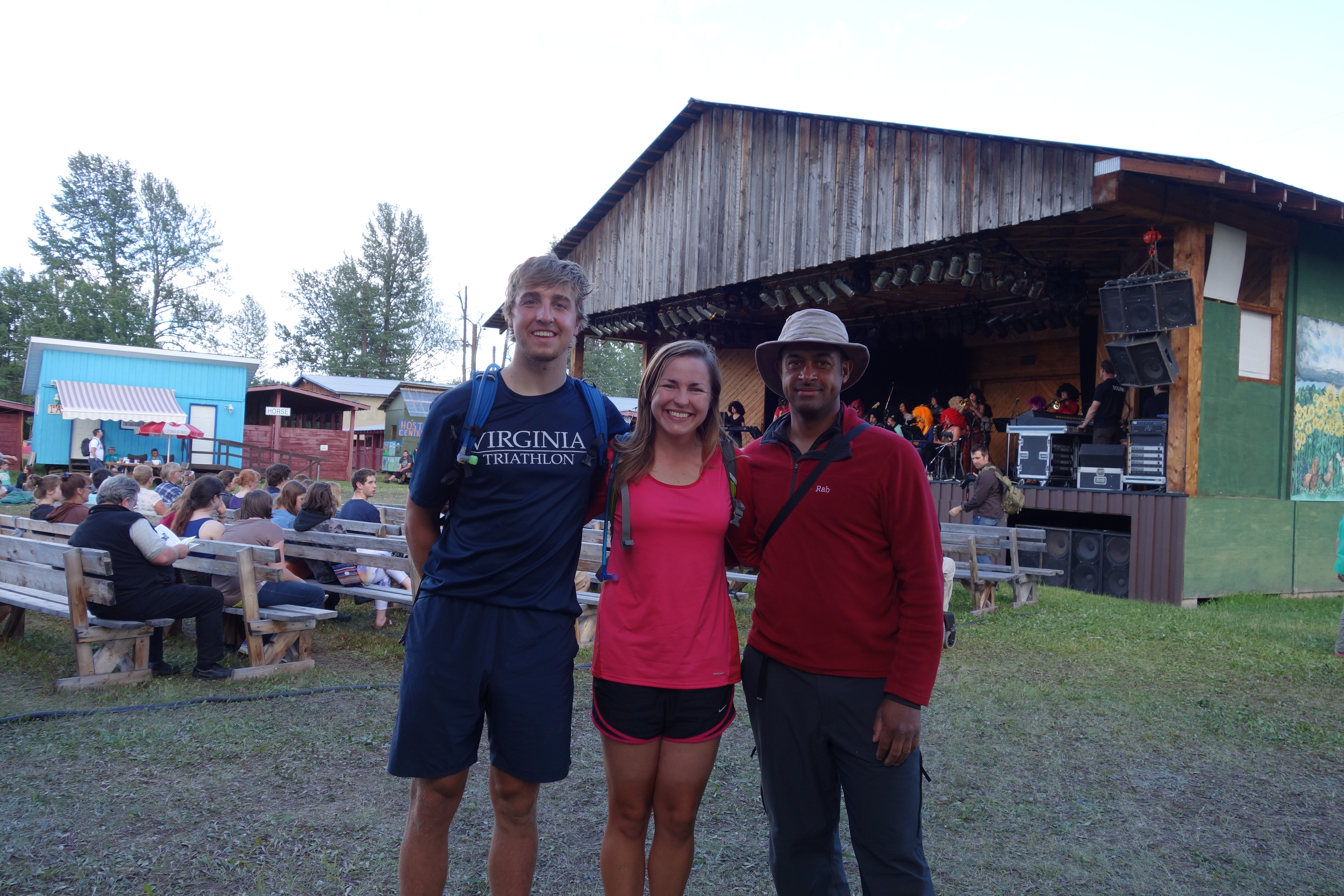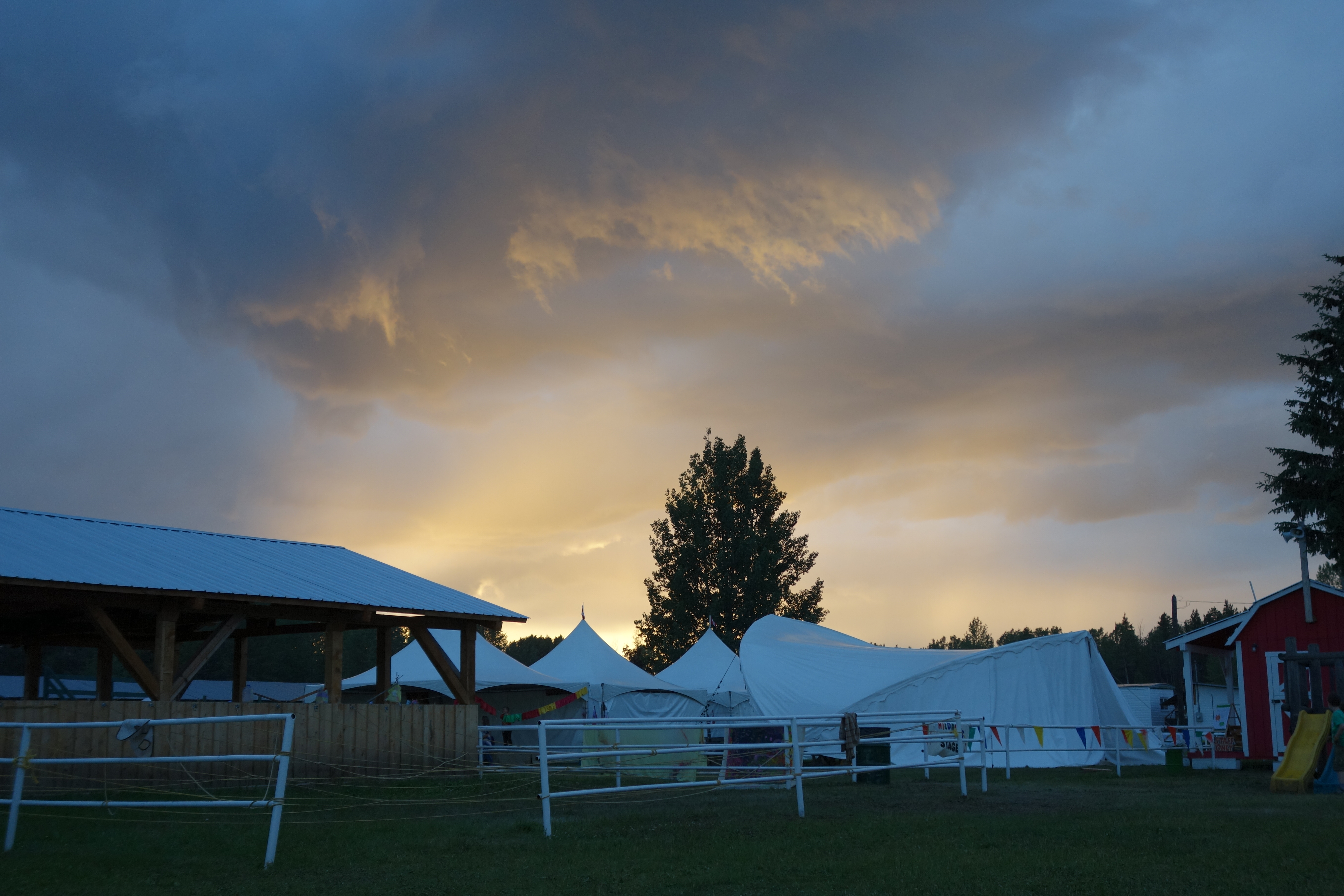 I was really reluctant to move on, on the Monday morning but the rest was exactly what I needed and it was time to continue.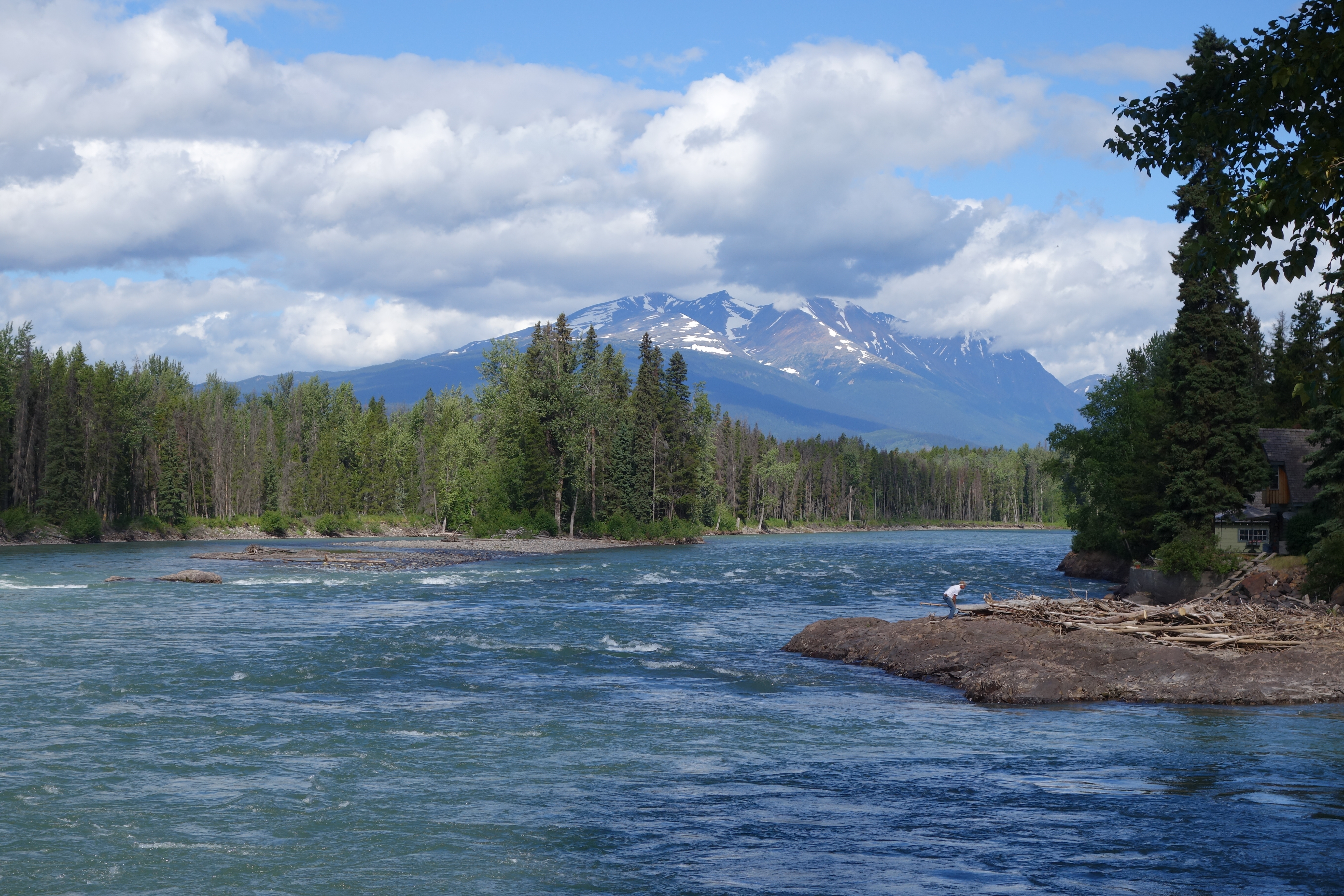 Following the notes given to me by Gary Hemmerling, who I met on the Cassiar, and fed me breakfast, I soon came to Telkwa. A small village about 10 km south of Smithers. Here there is a cyclist dream come true!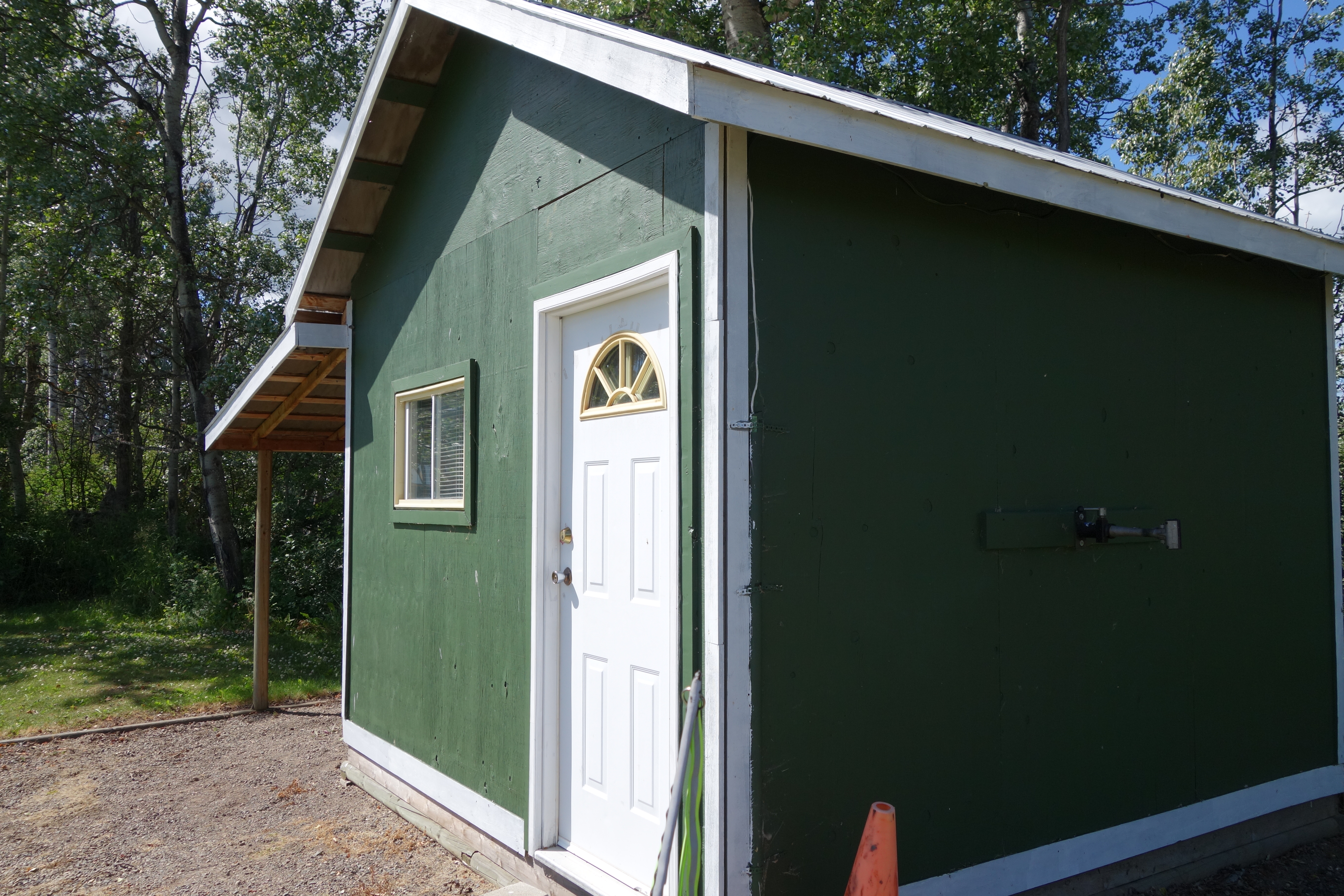 A bike aficionado and RV park owner who has a dedicated cabin with showers, Wi-fi Tools, workstand, and 4 beds specifically for cyclists and Warmshowers users.
AND IT IS COMPLETELY FREE!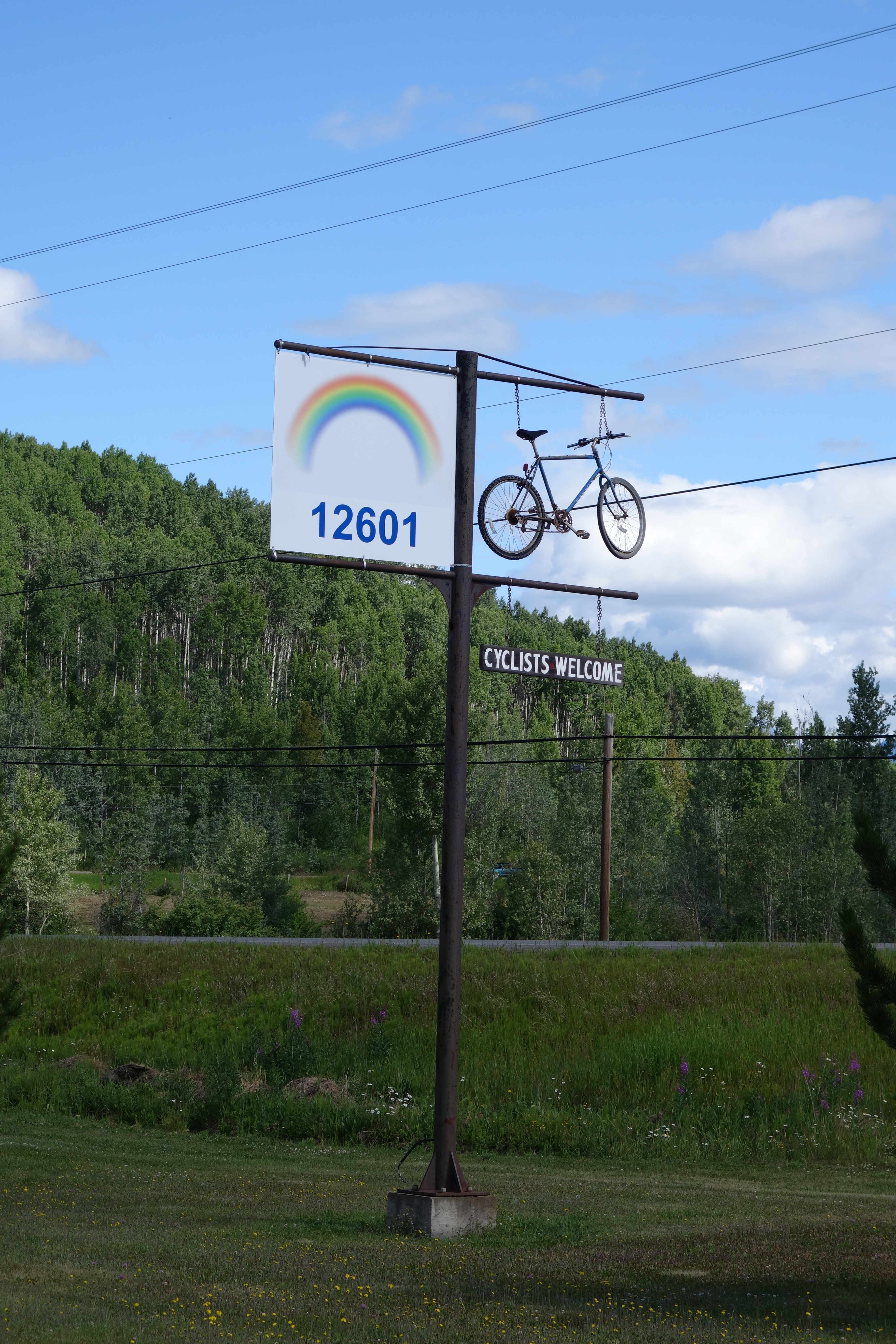 Well done Sir! If only there were more like you?!
It is unfortunate that I had only just started that morning, as I would have most definitely stayed there otherwise.
That afternoon the weather got hotter and a sign of things to come.
I was drinking plenty but had to refill at a garage and knocking on the door of the Jonnsens family home.
My little insulated flask is coming in very handy as I can fill it with iced water (or better a fruity flavoured icy slushy drink from a garage and sip it all day.)
Camping that night was in Houston.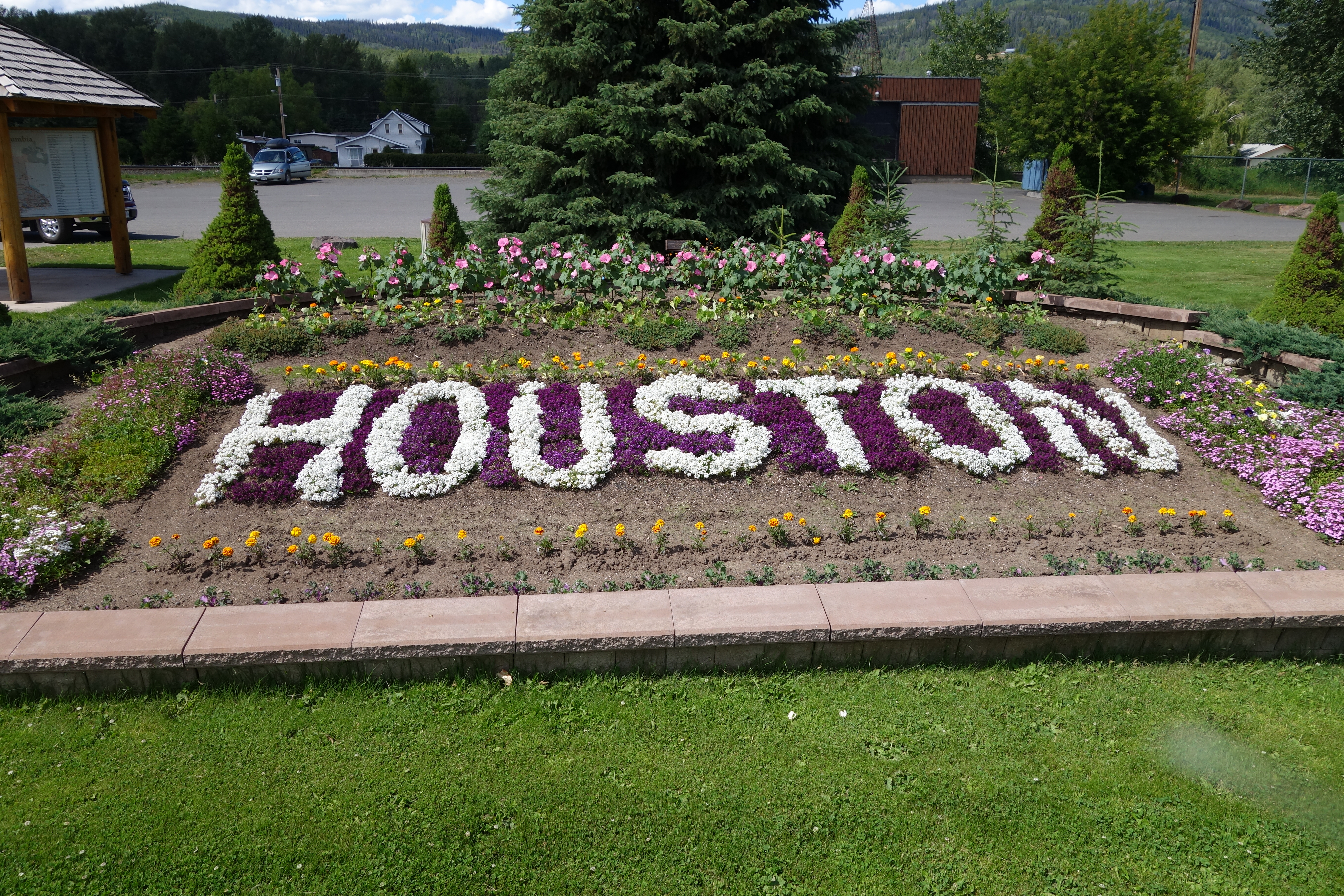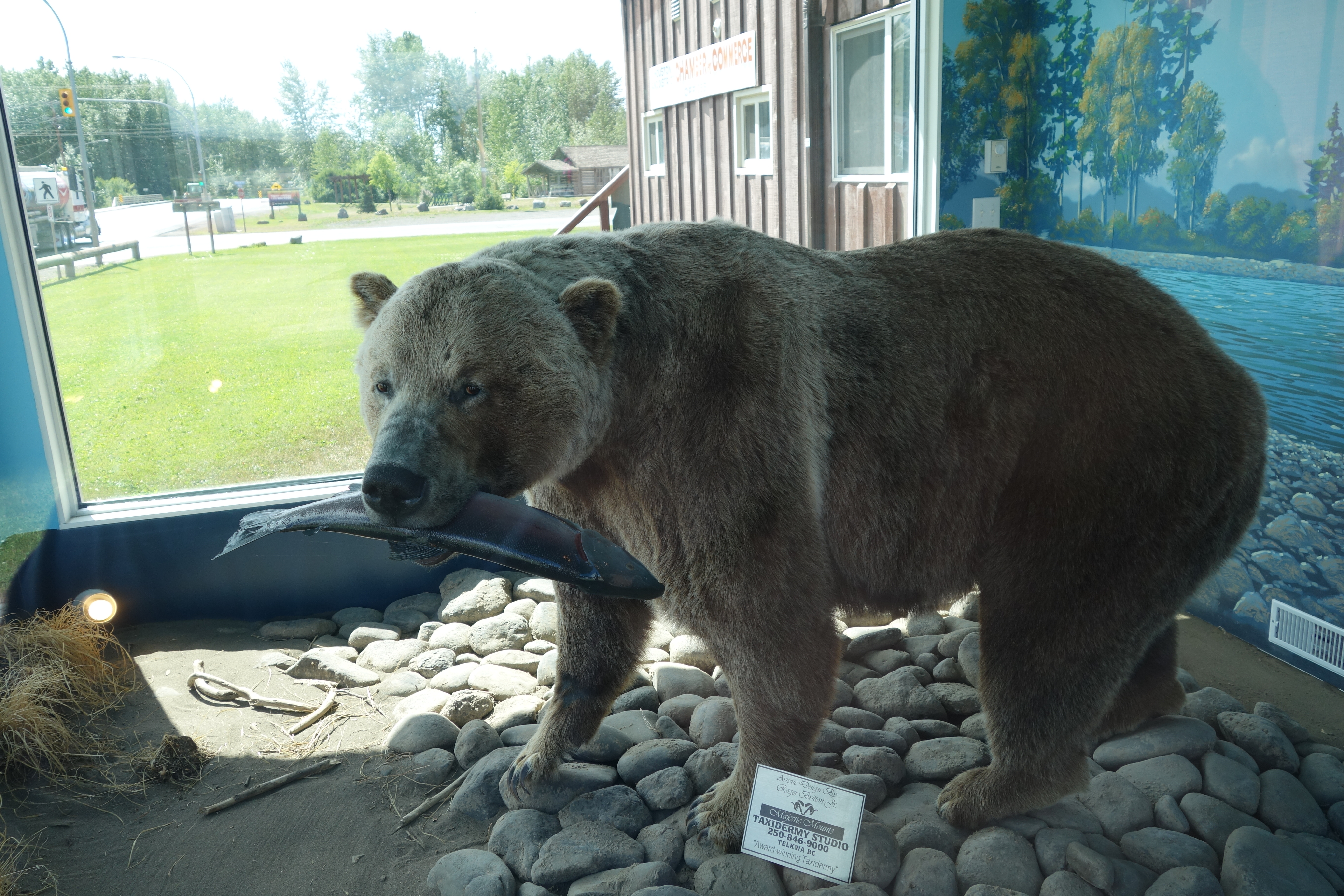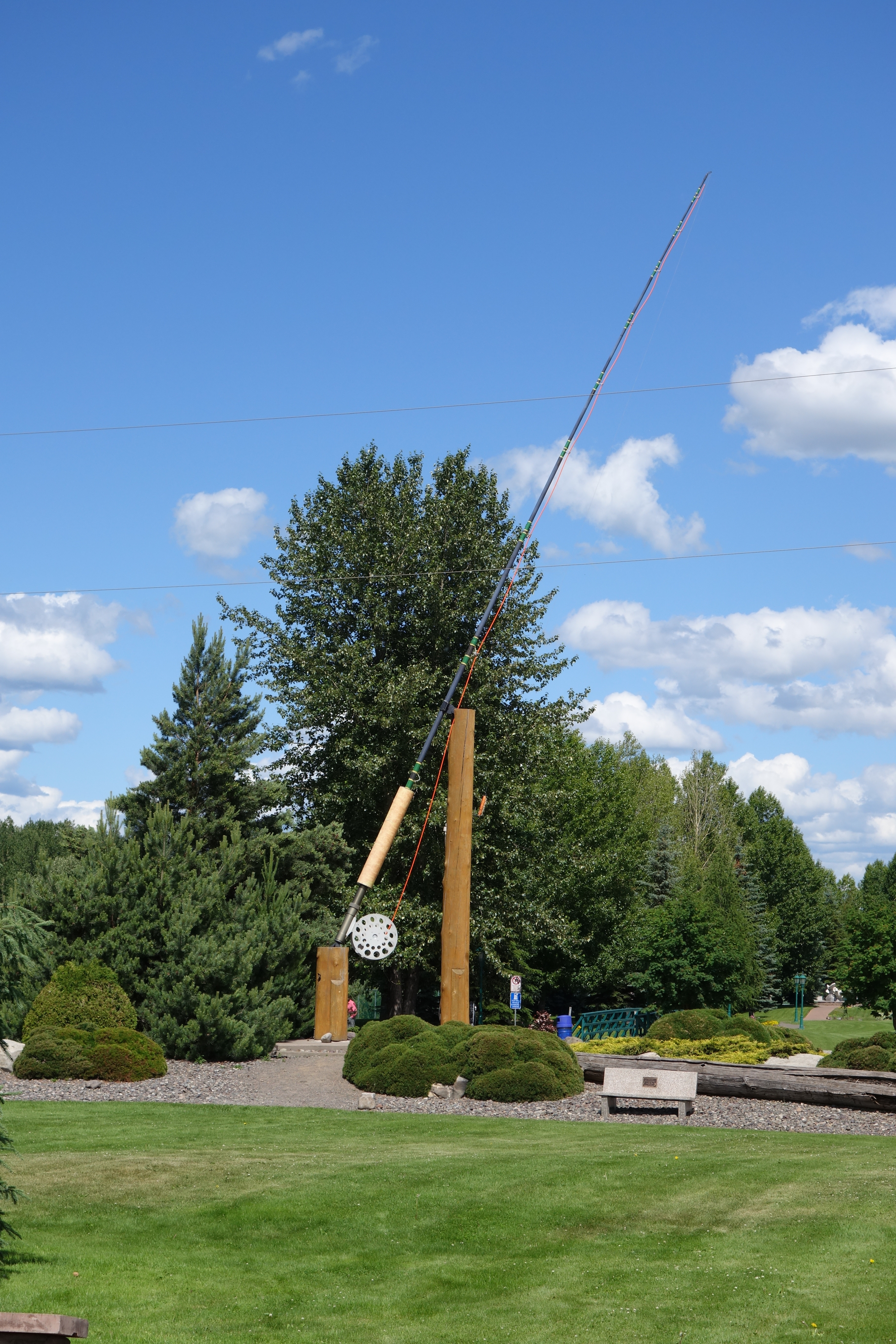 A tired, little lumber town with very dirty roads for cyclists.
I met Colleen Kelly along the way there.
A retired nurse, she was travelling from Prince Rupert to Edmonton to visit friends. And we split the cost of camping at the Shady view camp ground on the south side of the town. The brand new shower block facilities revived me and I spent the rest of the evening enjoying the breeze before finally falling asleep. Colleen and I both resolved to start very early to beat the heat. Something I did regularly in my trip through Spain, so I tried to do the same here. However the northern latitude and the more direct sunlight, make the temperatures rise from around 10 am till after 4 pm. It's a VERY long hot day!
Though we travelled independently, I crossed paths with Colleen several times and we updated each other on finds along the way.
Like the Cassiar and the Alcan before it, the facilities along the road seem to be closed or non existant. And this stretch of road was no exception. Very few places to get food and water.
It's surprising as this Valley is very populated. The scenery is very different and doesn't feel remote or wild compared with the northern road.
Barbed wire and split wooden paling fences divide up field into neat squares so cattle and horses can graze. Dome shaped barns house hay, crops, animals and machinery. Tractors rush up and down the fields cutting, flipping and rolling the grass into bales ready for the oncoming winter.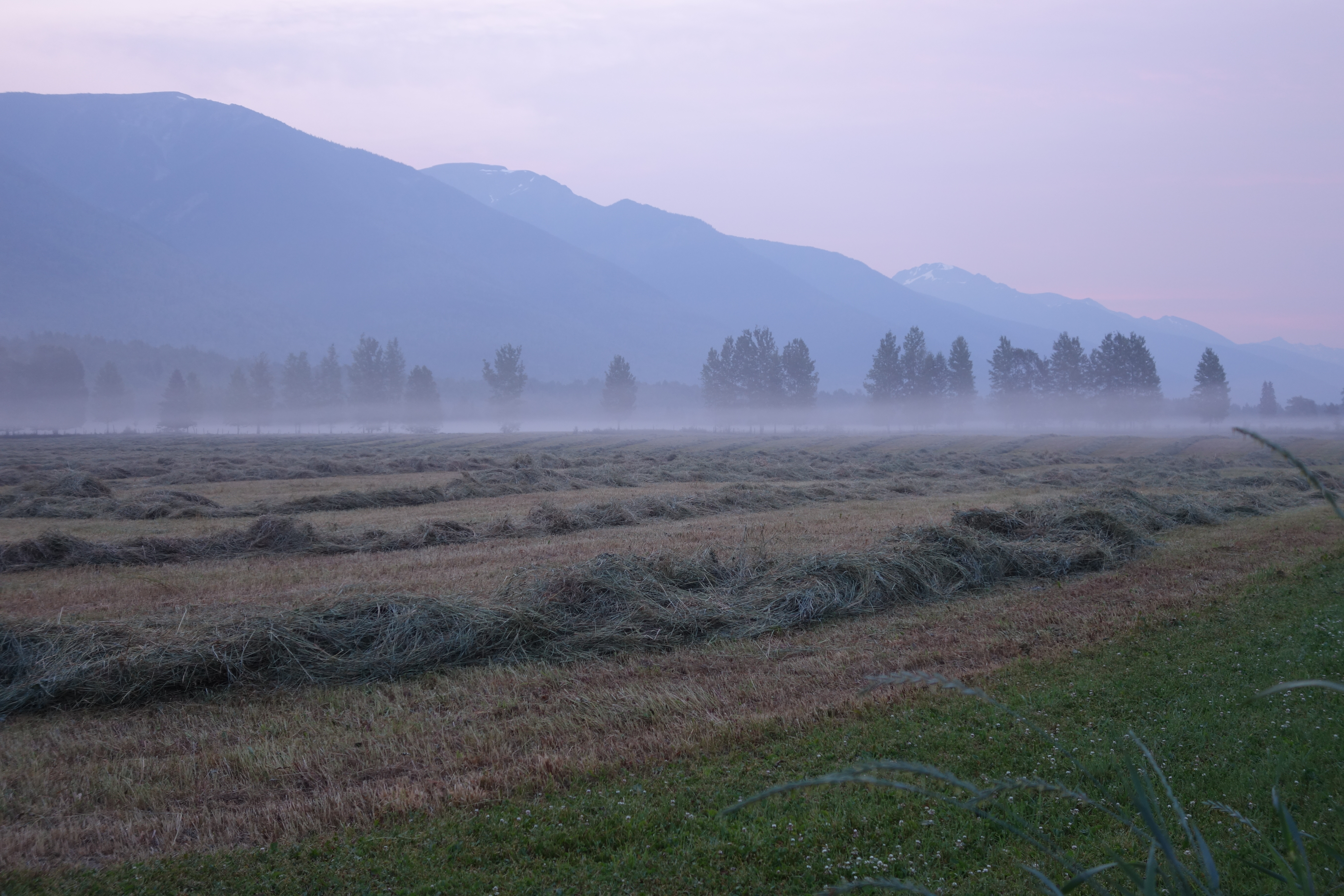 There are large Mennonite communities living in the Bulkley valley and they thrive on this simpler way of farming and living.
Mixed in are the Baby boomer generation who retired north for the peaceful life. Old hippies getting back to nature and those that came to Ski, Snowboard and Snowmobile in the mountains then decided to stay and make a life here.
And why not. It's a beautiful part of the world and all these people make the whole experience of travelling along this part of the highway 16 so much more pleasurable.
I just hate the road itself!
At Burns lake there is free camping.
It is on the lake side hidden behind the skateboard park and a $5 shower at the neighbouring leisure centre got me talking to the girls on the counter about the upcoming events in the town and a new Mexican restaurant. I was tempted to stay but I wanted to keep moving.
Colleen and I were joined that evening by Hugo. A Belgian who seemed to have been touring for many many years.
We had a brief conversation also with some drunk first nations guys (Native Americans) at the back of the campsite. And although they were harmless, non of us felt comfortable leaving our things unguarded and we took turns to watch each others possessions as the other took a shower.
As it happens, the night was peaceful and uneventful. The local "citizens on patrol" and the police came to check there were no problems, though Colleen said she had to call the police again in the middle of the night to move on some midnight skaters who were a little rowdy and dsturbing her sleep.
A strong tailwind blew in overnight.
Hugo decided to take advantage and jump ahead to Vanderhoof.
I did the same and I left Collen at Fraser lake after sharing a meal.
I didn't see Hugo at the Vanderhoof municipal site ($23! expensive , gravel, good showers, poor wifi. Now with a bad review written by me on Google) as I assumed he used the wind to continue.
I picked up a few things in the supermarket there though and used someone else's abandoned firewood to grill a steak for my supper! Fantastic!
I bought food for the following day and made another big push to Prince George.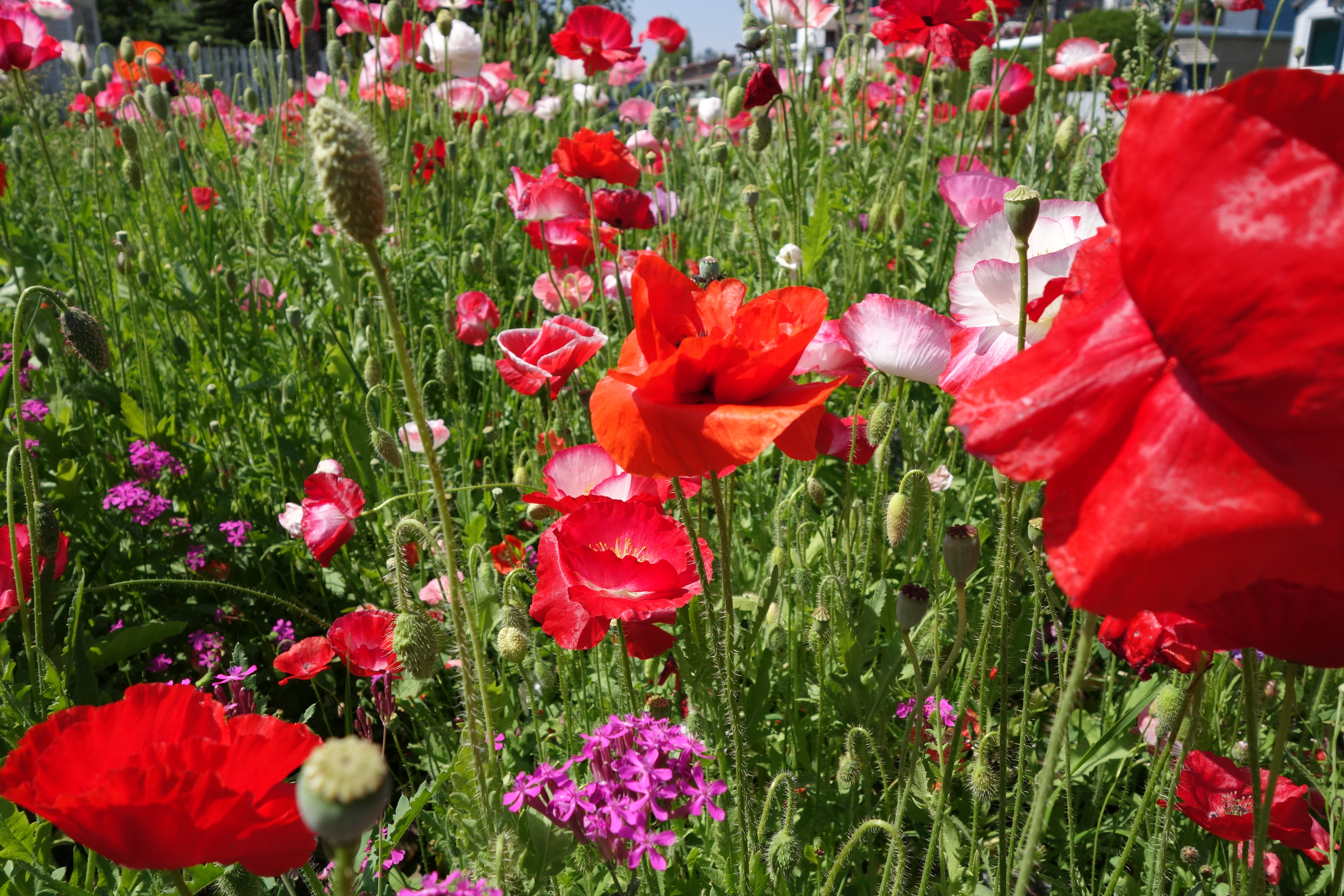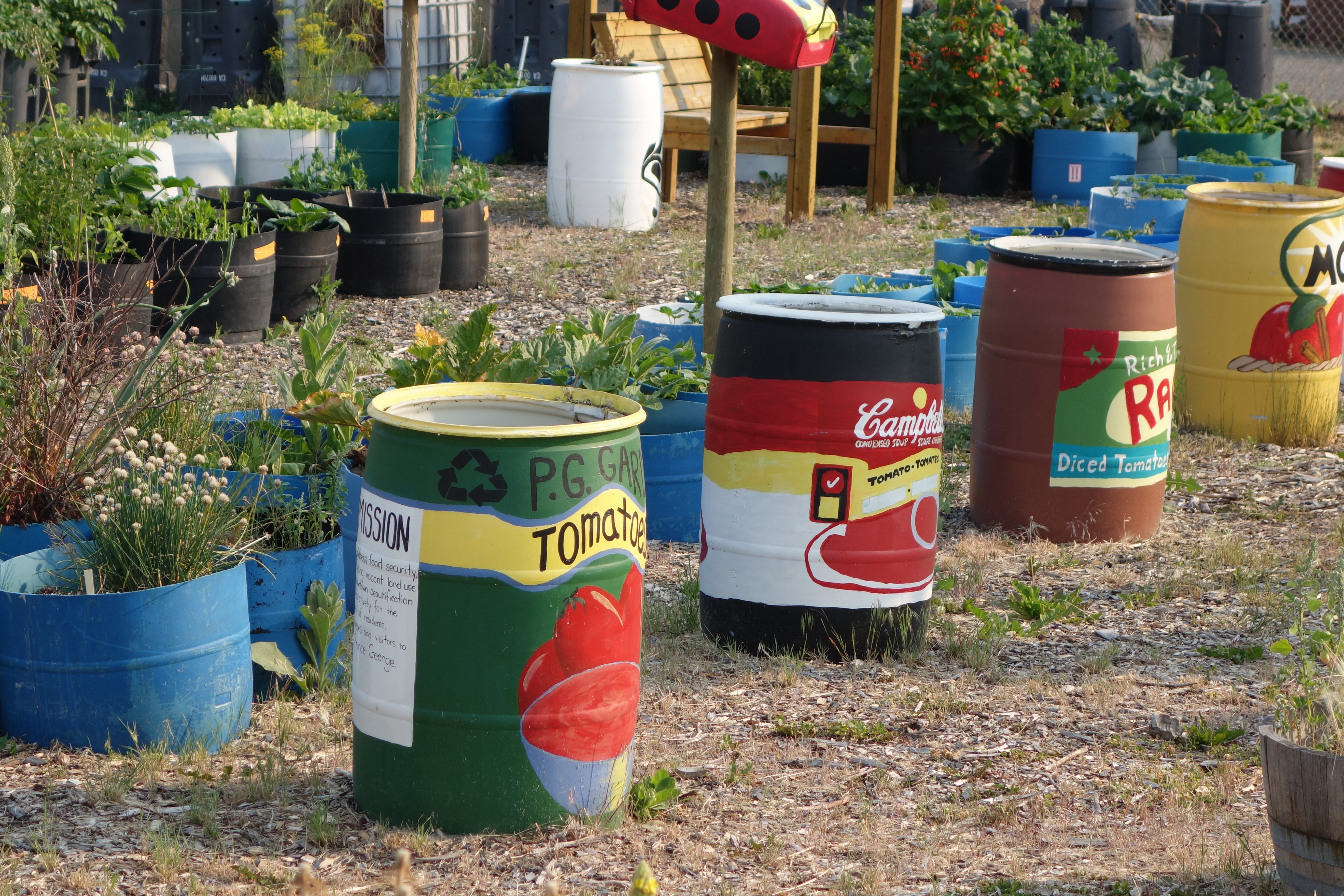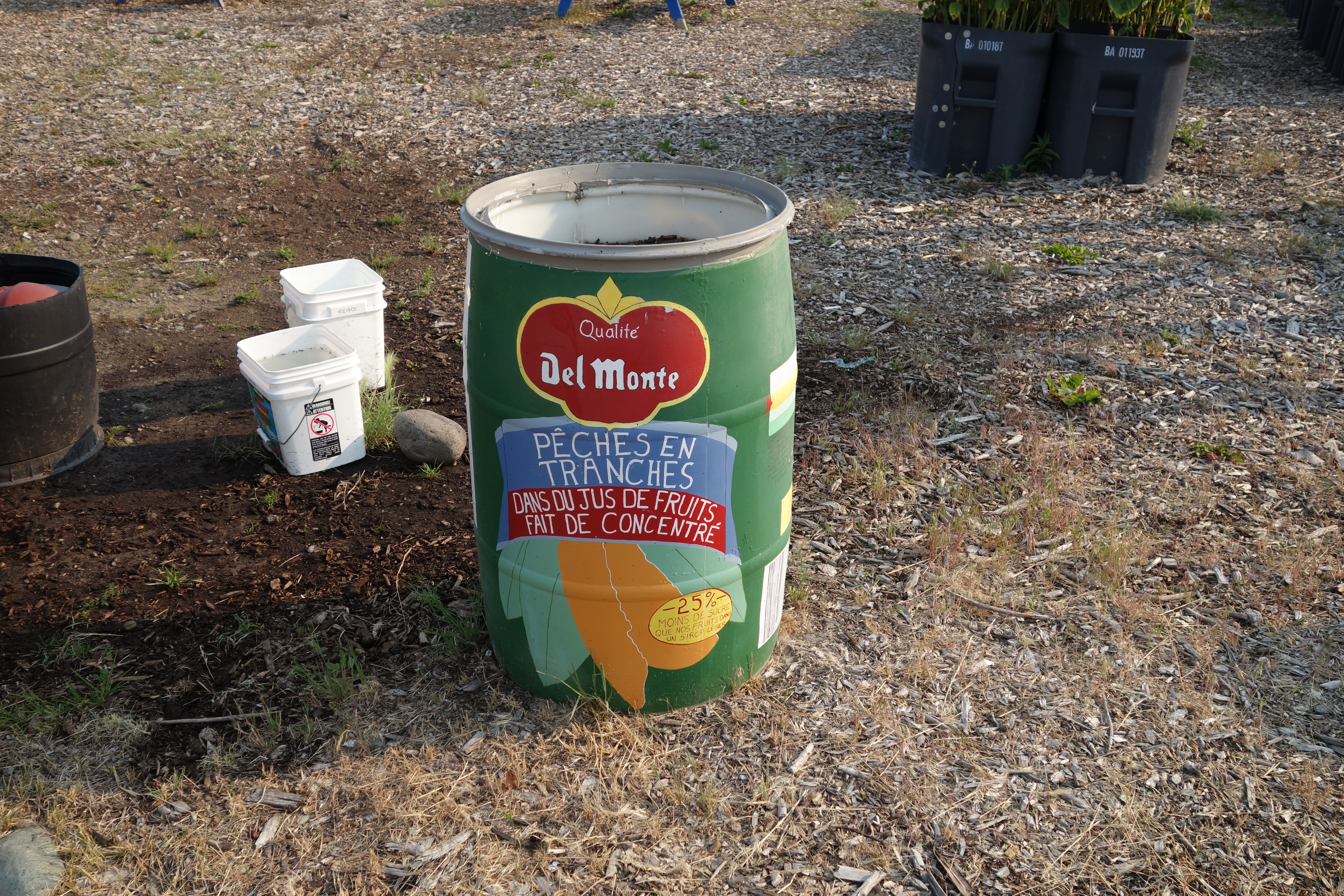 Exhausted, I spent 2 nights in a hostel here as there is no camping in the town itself.
And guess who I bumped into?
Hugo!
He was in the same hostel and was originally planning on only staying 1 night but the exhaustion caught up with him and he decided to stay a second night.
Another cyclist, Simon from the Asturias region of Spain forced me into speaking Spanish again and I realised then that I have forgotten so much.
We went in different directions here. Simon and Hugo headed south and I continued along the Highway 16.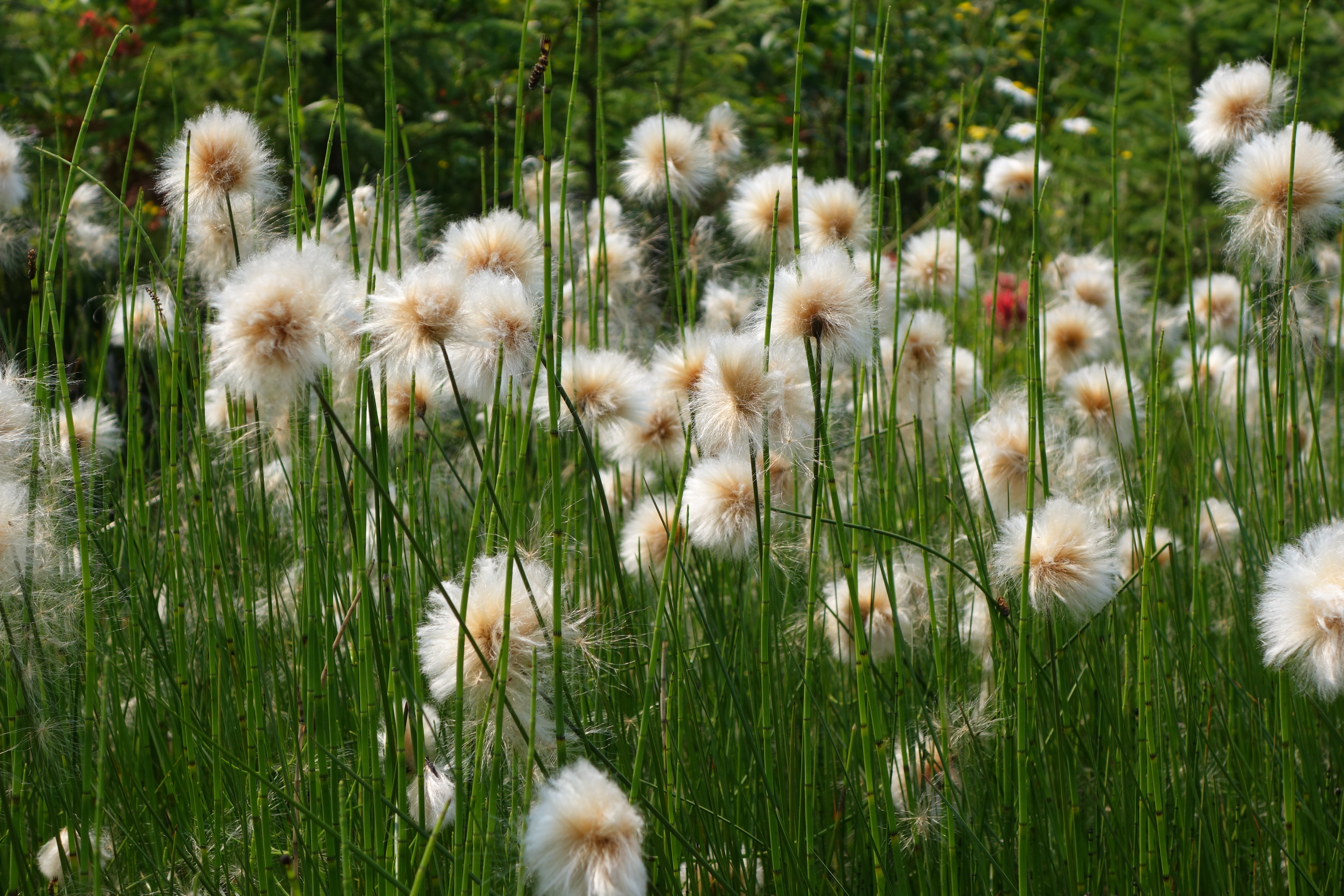 I had arranged to stay with the Culp family at Dunster, but from Prince George this was some 200 km along the road and despite researching could not find evidence of camping or food along the way.
Stupidly I didn't check or refill my food bag before leaving Prince George. So left the town with little more than dry pasta and dry couscous.
A meal, but a boring one at that!
Expecting to camp wild (I still haven't overcome my fear of the large animals!) it was a nice but equally annoying surprise to come across Purden lake camp ground. (The heat that day was unbearable so I am glad to have found a good site rather than camping wild)
Am I missing something here?! Am I looking in the wrong places. Why didn't I see this advertised beforehand
As it was a Saturday, it was full, so I continued and a few km's further along found the Purden lake camp resort. Note the name change!
$16 with free fast Wifi, showers, and an EXCELLENT family run restaurant.
I spent far too much on food here and enjoyed every crumb!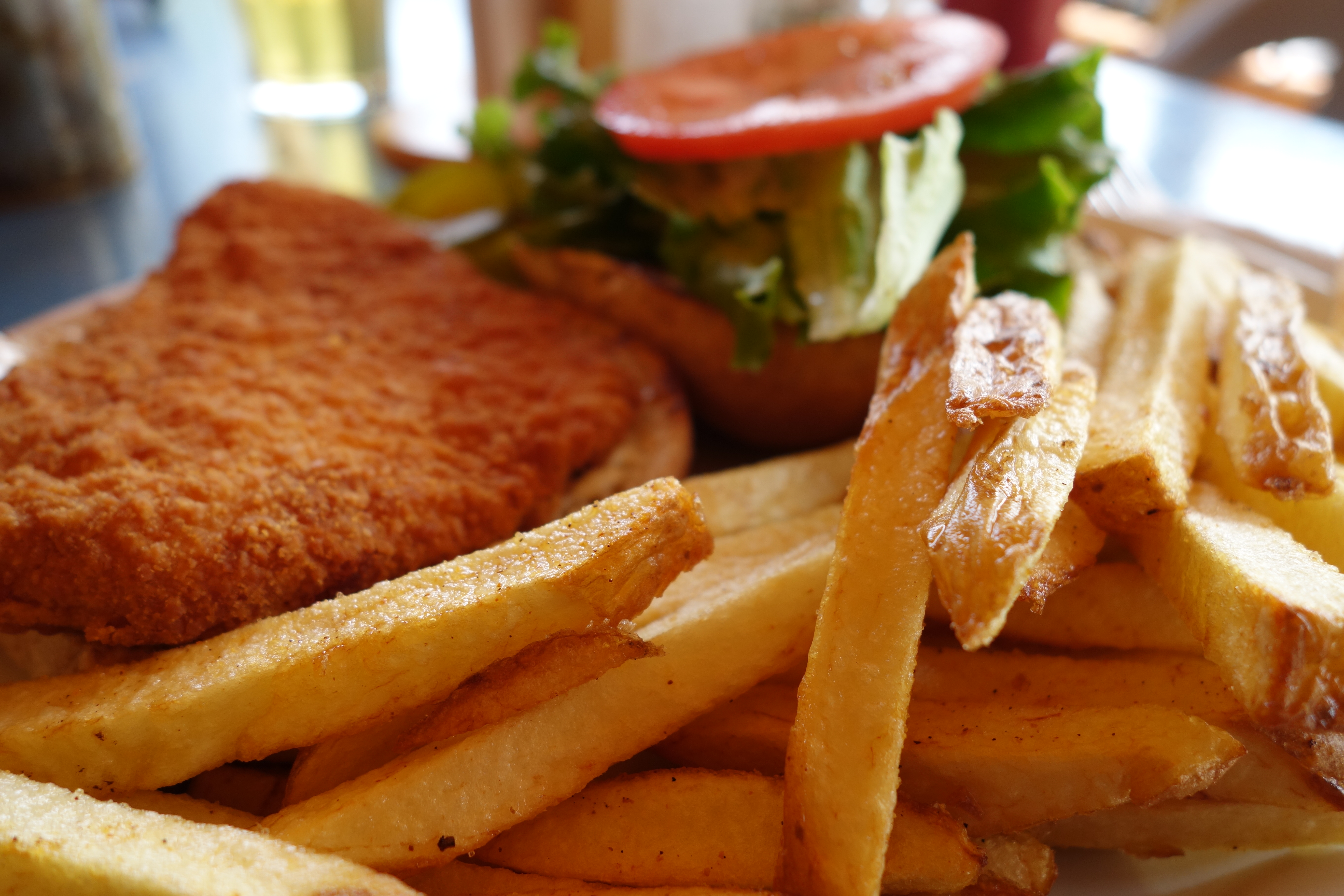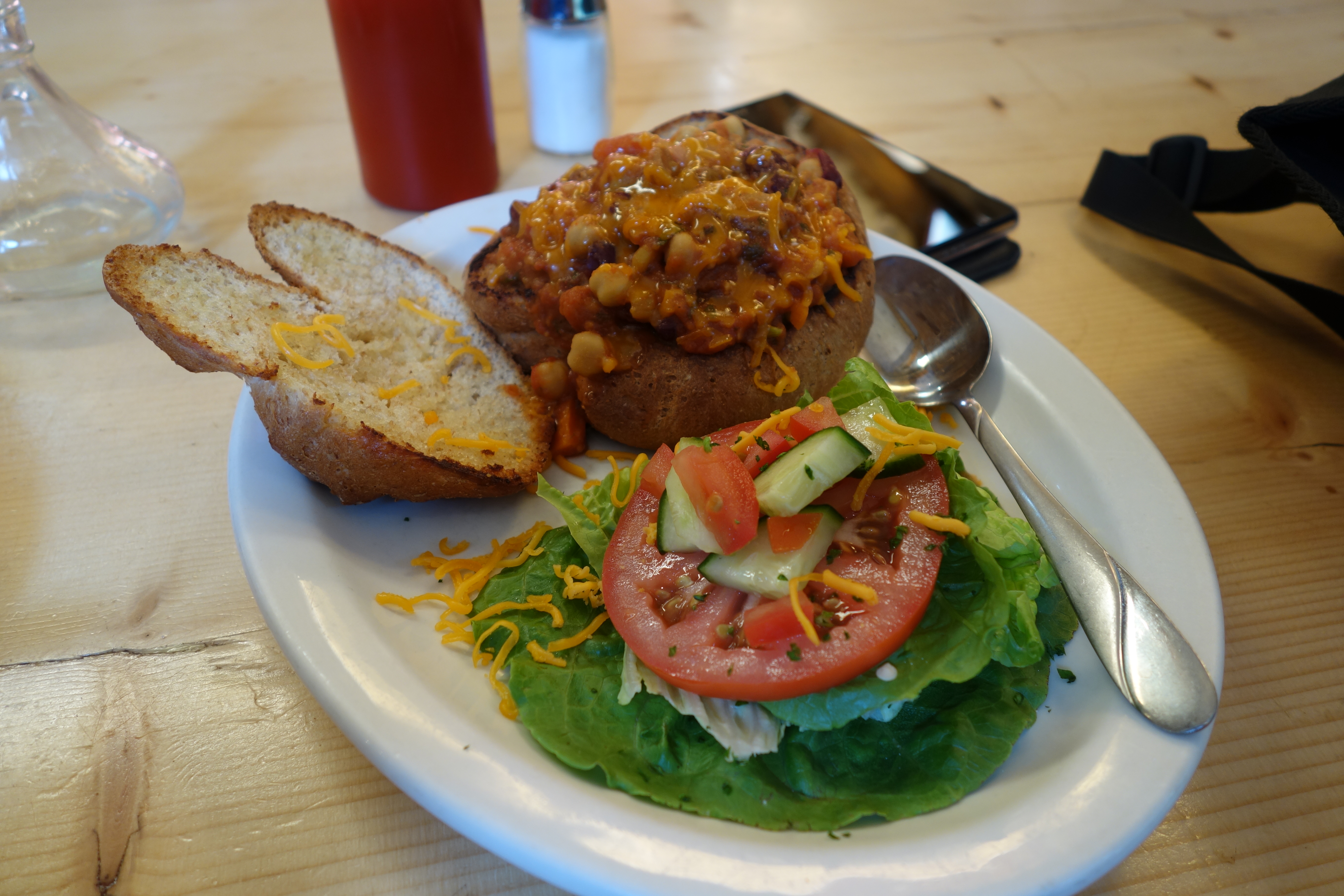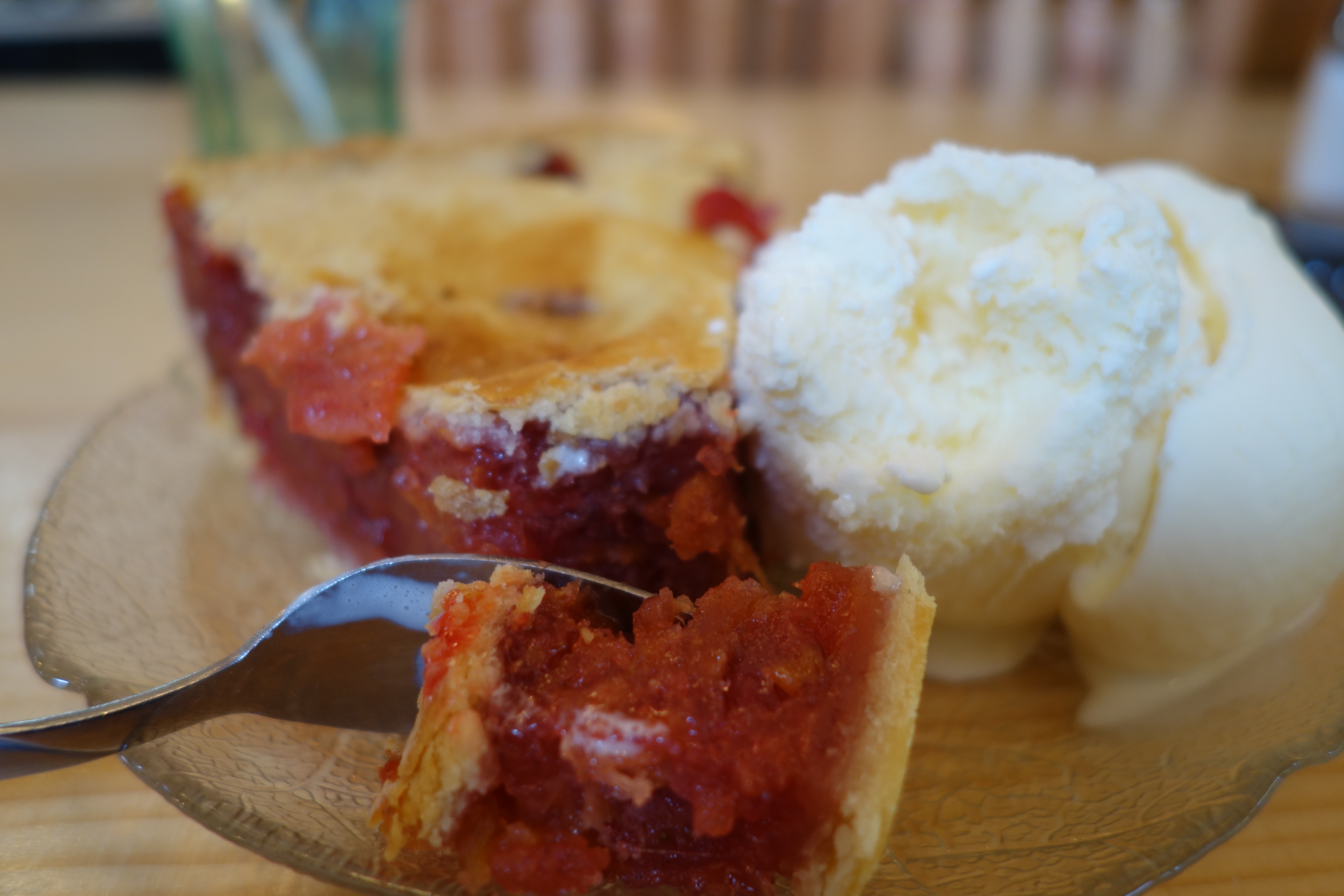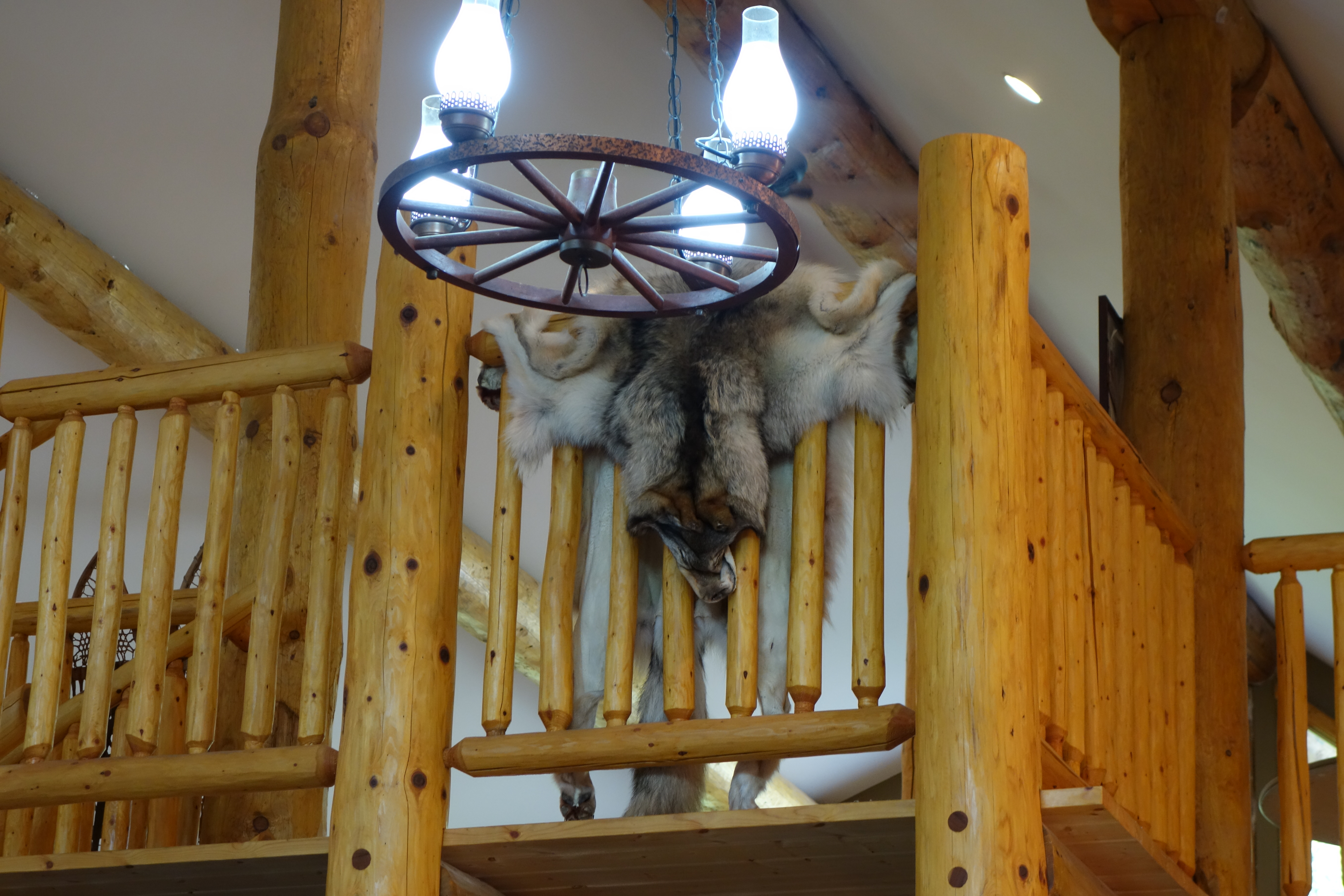 Lee was a cyclist I met heading the other way and we talked about my adventures on the Cassiar and he gave me a map of my route ahead.
He was an experienced cyclist who was having doubts about riding the Cassiar.
I answered a few questions and I certainly hope he finally decided to ride it.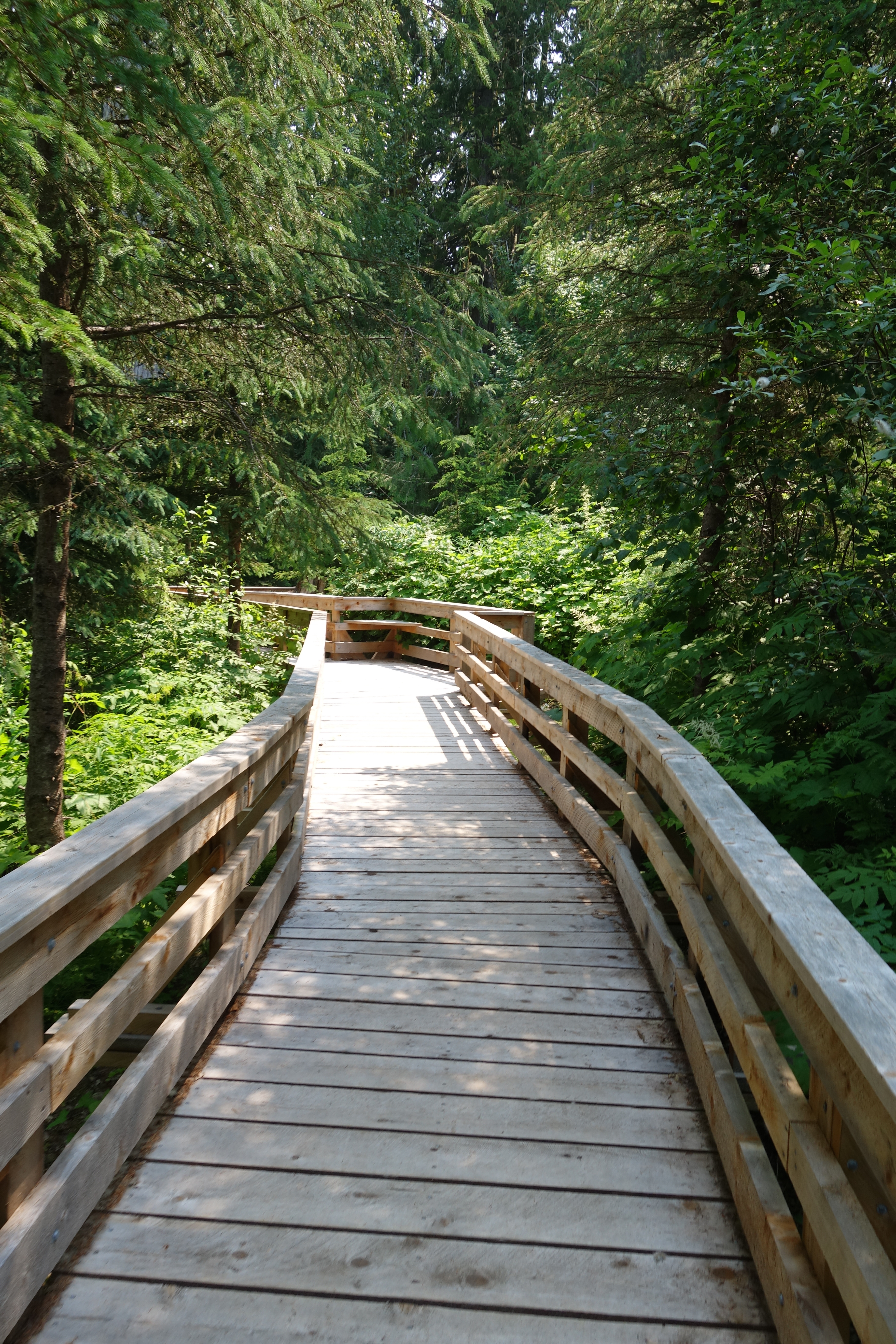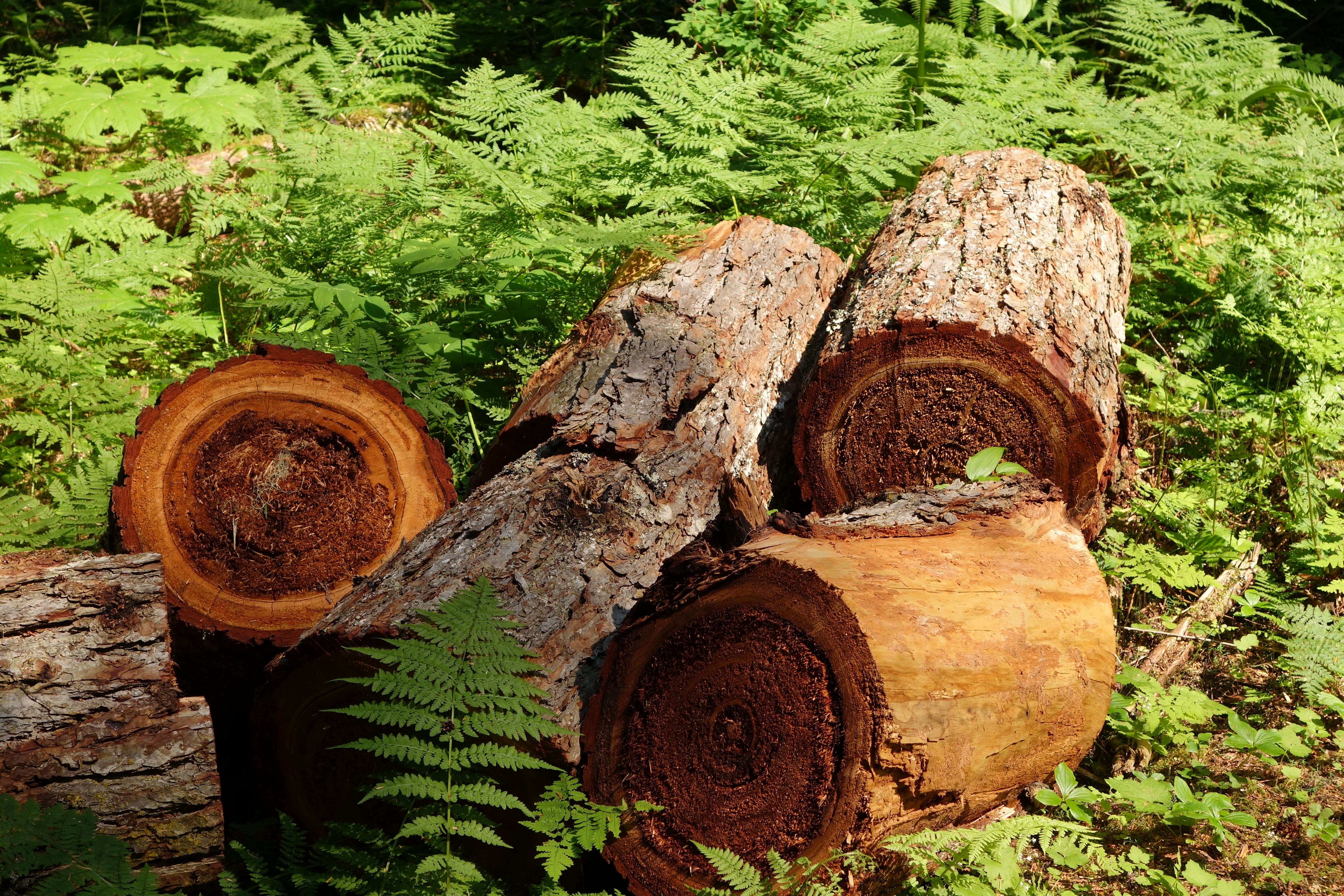 From here to Mcbride was the toughest day so far. Due to the heat.
I took a brief break and walked through the cool air of the ancient forest. Along a newly constructed walkway.
I contacted the Culp family again and was advised to camp for free at Lasalle lake. I arrived there quite late with another bear and moose sighting and dropped the steep 1km to the lake side. I could not see the water pump so filtered some directly from the lake. After 1 disgusting mouthful, I pushed back up the steep 1 km hill and made a last ditch effort to reach McBride.
About 10 km before though I found another hidden gem.
The Scarecrow farm. Campground and Bed and Breakfast.
Run by a soon to retire English couple I was well looked after for the night.
After a proper English breakfast, I cycled into McBride, then on to Dunster. It was a short day and I arrived before lunch time.
The Culp farm is about 3 km along the road and as I arrived into this little paradise. as I arrived, I met Curtis and his granddaughter about to go check a camera they had set up to observe a new family of Grizzly bears in a neighbouring field!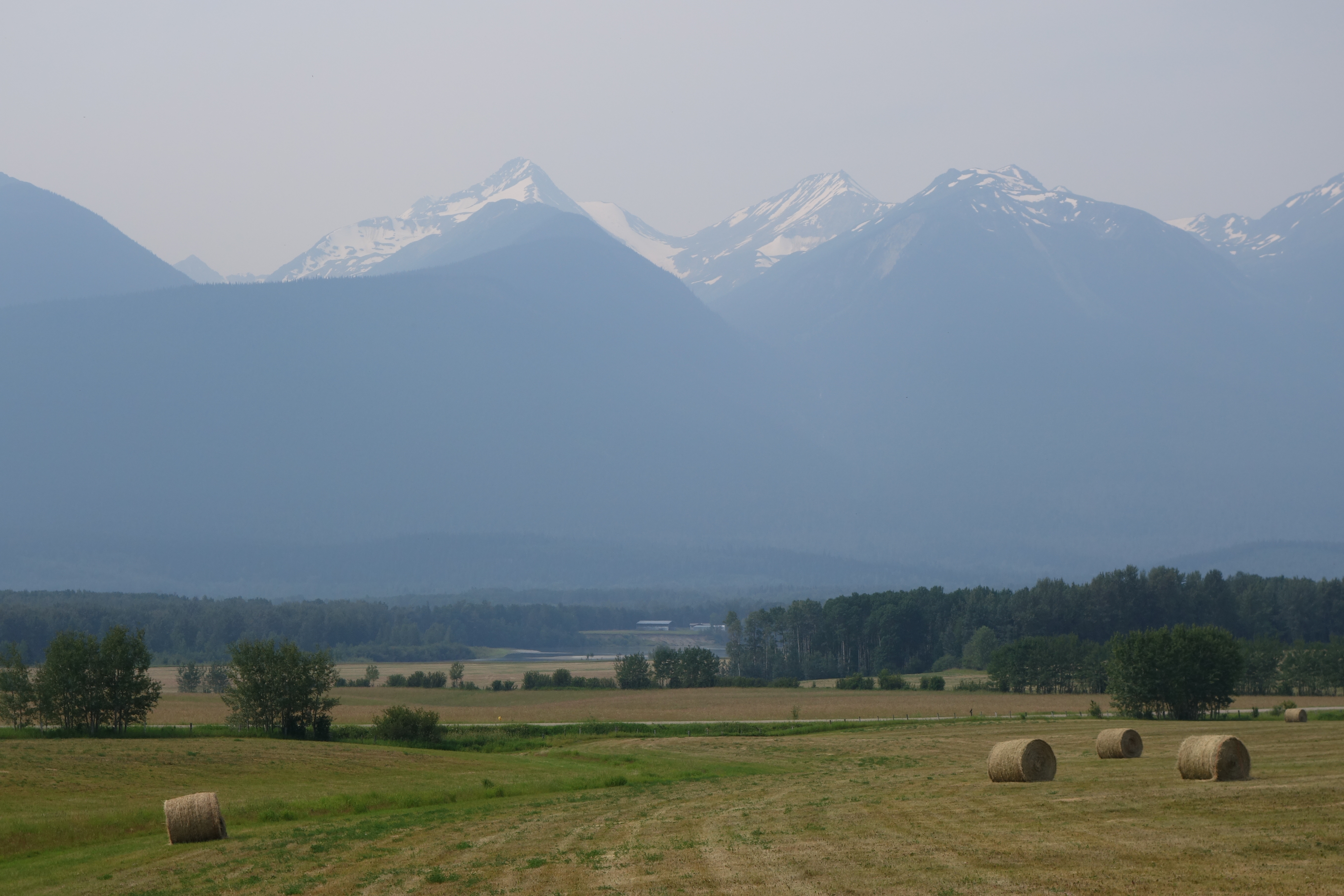 I was introduced to his wife Bonita, and this fantastic couple showed me my bed for the night. In a restored Sheep wagon! Complete with double bed, stove and lots of little odds and ends hidden inside to make life comfortable on the road.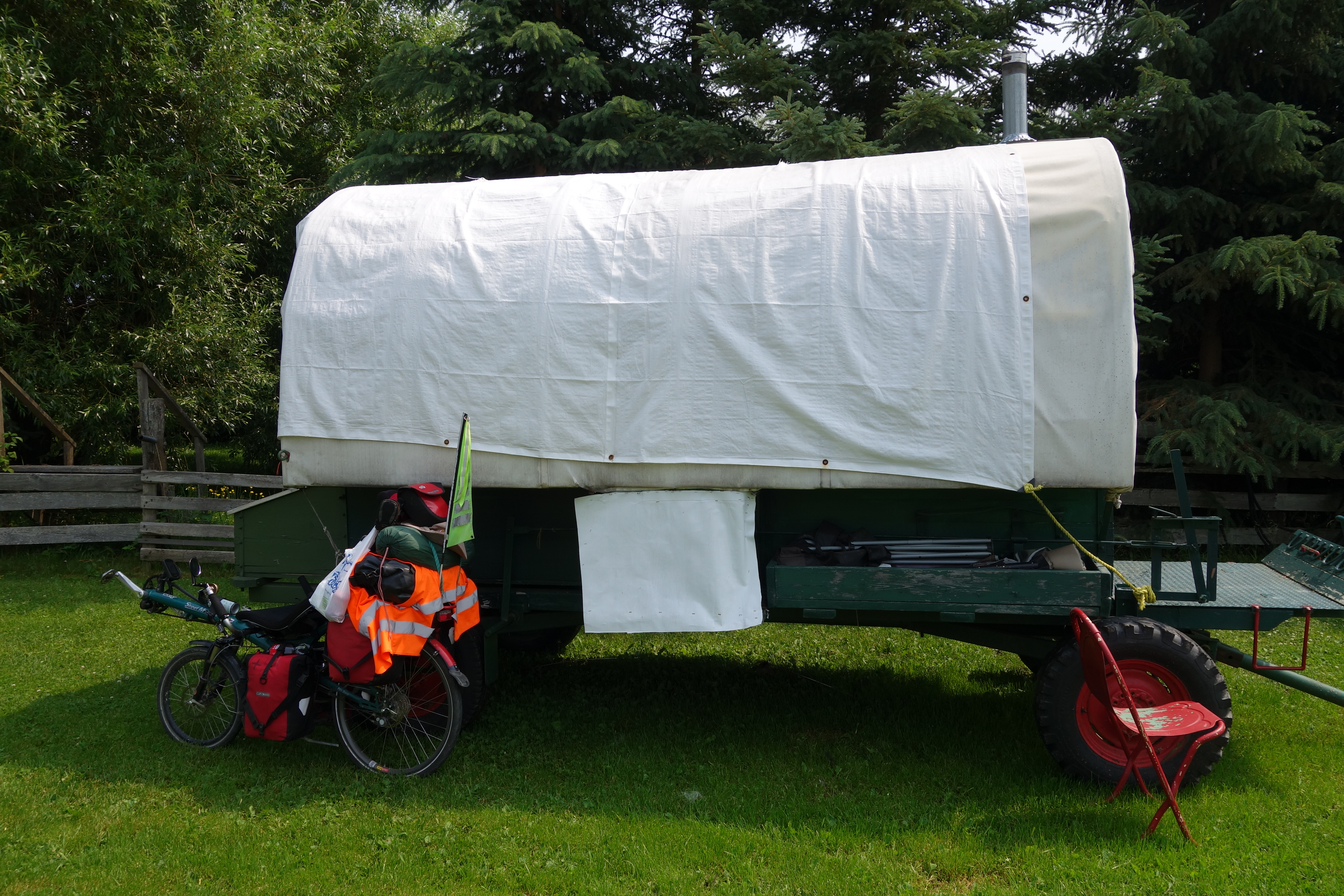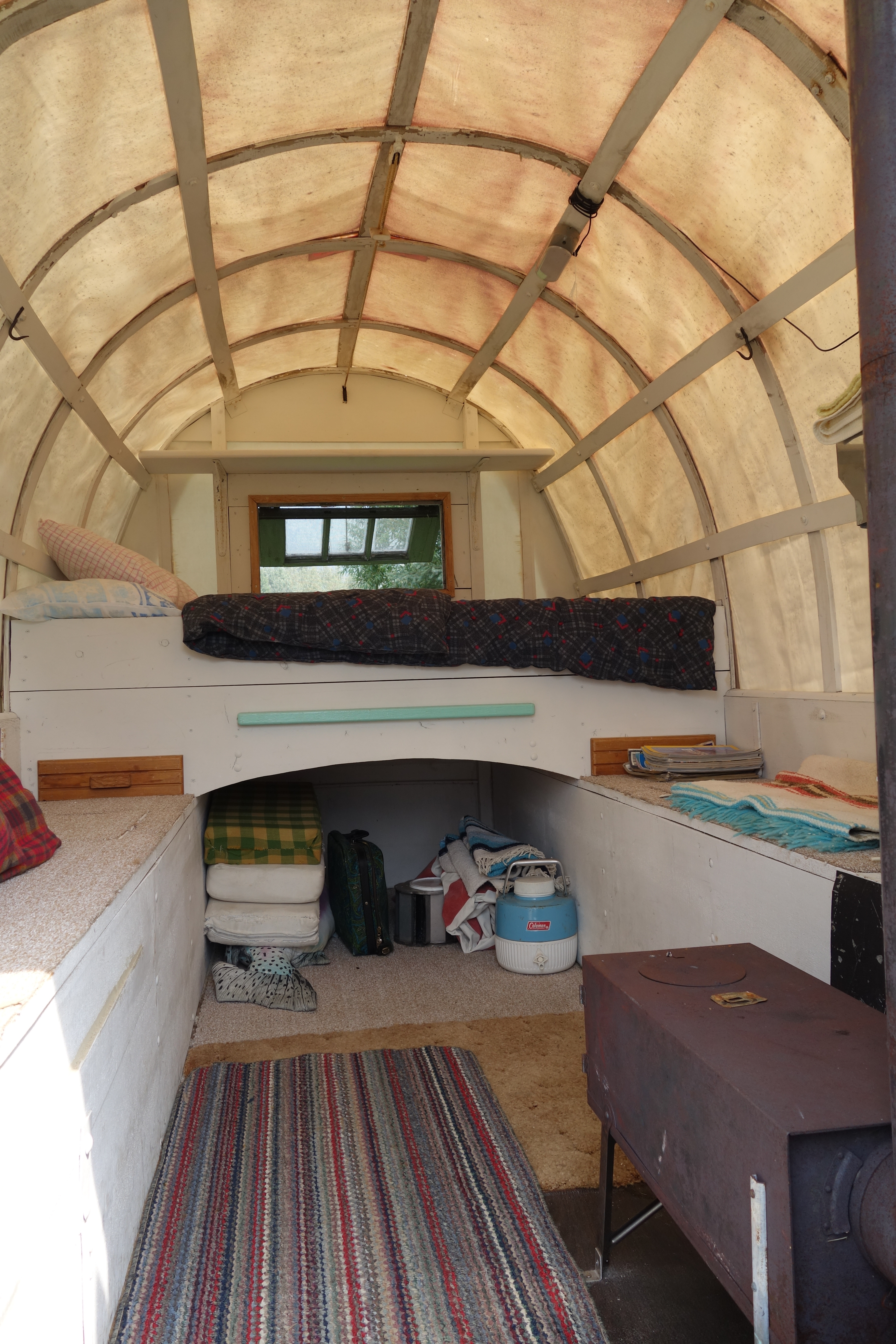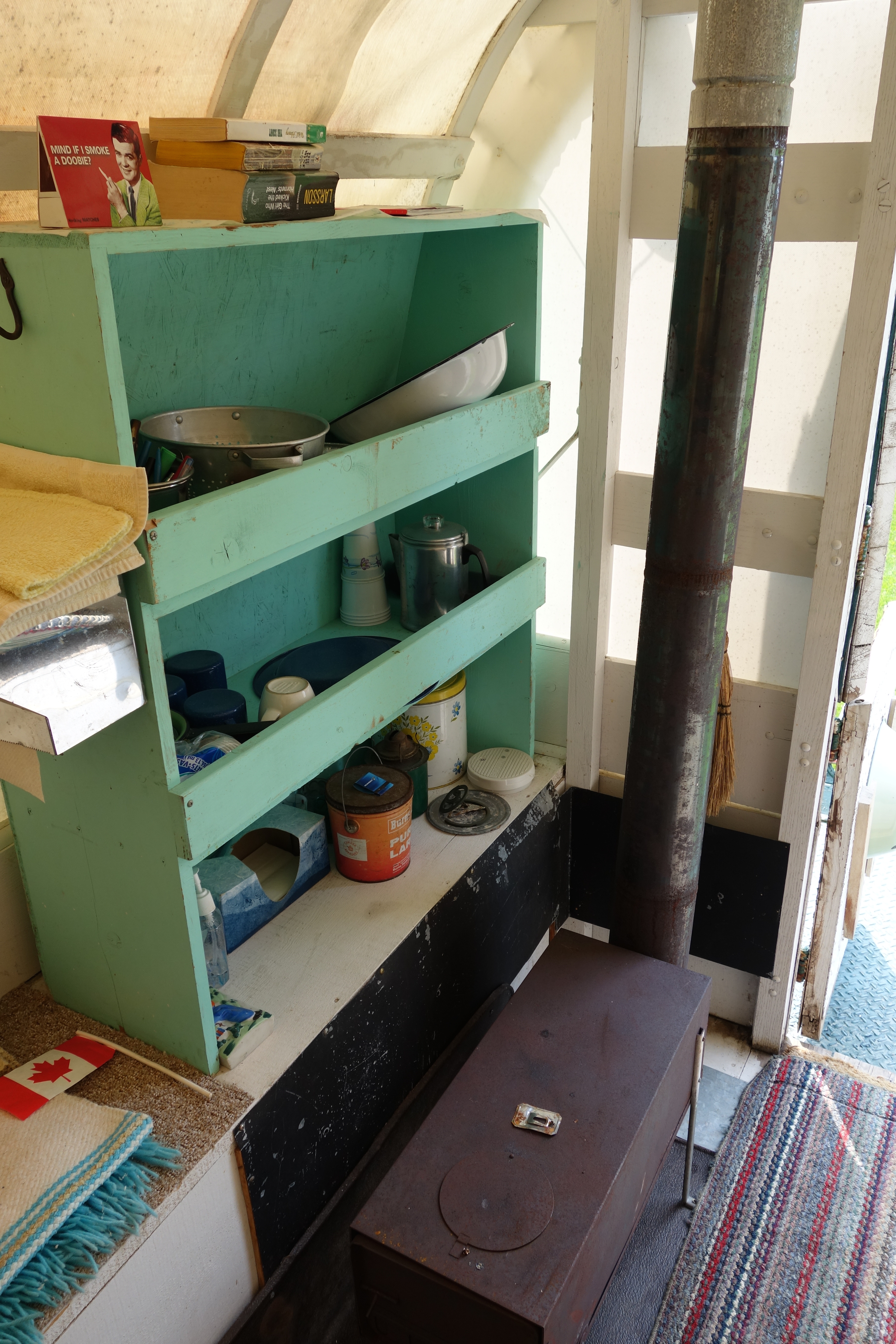 I was then introduced to my solar shower. A plastic container heating in the sun. And at first I wasn't keen on standing naked in a field , but given the heat of the day and the discreet and isolated location, was rather looking forward to it!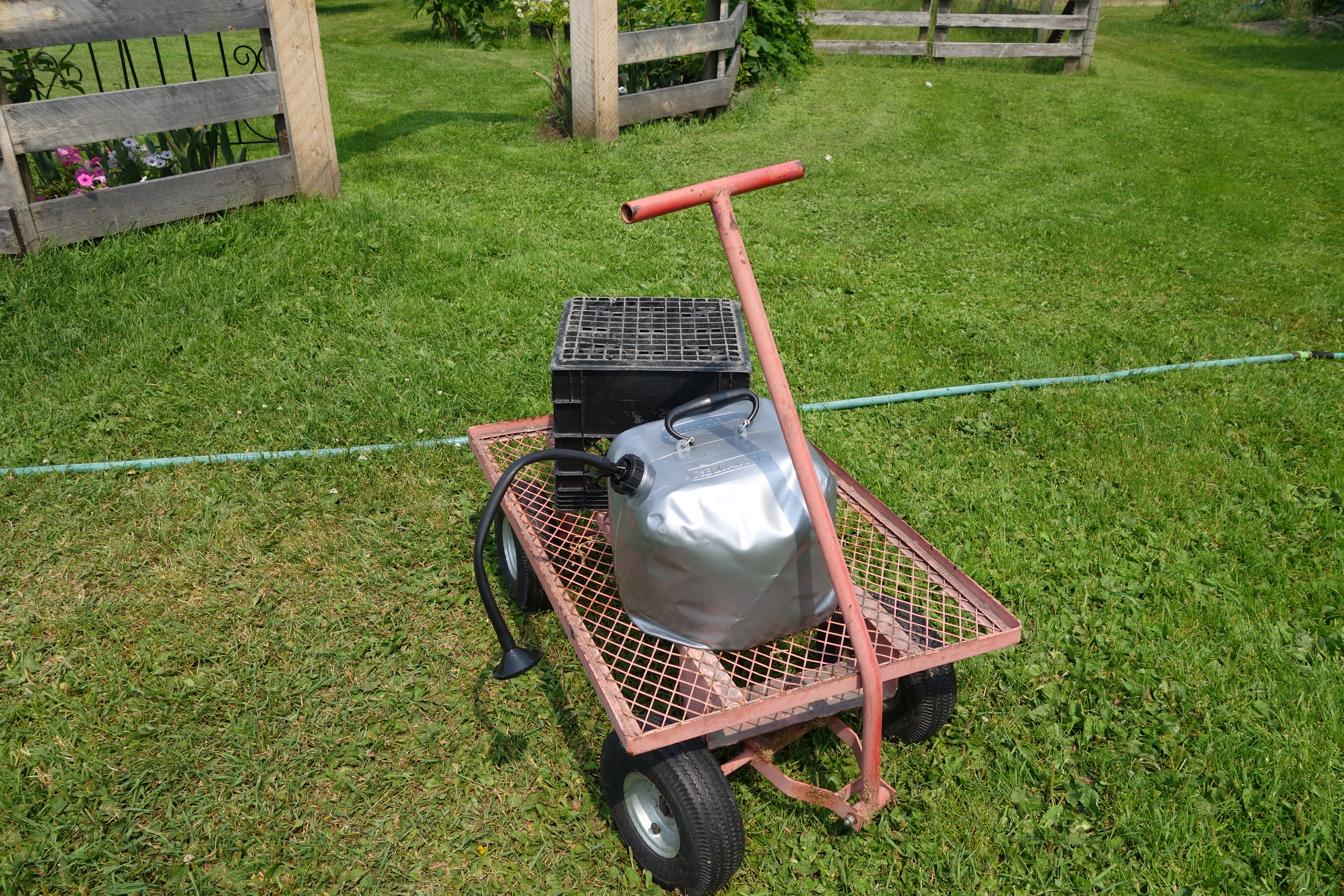 Retired sheep farmers, The Culps host cyclist for the fun of it. They don't ride themselves, but enjoy meeting people and hearing the stories of the travellers that pass by their farm. What the cyclist gets is a peaceful oasis surrounded by fields. Beautiful gardens with amazing flowers, ponds, and animals. First the big dog Dakota. With a bark worse that its bite. Then as I explored, I saw Peacocks, Guinea fowl, Chickens, Geese, cats a rescued deer fawn and the most amazing of all, Humming birds.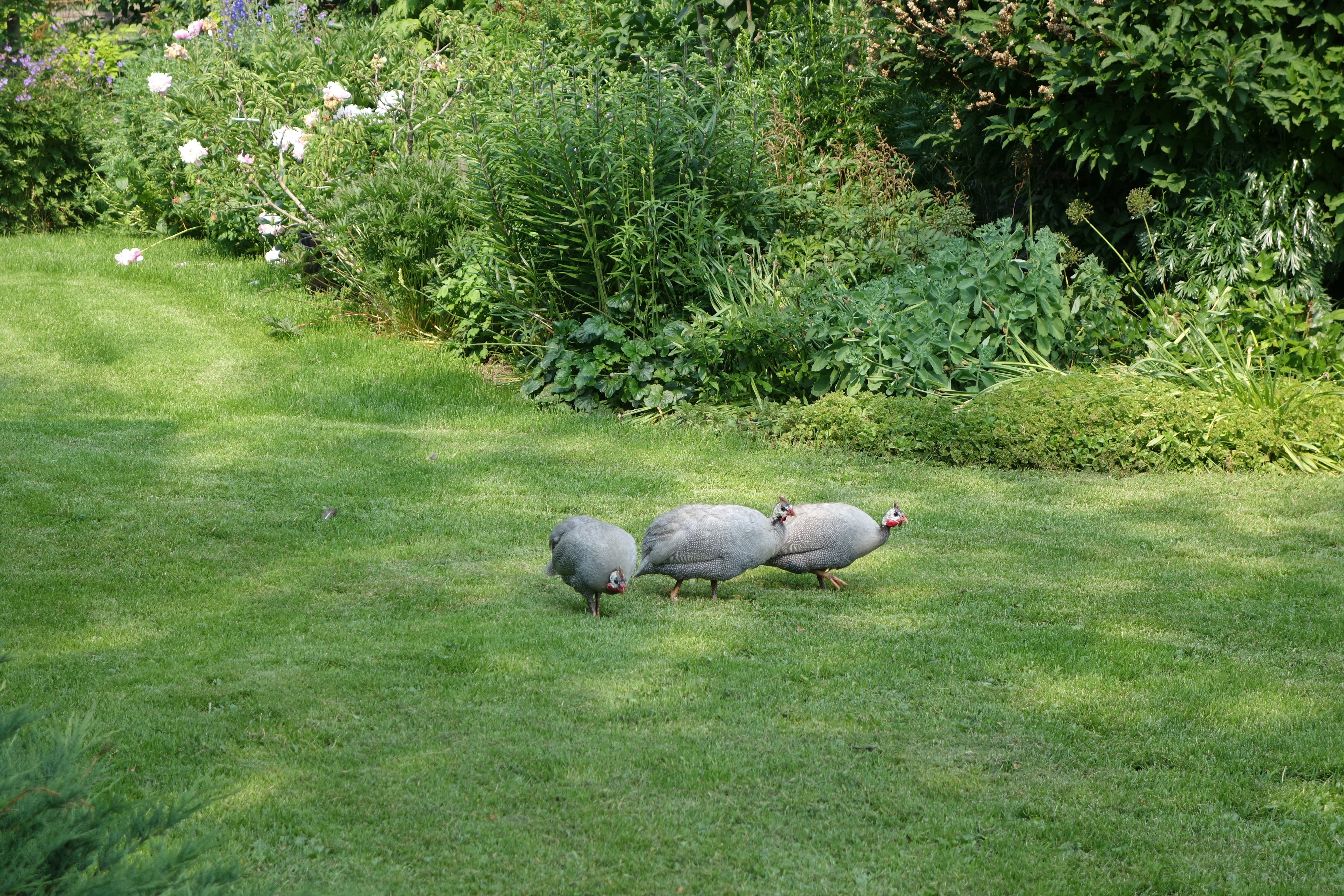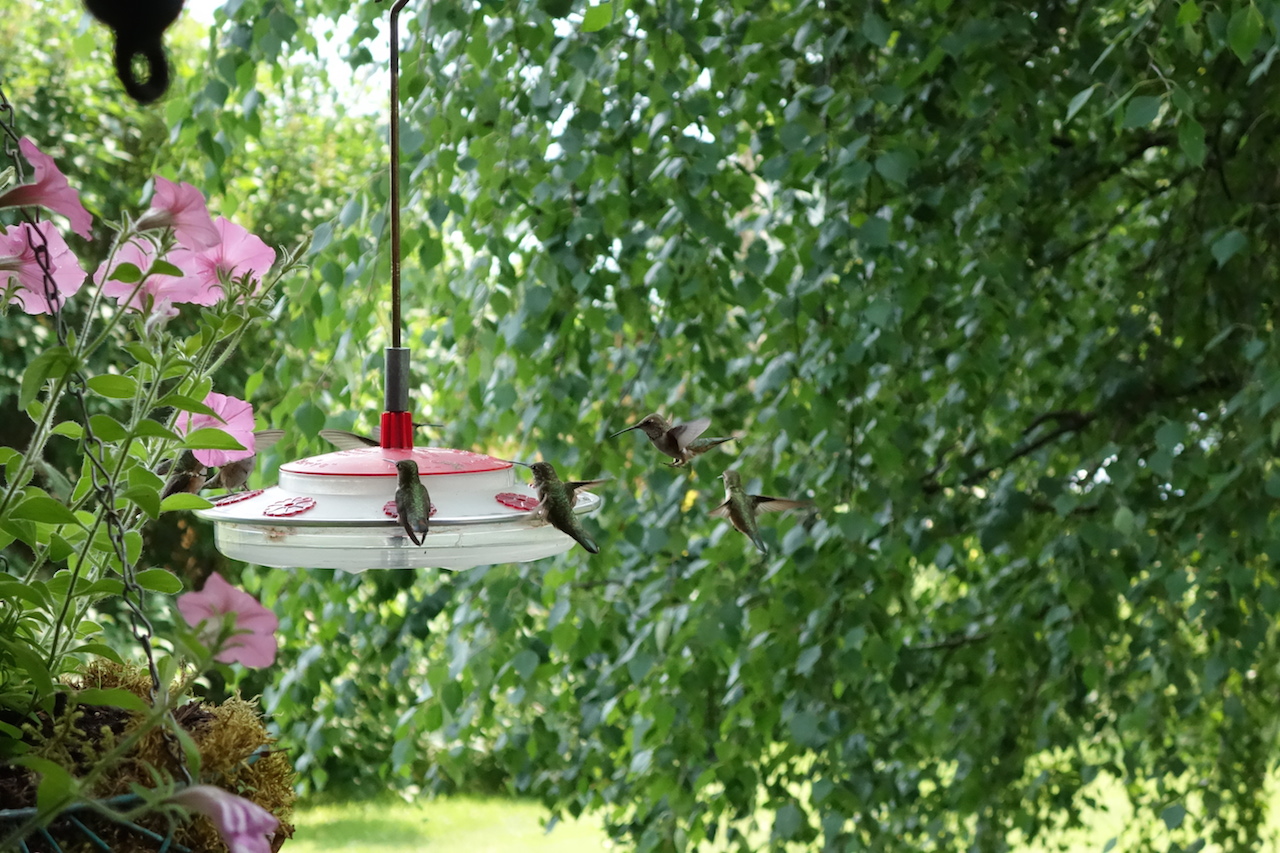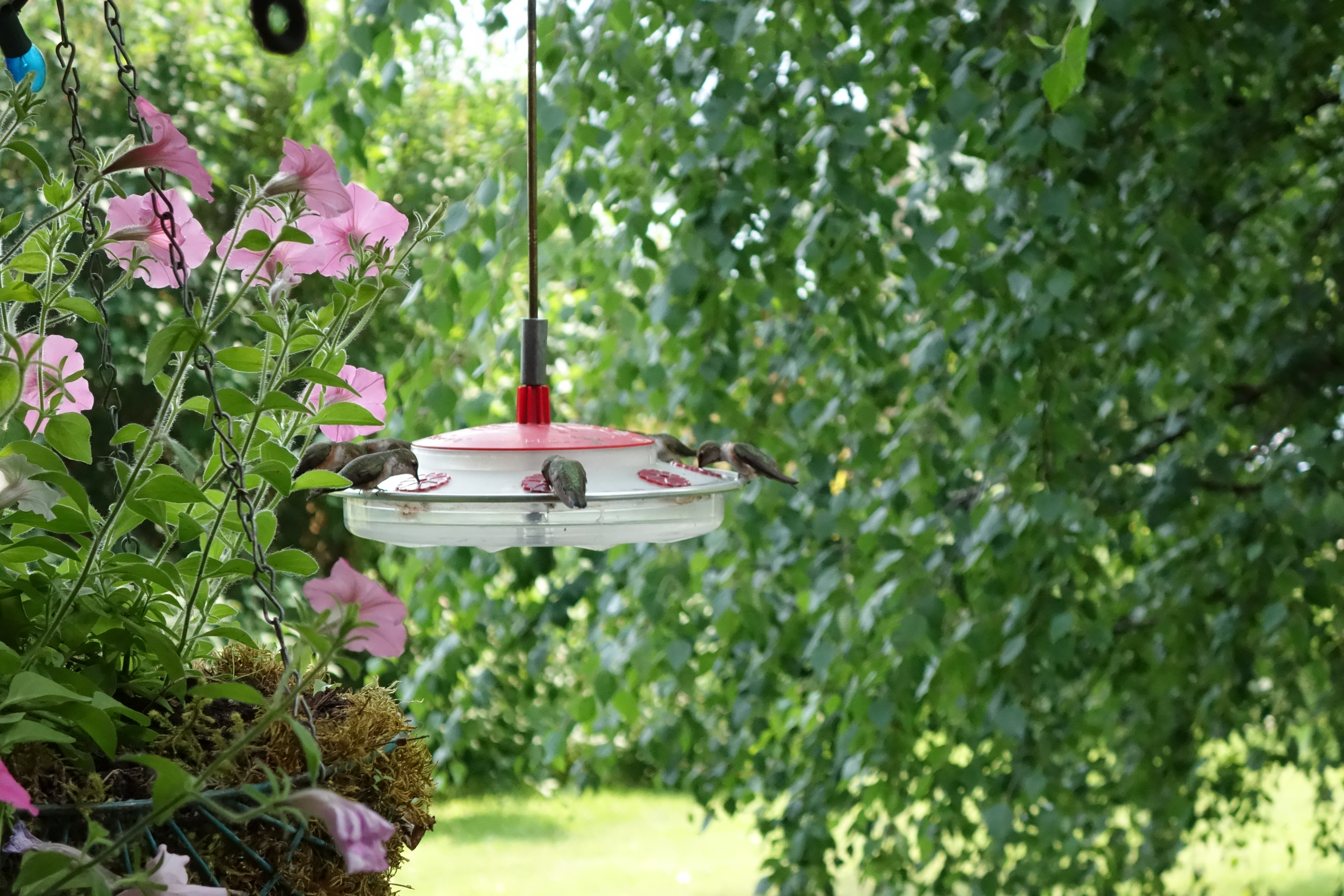 There must have been around 50 of these amazingly agile little birds swooping and darting around the several sugar feeders that Curtis had set up.
I always though these birds were tropical and to see them several thousand miles north of where I expected, was amazing.
Every year, Curtis is involved with catching and ringing them as part of a university project on migration patterns and climate change.
As it happens the university team were due to arrive to begin this seasons data collecting.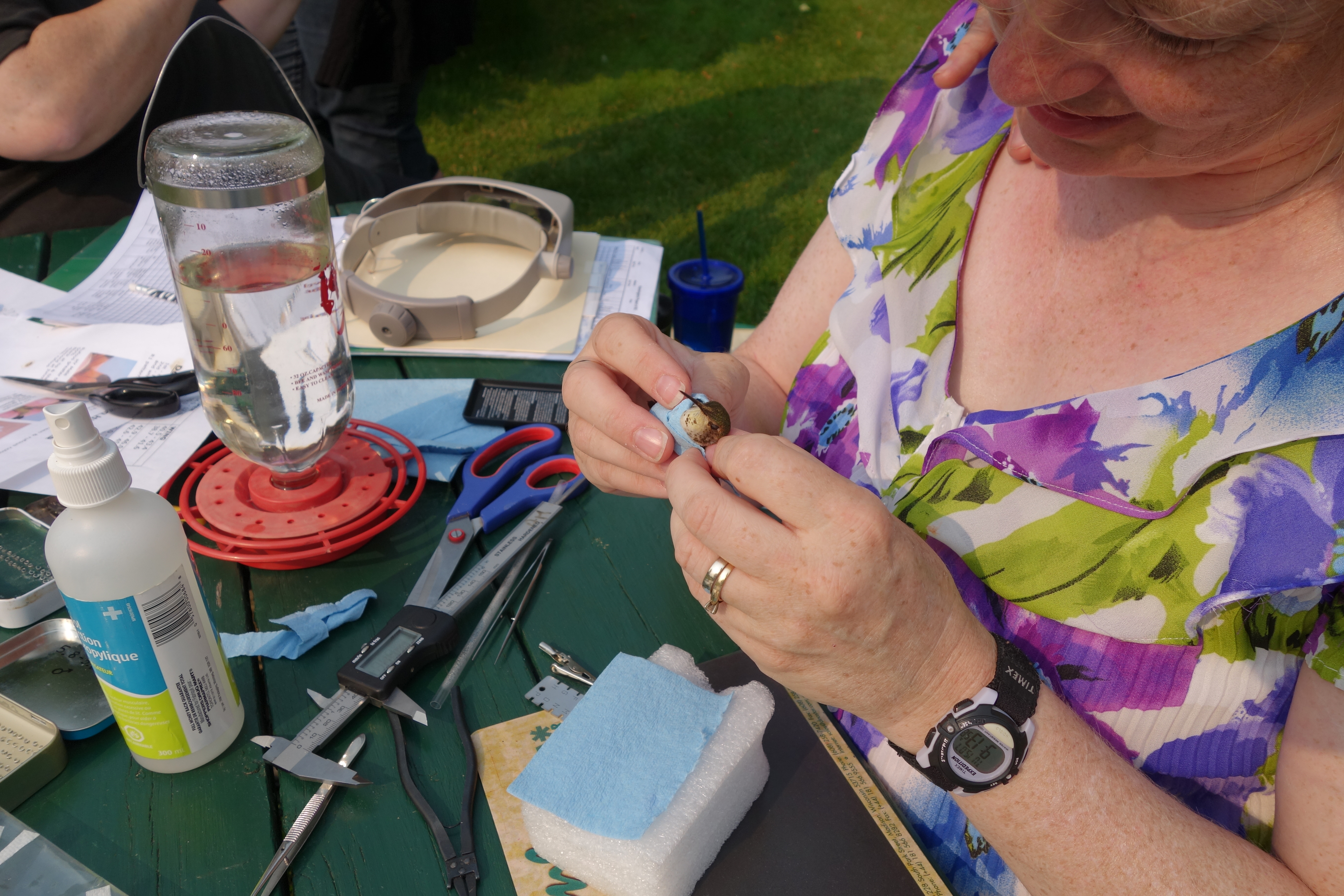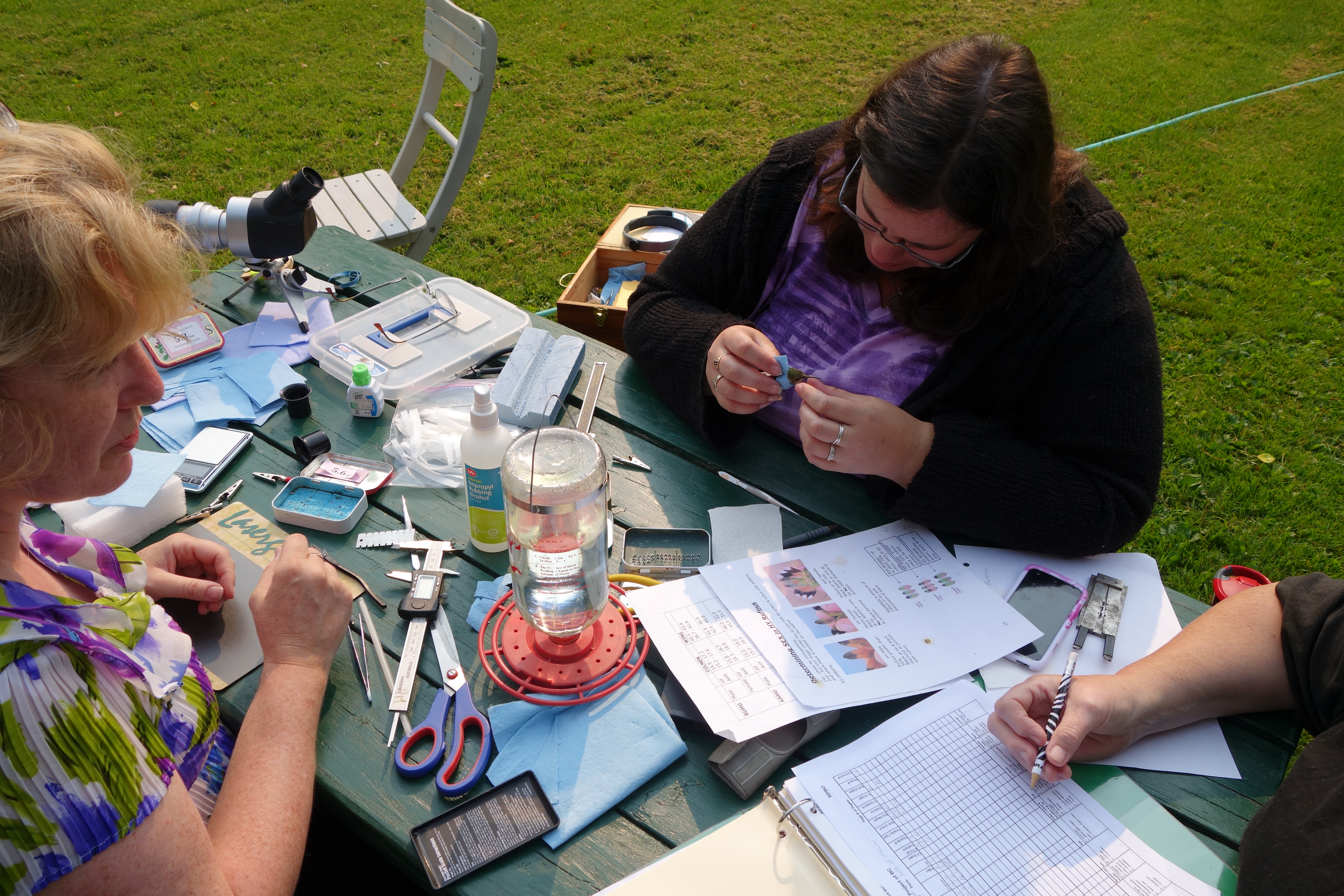 I wish I could have stayed longer to observe both the birds and the researchers.
But I was lucky enough to hold 3.2 grams of humming bird in my hand before releasing it back into the wild.
If you are a Warmshowers member and want a truly unique experience, And they have space and are willing, I highly recommend a visit to the Culp farm!
Again, reluctant to leave, I continued in the incredible heat to Mount Robson visitor Centre.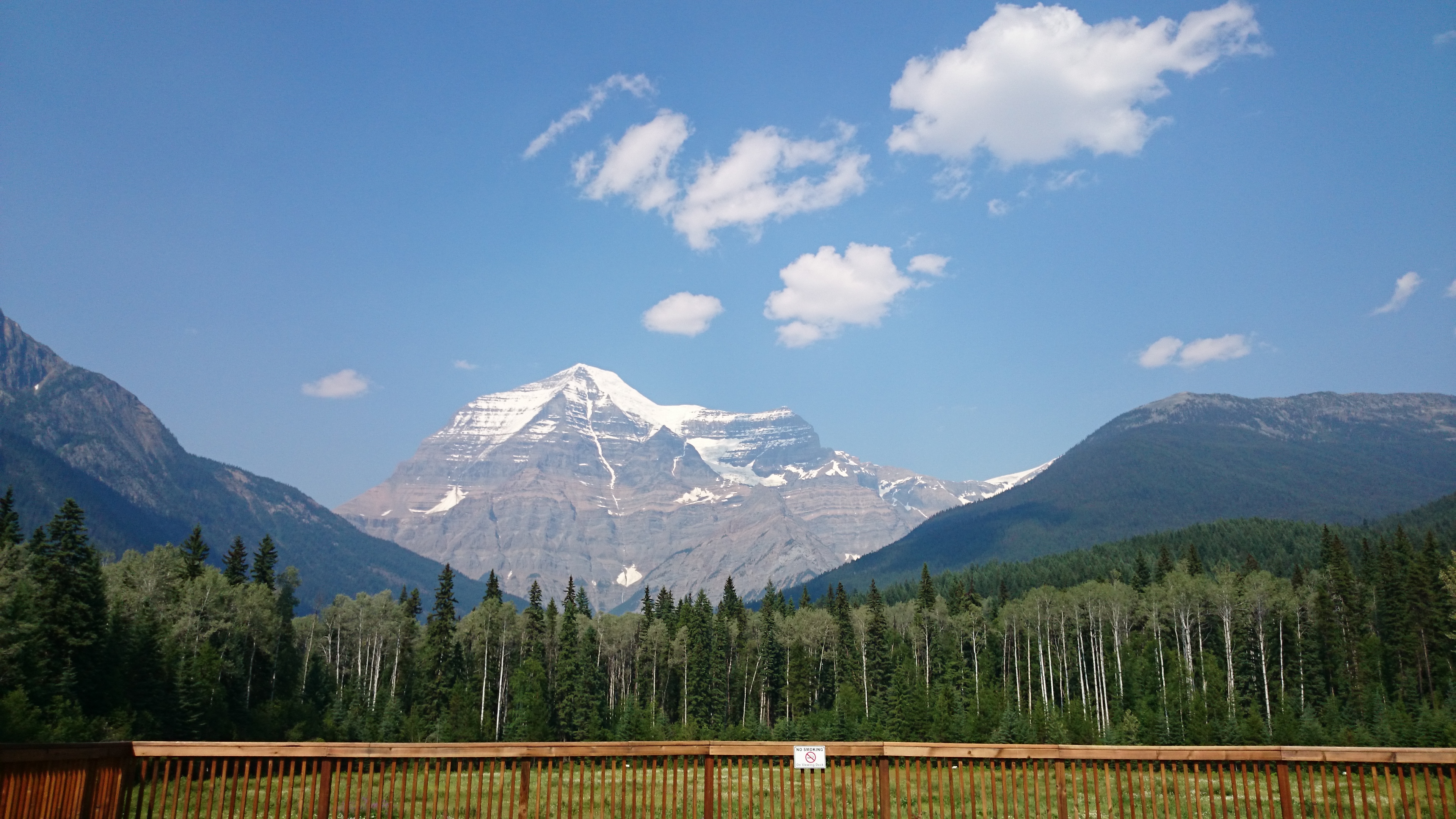 There is a campground here, but I chose to wait in the restaurant, then in the shade for a few hours to try to beat the heat. Then continue to the next site at Lucerne on the BC, Alberta border. It was another tough day.
I arrived and drank down 2.5 litres of filtered and freezing cold well water. The best tasting I have had in a long time. I ate a quick snack then fell asleep.
Jasper is a mere 30 km's from Lucerne so an early start and I arrived by noon.
As you approach the town, you pass through the park gates where they will insist you pay an extortionate $25 fee to access the park.
UNLESS you tell them you are travelling to HINTON, a town on the other side of the park (mere 100 km away and easily doable in a day) However, as you are "leaving the park" you don't pay the fee!
I agree with a fee for maintaining park facilities and features, but I am reluctant to pay the same amount as a gas guzzling, giant carbon footprinted 12 litre RV coaches, truck, motorbike, bus with their slim consideration for the environmental damage they do daily where I have a significantly smaller impact on this amazing ecosystem. It's simply unfair.
Lothar arranged for me to stay with his Sister for a couple of nights at her home, where I am now, resting and writing this.
My original plan was to continue to Edmonton and the prairies. I had hoped a contact I made might assist me with accommodation for a few nights, but after several dead emails and messages, I have received no response and have given up trying.
However, talking to people along the way, the overwhelming majority have urged me to ride the amazingly beautiful Icefields parkway to Banff and Calgary and then visit the Dinosaur exhibits and the Tyrell museum at Drumheller.
So, I am going to Jurassic park instead!
Cue dramatic music and Sir Richard Attenborough
And finally, a fortune cookie I opened after a very average chinese meal.