0039: Race for the Border pt.3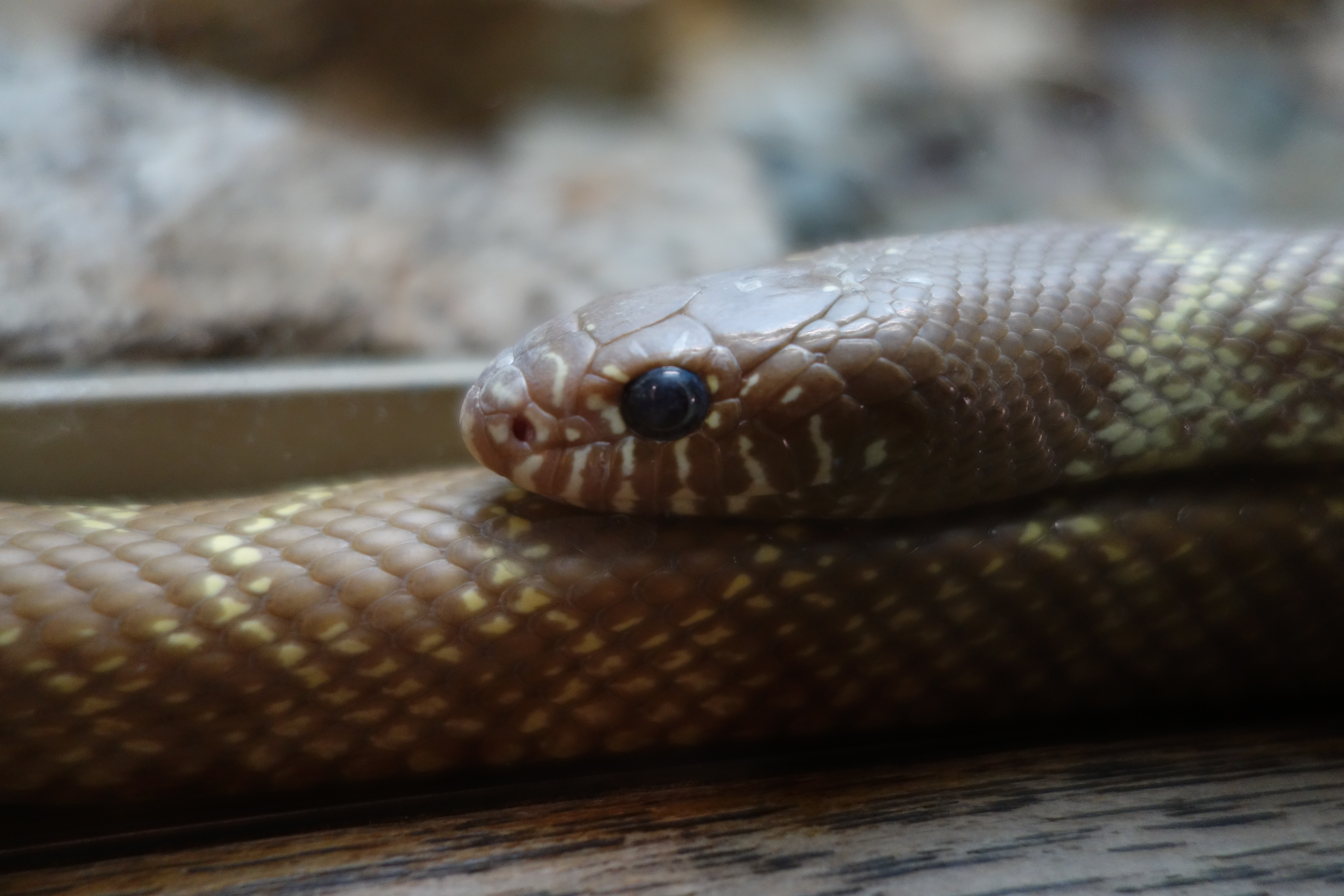 Crossing the northern Sonoran desert represents an intimidating and almost terrifying challenge for me personally.
It's not the animals, the isolation, the heat, even riding on the interstate.
But for me, the 'possible' lack of water.


For those that don't know, I had Ulcerative Colitis as a teen and a major operation in my early twenties.
My diseased, damaged and non functioning Colon was removed and so now I do not have the physical capability to absorb water in the quantities my body needs to ride in this climate or any climate really. It left other side effects and symptoms too, but one of the major ones is dehydration.
I can drink water all day, but how much my body absorbs is out of my conscious control and I frequently get very thirsty.
Cooler and humid conditions definitely help, but obviously hot dry heat is the worst.
I need to drink. Regularly and lots.
The Sonoran desert from Tucson to Yuma is around 300 miles.
To San Diego around 450 miles.
I planned to arrive at a cooler time of year, specifically to beat the heat, but I'm here early.
From around 10 am to 4 pm or later the temperature is often above 30C.
It's been the case since I started in Atlanta. The difference now being, I could just stop in a gas station and buy a cold drink. Then sit in the shade enjoying it.
I'm not sure I will have that option regularly in the desert?
Of course, I plan to have VERY early starts, but still its going to be tough going.
---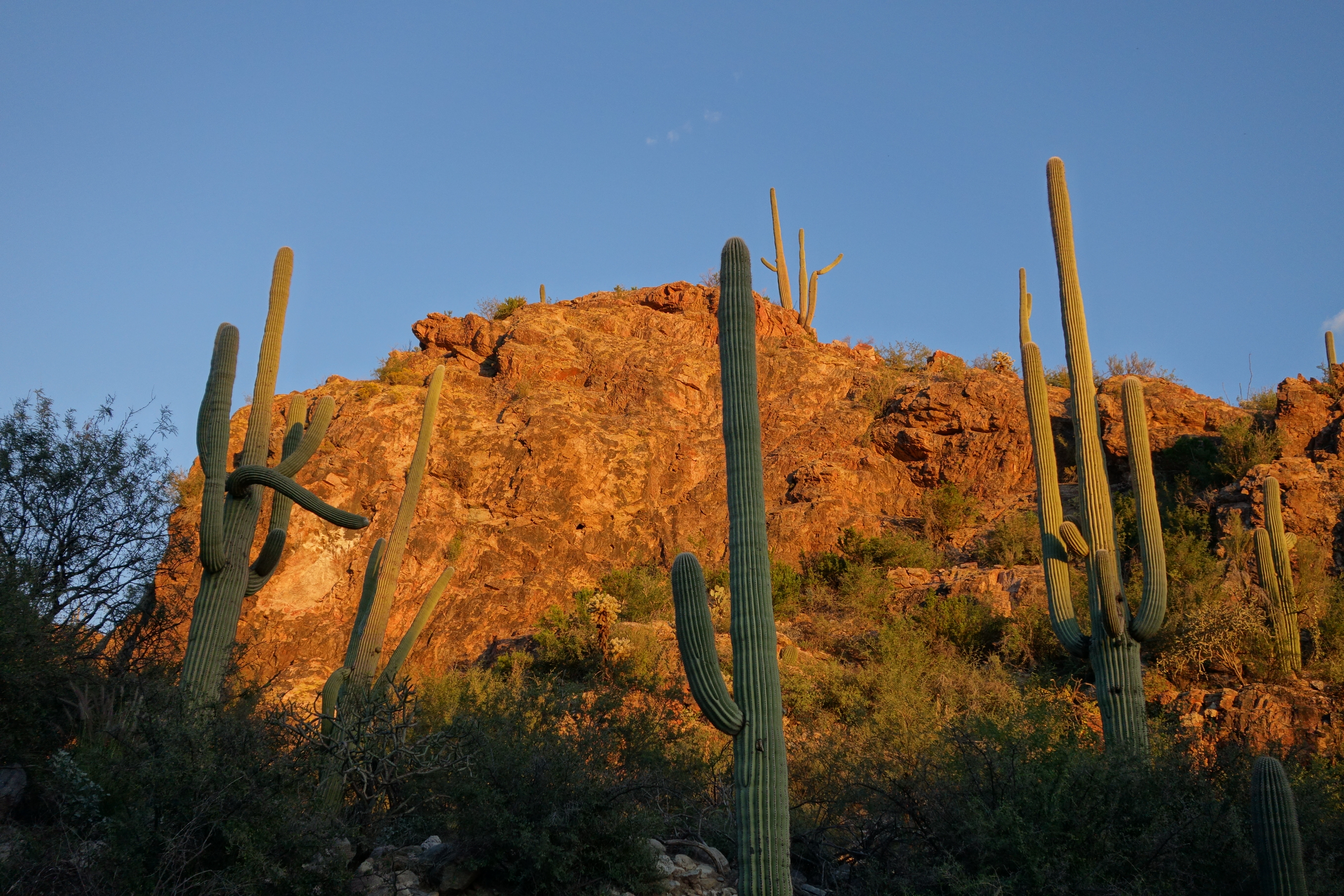 Leaving Tucson I was fortunate enough to have a strong tail wind. This was good as it cooled the already hot morning down a little more, but also pushed my average speed up a lot. Over a week off the bike and my legs were tired. I hadn't planned a long day anyway. 65 miles to Casa Grande and what should be a RV park and campsite. The road was mostly flat. Following the bottom of the valley on a Frontage road along side the I-10 freeway.
This road was pretty quiet as the faster and better paved freeway soaked up most of the traffic. Despite the road noise I was mostly left on my own for the first part of the journey. Later in the morning, I came across my 4th cycle tourist since leaving New York City.
Hubert "Todd" Hirst was in his mid 50's trained chef, turned adventurer and musician. Riding an rather ramshackle bike and trailer laden with boxes and barrels, he was travelling to southern California to busk on the sidewalks and boulevards of San Diego. He had been travelling in total for 5 or 6 years and we were both grateful for someone to talk to for a couple of hours.


As much as I enjoy the cycling, spending so much time riding alone does get very boring and lonely sometimes.
I had expected to see many more cyclists on this southern route but only heard rumours of others from people I met along the way.
We parted company after about 2 hours as Hubert wanted to walk for a while. It seems my average speed was much higher than his and he was getting tired. I set off again, making the most of the tailwind.
Arriving in Casa Grande later that afternoon, the first camp ground I came across was derelict. I headed to the unhelpful visitor information centre. And was told there were plenty of RV parks, but no camp grounds!
What a blow to me. I had researched one on the north side of the town to be told now it was Camper van only. I asked also at the town hall.
"Well there is nowhere to pitch a tent, but you could ask at the drug dependency rehab home. They often have spare beds"
There is no way I was sharing a dormitory with junkies!
I passed the fire station and asked there. The officer on duty was keen to let me stay; unfortunately city rules did not permit it.
He warned me to stay away from the "cheaper motels" as they were "nothing but drug dens" he said.
This town was not boosting my confidence. And now, given the heat, rapidly approaching darkeness and few options I checked into the expensive (by my standards) Holiday Inn motel.
Shower pizza, bed.
I woke very early with the intention of trying to beat the heat.
It worked.
I cycled on a minor road to the I-8 freeway.
Normally, you cannot cycle on an interstate freeway.
It is illegal, but the I-8 in Arizona it is permitted to cycle on the shoulder only, as there is no other safe or sensible option.
Regular signs confirmed this.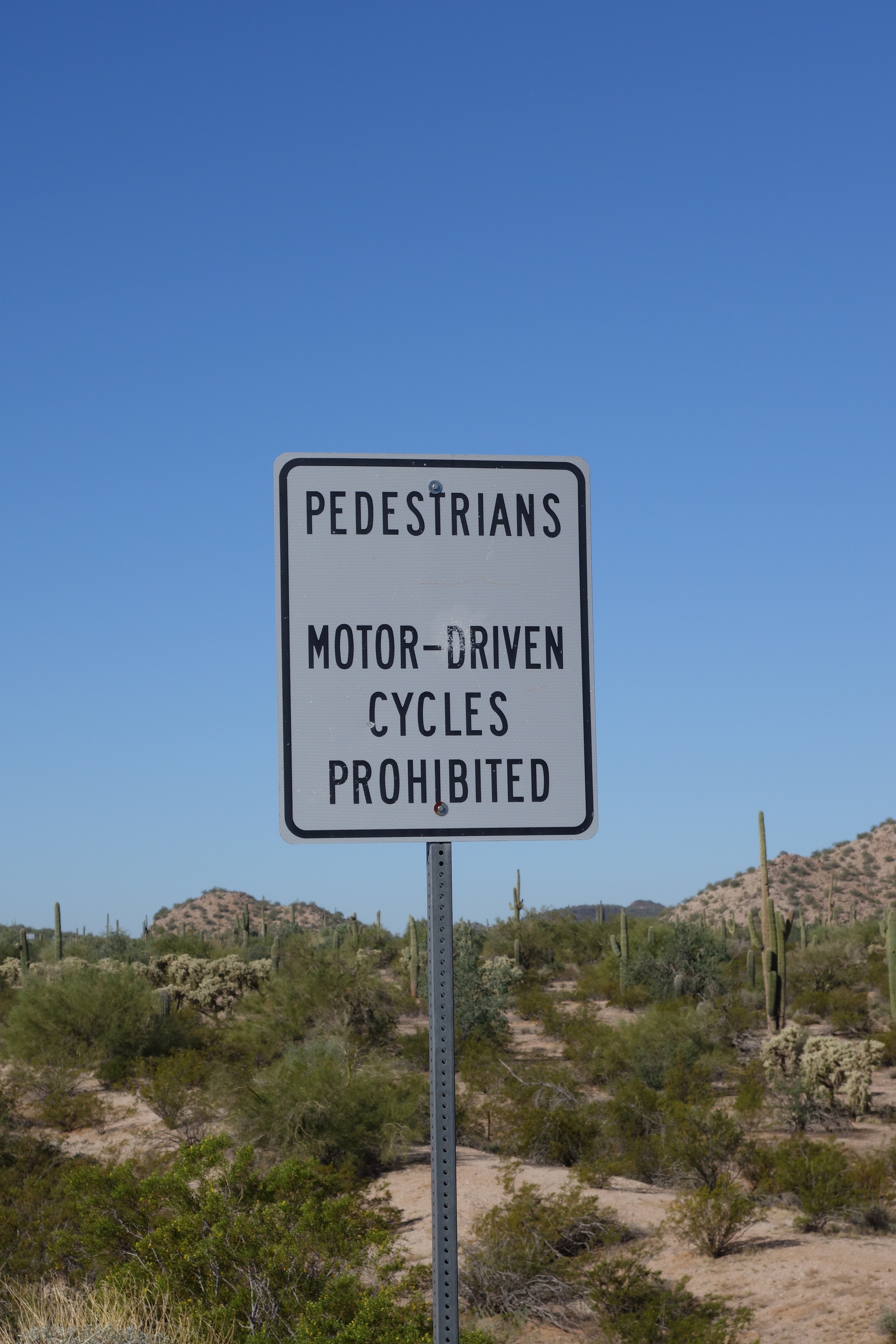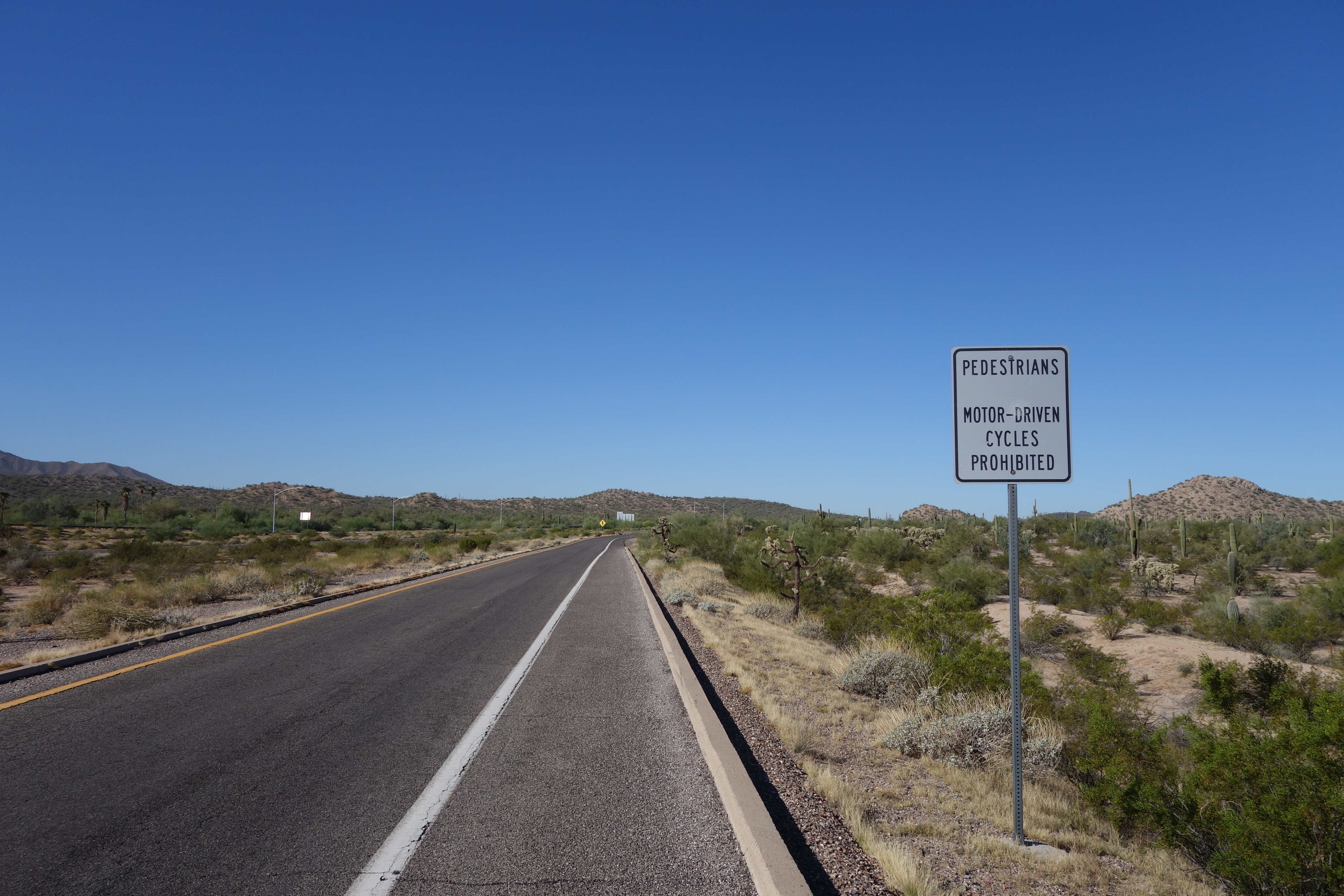 Fortunately, the freeway was relatively quiet and the shoulder very wide.
It was actually a pleasant days ride with the stronger tailwind making a big difference.
Despite passing more RV parks in Gila Bend, my destination for the night I had to book another motel.
Actually this time, it was a relief. The temperature increased in the evening and the thought of camping in my new smaller tent in 32C heat was not appealing. I was tired and dehydrated. I was carrying 5 litres of water and had drunk most of it by the time I arrived at the motel, but soon drank more when I got into my mercifully air conditioned room.
The heat arrived early the following day. I looked ahead at the map and there was no sign of any rest stop at my usual 65 mile per day mark. Except a small rest area called Dateland.
It appeared to be a theme Gas station and Date farm in the desert.
Yuma, the next destination was a further 63 miles.
In this heat I was not sure I could do it, but resolved to see what was available at Dateland then continue if necessary.
Arriving there, it was odd to see so many Palm trees in the desert. With an overpriced restaurant, gift shop and RV park, it didn't look appealing.
I sat and ate my small but expensive sandwich and Date syrup milkshake and felt the tailwind getting stronger.
I decided to continue.
The sun, now overhead, was intense.
I could feel the heat burning through my shirt and shorts and if it were not for the slight cooling effect of the wind, I think I would have suffered much more.
I arrived in Yuma at around 6 pm, just as it was getting dark. I didn't even think of alternative, but walked straight to the reception of the first motel I saw.
Booked myself in, had a shower and ran across the street to the Sushi restaurant.
While expensive, at least it is freshly prepared.
The alternative being the usual string of franchise burger and sandwich places serving heavily processed, artificially sweetened or salted foods.
American food is incredibly disappointing.
Greasy, stale, cheaply made, heavily processed, unhealthy and generally not appealing.
Only the home cooked meals I have had or the very rare occasion finding a small family restaurant have I enjoyed eating out.
I sat in the restaurant, shaking and staring exhaustedly at the wall as I drank several large glasses of iced water before ordering. Then drank more when my plate of excellent sushi and soup arrived.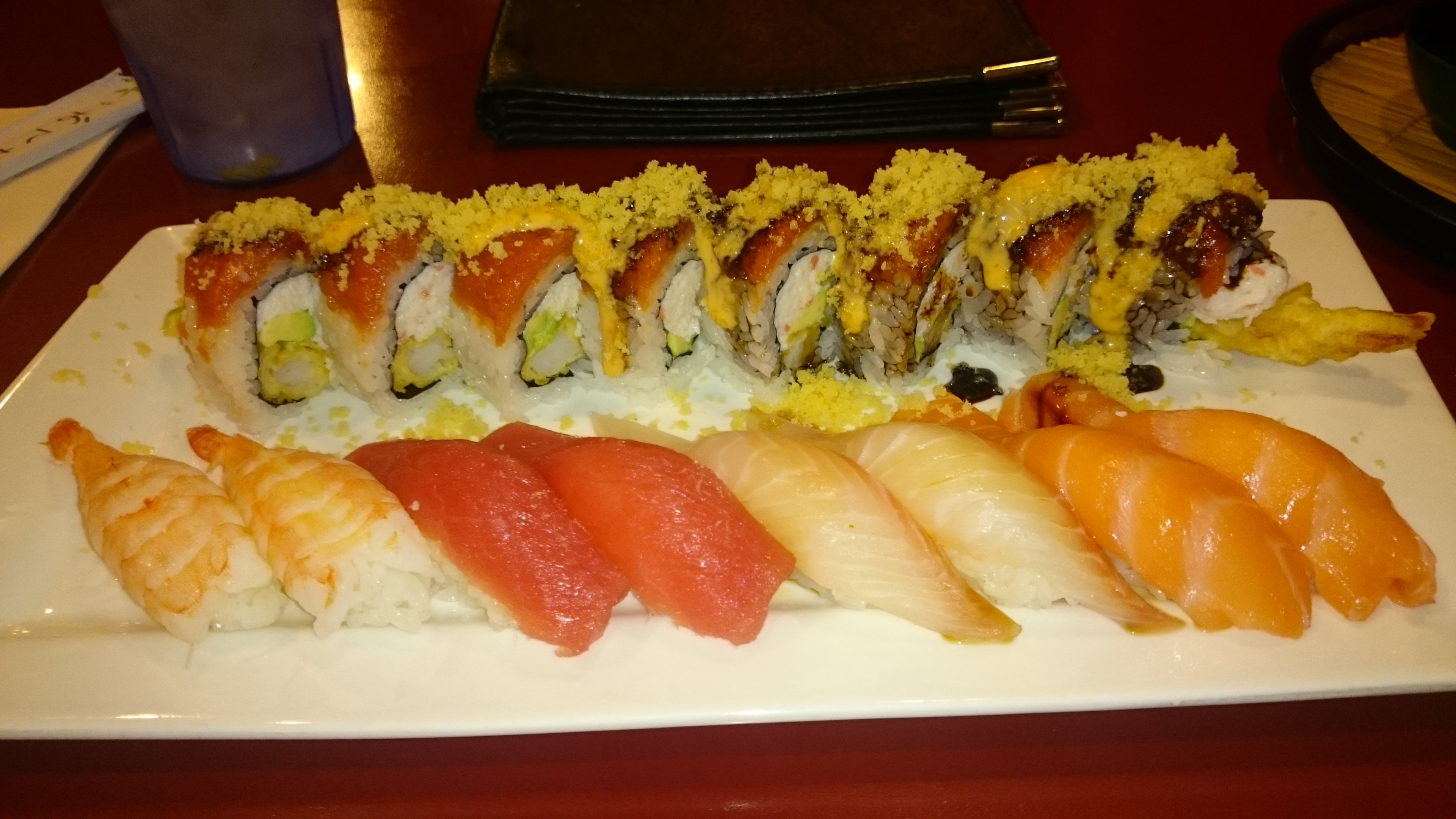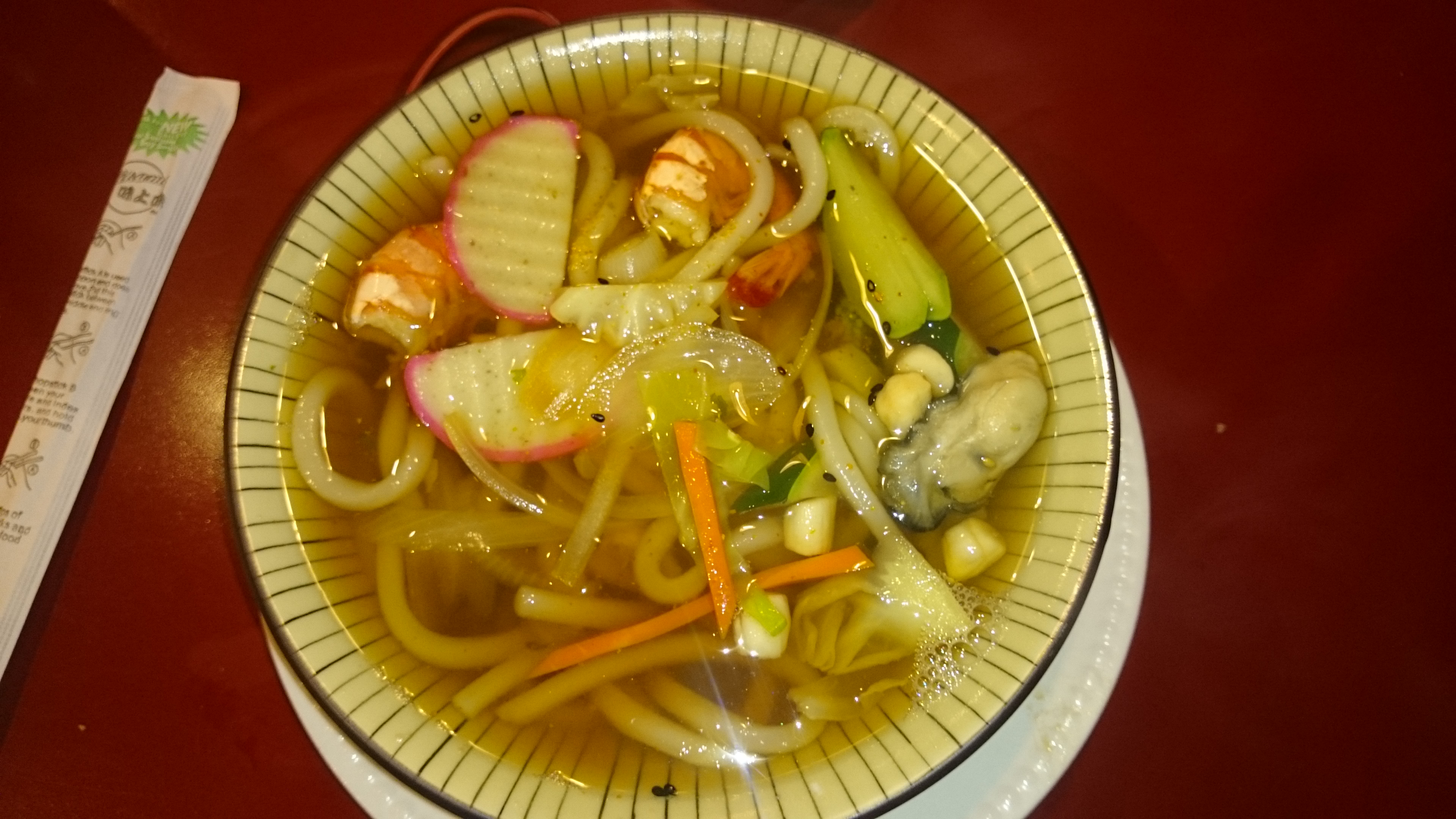 I was still shaking when I walked back to my room and slept more or less immediately.
It was just after 7 in the evening. I think...
Day 4 was a short day in comparison. 65 miles still along the I-8 but Yuma is on the border with California.
The clock changed to Pacific time as I crossed the border too, so I gained an hour, but it didn't delay the heat!
Still nervous about riding on the interstate I checked before departing and found a cycling website saying it was permitted to ride the 'entire length' of the freeway.
So I continued despite signs appearing saying 'cycling prohibited.'
I had also sent word ahead and received advice from my next Warmshowers host who advised me to "use the freeway"
I arrived in the early afternoon and stopped at the first gas station I saw.
I gulped a litre of Coca cola in minutes and rested in the shade again.
My back pressed against the cool wall of the building
I had finished the last of my water around 45 minutes before and was still very thirsty.
I was overheating and beginning to feel tired and faint.
I felt better after the huge sugar boost then continued to the home of Brian and Angie in El Centro.
I arrived and was shown my room.

After a deliberately cold shower I drank more water and began to feel better.
Brian asked me the route. And I explained about the website and my route.
"It's illegal to ride those sections!"
Miscommunication and re reading the website showed in fact I could have been stopped in some sections and fined up to $135 for riding illegally.
Because the law states you can only ride on the freeway if there is "no safe alternative", does not make it all permissible.
I was lucky that I only saw police officers in areas where I WAS permitted to be! Or they were driving in the other direction.
It could have been a VERY expensive day.
I woke the next morning with a stiff and painful neck.
Whether it was the heat, uncomfortable motel beds or a combination including sheer exhaustion, I am not sure but I decided to stay an extra day in El Centro.
Also, there was another cyclist here.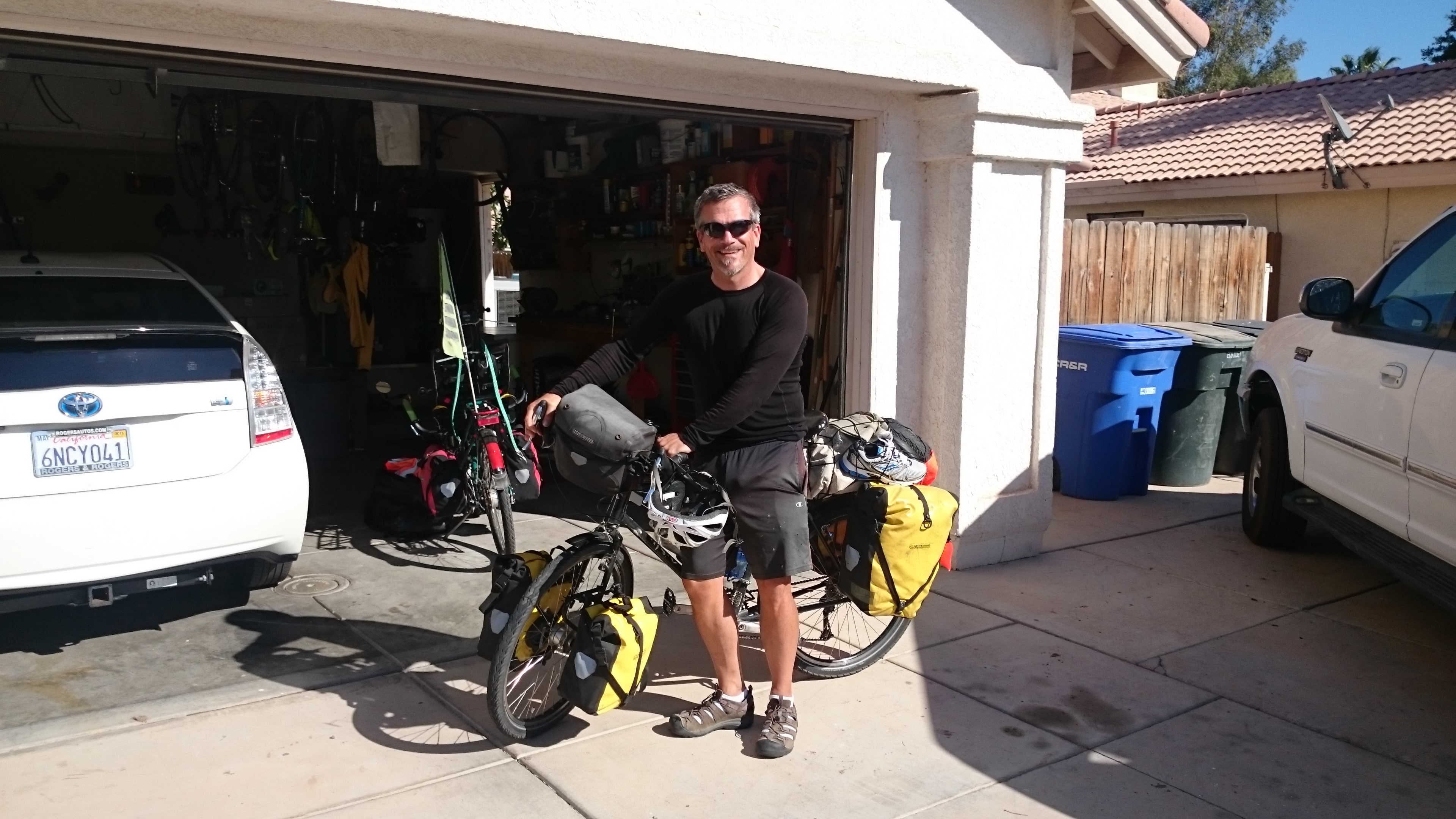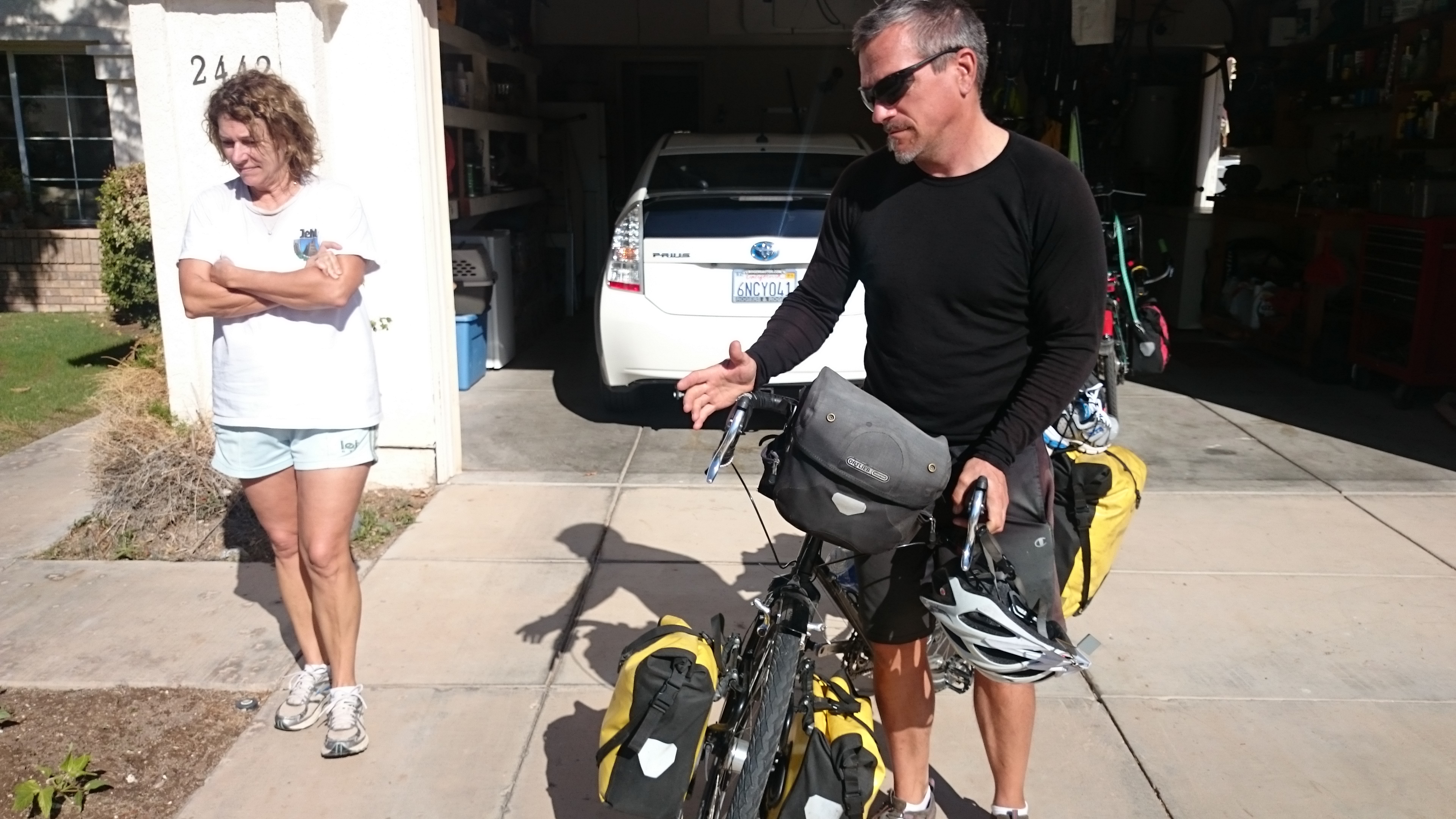 David, who was also heading into Mexico and had several tours of experience of travelling in Central and South America, so I asked many questions about the region and got lots of good advice.
Many of the questions and doubts I had, now answered, I felt more comfortable and excited about my arrival into Mexico.
Unfortunately we were on different paths, but it would have been nice to ride with him for perhaps a few days for the company, his experience and the mutual bond touring cyclists have.
The following evening, two more cyclist arrived and we all shared the chicken curry I cooked to thank my hosts for their hospitality.
---
My neck didn't ease and I went to find someone who could look at it.
A Chinese masseuse in a shopping centre was quick to tell me that the muscles were tense and proceeded to work on my shoulders and back. He did a good job and I felt more relaxed, but the following morning, I felt worse!
I couldn't afford to stay too long and allow it to heal properly so Angie, my host recommended an acupuncturist in the town. (As well as several painkillers and sports injury cream on my neck)
While I am still skeptical, I did have some acupuncture treatment for back pain years ago which was quite effective and after this treatment, it felt better and 'numbed' again.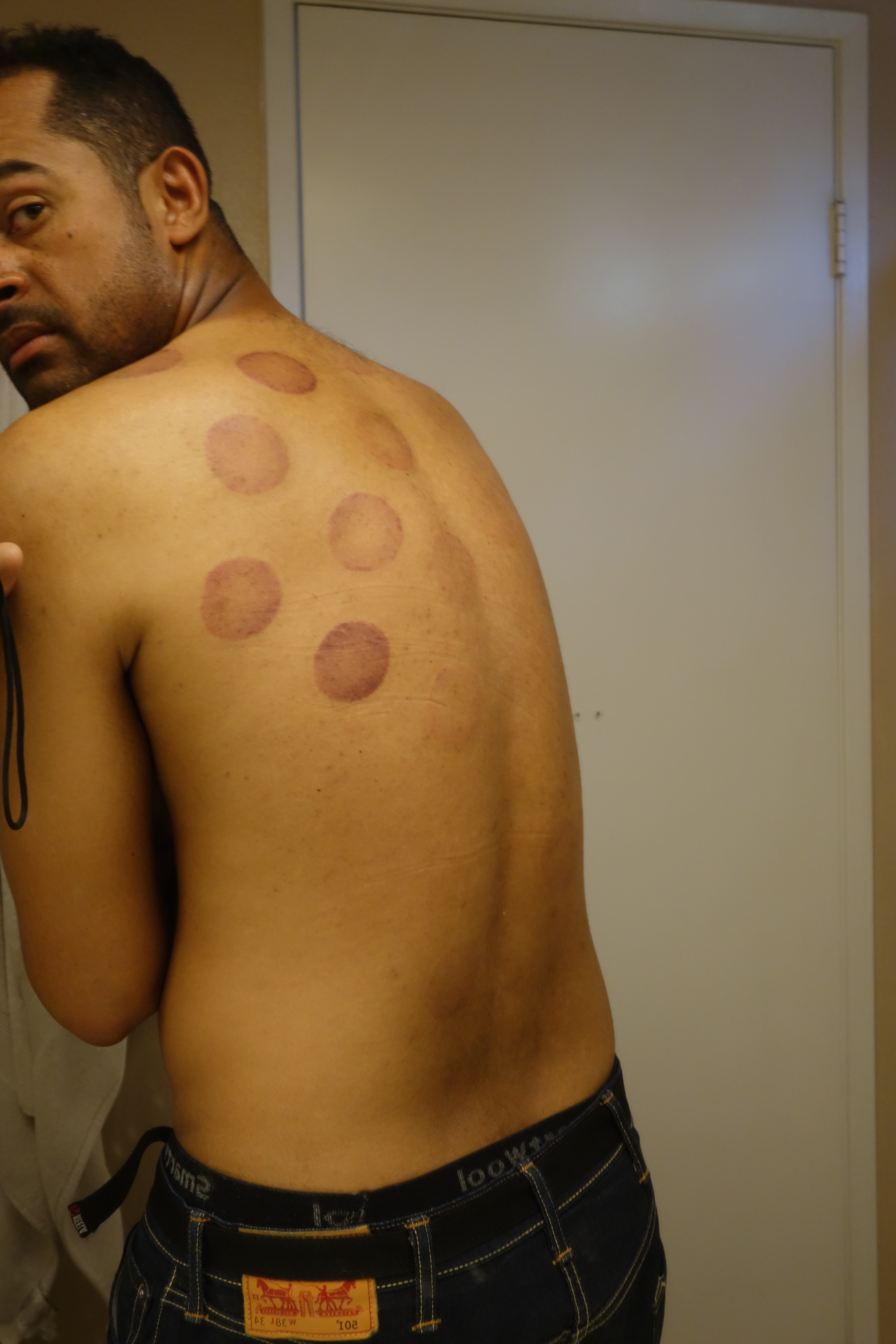 Though the cupping left few marks!
Time limits again and I drove with Angie over the mountains to Alpine as she works from there.

However a one night stop with Johnathan and his family before continuing into San Diego.
Downhill all the way! Mostly...
I ran a few errands and was invited to dinner by another touring cyclist I met.


Merle Vogel had cycled extensively in Europe and the USA.
It is the second time a stranger has invited me to dinner after meeting me on the road.
We chatted for around an hour before I
Cycled along to the beach near Old Town, the Pacific ocean and the end of my westward journey.
I stood in the water and felt the sense of accomplishment and pride as I realised the vast distance I have covered since I arrived almost 6 months ago and also the annoyance and sadness that meant I could not see more.
After a few photos I continued on to the home of Judd and Victoria in central San Diego.
My tent set up in their garden, around 15 miles from the border, I am making final preparations here to cross on Sunday morning.
My theory being the border crossing will have less people and therefore be faster and easier.
And so that's it.
The United States of America done.
Not in quite the way I anticipated, but neverthless, I am happy with what I have achieved.
The highlight has been, without a doubt, the wonderful and amazing people I have met.
A cliché I know, but still it's true. Thank you to all who have assisted me in whatever way you have.
America is exactly what I expected and a complete suprise in equal measure.
In total, I have cycled around 9700 miles or 15610 kilometres.
This is truly a diverse country and it is far from perfect, but the people here still have a drive and ambition to make it better. They still face many challenges but will overcome them.
There are many aspects I agree with and many more that strike me as being somewhat odd, or simply ridiculous.
So now, I step across the border to my third unknown country.
Mexico.
To a cultures, lands and languages unfamiliar to me more than the English speaking north I have spent the past 6 months in.
I am nervous and excited at the same time.
Mexico here I come....