0048: Belize, Belice, Believe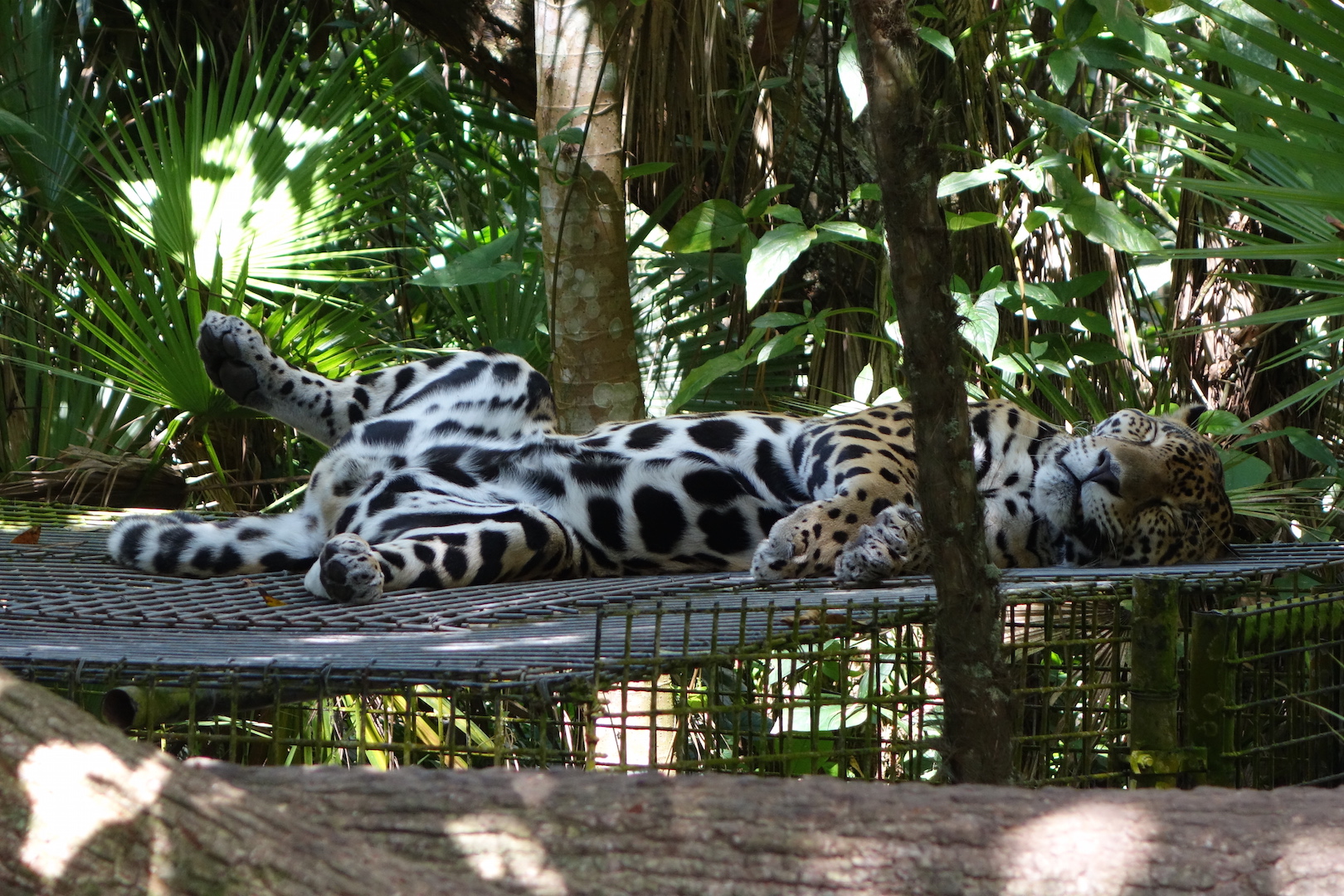 Crossing the border was pretty straightforward.
Relaxed, no fuss, no stress very Caribbean.
The border crossing to Belize is a few kilometres out of Chetumal and so I said goodbye to my hosts and to Mexico and pedalled the short distance out of the country.
As a UK passport holder, I was given a free transit visa for 30 days.
More than enough as I hadn't really planned on spending much time in Belize.
It really was just a shortcut into Guatemala.
As always, I was a little nervous about crossing into a new country and having had mixed reports about the living conditions here. I was both curious and intimidated.
Also I was very sad to be leaving Mexico as the country far excelled my expectations of it.
Corazal is a very sleepy little town. The first (and only) town in the north of the country and located on the shore of Chetumal bay. It probably made a difference arriving on a Saturday morning.
                                                                                                   src="https://farm9.staticflickr.com/8573/16500285318_f59c9ce709_h.jpg" width="1600" height="1067" alt=" "></a>

Its only 20 or so kilometres from Chetumal, so I arrived very early in the day planning on finding a cheap hotel and basically finding my bearings within the country.
The tourist officer at the border recommended one hotel in Corazal, which I had also spotted and planned on going to but I arrived to find it full.
However, next door was the unlisted Copper Horse inn and so I checked in there.
Next to find a cash machine as the Mexicans all seem to have 'run out' of Belize dollars when I asked.
A large dusty plaza in the Centre with a few palm trees provided much needed shade and the many residents lounging on rusty benches.
Edging it were concrete buildings. The bank, some houses. A couple of administrative buildings and a Chinese restaurant, a Chinese corner store, and another. And a third?!
As I walked, I very quickly noticed the very large Chinese population here. For such a small town, there were an awful lot of Chinese restaurants, and stores selling cheap plastic moulded household items, that you might find in a bargain store back home.
The residents were real mix of cultures.
Of course, the indigenous Mayan population speaking Spanish and Yucatec Maya, but also now speaking very fluid English with a strong Caribbean accent!
The Blacks, whose slave ancestors were originally brought here to work the Cane fields
A few Europeans, or North Americans here on holiday getting winter sun. The older generations all seemingly deep in discussion on property development or buying something or other within the country.
The younger mostly hippy types, with bad blonde dreadlocks or thick beards, tattoos, ripped 'Ethnic' clothing, jewellery and anaemic white skin you can almost see burning as they step into the sunlight.
A big surprise as I went to a meal in a little restaurant in the town was a huge population of Amish Mennonites. I thought they also might be here on holiday, but no, they have lived here for generations and their distinctive looks, pale skin, pale hair, Dungarees, beard and wide brimmed hat made them look so familiar to those I saw in Canada and the USA, but also so different.
And of course, a curious number of Chinese residents.
I assumed at this point they might be exporting fish and other goods harvested from the Caribbean but there seems to be no industry here. At least within this town.
Perhaps as I travel inland?
Leaving Corazal I headed south, a relatively short distance to Orange walk.
The road flat and passing through low bushland and abandoned agricultural scrub.
A few shanty towns appeared with the residents all looking very dishevelled and worn out. Rusty tin roofs, Litter in the overgrown yards, skinny dogs chasing me down the road.
But many, driving surprisingly affluent cars.
At a particular junction, the road turned right and was clearly marked. However, on my little GPS map, said the main road and shorter distance also continued onwards. So I continued ahead.
Naturally, after a few kilometres, the tarmac disappeared and became hard packed clay.
Fortunately it was dry, as even a little moisture would have made it very difficult to ride. Though it was still bumpy and rutted where lorries and cars had struggled through the last rains.
Now passing in between vast sugar cane fields, it was clear this was a farm access track.
I continued and felt a little intimidated by the many workers in the fields waving machetes and shouting at me through their dirty faces as I zipped past on my bike.
The map said the road rejoined the main road just after San Estevan so with a tailwind now, I left behind the pack of angry dogs who chased me for half a kilometre or so and round a corner where the road came to a dead end.
Well almost.
There was a river between me and the road on the opposite bank. And a ferry parked on the opposite side.
Being Sunday, I assumed it was not running and thought about the 50 km detour back the way I came, into the wind, crazy dogs and bumpy roads.
I sat enjoying the tranquil scene as a Mayan guy with a huge machete on the opposite bank walked from between the trees and waved. I waved back and assumed he was the ferry master.
He was and began moving the ferry across by hand!
Orange walk was a few kilometres further and by this time the heat was intense!
I don't normally suffer but the past few days from Tulum has seen really hot dry heat and I have been struggling.
Belize has fewer corner stores on the roadside, so getting water and in fact food has suddenly become more difficult.
I checked into another expensive hotel. The St Christopher Hotel.
I couldn't bear the idea of trying to find a camping site in this heat. My little tent would cook me alive.
After a refreshing cold shower, which I have now learned to love, I set about finding food and water.
Orange walk in the tourist photos is presented as a bright happy pretty town with a good range of services.
It may well have been the case, but I arrived at noon on a hot Sunday and almost everything was closed.
The main road was undergoing maintenance so there was dirt and potholes along its length. Sewers half repaired and smelling in the hot sun. And the few people wandering the street were either drunk or stoned or both but definitely looked unhappy.
A Chinese supermarket was open and I walked in to try to find water.
The place was a mess of half ripped cardboard boxes and no sort of order. I picked my way over stock on the floor and found the fridge at the back.
Only 500ml bottles. I picked up 6 to refill my bottles and also some orange juice and Coconut water.
I like to buy local, but it shocked me to see the Orange juice was sweetened concentrate from Florida and the Coconut water was imported by a Jamaican company from THAILAND!
Looking closer now, biscuits from India, cakes from Sri Lanka, and more or less all the cheap junk bad foods from the USA.
Peanut butter with hydrogenated vegetable oil.
10% Chocolate with palm oil.
I can't believe its not butter definitely was not butter and had never been near a cow!
Even the sliced bread was imported. I dare not think what chemical made it last a very long voyage and still feel fresh and soft.
Where were the local foods?
No fruit or vegetables.
No meats, no chicken, beef or pork. But plenty of mechanically reclaimed hot dog sausages in the luke warm freezer!
It occurred to me, I had seen no fields, no farms, no livestock.
No orange groves and barely any fruit trees.
Ok, so I have only passed through a small section of the country, but even in areas where agriculture is not dominant, there is still usually a local farmer selling something by the roadside.
Not here though.
I reluctantly paid for my goods and walked to the Chinese takeaway to be served a Chicken and vegetable meal with grey rice and lots of cheap ketchup on top. Though I didn't ask for it.
The red dye in the ketchup stained the polystyrene plate I ate off.
My stomach hurt.
I miss Mexican food!
Gentle hills as I headed south.
A hot morning and Monday opened a local restaurant so I had a small but good breakfast before departing.
The Northern highway is a narrow road.
Rough tarmac, potholes and no shoulder. There isn't much traffic but once again the foreign plated drivers in their massive pickup trucks pass by too close where the locals occasionally sound the horn before passing with slightly more room.
My destination, an Eco hotel at the junction with the road to Belize City. The former capital of the country.
"Don't go there," almost everyone warned me. Tales of drugs and gang violence and an ineffective police force seem to be all that is told.
I have heard nothing positive about the place except one stallholder
" It's a city like any other. It has its problems but if you are careful, it's actually a beautiful place to visit. You should go"
Next trip, I decided. I turned off at the Burrel Boom junction.
At the next junction I found my hotel for the night. Not what I expected.
Derelict and overgrown. Slowly being reabsorbed by the jungle.
But with a doorbell?
Thinking I had arrived at the rear entrance, I rang and waited…..and waited…and turned to leave as a young girl answered and explained that it was still open but people booked in advance. Paying $100 for a room! That is USA Dollars not Belize! I asked about camping somewhere, but they wanted $50US. I didn't think so.
I moved on hoping Hattieville nearby, might have a cheap hotel.
Belmopan, the new Capital city was only 50 kilometres away, but I was struggling with the heat and 91 km's for the day was already enough.
I asked at the Police station about local accommodations. There was none, but they allowed me to camp in their yard if I wanted.
At 3 in the afternoon, I was not putting my tent up in the yard. There was no shade apart from two small palm trees and so I decided to go find some food. Across the road was a huge Chinese supermarket. More or less a carbon copy of the places I had seen in Corazal and Orange walk. I bought water and Indian biscuits. Then cycled back up the road to a restaurant I has spotted.
More grey rice and beef. Served cold with cheap synthetic orange juice drink.
What a sad meal.
I sat in the shade of the restaurant for a couple of hours trying to delay putting up my tent at the police station and even considered pedalling 12 kilometres back to Burrel Boom where I had seen the sign for a hotel. But I didn't want to pay. And I don't like doubling back.
I camped. Couldn't sleep in the heat so woke up and chatted with the officers who were smoking outside.
" So you started where?" Standard Questions…….
"Alaska".
"Wow that's amazing!"
"9 months travelling? You're crazy!"
Then a pause as he asked "Alaska, Is that near Antarctica, Or is it a different country?"
I tried to explain, but it was clear it was not soaking in.
Many people have little grasp of the world outside the boundaries of their own country or local area it seems.
"You cycled from England...all the way?"
Well not quite. There is a fair bit of water between me and my start line.
I often wonder what a map of the world looks like in these people's heads?
The following morning a local woman sold me some homemade dry biscuits and some tough bread with some sort of chicken and bean paste mix inside. I packed up and spoke with the officers about the road ahead.
The road did get hilly as I was told and was also very hot at 10 am.
I bought a gallon of water the day before. Filled my bottles and carried the spare under my panniers.
I stopped to drink and noticed my bike was wet.
A small hole in the plastic was dripping water and slowly draining away.
I drank as much as I could then finally dumped the bottle in the bin as I arrived at Belize zoo.
Small but shaded it was a nice break from the Sun and although I don't really like the idea of Zoo's, this one did have strong conservation messages on the signs and almost all the animals were rescues from injury or abuse that would not have normally survived in the wild.
Tapir's are much bigger than I expected them to be, and this one especially was curious about the sweaty smelly cyclist peering over his fence. So much so that he turned to walk away and pissed all over my leg through the fence!
Needless to say, I wasn't pleased as I didn't have a cloth or tissue to wipe it away so had no choice but to leave it!
I sat alone in the corner of the restaurant having a nice meal for a change, but getting funny looks from the staff.
I wonder why?!
Belmopan. The new capital of Belize.
Relocated to higher ground after a hurricane destroyed Belize city and its seat of government in the 1960's
It's a very odd little place for a capital city. It felt more like a scruffy English town on a Sunday afternoon. I was expecting the typical hustle and bustle of a capital city, but no, quiet streets, lots of open parkland, closed shops in the mid day sun and the old boys drinking and playing cards under the shade of a tree.
I arrived around 2 pm and my couchsurfing host was not due to arrive home till 5. I waited in the Bull frog inn close to his house.
At 6 I still had no reply from him. My phone does not work now in Belize except on Wifi and by 7 pm I decided to check into the hotel. By 7: 05 pm I got a message apologising as he was stuck at work. And had seemingly forgotten. I told him, I would be staying at the hotel now, and had already paid for 2 night to have a rest day.
Belmopan is a very quiet city and I did my chores as I wandered around. Food bought, Laundry done . Photos taken. Bike checked over.
There were elections taking place in Belize and tonight was voting night.
Typically when you hear of elections in Central American countries, you might think of grandiose dictatorships manipulating the masses and the vote to win another term in power.
I don't know much about the politics of Belize, but this seemed an election like any other I have witnessed.
The atmosphere was jovial and party like. Good natured and festive almost.
I took a few photos as I wandered through the crowds.
The following morning started warm and got hot again very quickly.
The road to San Ignacio was rolling hills. Short but after weeks on the flat Yucatan peninsula even these low hills were a shock.
I stopped 3 times over the 49 kilometres to drink and rest in the shade. And finally rolled into San Ignacio just after lunchtime.
My host Nimet, met me a short while after and guided me to his house.
After a quick cold shower and lots of cold water, we drove around the town and up to the Guatemala border.
Nimet is Turkish and works in the local Casino. A photographer by trade, he is working in Belize for a while as his company will likely despatch him to one of 38 other locations around the world that gives him the opportunity to work and live and travel. Mostly at someone elses expense.
Not a bad way to do it I guess?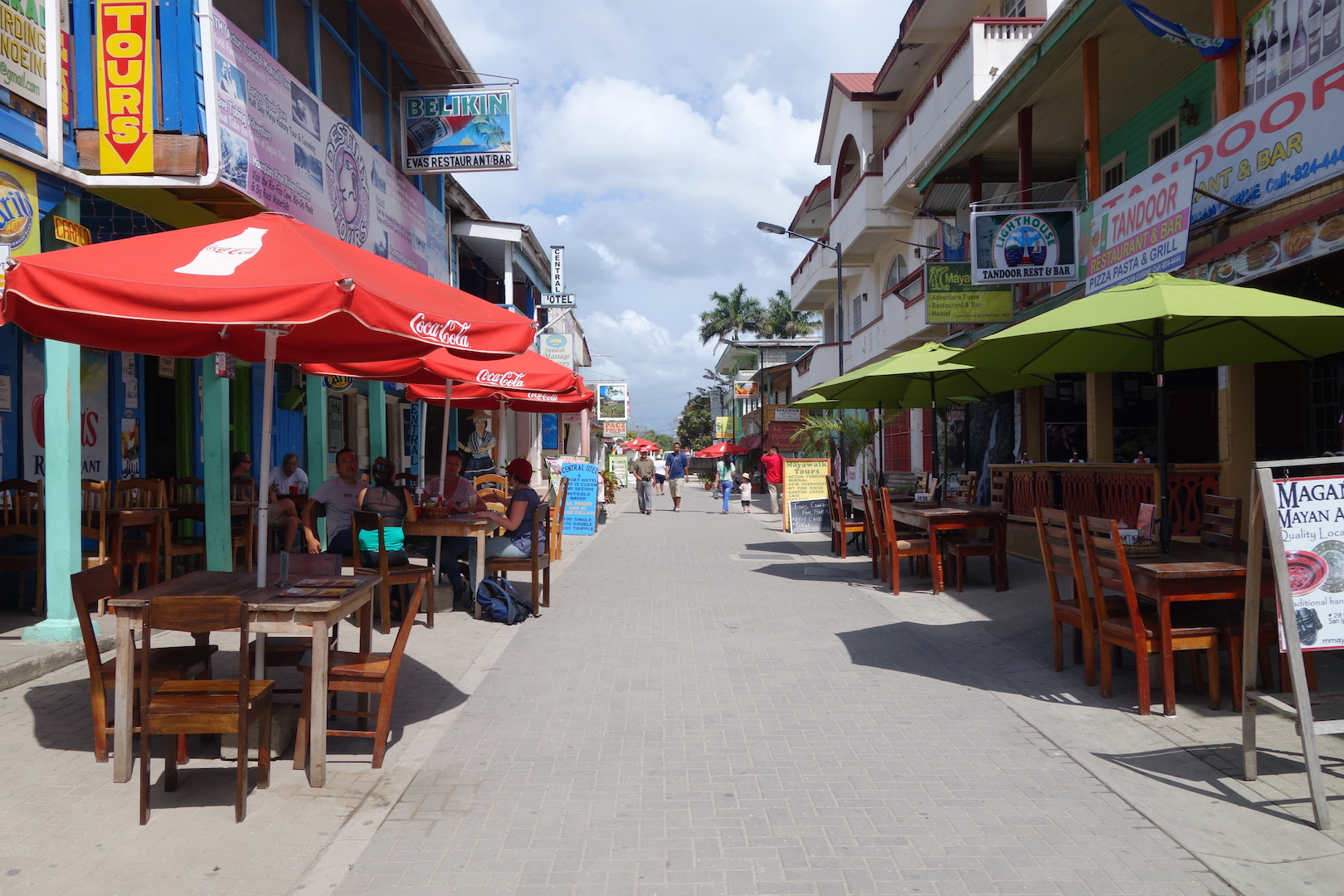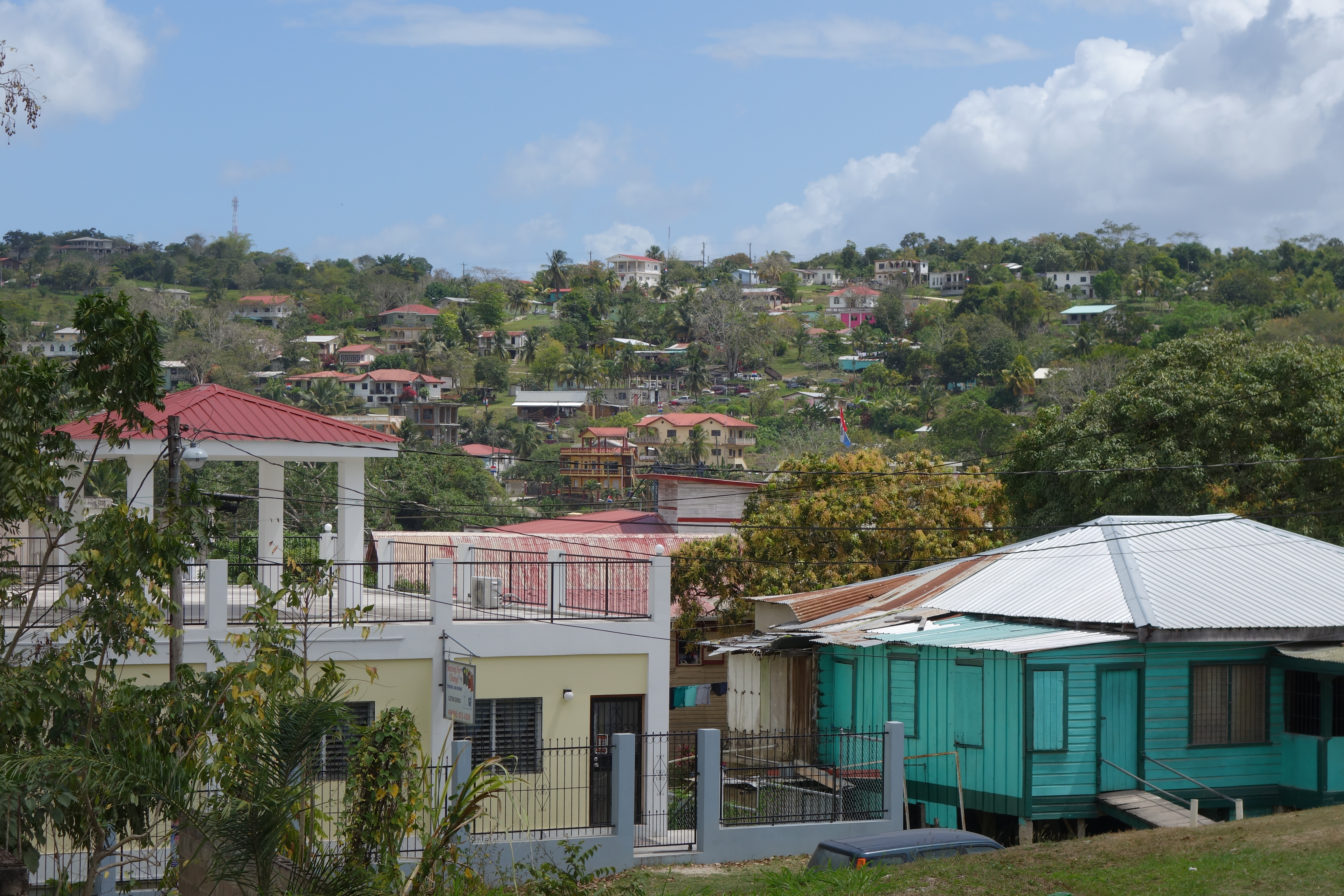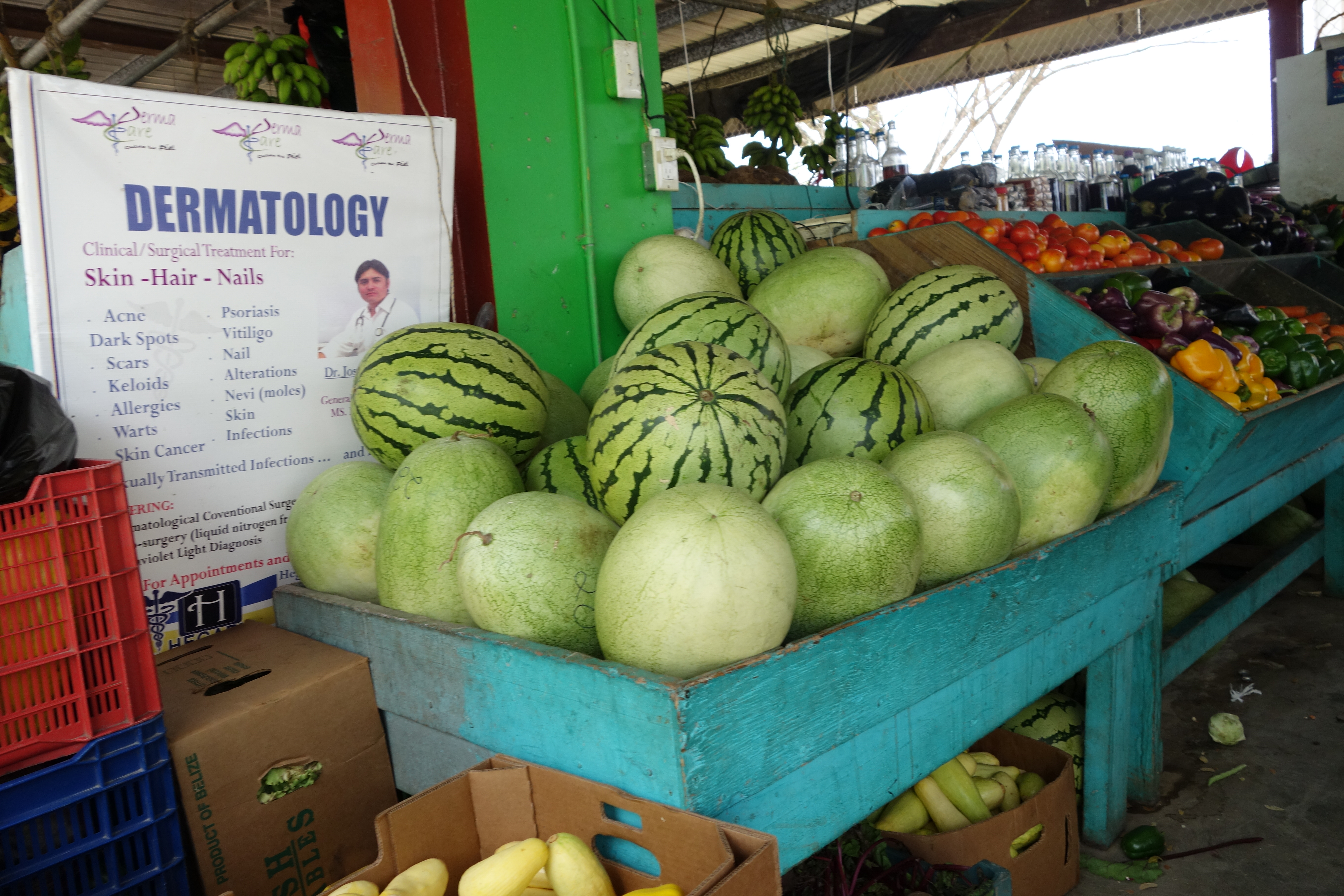 So in only a week including 2 rest days, I have passed through country number 4.
I have not seen any real evidence of the tourist Belize and in a way I am glad of it.
I know there are 5 star hotels, white beaches and touts, palm trees, perfect blue waters and other trappings of luxurious holidays and there is nothing wrong with that.
But I feel as though I have witnessed the real Belize. Seeing every day lives,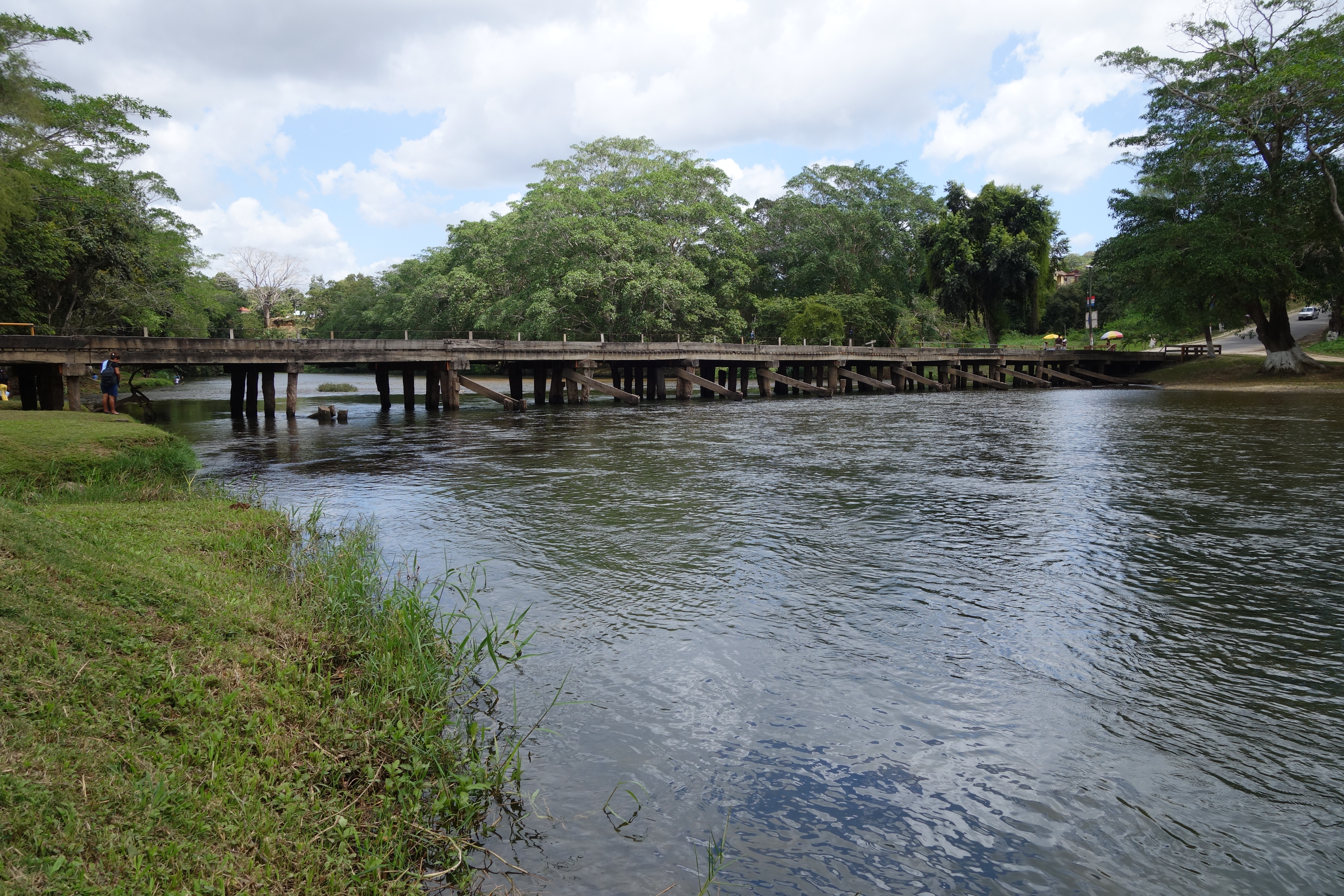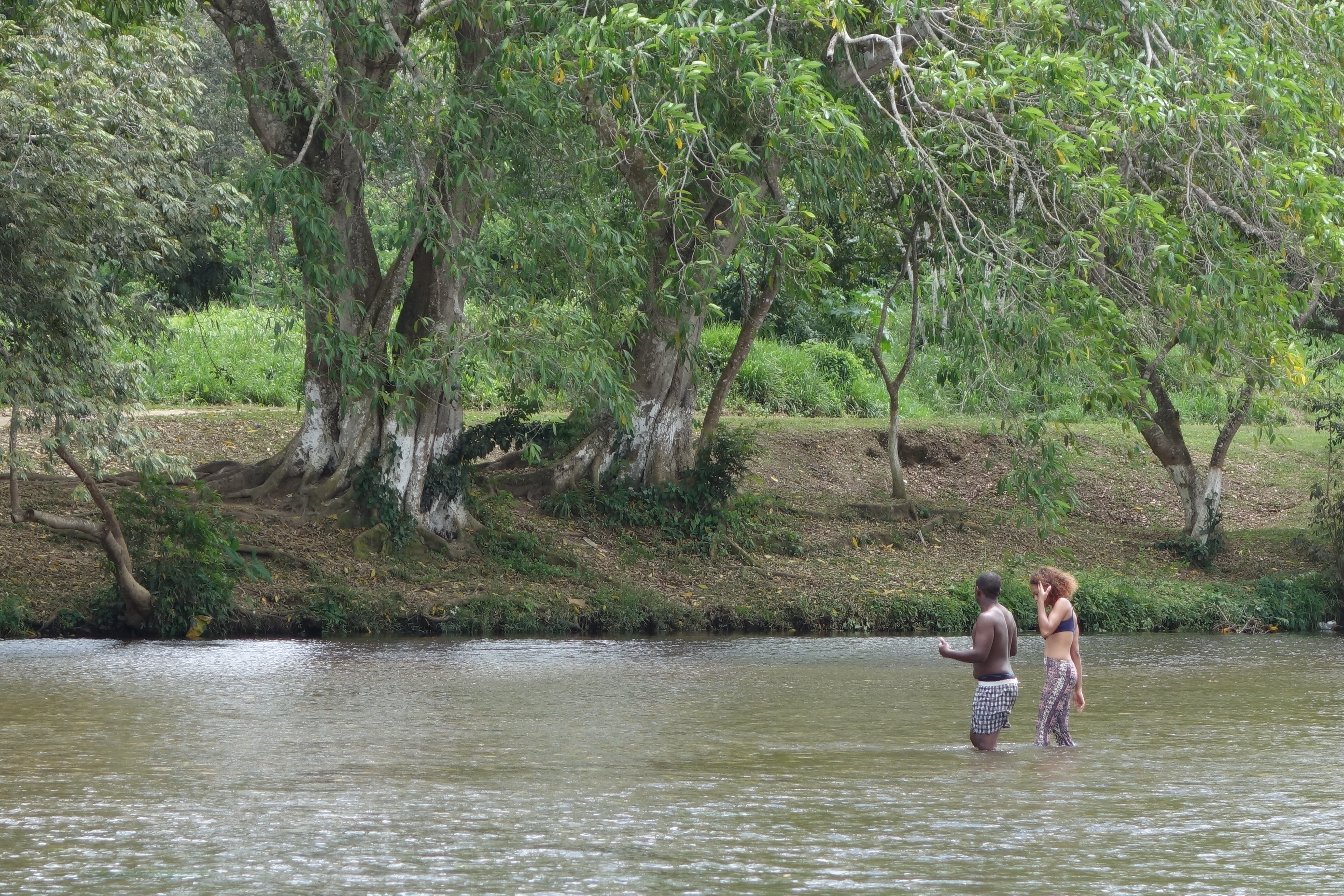 People working the fields, School children sitting in the shade of an open sided classroom, Women slicing watermelon under a mango tree and dividing it into bags for sale to passing truck drivers. Who themselves are shipping wire, or concrete or wooden pallets or milk powder to various parts of this odd little country.
I haven't explored enough. I certainly haven't see much of anything. Or even experienced any of the local landmarks, history or spoken to many people.
Belize was a short cut. And though I know I have missed a lot, I hope that I might be forgiven as I cross the border to my next country.
Guatemala.