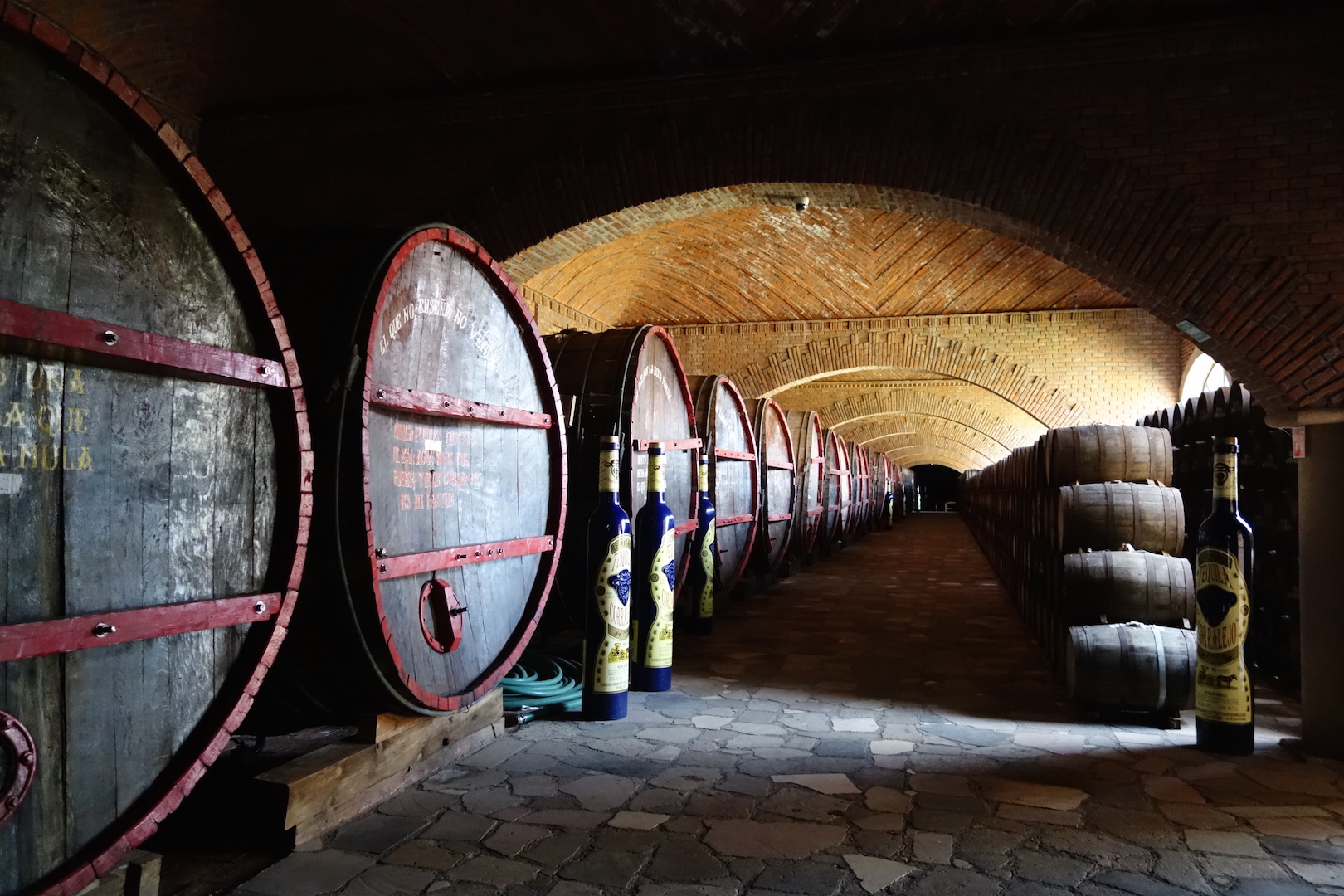 "You can't be serious?!"
Charlotte looked a little distressed as we approached a junction where 4 or 5 roads seemed to converge into two.
We were trying to leave Guadalajara after her arrival and a further rest day to try to acclimatise to the time, altitude and temperature difference.
It was certainly a shock to the system, whether an experienced cyclist or not.
Guadalajara was a much bigger city than I expected and now I was leading my new team of three, south to Chapala lake for a 'warm up' ride after a few days relaxing the city.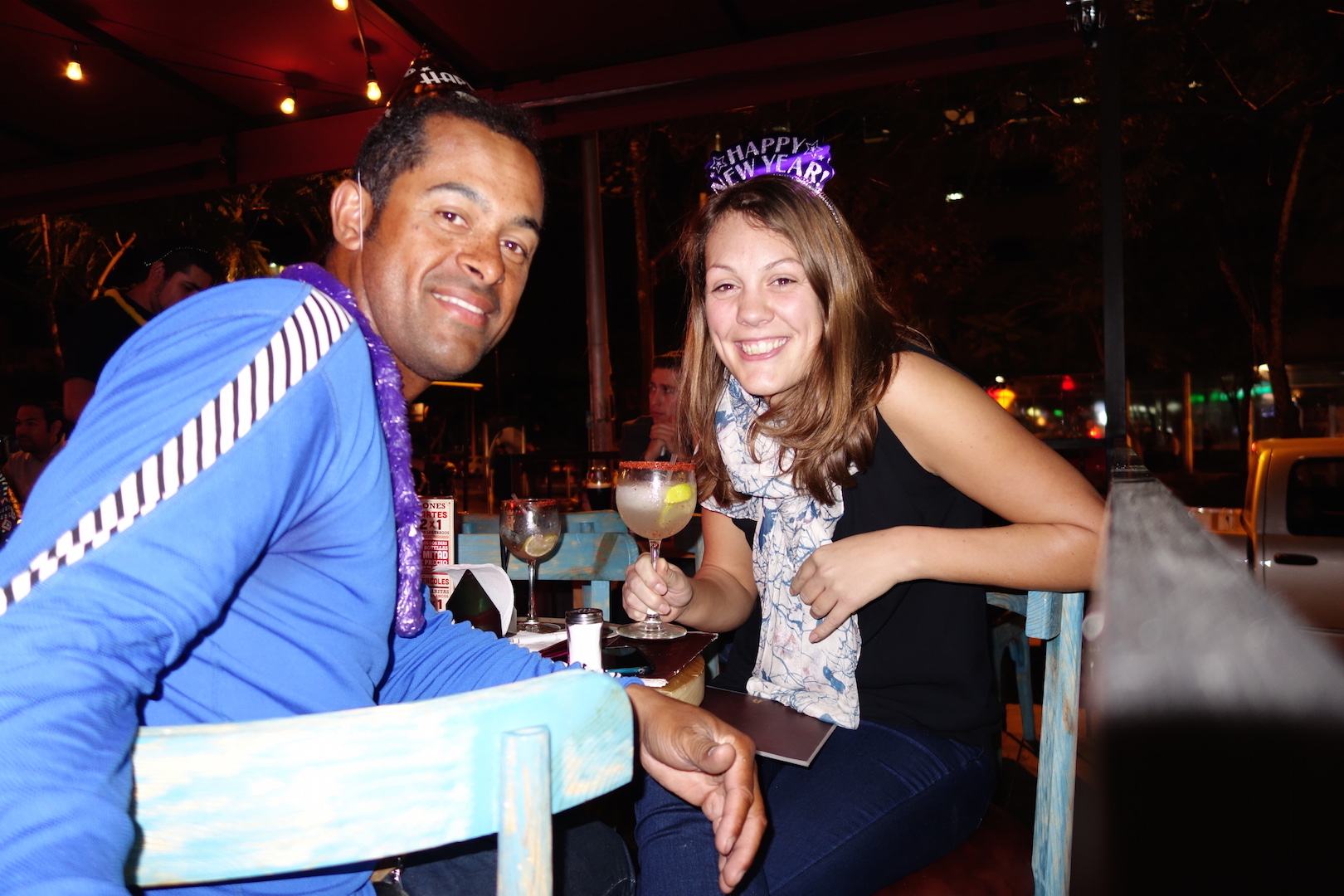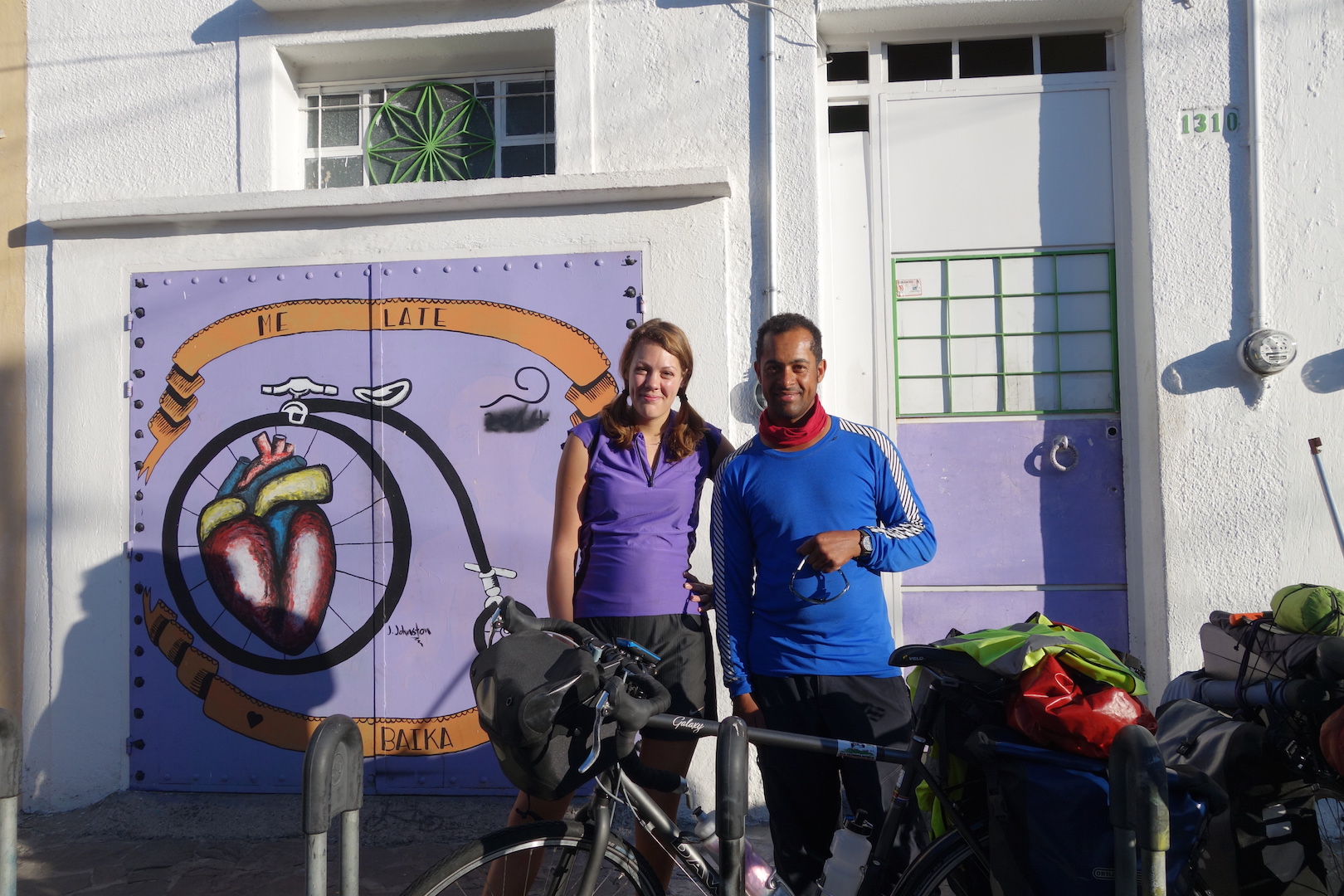 Charlotte (left) is one of the two cyclists I met when riding back in Alaska.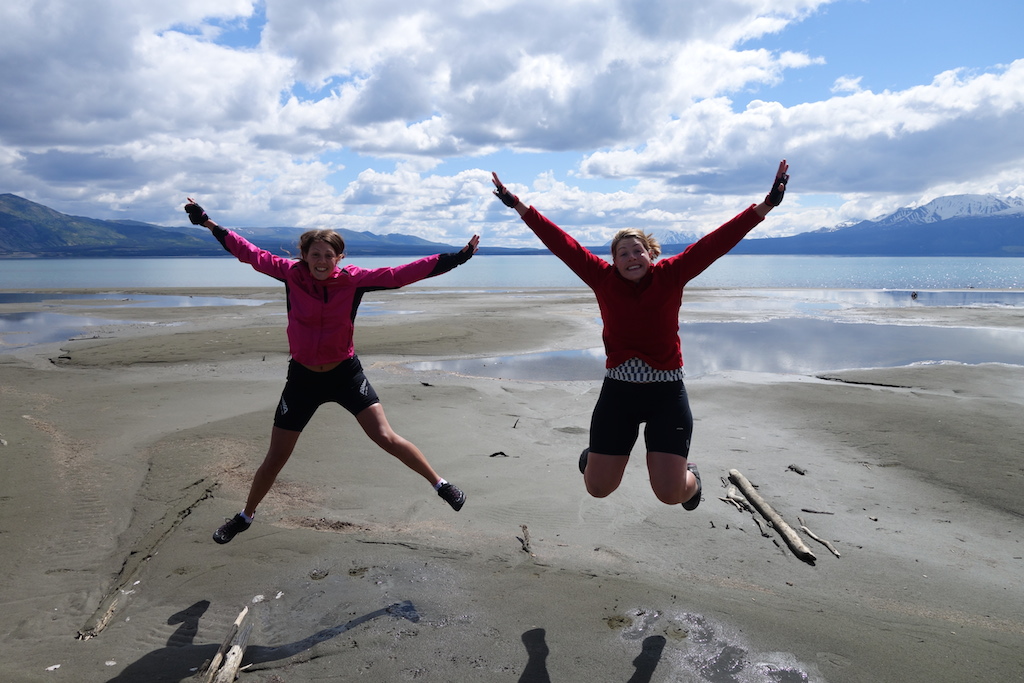 She has taken a sabbatical from her job in IT to do some travelling amongst other things and had a desire to continue her cycling adventures through Mexico.
She had recently ridden with her friend Lulu, from Anchorage down to Cabo San Lucas on the Baja peninsula.
Click here to read their own blog. It's GRRReat!
We previously rode together for a few days from the Canadian border crossing at Beaver creek to Whitehorse.
After several email discussions, Charlotte and I have teamed up to ride as far as Cancún.
Joining us as we left Guadalajara was Dane from Oregon.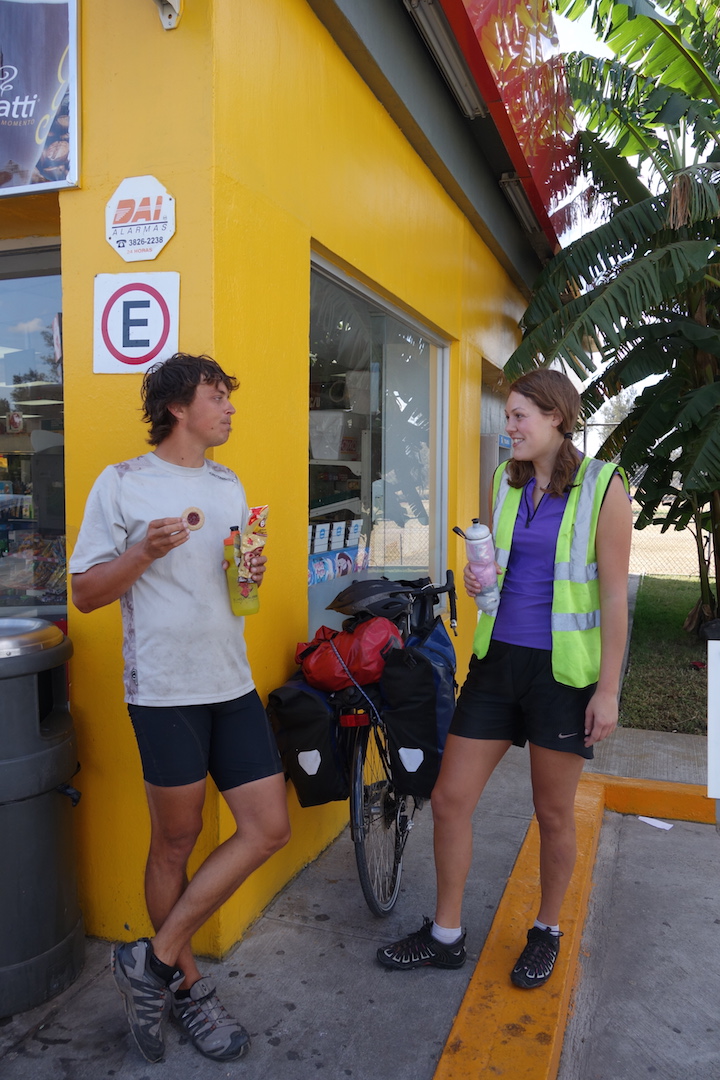 Another Pan-American rider heading to Argentina. I ran into him before Tepic and we eventually ended up staying in the same Casa ciclista in the city.
Post Christmas traffic was increasing as Mexico returned to normal after the seasons holidays.
Today was a shocking reminder of what the roads are like.
To the Mexicans, there was no doubt some sort of harmony in this chaos, but we little cyclists were struggling to pick our way through the traffic to escape to quieter roads heading to the lake. I think a team of three made us slightly more visible in the mix and we soon escaped onto a wide shoulder and began cycling south.
The day was short but with a steep hill and headwind at the end dropped us into Chapala town and drinks at the lakeside.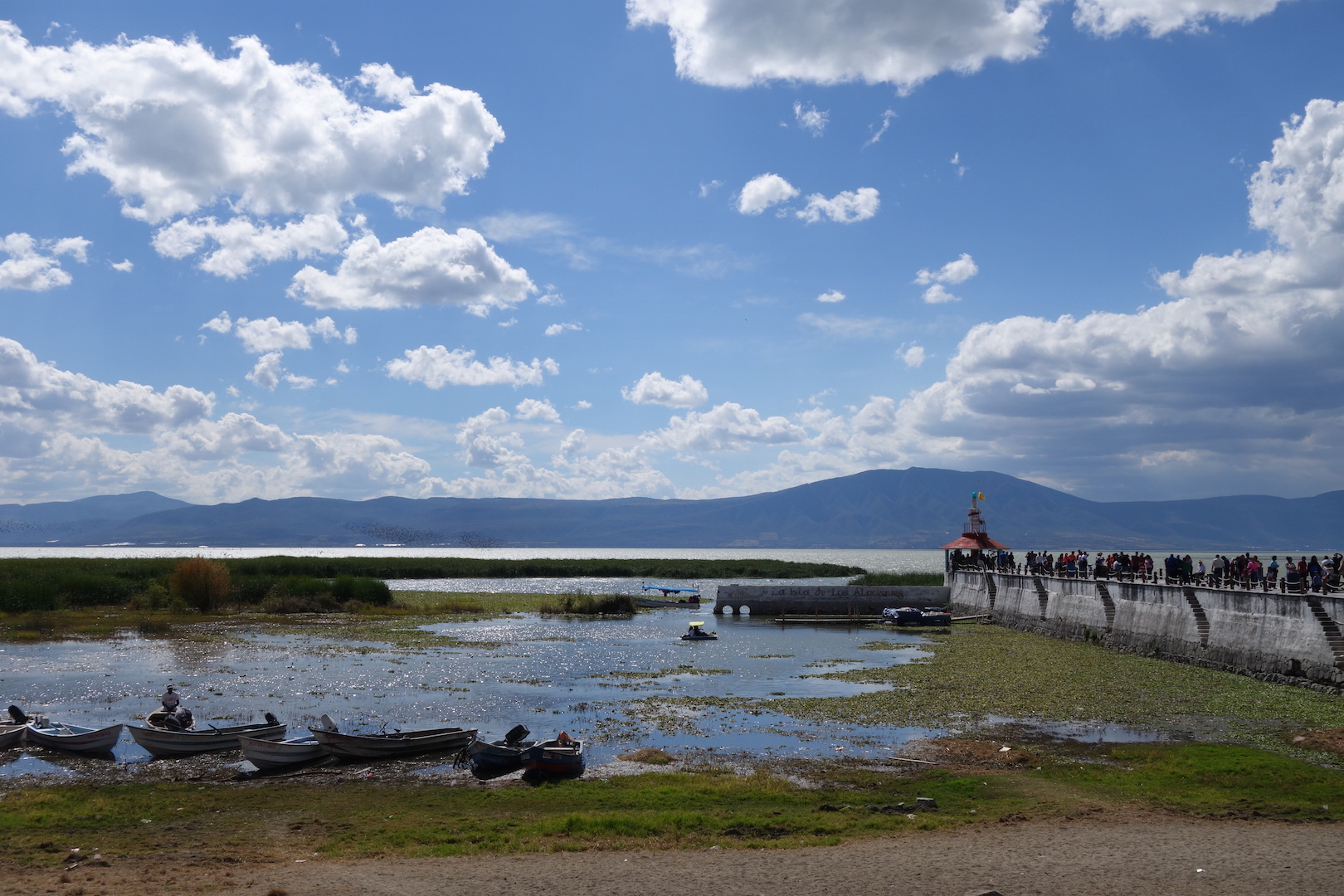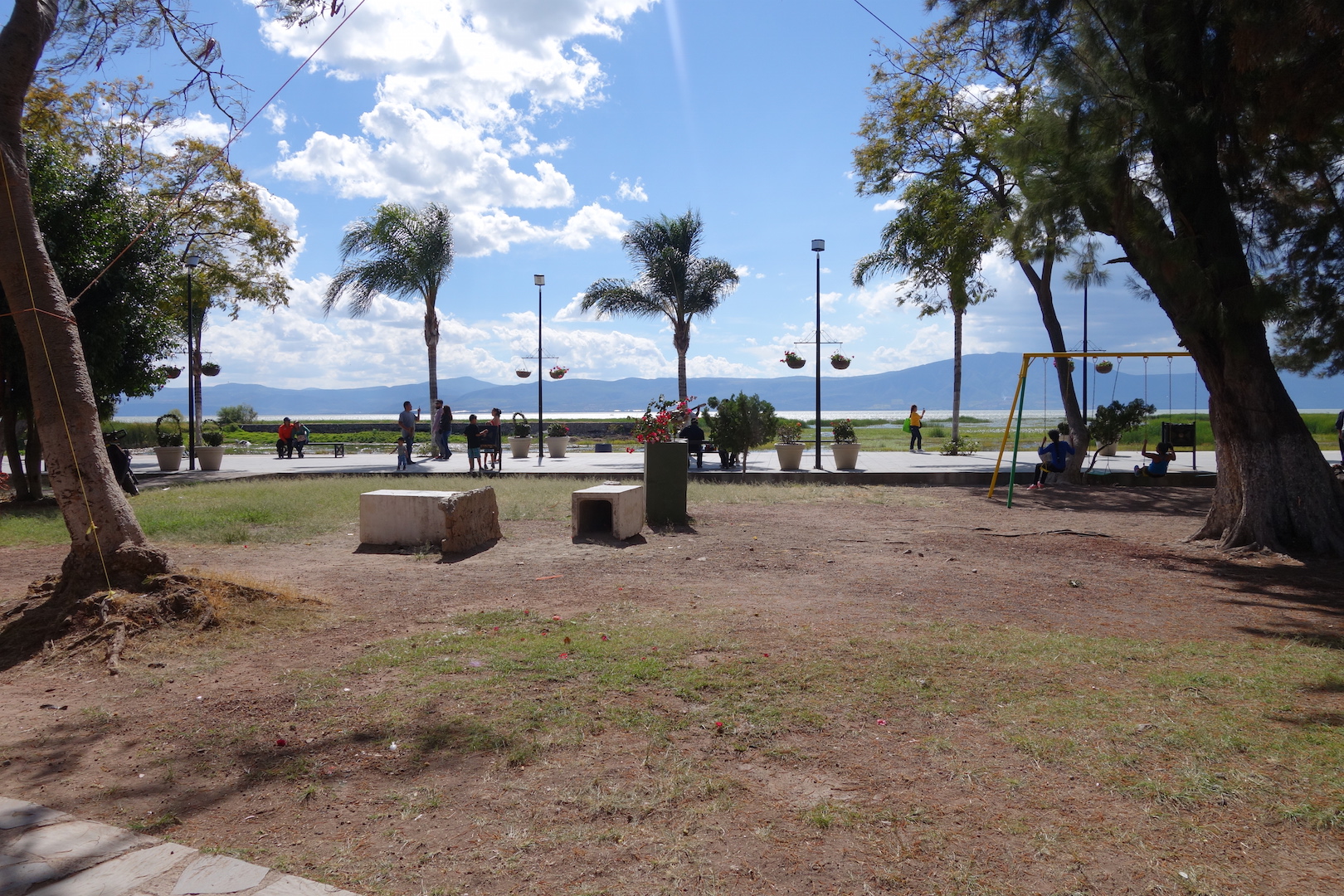 It was a beautiful location. And an early end to a days riding we began looking for somewhere to sleep. A local stall owner suggested he had a friend with space we could use for a night, but never contacted us after I left him my phone number.
The Church also refused us. So much for sanctuary!
And the Police, previously helpful directed us to the town park office, who told us it was not permitted to camp and was in fact dangerous after dark.
Running out of options we ended up in a motel splitting the cost between the three of us.
Showers, food and drinks followed including a local stall holder turning pancake making into a very delicious art form.

The following day the road lead us along the lake shore and a steep climb on cobblestones over the mountain to Poncitlan.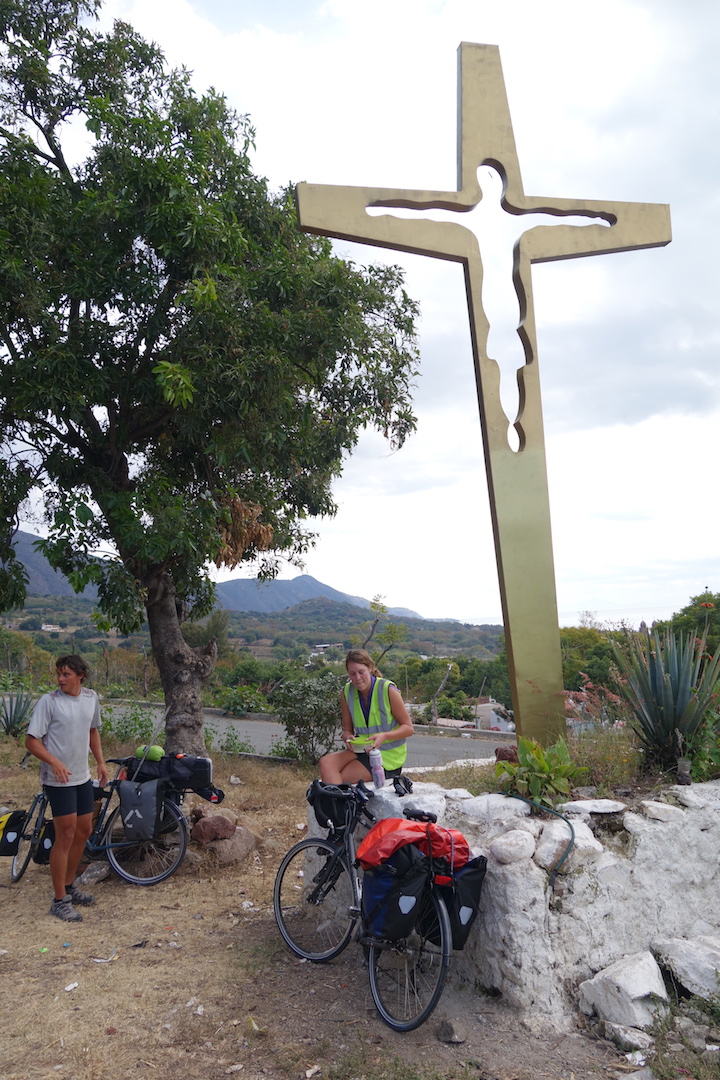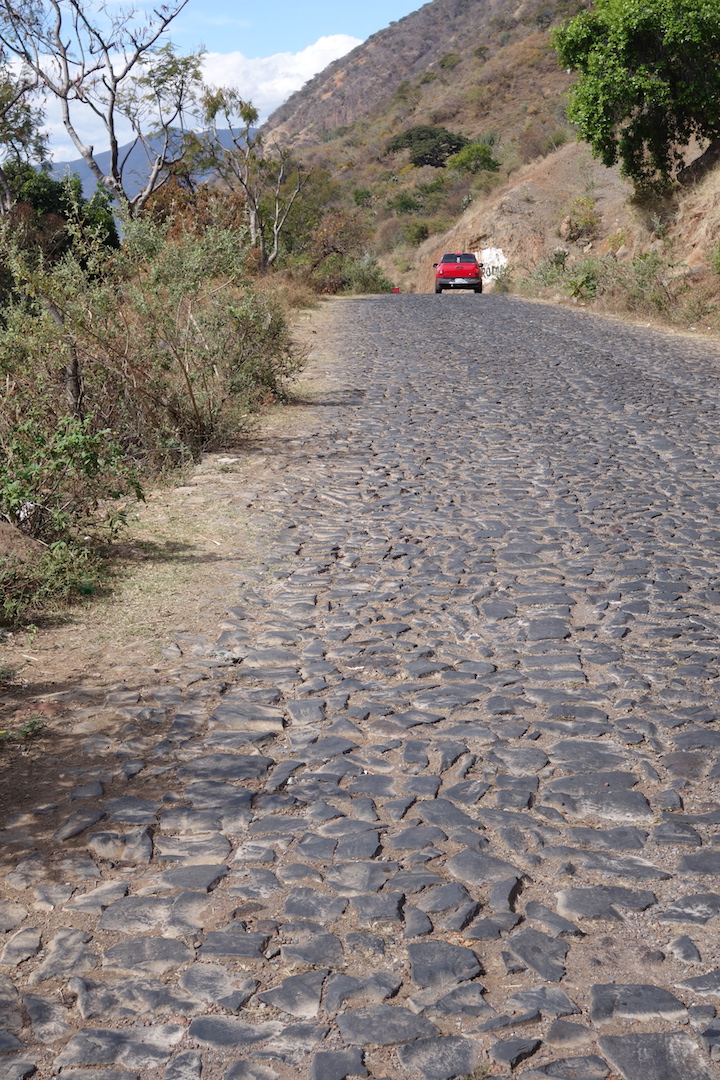 Then on to Jamay along a wide and unexpected cycle path.
A late lunch stop and a test of my slowly improving Spanish lead to permission to camp within the grounds of the restaurant we ate in.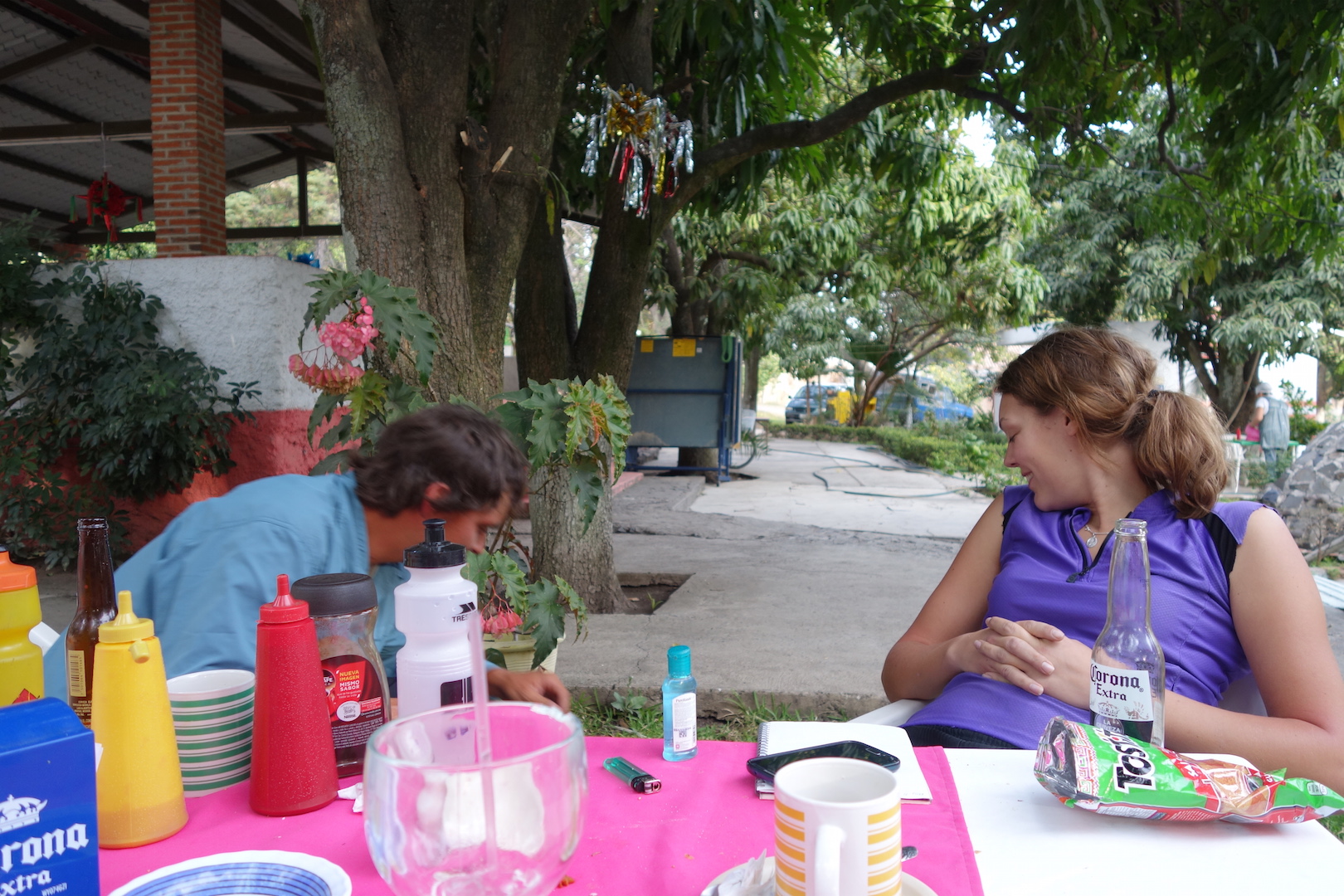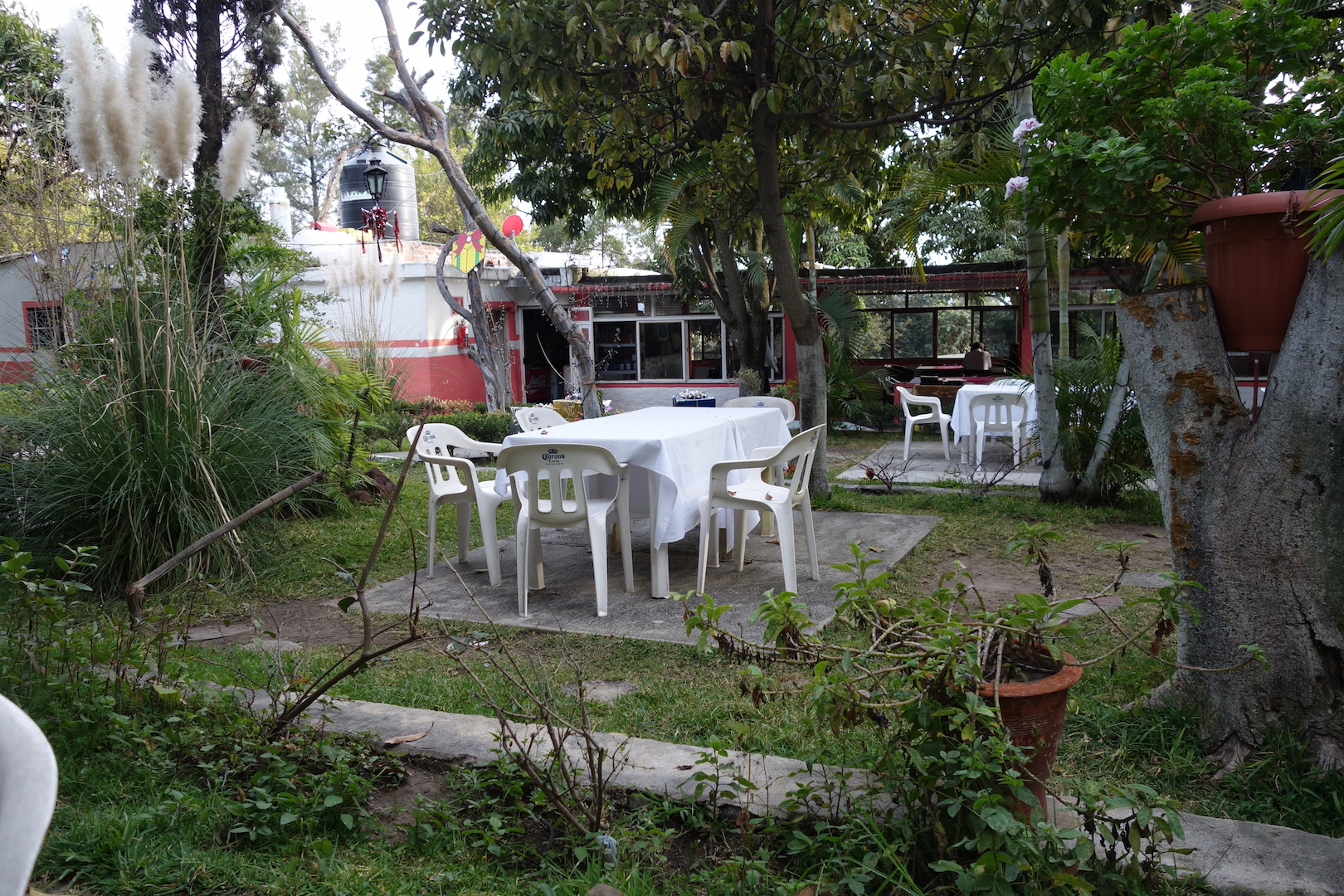 It was a nice location and a comfortable but cold night as my summer sleeping bag is rapidly reaching its limits and I am often waking in the night because of the cold.
I have an extra blanket donated by Hugo back in Baja, but even this is not enough.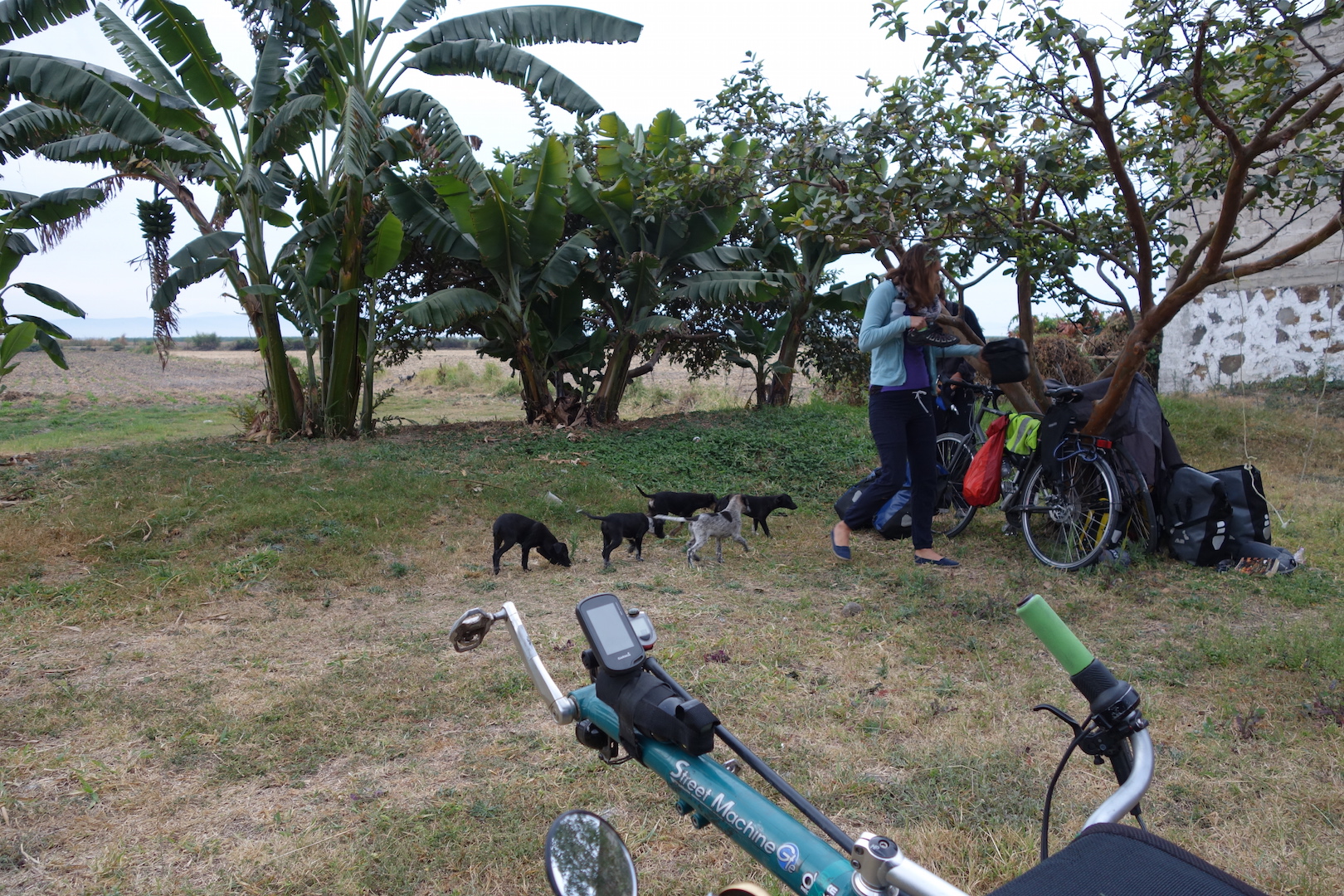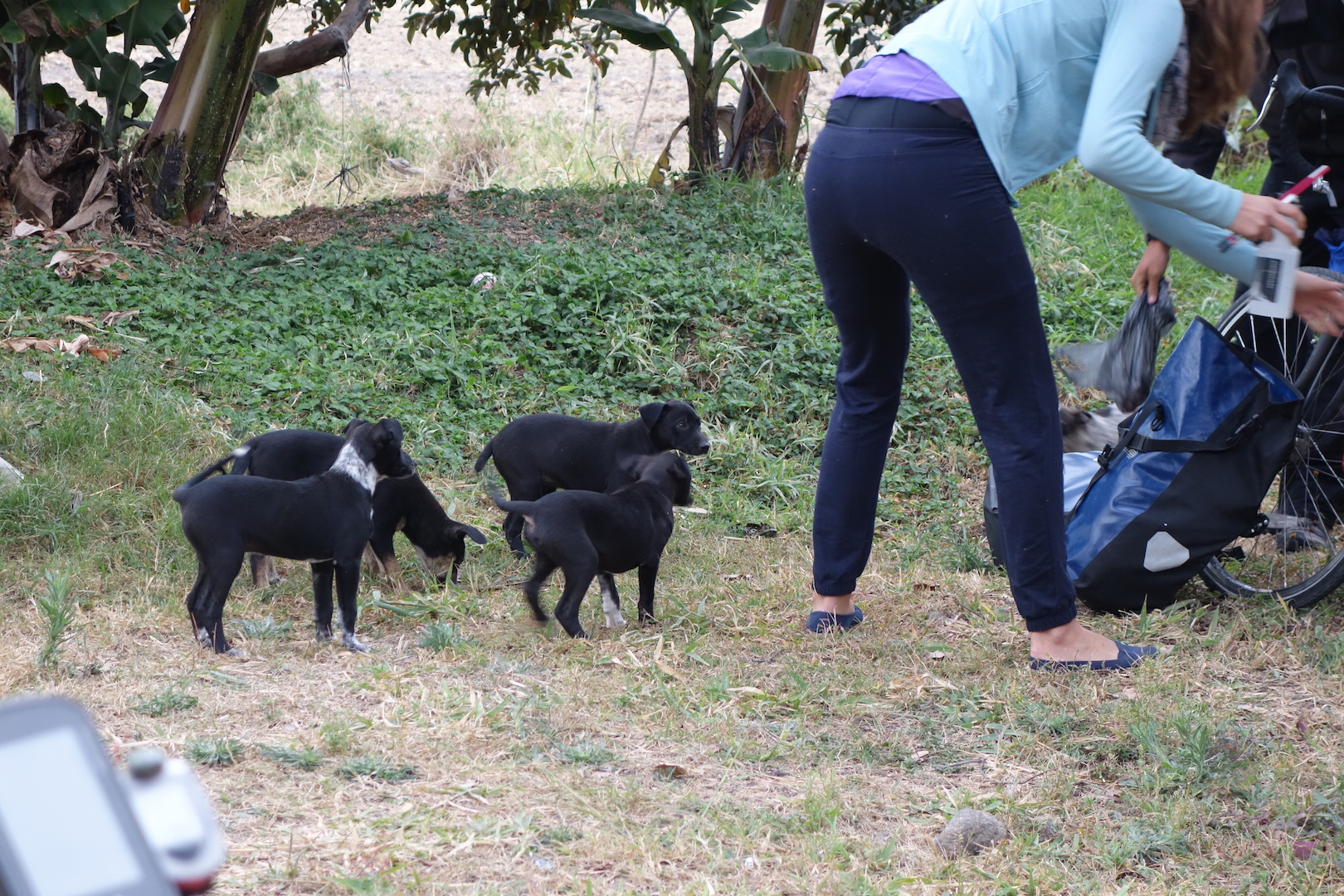 The road continued to Degollado where we had prearranged to sleep with Couchsurfing hosts and Dane had a family friend he had arranged to stay with.
However, despite several messages in advance neither of our hosts responded and through tiredness and some frustration on my part, we resorted to sleeping in a motel again. Though the evening meal was one of the best steaks in Mexico, so far.


We left Dane in Degollado as he wanted a rest day and to attempt to get in touch with his contact again.
We continued on boring busy roads and the wind we encountered the day before now strengthened and slowed us down.
Though the scenery changed dramatically back to almost a desert, we were climbing which with a strong wind in your face wasn't much fun.
Our goal was Pénjamo, but this was soon thrown out of the window as we passed a large Tequila distillery.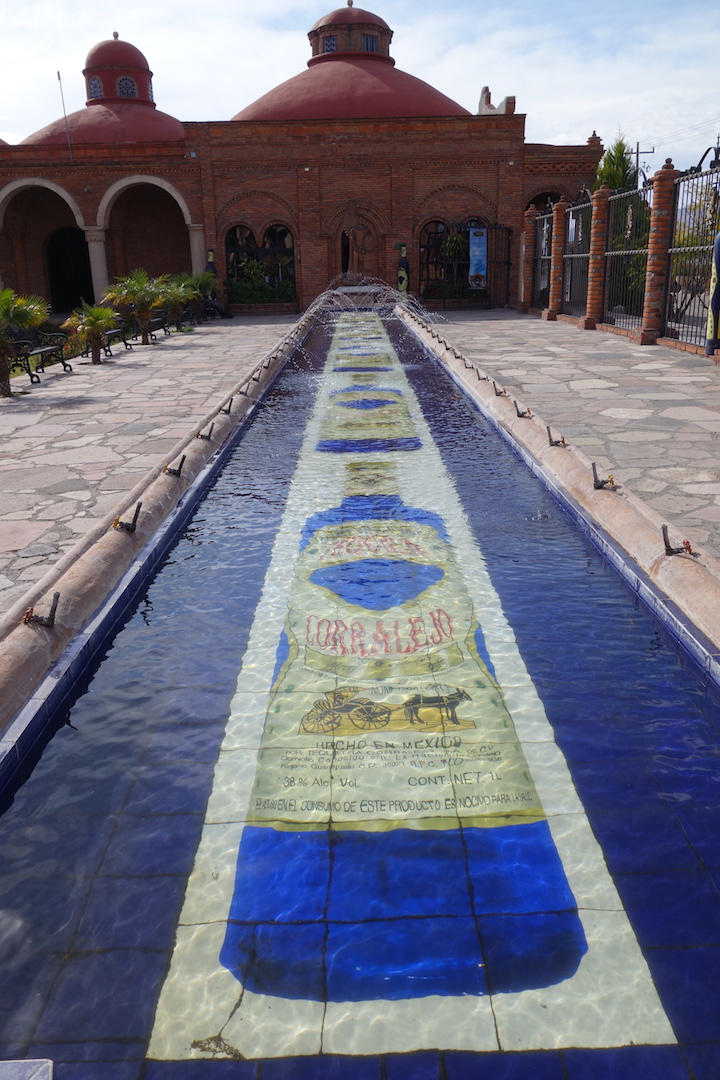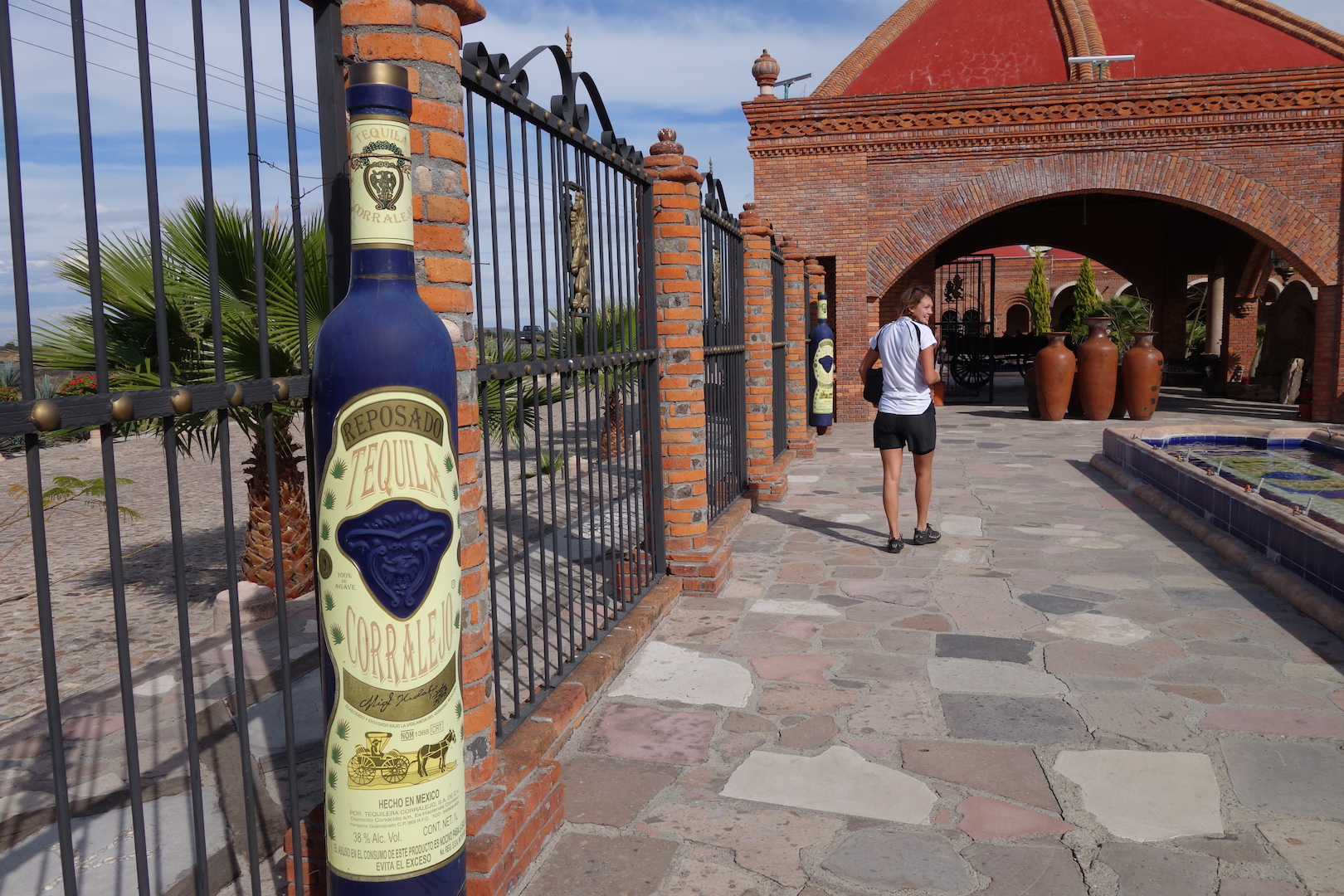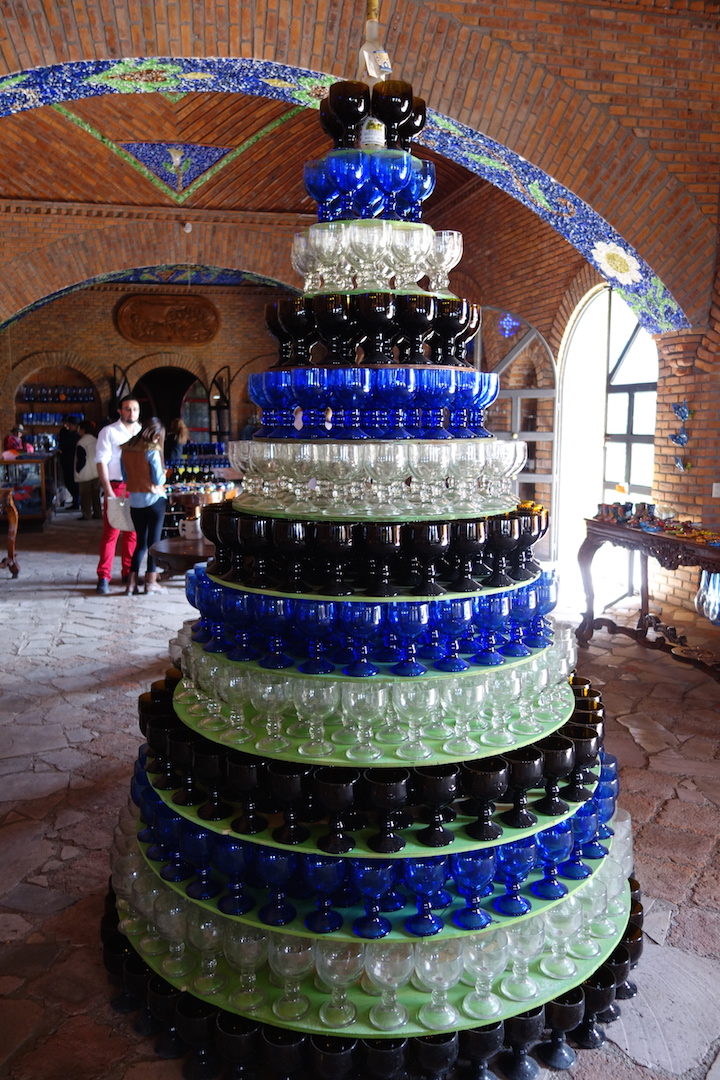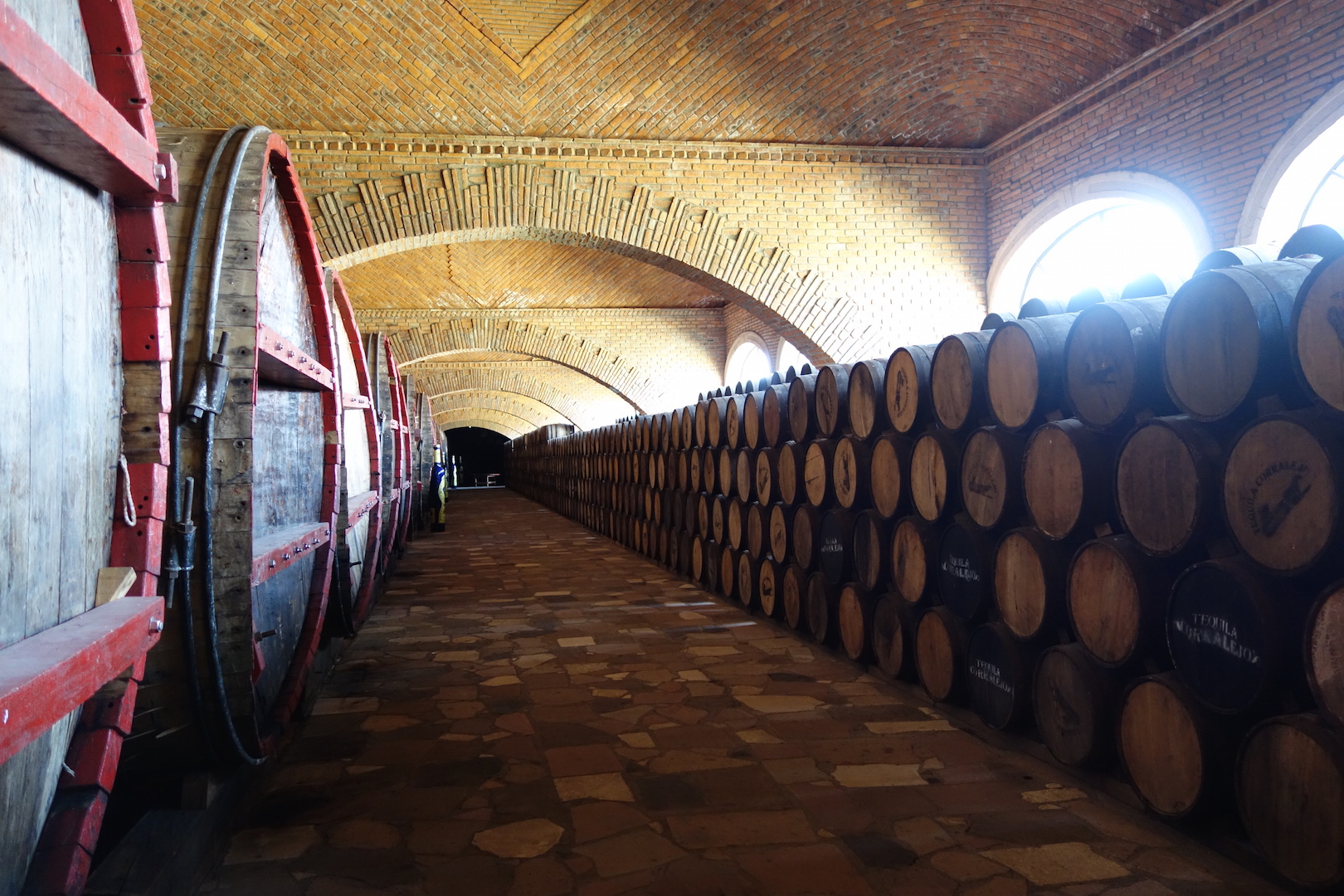 Charlotte quite excitedly walked in and we both began to explore the exhibits.
Naturally the tasting room was a favourite for her.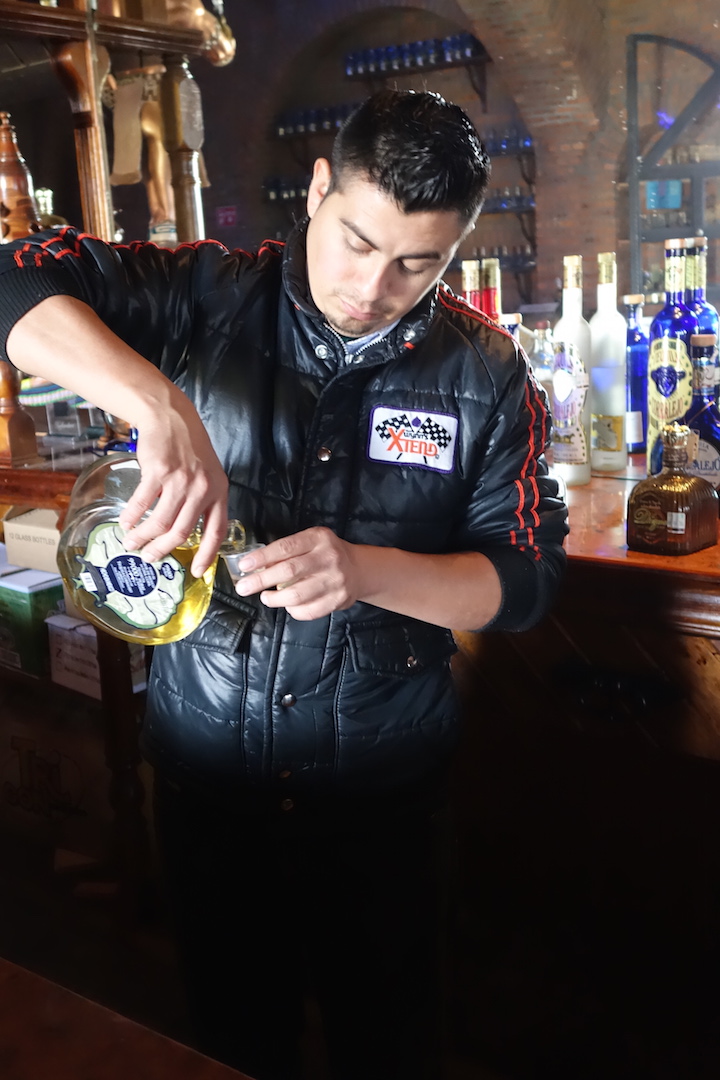 (Unfortunately) I cannot drink alcohol because of my stomach problems, but at the same time, I simply don't like the taste of any alcoholic drink, so now I just don't bother.
After a few small tasters and a bottle purchased, Charlotte excitedly announced "Wouldn't it be great to camp here tonight?!" It was a little surprise to me, as there appeared to be nowhere to put our tents, but after asking the security guard and him getting consent from the owner or manager, we got some food from a nearby village, then waited till the close of the day before pitching out tents inside a bandstand.
I'll admit, I wasn't keen at first, but once set up it was actually a great location and certainly a different place to camp than the usual options.
The following morning Charlotte was not too enthusiastic about her breakfast.
Normally she will start the day with a good meal.
I often try to find a restaurant for a cooked breakfast, but this morning she was keen to keep moving, so I delayed my breakfast to keep her happy. Something was definitely not right as we progressed along a very busy road.
Stomach pains, shakes, and nausea made me think of food poisoning of some sort. But for the past couple of days at least, we had both eaten the same food for the most part.
I felt absolutely fine.
By mid afternoon we were leaving Irapuato and Charlotte despite having ridden over 60 kilometres was clearly suffering.
We stopped in a bus shelter and after discussion we managed to persuade (pay!) a local mechanic to drive us to Guanajuato.
Pedro Hernandez Monroy was blind in one eye and his beaten up old pick up clearly had steering issues as he weaved at high speed around cars, trucks and around dangerous curves. I was trying to concentrate on the road, his conversation and to make sure Charlotte was OK in the back. She looked completely exhausted and tried to sleep and ignore this crazy old Mexican and his driving.
We arrived in one piece in the centre of Guanajuato and checked into the first hotel we saw.
Of course, it wasn't cheap but needs must.
Charlotte showered then slept for a few hours.
I went to get food and water which she ate then slept for a further 18 hours.
In the mean time I was wandering around the town seeing the locals getting ready for Reyes. The day of the Kings, when the children receive all their gifts after Christmas.
We missed all the parades and celebrations sadly.
But good health first.
The following day Charlotte felt much better and we went to find a cheaper hotel, planning on having a rest day here.
Not certain of what bug it was, She was certainly in a better mood, eating normally again and feeling in much better spirits. I'm glad it passed quickly as, again having suffered with stomach problems most of my adult life, I knew to a degree how she was feeling.
What a relief!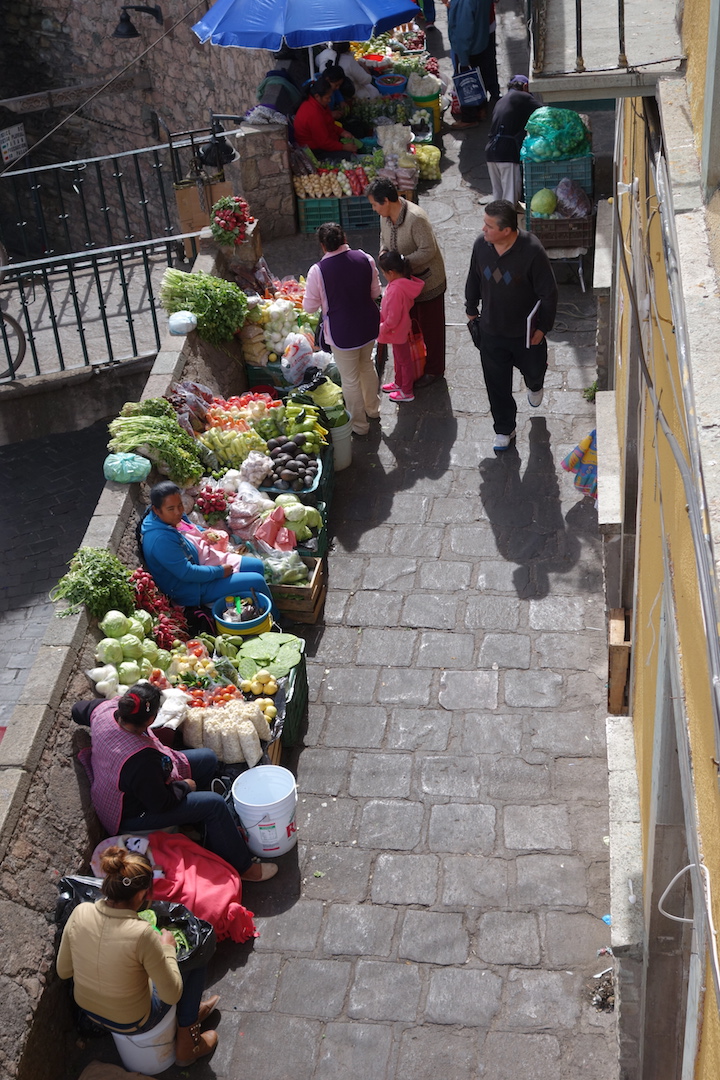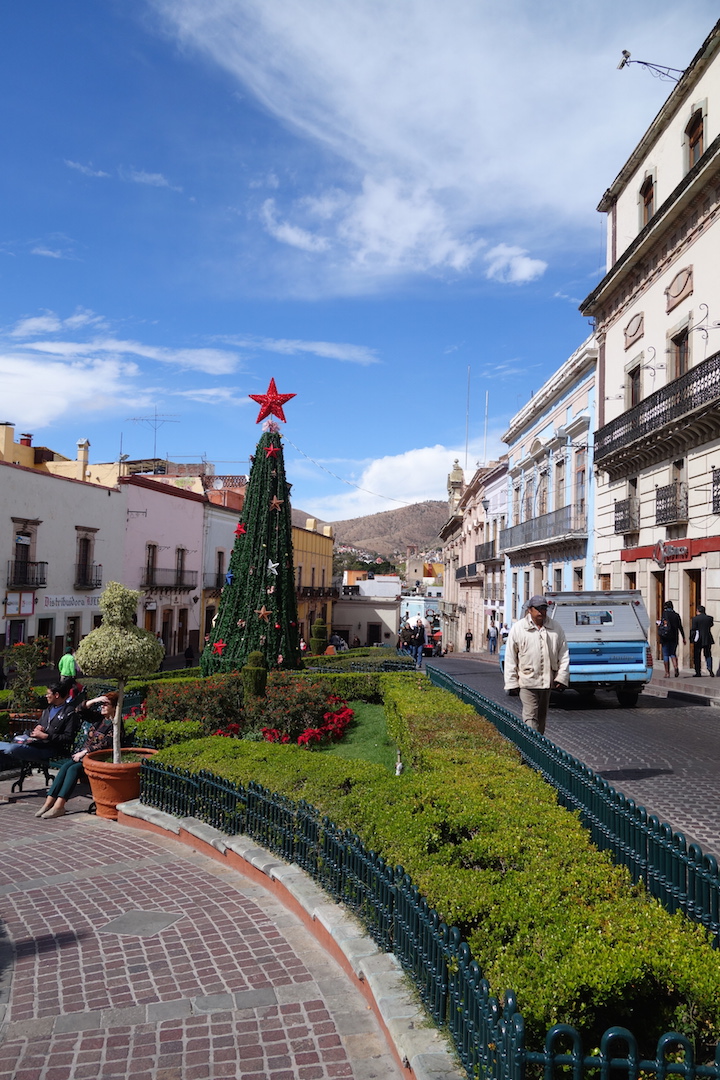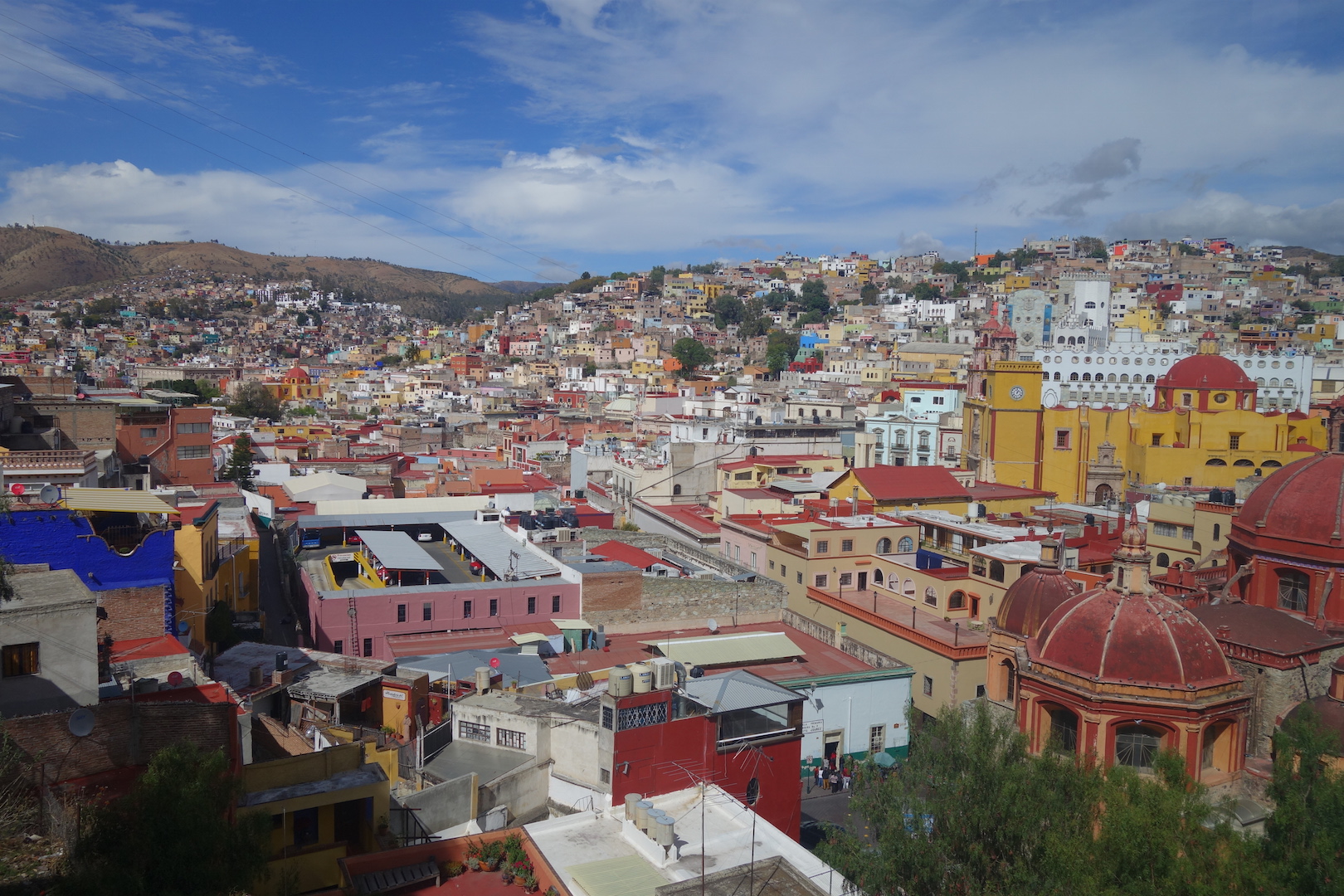 The city is tucked in a steep mountain valley and the best view is really from the top of one of the valley walls.
A quick trip up the Funicular railway gave us a spectacular view of the whole town and a shock at how mountainous it had suddenly become.
And we had to ride out of here tomorrow!
As it turns out the exit was quite straightforward and we continued to San Miguel de Allende and a Warmshowers camping site.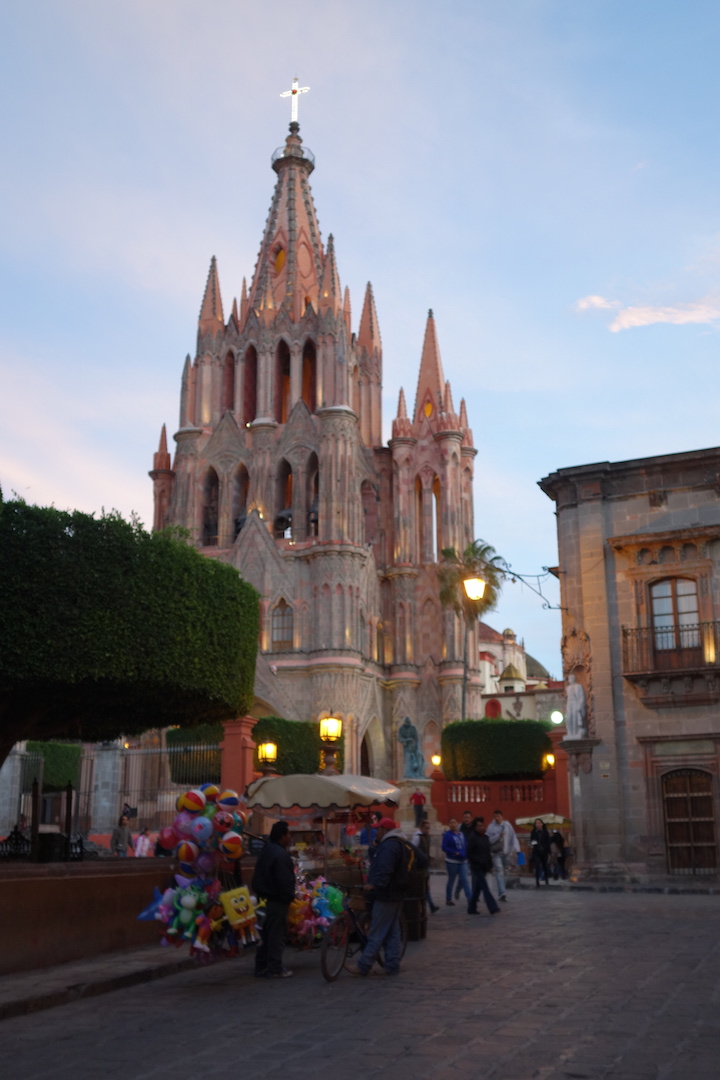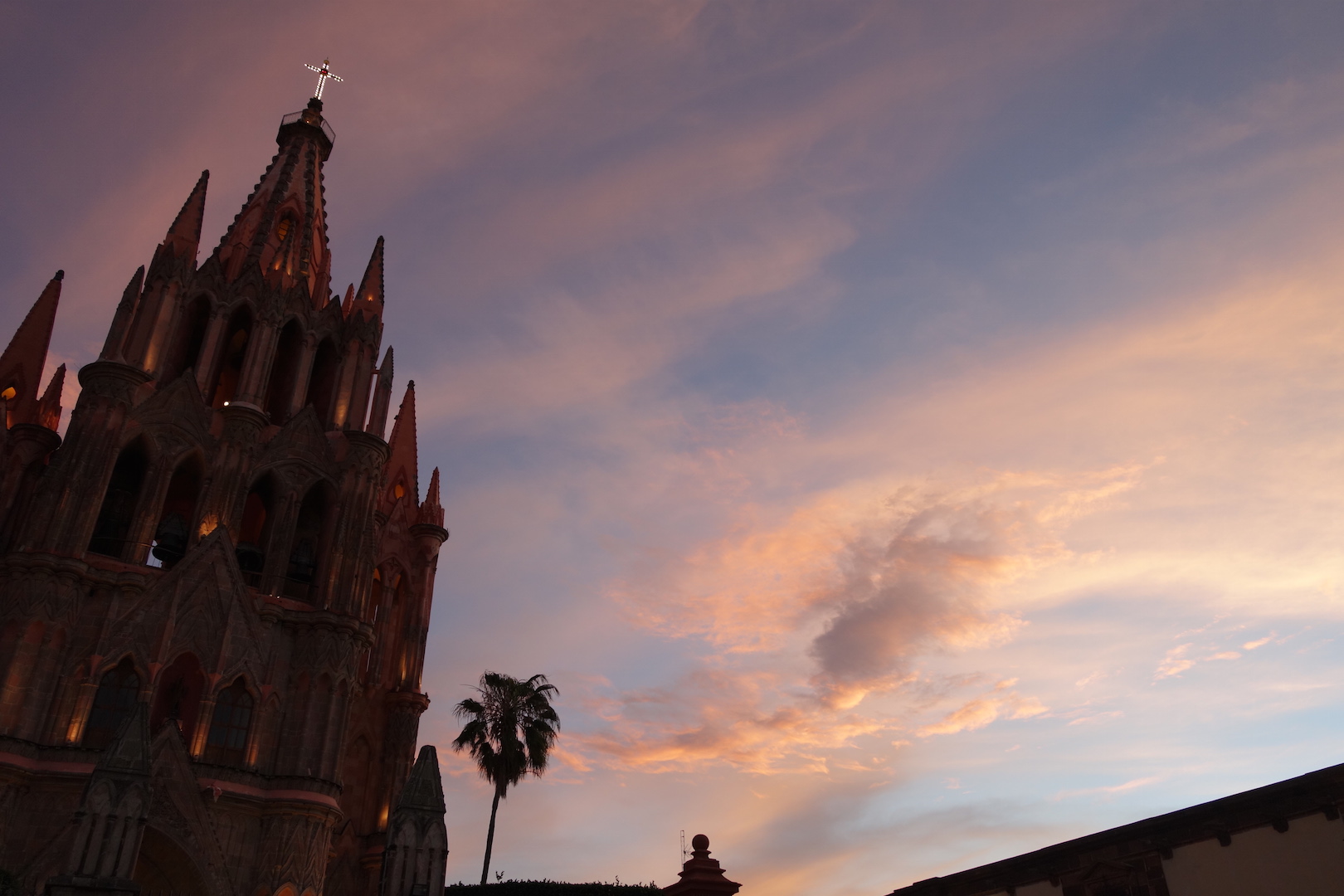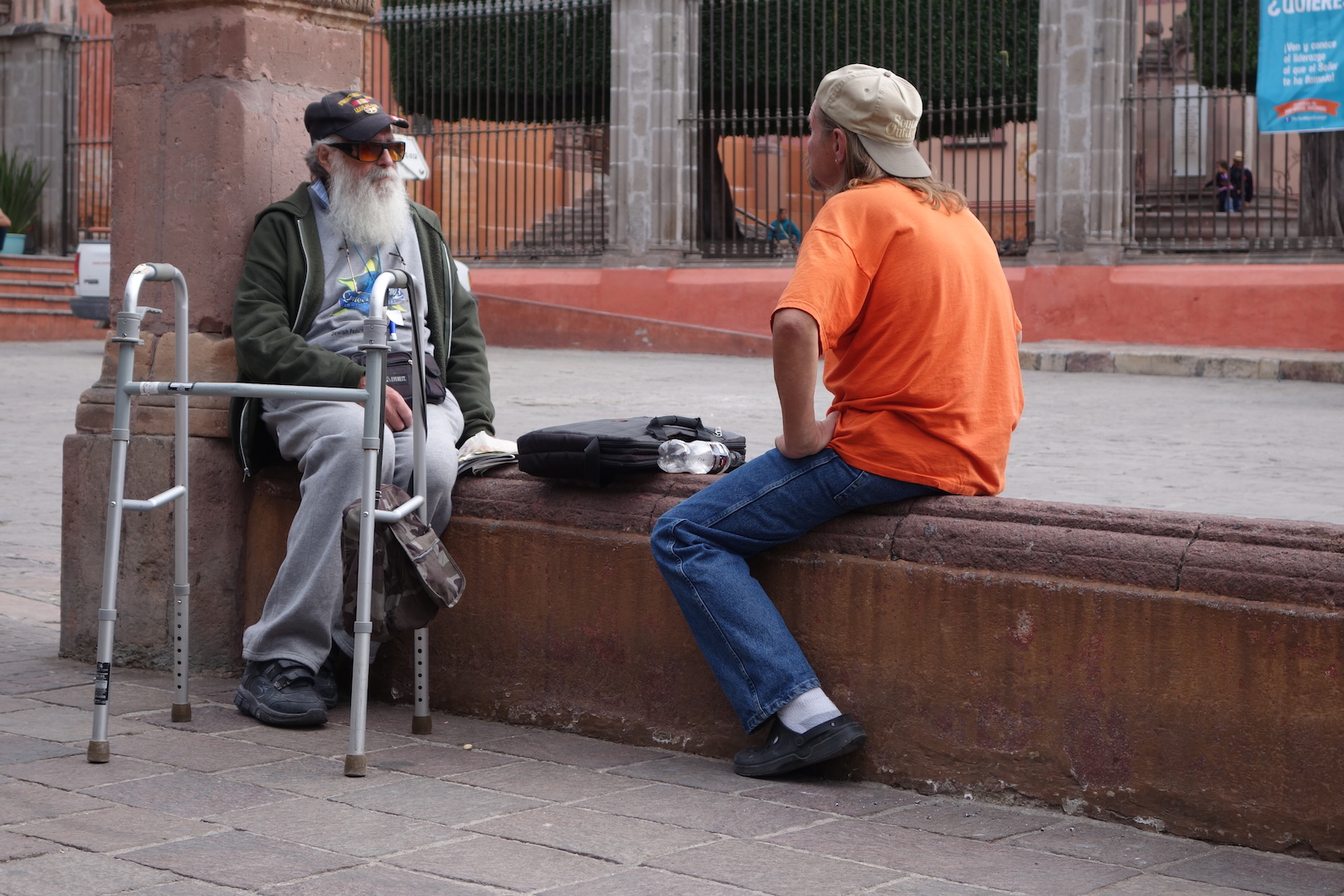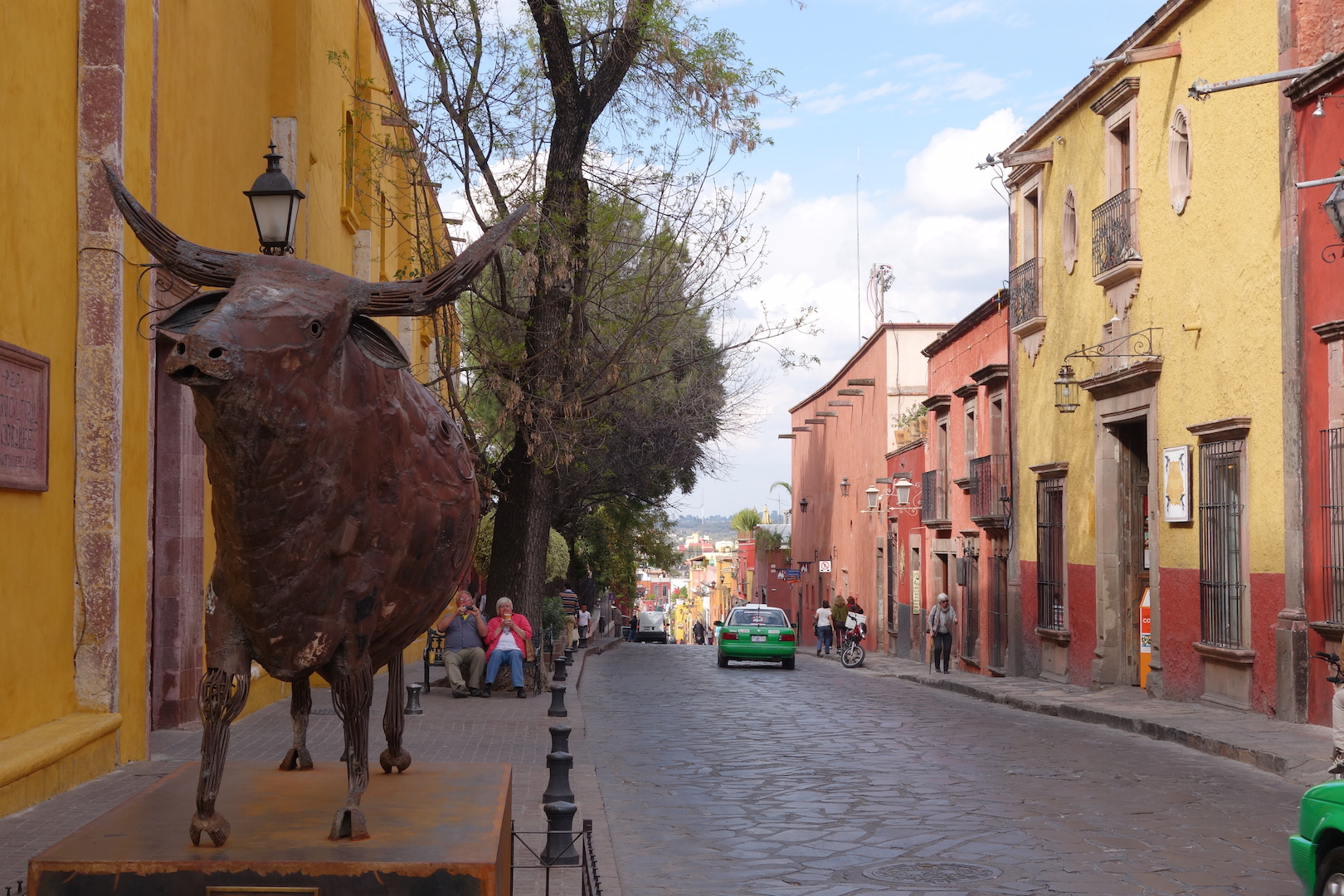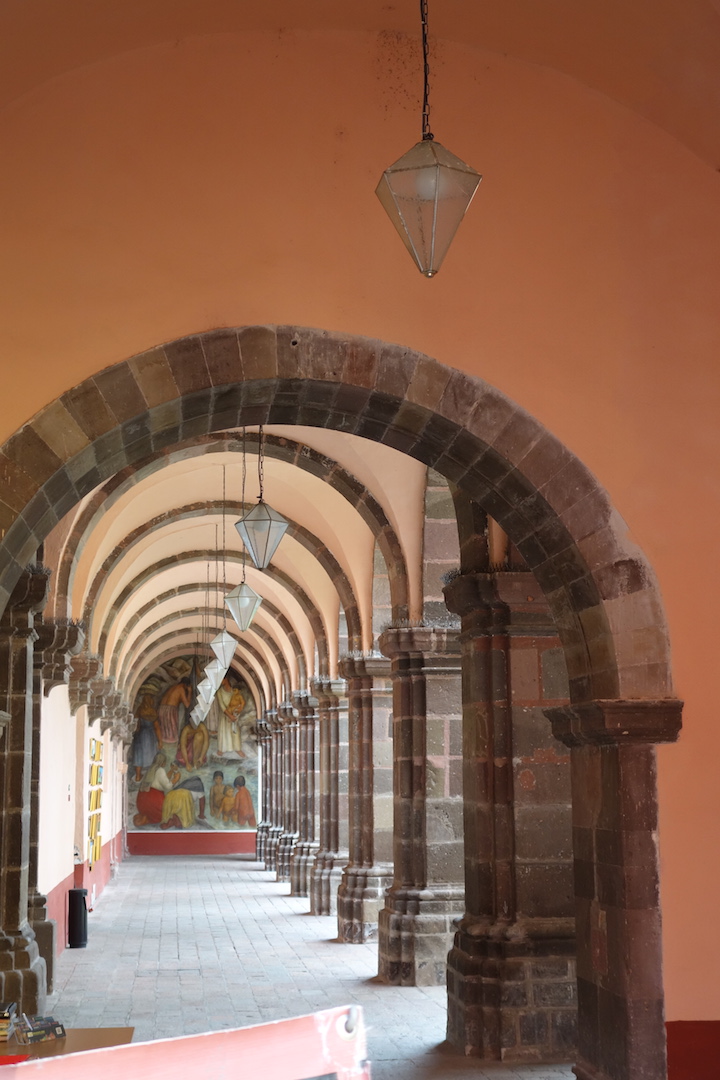 This little town is very popular with American and Canadian Ex Pats and has a very international feel. There is a strong arts movement here, evident in not only the shops, and galleries but in the architecture and street furniture too.
Its actually quite a pretty place.
Charlotte went wandering around the city finding the Botanical gardens and the toy museum, I however, slept most of the morning waking with the sun burning my chest through the door of my tent. The stress of the previous days caught up with me through exhaustion.
I woke and walked into the town and into a a steak restaurant!
Tequisquiapan was our next destination and after the slight excess of the previous two stops we expected this to be a small little hamlet and planned on looking for a place to pitch out tents. As we arrived though it was clear this was a very affluent little place and the old centre was very beautiful with Bougainvillea lined streets and brightly painted houses.
It turns out this town is a very popular weekend hangout for affluent Mexicans including Mexicos El Presidente himself!
We checked into a Posada, a inn hostel. Normally the cheapest option but here the same price as many motels we had previously stayed in.
As we ate in a restaurant in the main square, It was nice to actually see a real Mexican town in motion. A wedding in the Cathedral, Mime artists on the other side. People casually strolling in the cool evening. Birds singing in the evening light and thick black clouds forming on the horizon.
A massive thunderstorm skirted the edge of the town illuminated our evening meal and dampened the mood a little. We retreated to our strangely icy cold room and slept soundly.
Thick fog and icy cold weather filled the main square as we hunted for breakfast Charlotte was happy with a Coffee from the corner store and some Muesli she carried. She wanted to make some personal calls to family and friends so returned to the Posada.
I walked on looking for something more substantial for breakfast.
The powerful nose of a hungry cyclist lead me to a breakfast buffet and I ate my fill several times over!
The road weaved through mountains as we spent the day climbing to my highest point so far at 2488 metres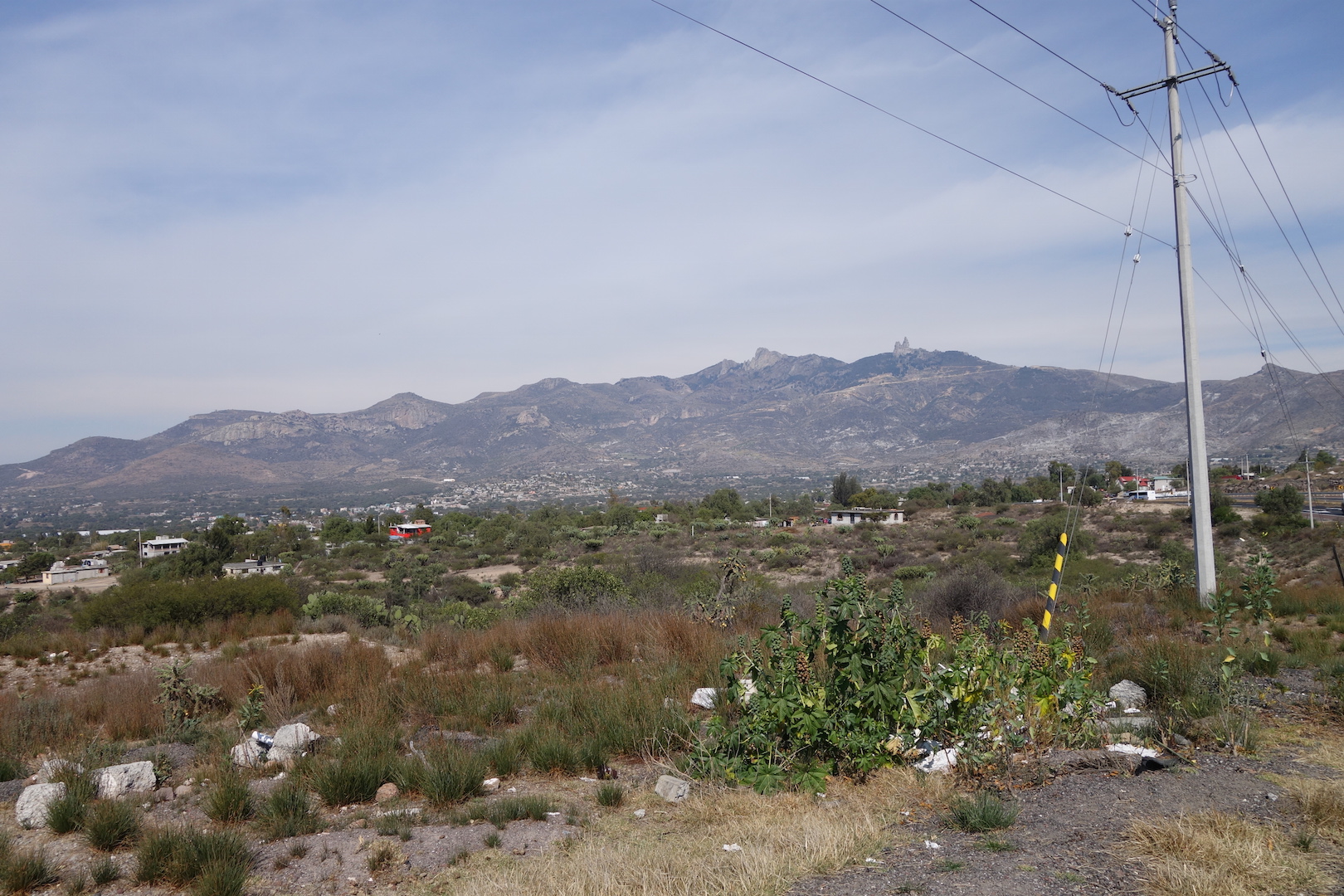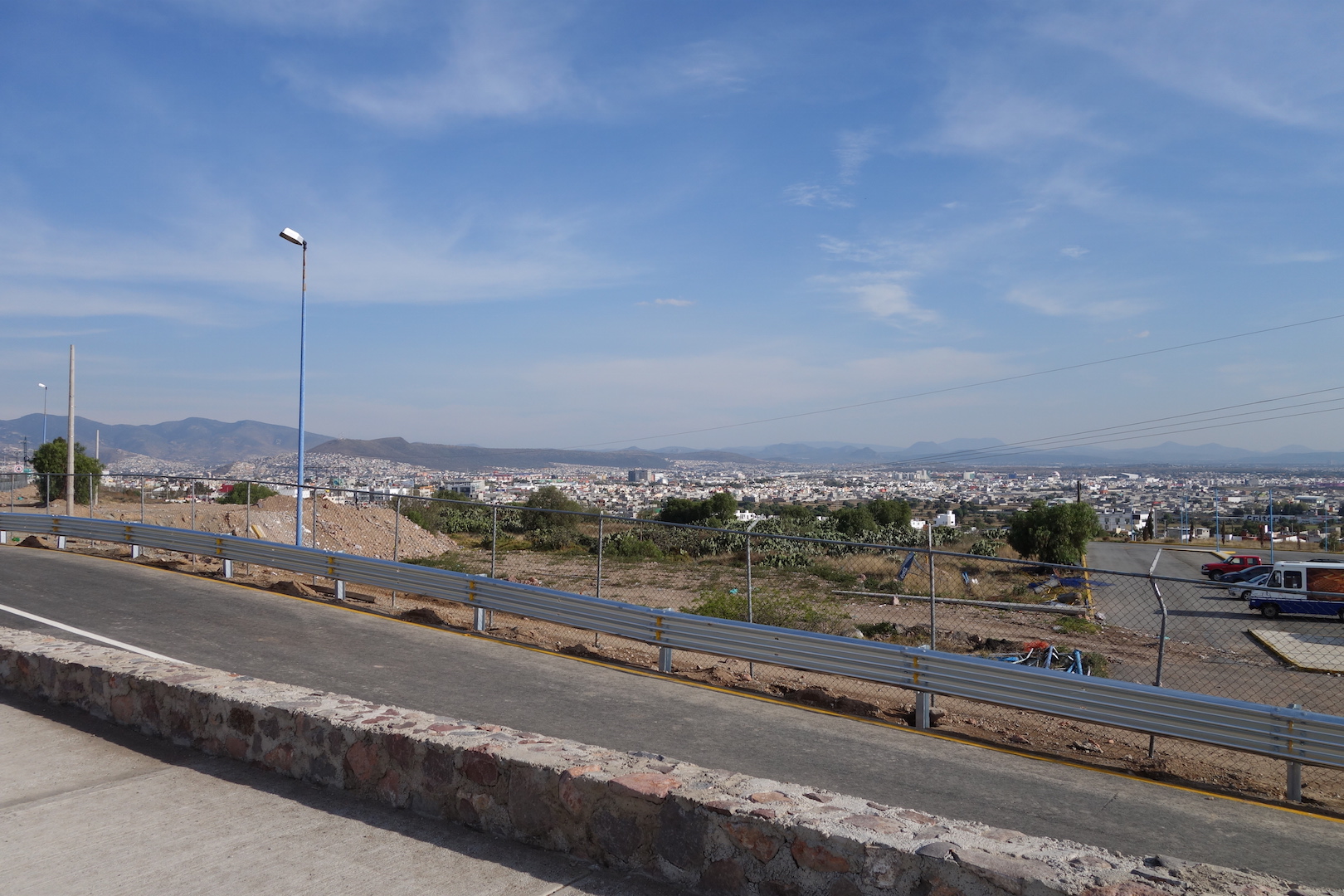 and a slight descent into a very busy Pachuca.
This city has a population of around 200,000 inhabitants, but when you see the sprawl over the plain and valley sides the place looked significantly bigger!
Ricardo was our Couchsurfing host and an IT student at the local university.
He was quite an excitable person and very generous with his hospitality.
Though we were only in the city for one night, given more time it would have been interesting to explore with him.
However leaving Pachuca was a nightmare.
Heading to Teotihuacan and the famous Aztec Pyramids there are few road options and all of them dangerously busy.
This city is a relatively short commute to Mexico city and it was clear from many of the drivers they were in a rush to get there.
After about an hour following GPS instructions we realised we were on the wrong road and managed to find a slightly quieter and very dusty side road.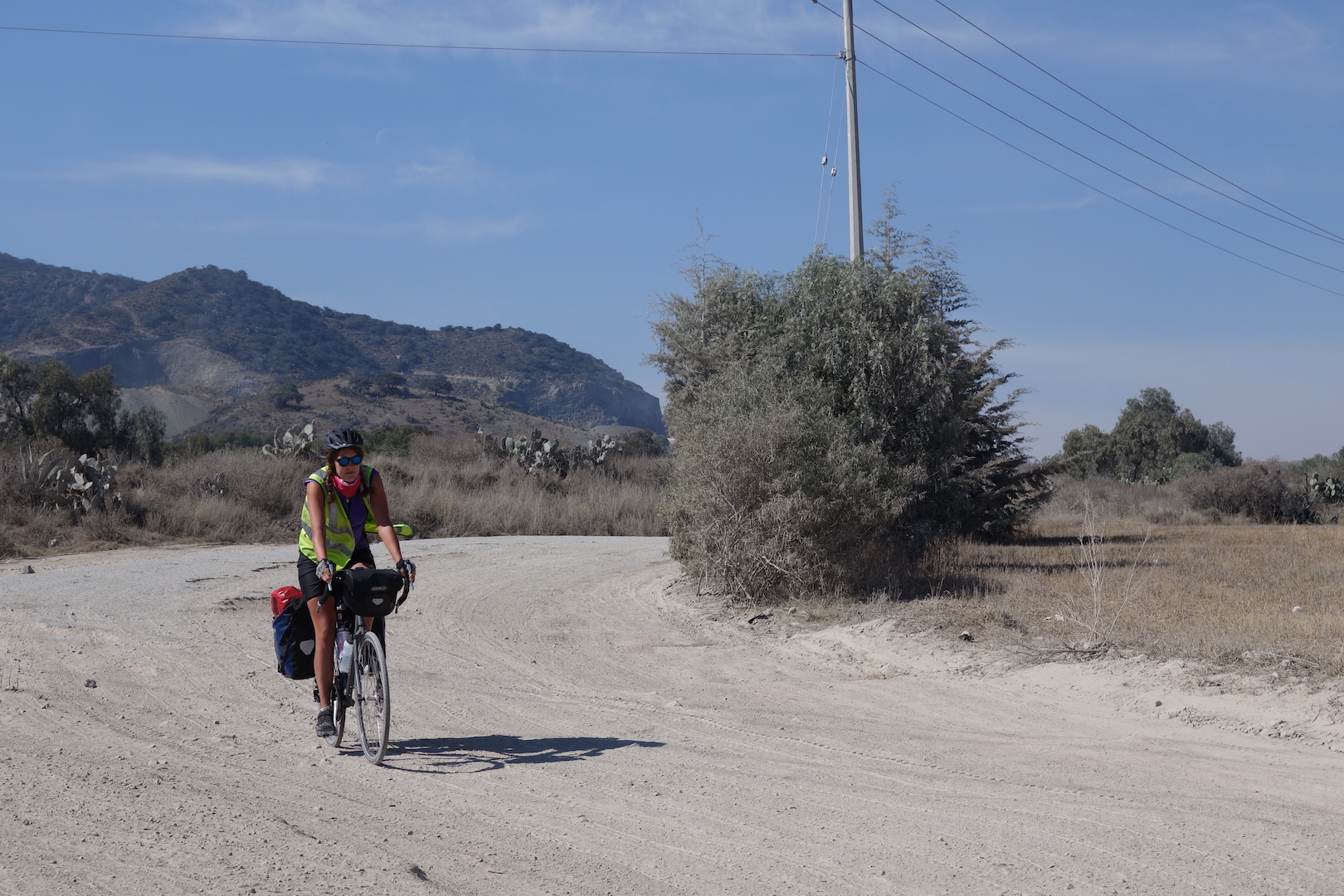 Charlotte was very stressed riding in dangerous traffic, no shoulder and too many loose and angry dogs on the roadside.
She wasn't happy and I wasn't much better either.
I have ridden through many cities and apart from Milan, Italy this was the worst cycling I have ever experienced.
The truck drivers pass too close, the car drivers pass too fast and the draft created by the truck pushed me off the road on more than one occasion.
As I rode on the grass, gravel and dirt, I tried to get back onto the road, but the gravel under my wheels gave way and I fell right into the path of a truck!
Fortunately he was far enough away to be able to steer round and I jumped up and pushed my bike away with time to spare.
I kicked, screamed and swore at the gravel, the road, the drivers.

Venting my stress and rage helped.
Most people know me as a passive person.
I don't lose my temper often but today was certainly justified!


The day was broken up nicely though by a friendly restaurant owner with a cheeky sense of humour that lightened our mood a little for the afternoon.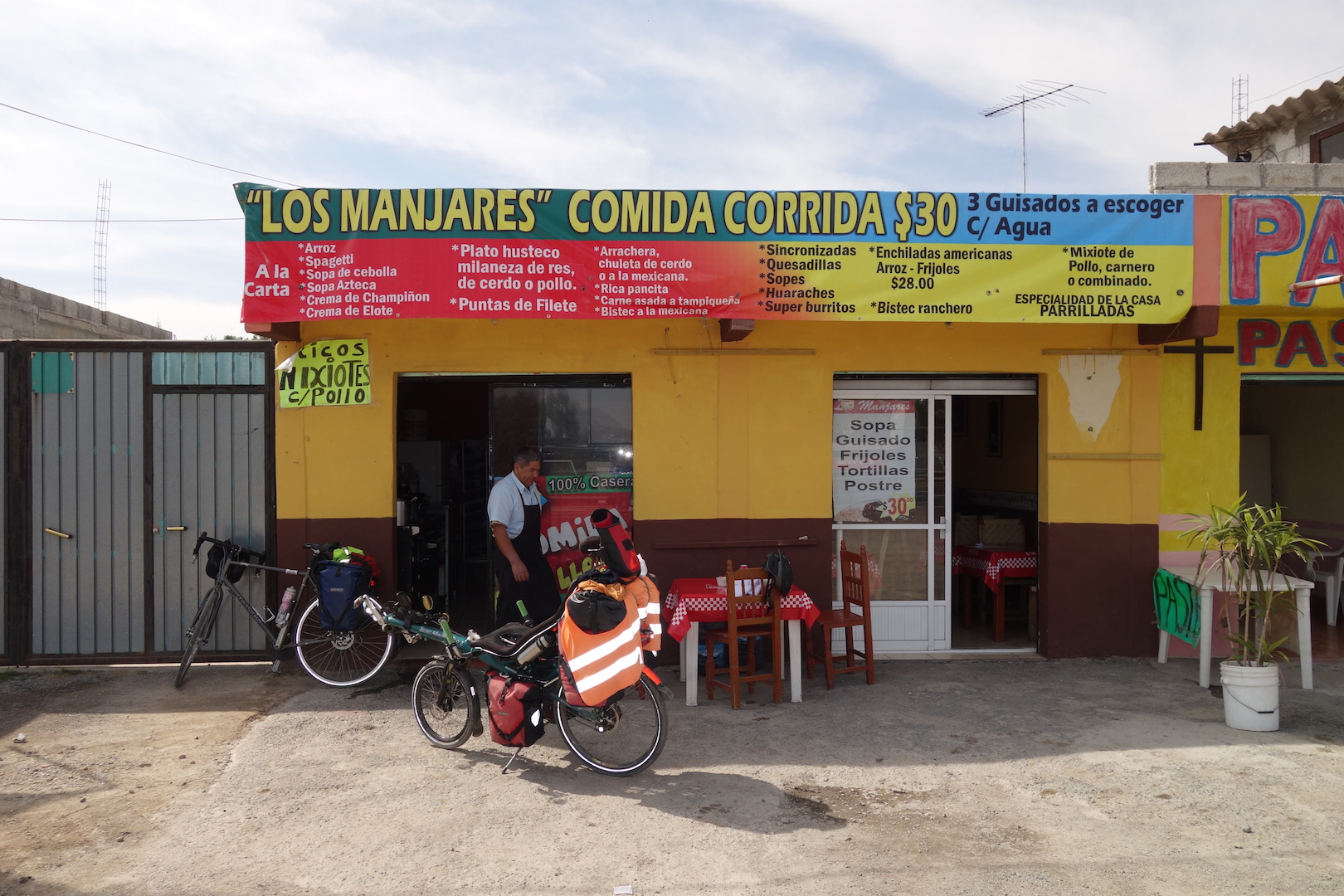 We arrived very tense, stressed and relieved the day was over.
After being refused access to the Archeological area with our bikes by an over officious security guard, we relaxed a little in an nearby bar while waiting for our host.
Larissa arrived on time and took us to her family home.
We didn't expect such immediate and generous hospitality and after probably the worst day of riding on my entire trip it was nice to see friendly faces, a warm welcome and a little privacy given to exhausted cyclists.
After a hot shower and food we slept well ready for the following days exploring the Pyramids of Teotihuacan and Mexico city on foot