0067: Bolivia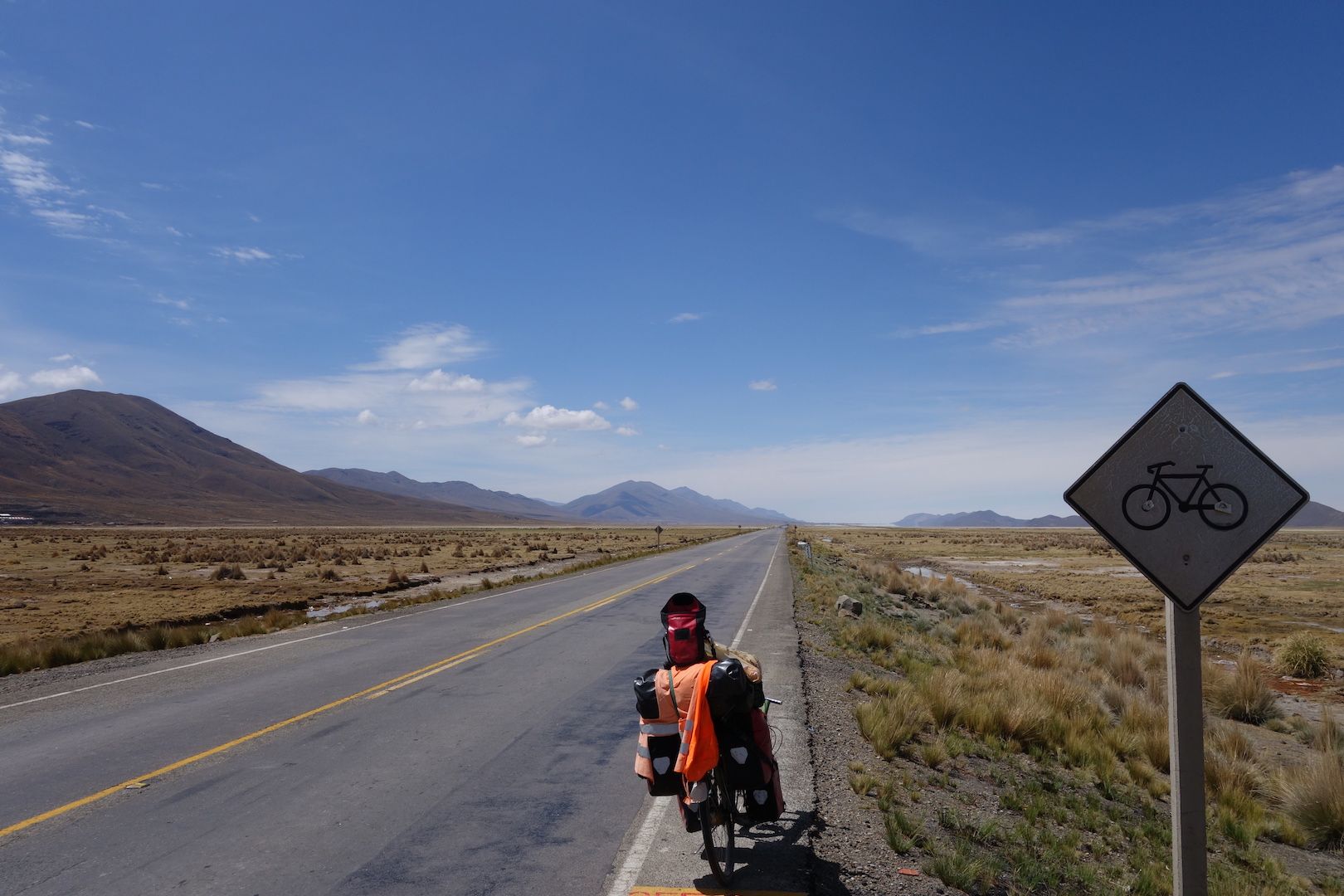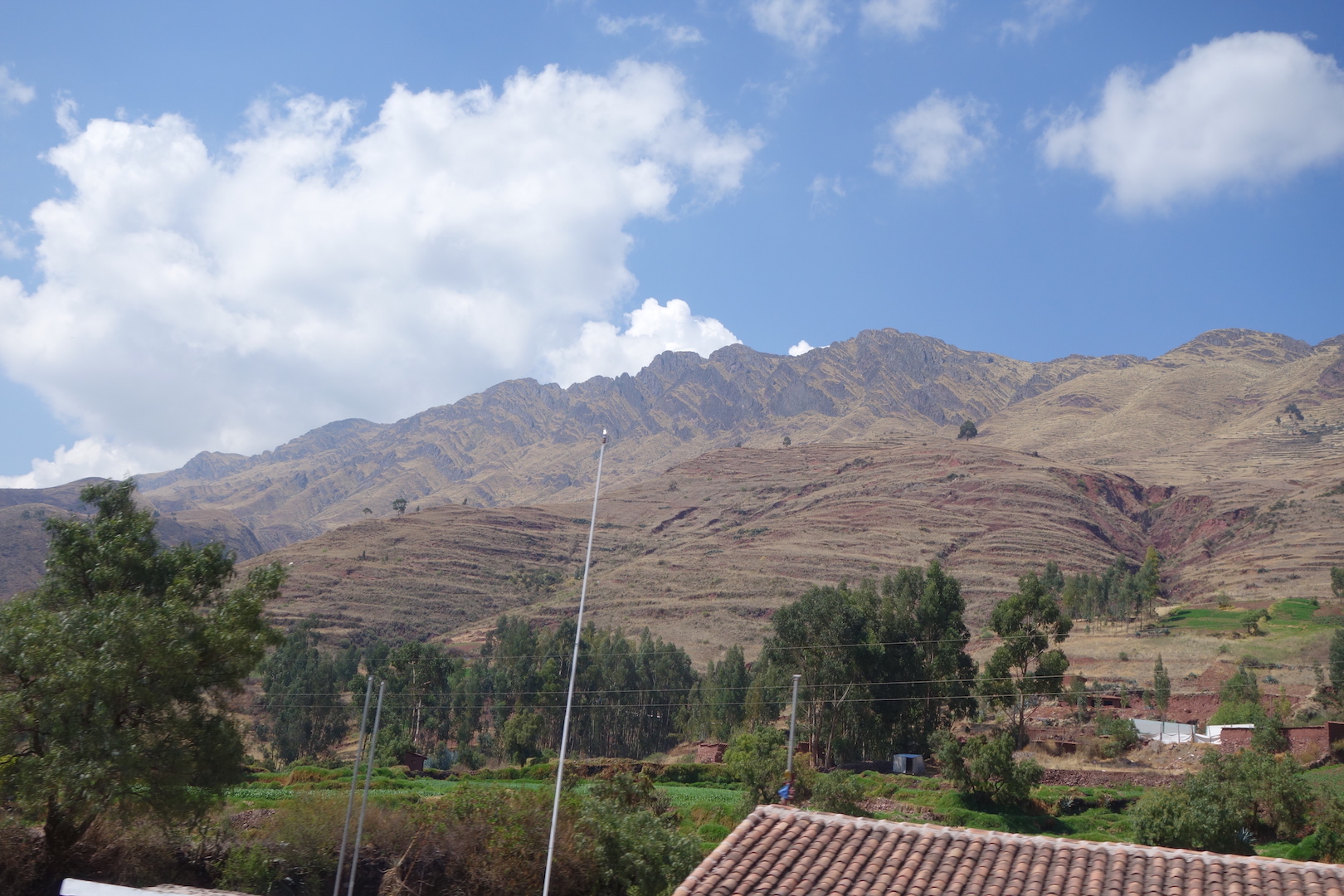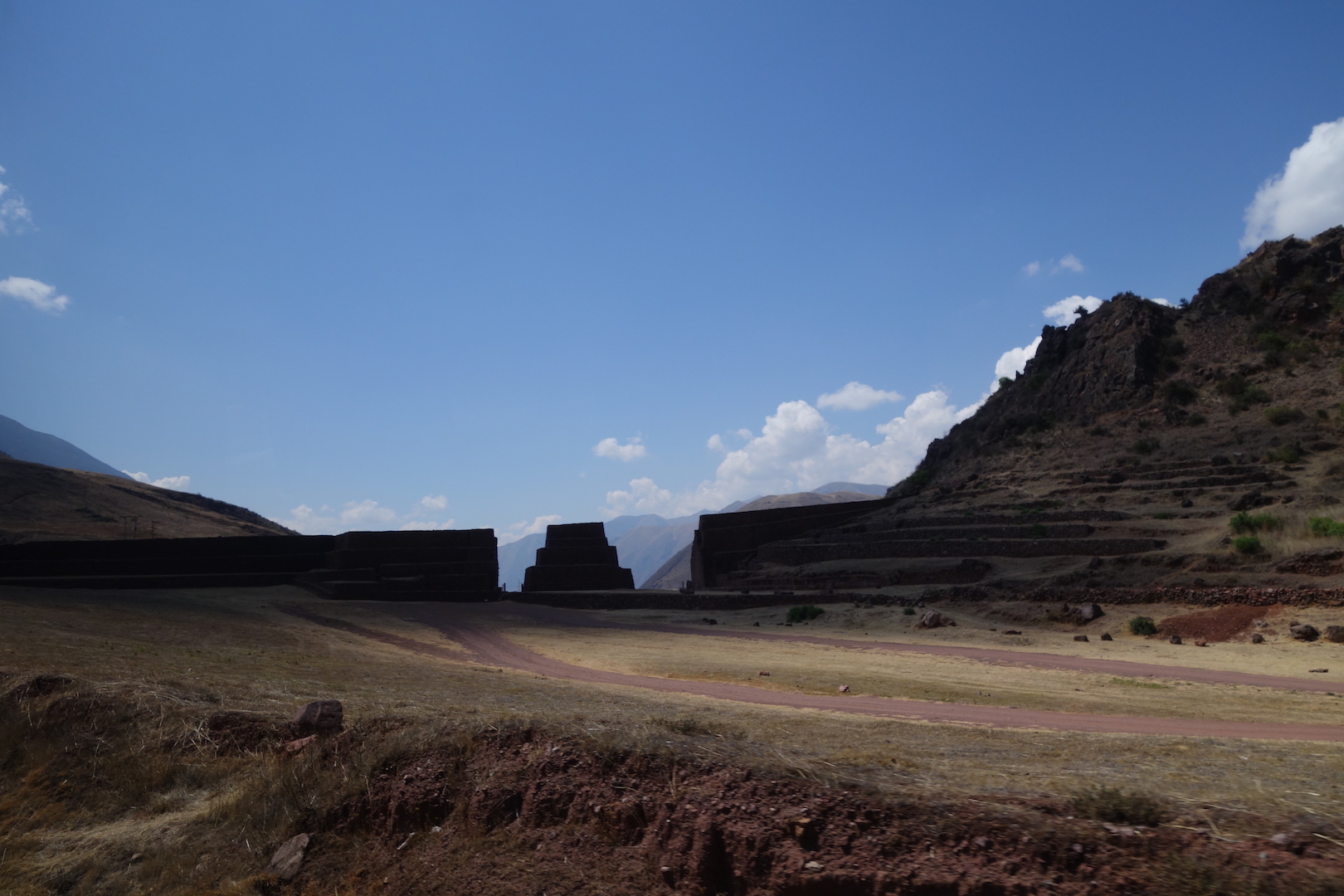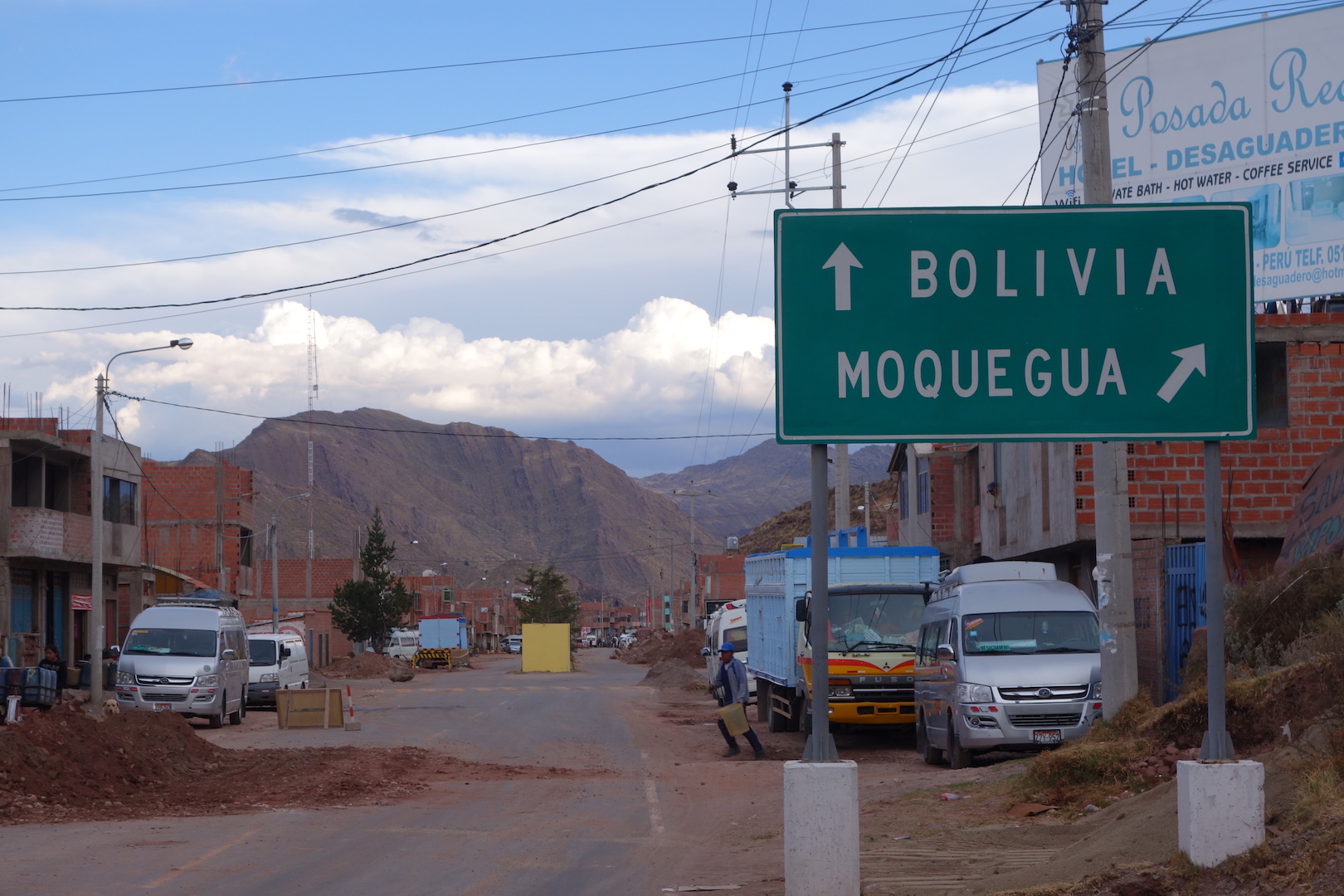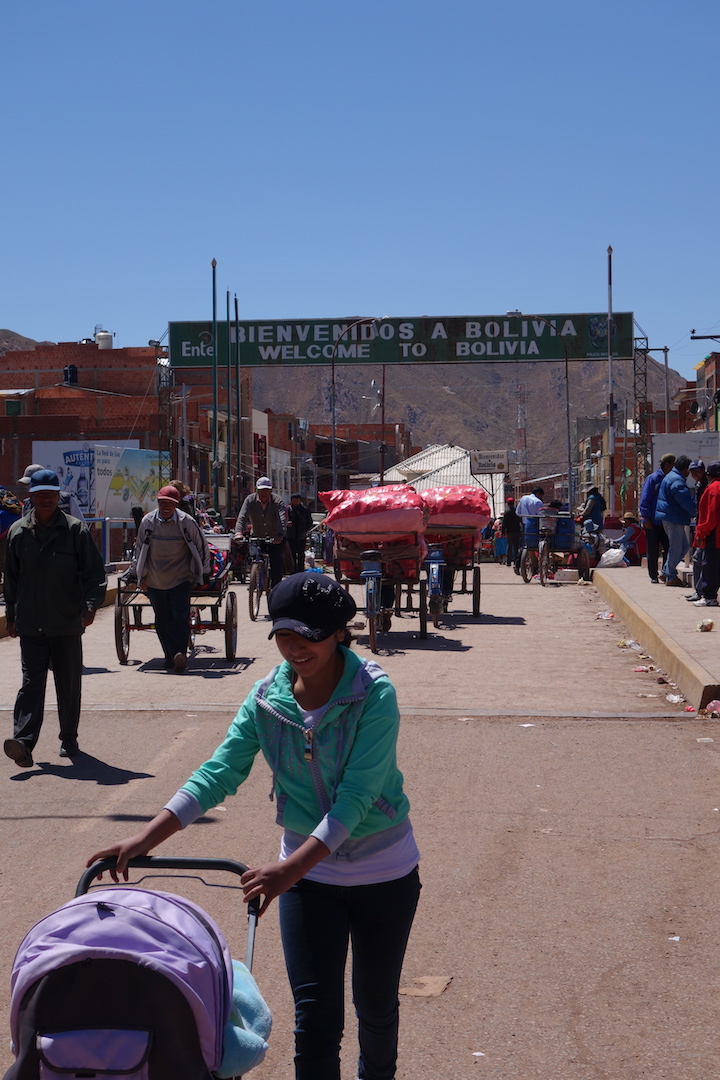 A desiccant and a sudden cold wind is what greeted me when I arrived in Desaguadero.
The frontier town with Peru. It is a dirty place. Litter all over the streets and a busy commercial hub between the two countries.
147 kilometres later, Puno was a memory and with little food and not taking the time to stop and drink, I arrived tired again.
The road here was interesting though. Cycling along the breezy lakeside was made more interesting by meeting my first solo female Cyclist.
Eva from Russia was pedalling north to Cusco initially. She began her journey with others in Buenos Aires, but was now travelling alone.
Tricycles piled high with mainly fruit, it seems, being wheeled across the bridge to the other side of town and into Bolivia.
The smell of sun burned Mangos and Pineapples was much more pleasant than the rotting food and plastic bags littering the river bank and gutters.
It didn't help that it was a warmer than usual day and that there were intensive road works in the town centre. Some people were casually dropping litter knowing it would quickly get stuck and covered up in the mud soaked streets.
And for the most part it did.
That, that escaped spiralled up in the breeze and floated above the buildings in the direction of the lake, only a few hundred metres away.
I felt a little guilty wheeling my bike into the foyer of an upper market hotel in the centre of town.
I was very apologetic of the mud dragged in on my tyres and shoes but the owner didn't seem to notice at all. I guess it's normal.
I spent a night here then several hours the following morning waiting in the queue for my Bolivia visa.
30 days is all they give Europeans here.
Why so short?
There is a lot to see in this small but diverse country but in my case I will not have time to take side trips.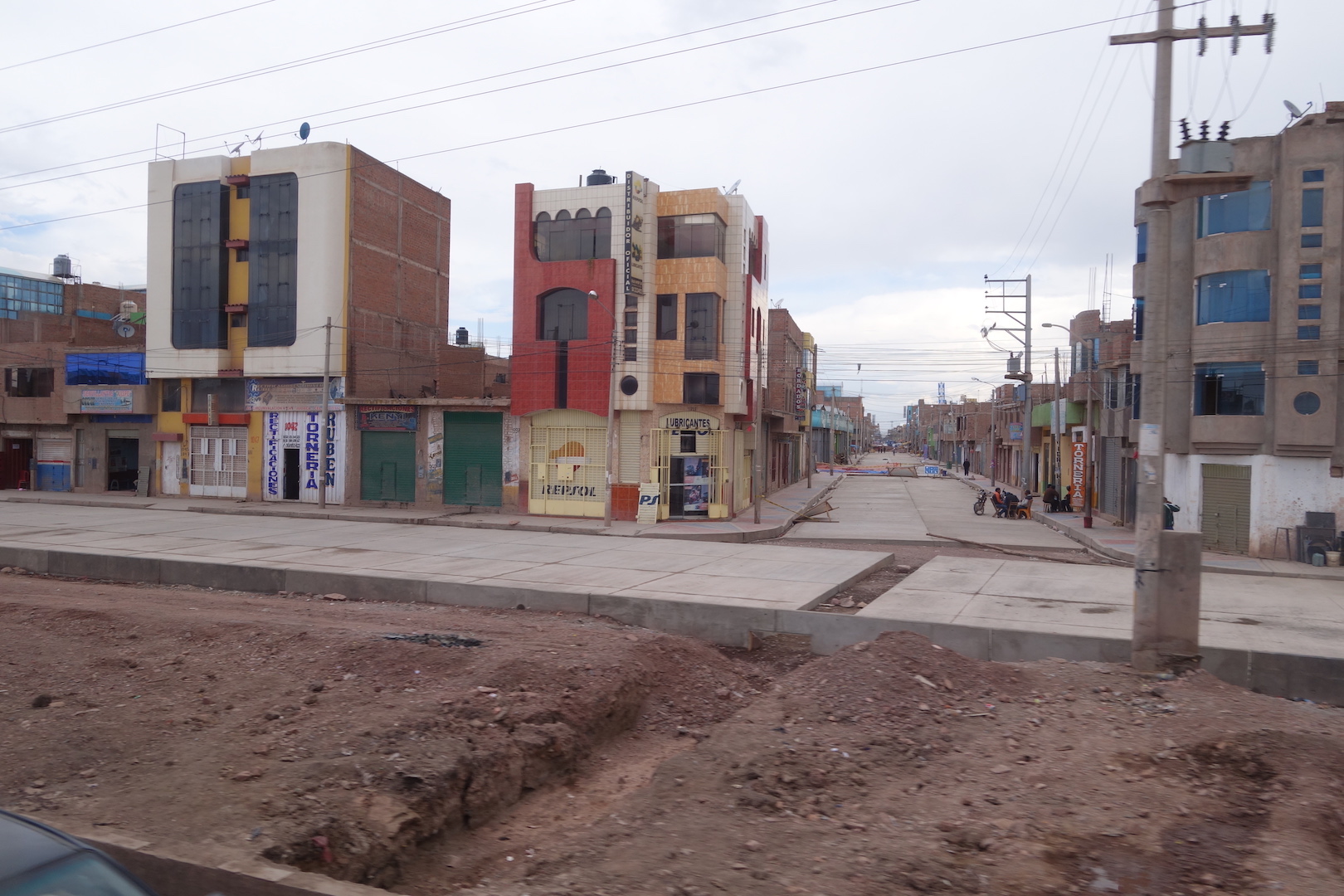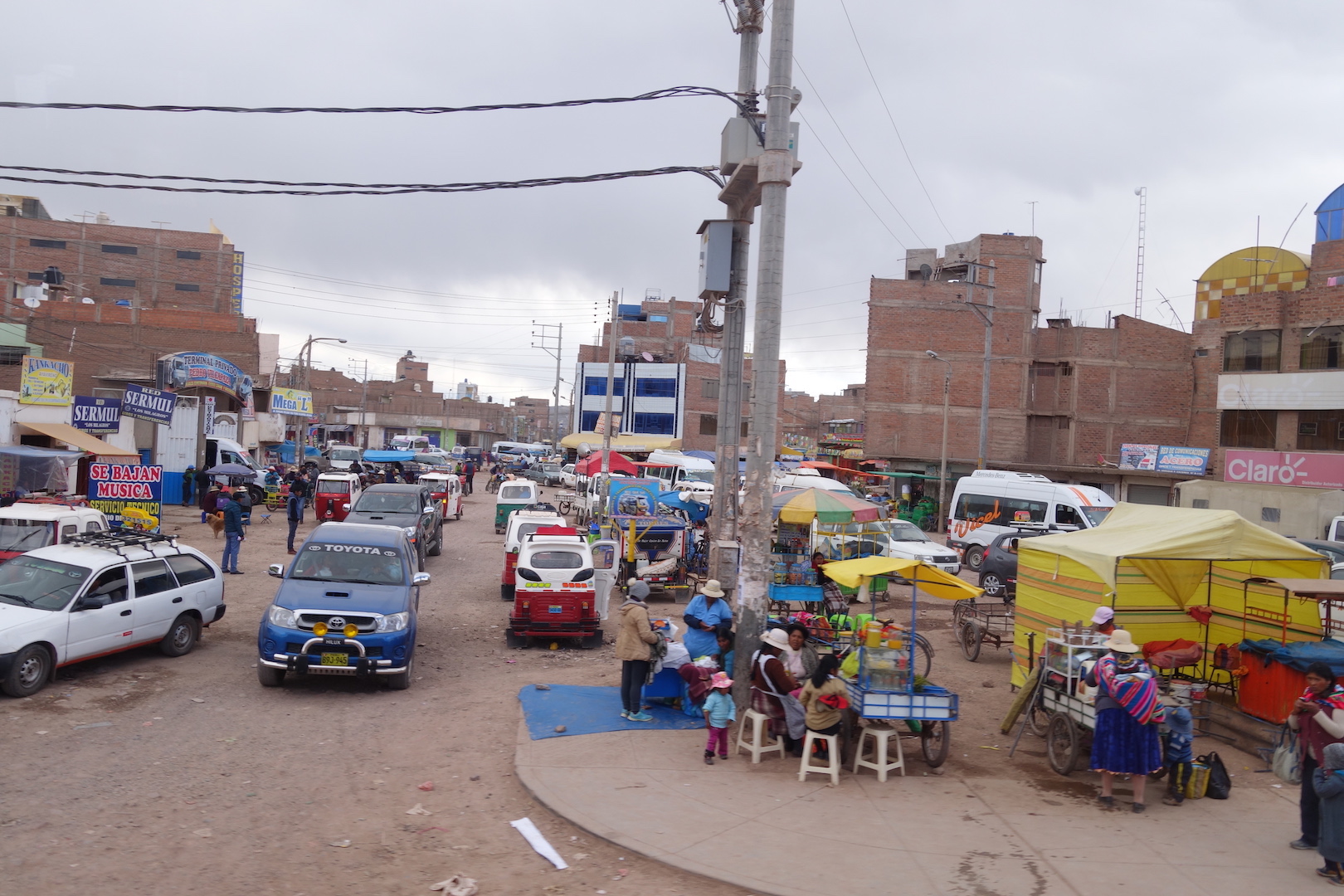 I have a plan to be in Cordóba, Argentina for Christmas.
Which, if I travel directly south, is only around 2000 kilometres away, but I want to go via Santiago in Chile to meet up with another cyclist, Christopher who I met up with in La Spezia on my 'training' ride through Italy before I began in the Americas.
I also want to ensure I have the full 3 month visa when I arrive in Argentina to give me the maximum amount of time to complete the journey.
I eventually crossed the border bridge into Bolivia and country number 14. Past the intense stares of the security police, along another filthy street and decided to stay an extra day.
Despite the dirt, dust, dogs and detritus, I quite liked the town and began my usual border chores.
New SIM card for my phone. Exchange Peruvian Soles for Bolivian Soles or Pesos or Bolivianos, depending on what the locals like to call them.
"Cross the bridge" I was told.
"All the money changers are in Peru"
For a moment, I looked confused. How am I supposed to cross without getting my passport stamped again?
Then it occurred to me that all the fruit merchants were just wandering over the bridge moving their merchandise and the police were mostly there as a token gesture.
As I walked back across, the police were more interested in leering at some young gringo female backpackers who were going red in the sun as well as from the stares of the officers.
Money changed, I wandered back slowly looking at the various produce on sale and bought some fresh Orange juice and a vitamin milkshake from a lady on the roadside.
A super smoothie and local speciality it seems.
Made fresh with Banana, Papaya, Apple, nuts, Coconut, Milk or Yoghurt or both. Then a little apple or orange juice.
Then they add the twist.
Dark local beer, a raw egg and some sort of black "vitamin" liquor in a home brew bottle.
I have no idea what it was and I couldn't decide if I was more fearful of the raw egg or the unknown black syrup she just poured into my smoothie!
Well, I have had worse. And I knew exactly what the after effects would be!
It was actually delicious and cheap and perfect high energy cycling fuel.
I had another for breakfast the next morning before leaving the city.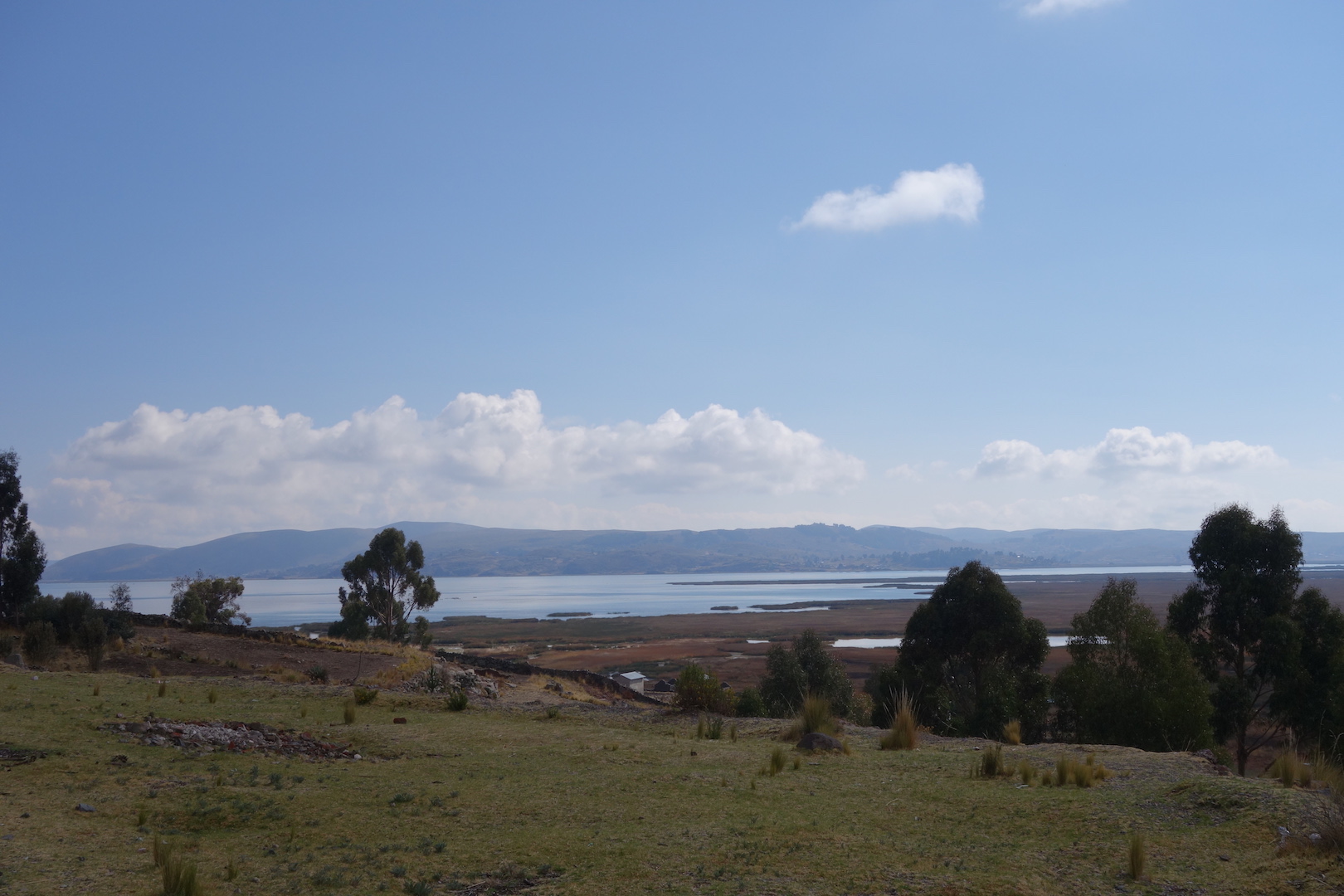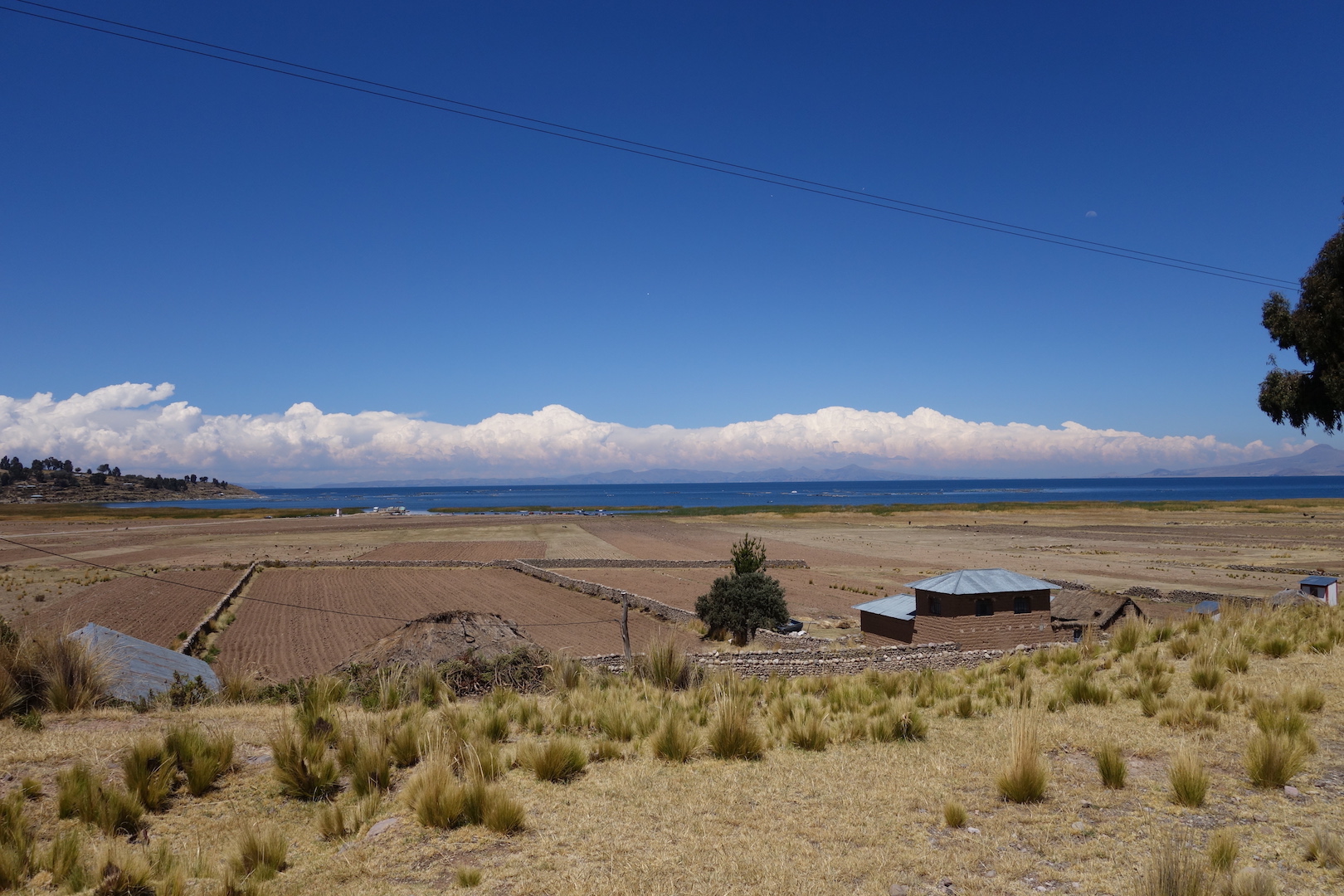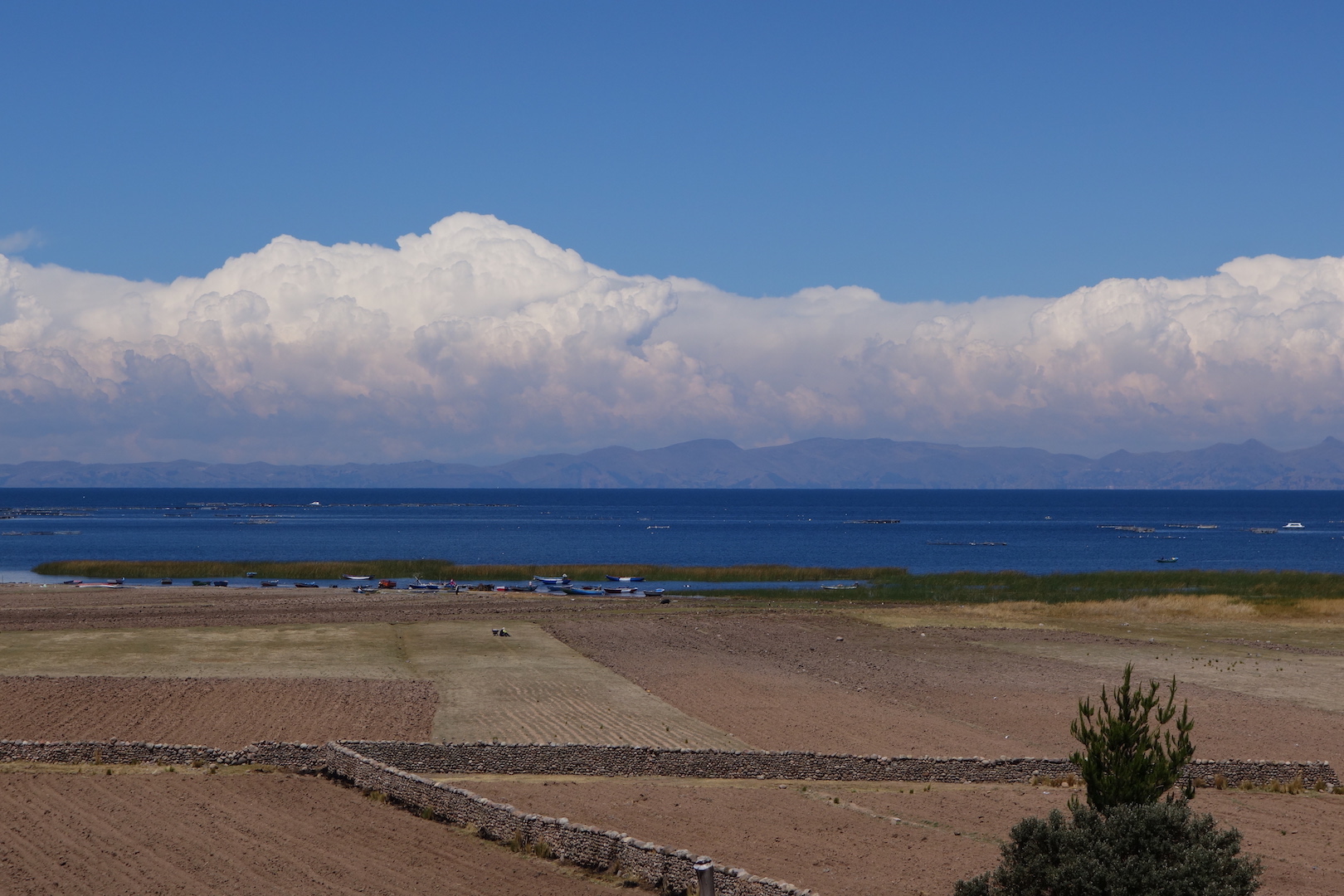 Cycling along lake Titicaca, I was cruising a long with a slight tailwind.
Half developed or abandoned tourist buildings and hotels lined the lake and indicated tougher economic times. Puno and Juliaca in Peru are the big boat ports for the lake and attracted the tourists despite the rough appearance of those cities.
Had I taken the northern border crossing at Yunguyo I would have been in tourist territory and close to the popular Copacabana resort. But this route is more direct, avoids the tourists and passes through little Aymara farming communities.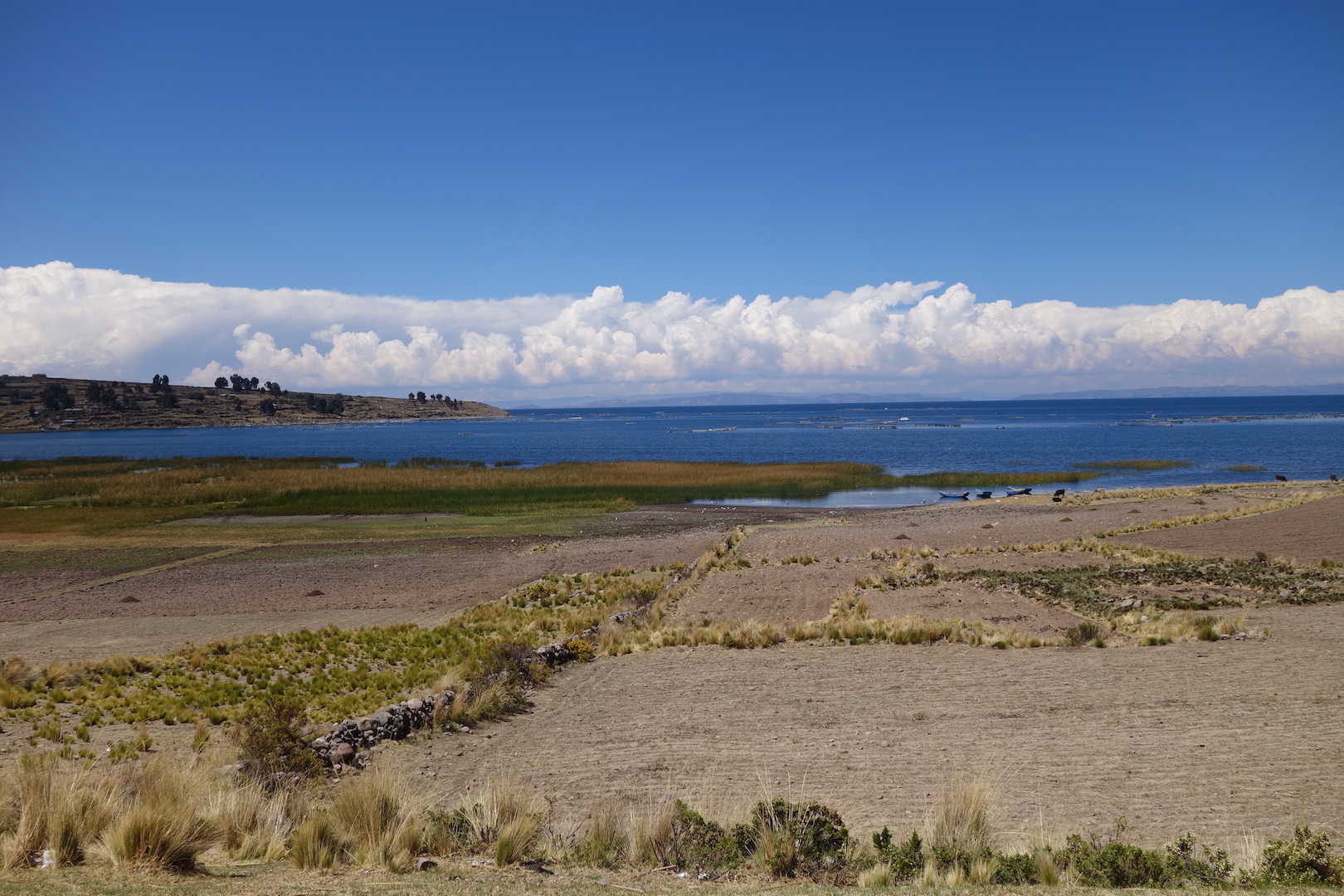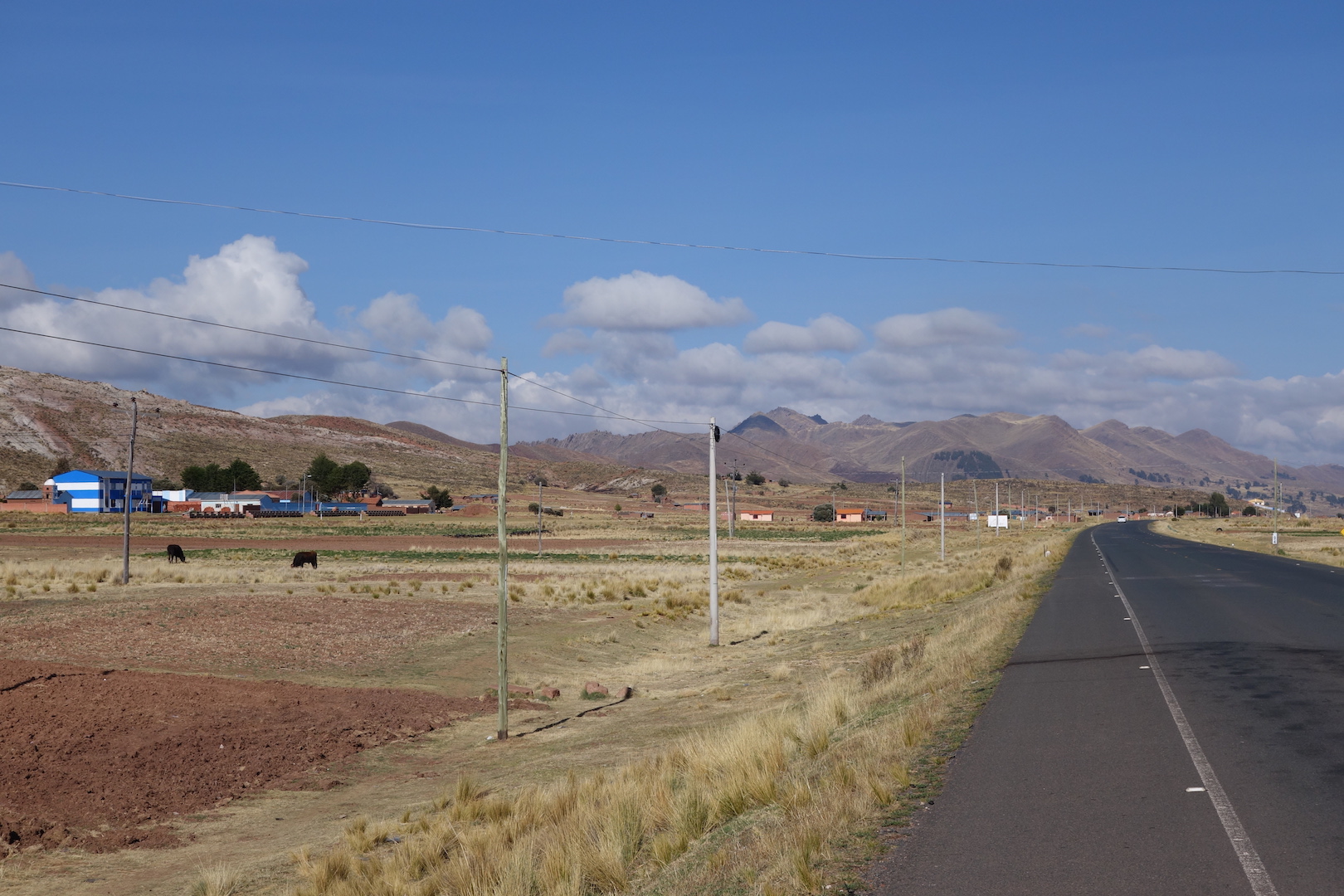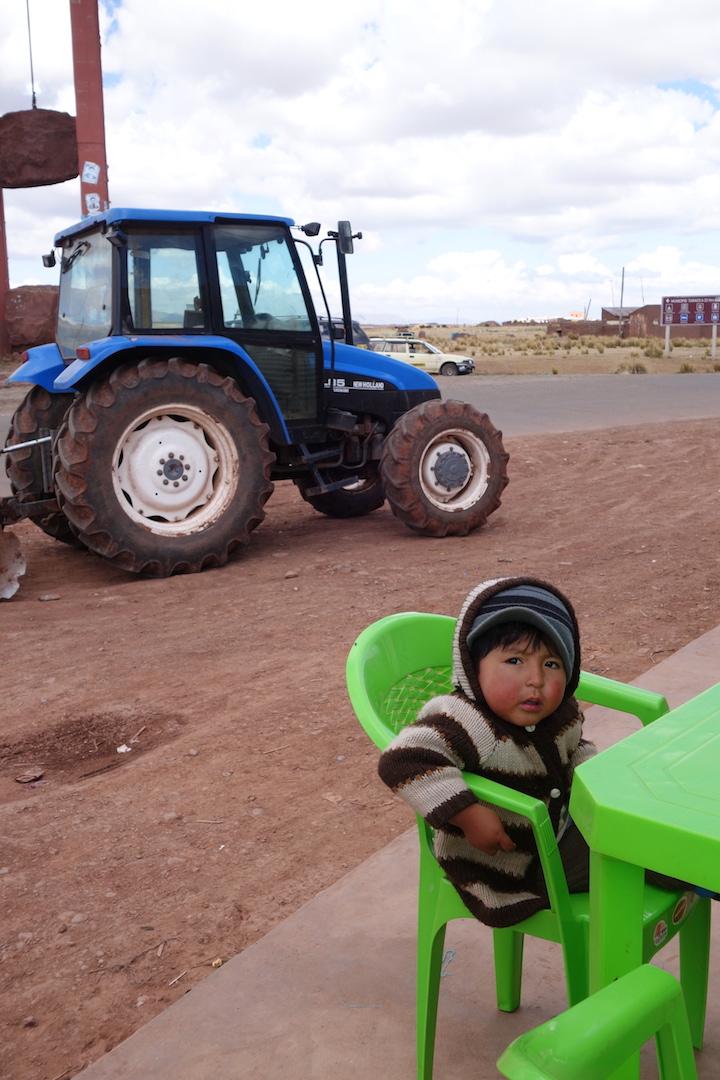 Dogs, bigger than in Peru chased me along the road. Their filthy matted coats making them seem even more aggressive.
Some of these dogs are half abandoned but shepherd trained and do a good job. They are defending their flock and territory and are angry and persistent.
While some just chase and bark, these actively get closer with an attempt to bite.
Still they are defeated by my highly advanced and complicated coke bottle full of water with a tiny hole in the cap.
One squirt and they are both stunned, confused suddenly veer off into the path of oncoming traffic if they don't pay attention! Works every time.
I keep pedalling.
I have made several of these bottles.
Occasionally I drop one. But no fear, in Bolivia it seems, within metres, there will be another one.
Sometimes partly full of water, Fanta or Coca-Cola discarded by a driver with no care for the environment.
Soon the road leaves the lakeside and I begin to climb a small set of hills onto the Altiplano and La Paz.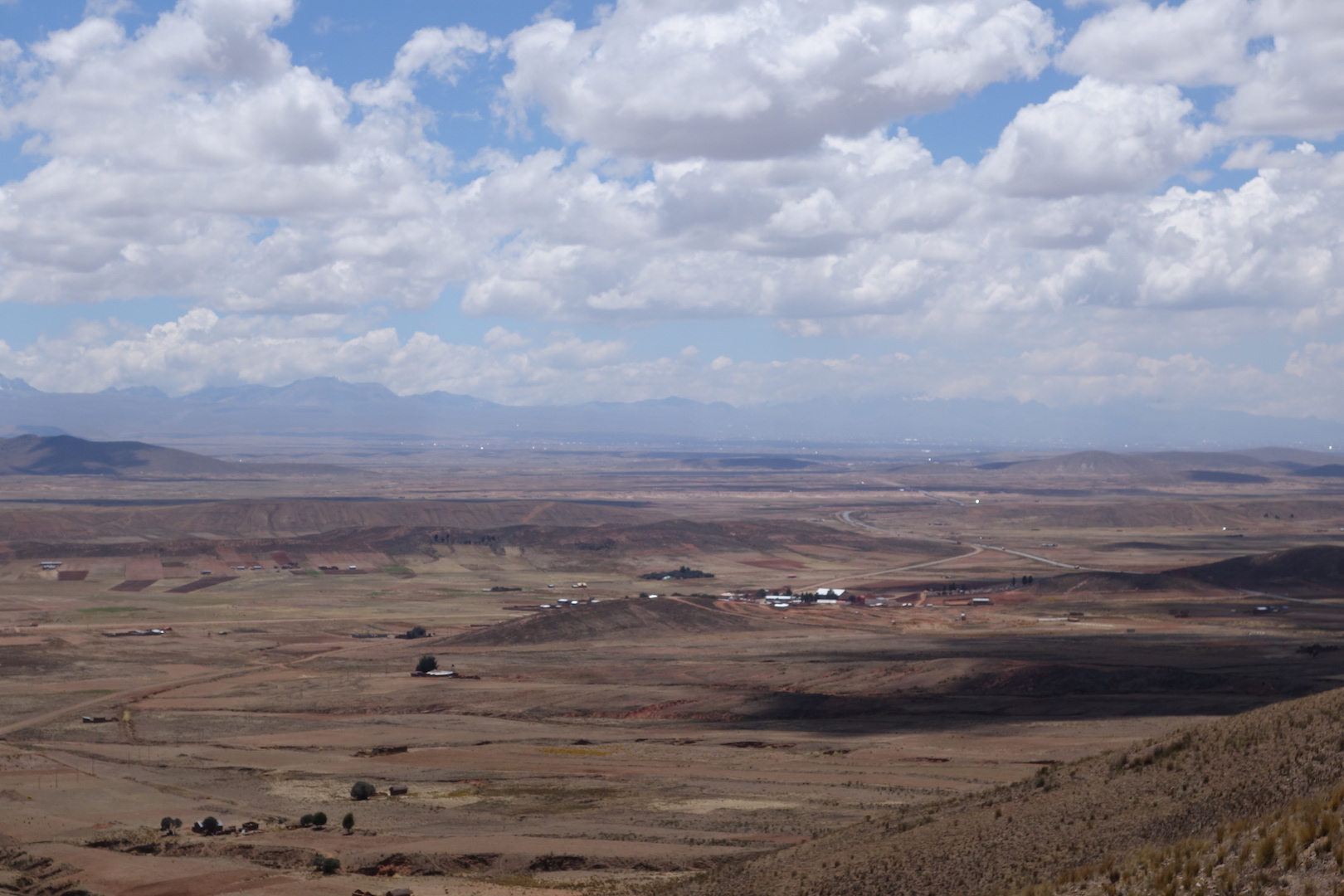 The Cordillera mountains behind La Paz were snow peaked and had Aymara names.
Ancohuma, Qualsata and Mururata were the bigger ones.
As I travelled I stopped in a small village, which appeared to have no name.
Some excited local women and girls taught me some Aymara words which I promptly forgot, then asked not the usual questions, but more about where I came from and how England compared with Bolivia.
I described the low mountains, the Pennines that run along the back bone of england.
Then the cool weather, the clouds, rain, sheep in the dusty or muddy fields.
I told them about the houses and farmers working growing wheat, potatoes and other vegetables and how life was sometimes difficult for them too.
"Oh, so it's just like here then?!"
"Yes, I guess so..... but we don't have Llamas and Alpacas" suddenly realising I was painting an near identical picture.
In their minds at least.
They looked disappointed and slowly wandered off.
I kept pedalling.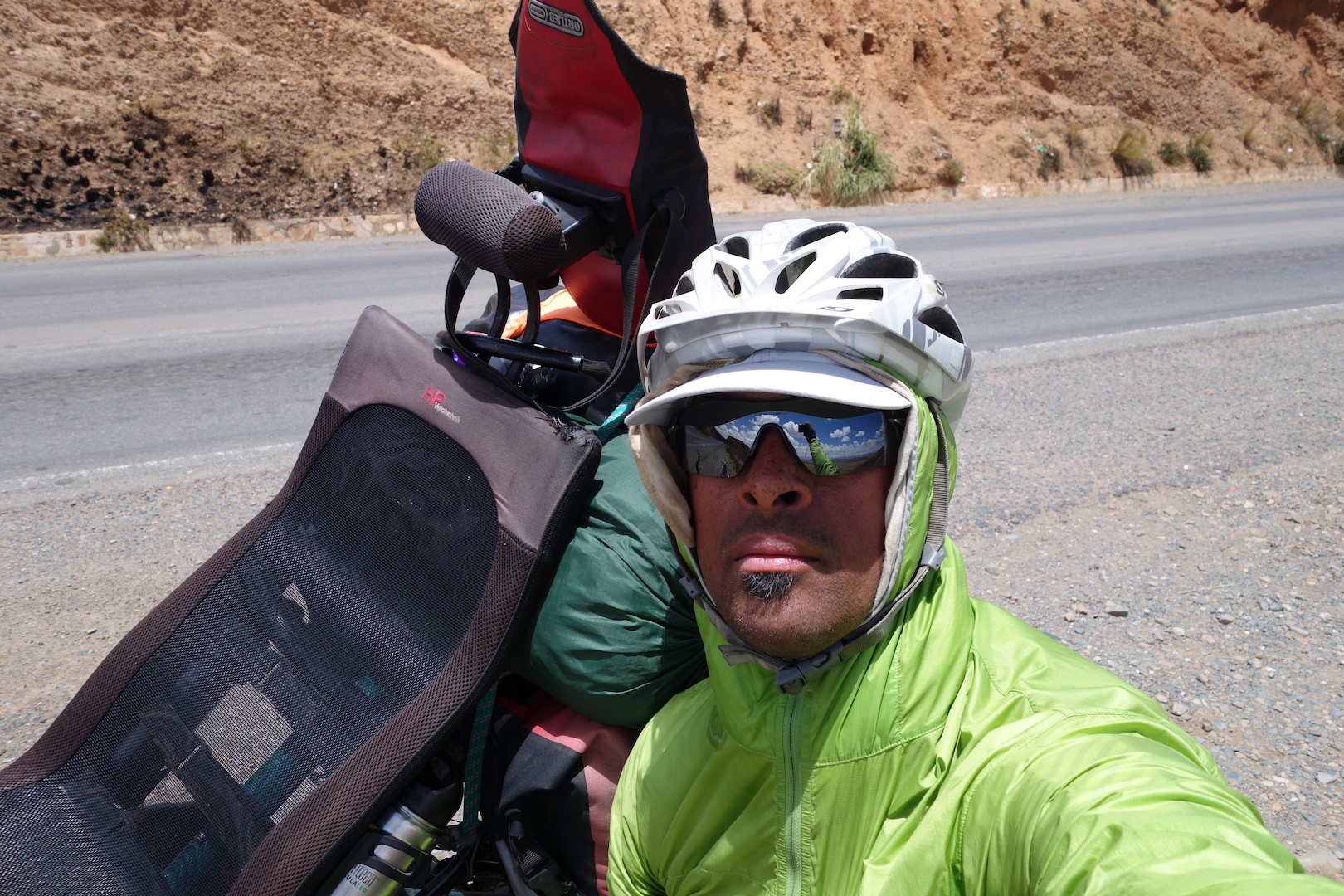 I was not going to go into La Paz originally, but I could not get more money out of the cash machine in Desaguadero and did not have enough to be comfortable.
And also my GPS was trying to guide me down a dirt road, which I was not keen on.
Add to that, an unexpected black cloud and a heavy hailstorm had me sheltering alongside my bike trying to put on my jacket without it blowing away in the wind.
Viewing from above on the hilltop. It seemed fairly small and compact and flat-ish so I changed my plan and headed for the city centre.
However, I soon realised the scale of the mountains changes the perspective dramatically and that small compact city was as big and as vast as any other on my journey.
Mistake made, it was too late to turn back.
I followed my GPS through densely packed streets. Gridlocked with people and vehicles.
I passed down one street with vendors selling traditional medicines.
Hundreds of air dried Llama and animal foetuses lined the kiosks of this street and the air smelled of resins, perfumes and other strong incenses.
Tree bark, flowers, plants, insects and other odd shaped ornaments were being piled up on little charcoal burners on the kerb and smouldered as an offering to Pachamama or some other gods as a cure for everything from Arthritis, to Gallstones, Cancer, Aids, infertility as well as debt and money problems, infidelity and unemployment!
Frankly, if you can afford to cremate a Llama foetus, for money problems, then you really don't have a problem. But I might recommend finding a new accountant?!
Still curious though, I made a mental note though to come back and take some photos as it was beginning to rain again.
Another kilometre and a quick escape from a small pack of feral dogs and I now had the biggest shock.
La Paz is not flat.
Three quarters of the city is hidden inside a huge crater below the surface of the Altiplano.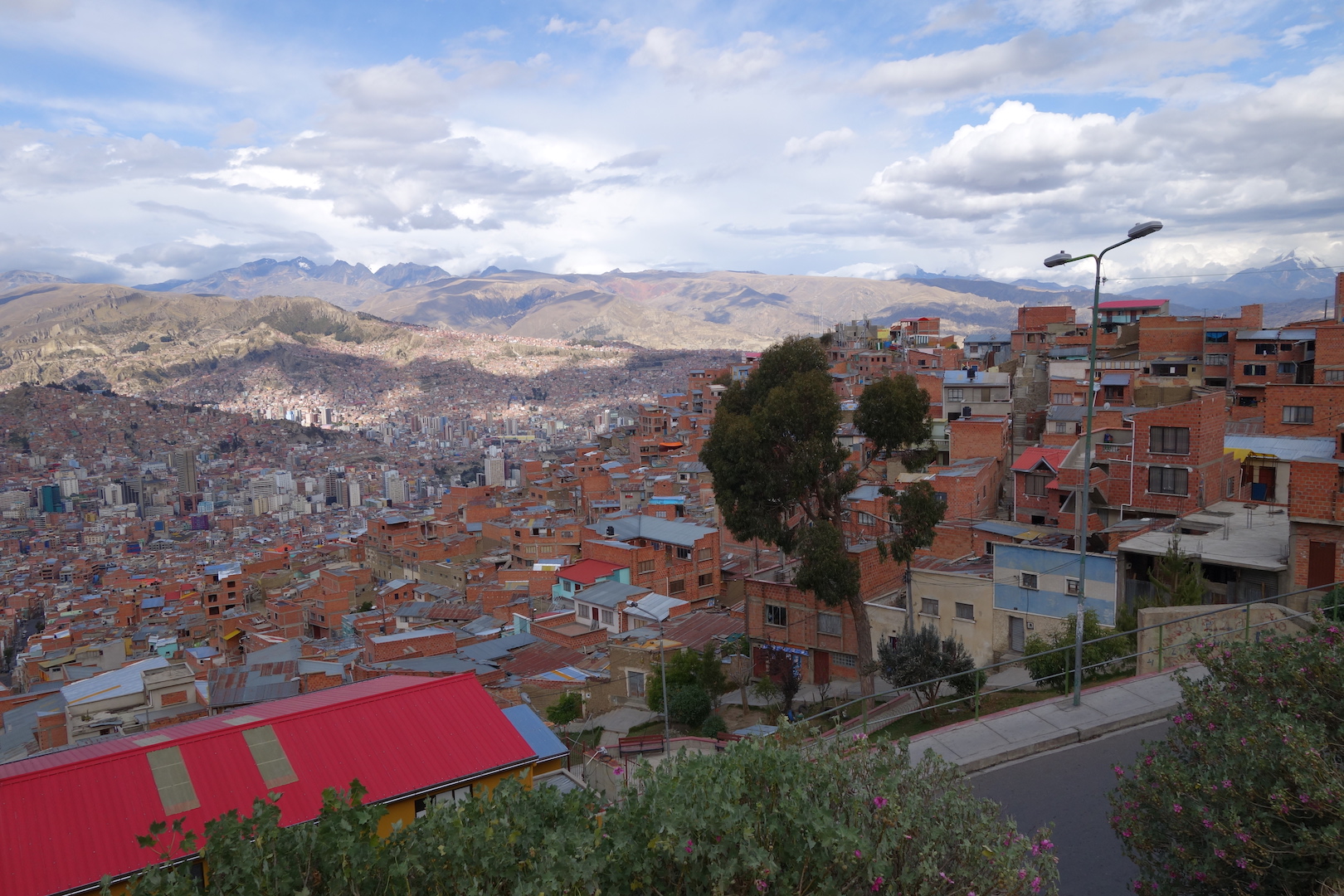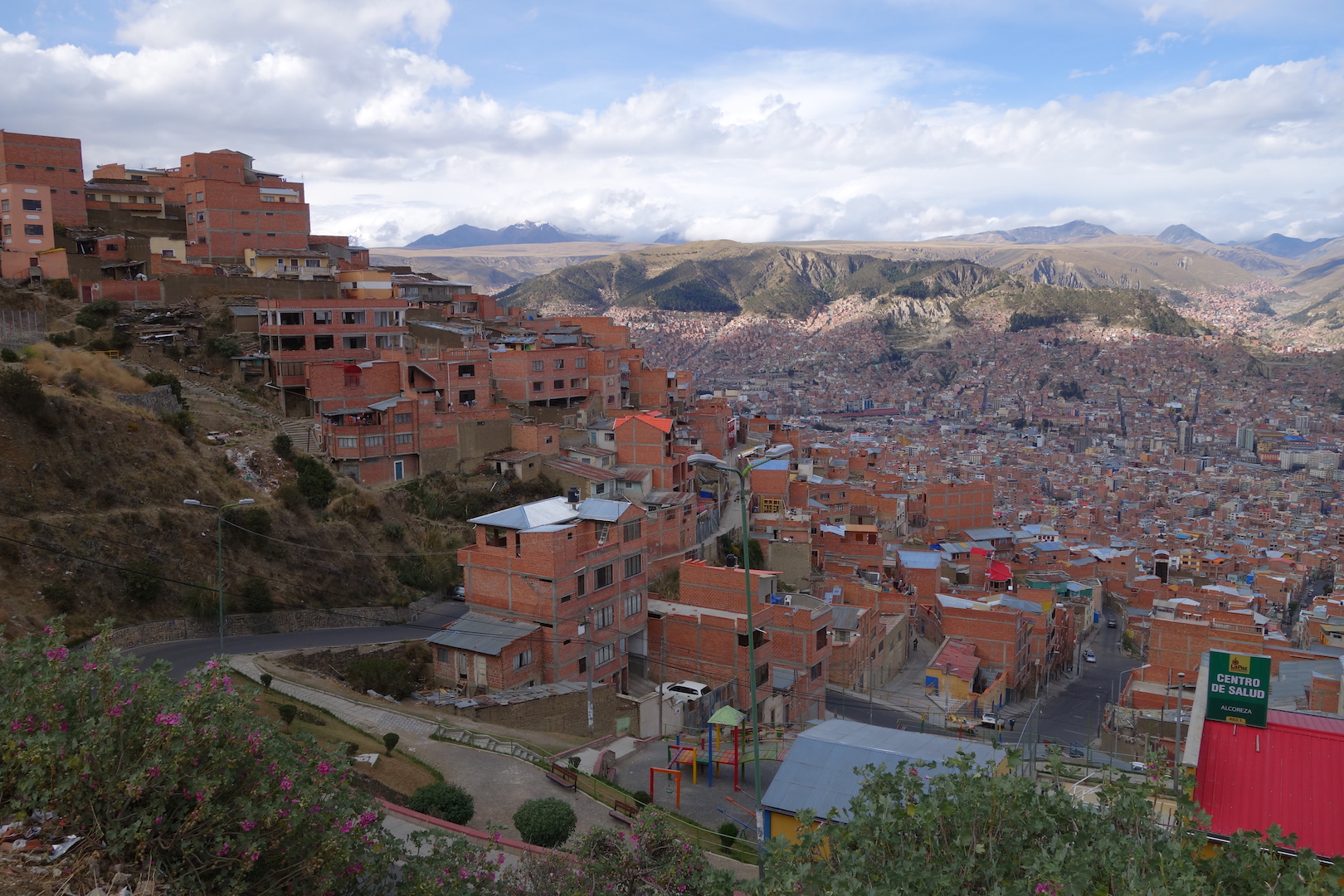 The true nature of the city now revealed itself and I had only been pedalling through the outskirts town of El Alto.
Not La Paz itself .
This city was as vast as any other capital.
It's form reminded me a little of Medellin, Colombia where I started my south America journey.
But much dirtier and older.
I descended slowly down stairways and gravel roads. Eventually making my way to the city centre. The roads so steep I had to stop twice to let my brakes cool down.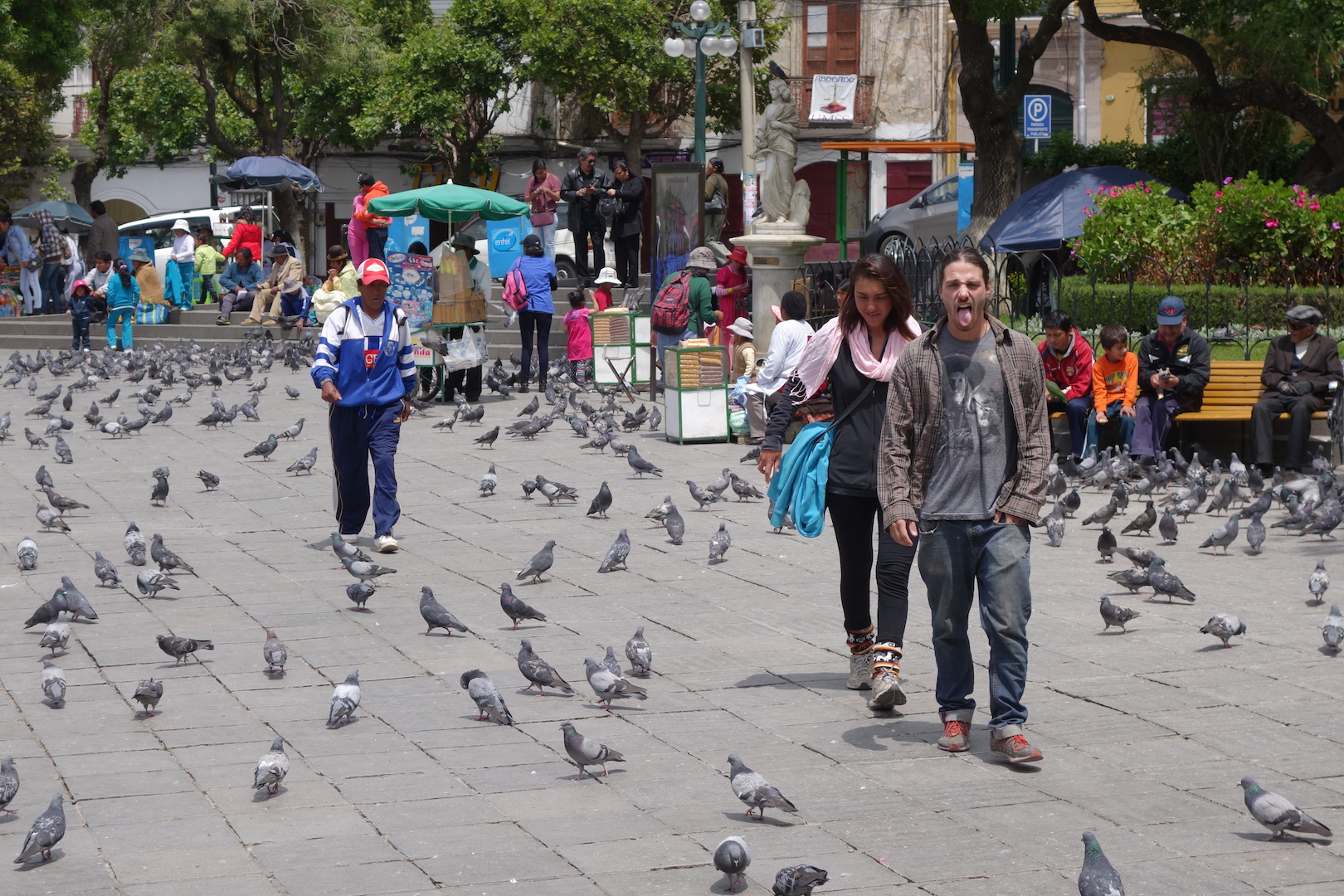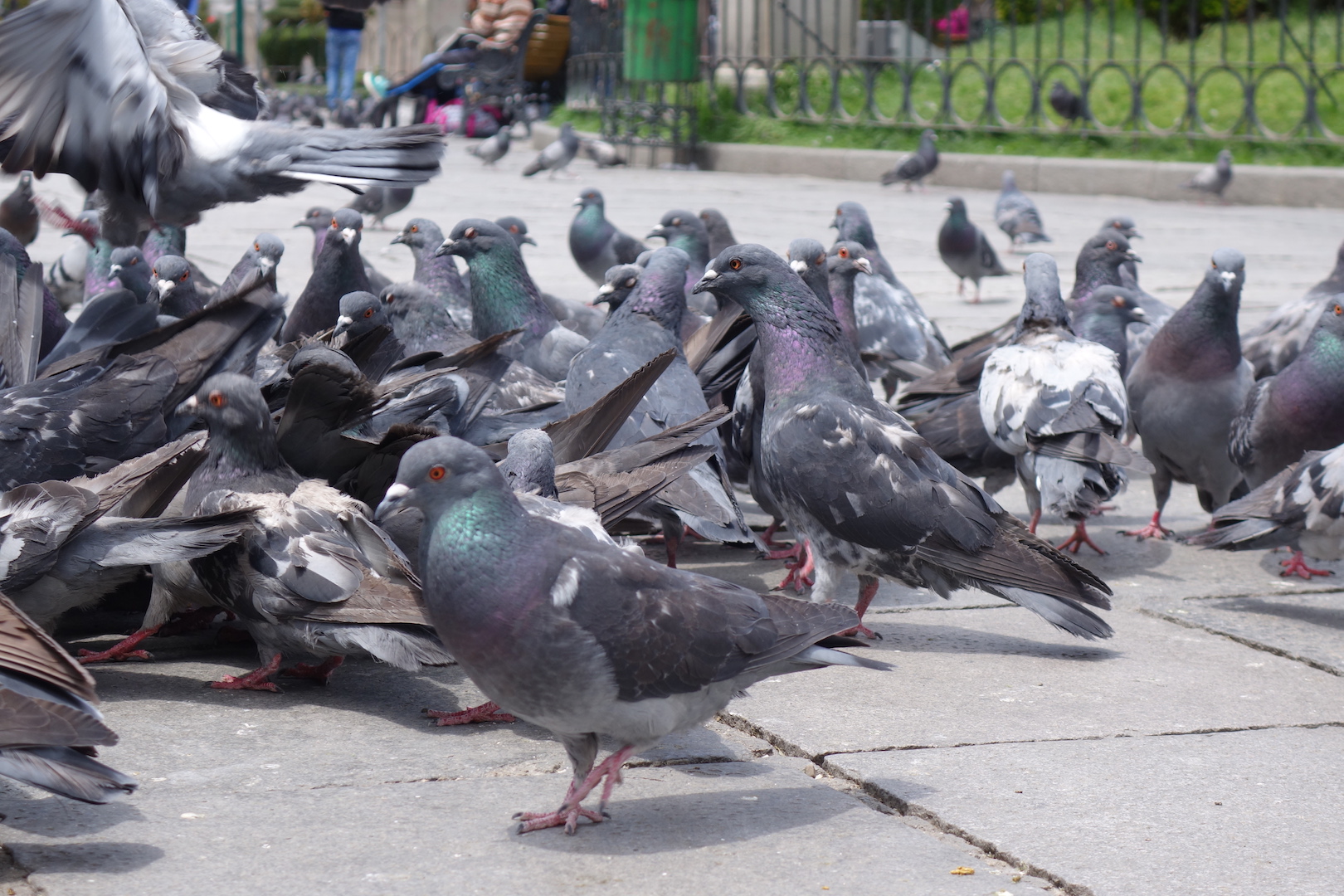 My travel guide recommended a cheap hostel in the centre but didn't warn me about the 3 flights of stairs to get to the reception.
I hadn't eaten again and I had zero energy. It took me over 30 minutes of back and forth to get my bike and bags up the stairs. I was dizzy and light headed as I signed in and spent the next hour on my bed waiting for the room to stop spinning.
I eventually sat up and turned on the light.
No light.
I asked at reception for a bulb.
"Ah we don't have any, sorry"
Well I just gave you enough money to buy at least 6 bulbs. Any chance of going to buy one?!
Tired and annoyed, I said it in my head, but he assured me he would sort the problem out and would be fixed by the time I came back from my dinner.
It was still dark when I returned and the bathroom bulb was the same.
I stole one from the landing outside my room leaving my neighbours to stumble in the dark.
I replaced it next day.
The next day the desk clerk knew and scowled at me. I said nothing, but reminded him he still had not fixed the bulb.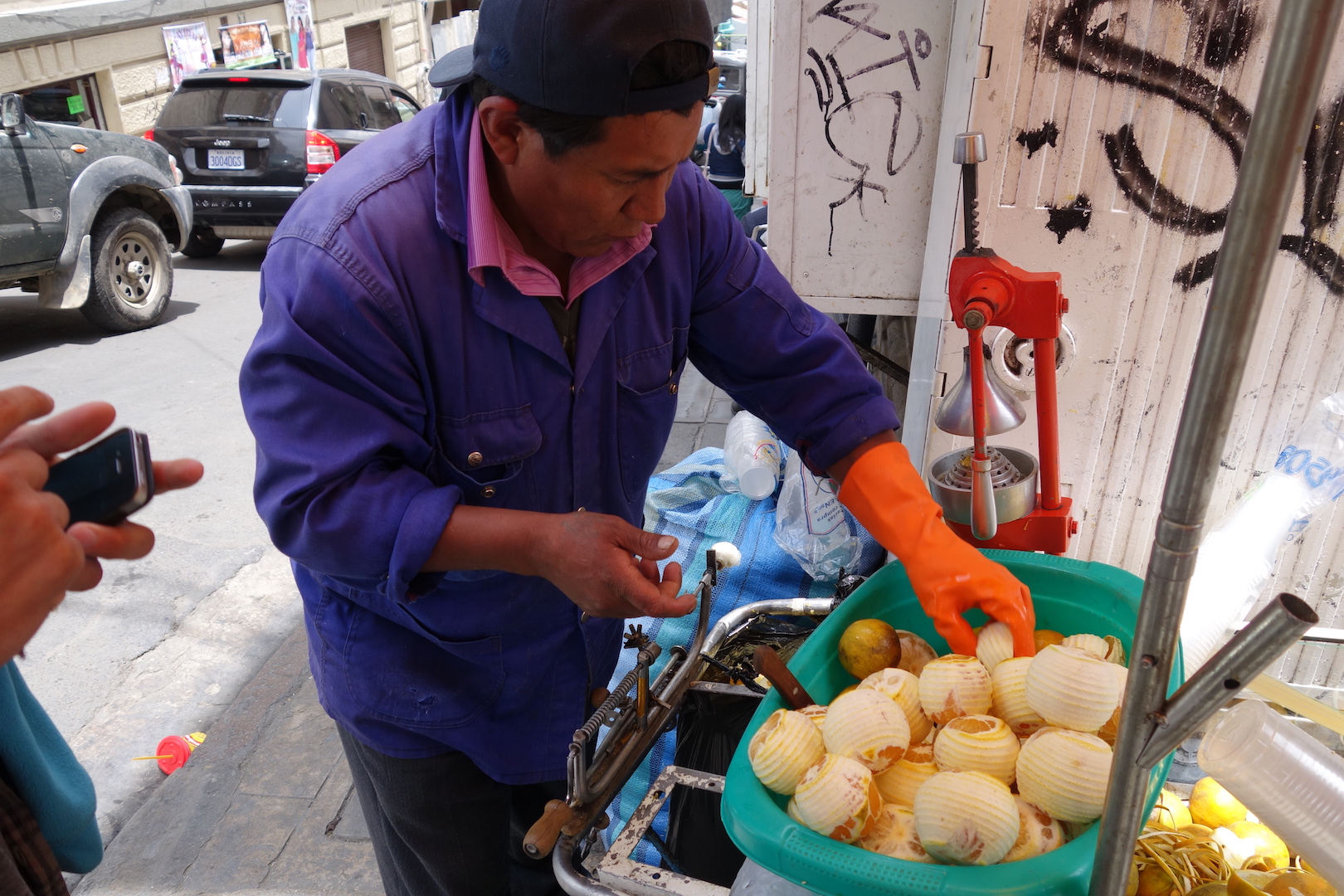 Nuestra Señora de La Paz is a big city and one of the oldest in South America. It is the highest administrative city in the world at over 3600 metres. But it is not the capital city of Bolivia as many assume. That is Sucre, in the south centre of Bolivia.
La Paz roughly 2.3 million inhabitants all seem to be sliding down the hillside into the central plaza San Francisco where a music concert was taking place.
I sat on a wall eating a dry roast Turkey sandwich, listening to the PA's and runners setting up the equipment and "testing testing" the microphones and speakers.
Some DJ's were revving up the gathering crowd in preparation for a local celebrity band to play.
The original city was founded on the Altiplano above in 1548 after the Spanish Conquistadors ransacked an Aymara village in the name of the Spanish king and church. A familiar story.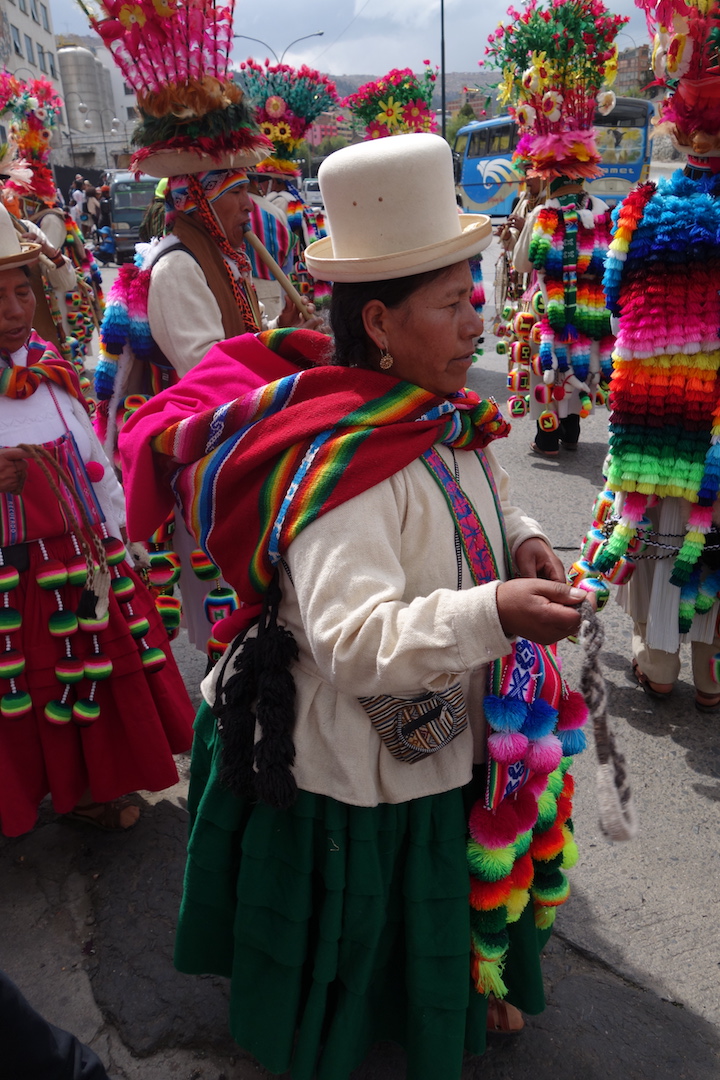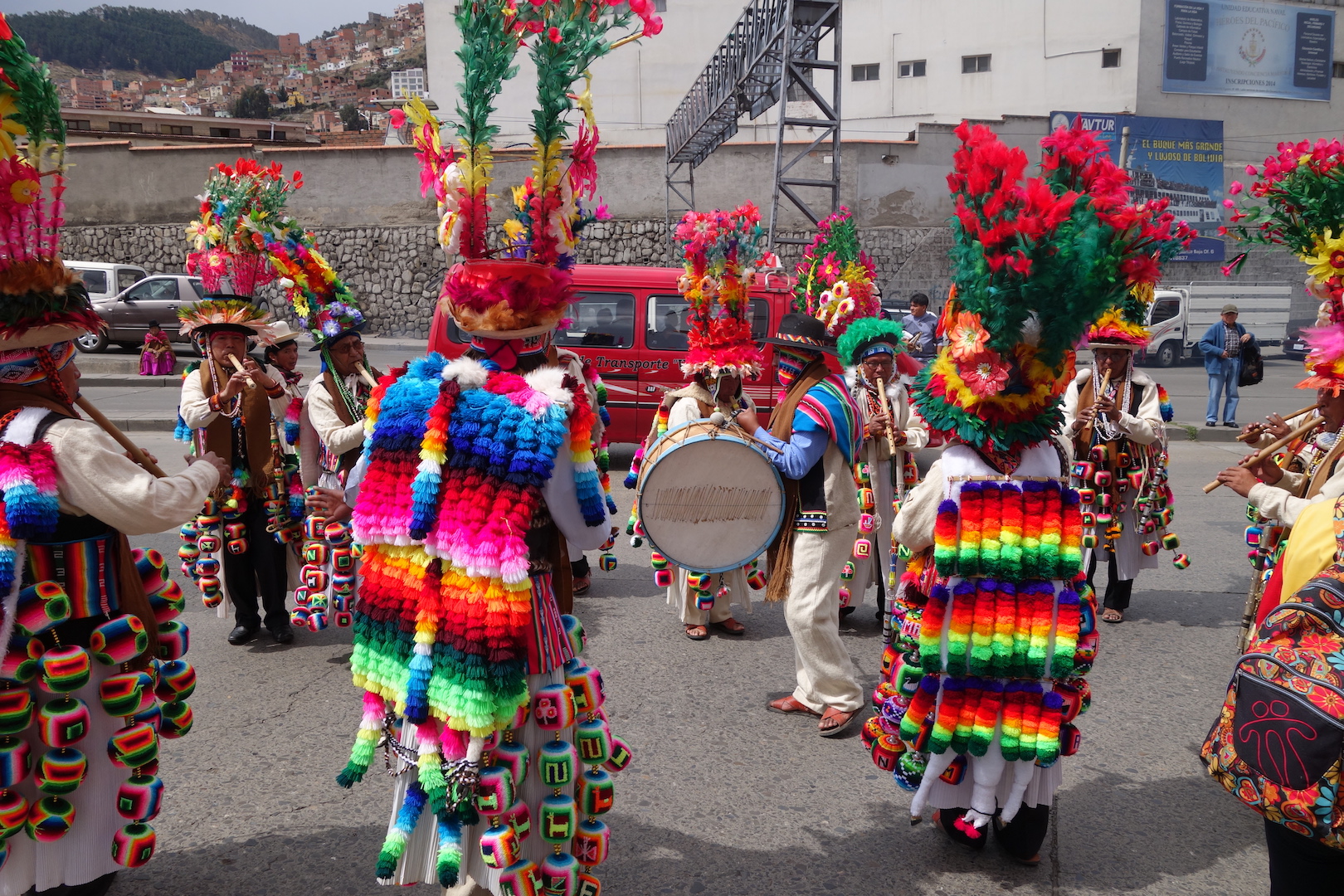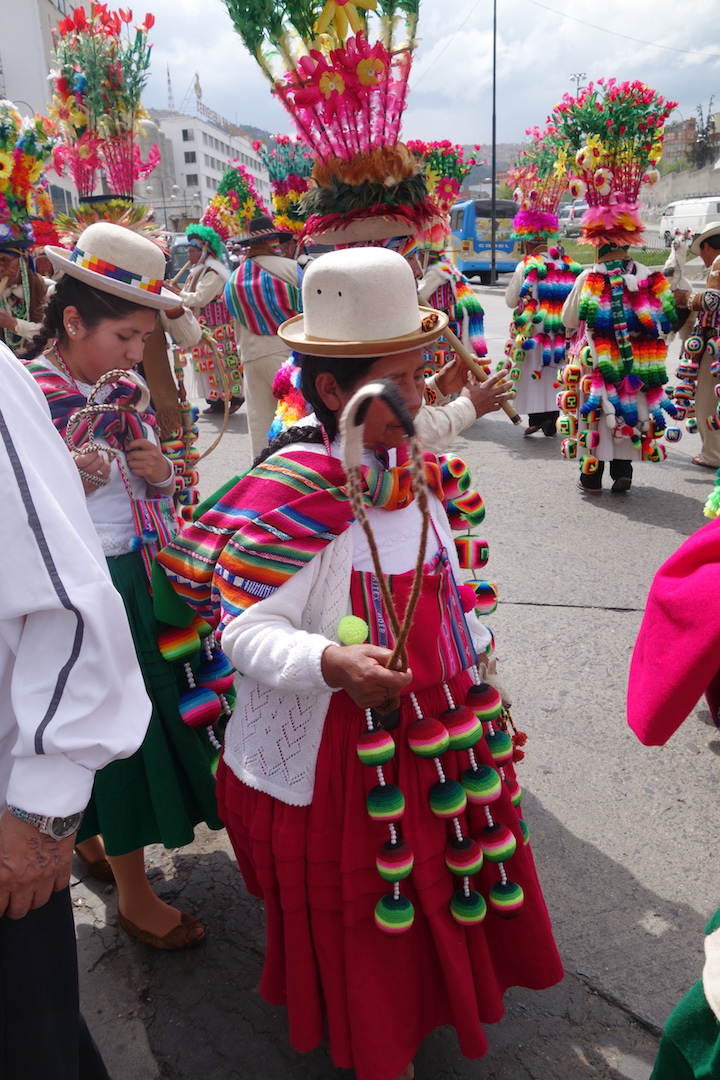 Of course over the coming years and centuries an indigenous uprising, murders, massacres and eventual peace created the city as it stands (sinks?) today in the bottom of this deep bowl shaped valley.
Old, semi decrepit churches stand side by side with modern glass fronted skyscrapers and traditionally dressed women in their distinctive bowler hats and skirts walk the streets with money tied in dirty handkerchiefs alongside modern styled youth in expensive trainers and staring at smartphones.
Strange bits of skewered meat grill on the darkening street corners. Charcoal fires and business men in cheap suits nibble snack kebabs.
Across the way are fashion house big brands stores that you would see in any major world capital.
Attractive models on posters with very Scandinavian skin tones and twice the height of local women.
Even the faces on TV are very European looking.
Given the Bolivians have the largest native indigenous population of any South American country, surely this is wrong?
The old ladies press fresh orange juice on the street outside McDonalds styled local burger bars.
50 Bolivianos or 100 Bolivianos for the best orange juice I have had in a long while.
I will definitely be having more.
The air filled with smells, noises and colours.
Flame grilled double whoppers, Diesel fumes and a burning clutch from a beaten up old car struggling up the steep inclines.
Horns of trucks blaring to force him out of the way.
Chirimoyas, celery and oranges from the women selling more super smoothies.
Neon lights flash their persistent adverts into the minds of young buyers.
Buying another supersmoothie, I look at a bottle of the black liquor, but still have no idea what it is.
But the tensed biceps on the bottle indicated strength and vitality. I think?!
Maybe it is not an arm, but a representation of the head, neck and body of a Llama?
Thoughts of dried foetuses and tree bark race through my head again.
I sit on a wall sipping my drink and watching the city move by me.
It is an odd but perfectly functional blend of old and new lifestyles.
I bought some Mangos and returned to my still dark hostel room.
I probably dripped juice on the bedsheets, as I ate them but its not my fault I could not see....The light has still not been fixed.
I feared the long steep climb out of the city. So I paid $3 for a taxi to take me to the top.
Surprisingly, it was almost 15 kilometres from the centre to the top Altiplano. And saved me around 2 hours of climbing, pushing and stress through crazy traffic. Even if it was a little calmer on a Sunday morning.
The taxi dropped me near the airport and from here it was a fast, flat and easy ride out of the city towards Oruro.
At Tholar, the road split and I detoured into the town as I saw a sign for a restaurant.
Parking my bike outside, I saw another bike inside and suddenly the broad smile of another cyclist.
Shima-san was a 65 year old retired Japanese Pharmaceutical chemist on an adventure to Santiago, Chile and beyond.
While his English was very good, a few things were lost in translation and I didn't quite understand some of what he said.
But we managed to have a good conversation then rode together to Patacamaya where we split the cost of a hotel room, dinner and more conversation.
We continued the following morning.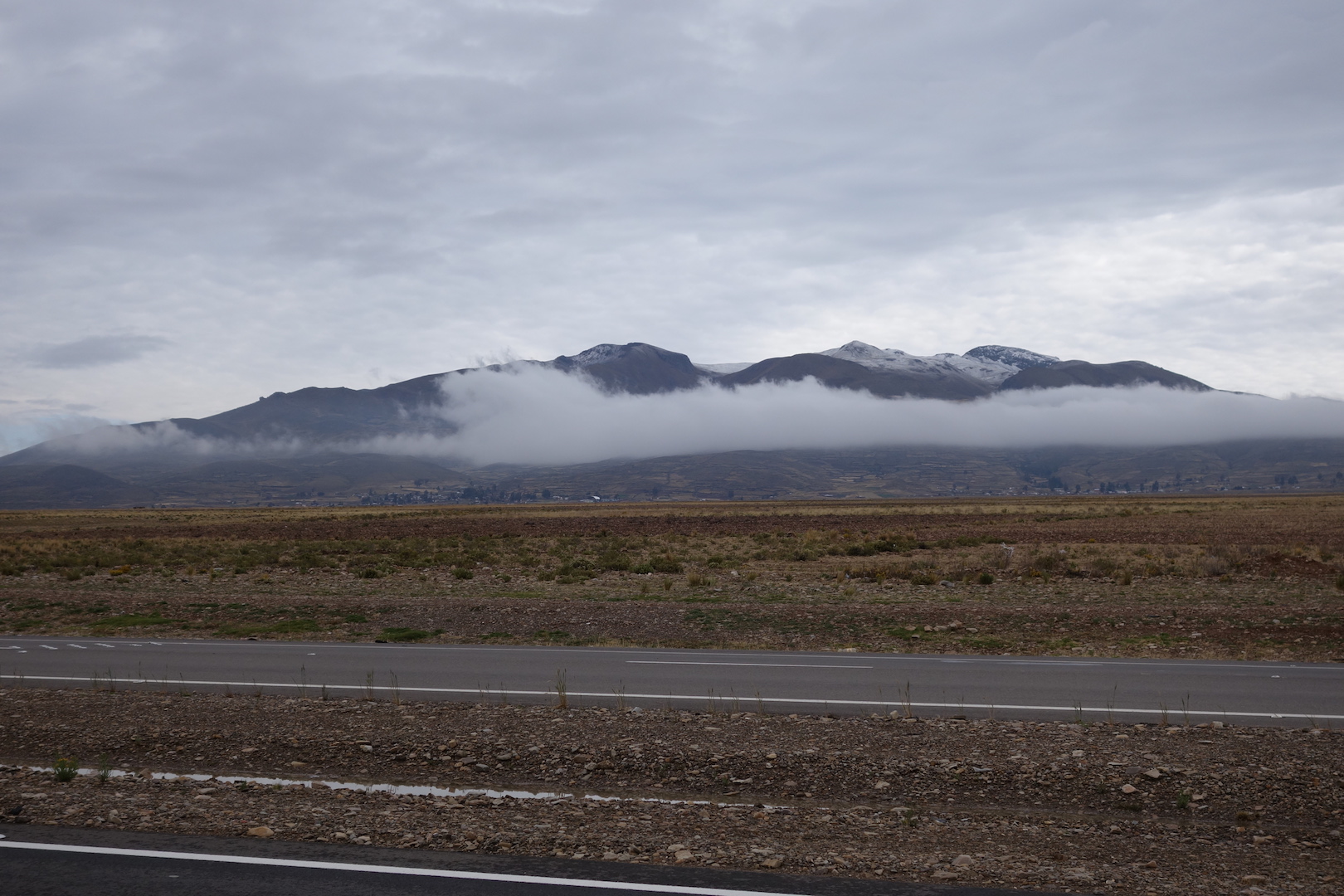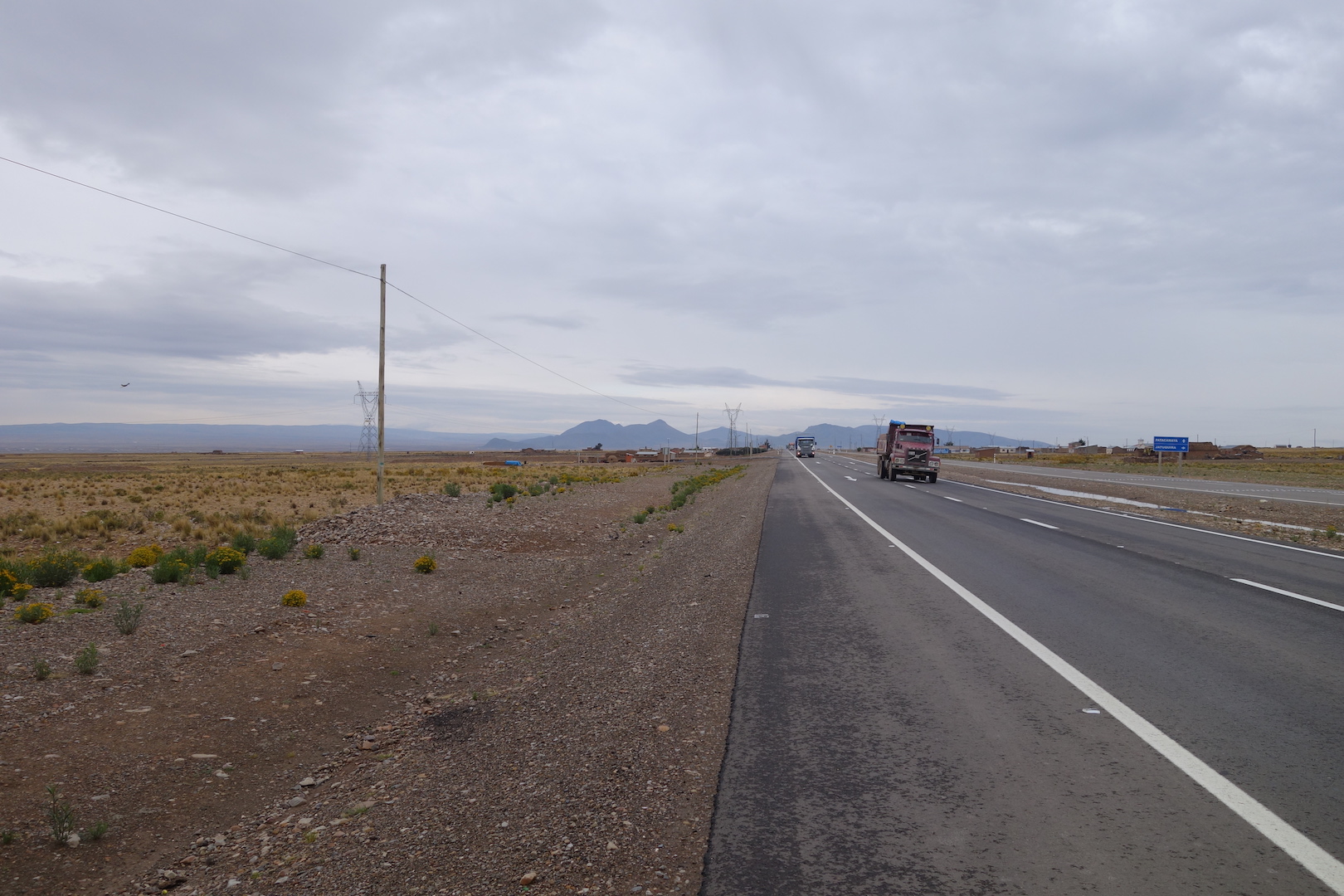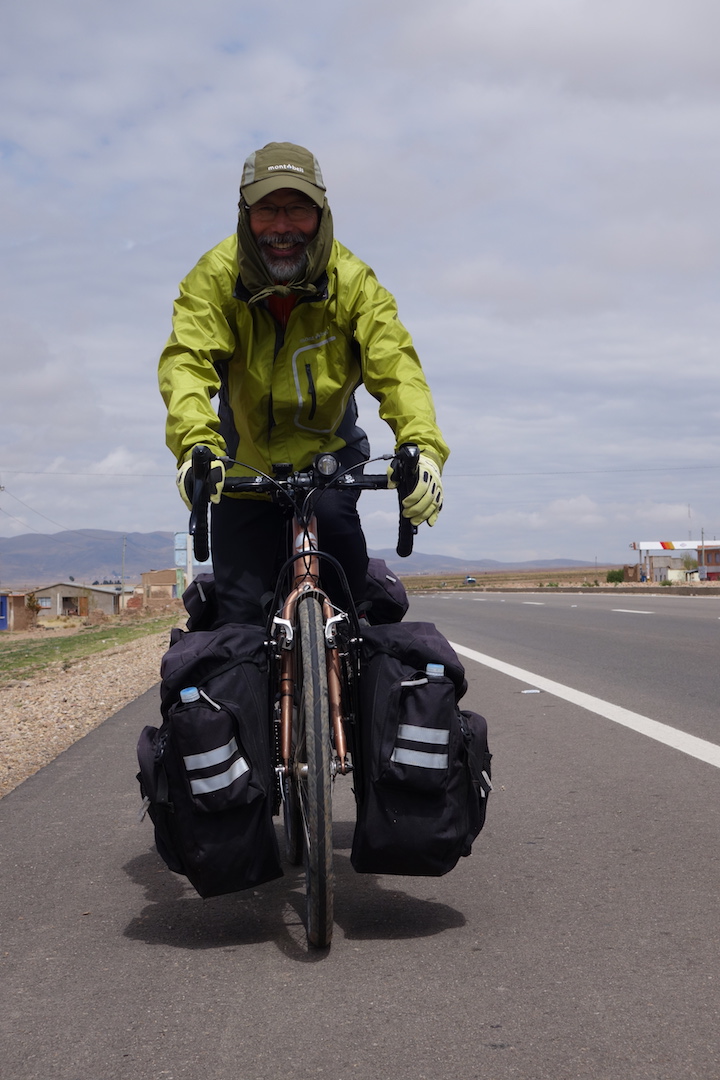 Shima-san was working from a photocopied tourist map with a few distances written on the roads but we spent time filling in the details for his road ahead using my maps and GPS.
We set off and Shima-san, who normally cycles around 50-80 kilometres per day announced he wanted to beat his personal best of 110 kilometres and cycle with me to Oruro.
This would be 130 kilometres according to my map and the road was most certainly flat.
We pushed on.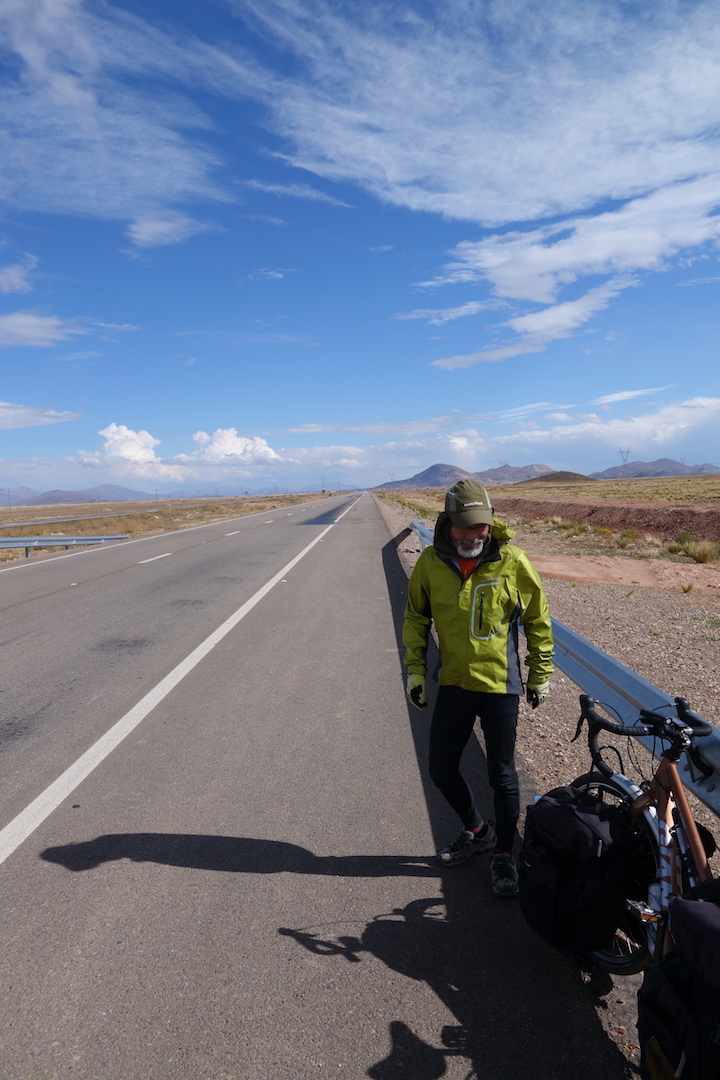 I took the lead, but soon realised while I was cruising along, Shima-San was struggling to keep up. I kept checking in my little mirror to see him almost sprinting to keep up with me!
Oops!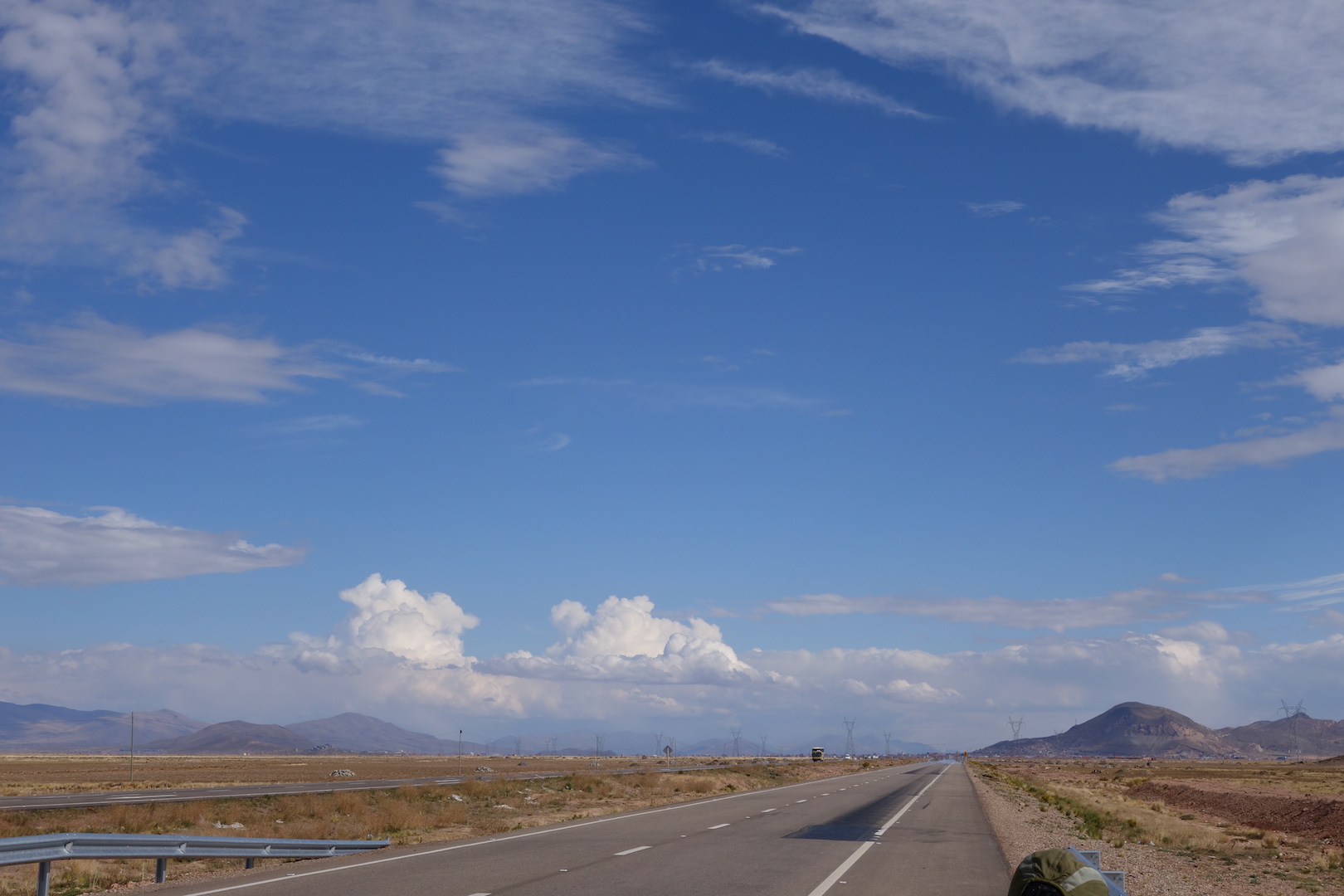 I suggested he take the lead to keep me in check but I don't think he quite understood and soon I was leading again with more regular checks in my mirror.
Beautiful as Bolivia is, the strong winds blow plastic bags, bottles and papers along the breeze.
Discarded by the thoughtless population. The roads are littered with broken glass pieces and ever-popular exploded remould tyres make a reappearance leaving fine hypodermic sharp steel wires all over the road.
Shima-san found one. His tyre deflated rapidly.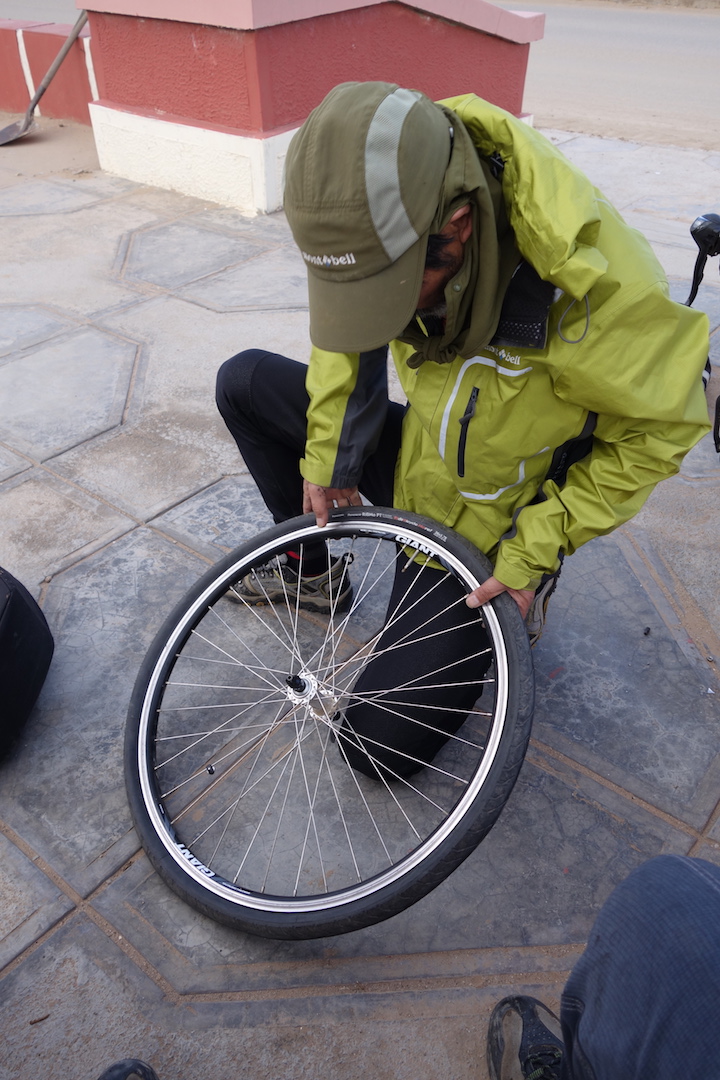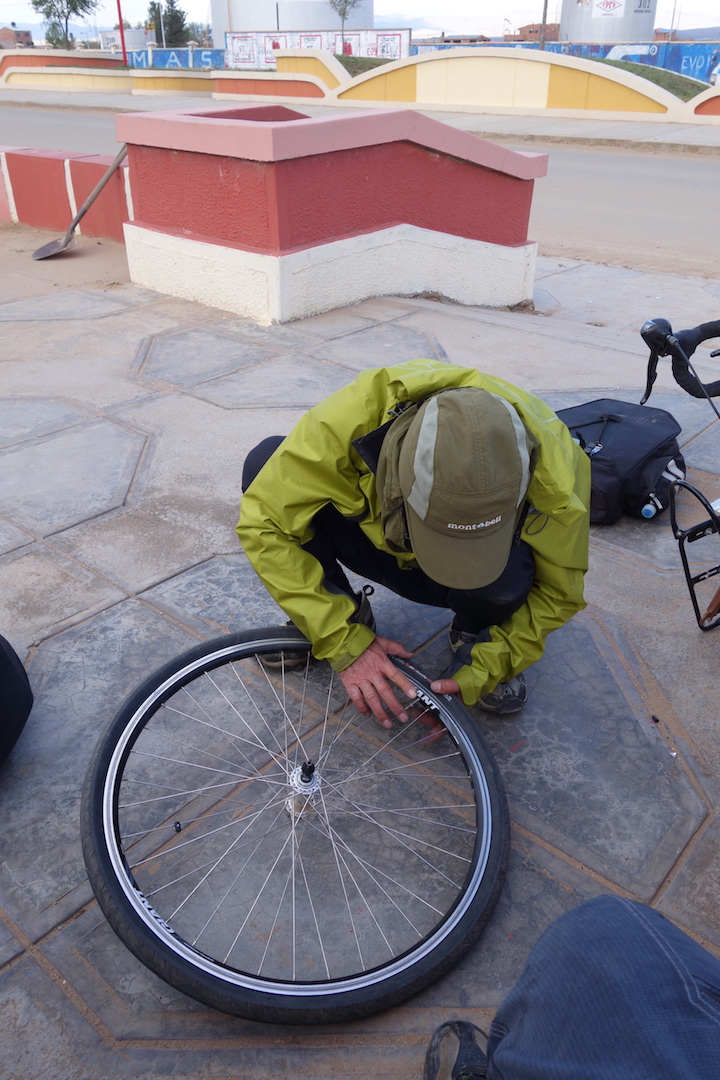 I spent a few minutes explaining to him how to fix it and he admitted he had never fixed a puncture before.
Ever!
It surprises me every time I hear that from an experienced cycle tourist.
But I guess modern tyres and materials make it less common though not impossible.
Around an hour later as we entered Oruro, I heard my name called, and felt a sudden guilt I was pedalling too fast again.
But no, he had a second puncture.
We sat in a little park on the roadside fixing it.
And two kilometres further along, we stopped again as now my front tyre was going flat. Eventually we navigated to a hotel near the market and I left Shima-San there.
He was clearly exhausted, but immensely proud having ridden his 130 kilometres.
Actually 131.27 kilometres once we had completed navigating the busy streets.
His plan was to continue by train to Uyuni then into Chile.
I made my way to my hosts' house a few blocks away.
I sent Paul a message saying I was at the location he told me.
"Outside a Toyota garage?" I questioned.
"No", came the reply.
"Further down, at the English language school"
Oh dear! I don't remember a language school being mentioned in his profile and my memories of my last bad experience in the school Colombia came flooding back.
It would not have been my first choice had I realised.
As it turned out, Paul and his family were fantastic hosts.
They gave me a room in a sub apartment of the large school and I immediately jumped into the hot suicide shower.
Then out again as it electrocuted me!
I felt a mild buzzing rush through me as I stepped under the water flow. I felt the same in Playa del Carmen, Mexico at another host house.
So I had a cold water wipe down in the sink instead.
Paul's Grandmother was the matriarch and a resident of Bolivia. She had been active in the early political years of the countries renaissance and still had strong ideas and beliefs about how the country could be better.
She had spent many years living in the USA and Paul's father and siblings had been born there.
The family had returned and invested time and money into an English language school which was benefiting the local students and businesses alike.
I spent 3 nights in the town. Wandering, doing chores and was even asked at the last minute to give a little talk to the more mature students.
I wasn't keen, but as a gesture of goodwill I said yes and began to plan it.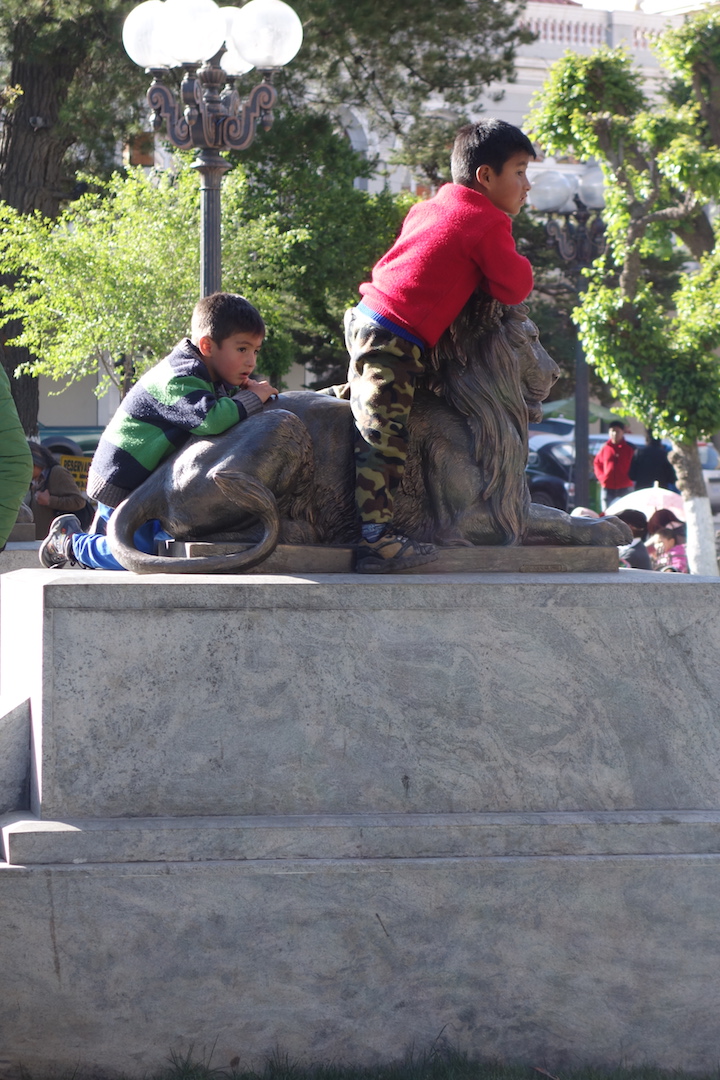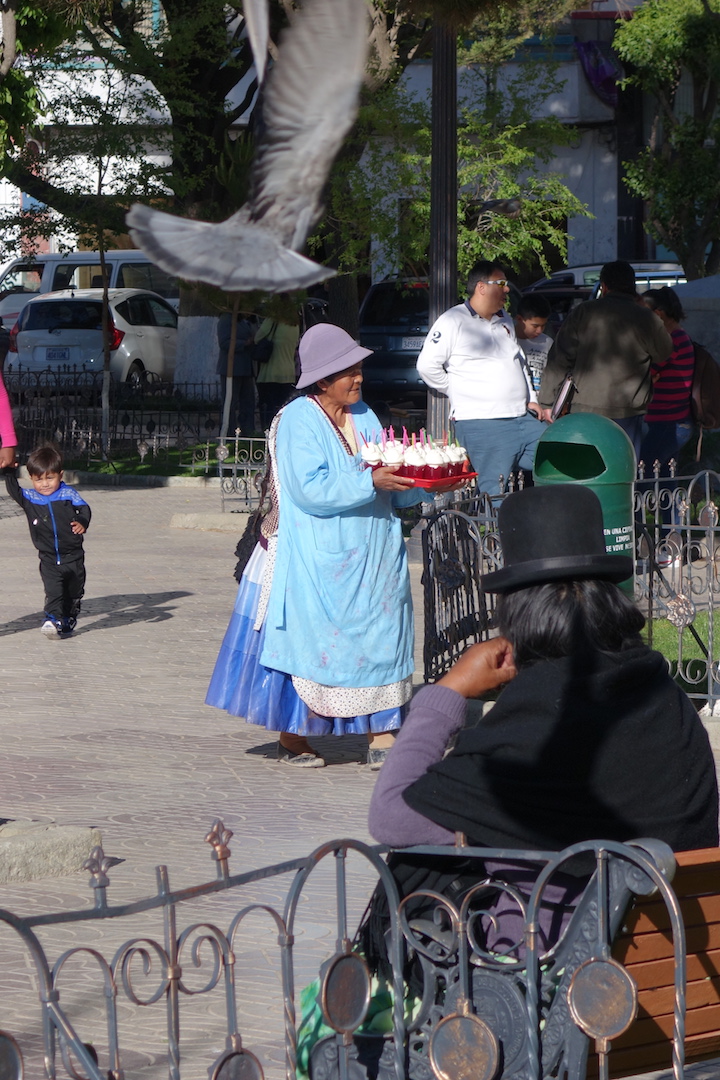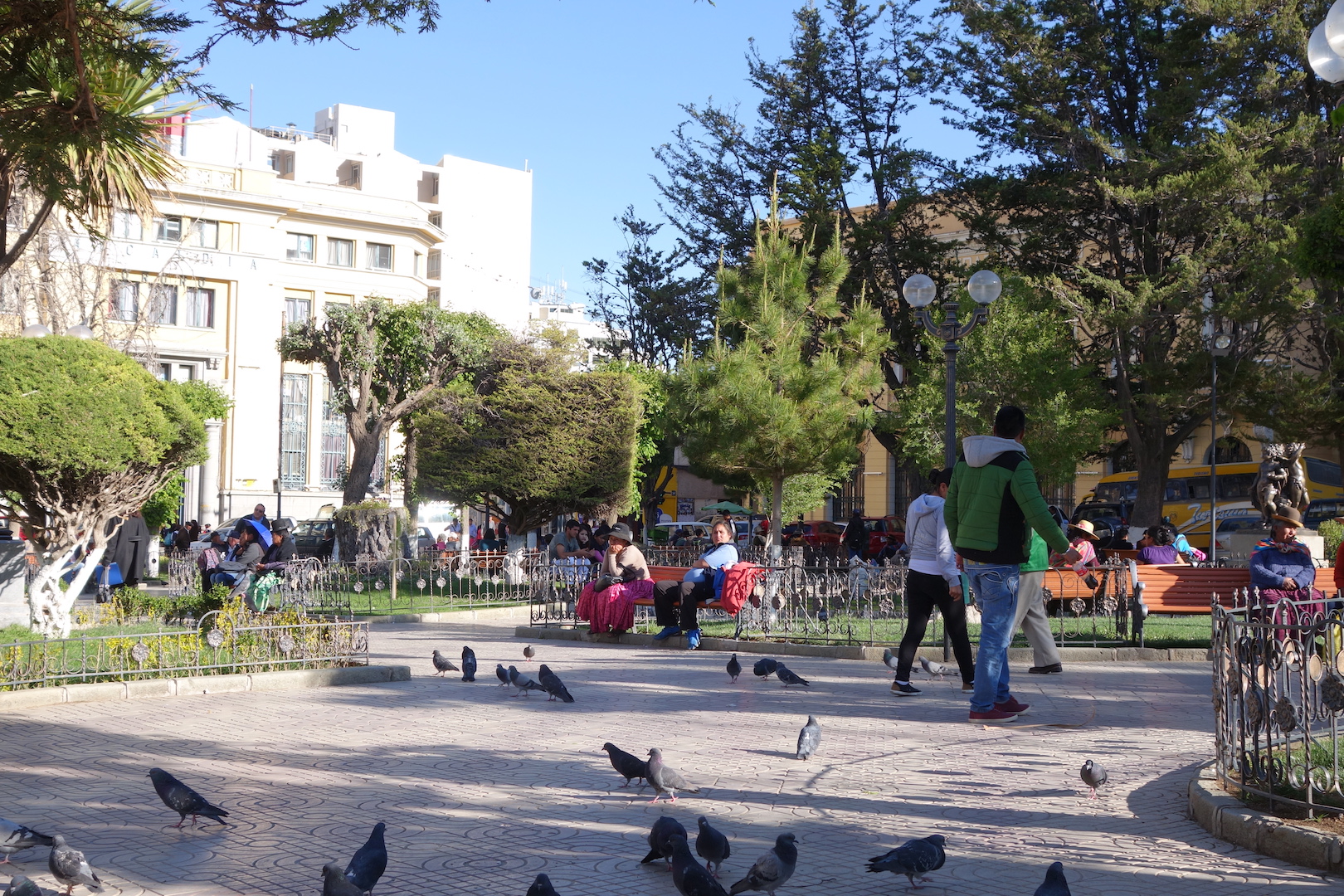 On the second morning, Paul invited me to typical Bolivian breakfast and arranged to visit a local thermal Spa.
The food was good. A kind of fried pastry with icing sugar on top. And a sweetened hot drink made from black and white corn and mixed in the glass giving a marbled effect. Thick and heavy, but delicious.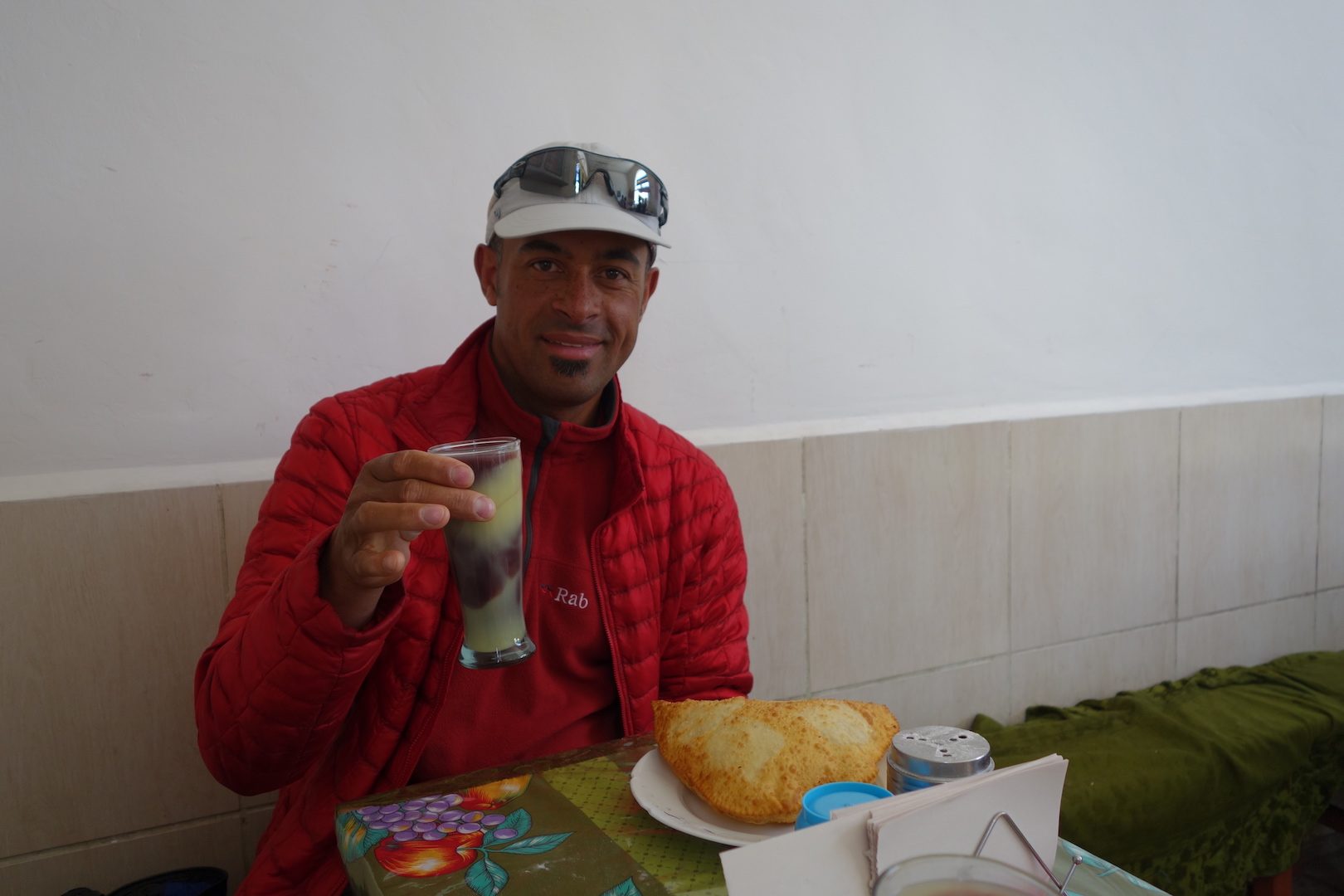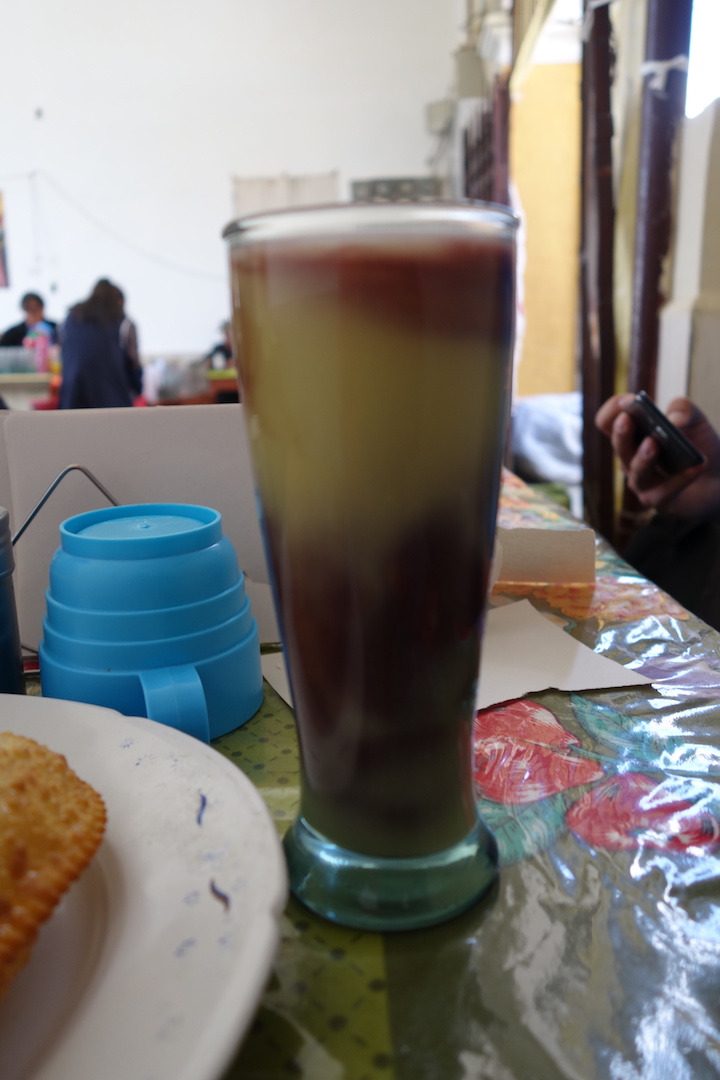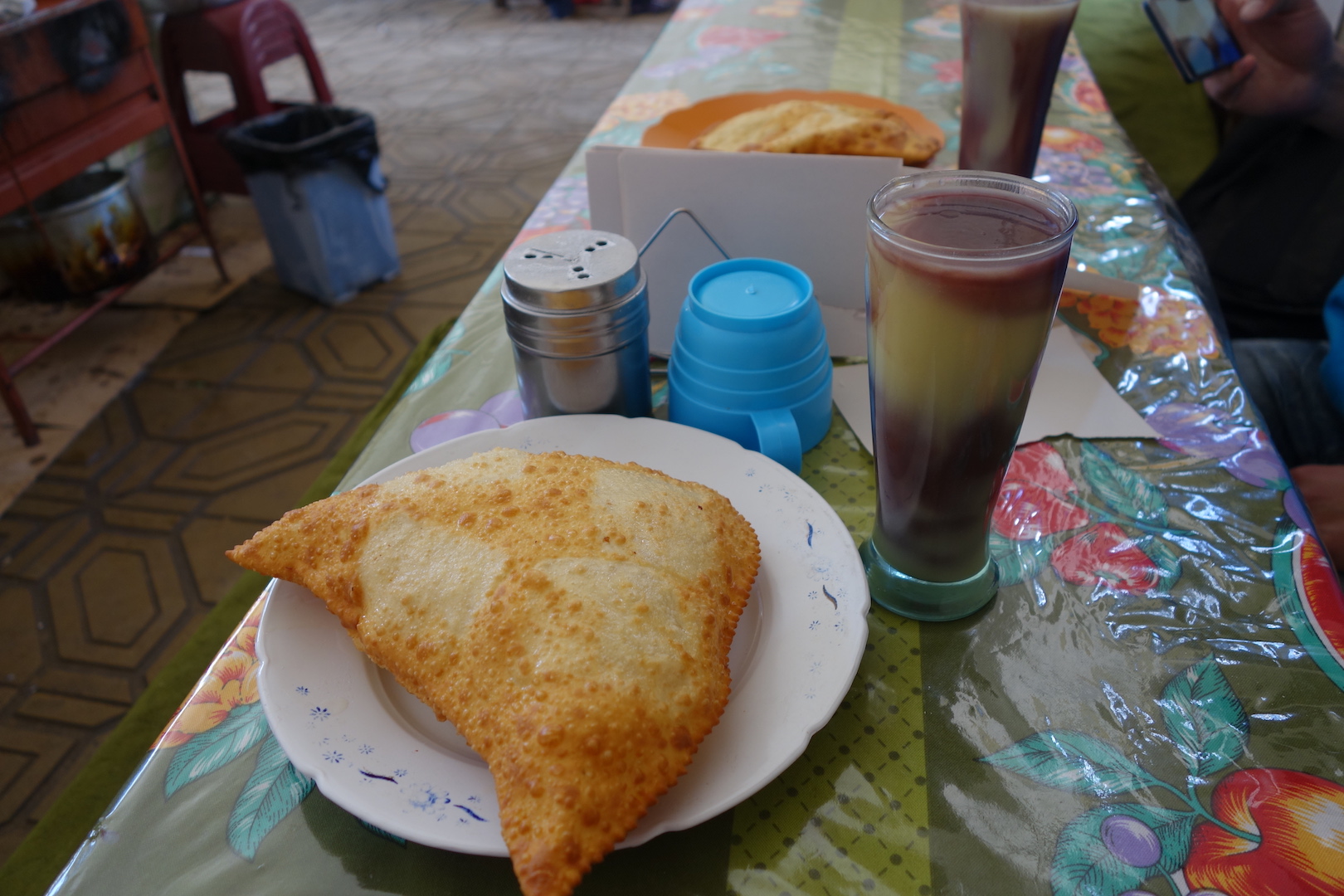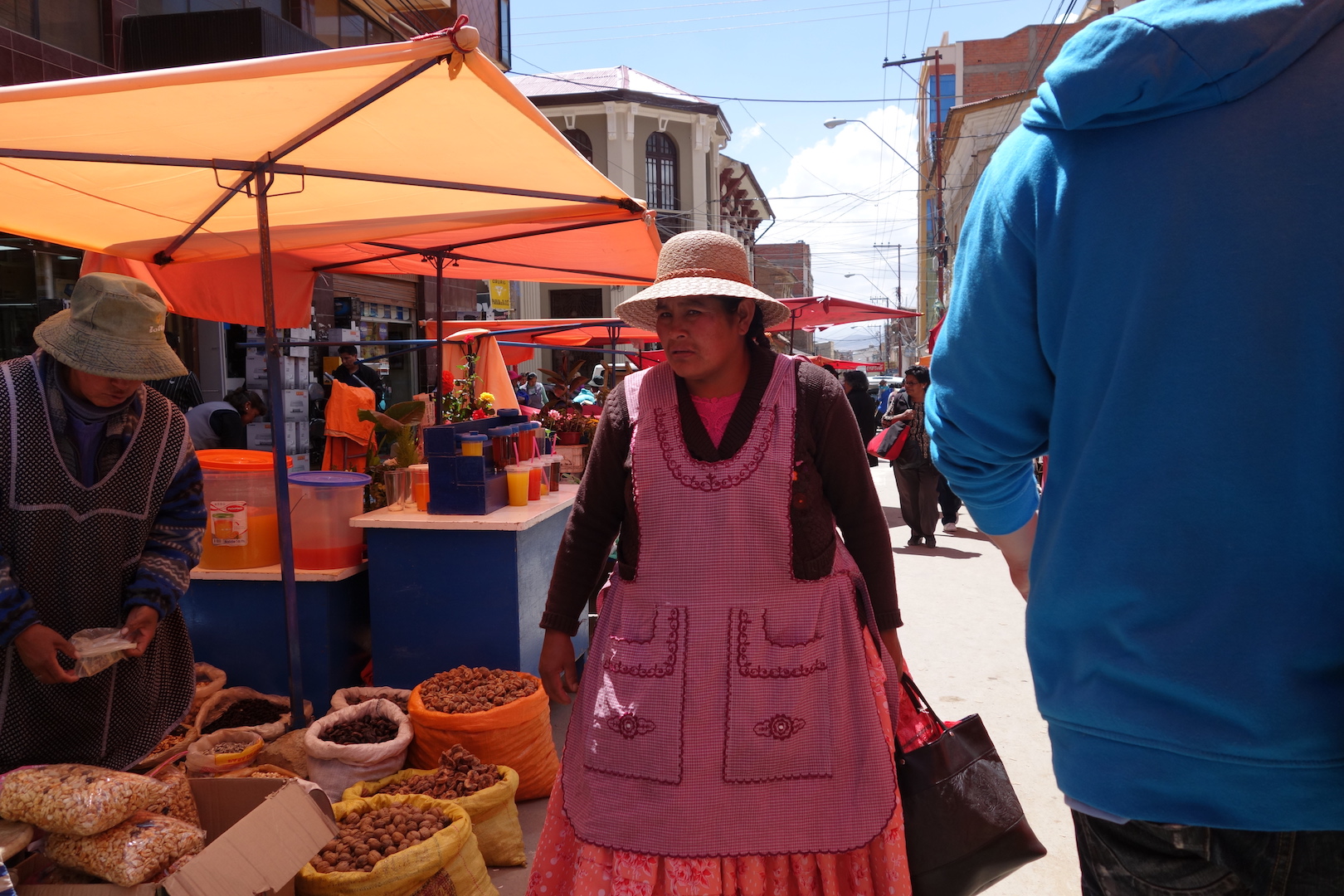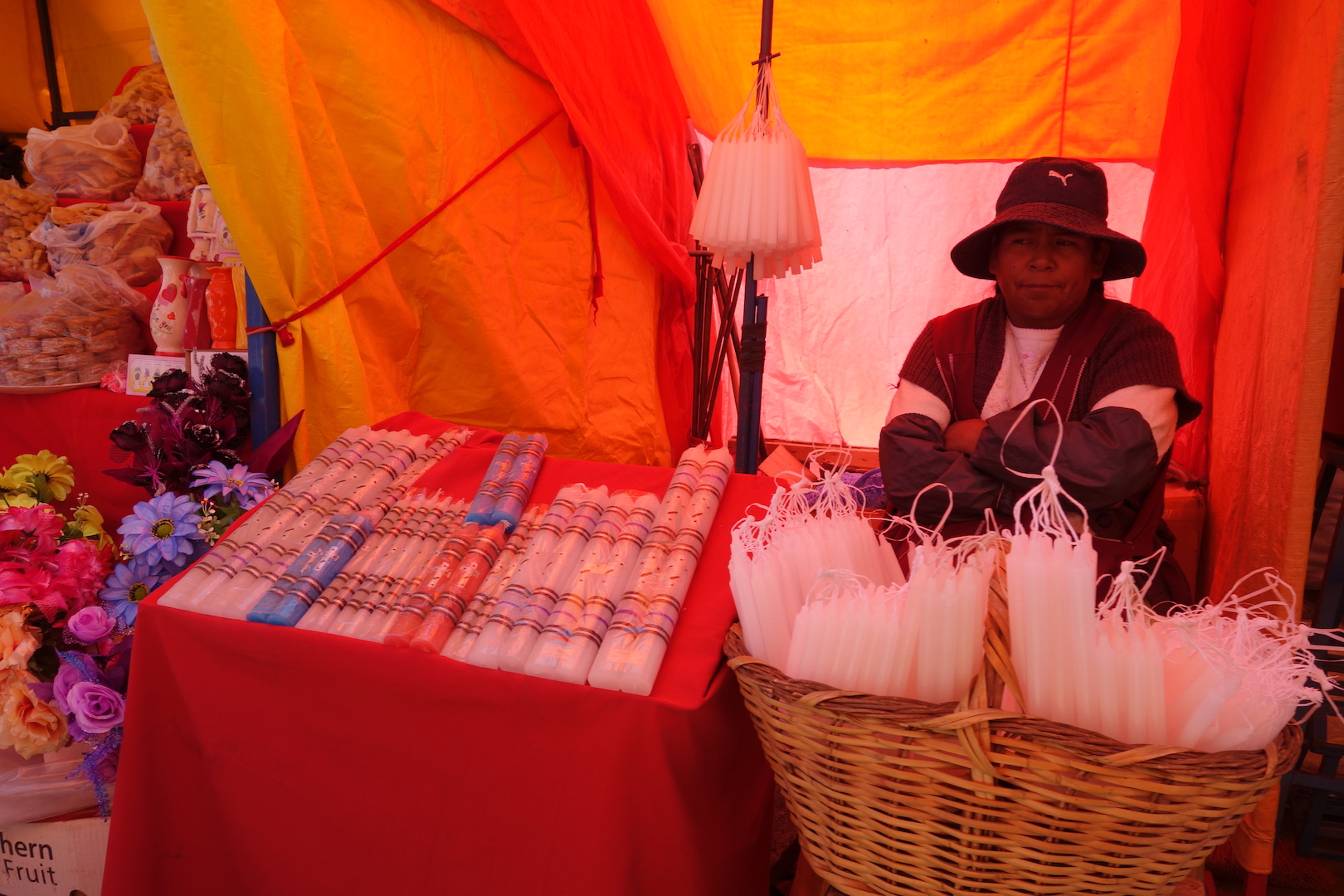 We hopped on a local minibus to the hot springs at Capachos and twenty minutes later after passing through derelict buildings, roadworks and vast piles of litter on the roadside, I though we were going to the municipal waste dump.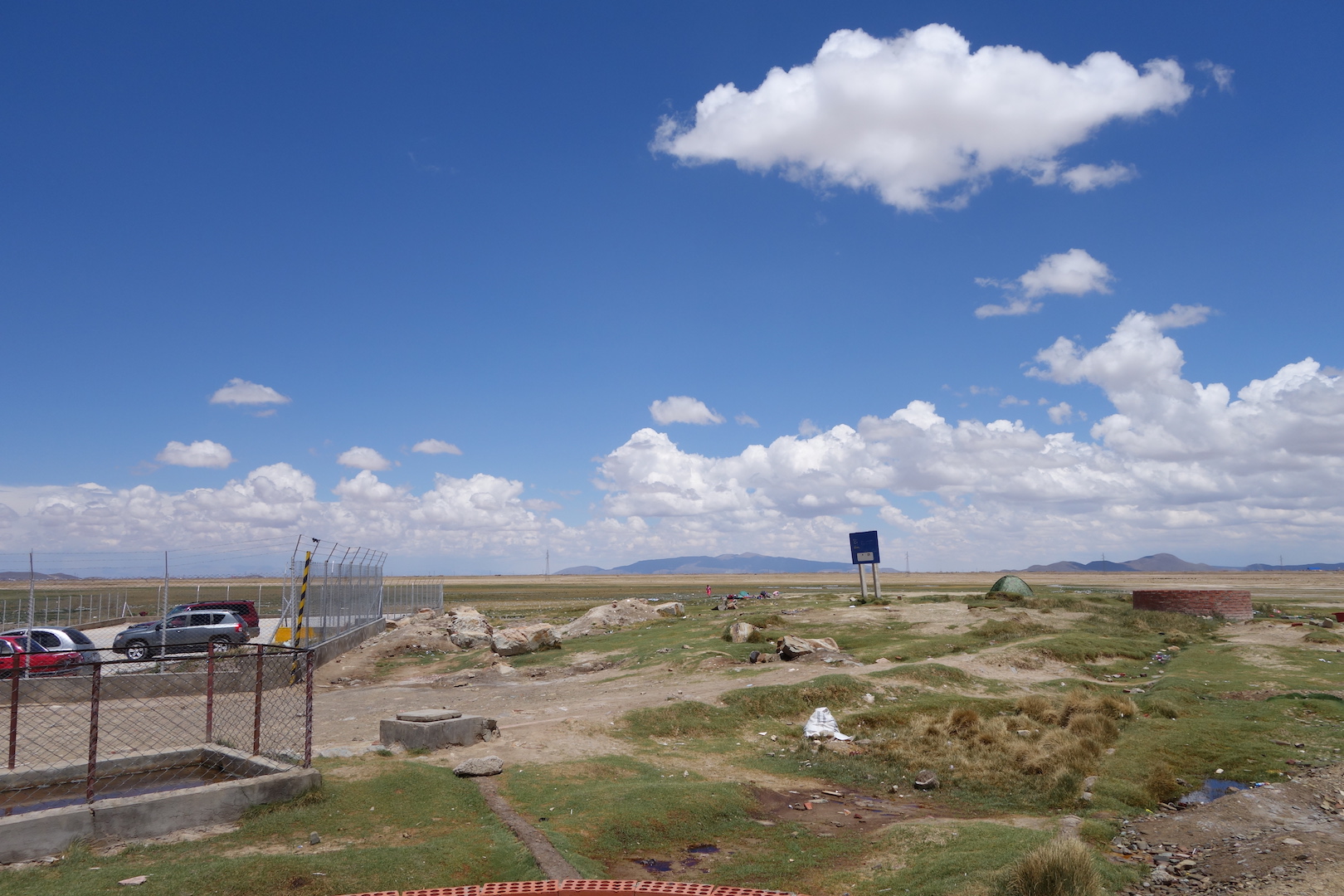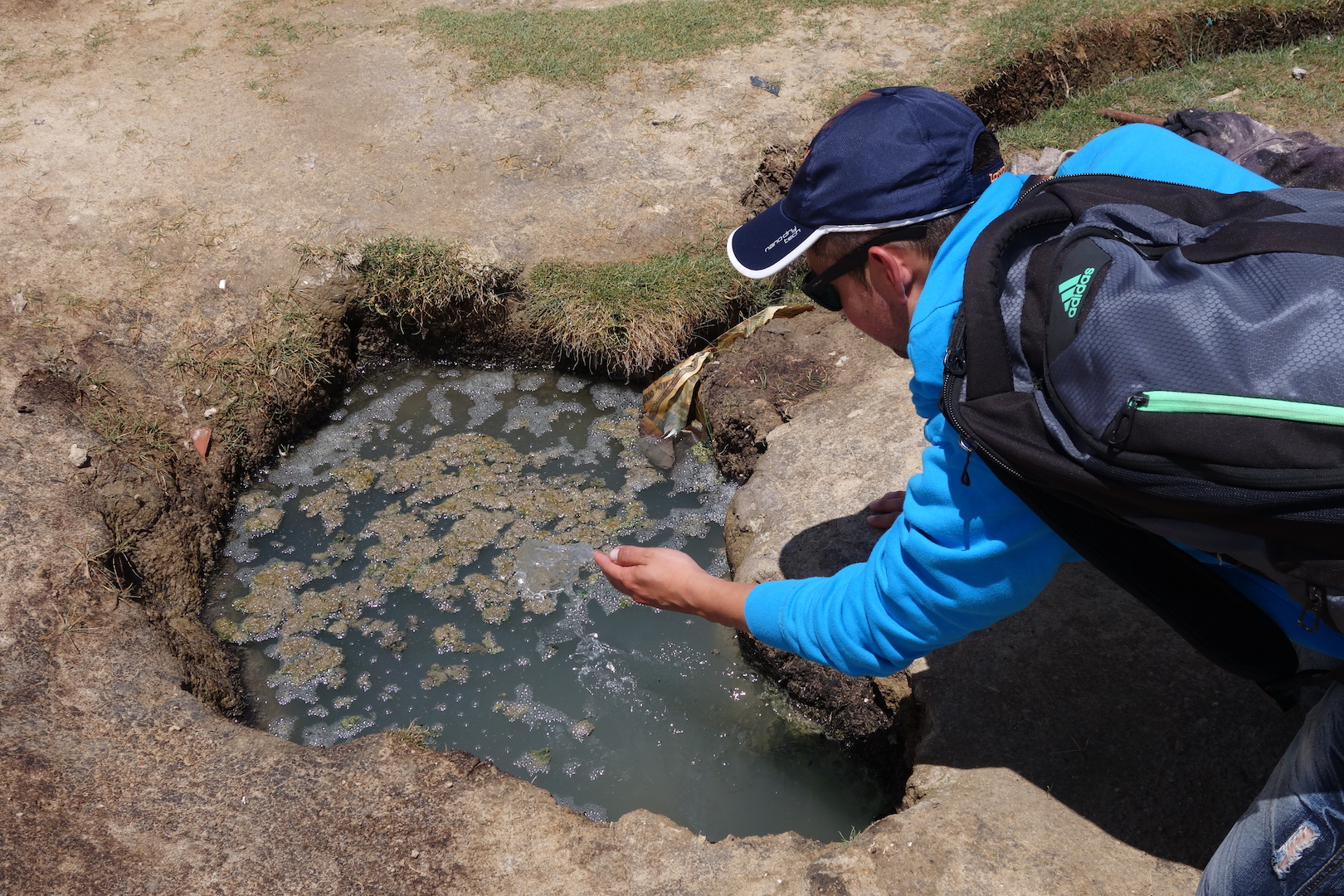 I was expecting a similar spa to the one I visited in Baños de los Incas in Peru, but this was much more basic.
Just a hot pool, hot showers and communal changing areas.
We wandered around outside first. Away from the building and car parks. Several women were using the waste water from the pool channelled into concrete sinks to wash their clothes. The waste from this was just dumped on the plain behind and the smell was offensive if you caught the breeze.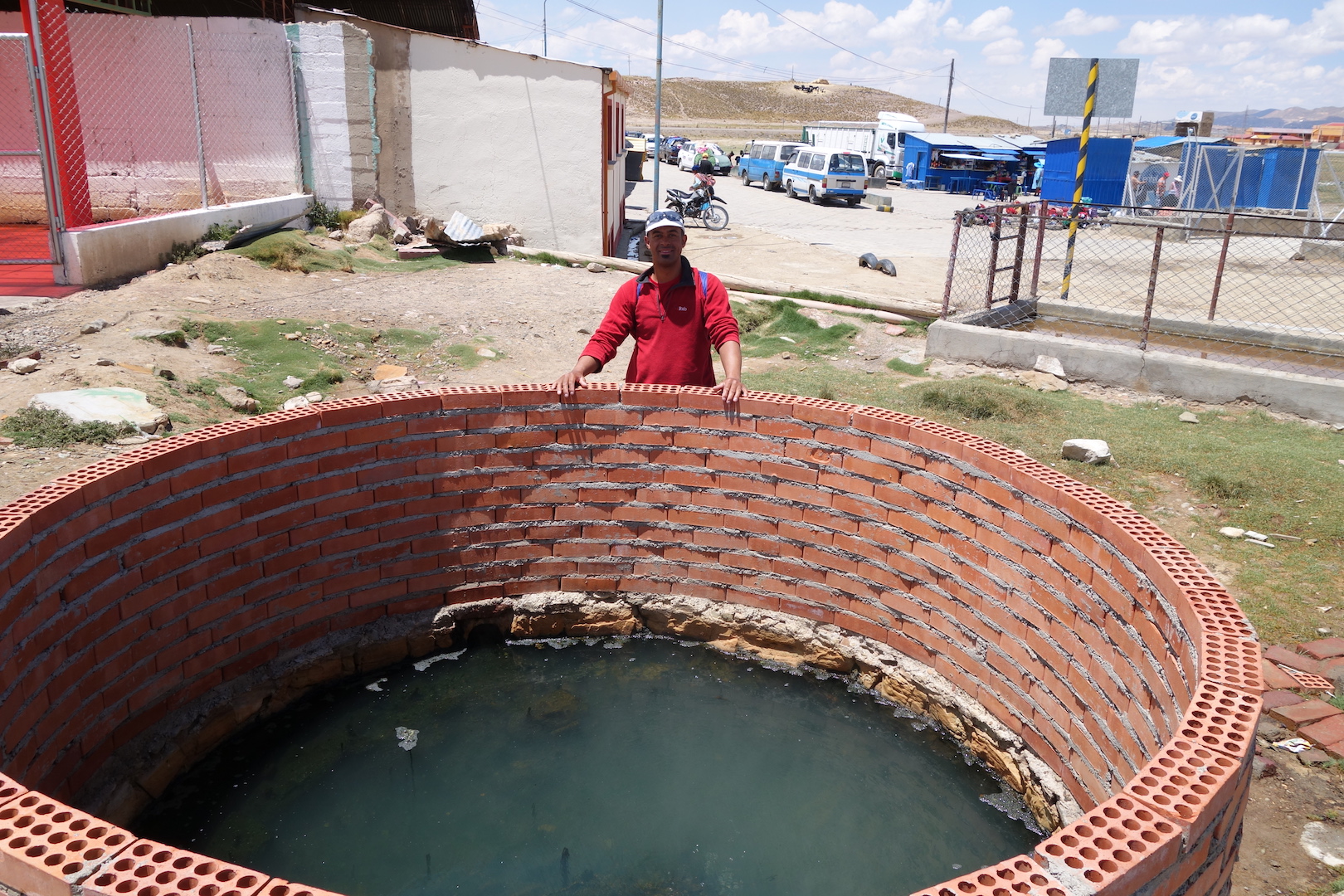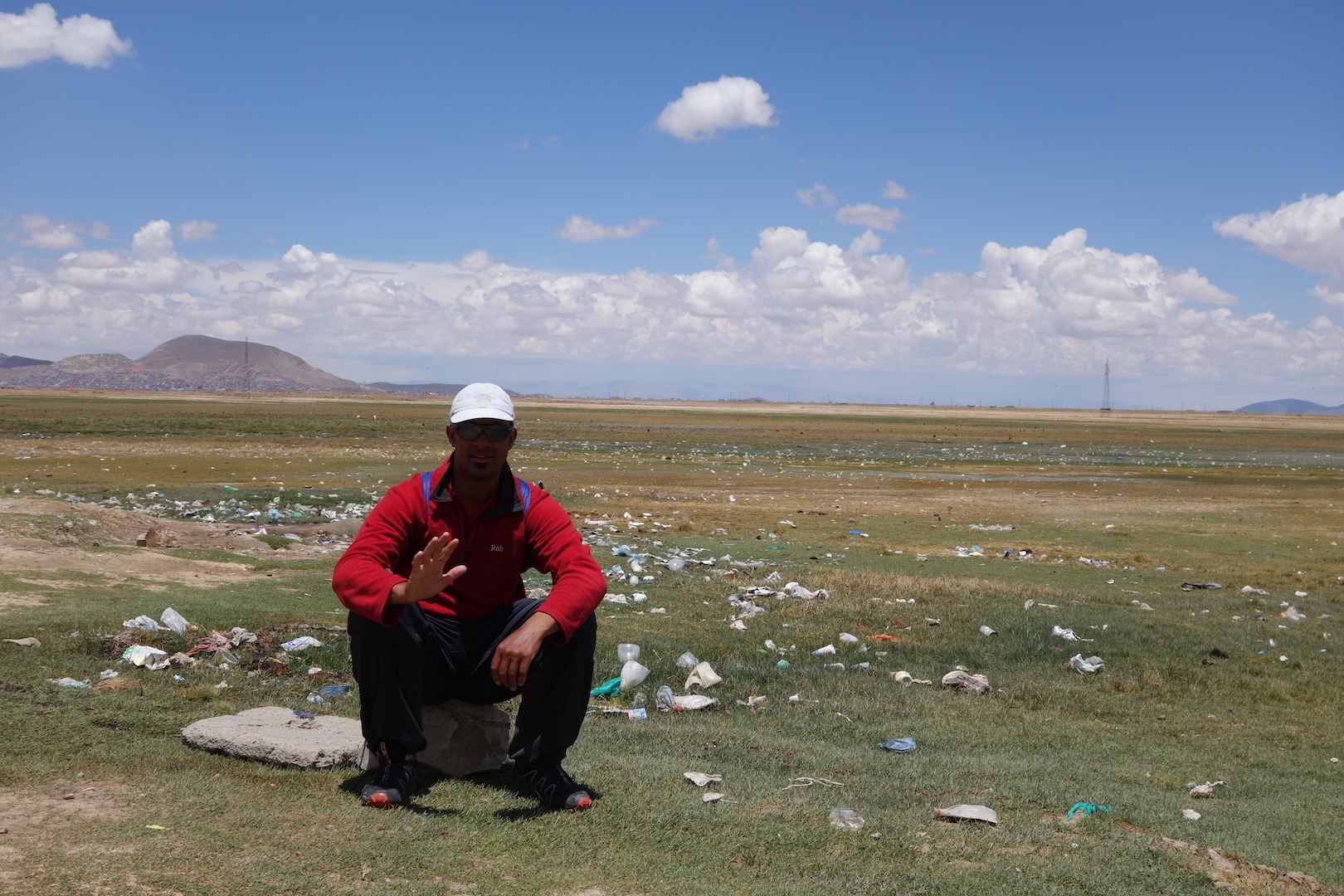 The litter was disturbing. Mostly plastic, but a few old tyres, a children's pram, crushed toys, and lots of broken glass were also in the windswept piles of litter.
How can anyone with any common sense think this is acceptable?!
It made me angry just looking at it.
A minibus driver on the other side was changing his engine oil directly onto the soil and within metres of the main hot spring feeding the main swimming pool.
A smaller pond, which I assume was used to regulate the flow, was shabbily walled off using bricks.
The water was green and stagnant, but you could feel the heat rising.
We paid, went inside and changed into our swimming gear. After quickly showering under burning jets of water, we jumped in the pool.
I kept my mouth closed and hoped the sulphur smell in the water was also killing the bacteria and algae.
The pool was hot, but filthy.
Green slime lined and stained the old concrete and was slippery under my feet.
Lumps of green algae floated past and I felt it bumping up against me.
There were several locals diving, swimming, splashing and spitting water at each other. I moved away and closer to the inlet vent where the water almost scalded my skin.
I didn't dare dunk my head under the water and kept my mouth firmly closed. Scared of the illness that the boys had back in Jaen, Peru. But the heat did feel great on my tired muscles, persistent sore neck and lower back.
The gentle flow of the volcanic water, bits and all, felt amazing as it washed over me and I began to relax. However it was time to leave when I felt a large warm and squishy sensation on my back as a dirty plastic bag drifted through the pipe and stuck to me!
I had a good scrub under the hot showers again, stood on a rusty staple as I exited, dried off wondered about tetanus, then went outside to wait for Paul. Fortunately the staple didnt go deep.
As I sat and rubbed my sore foot, I thought what a great location it could be.
Clean it up, build a new pool, Spa rooms, PICK UP THE LITTER and it would be a great way to boost the local economy by diverting some of the international tourist traffic that travels directly to Uyuni. Some work had already been started on a building and later abandoned. Though a strong vibe I'm now getting from the whole country is procrastination.
"Yeah, great idea Matthew, but we will do it later..."
Your loss Bolivia. Remind me again why Peru and Chile so much more advanced?
Such a shame Bolivia. So many great things to show in your country hidden under mountains of waste and lack of compassion.
Ok, so I know it's not that simple....
That evening, I gave my impromptu presentation.
I didn't have a clue what to do or say and with only a few hours to put together a 30 minute slideshow from some of the 25,000+ photos I have taken so far, was no easy task.
It didn't help that there was no way to connect to the tiny projector the school used to my computer and that we started almost an hour late because of looking for cables and adaptors for Laptops.
We managed to transfer the software to another Laptop but then the batteries failed after 5 minutes and then the software announced a terminated usage license.
Add to the fact the majority of the audience were either looking at their phones or getting up to leave because of the late start, in my view it was better to stop when we did as the whole performance was a bit of a shambles.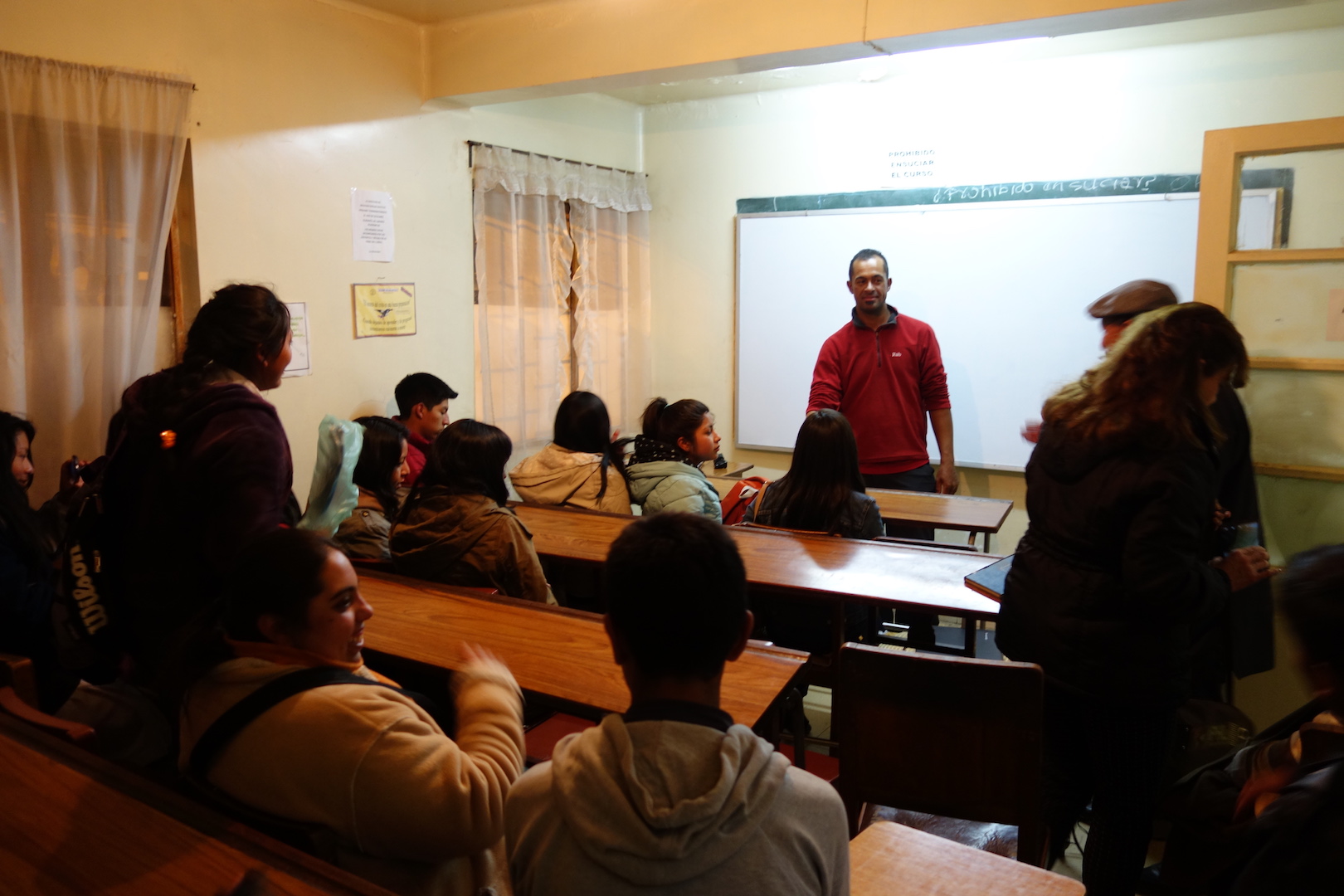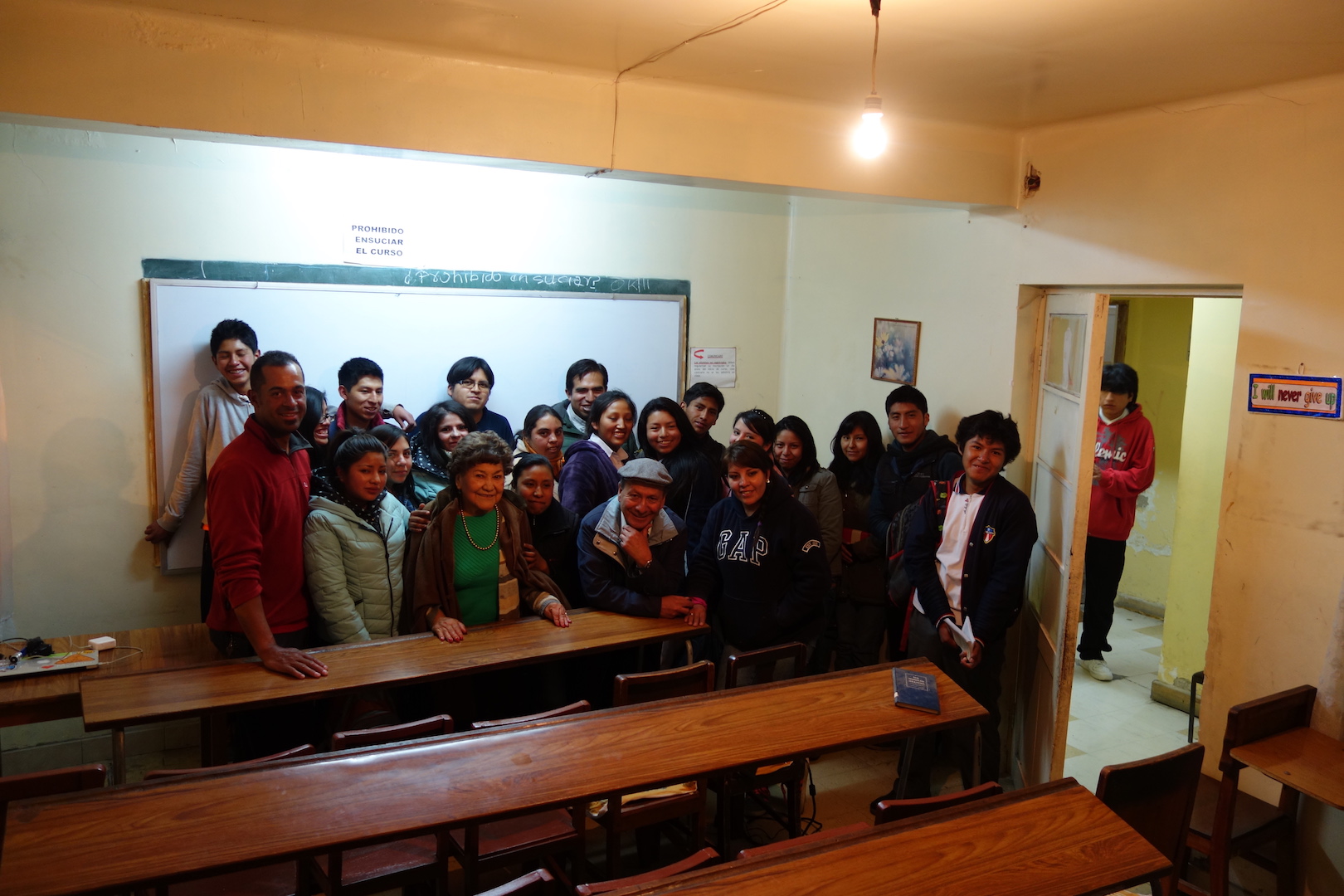 Along the road to Challapata the Salt flats began. White haze between blades of grass then larger patches of white as the grass and plants died off. Replaced by expanding fields of salt. Llamas and Alpacas appeared in ever larger herds along with Sheep, Shepherdesses and their dogs!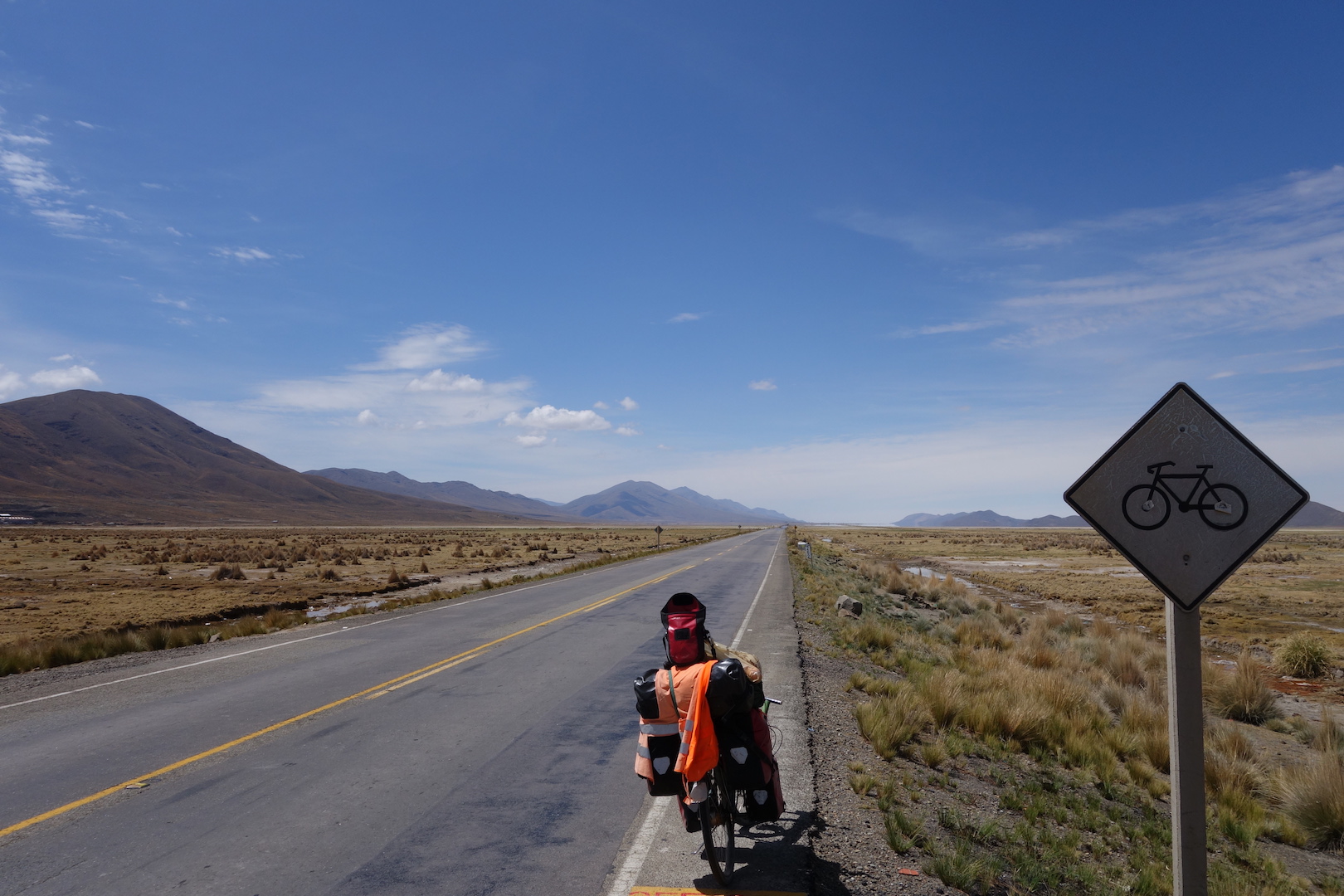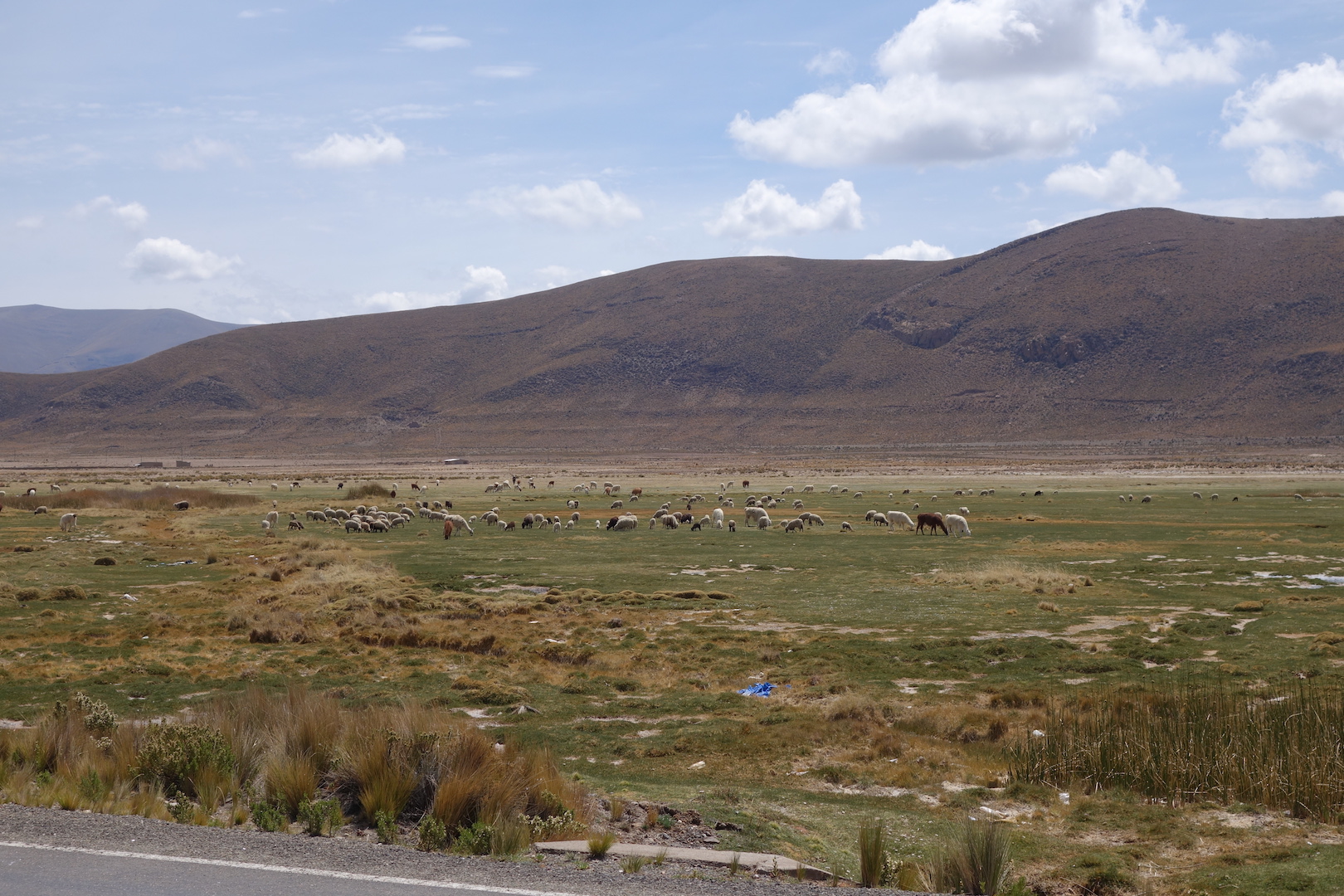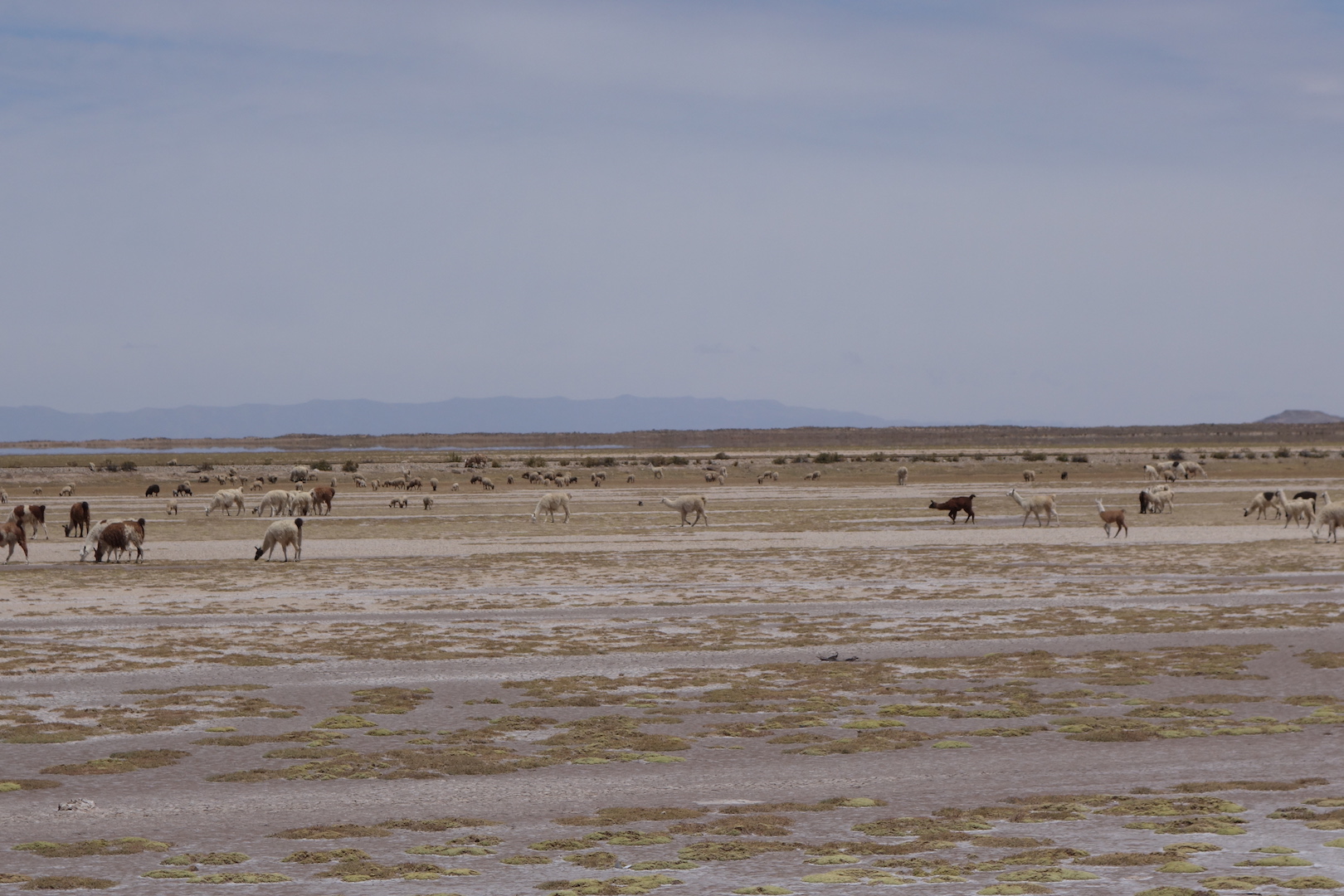 A short while later I ran into Tomas. A Polish Emigrant living in the USA riding an Electric motorbike bike from Philadelphia to Ushuaia.
It was a neat machine and I spent the next hour thinking about designing an electric bicycle that could do the same...Hmm new project?!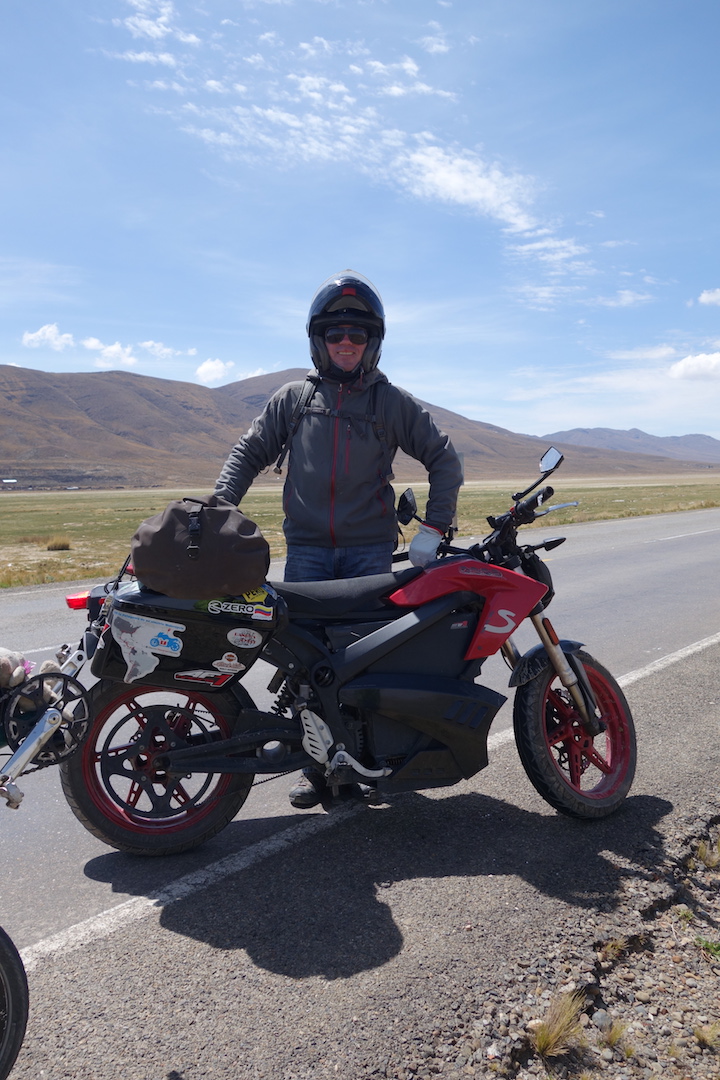 Challapata was a grey, small and uneventful town. I arrived tired, of course and went to the market in the dusty square where all the foods, meats and vegetables had spent a day under the hot sun.
The bread was dried and hard and I bought the least dehydrated looking Mangos and oranges I could find.
I bought a couple of apples too, but these went straight into the bin as they were warm and brown when I arrived back at the hostel room.
A dry chicken dinner later, I fell asleep as the family upstairs argued with their teen daughter. Probably about the same things that all families argue with their teen daughters about....
Riding early the following morning I saw the silhouette of another cycle tourist in the distance. No, two.....or is it three?!
I couldnt see clearly. The heat shimmer changes the shapes of things. There were at least two, but with something else.
As I approached I saw one bike pulling a trailer.
The realised it was a baby trailer!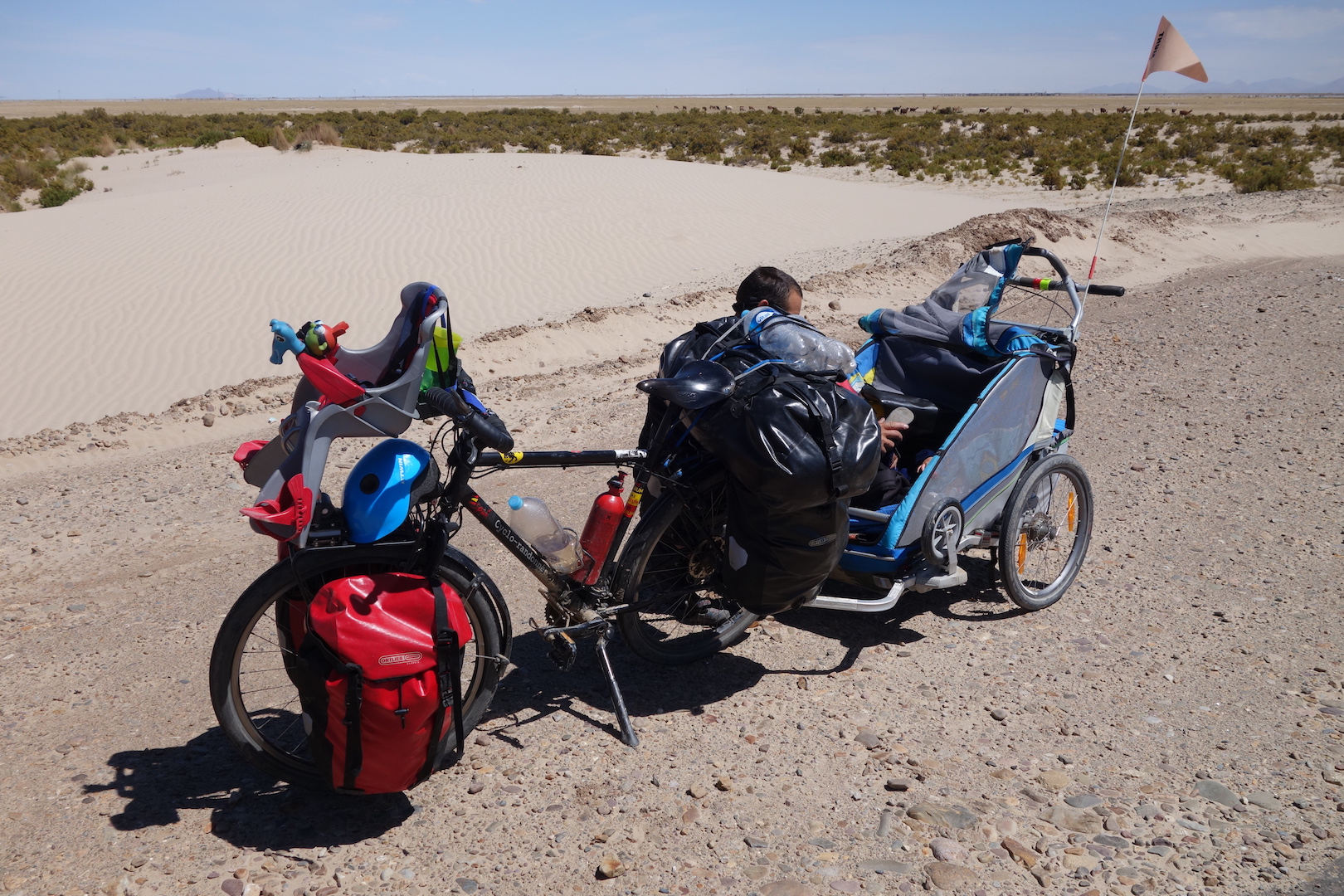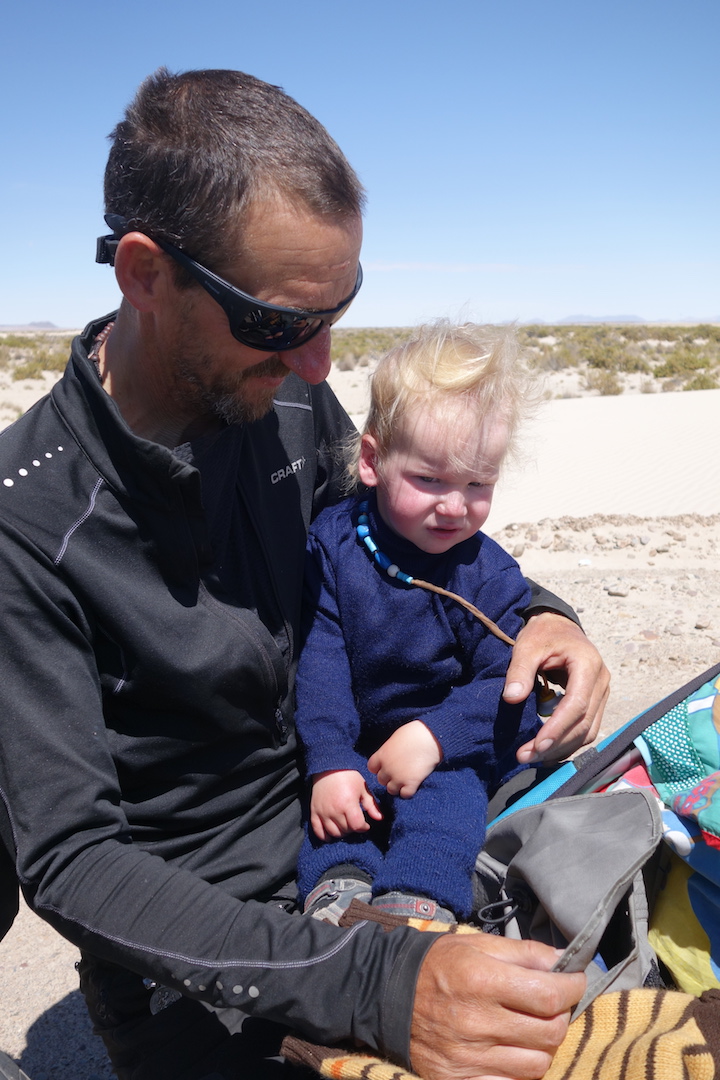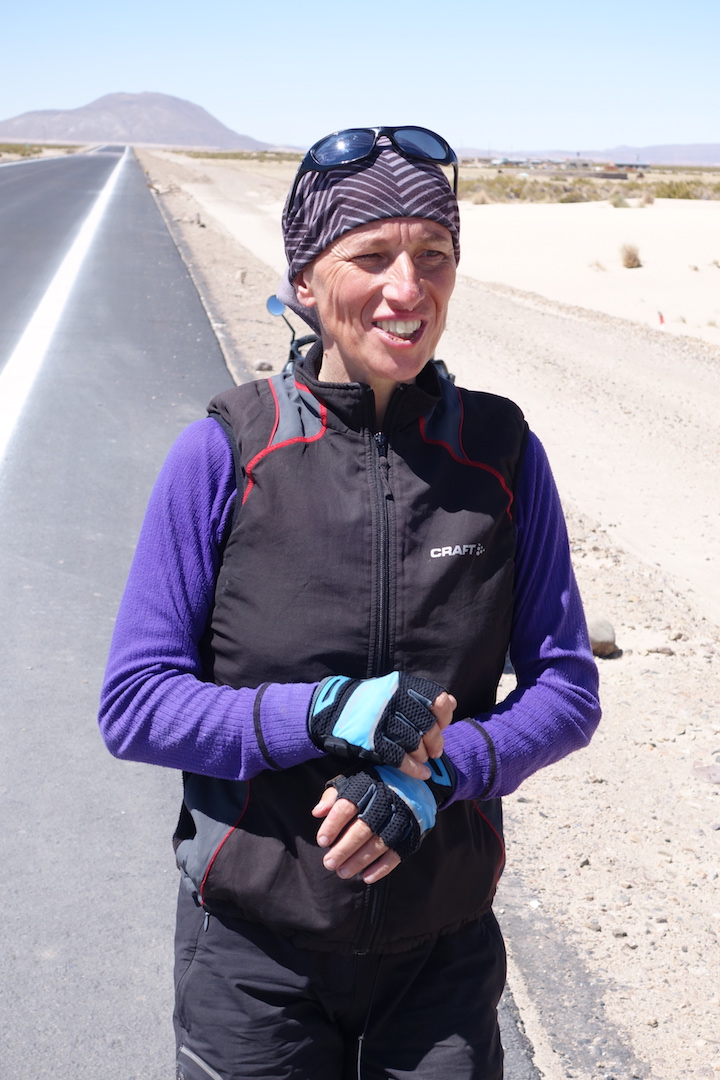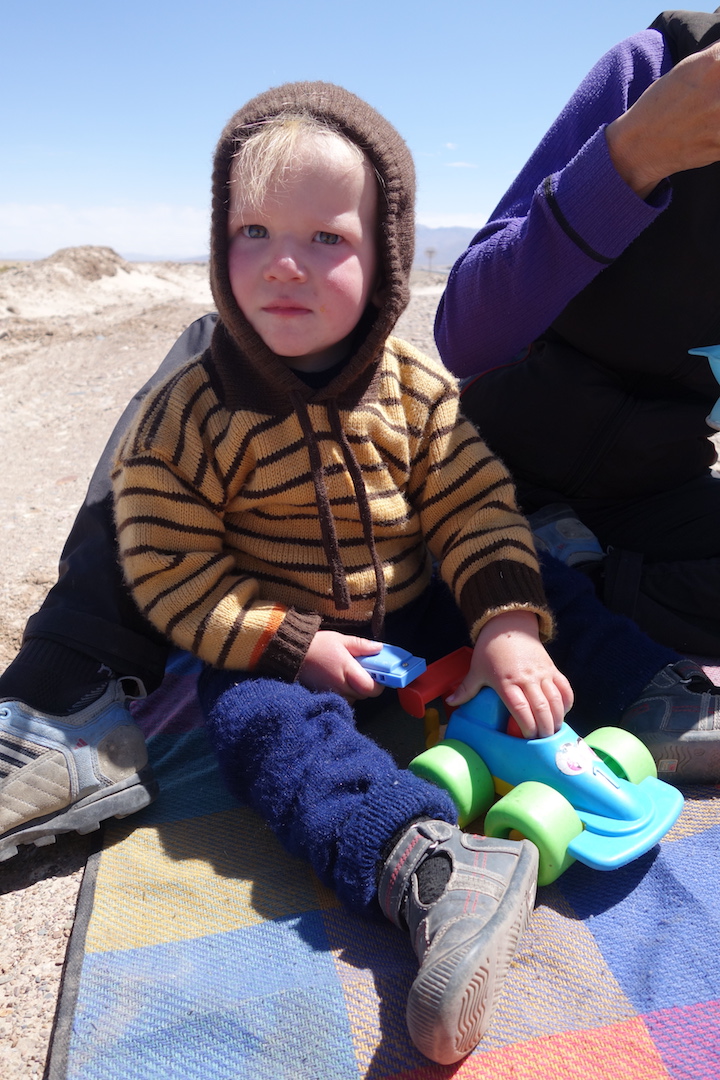 John, Beatrice and 18 month old Elliot from Vittel in France were travelling from Lima to Ushuaia.
Though my French is appalling and their English almost non existent, we chatted and cycled together for the rest of the day and camped together that evening.
Elliot and I became immediate friends.
He enjoyed making motorbike noises as he sat on the seat of my bike.
Vrrmmm Vrrummmmm!!
As well as spending the evening trying to put stones, sticks and pellets of dry sheep poop in my tent.
Merci!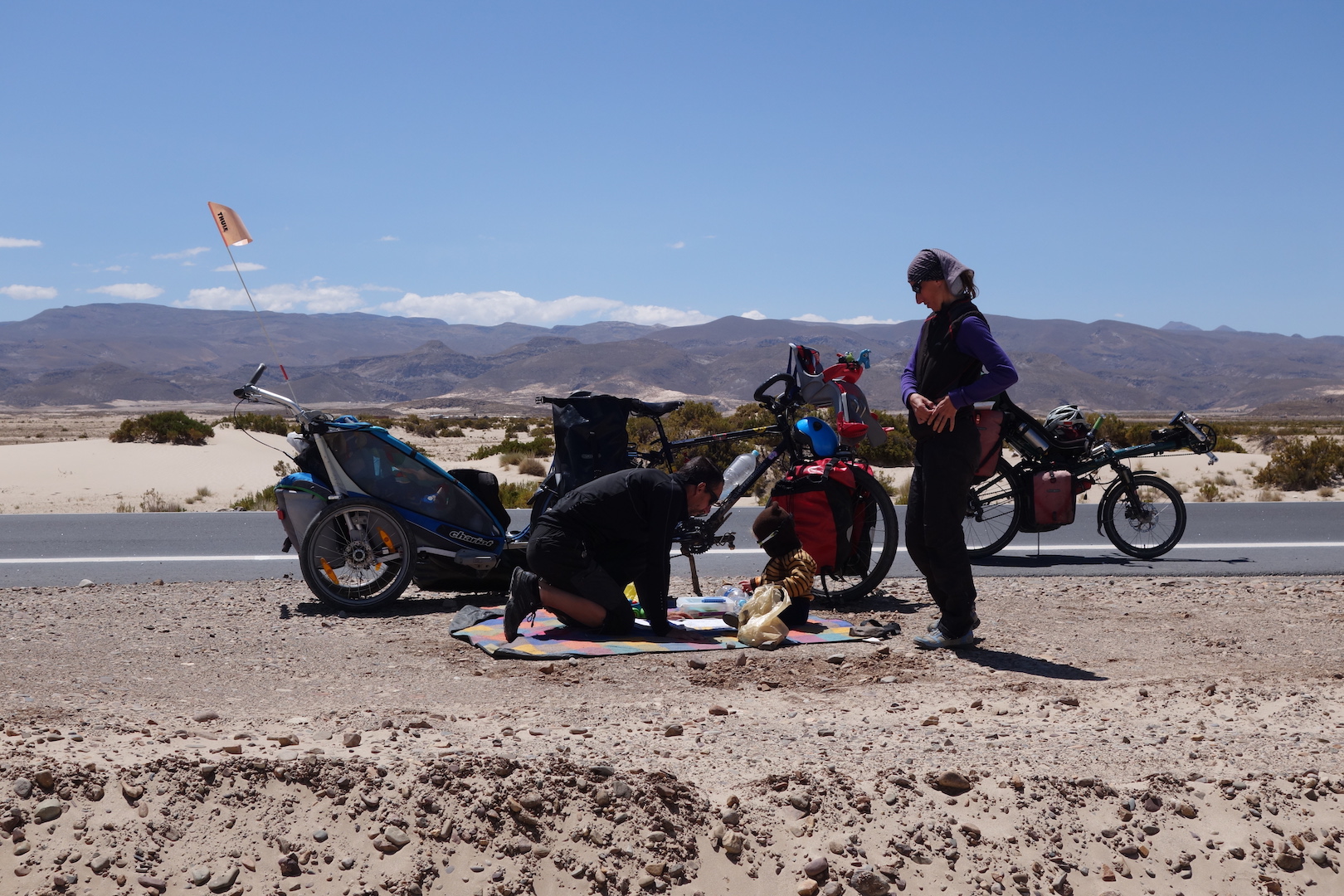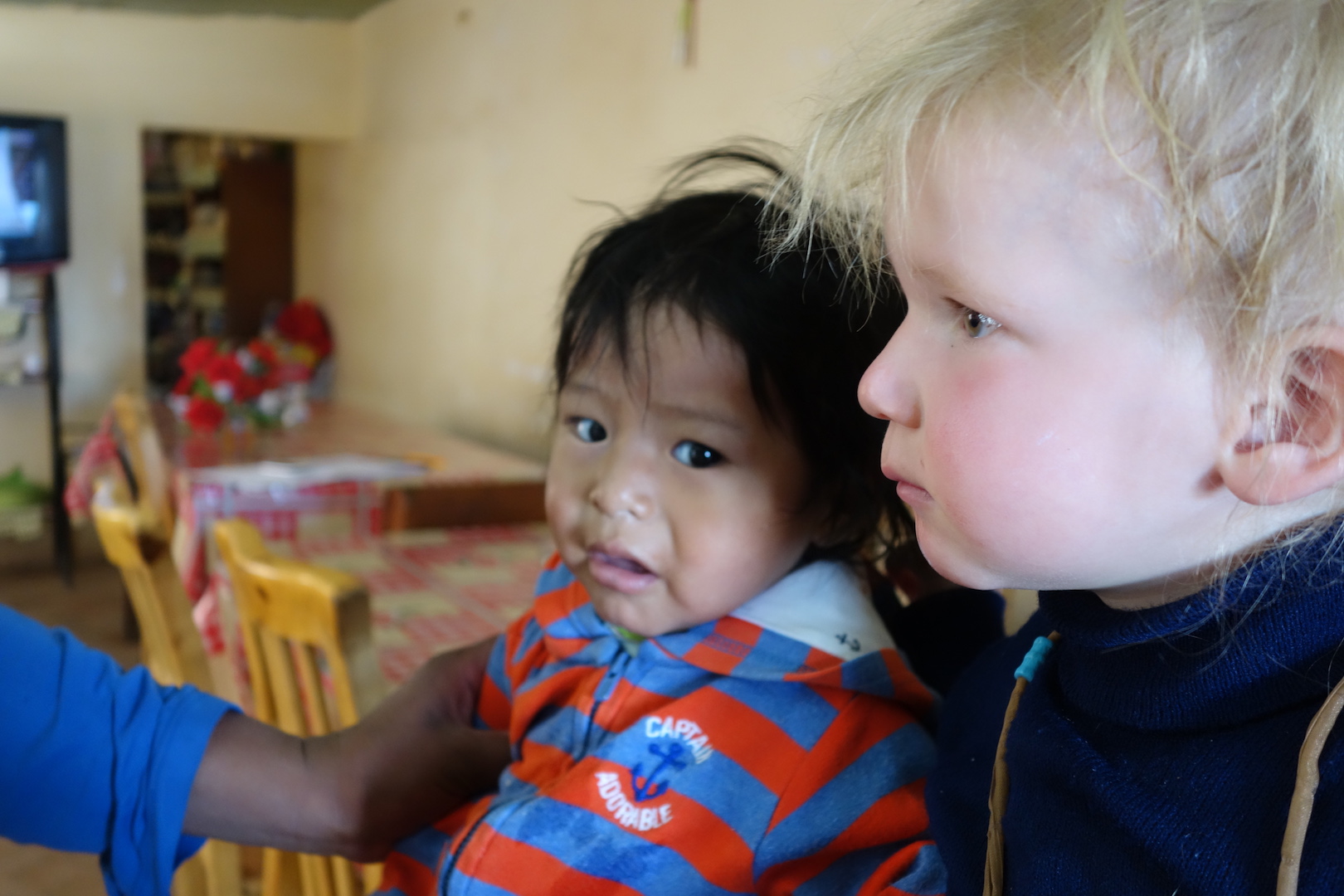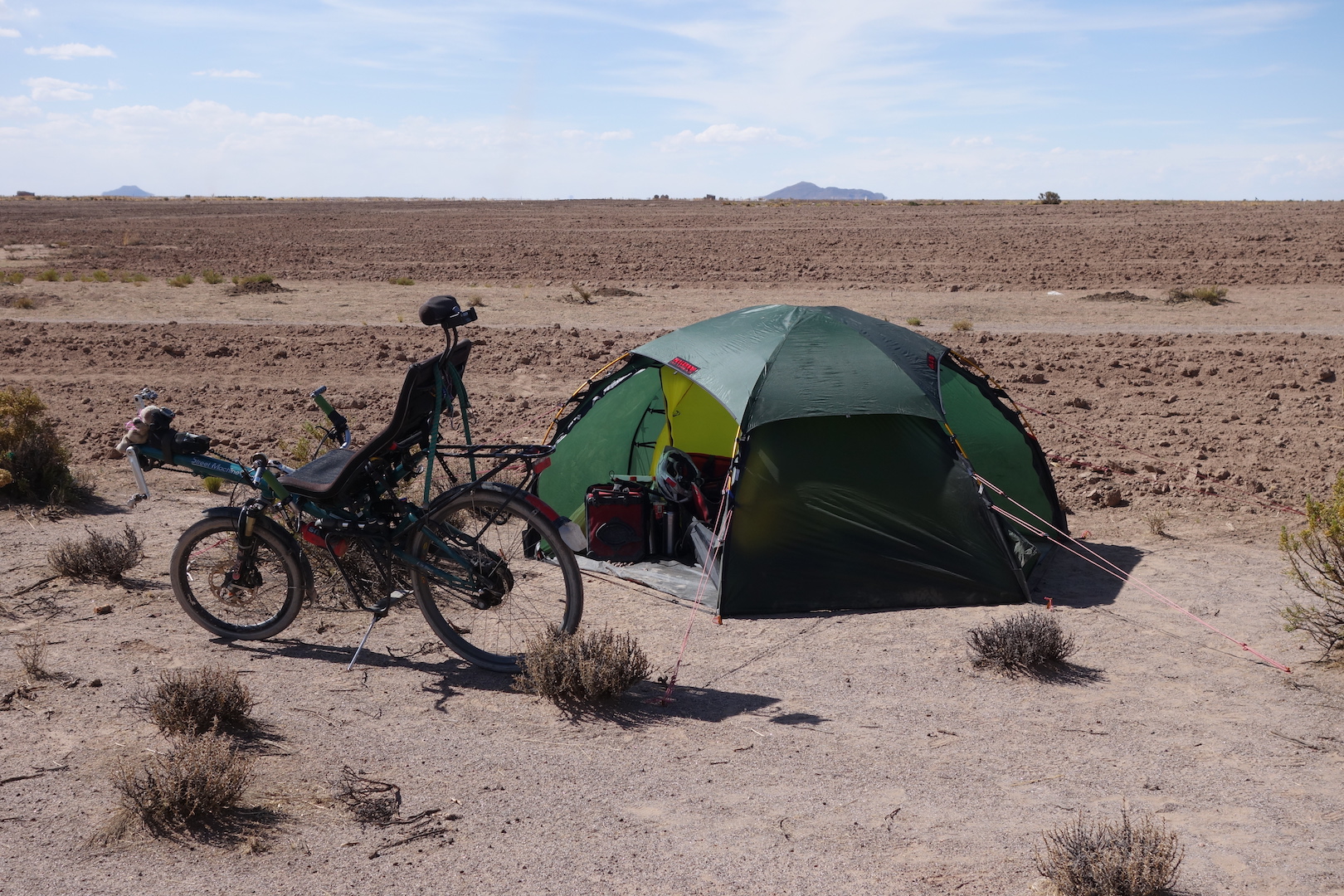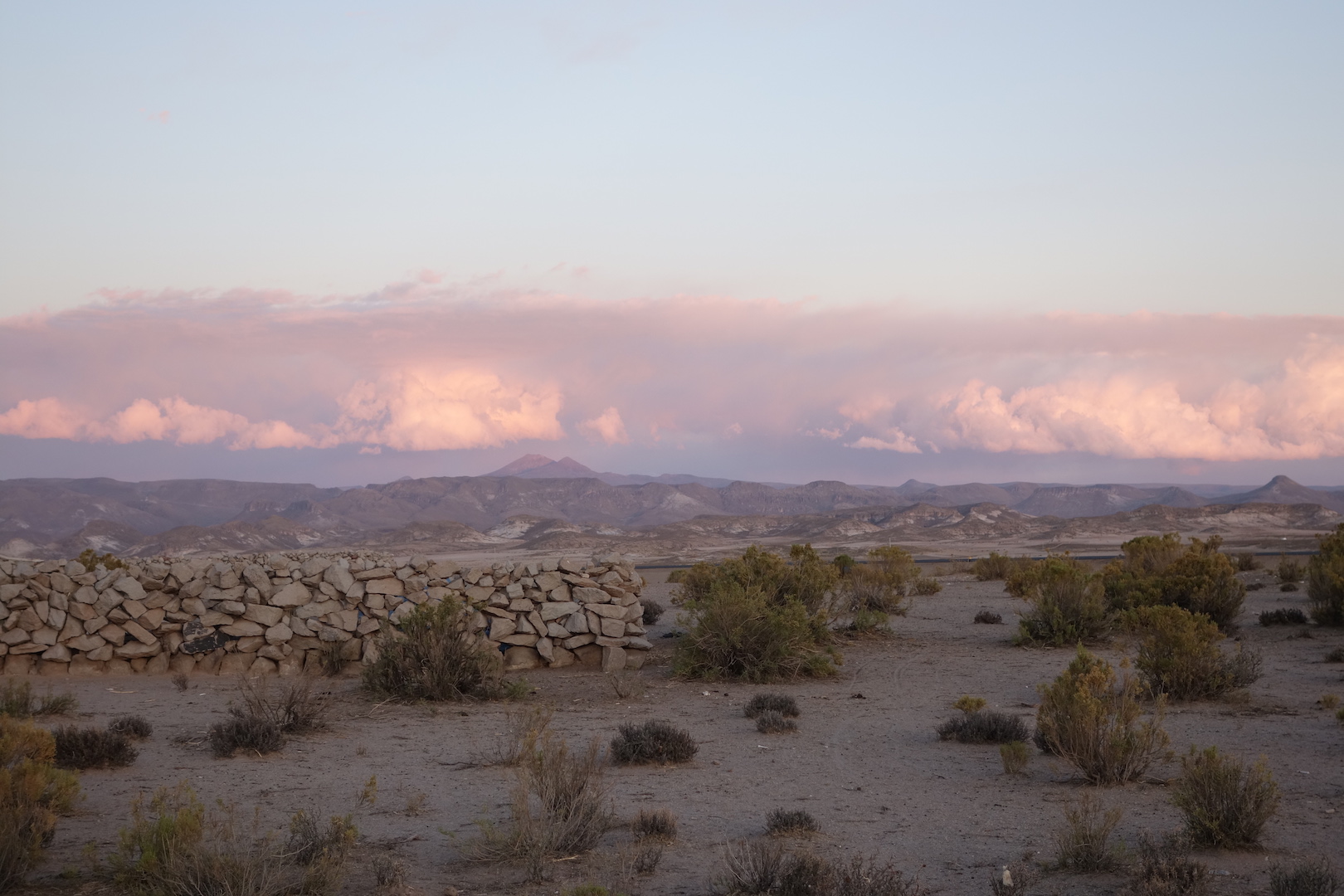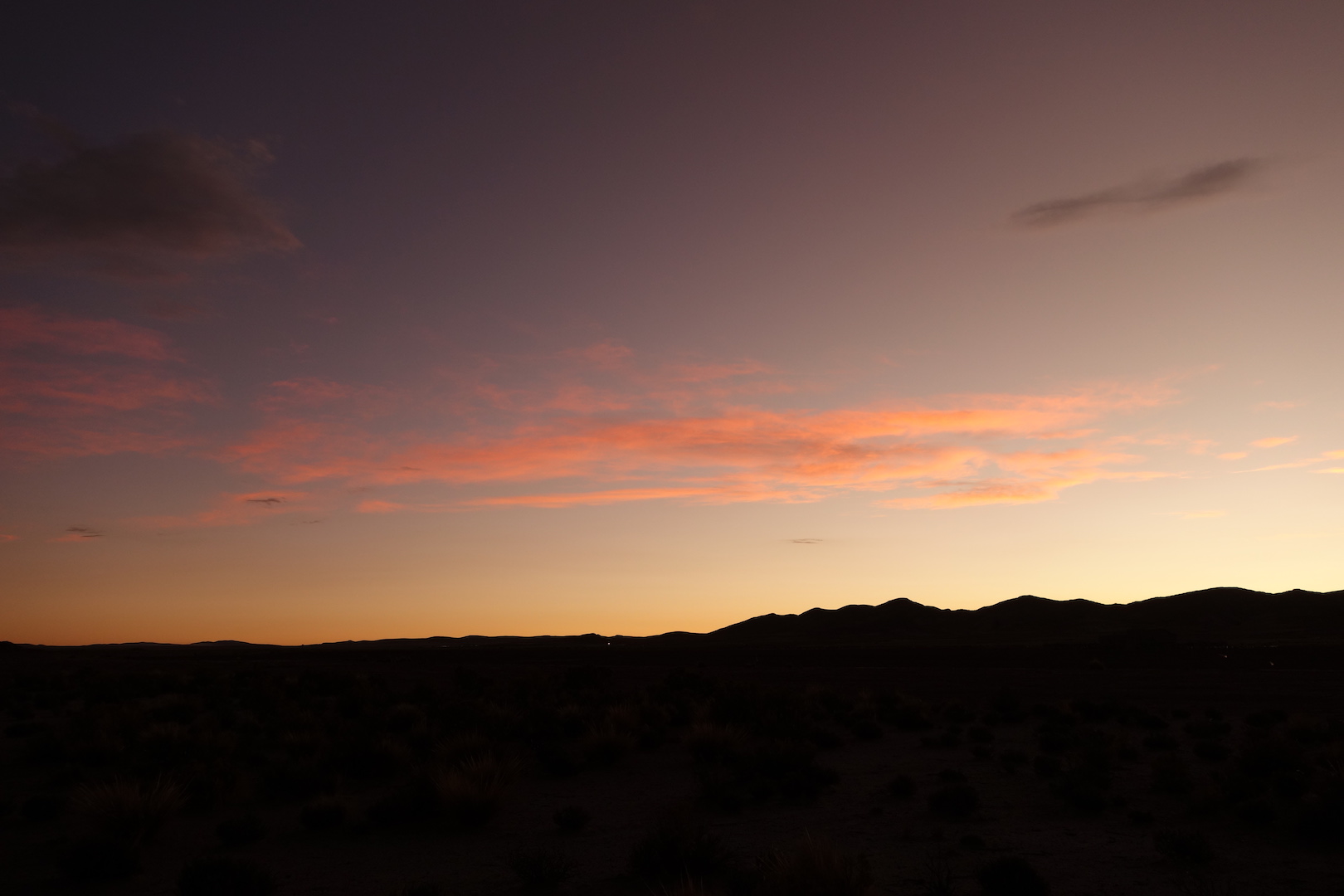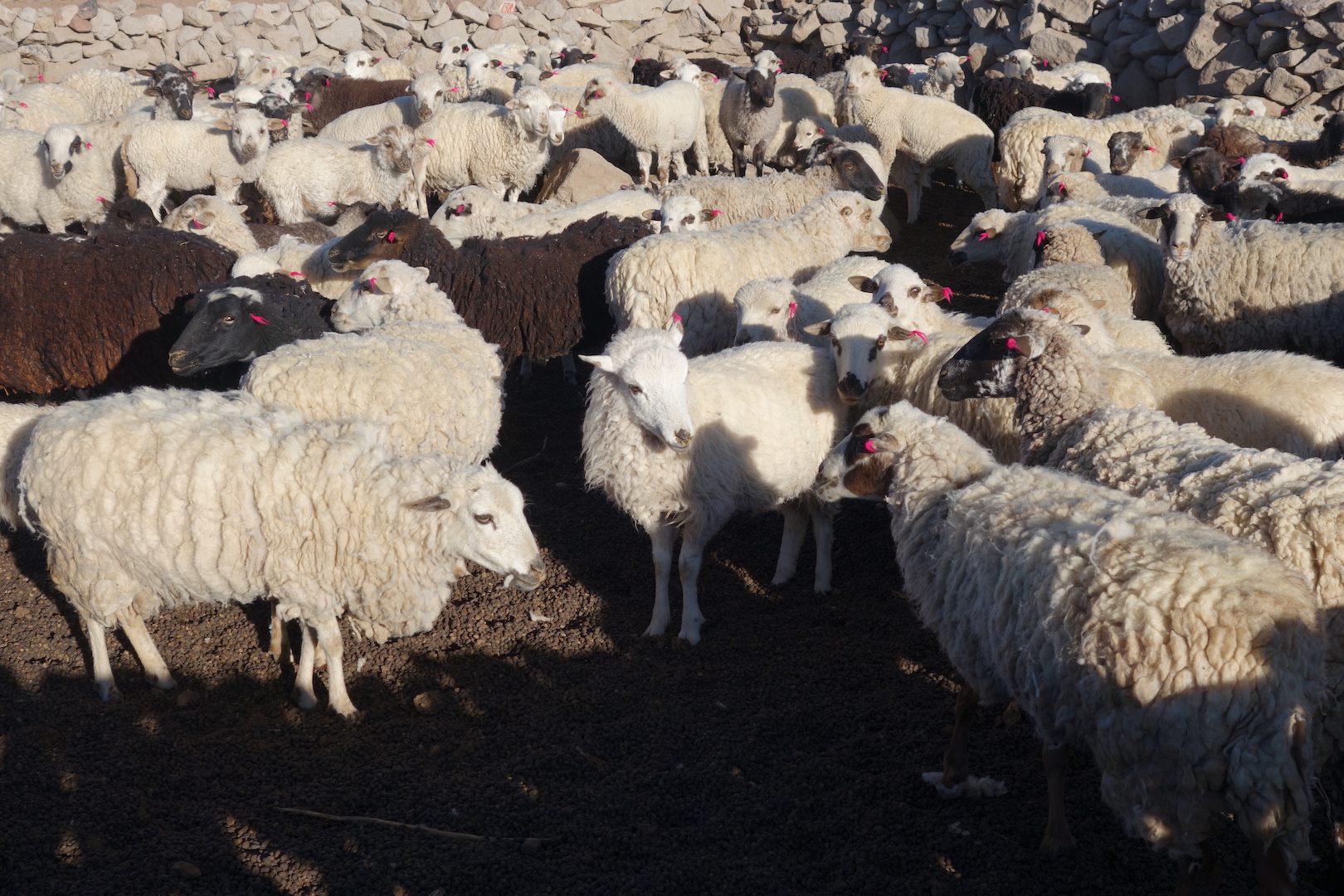 The family only travel short days as Elliot is naturally quite demanding with time and effort. But we managed another 50 kilometres the next day before breakfast in Rio Mulatos then I left them to shoot ahead to Uyuni.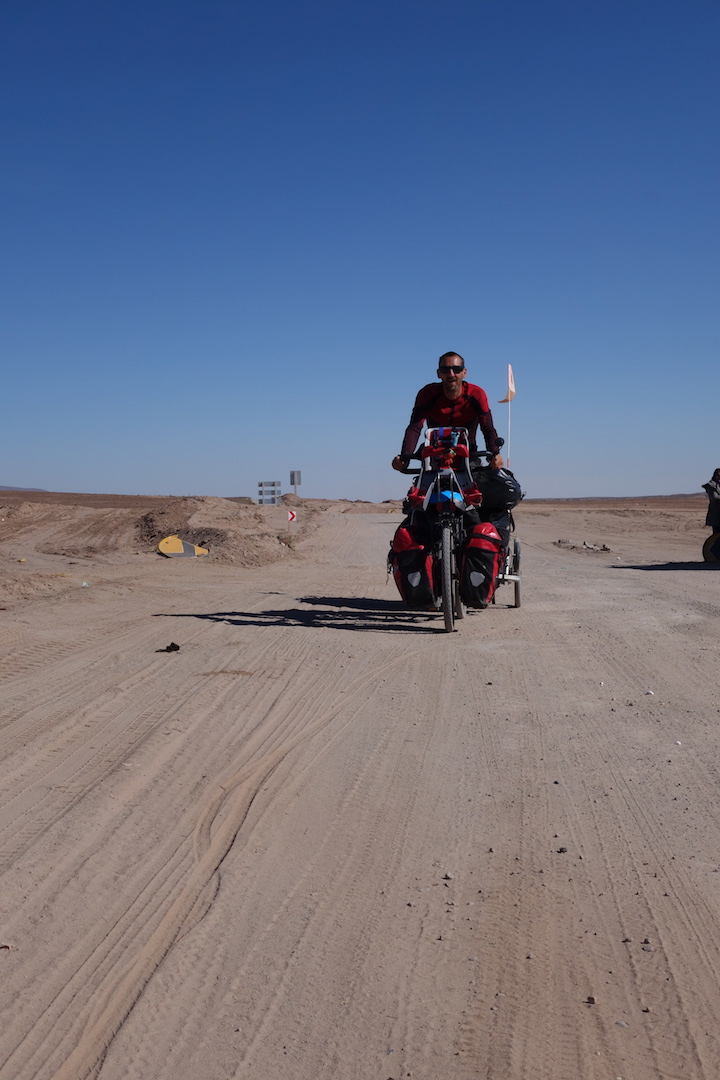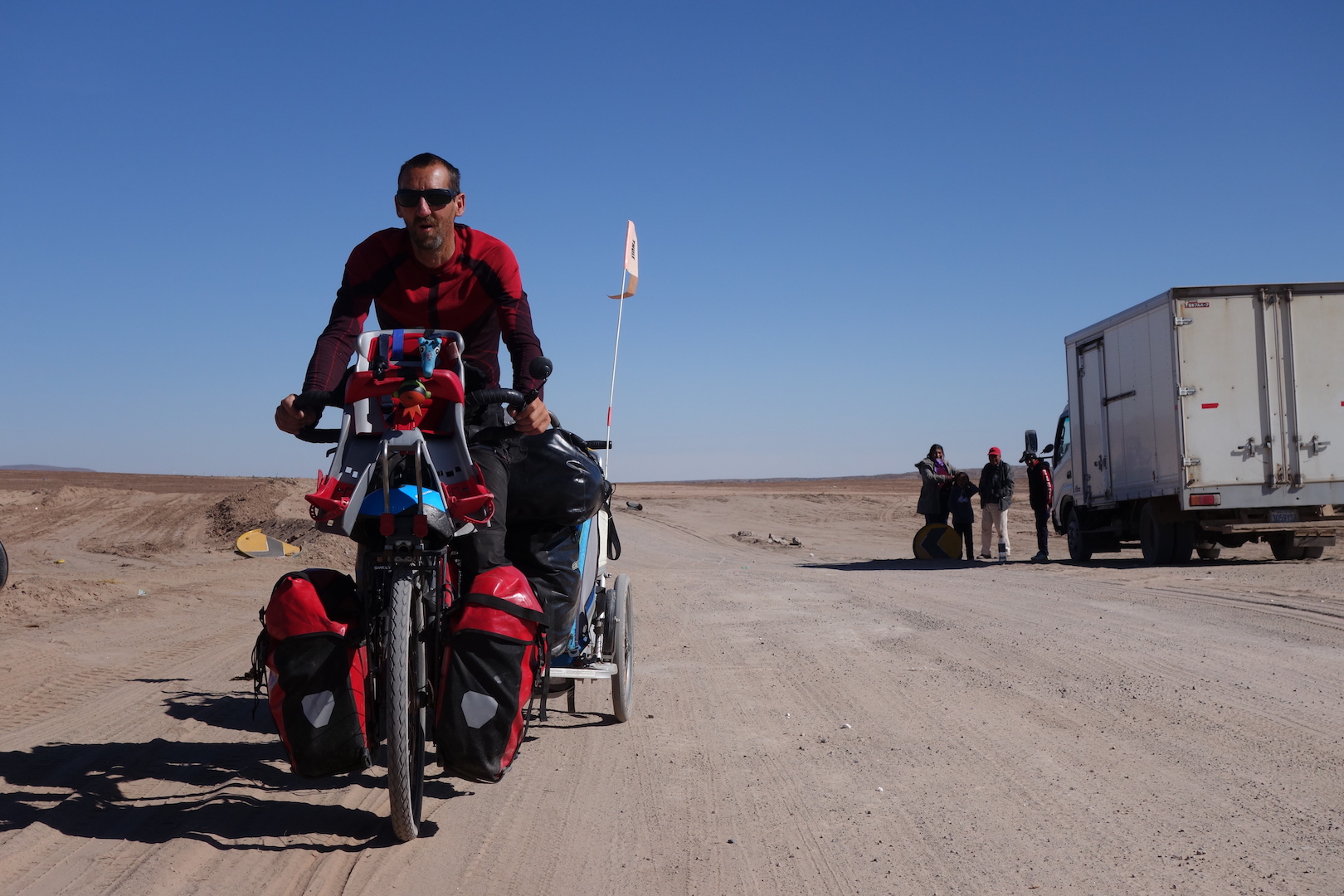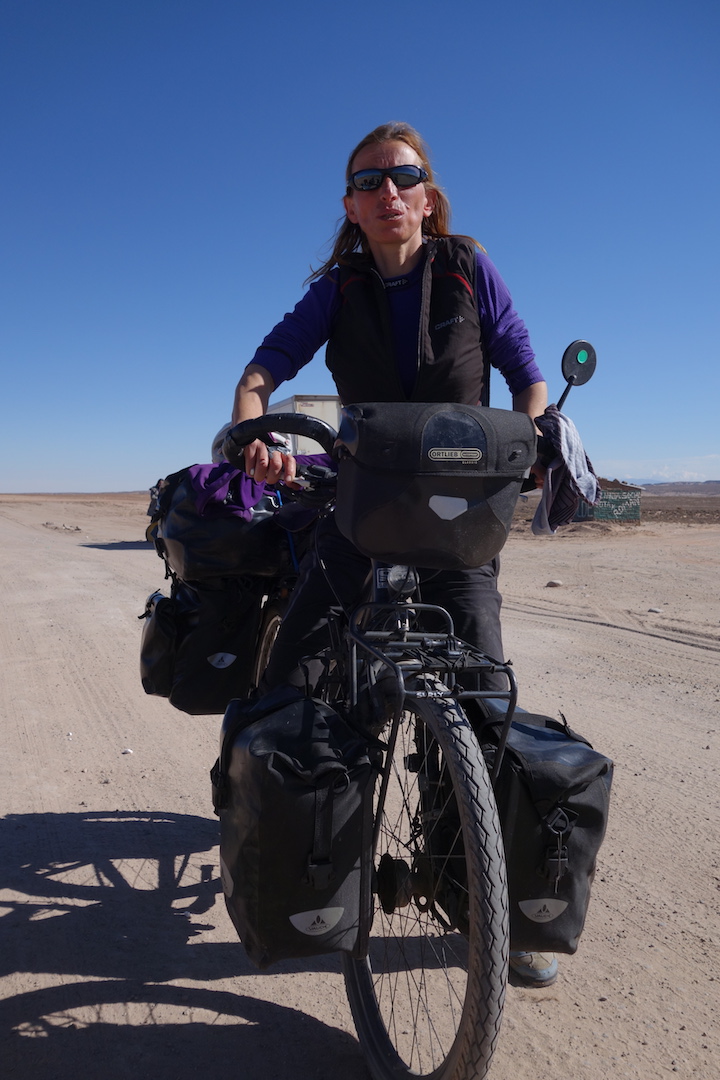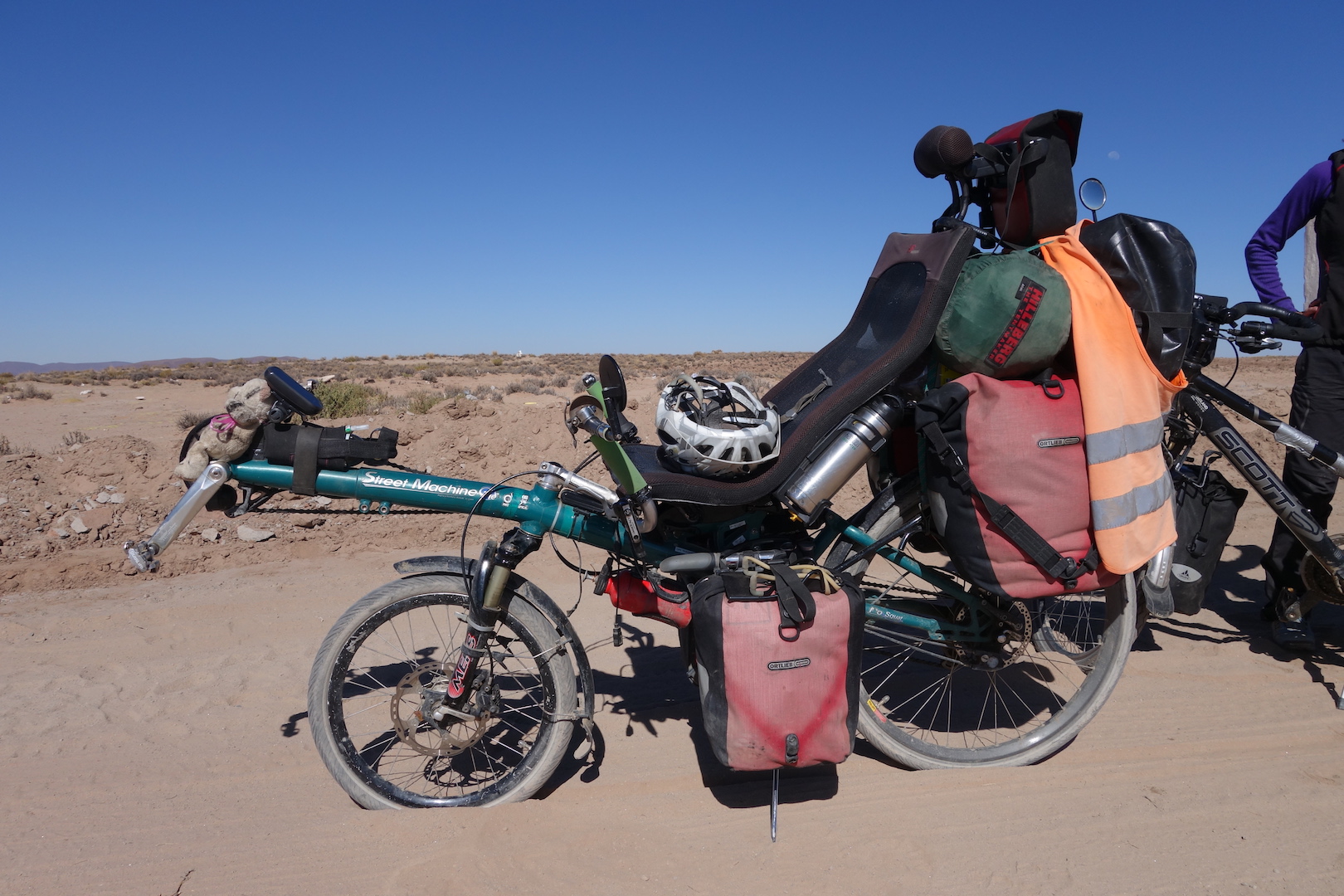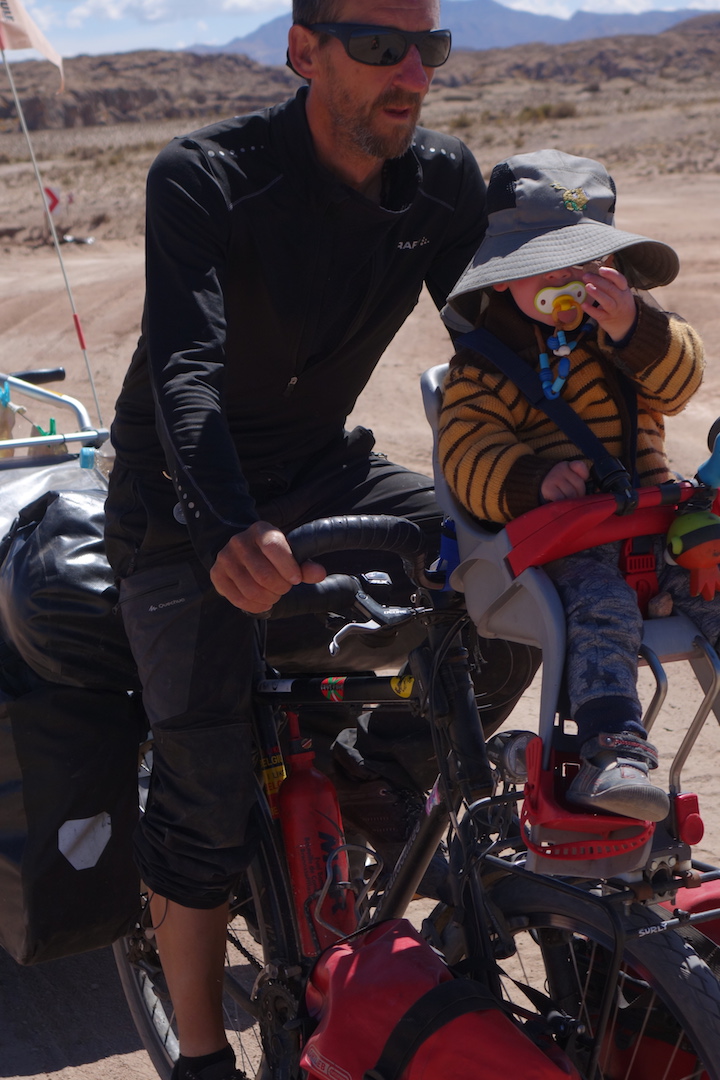 Another long hot day was broken up by a surprising event.
Two baby Llamas running towards me from quite a distance away. Usually, like most animals (apart from the dogs!) they see me and run the other way.
As they wandered off, I saw the mother walking towards them and they sprinted off to suckle as they seemed a little confused, distressed and no doubt hungry.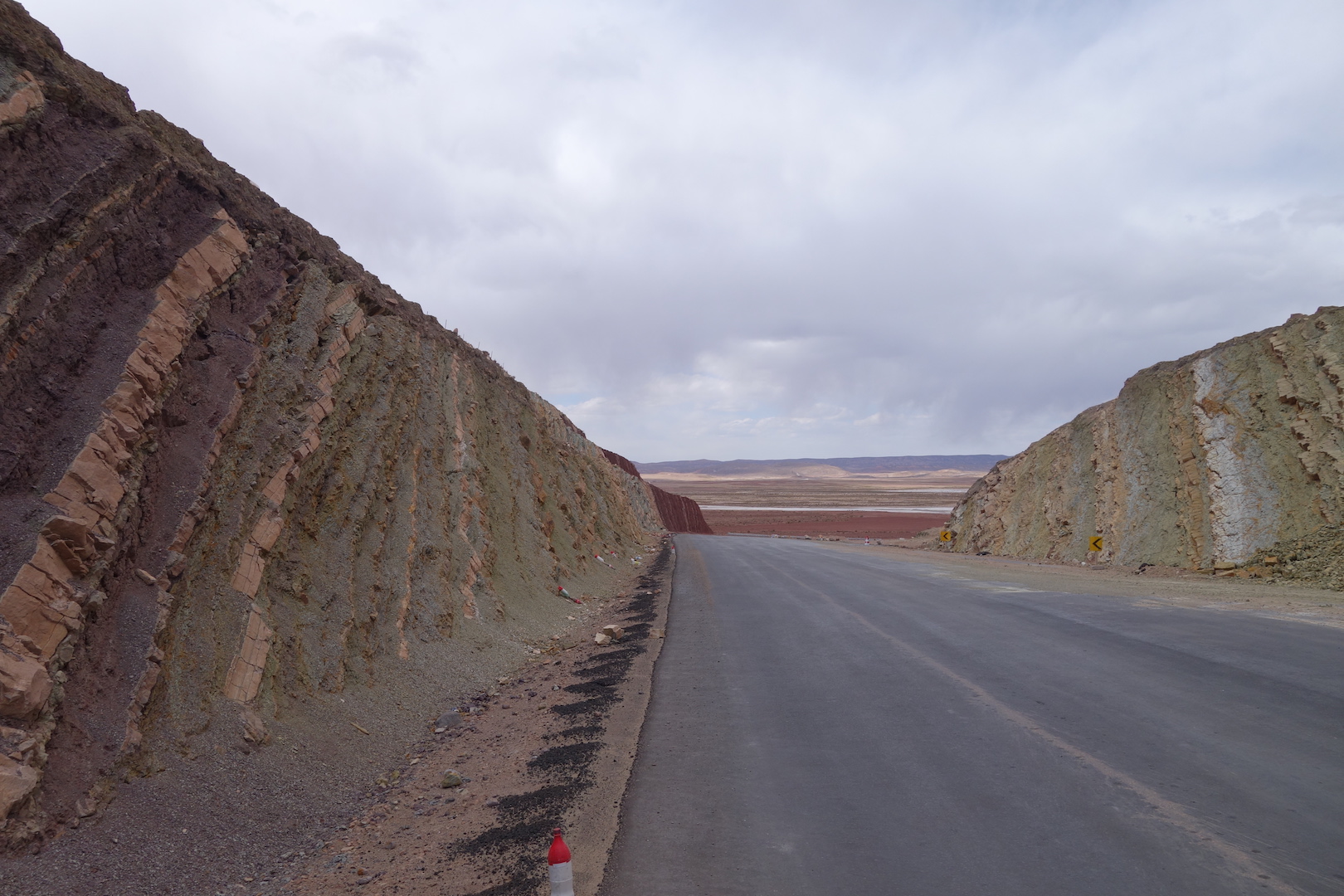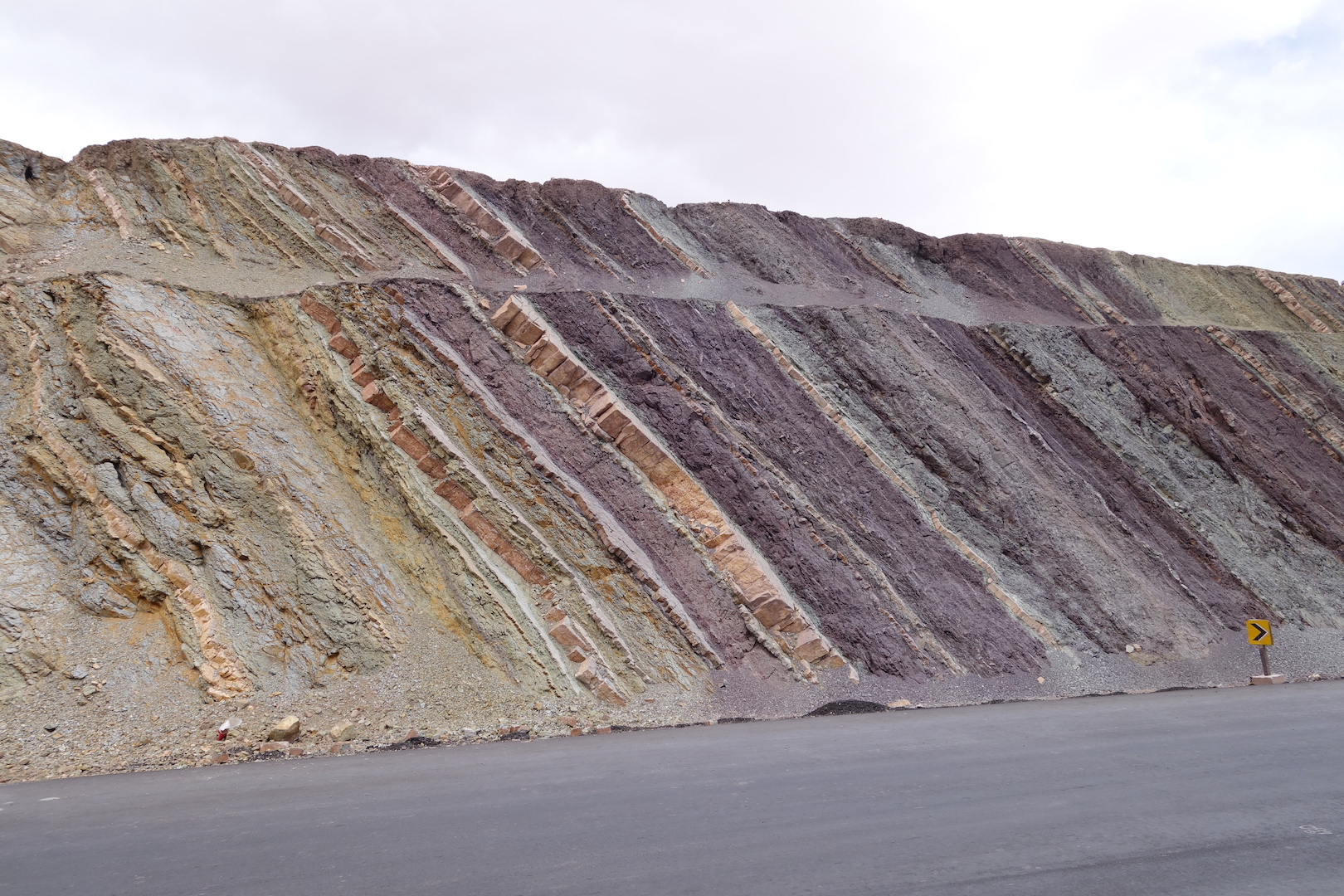 This day also happened to be my birthday.
That evening, I only made it as far as Colchani because of the distance and headwind.
A dirt village on the edge of the Salar, I thought this place would be more prosperous as it is the official entrance to the famous Salar de Uyuni.
A street food stand beckoned me.
All they served was fried pieces of Llama meat, and rice or boiled corn.
So, that was my birthday meal.
All washed down with a Fanta.
I eventually found a cheap hostel, but they wanted more money than I paid in La Paz. And for a shared room!
I said no and asked about putting up my tent.
The young lady was quite willing so I paid a token amount just to use the bathroom.
A few minutes later I was setting up my tent in her vacant yard then saw her walking off with her young son.
A shout and tap on my tent 30 minutes later and a different Woman told me I could not camp here.
In my broken Spanish I explained, but she insisted I pay for the shared room.
"If you don't like it, you can pack up and move on"
she said angrily.
She then tried to make me move to the far end behind an abandoned truck claiming I was camped in the middle of a car park.
"It will be FULL of cars this evening! There is no space for you here."
"I was told by the other lady, that my tent was fine here?"
"What lady?! She didn't have the right to say that. I am the owner!"
I indicated the house, and she commented that the young woman was an employee.
I asked about a better place to camp and she told me bluntly there wasn't anywhere.
"You'll just have to pack up and move on..."
"Oh, Come on, I am tired and I just want to sleep. I will be gone by 6 am" I protested.
"But if you insist, give me back my money and I will go!
"You paid?..."
"Yes of course. Give it back"
Suddenly her tone changed and she became much more accommodating.
Not wanting to hand back the money she tried to become friendly and did ask me to move to the side but then skulked away back into her house.
I fell asleep after that and the car park was still empty in the morning, as I left.
Uyuni is a tourist hub.
A base for the many tours that head in toyota 4x4's ino the desert or mountains from here. But mainly onto the world famous Salar.
The ancient lake that dried up 40,000 years ago leaving behind its perfect flat white salty surface.
Again, I arrived tired, dehydrated and hungry.
Though it was only a further 12 kilometres away.
My hostel was fairly central and I showered for the first time in around 8 days.
This time without an electric shock, and spent the next three days resting, eating, resting some more and being a bit of a gringo tourist.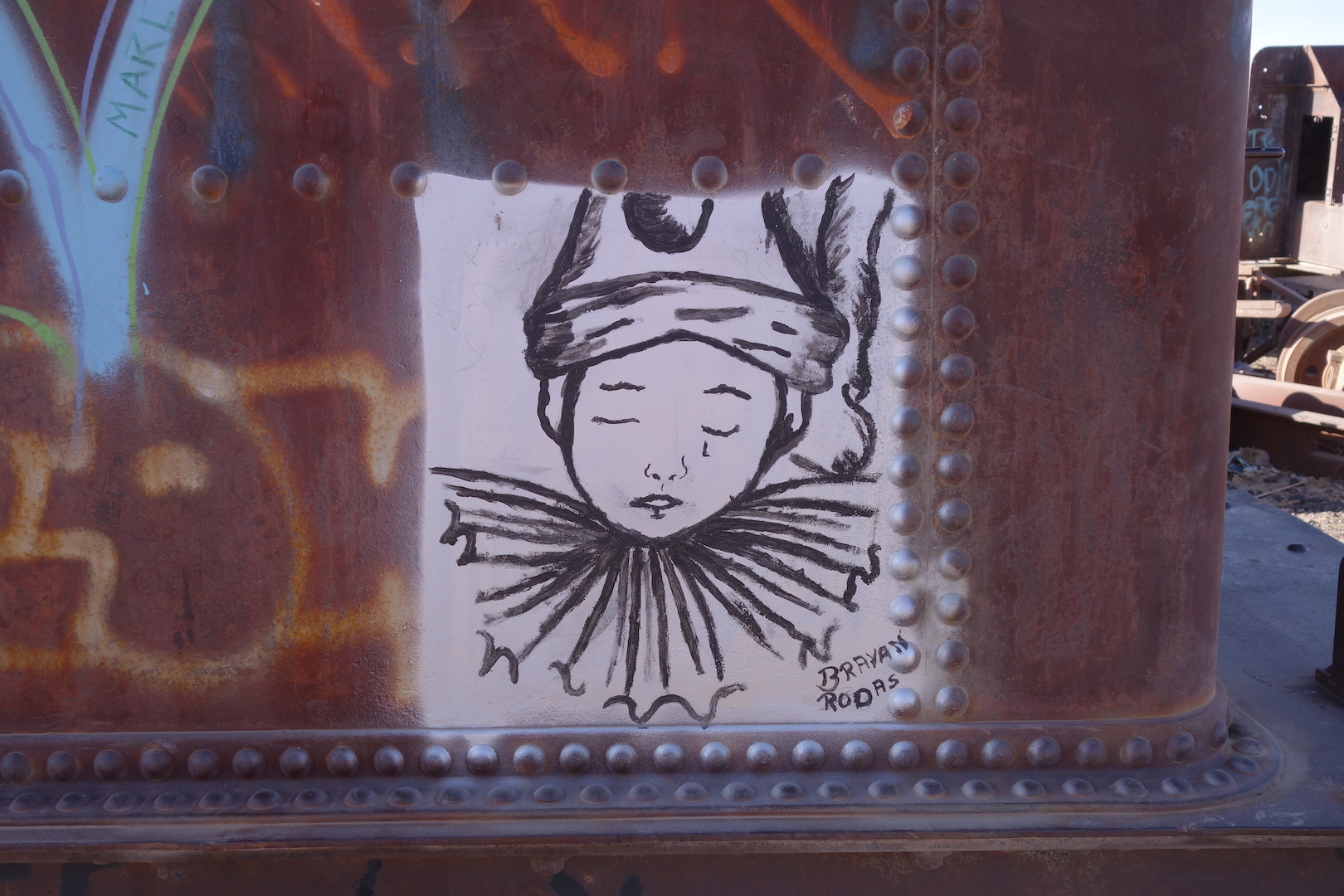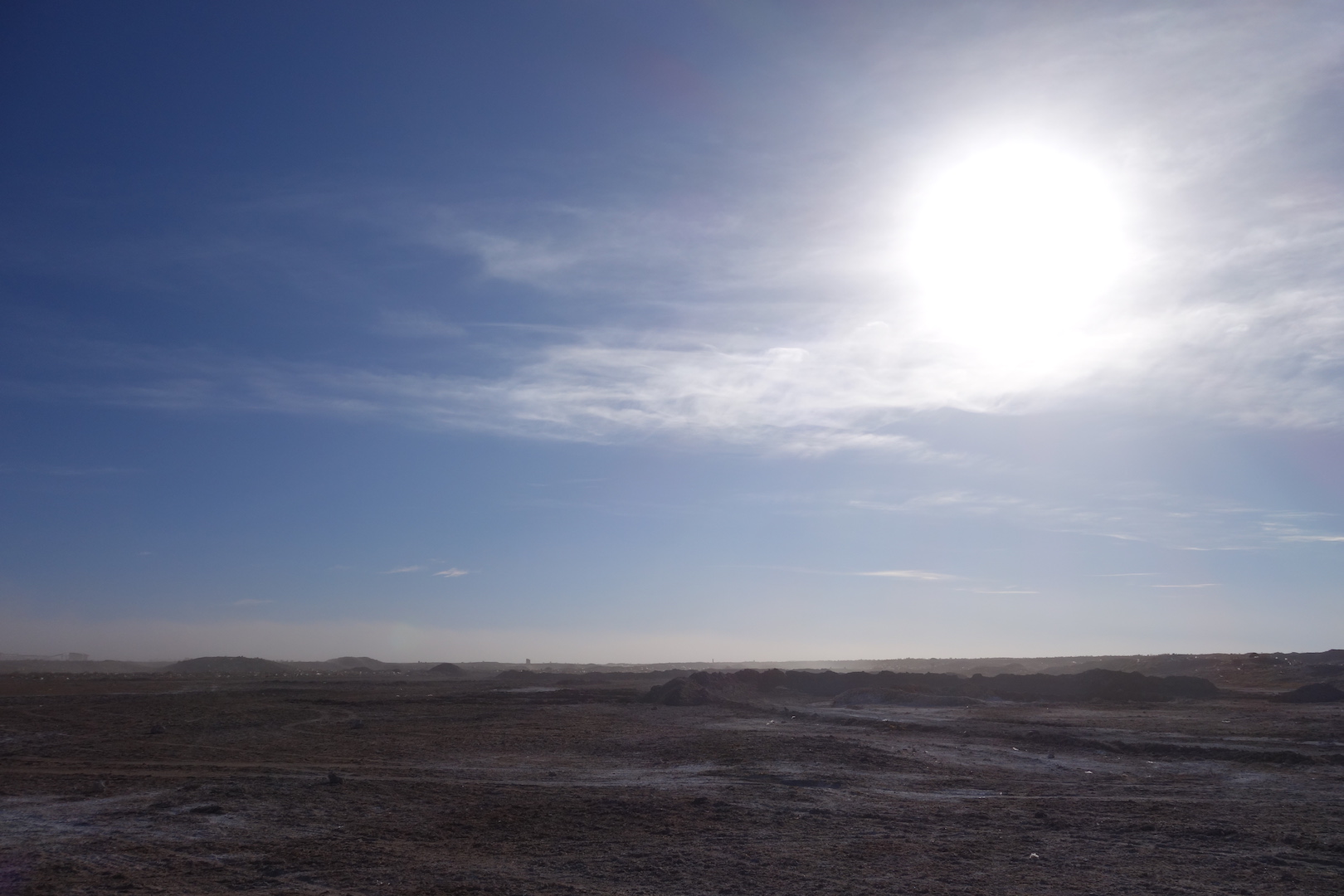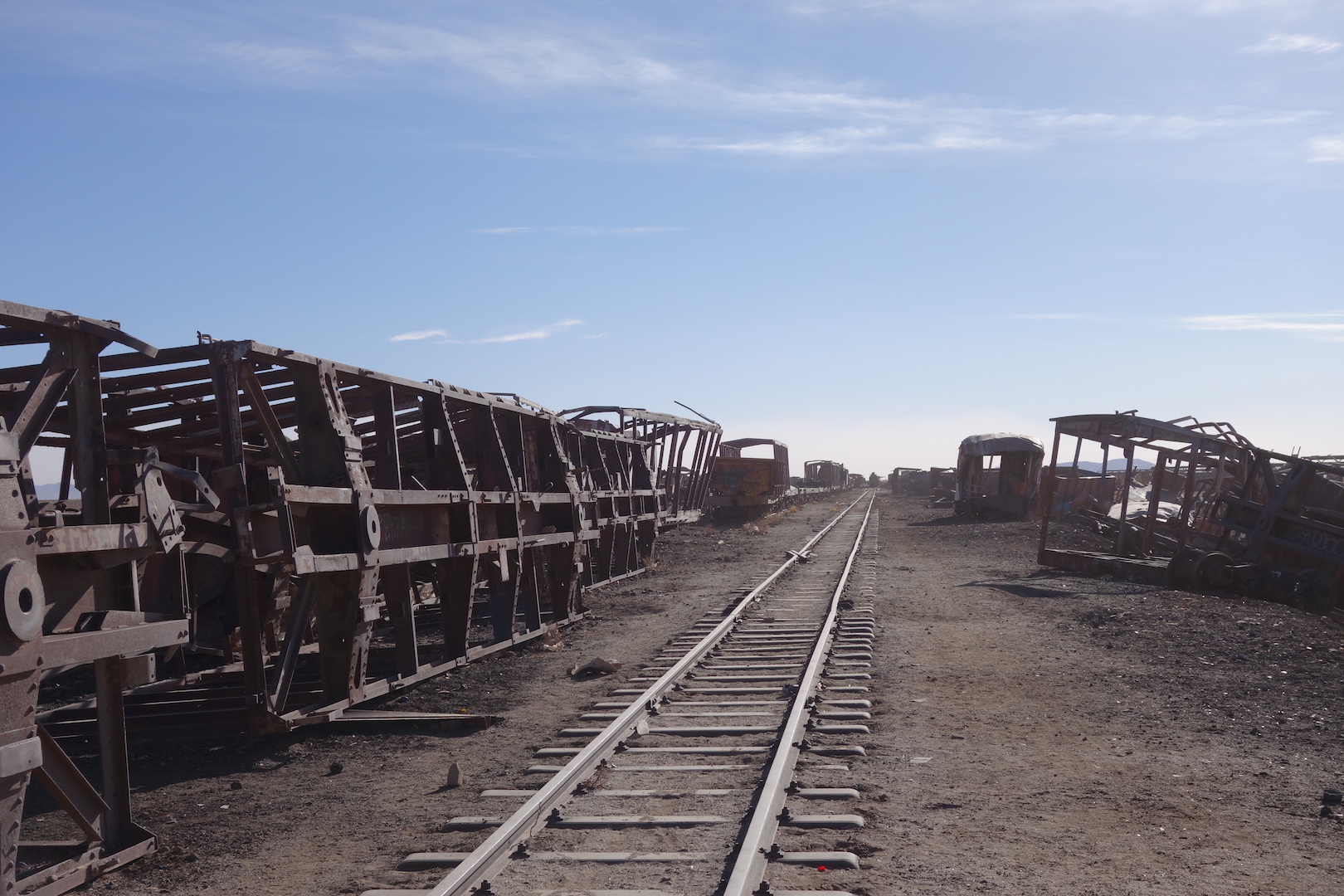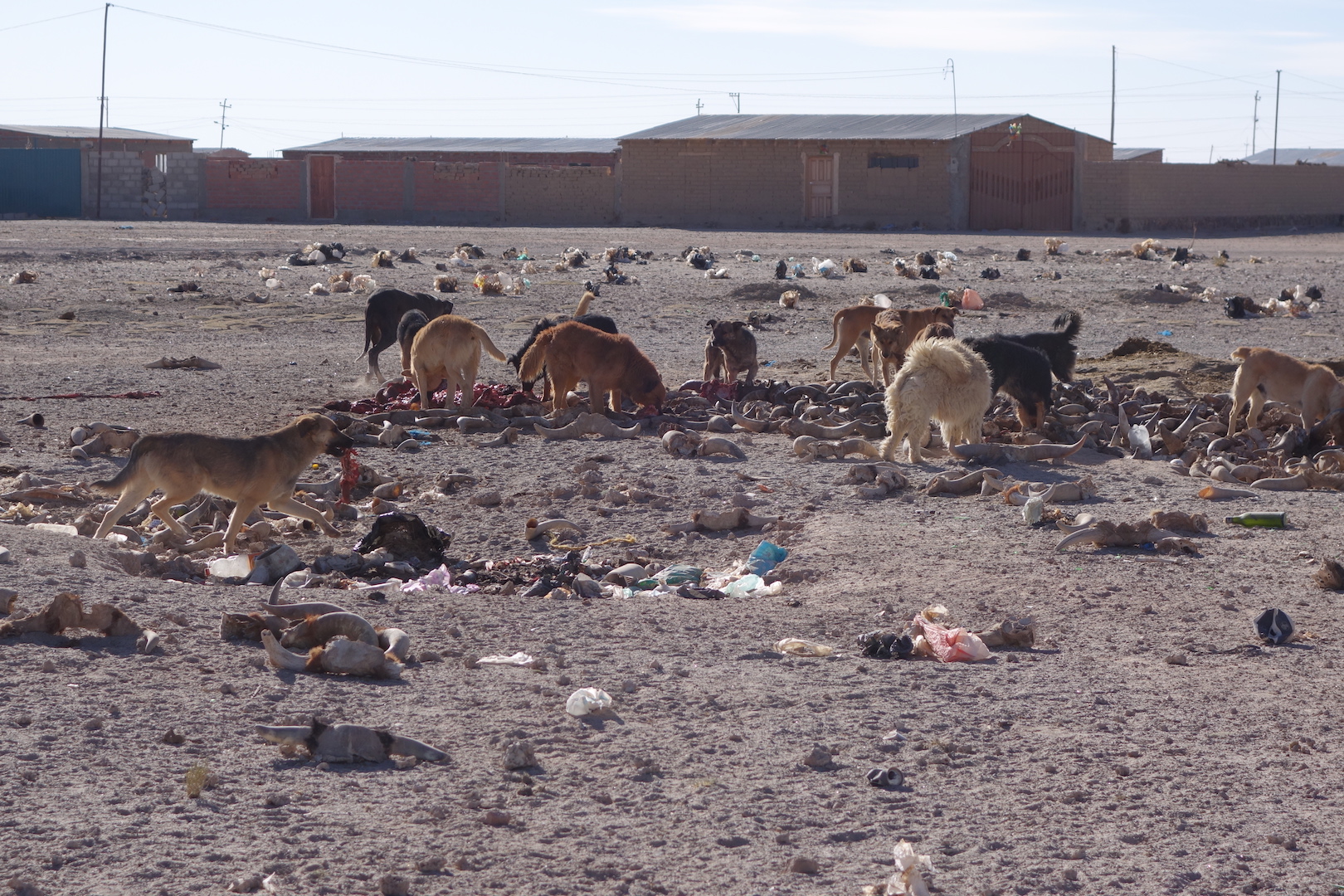 I tried to find out about crossing the Salar from the local guides but they were all immediately suspicious and not particularly helpful as to why I would not want a guide to take me.
Some online research later and I found maps, documents and a GPX file from other cyclists who had made the same crossing.
Though I had previously done a lot of reading too.
As I left Uyuni, I picked up a fellow traveller.
I didn't want one and in this case I could do nothing to dissuade him from following me.
As much as I shoo'ed and shouted at him the dog kept following me.
Why I had been adopted, I don't know.
I had no food to give, and nothing to share.
I am not a huge animal fan and street dogs are not exactly high on my list of priorities given the number that have chased and attacked me over the past few months.
But who am I to tell the animal what to do?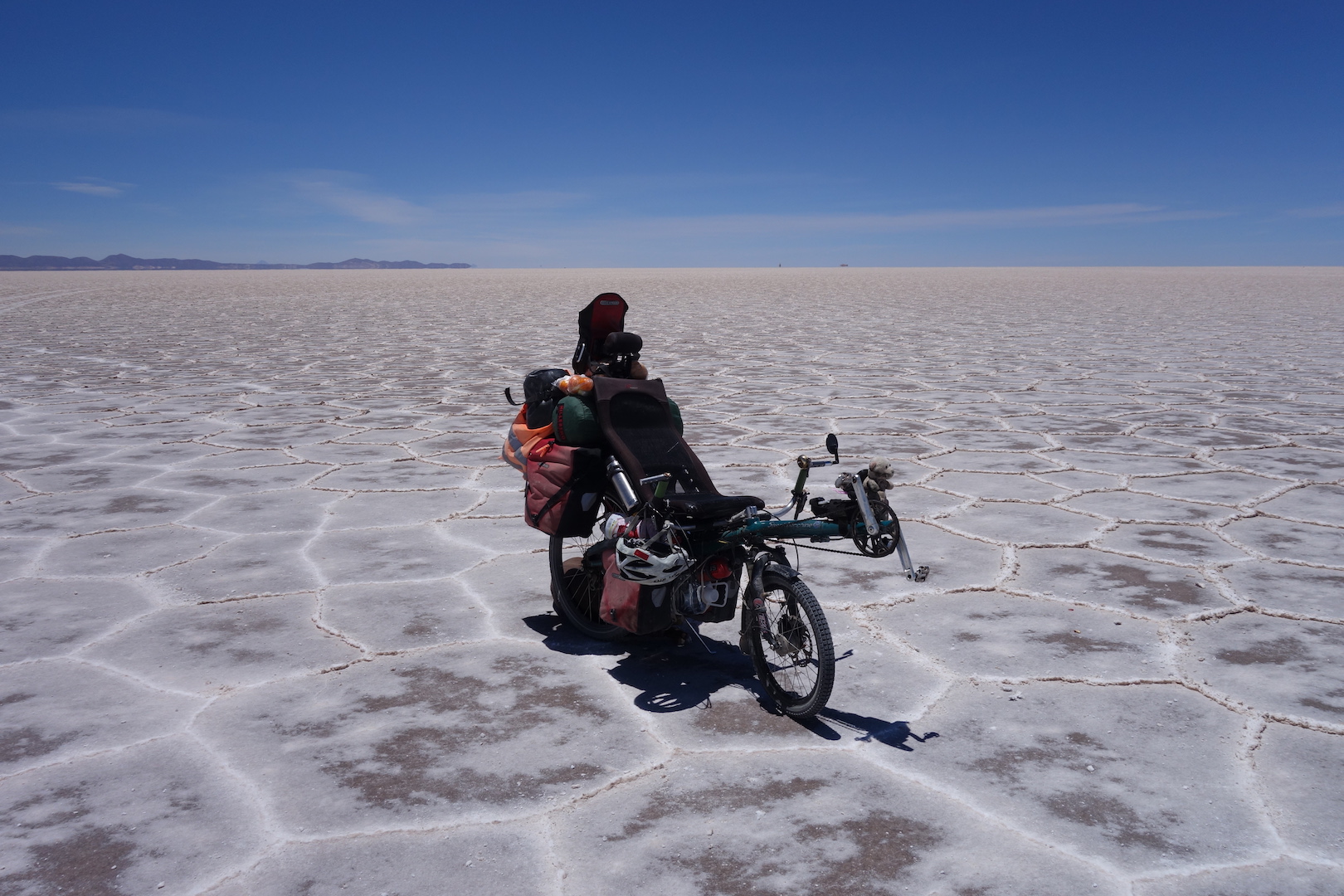 I assumed he would get bored and wander off after a few streets, but there he was after I left the town...
Then 5 kilometres down the road...
And then as I reached Colchani he waited for me outside the little restaurant where I had my second breakfast.
The owner asked if it was my dog.
"It's very obedient" she commented.
I told her it was a street dog and just following me.
"Well don't let it follow you onto the Salar. It will suffer"
I finished my breakfast and tried shooing it away again.
I threw a few stones and chased it back to the village.
But it must have thought we were playing a game.
Eventually I gave up and again assumed it would recognise the salt and turn back.
But after a pause, it turned and followed me again.
I threw a few more stones. But it just sniffed at them.
I guess street dogs are used to that?
Several more kilometres later it was still happily trotting along.
Tongue lolling along as following behind me.
The Salar proper began now.
The few tourist 4x4's I saw chose their route and sped off into the distance, leaving me and 'Cola' as I nicknamed him in the vast flat white.
Cola for the ChoCOLAte colour of his coat and 'Cola' in Spanish is 'Tail' as he seemed to enjoy following me.
It seemed appropriate.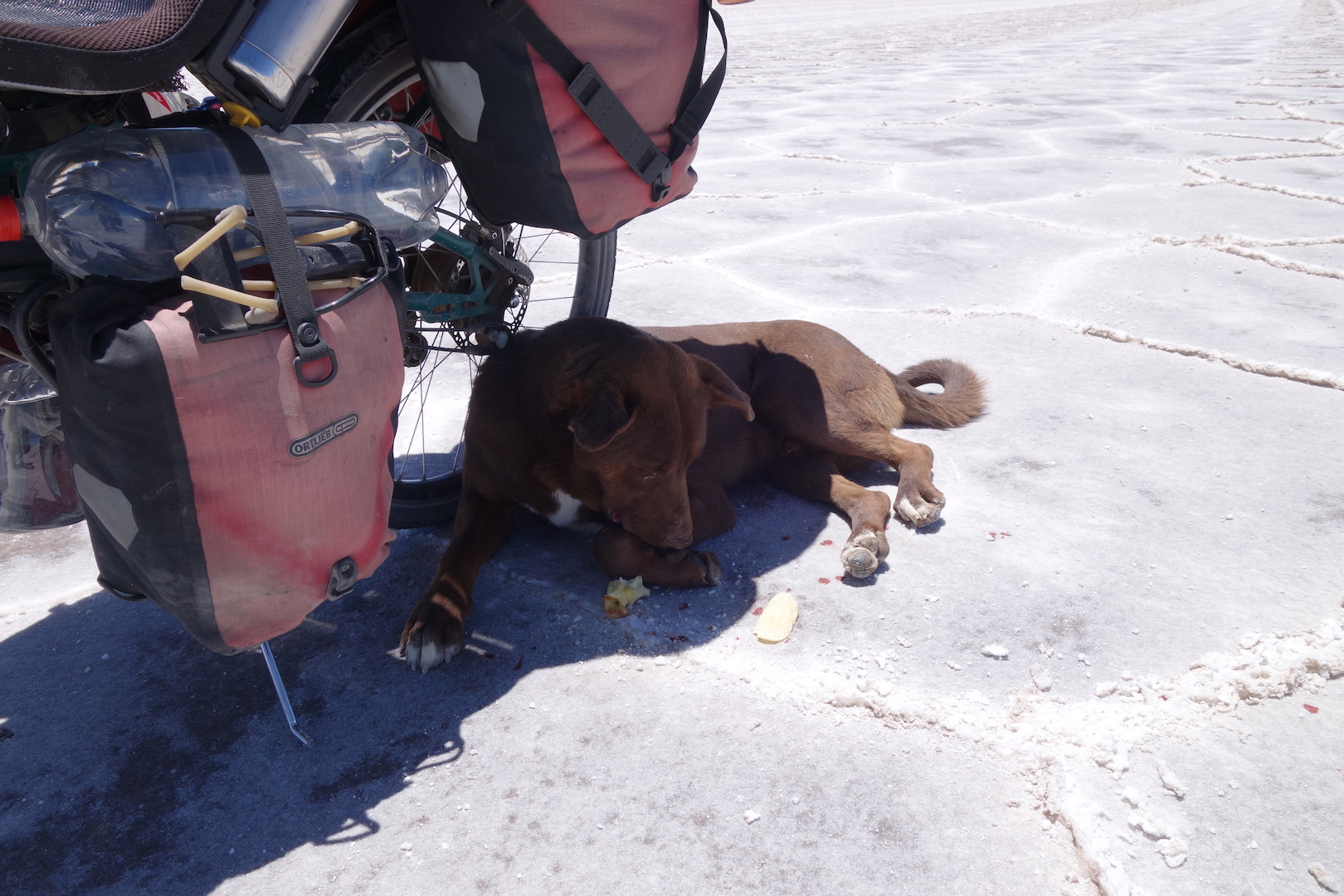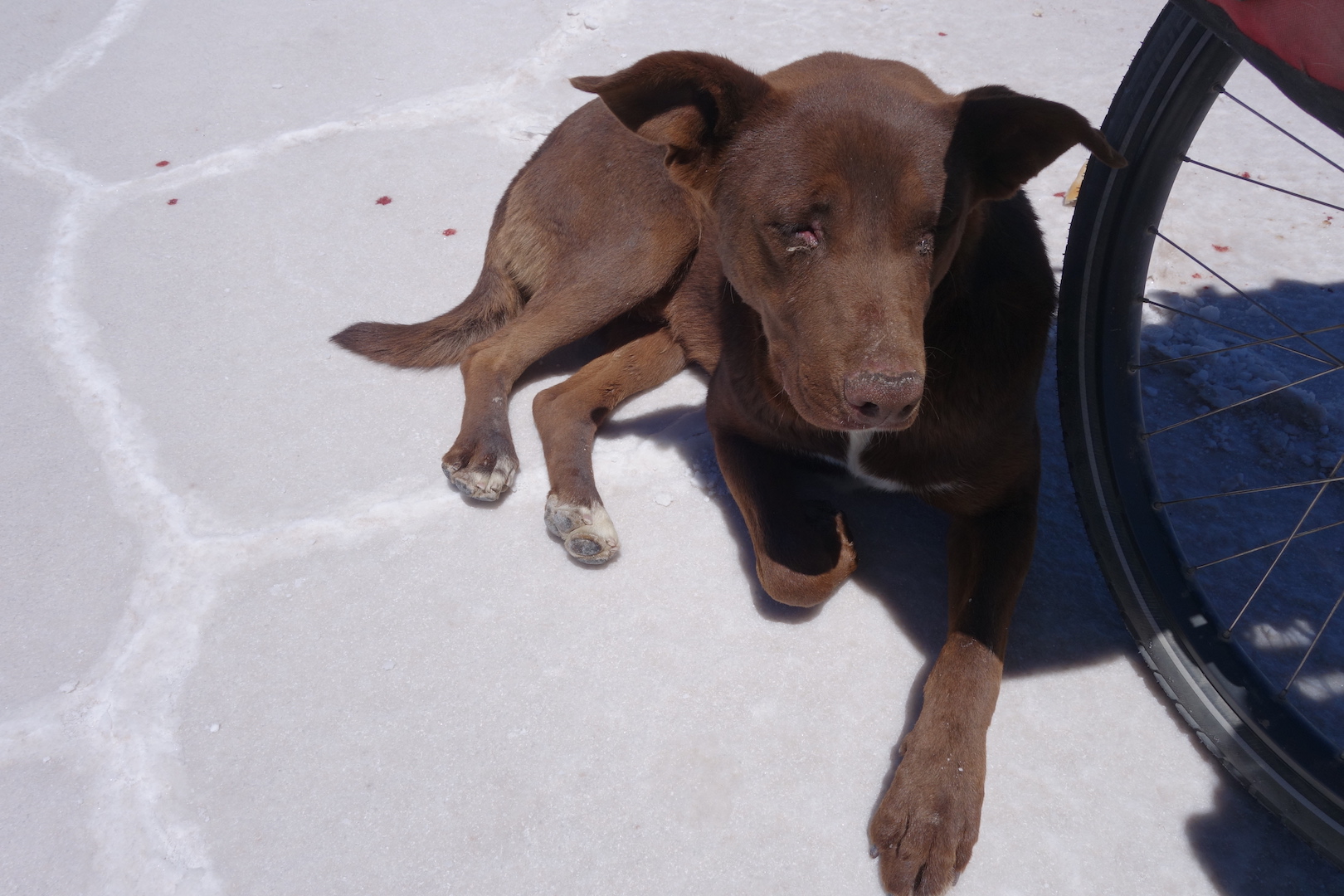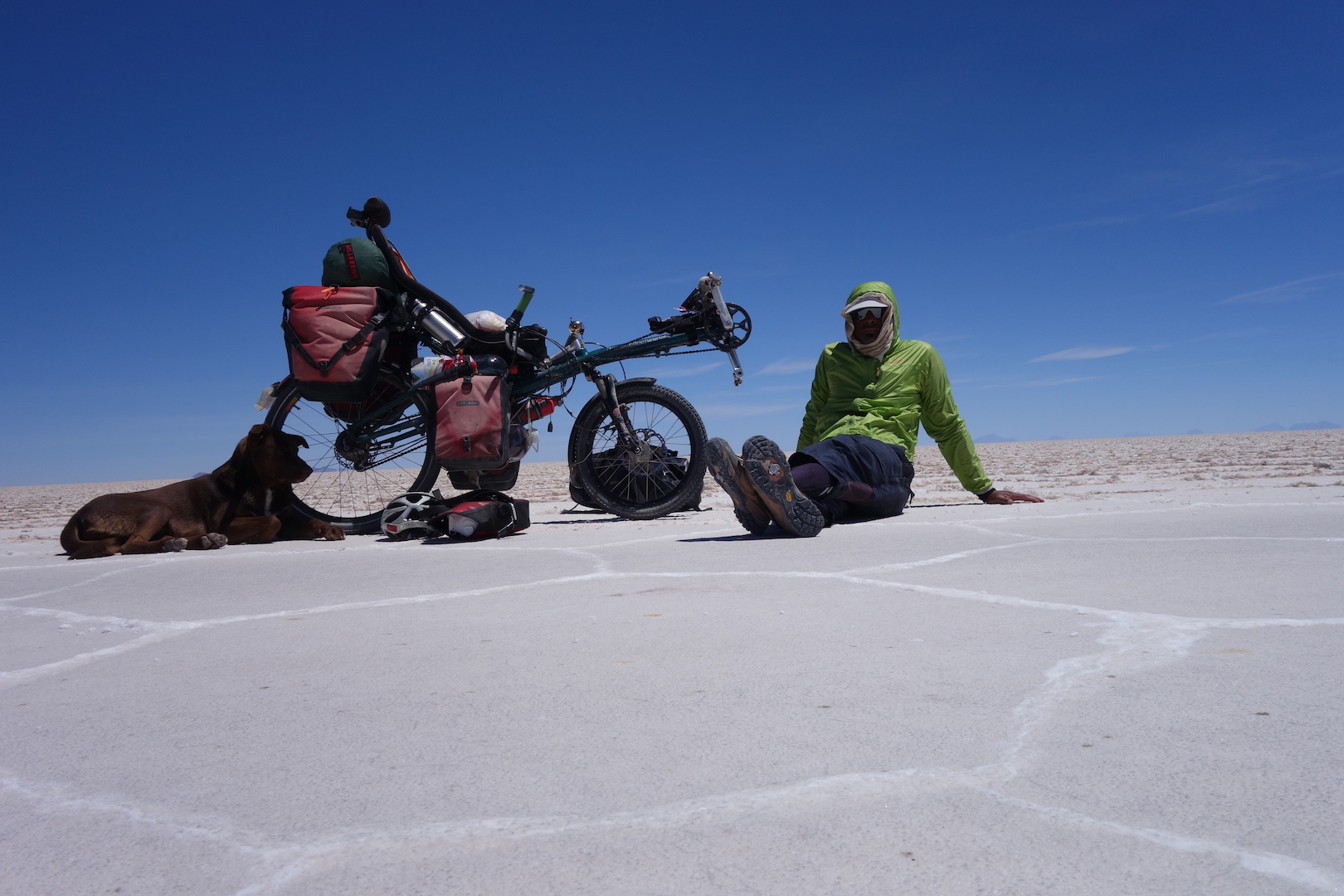 The Salar De Uyuni is the worlds largest salt flat.
So flat in fact that NASA use it to calibrate their orbital satellites. With an average elevation difference of less than 1 metre over 100,092 km2, they can calibrate their sensors to an accuracy of less than 20 mm from a geostationary orbit of around 37,000 kilometres!
But for how much longer they can do this is uncertain.
The Salar also holds the worlds largest reserves of Lithium salts.
An element in ever growing demand for its use in batteries and power sources.
Mobile phones, Tablets, Cameras, laptops Electric vehicle and all the many modern devices that need ever demanding power sources.
As the world slowly turns away from fossil fuels. This huge reserve will eventually be dug up to be converted into power cells that the modern world demands.
Bolivia holds in its hands a vast wealth that the world will pay a premium price for.
But of course, at the expense of the environment. And Bolivia is already a dirty country.
It's easy to forget the damage done for human progress. And it's surprising how many people are simply unaware of where their devices come from and what they ultimately cost. I certainly hope that when the time comes, the country will sensibly manage the extraction of this precious mineral and not completely destroy the Salar for the sake of huge profit.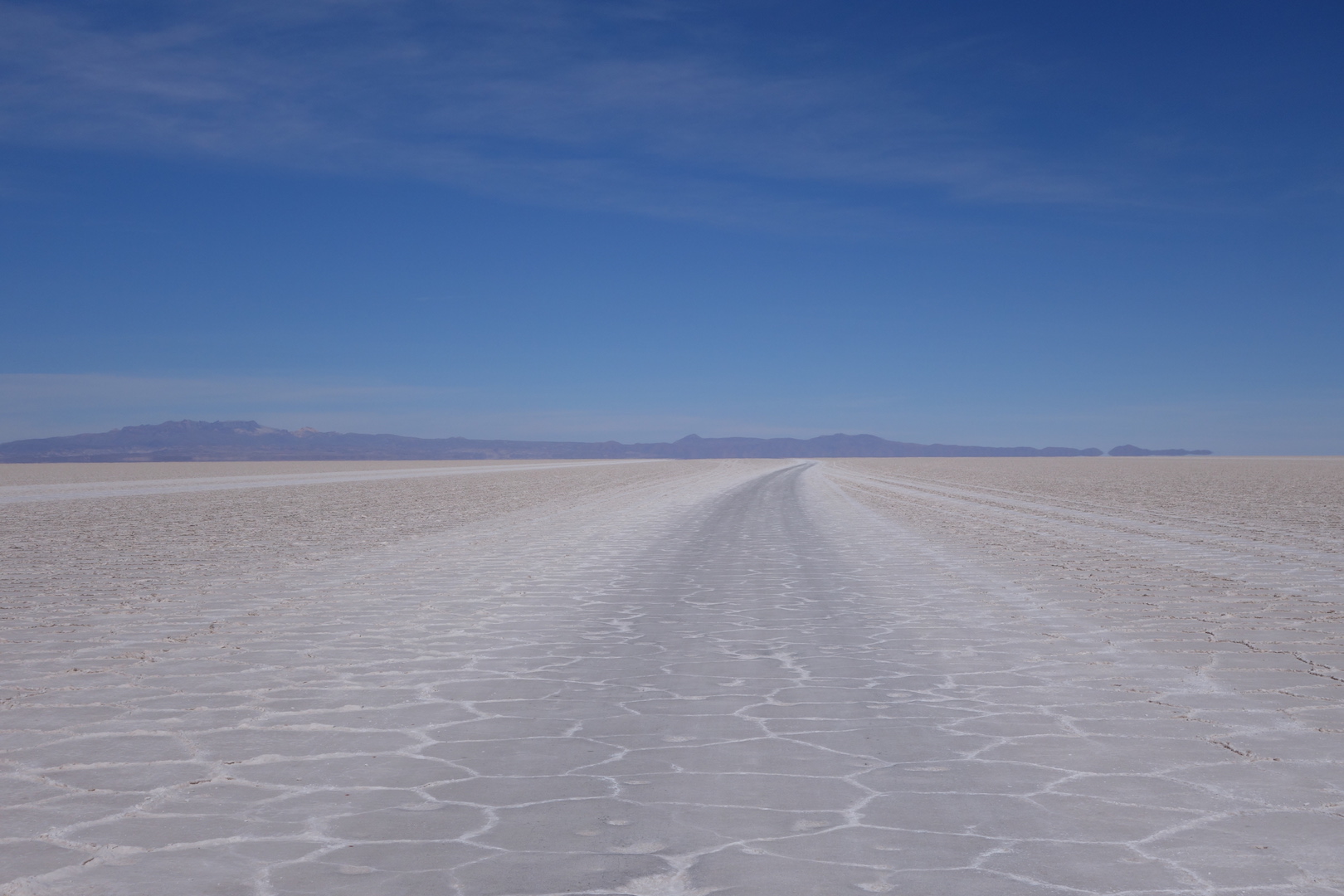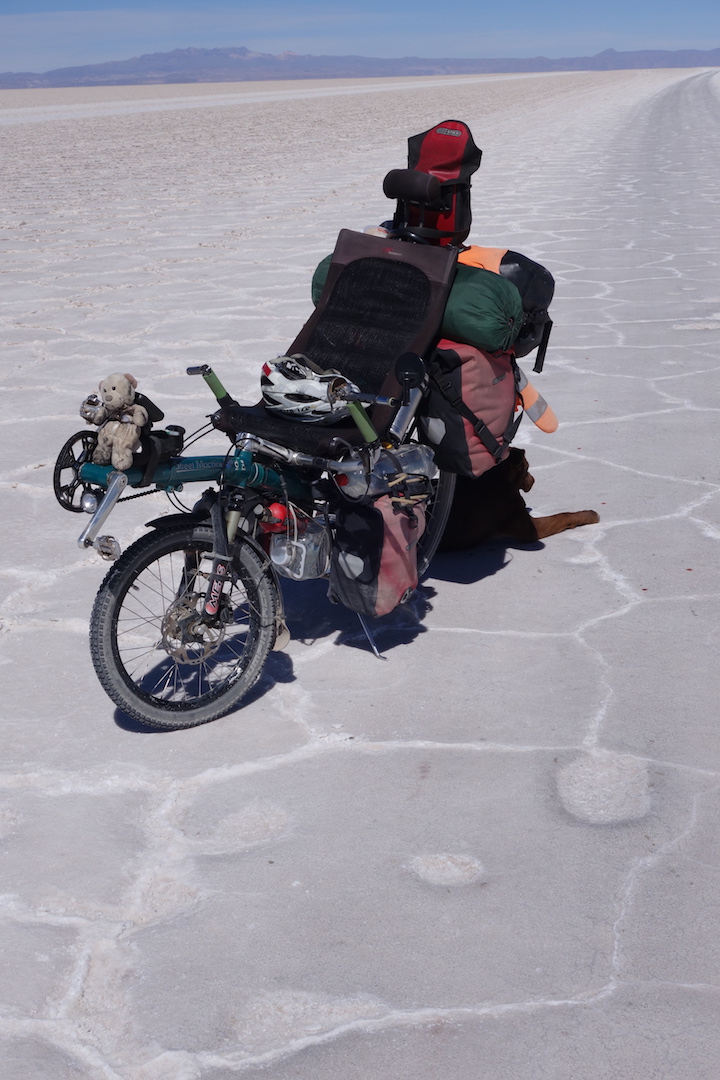 Cola the dog tucked into the shadow of my bike when I stopped for a rest after around 20 kilometres.
I sat in the shade myself.
Though not hot, the sun was intense as it reflected off the bright white surface.
It hurt my eyes, even with my sunglasses on.
I was navigating purely by GPS to Isla Incahuasi.
It would have been an island 40,000 years ago when the lake was full of water.
Now it was a quirky tourist destination in a sea of dry salt.
A wind had picked up and of course was blowing directly into my face.
I kept moving and the dog soon followed.
I kept glancing in my mirror to see him trotting along.
Now with an occasional glance back.
I hoped he would turn round.
I had no food for him. Nor water and I didn't want to encourage him.
At the next stop, I noticed he had a nose bleed but his nose seemed clear?
I guessed it was dehydration? I am not an expert on dogs, but I felt the just as dehydrated.
Little drops of blood had stained the salt.
I had a big drink and a bread roll.
The dog rejected a piece of the bread I threw to him.
We kept moving and I spotted more blood.
Next break after about 50 kilometres into the wind I spotted a plastic bottle discarded by some passing tourist.
I cut the top to make a little cup and watered the dog.
He lapped it up in seconds and so I gave it some more.
Ever conscious that that water had to last me several days in the desert.
I had no idea when or where I could refill and could not afford to give him much.
As we sat in the shade. I saw it was not a nosebleed, but he had cut its paws on the salt.
The pads on its left paws were bleeding and the dog was licking them to try to clean them.
There was nothing I could do. So I carried on.
I thought a tourist 4x4 might pass and I could ask them to take him back to Uyuni or another town, but nothing came by.
We kept moving. The wind becoming more and more intense. And the Sun was beginning to set.
I saw the Island begin to appear from the mirages that conceal whole mountains and make them reappear like magic. And though it seemed close, it was still 30 kilometres away, I estimated.
Cola was leaving a trail of blood. I tried to cut some of my safety vest and a piece of rubber into a pad for its foot. And Cola looked at me perplexed as I used some PVC insulation tape on his worsening paw to try to protect it.
30 seconds later, he chewed off the bandage and the pieces blew away in the wind.
It wasn't the best effort, but I tried….
The sun had set as we arrived at the island.
I could have camped anywhere on the flat, but the wind was cold and powerful.
The salt was as hard as concrete.
My tent is freestanding, but I would definitely need my pegs tonight.
So I climbed the small incline up to the island.
The owners of the Island hostel were surprised to see me arrive in the dark and more surprised to see the dog following me.
As I set up my tent in the near gale conditions I saw him slink away into the dark and curl up to rest.
One of the owners tried to give Cola some scraps of food, but he rejected them. I guess he was exhausted. So was I.
The resident dogs tried to approach him and a small fight erupted.
Cola disappeared into the dark and I didn't see him again that night.
He had walked 95 kilometres on badly cut feet with no food and barely any water.
Next morning, one of the owners asked about "mi perro"
I explained he was not mine and asked if someone could take him back to Uyuni.
Tourist vehicles were already arriving to see the sun rise, so hopefully one of them would have space and a little sympathy.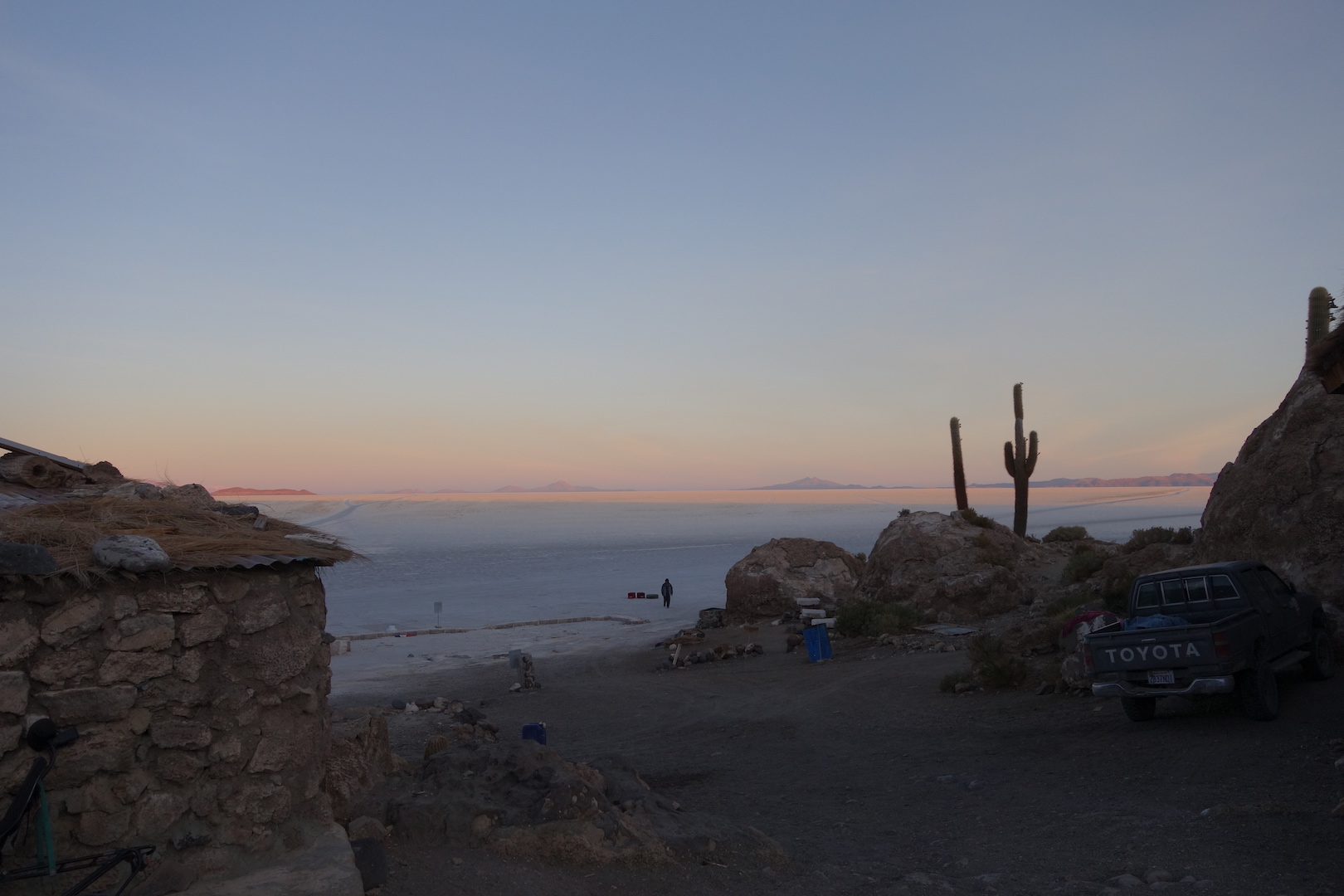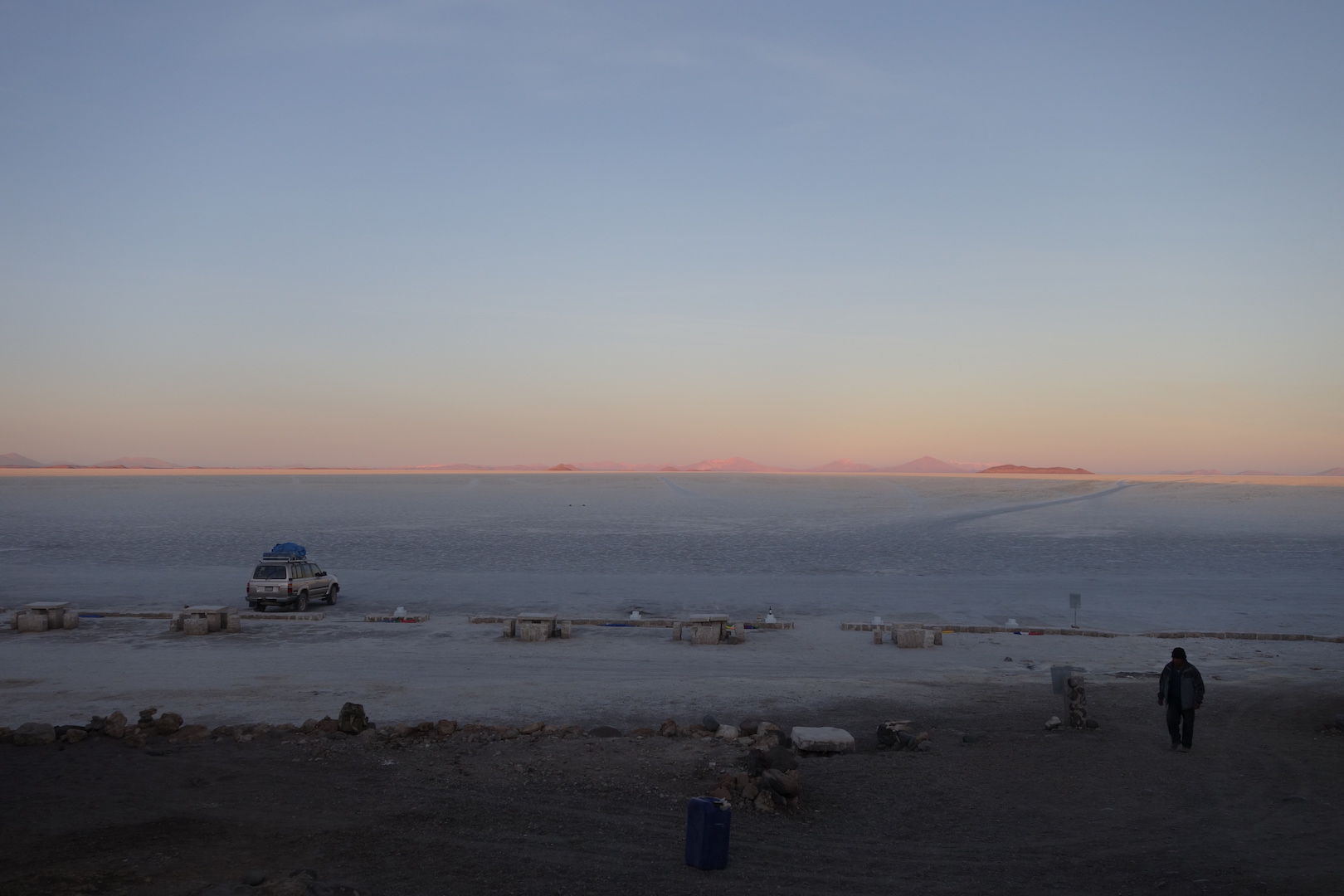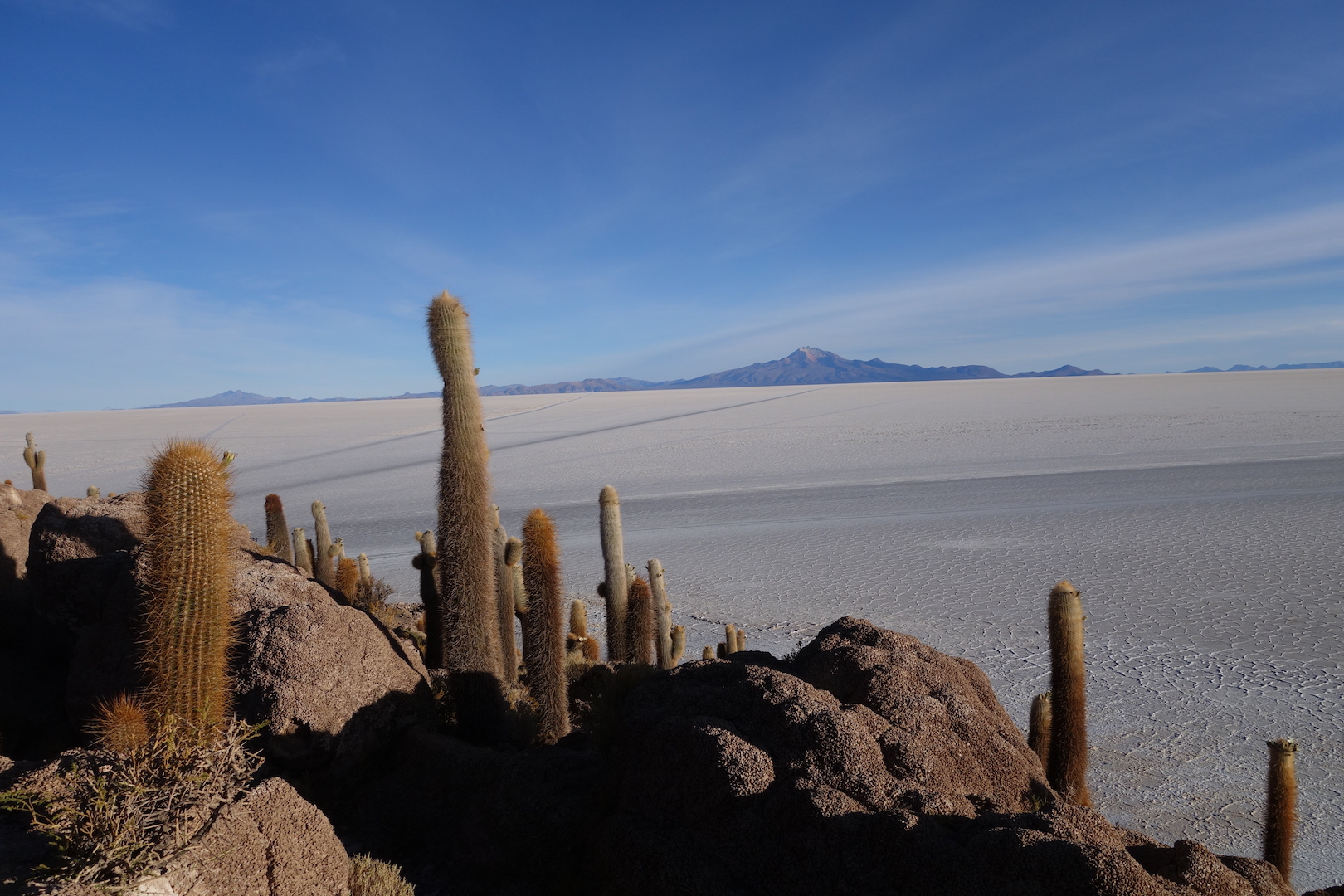 I had no food or water to give him as today I knew I was another long day and he would not make it otherwise.
As I sat eating my breakfast, Cola limped up and it was clear he was suffering.
But still, he seemed pleased to see me and stayed close as I packed up my gear.
I headed down onto the salt and parked my bike on the rough surface.
I had to physically pull the dog back up the incline to stop him following me, despite his heavy limping.
I think he got the message as he skulked to a small patch of dry grass behind one of the buildings.
Curled up and started shivering.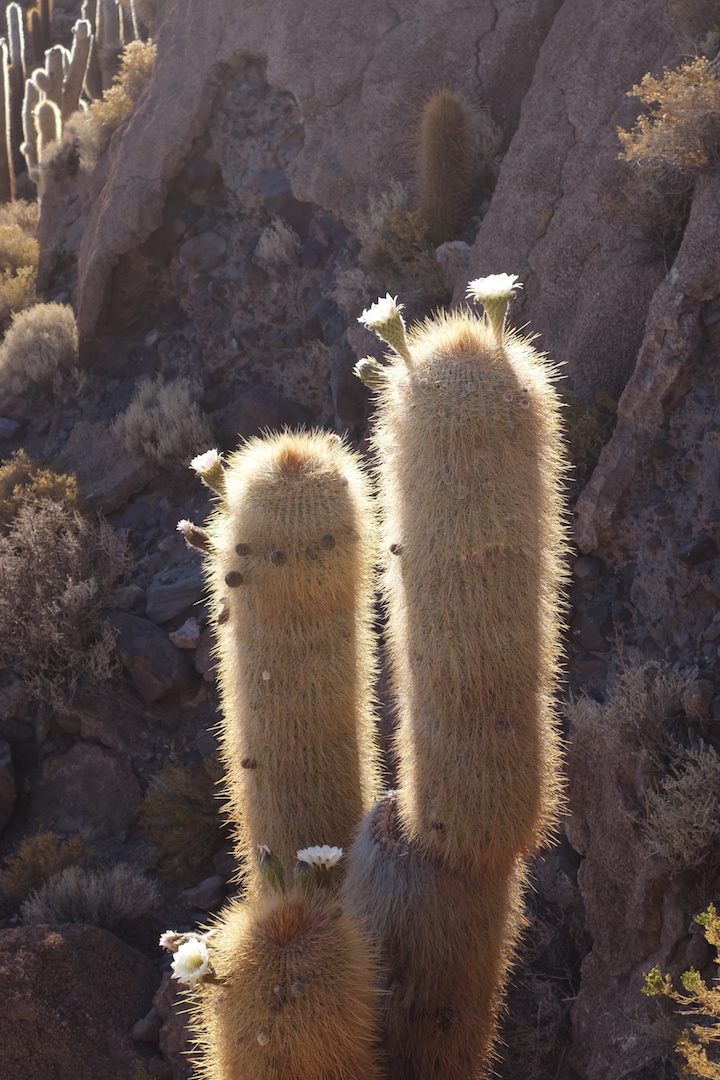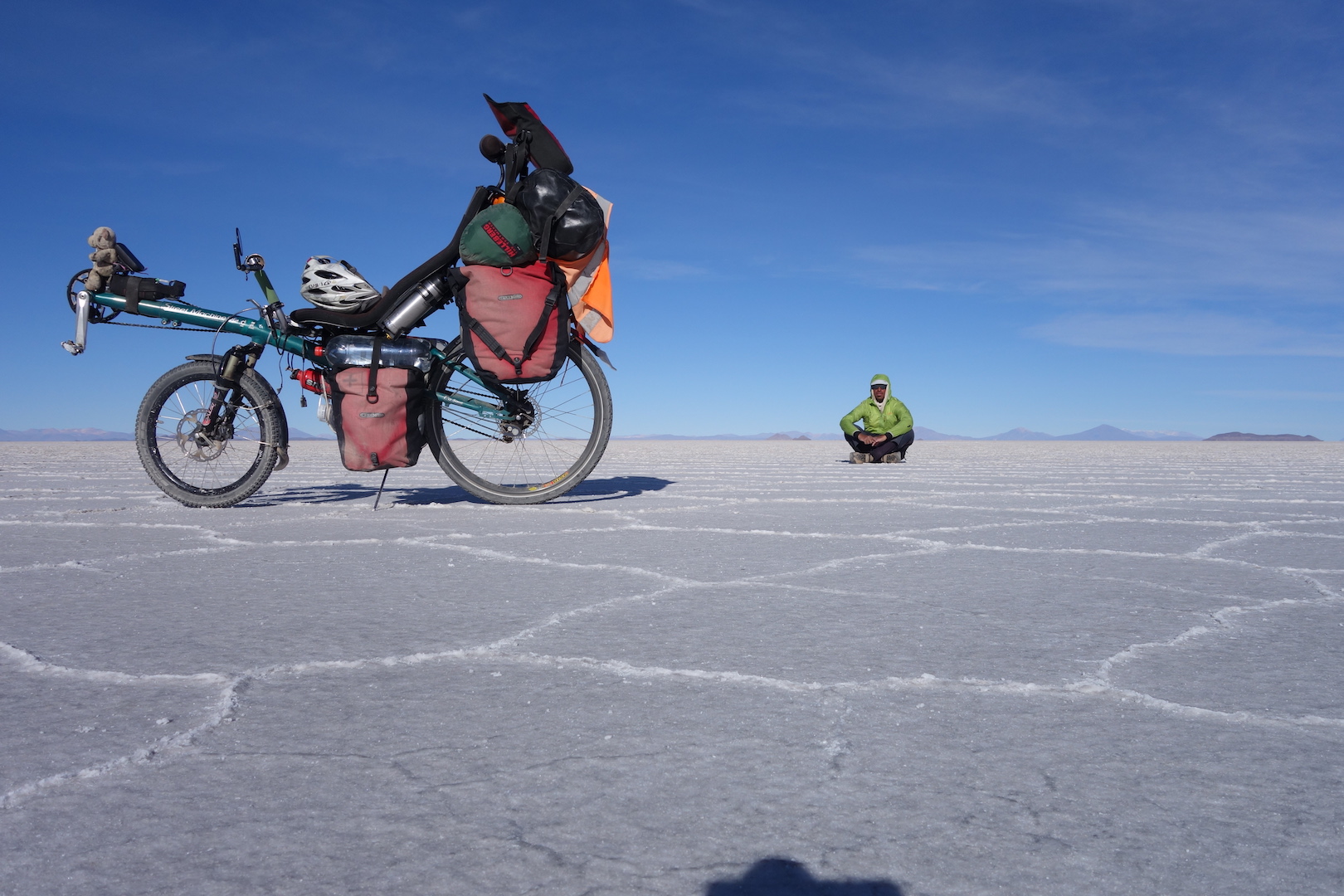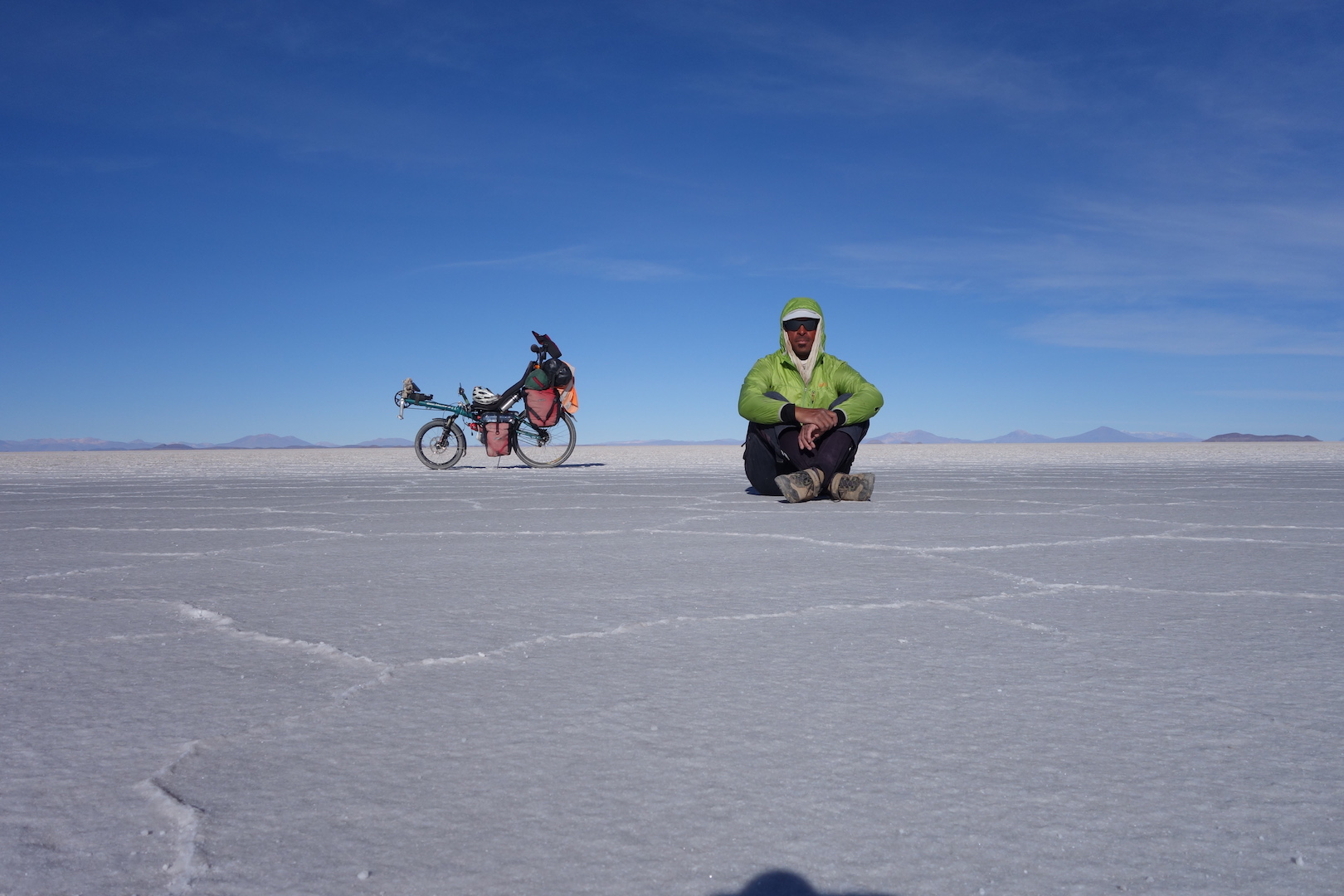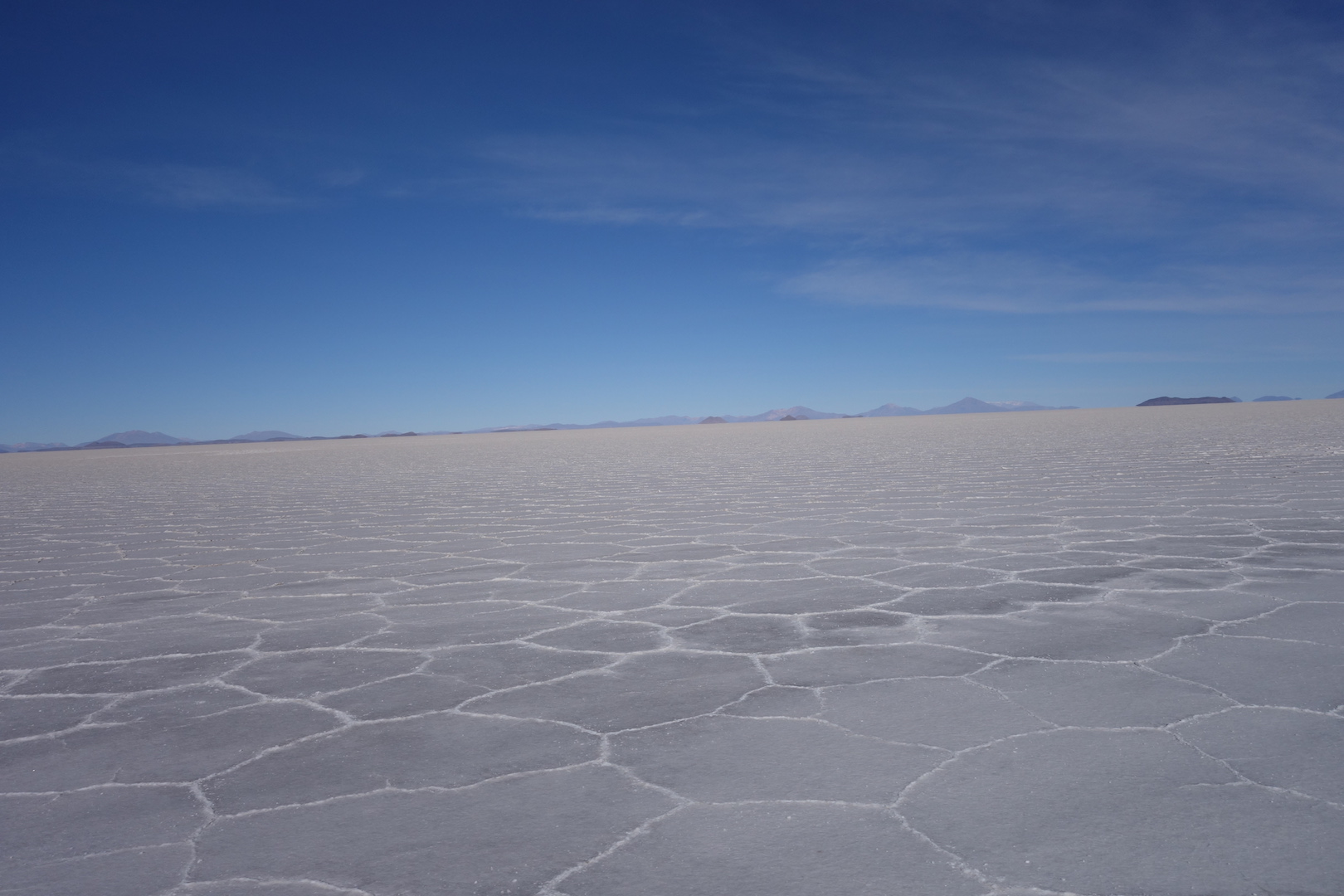 I set off quickly.
Sprinting across the salt for the first kilometre, I didn't want the dog changing his mind and following me.
But he didn't.
At least, I was too far away to see now. Maybe he did.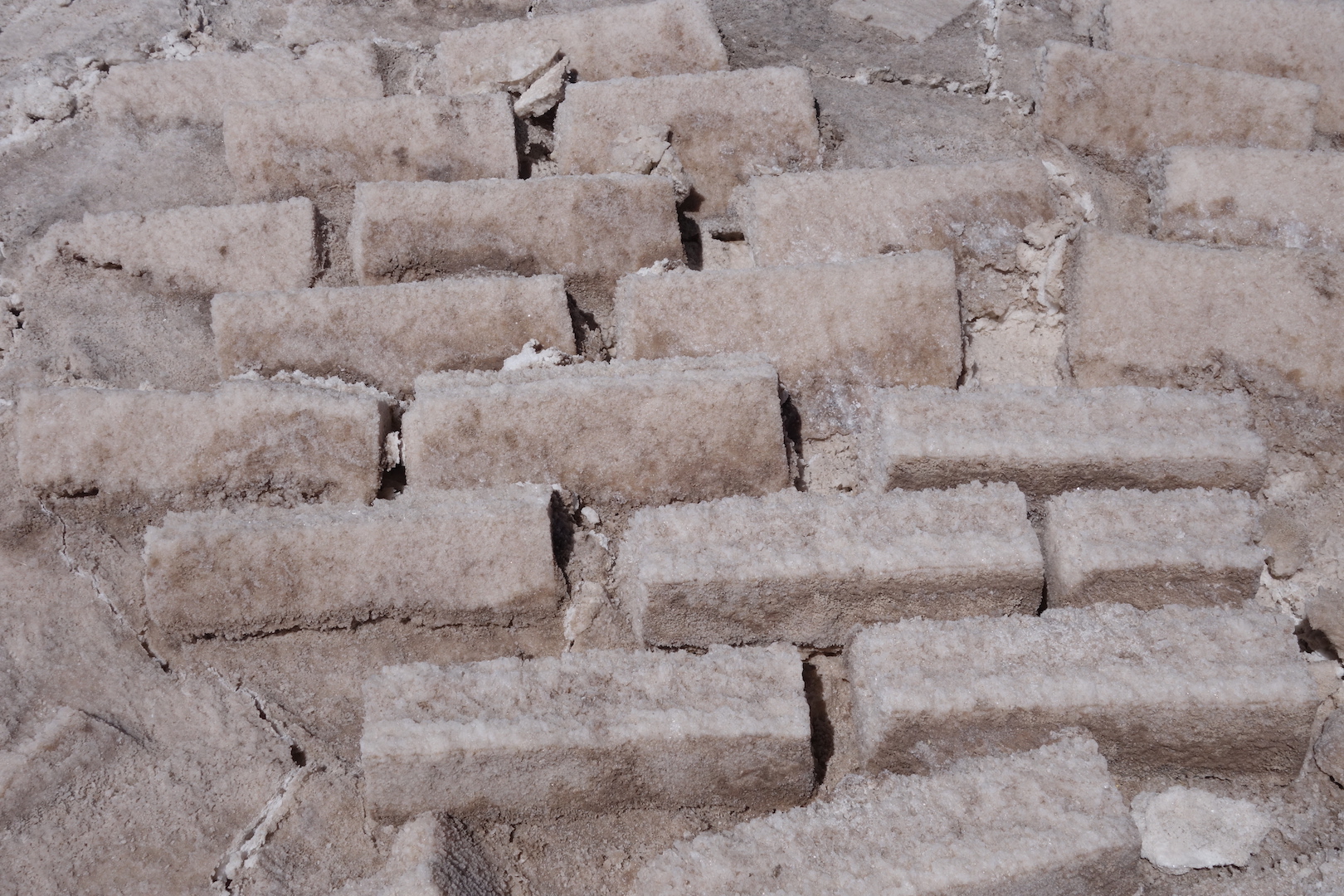 The salt changed from the tesselated patterns to a rougher granular surface.
Not good for my tyres, let alone feet or paws.
I had a slight tailwind and sped along the near perfectly flat surface.
The wind pushed me past diggings as miners had tried digging into the surface to make bricks of the salt. At the base of the mountains, old mine shafts and equipment were exposed and corroding in the dry air.
Eventually, after about 30 km's, the salt ended and a rough dirt road lead me to a small collection of houses.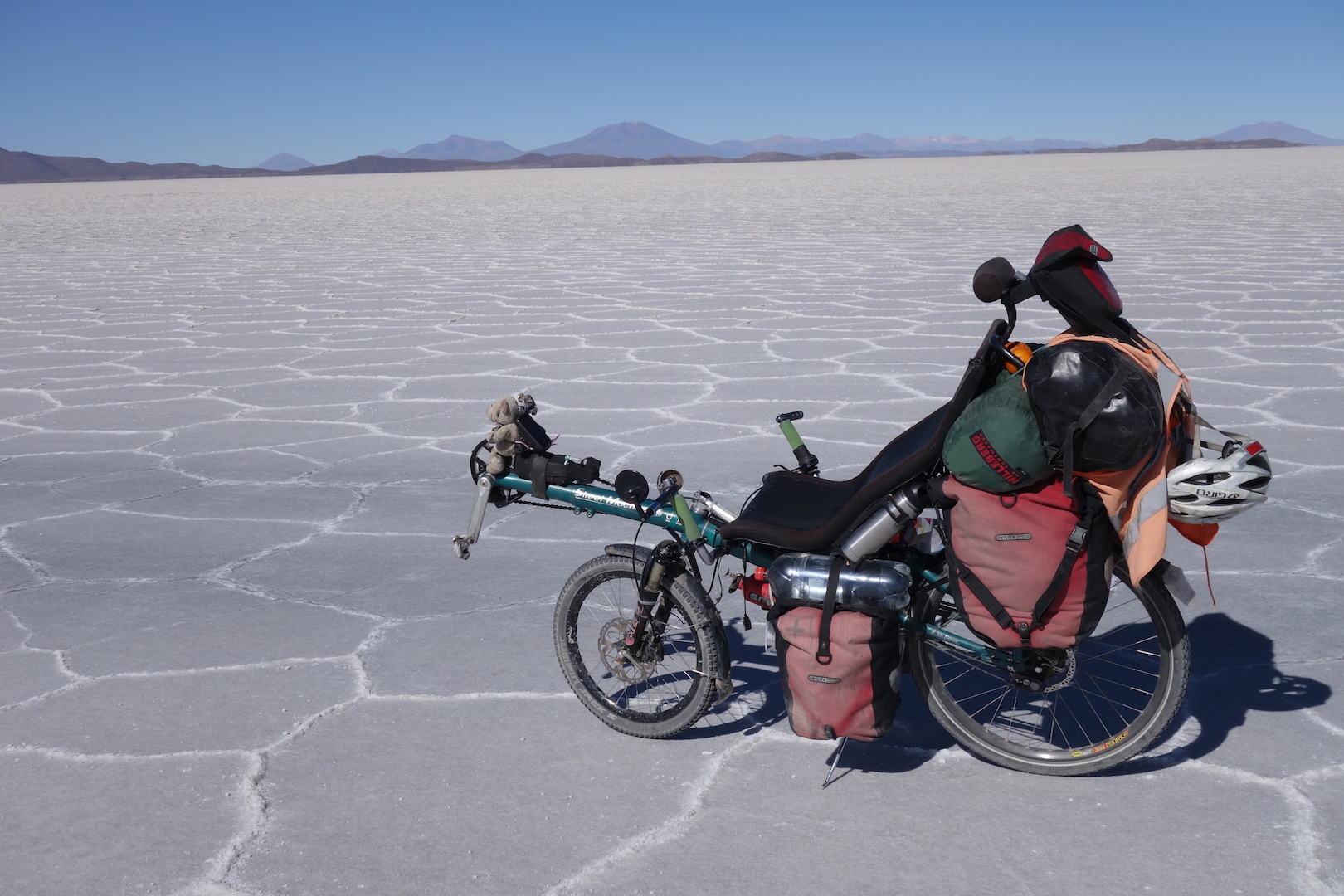 Several old guys sat outside a small kiosk shop casually chewing coca leaves.
Piles of chewed green pulp sat at their feet drying in the sun and then blowing in the breeze.
Their teeth, cracked and yellow or missing as they tried to explain the route ahead for me.
Their faces aged by sunlight and salt and creases of time making them older than they probably were.
I understood little of what they said except to step away when they turned towards me, as I would receive a Coca saliva shower.
Their words muffled by the thick accent and full mouths.
I politely thanked them finished my drink and empanadas from the shop and set off non the wiser.
I had my GPS and was heading to San Juan.
From the few words I had understood though, they were telling me to stay off the man made road and get back onto the Salar.
I saw a few tourist 4x4's doing the same and tried to follow their route on the salt.
The road soon turned to sand and it was impossible to ride.
And the 4x4 tracks also took a sharp turn into the middle of the salt and away from the direction I was heading.
I had to backtrack almost 2 kilometres to find the road I started on, then followed the new dirt road despite its bumps, potholes and washboards.
It was very tough cycling. A very difficult day.
The washboards became sand, turned to dried mud then back to washboard again. And don't forget the wind. My energy levels were falling as I realised I would not make it to San Juan that evening.
Still on the dirt road, I began looking for a place to camp.
On a perfectly flat plateau, it is impossible to conceal oneself and a green tent on a vast white surface isn't exactly discreet.
After a few more kilometres. Some small bushes appeared.
Though only waist height, I peeled a few metres off the road and found a clearing in between the plants.
This became home for tonight.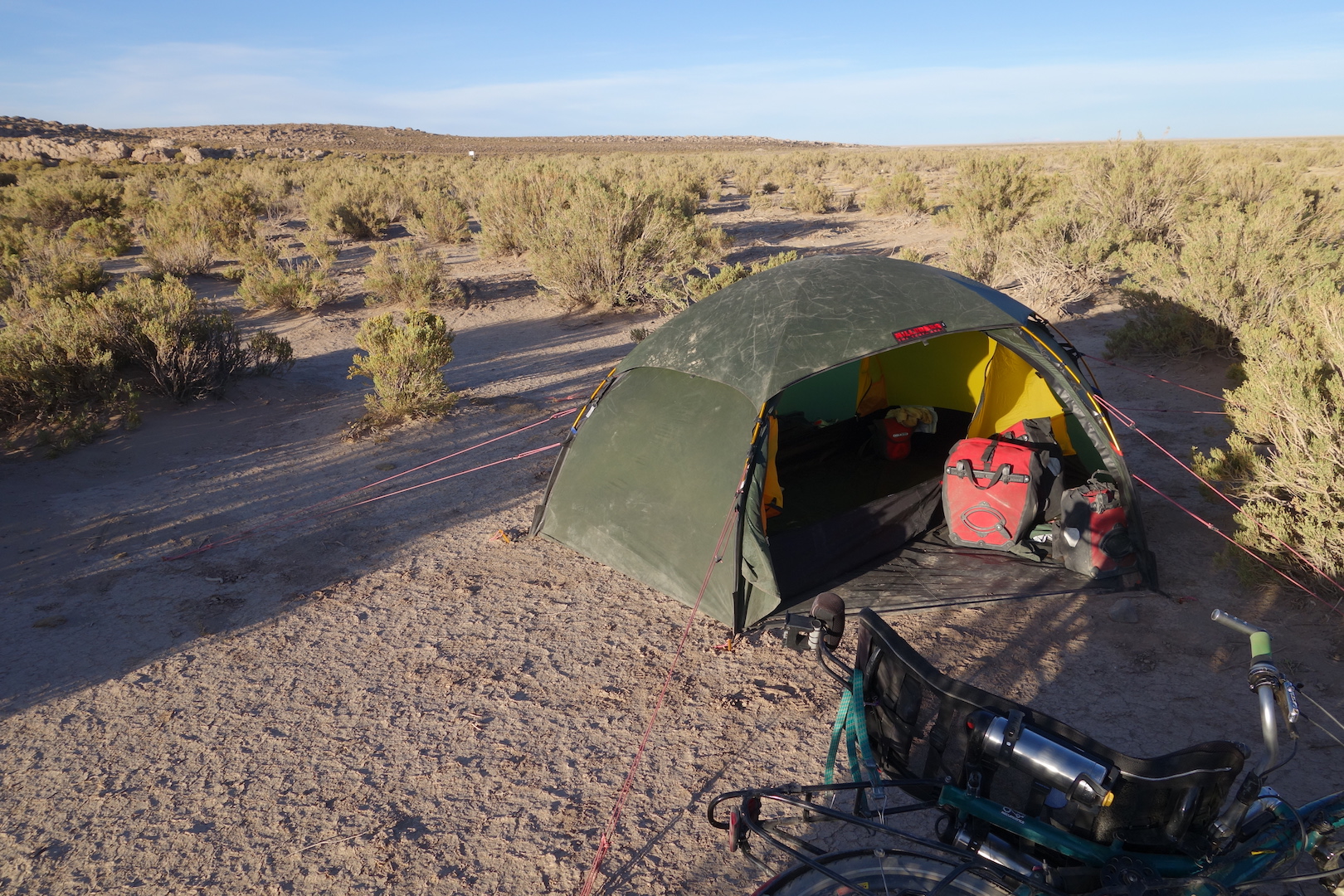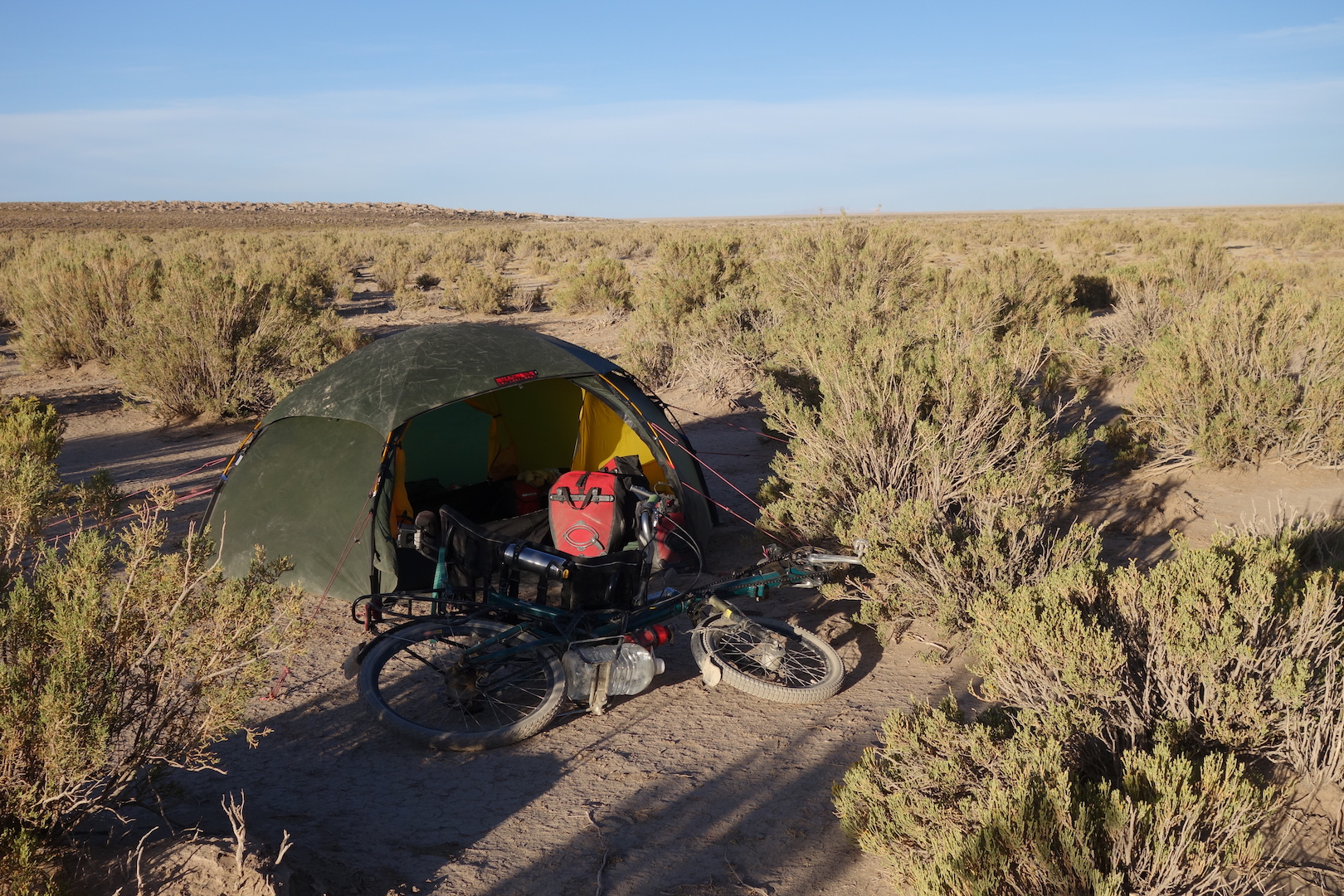 I set up, prepared some noodles and pasta and laid in my bed as the first stars came out. Vigilant for someone disturbing me, but there was only the dust trail of a vehicle several kilometres to the south. The night came fast.
I was looking forward to the full display of stars and the milky way across the vast black horizon but never saw it, as I fell asleep almost immediately.
San Juan was only 15 kilometres down the road, but it took me several more hours of pushing and dragging my bike along the sand and gravel tracks.
I was now on a main motorway out of Bolivia to the Chile border, but if it wasn't for the road signs I would not know.
The town appeared eventually and I decided to have a rest day. A cheap hostel was surprised to be receiving a guest at 9 am and they didn't quite know what to do with me.
I took a shower and asked about a café or restaurant. The hostel only offered dinner but not till 7 pm
There was nothing else in the town.
"A shop? " I enquired.
"Maybe there is one on the corner? But it won't be open now.
Maybe later…." maybe
The hostel kindly prepared me some dry toast and tea. But I was still hungry.
I dug into my supplies.
If I could find some bread, I could make a Tuna sandwich.
The third little corner store was reluctant, but sold me some semi dry bread rolls.
Better than nothing I guess.
But made me wonder what the people did for food.
Travelling the main (dirt) road, Uyuni was at least 70 or 80 difficult kilometres away and the population of the town was probably just big enough to justify a small supermarket. There was clearly some money hidden here.
Despite its dry grey, dusty appearance, the tourist train passed through here daily and there were at least 2 hostels I could see, but only corner stores selling coca cola, potato chips and other junk food. As well as very basic groceries. Though barely any bread.
Feral dogs roamed the streets. Their black puppies turned grey by the dust and houses formerly mud bricks were being upgraded to clay brick, tiles and stucco. The many new pickup trucks in the yards indicated wealth from something other than tourism.
I wandered the town and couldn't make sense of it.
So I returned to my room and slept through the afternoon.
At dinner, a French tour party were the only other guests it seems and completely ignored me. So I ate, then slept again.
Leaving the town the following morning, I crossed into the desert salt again. And the tailwind became a headwind again. Stronger this time as I pedalled to Ollagüe and the Chile border.
The salt was soft here. Showing signs of recent rains. Deeper 4x4 tracks hardened the surface and made it a little easier to follow, as long as they headed in my direction.
Which they often weren't. More pushing, soft dirt, and an eerie landscape surrounded by flat topped mountains. Massive and very present.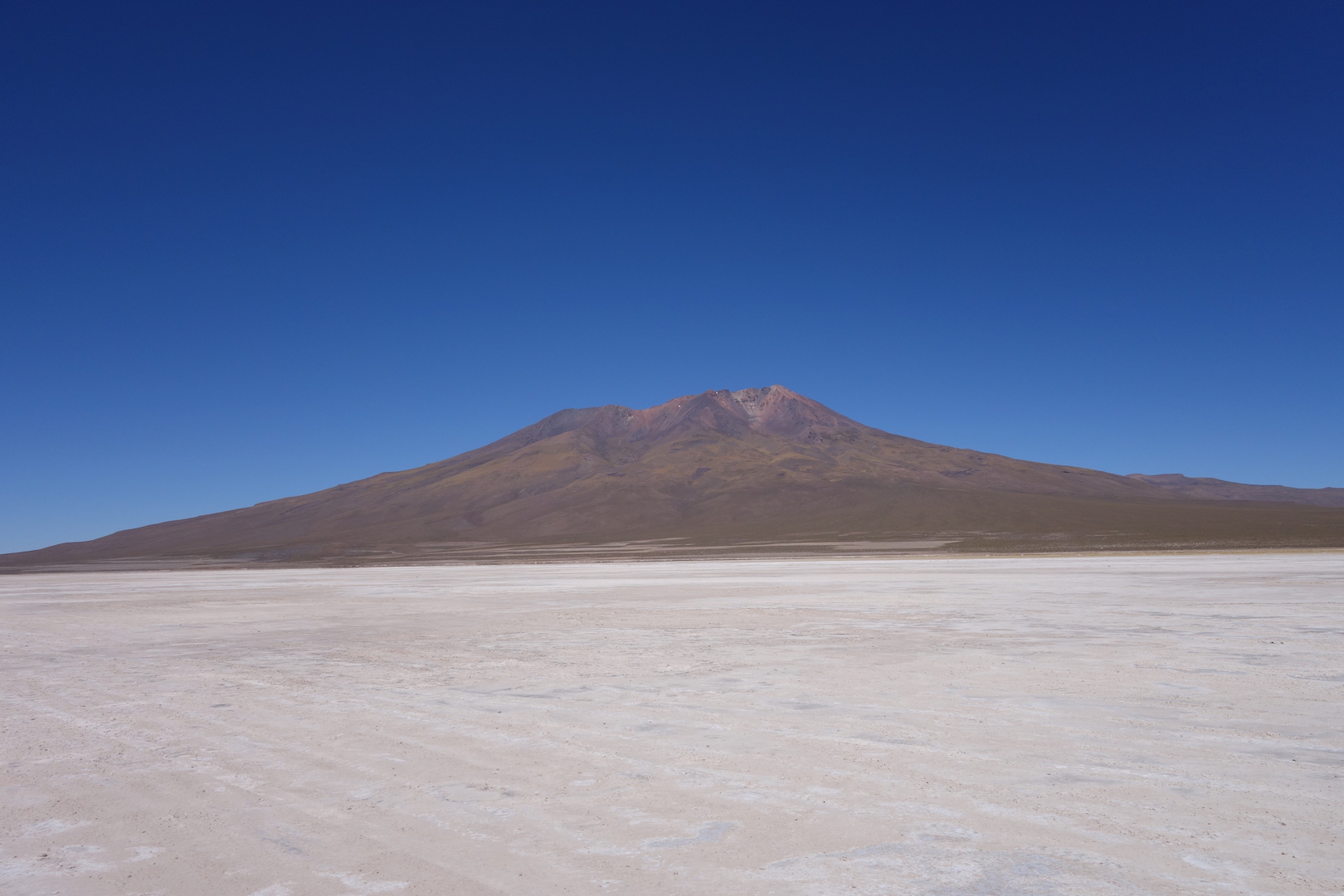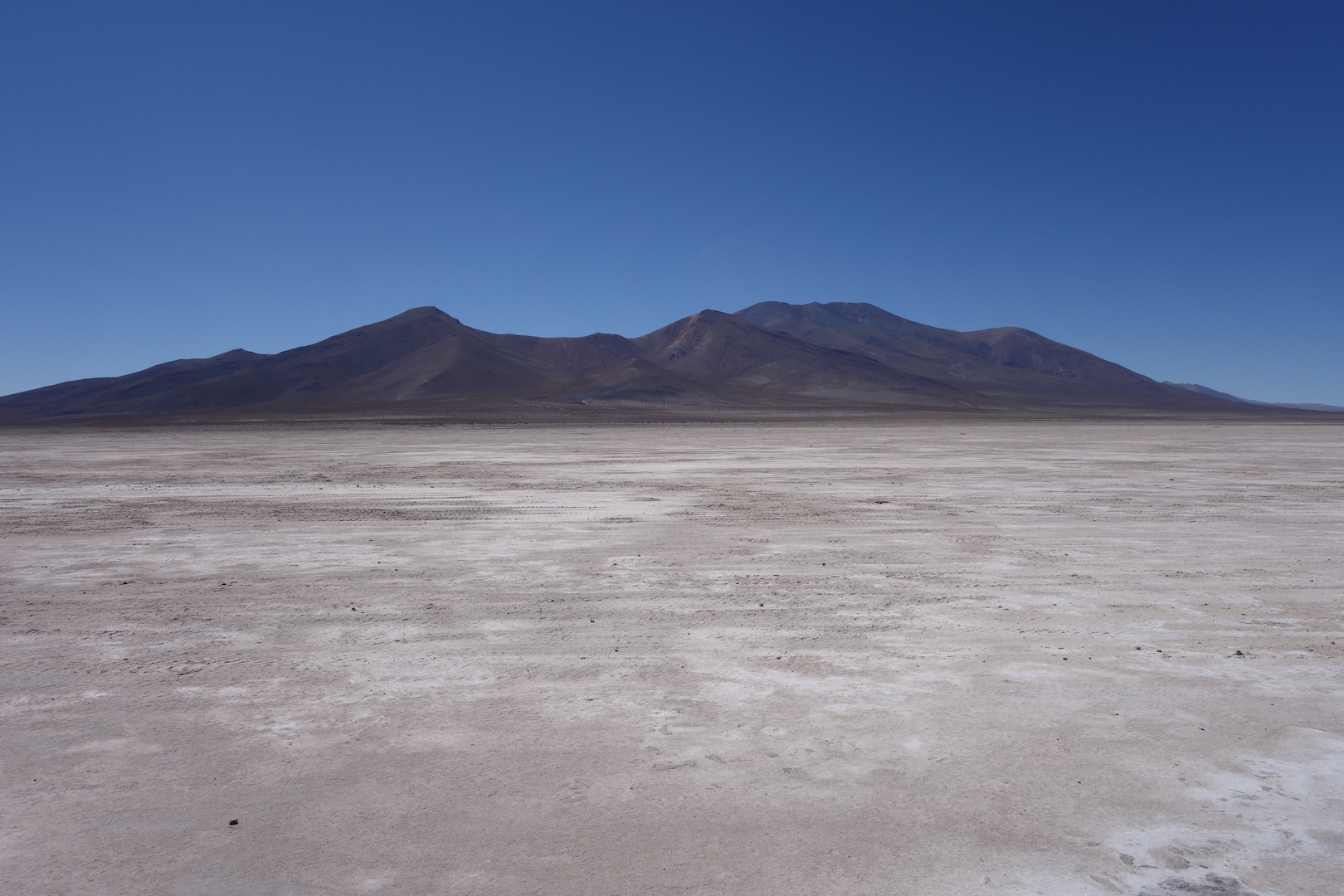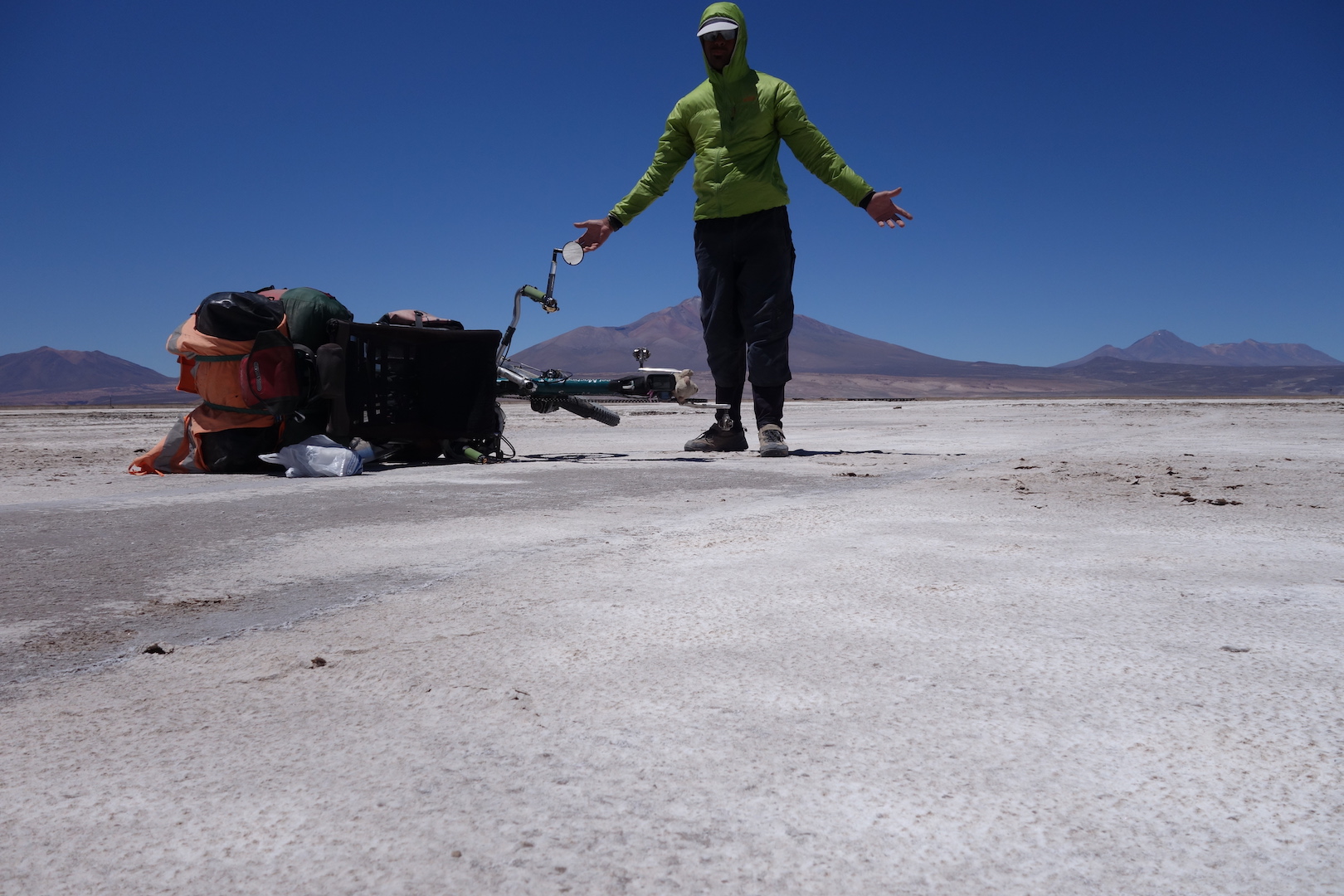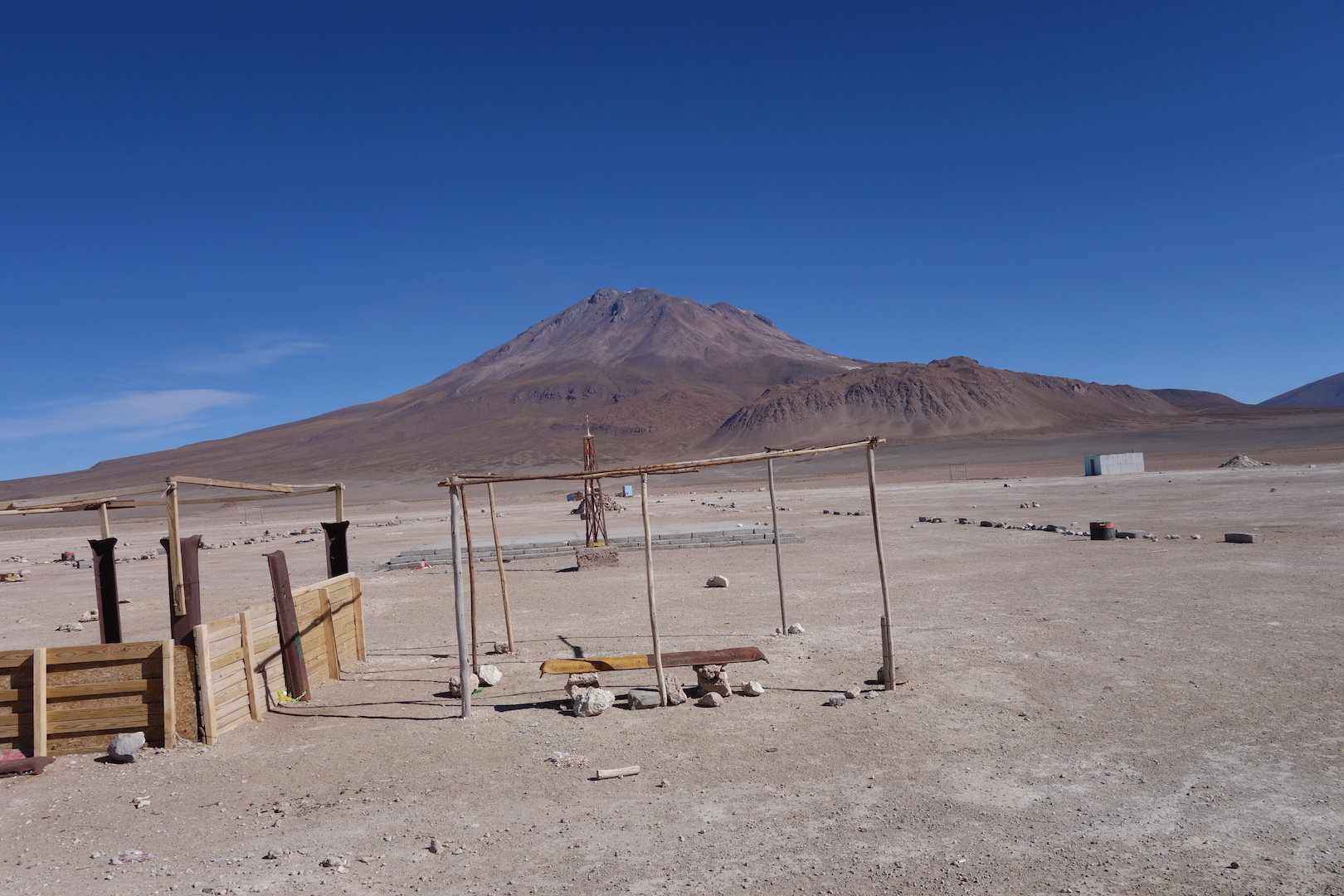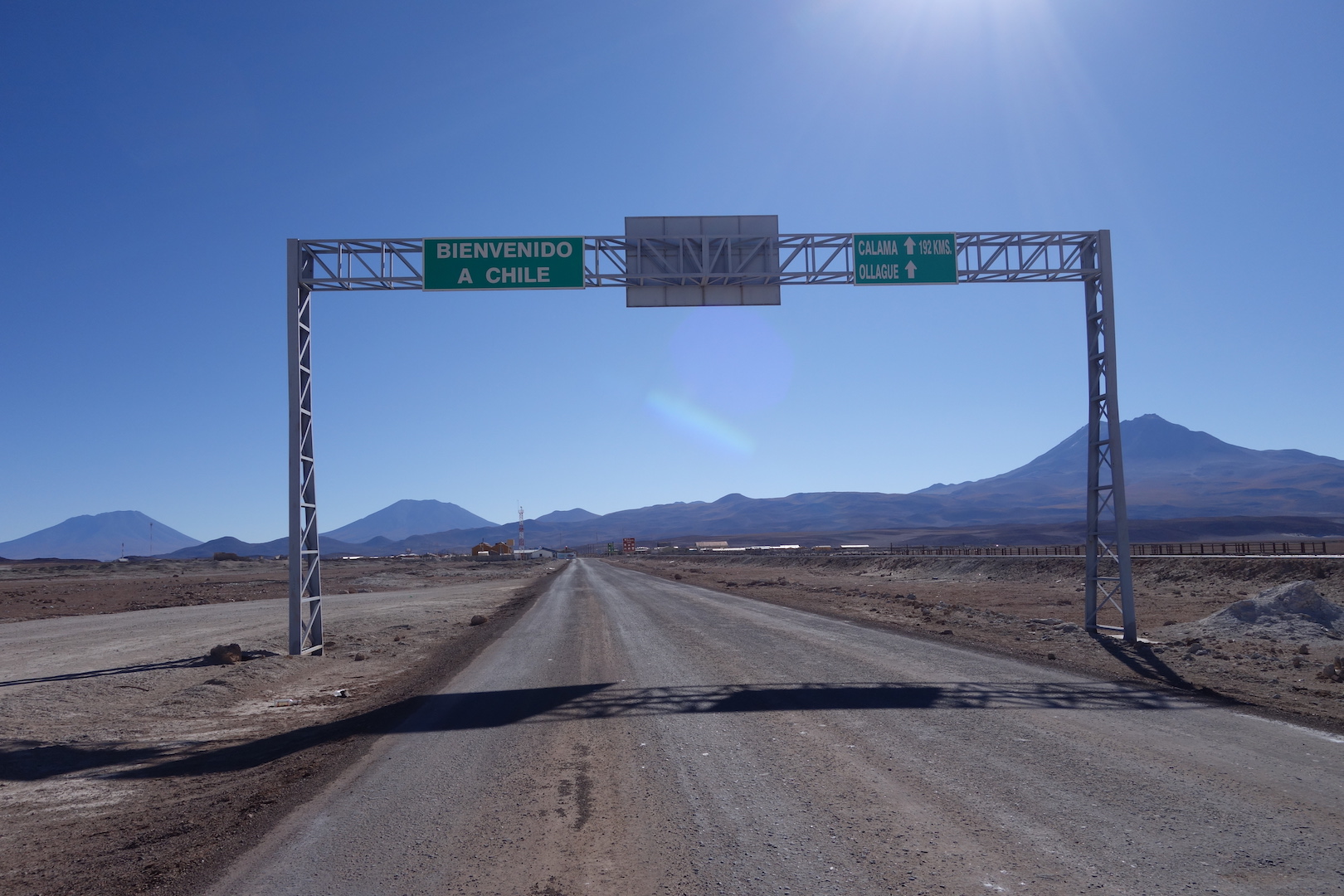 I followed the railway lines to the border post and into a derelict looking cabin, which served as the Immigration office.
An exit stamp and then a 4 kilometre headwind struggle across no mans land and into Country number 15.
Even though I still have 10-12 thousand kilometres left to travel I was overcome by a sudden feeling of finality to my journey. Perhaps it was the exhaustion of the past few days.
As I crossed the no mans land, I looked around.
Most of the peaks were clearly volcanoes. And as I realised this the largest and closest, Volcan Ollagüe let rip with a large explosion and a huge cloud of steam.
I hope that is not a sign of things to come.