0066: The Motor/Cycle diaries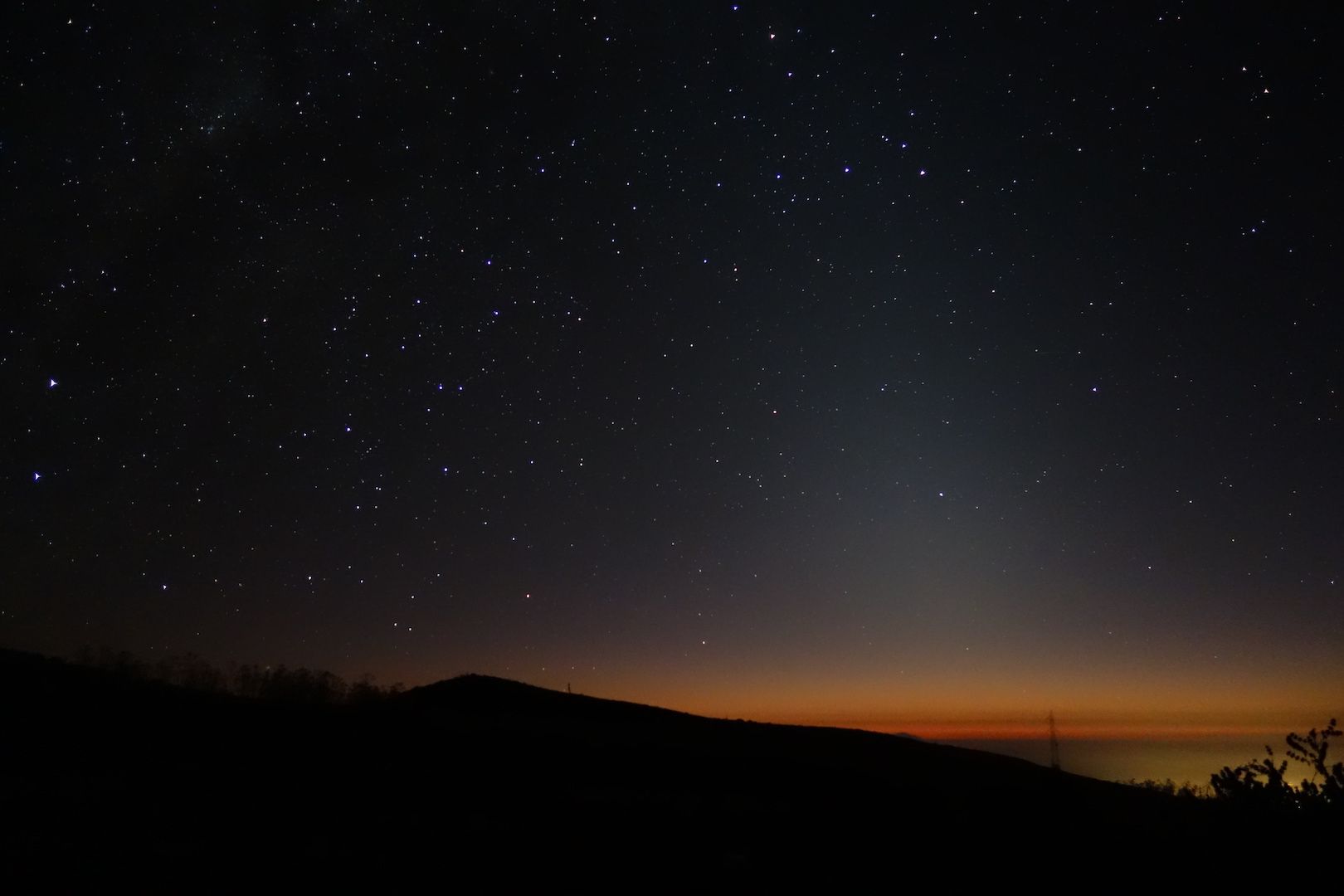 Trujillo to Lima on an overnight bus.
"We arrive at 8 am" I was told. So I told my host I would arrive around 10 am, fully expecting to be late on the bus and also that I would get lost in the city.
We arrived 2 hours early and with no traffic on the road on this early Sunday morning, I was calling my host at 7 am even after trying to kill 30 minutes, by having breakfast on the street.
After wrestling my bike past the door security and up to the 12th floor, my host Chris, ran me through the guidelines then went back to bed.
It was Sunday morning after all, and given he had been out late the night before, rightly so.
I spent two nights in Lima before continuing my journey to Nazca.
But before I did I spent time walking around the very pretty Miraflores and Barranco neighbourhoods trying to understand a little more about the people in the capital city of Peru.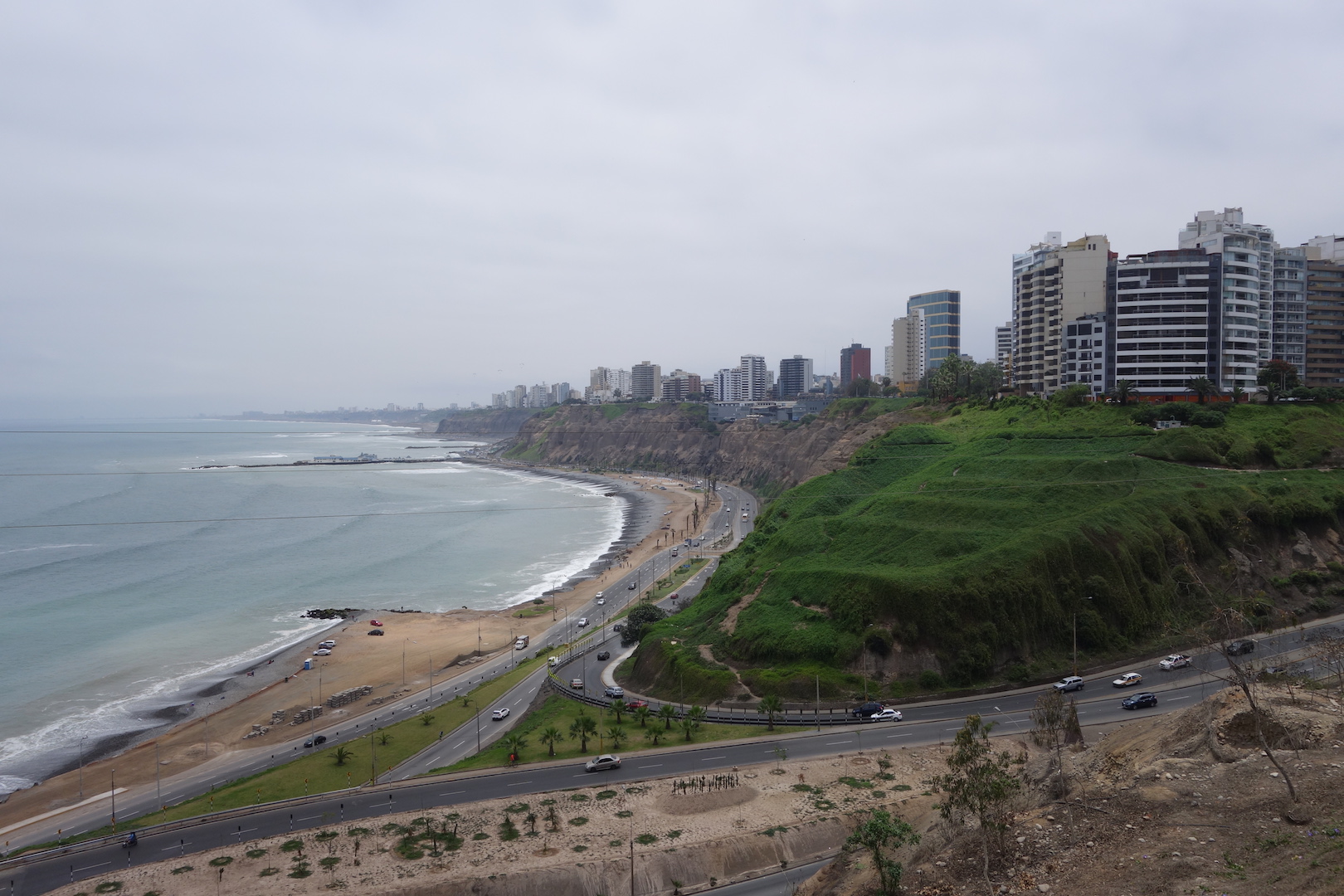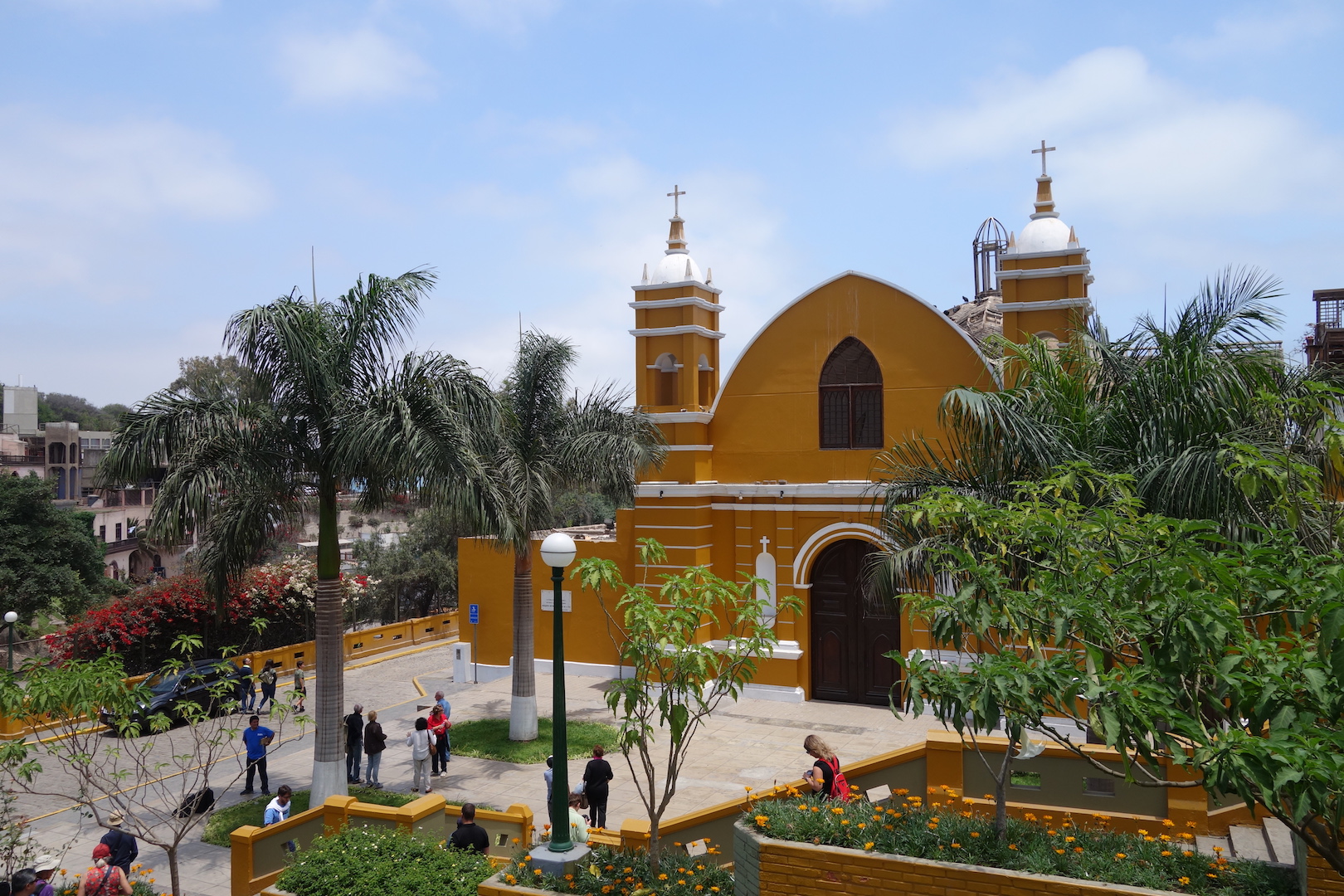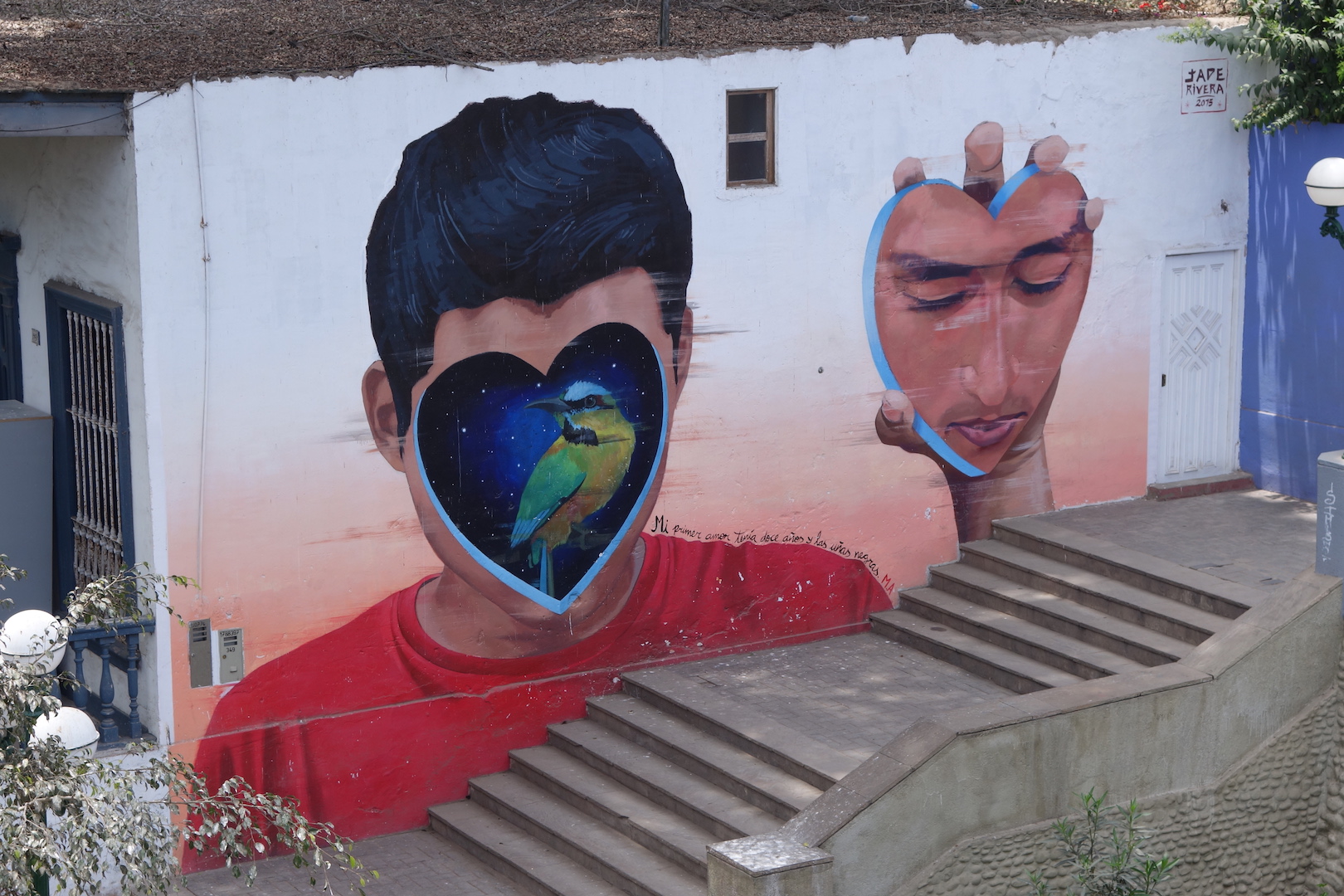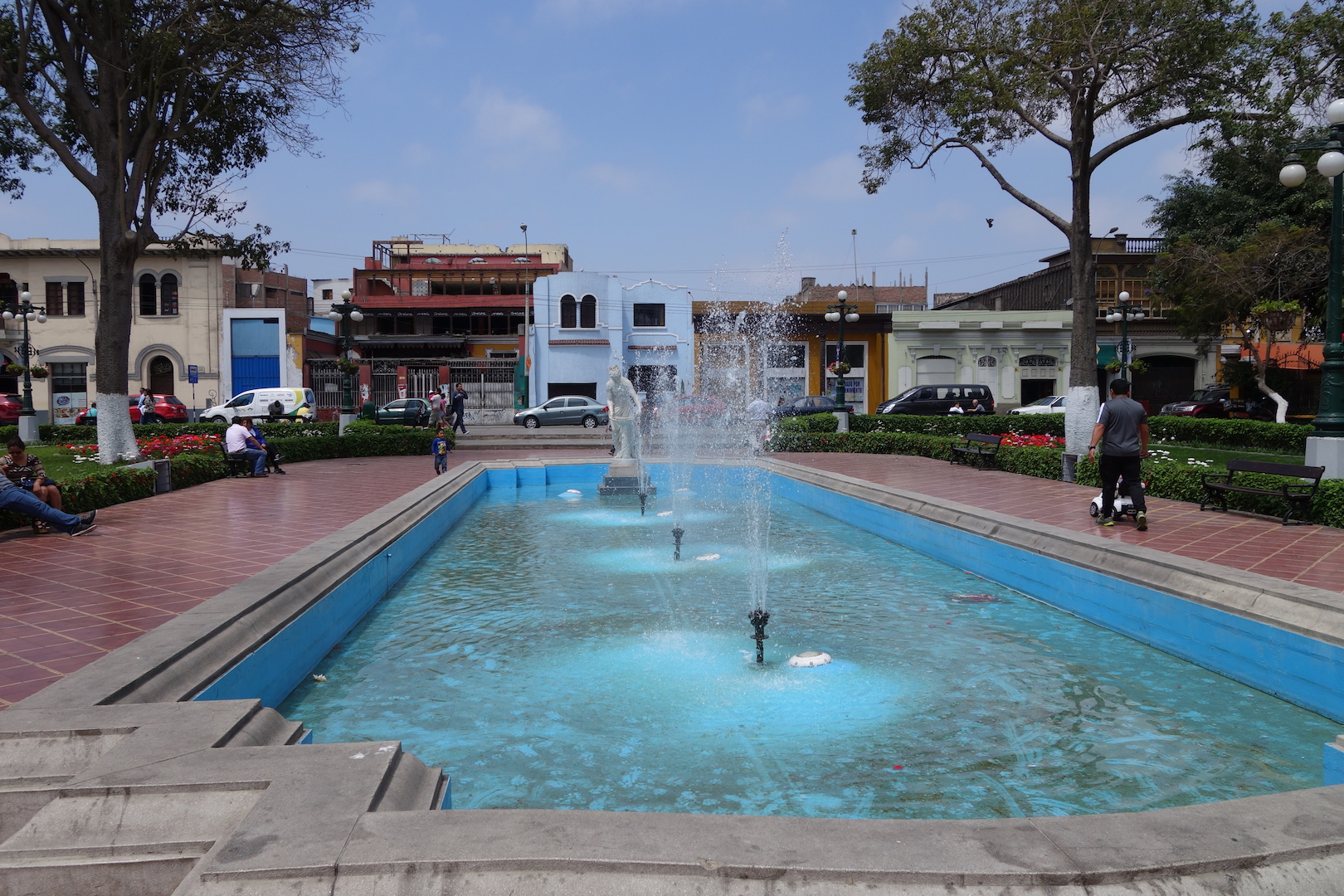 I found Lima city itself very uninspiring to the point where I didn't even want to take any photographs. I did wander around doing a few little chores. And though I visited a couple of tourist spots, on the whole, I really wasn't too enthusiastic about the City.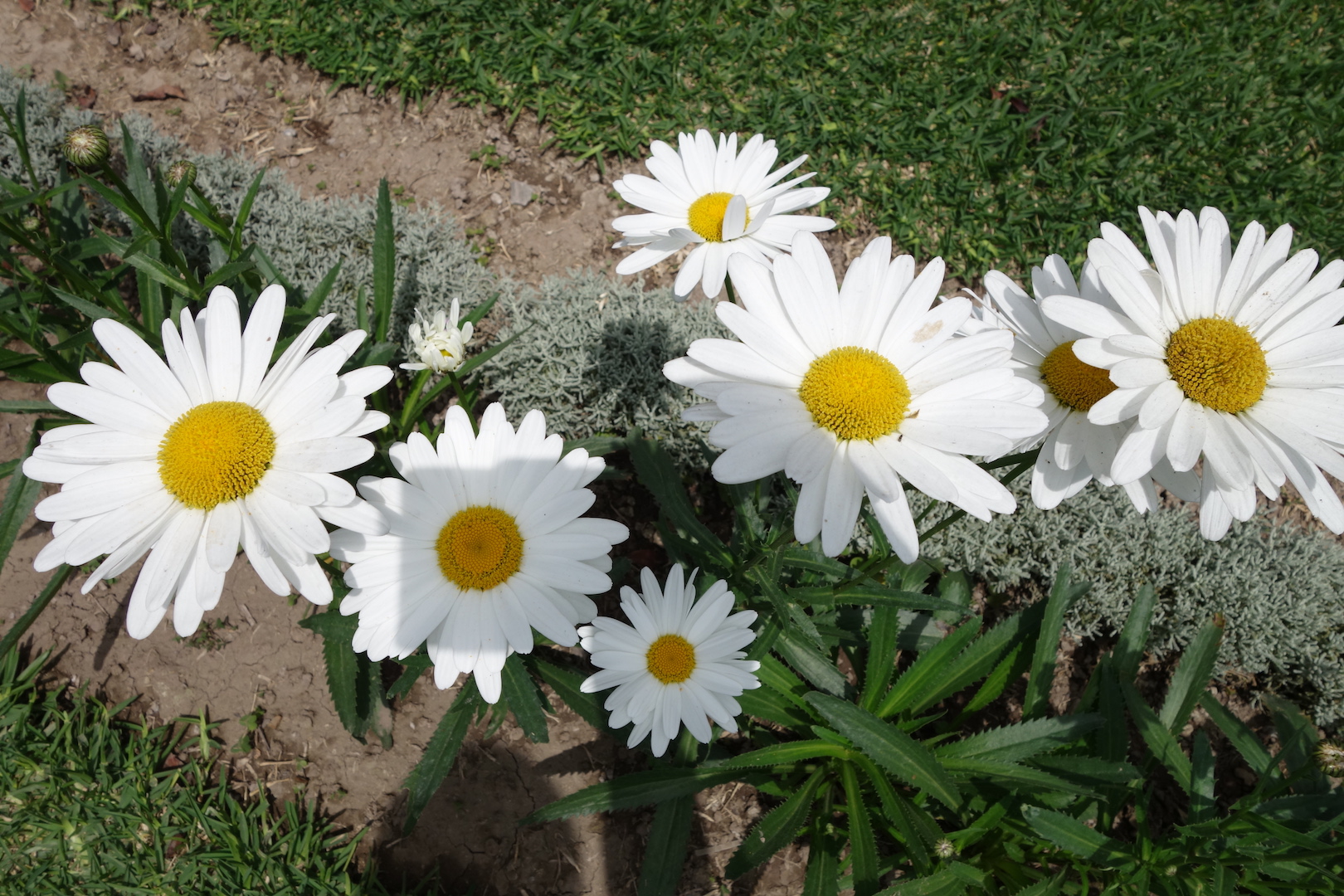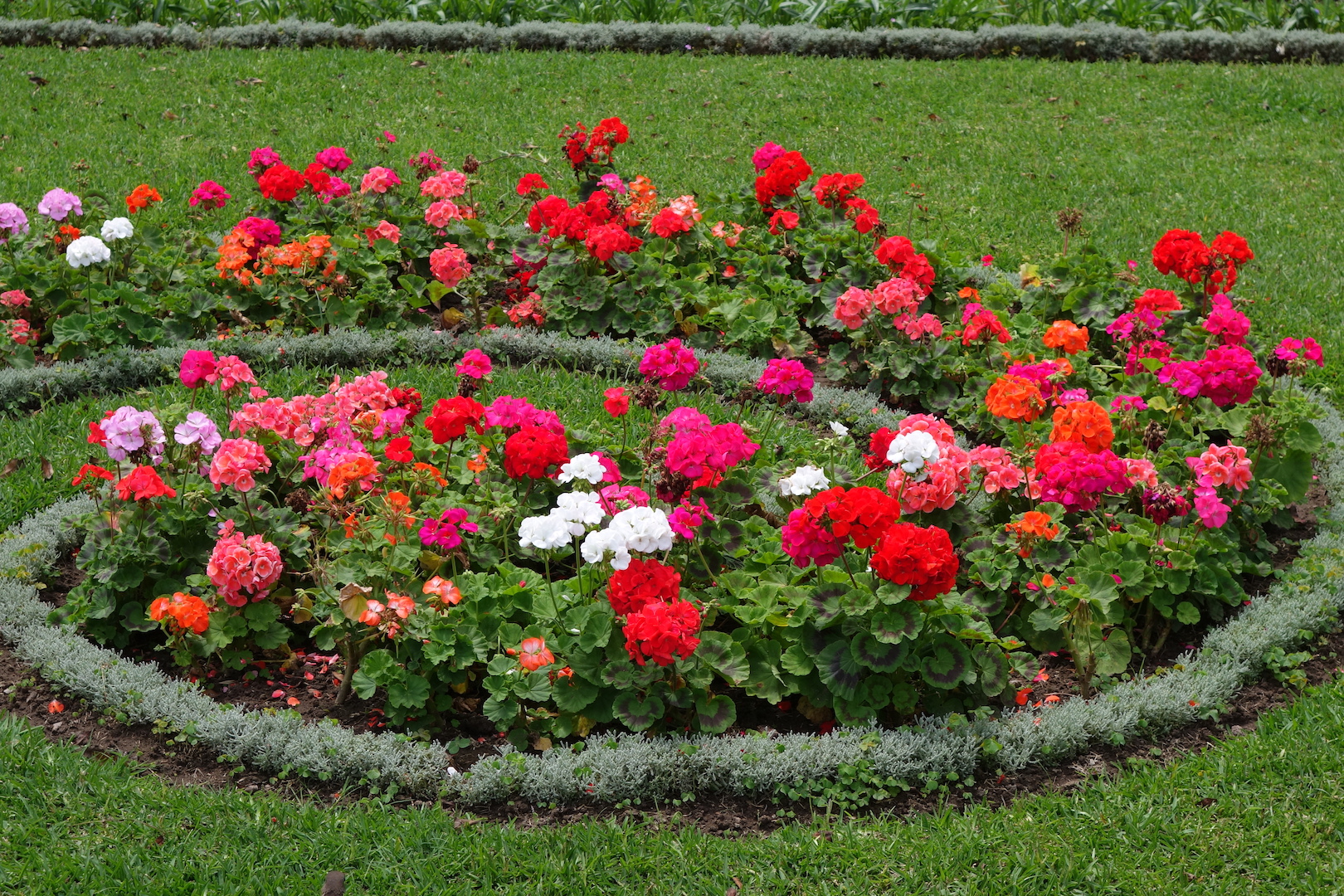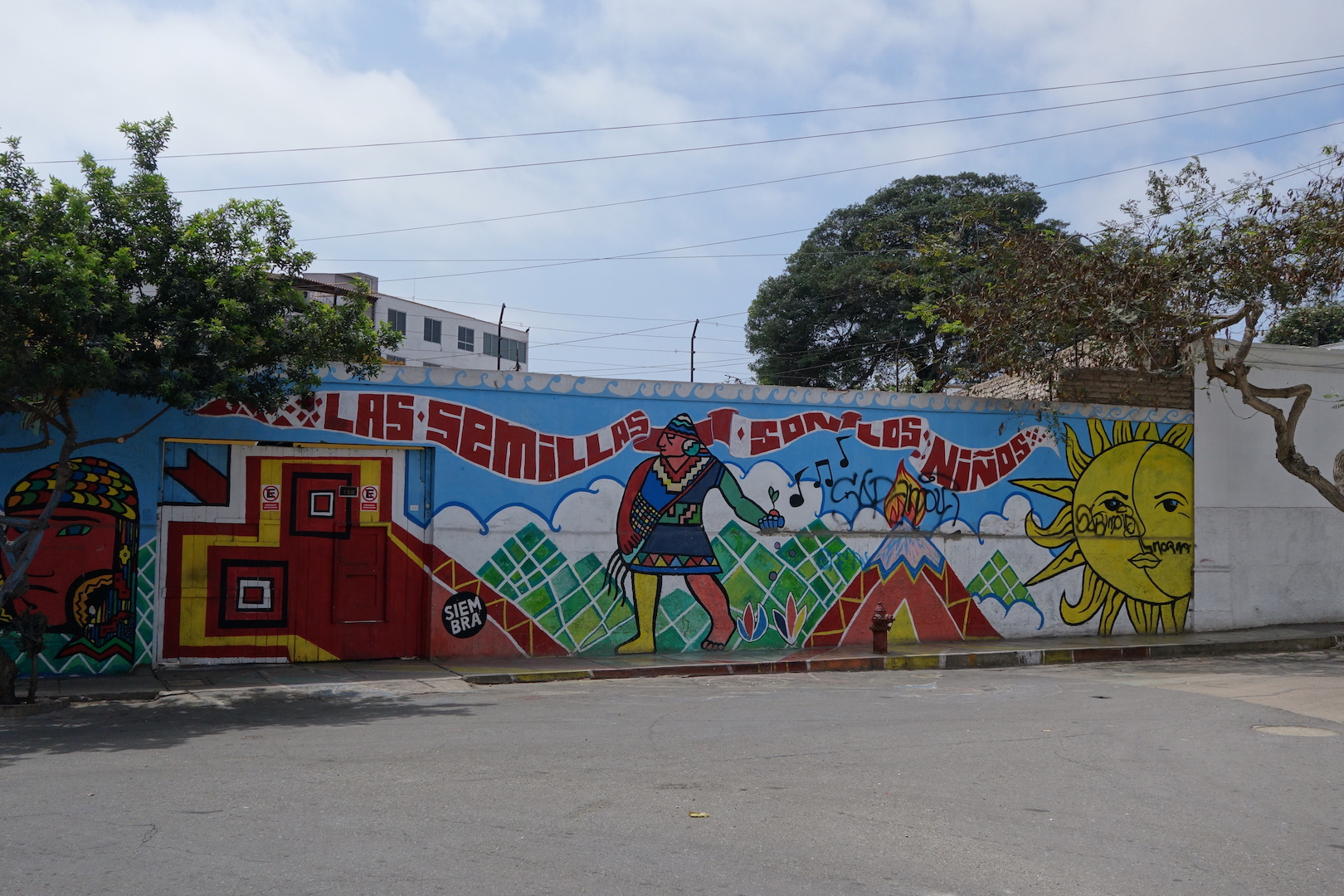 Chris and I shared a meal and I had long conversations with him and Zoe, his flatmate.
Apollo, their cat was overly affectionate one minute then trying to bite my hand off the next.
I quickly learned that as a street rescue cat, If I showed him my open palm he quickly retreated.
I assume this meant he had been abused by his former owners and took an open palm to mean violence?
But generally he was quite friendly.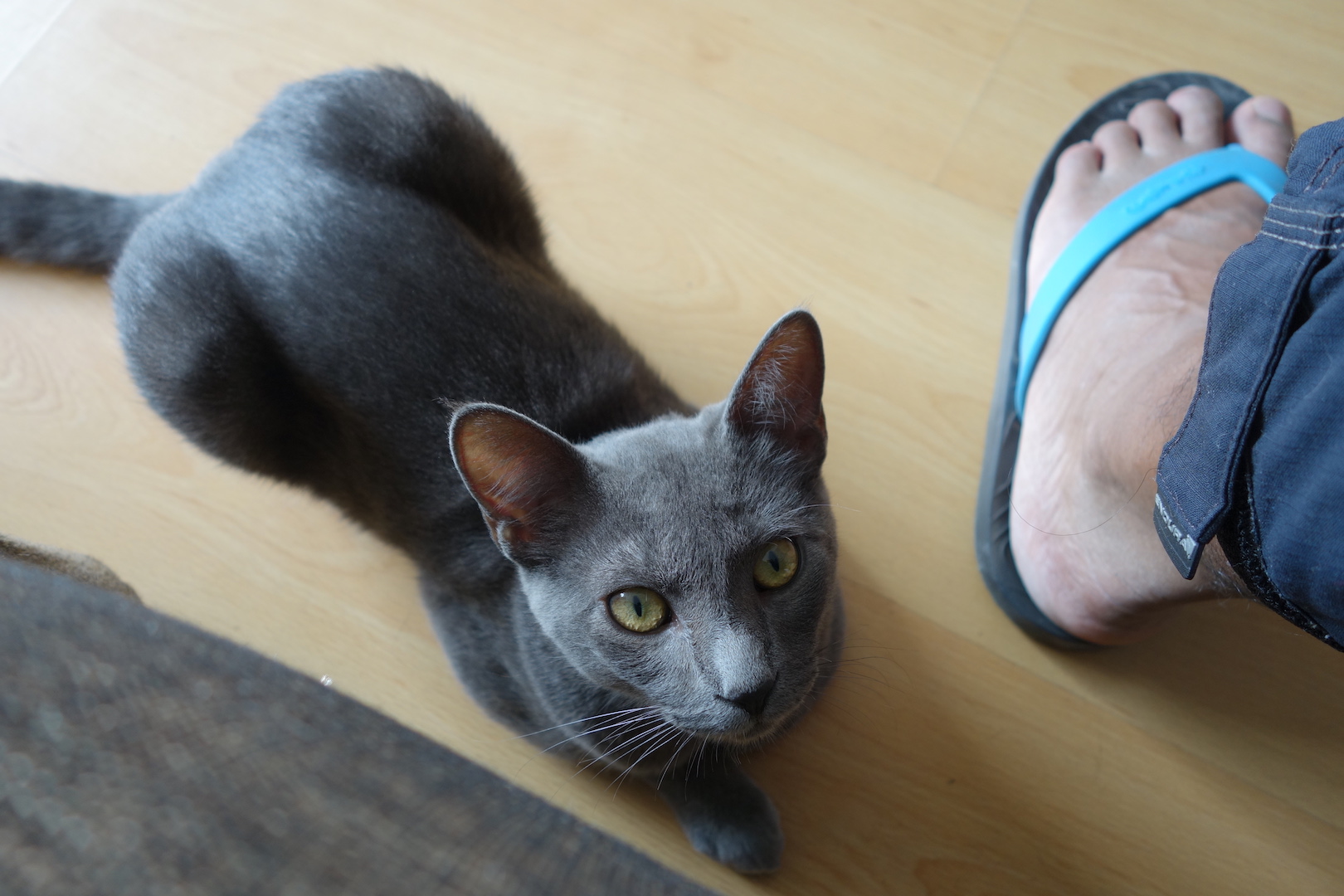 I took a bus in early in the morning to Nazca directly and I arrived at around 4 p.m.that afternoon.
The contrast between the city of Lima and the deserts of Nazca was quite stark.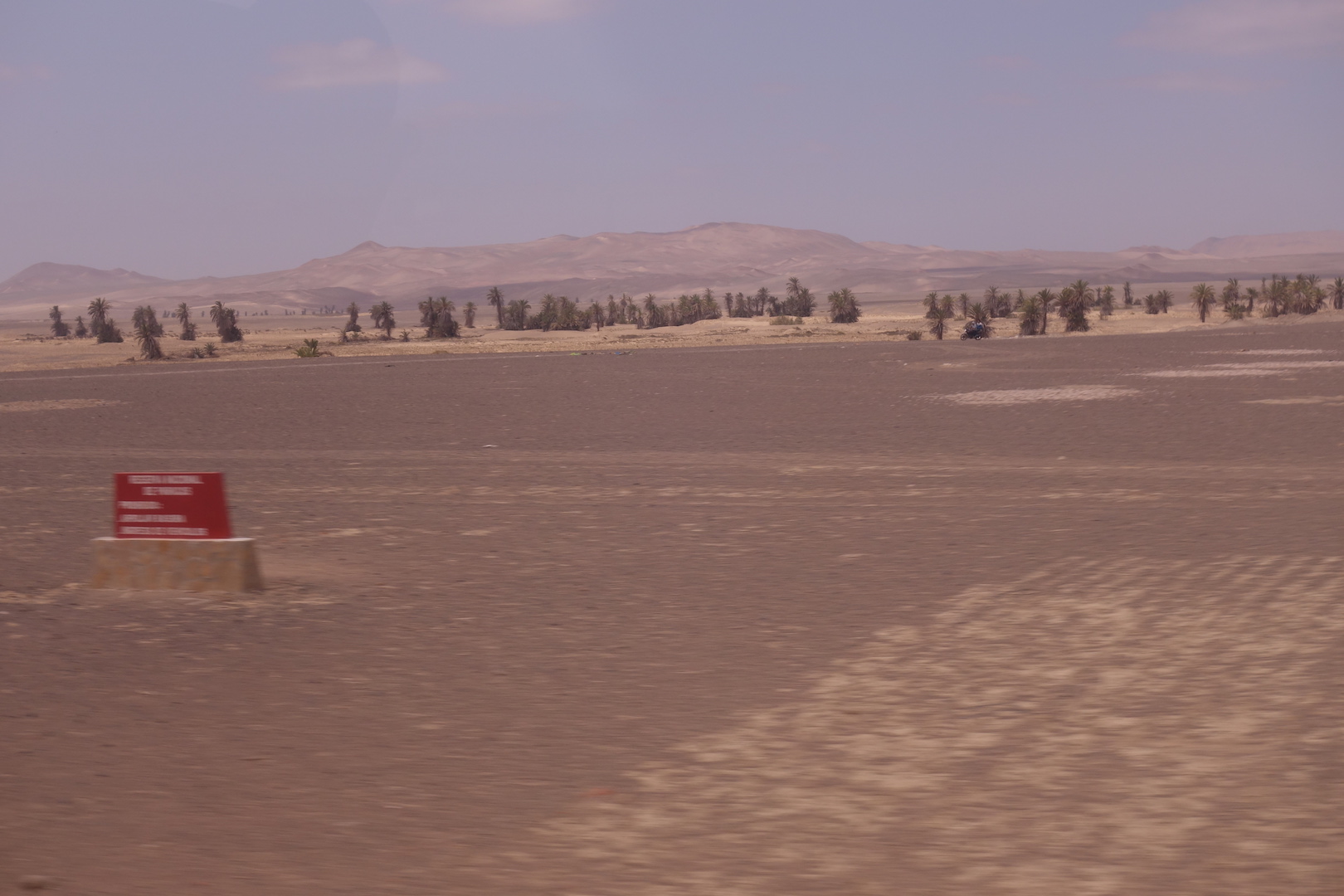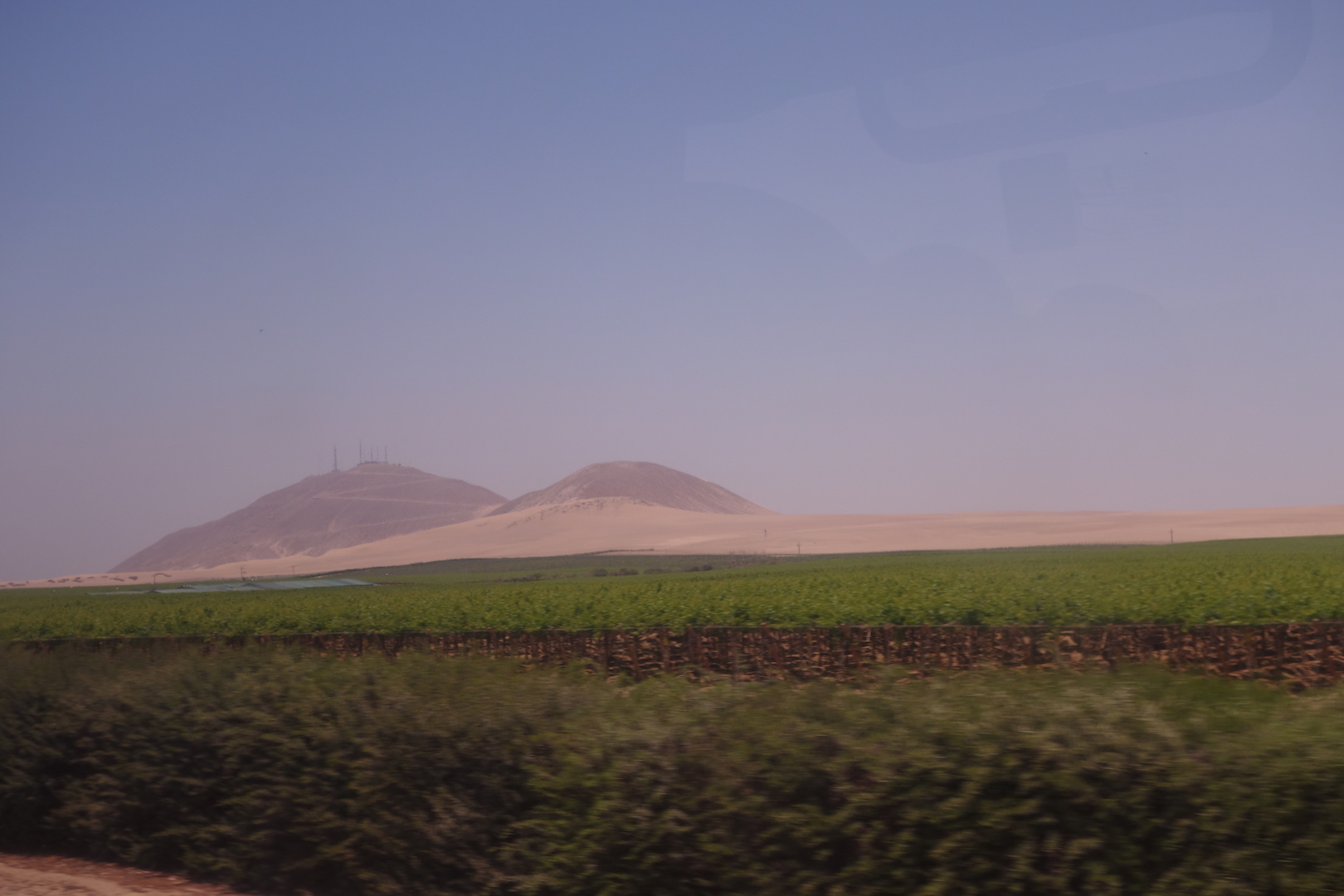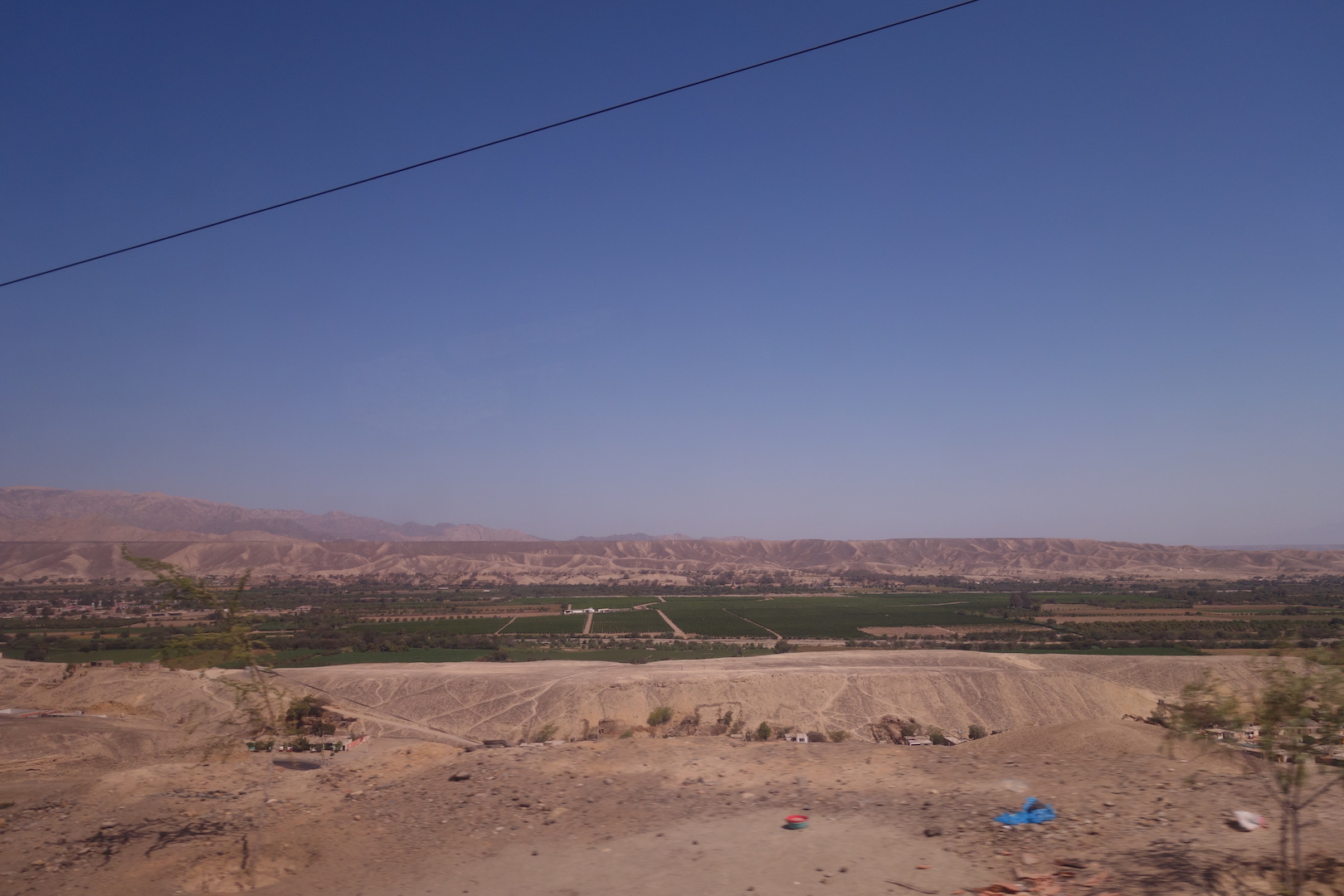 Lima seems to be naturally located, in the zone where there is regular heavy cloud and the city seems to be covered regularly in a thick fog blanket. This keeps the temperature down for the most part, but when you leave the city even only around 20 or 30 kilometres further south along the Pan-American highway the fog lifts and the desert becomes very very apparent.
Continuing south towards the town of Paracas, even sitting inside of an air conditioned bus you know the temperature had risen dramatically.
I know it would've been a very difficult journey after leaving the city, as there appeared to be very few places where you can stop, to get drinks. Most importantly water.
The distance between populations was great and there appeared to be very few places to actually sleep as the landscape was very exposed. But the difference travelling by bus compared with cycling is travelling at a slower speed, and being able to ride into the centre of towns and down narrow streets where you will find food, water and shelter that may not always be apparent from the main roads.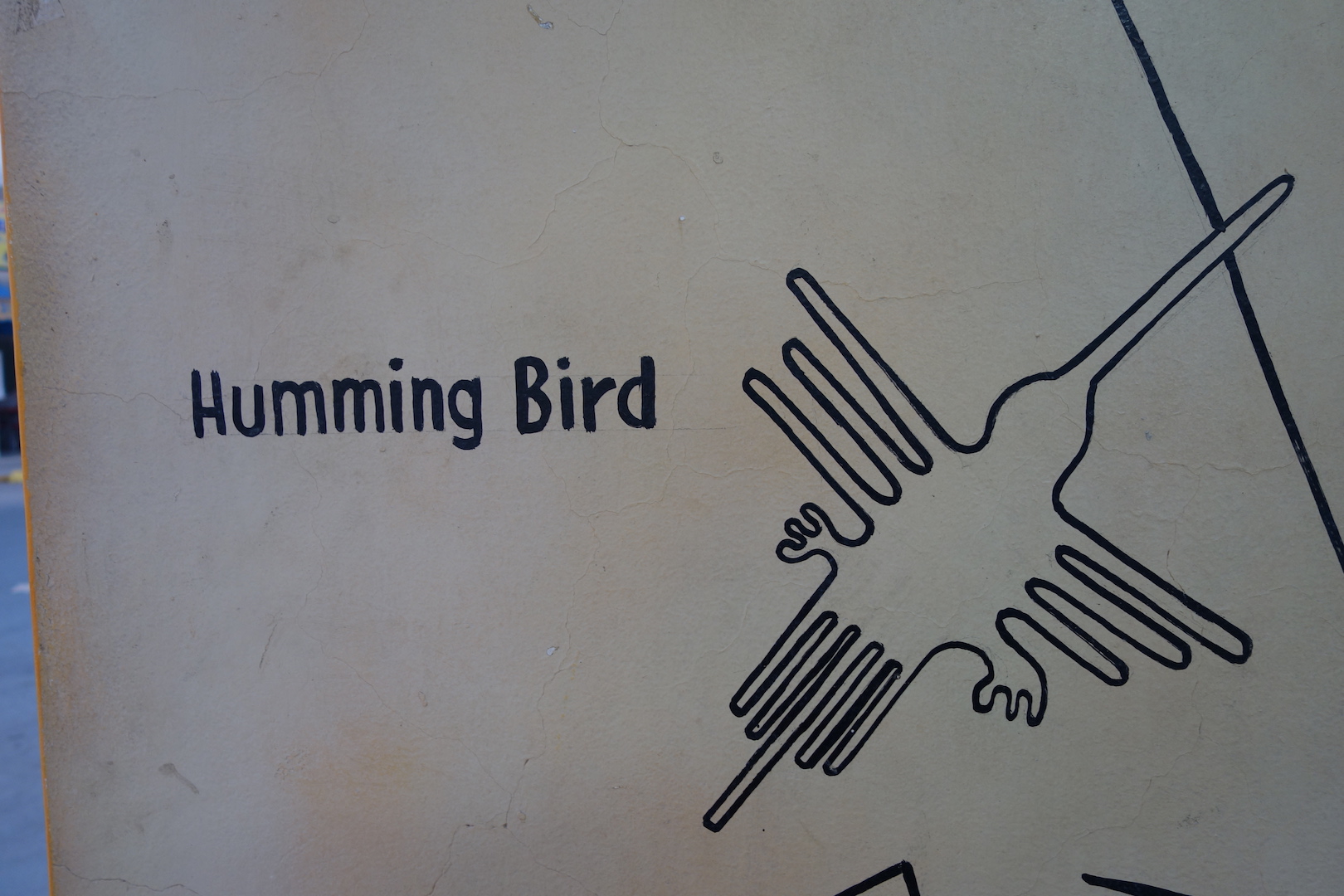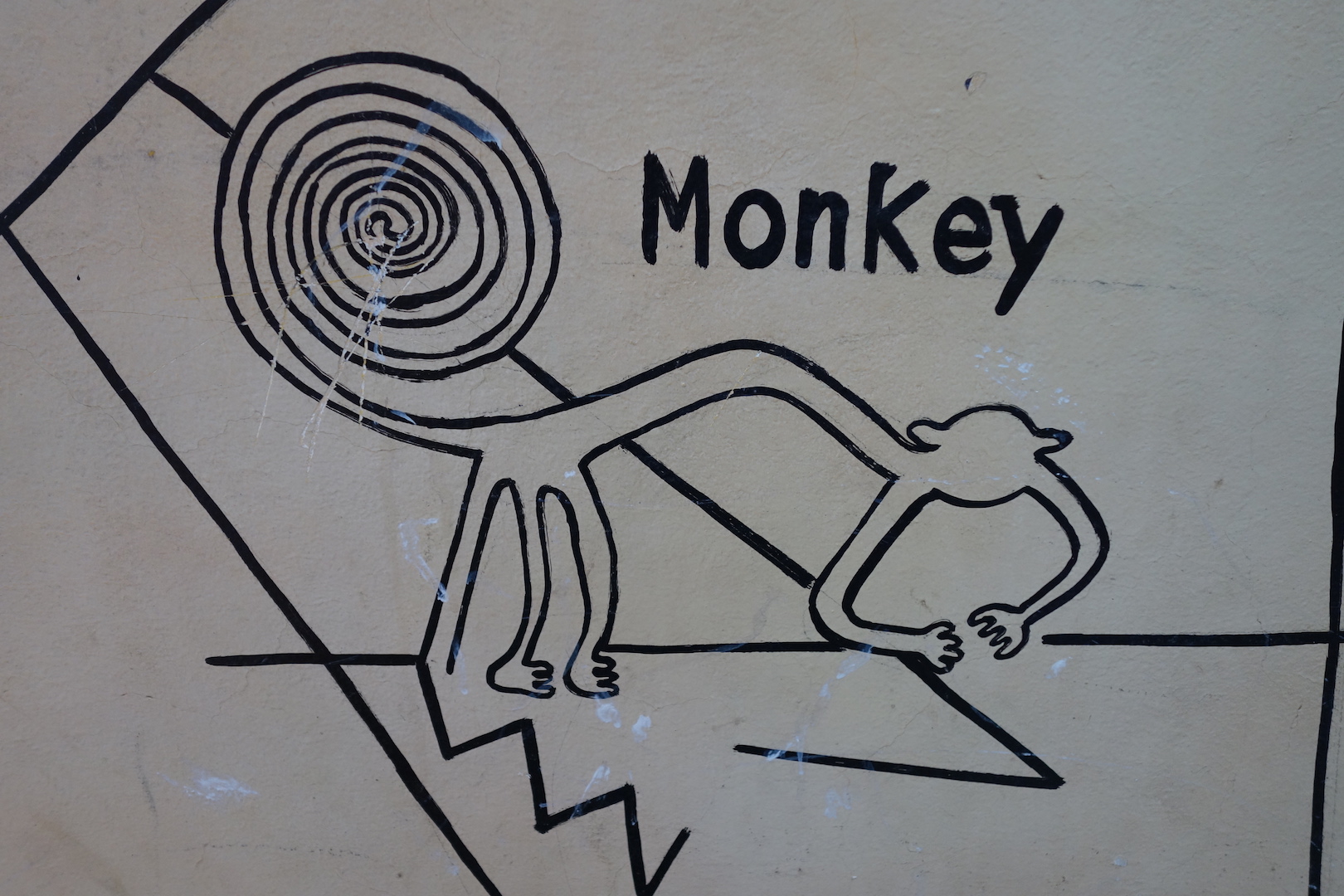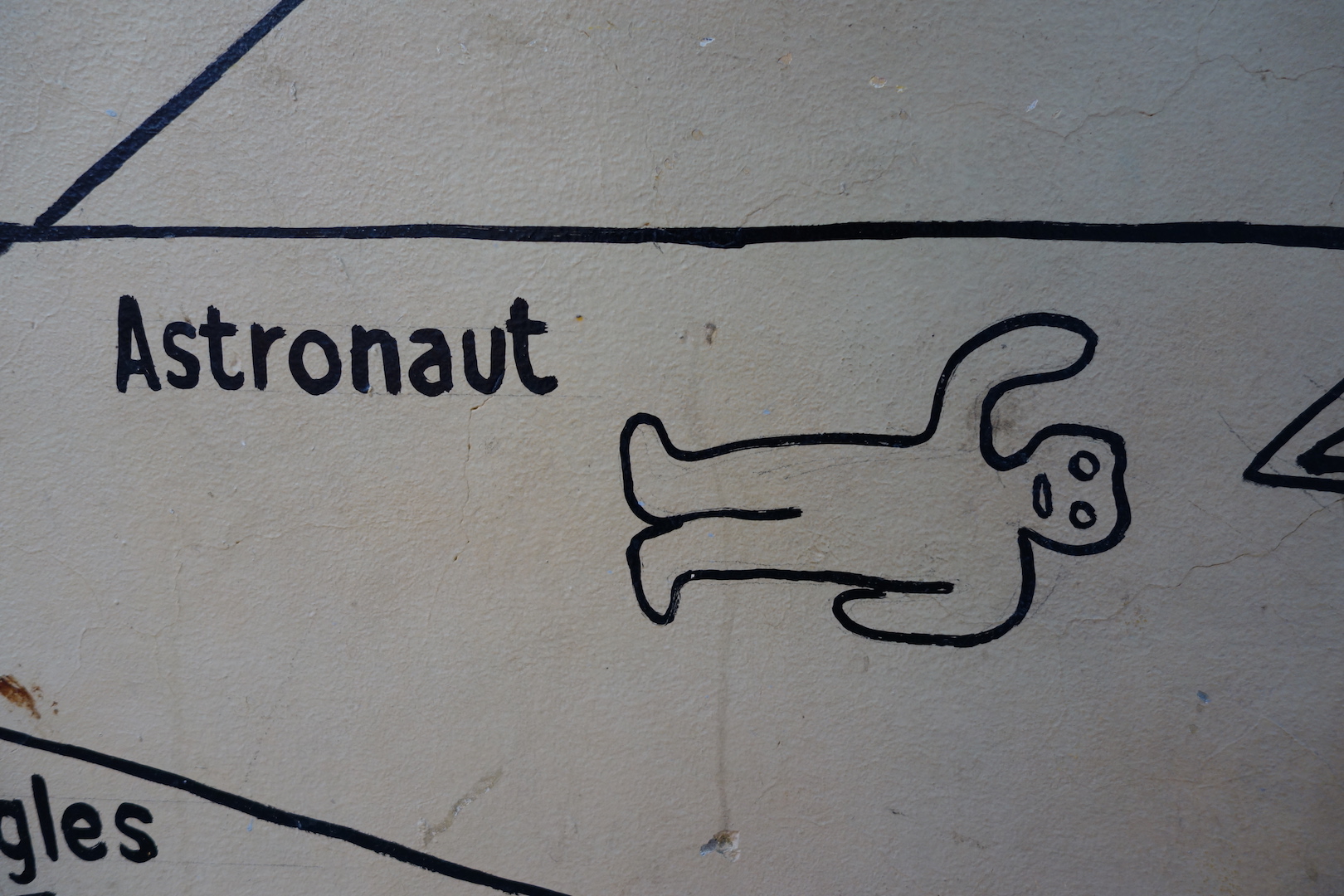 In Nazca or Nasca depending on where you see it written, I pedalled to literally the end of town to meet my host, Edgardo.
A couchsurfing host for over 7 years, he had hosted over 250 people with 100% positive feedback.
He settled me into a room in his 3 storey house before heading to work in a local hotel.
What a very nice man!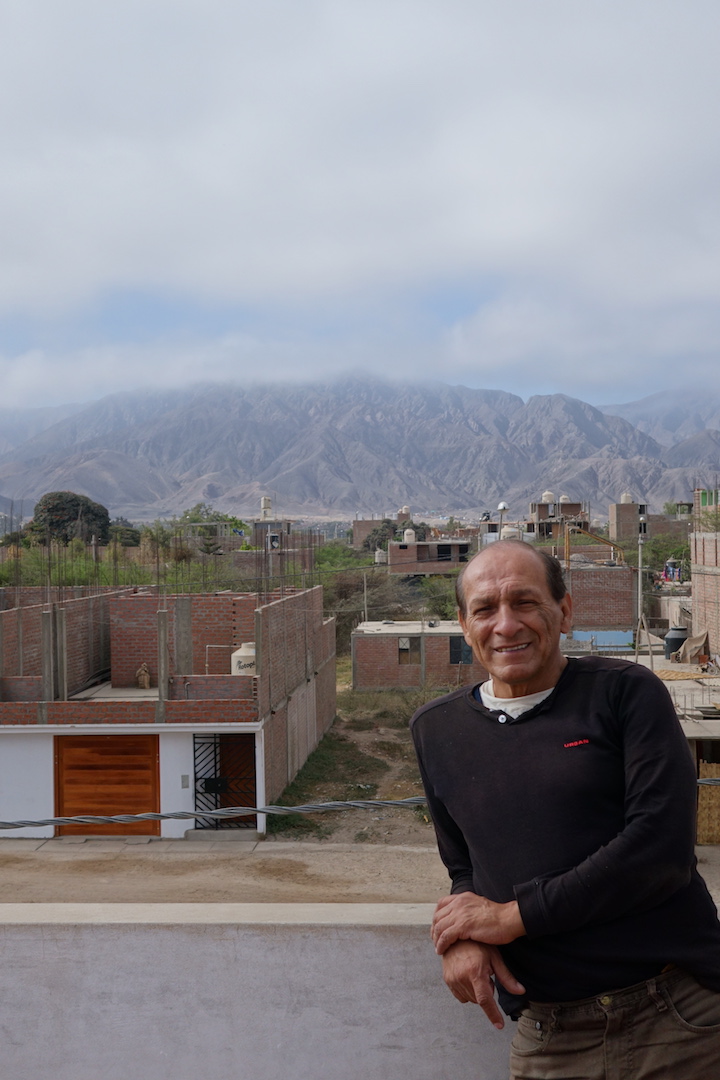 I wandered around this small town looking for food having forgotten to eat breakfast before leaving Lima and found an uninteresting Beef Casserole with Artichokes.
A heavy sandstorm was obscuring the mountains surrounding the town and hiding the lesser know but very prominent Cerro Blanco sand dune to the north.
This is famous as the largest and highest sand dune in the world.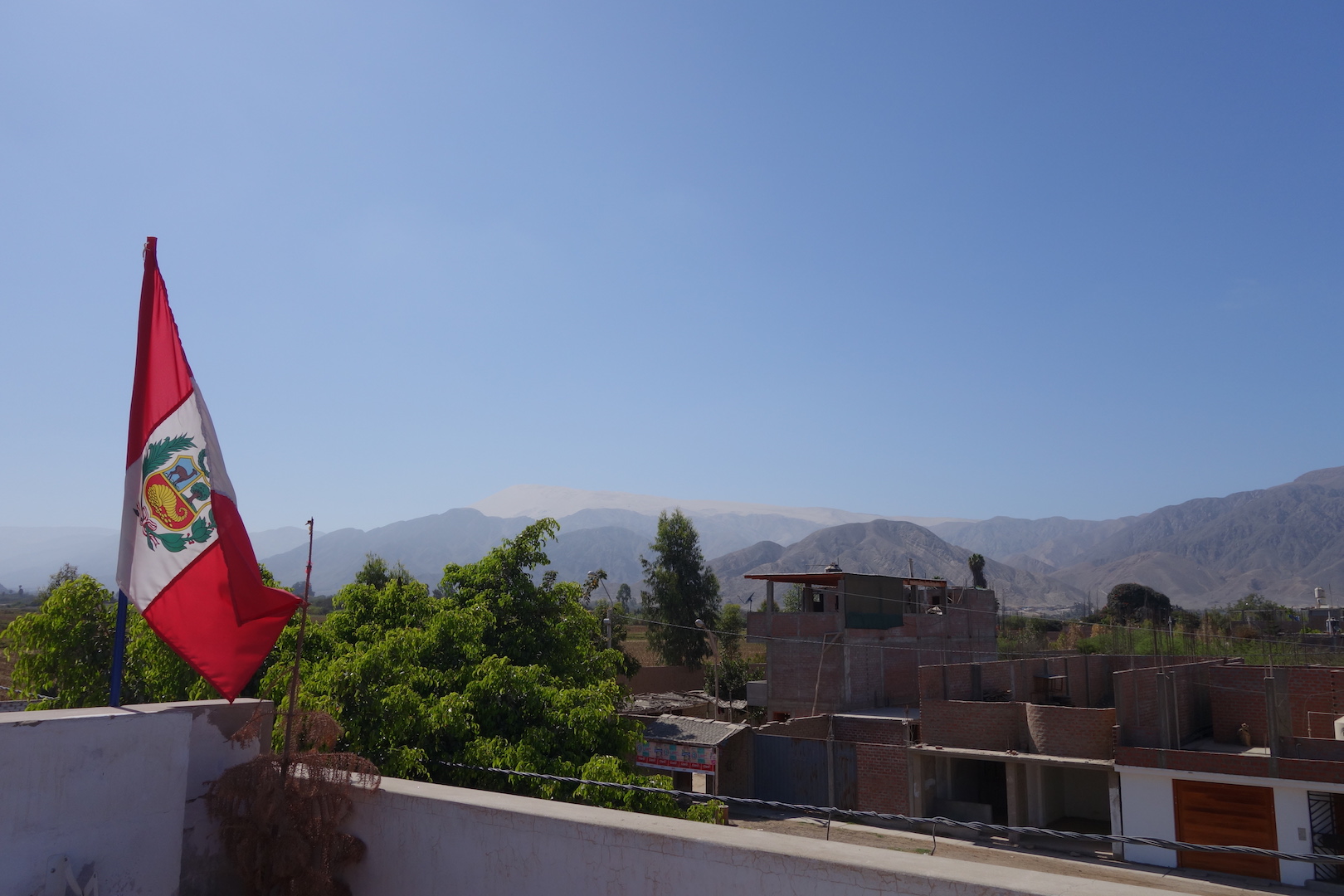 Later on, Edgardo invited me to a Astronomical talk he gives every evening.
It was a fascinating talk on the local stars and constellations.
Presented in a small observatory and museum built after the death of Maria Reiche.
She was a scientist and Archaeologist who spent many years studying the Nasca lines and made significant discoveries about some of the lines.
It was a perfect evening as Saturn was passing through Scorpio and his little telescope was powerful enough to allow us to see the rings around this massive planet.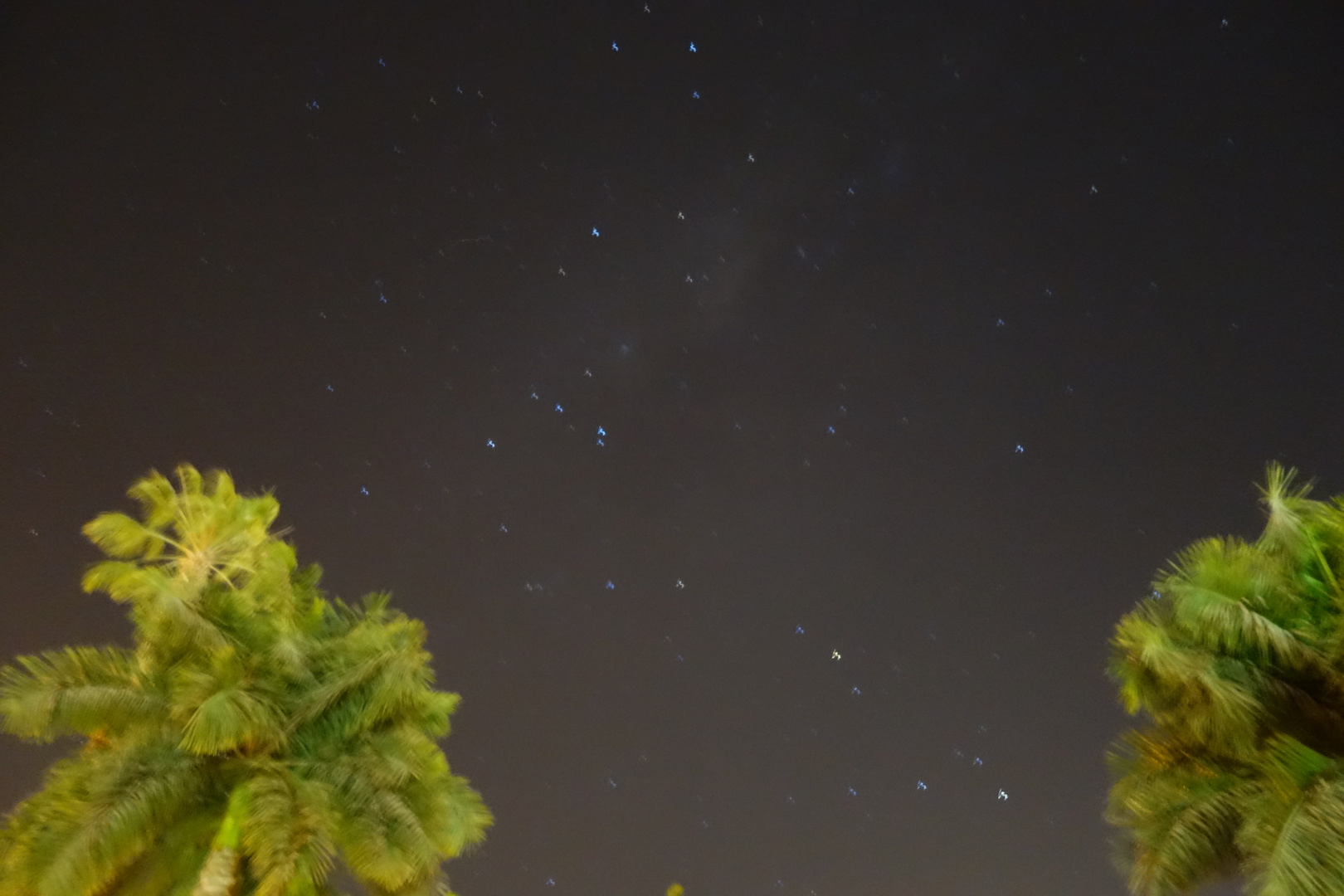 After debating the expense, I decided I would take a flight over the Nasca lines.
We squeezed into a tiny Cessner plane and accelerated rapidly up the runway.
The 40 minute flight was a little nerve racking as there was some turbulence and I was not expecting the pilot to bank quite so sharply so we could get a good view of the famous geoglyphs.
Though I don't have a fear of flying, I was glad to be back on the ground. But pleased I had seen the iconic landmarks.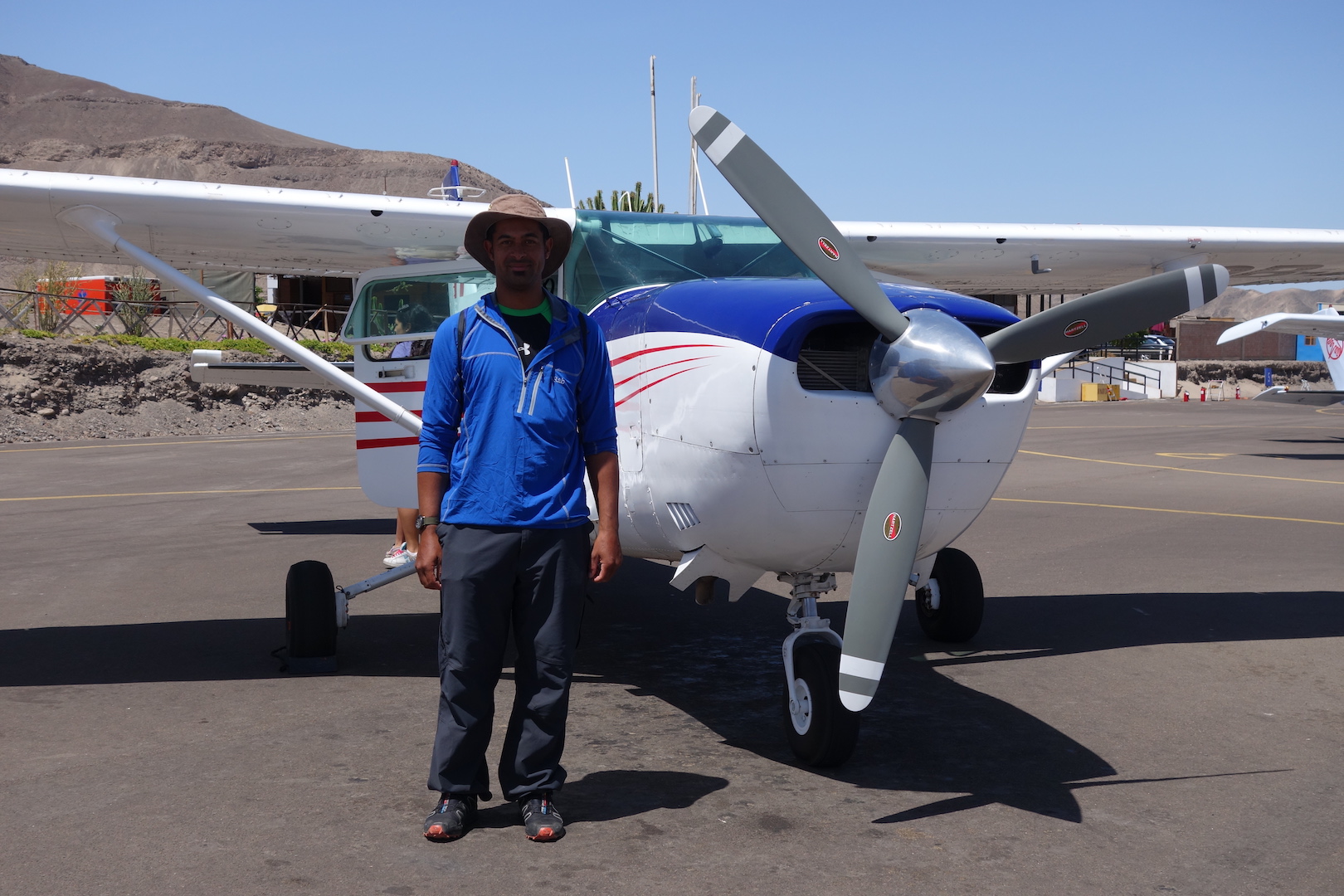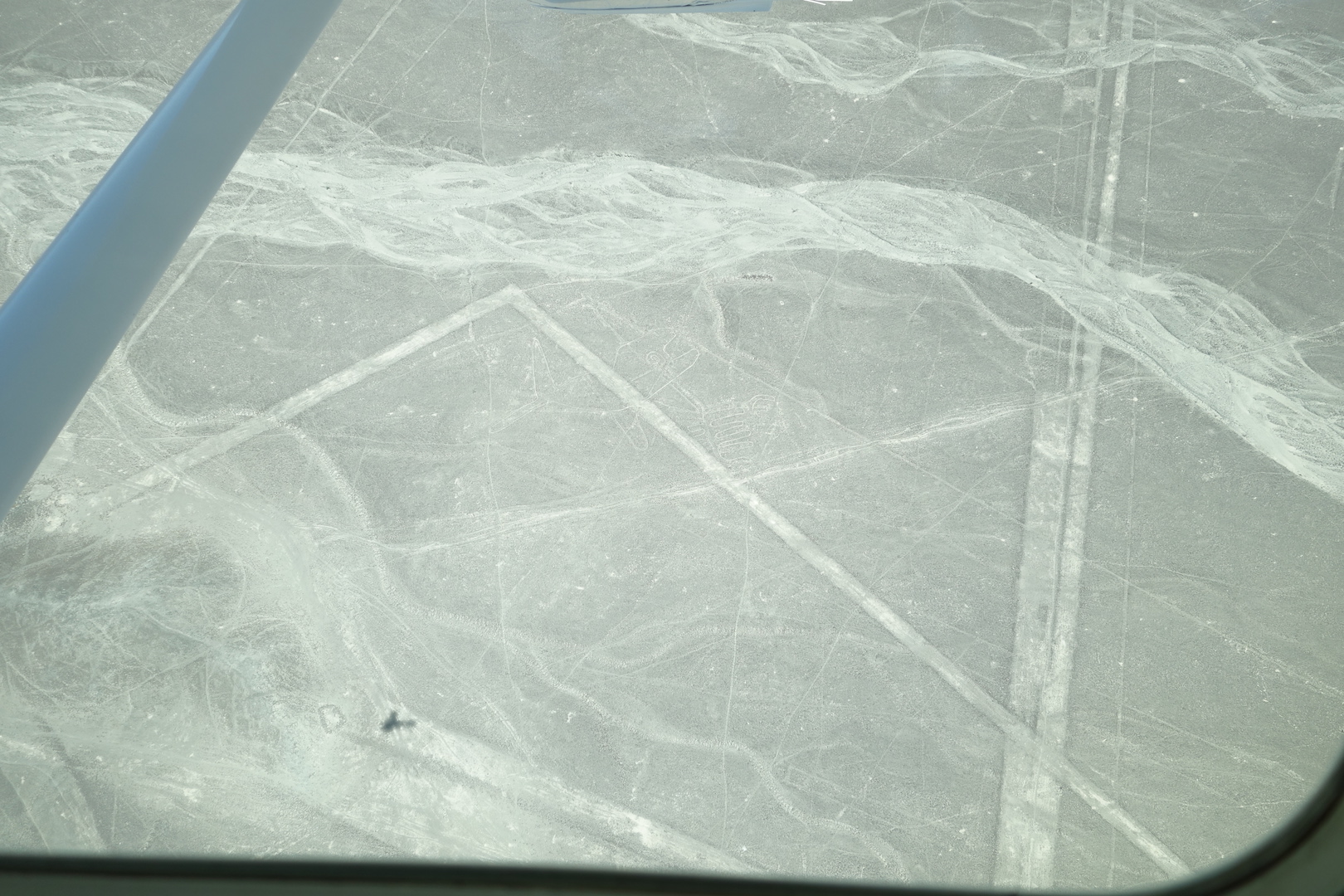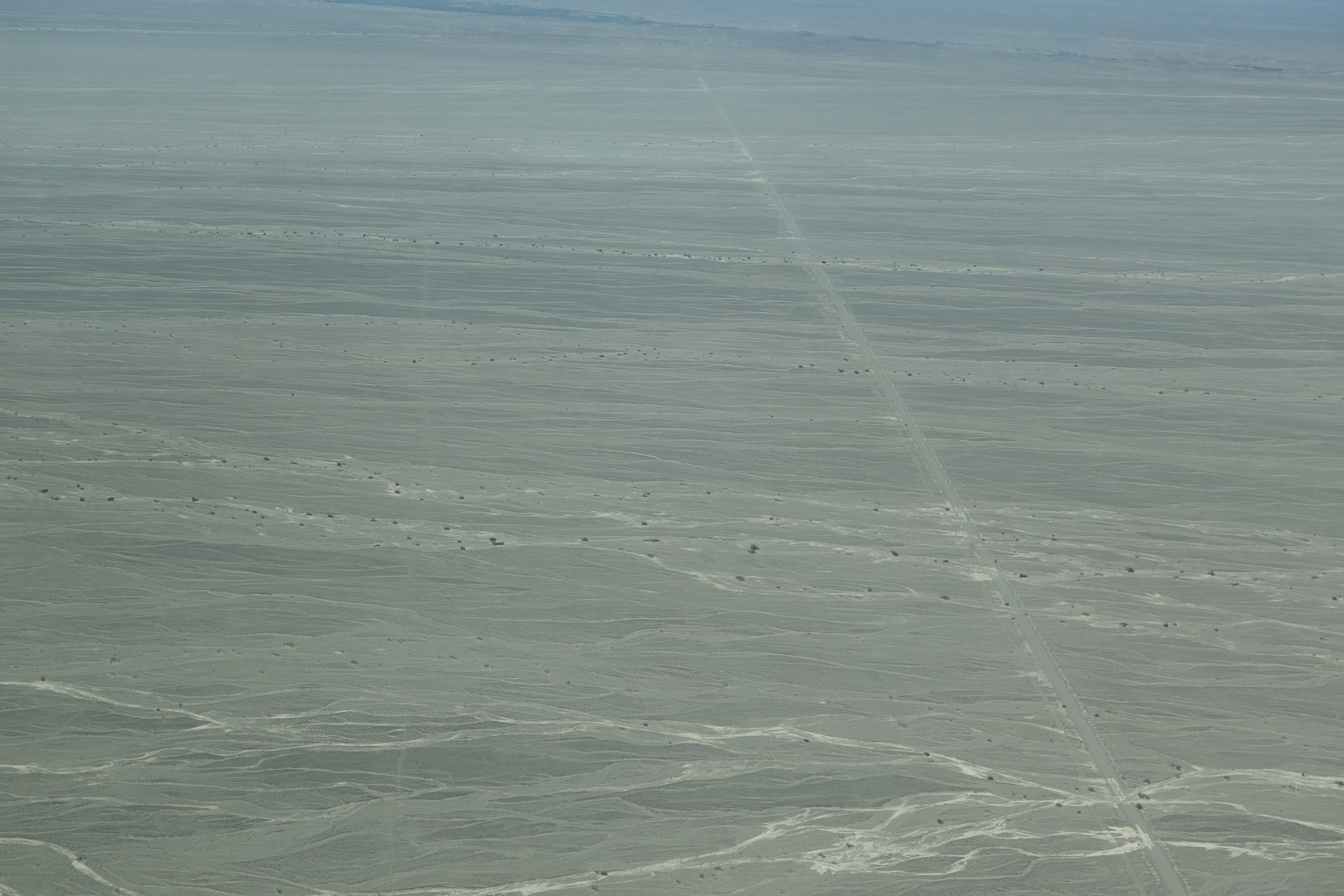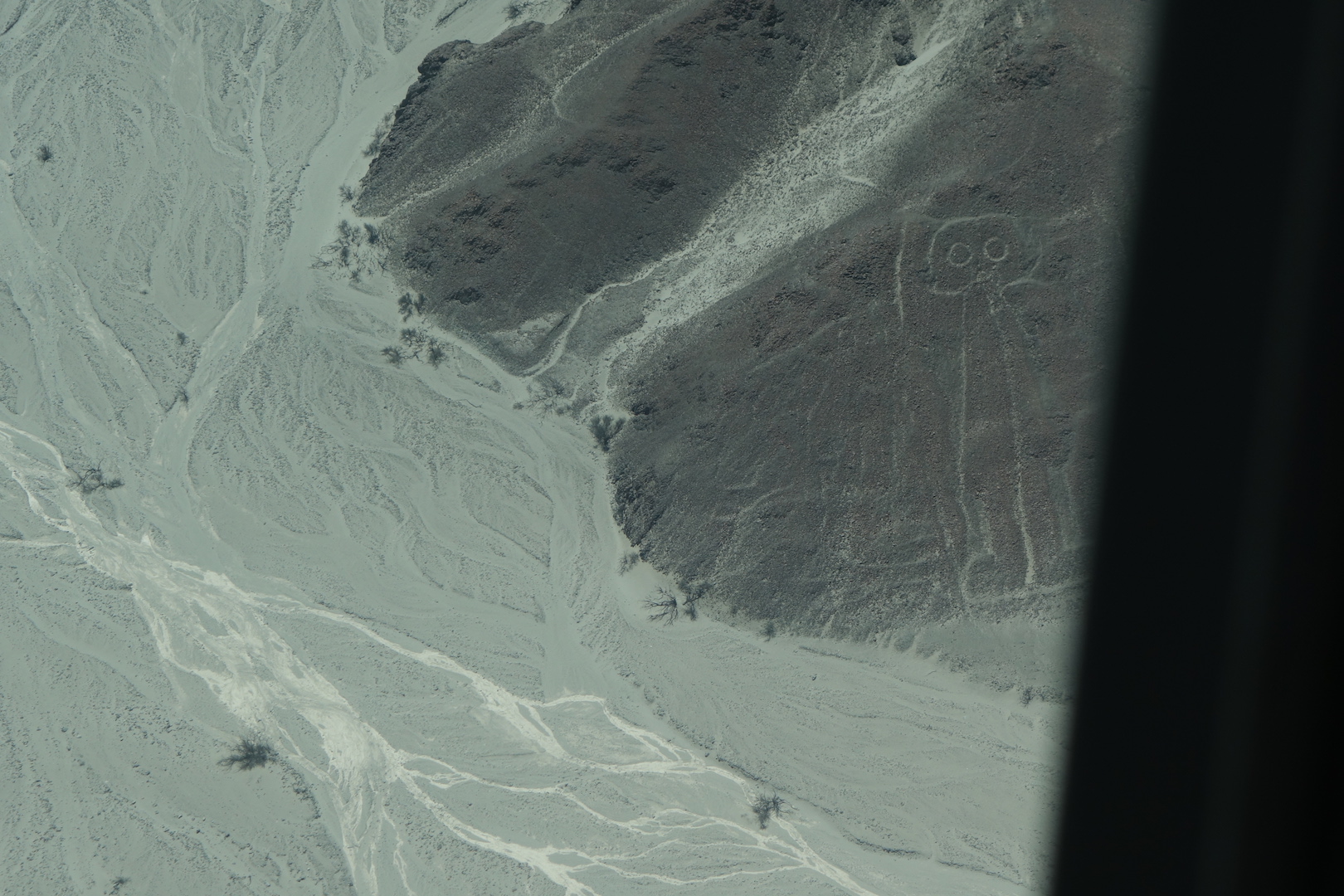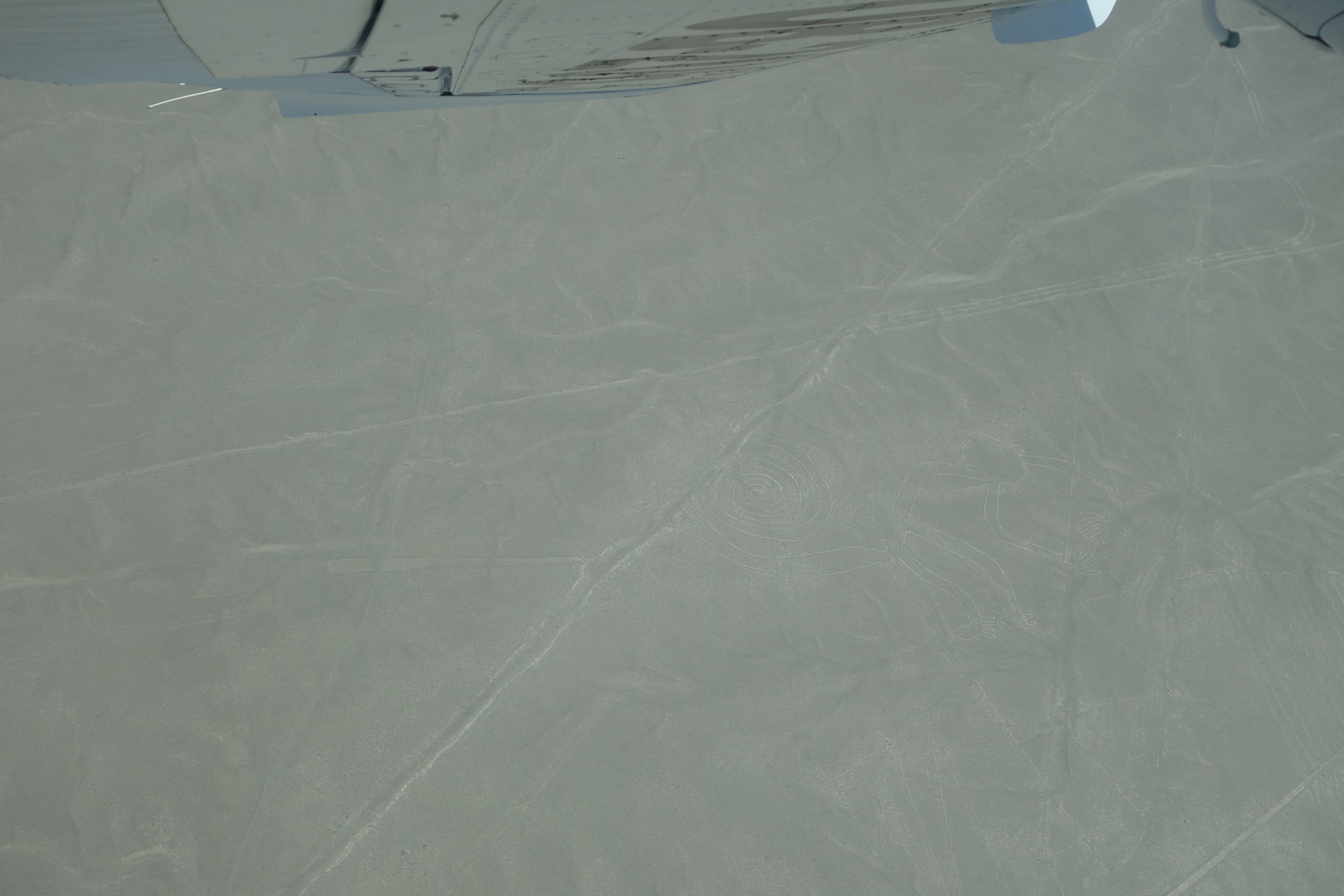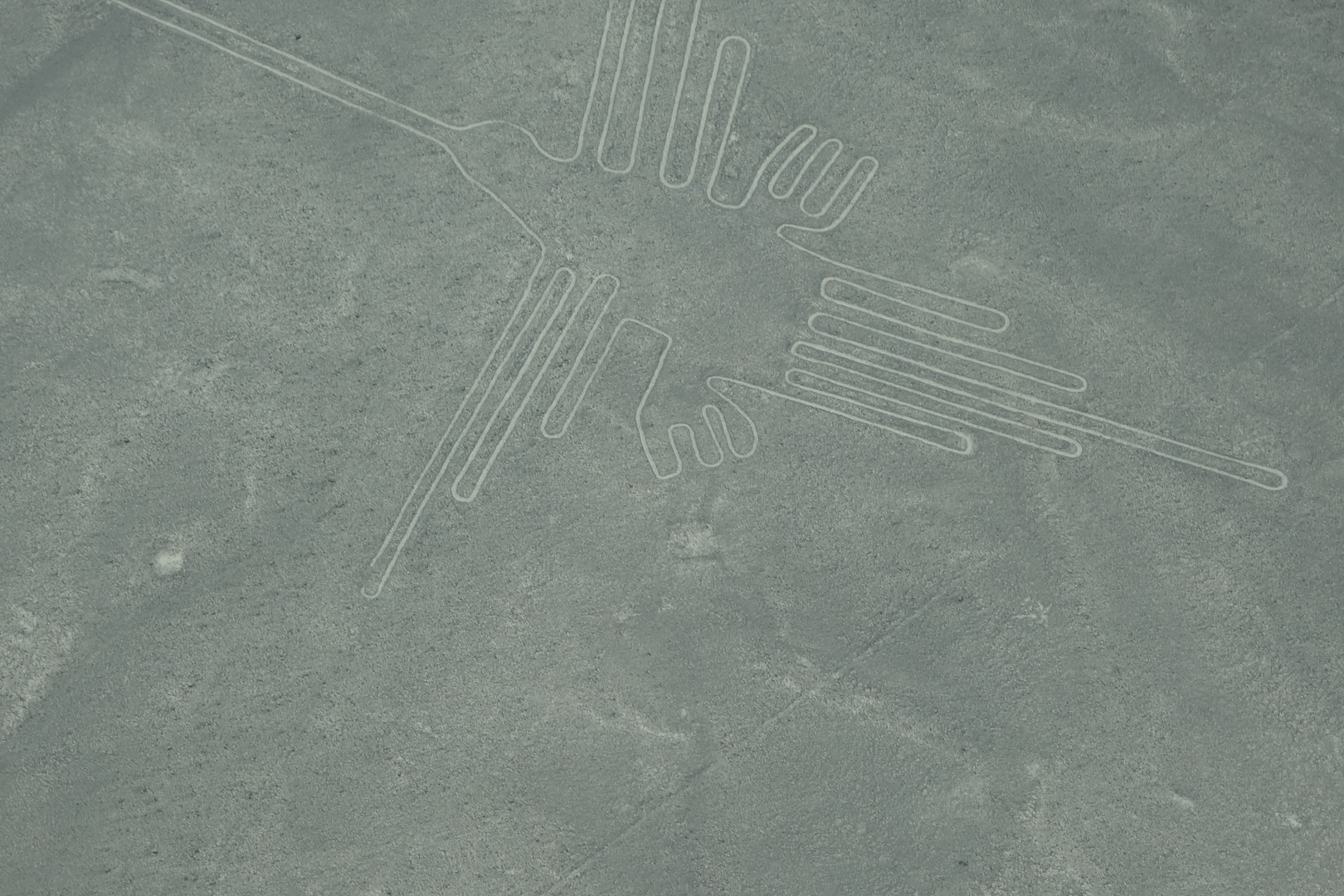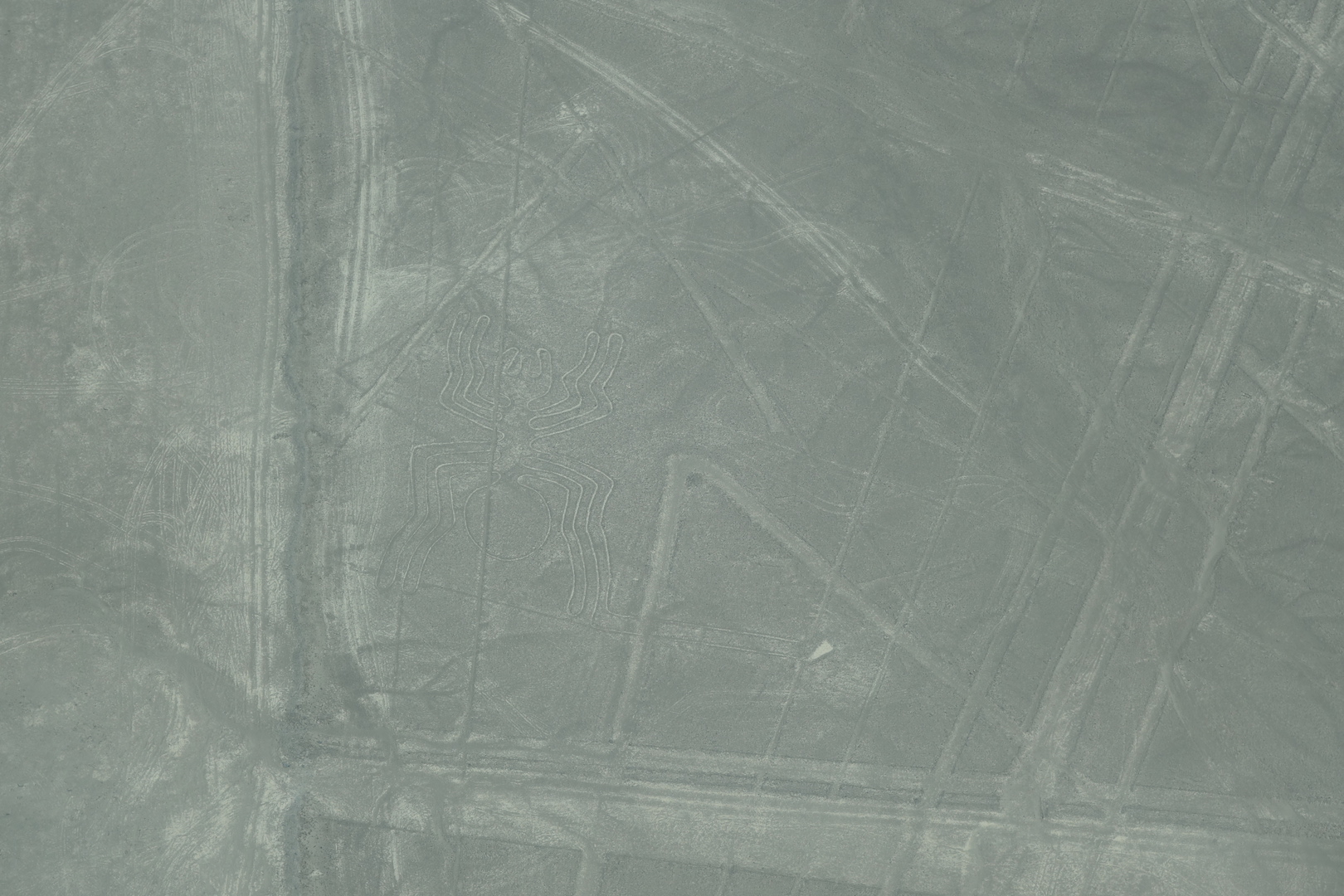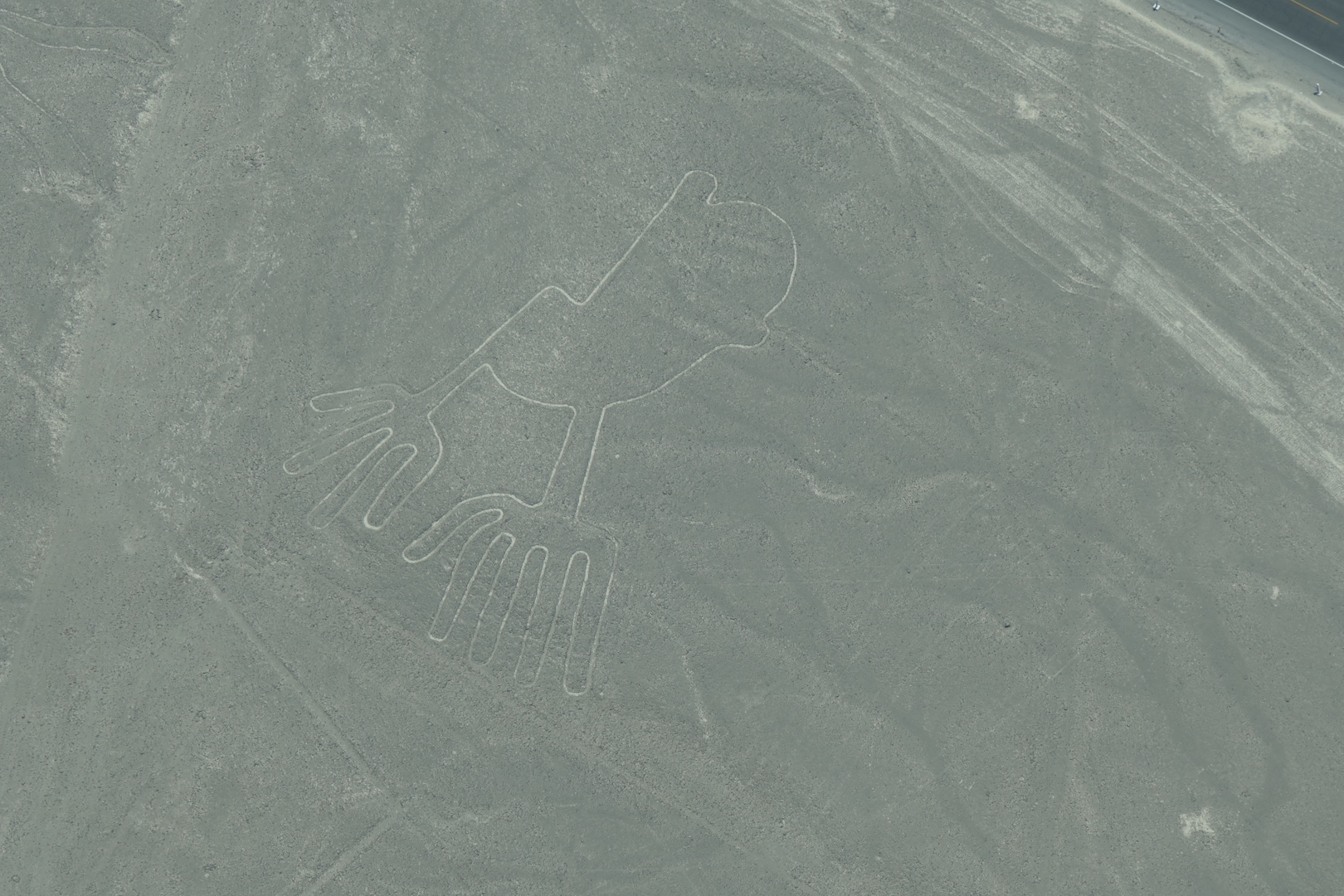 Three more couch surfers arrived that night.
Travellers from the north of Spain.
They arrived late and woke late the next day.
After sharing a breakfast, we took a bus to see the desert and some of the geoglyphs along the roadside a few kilometres west of the town.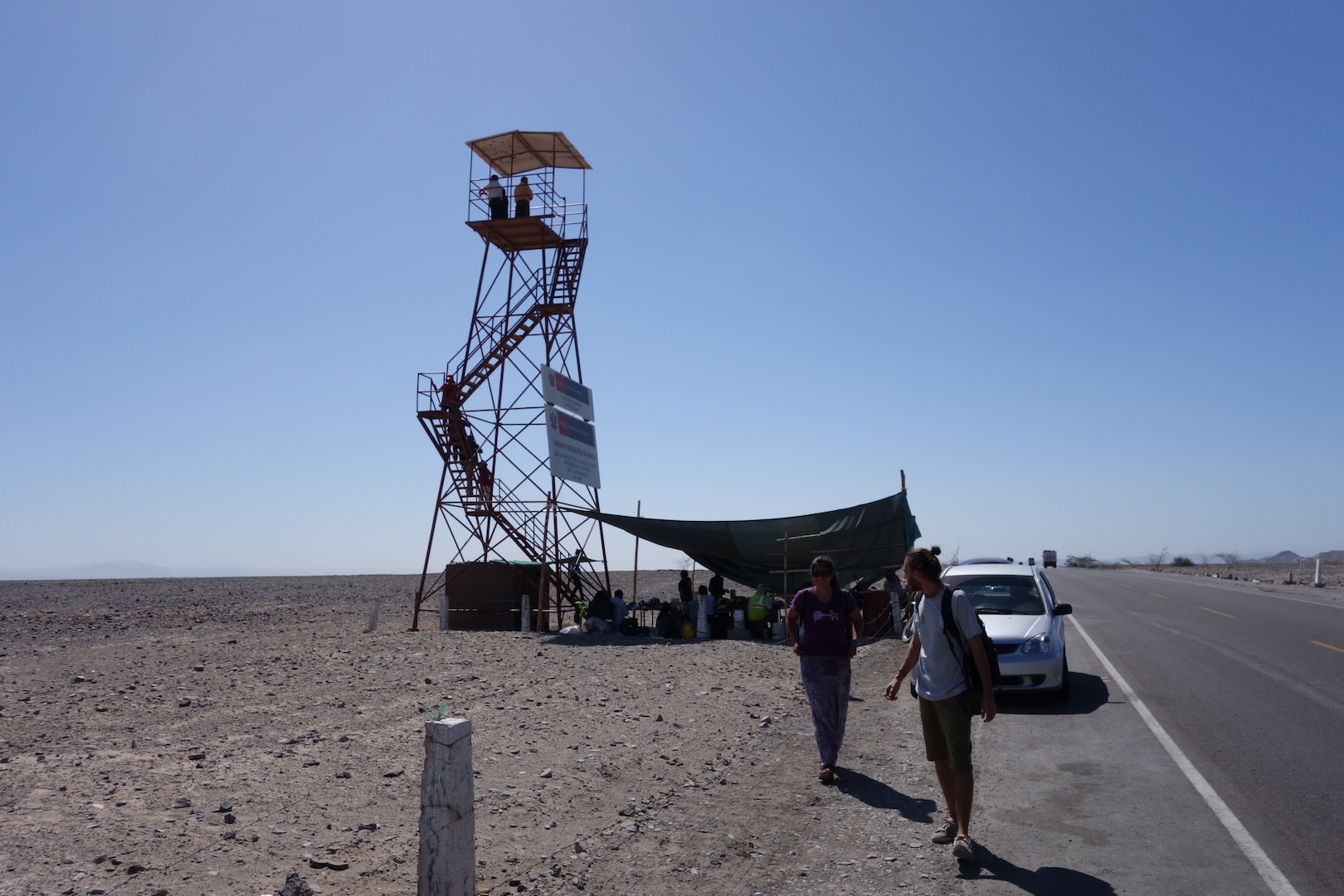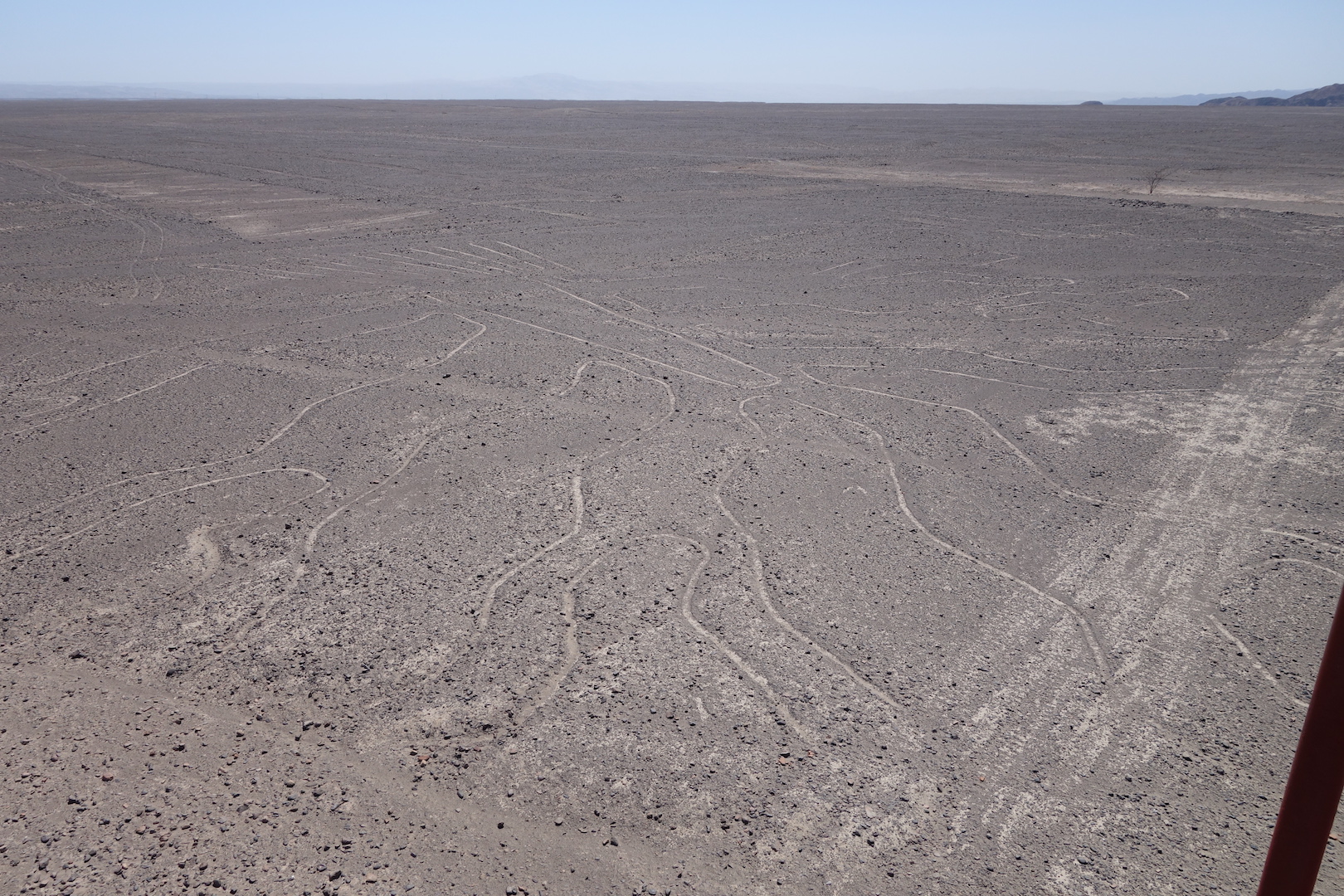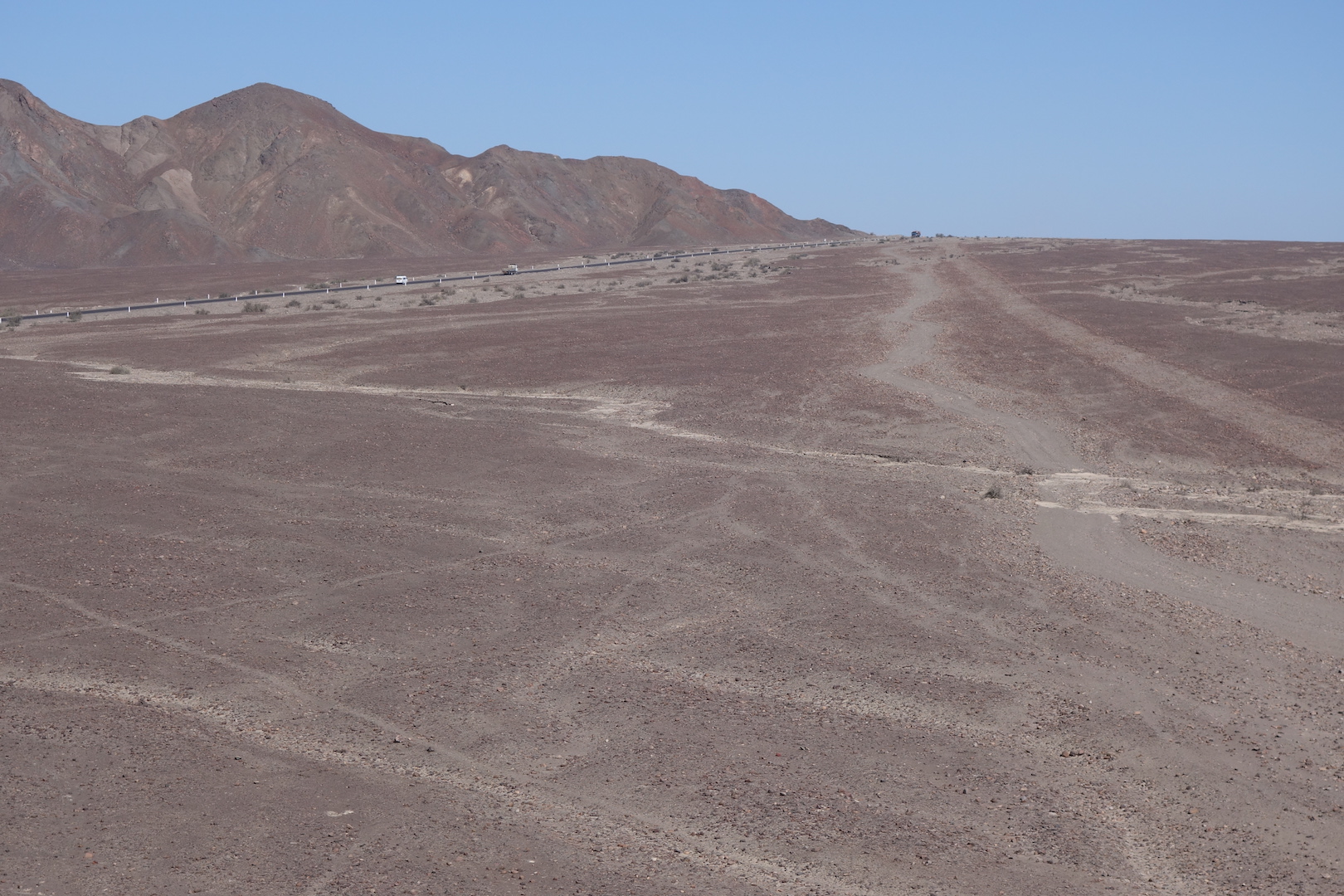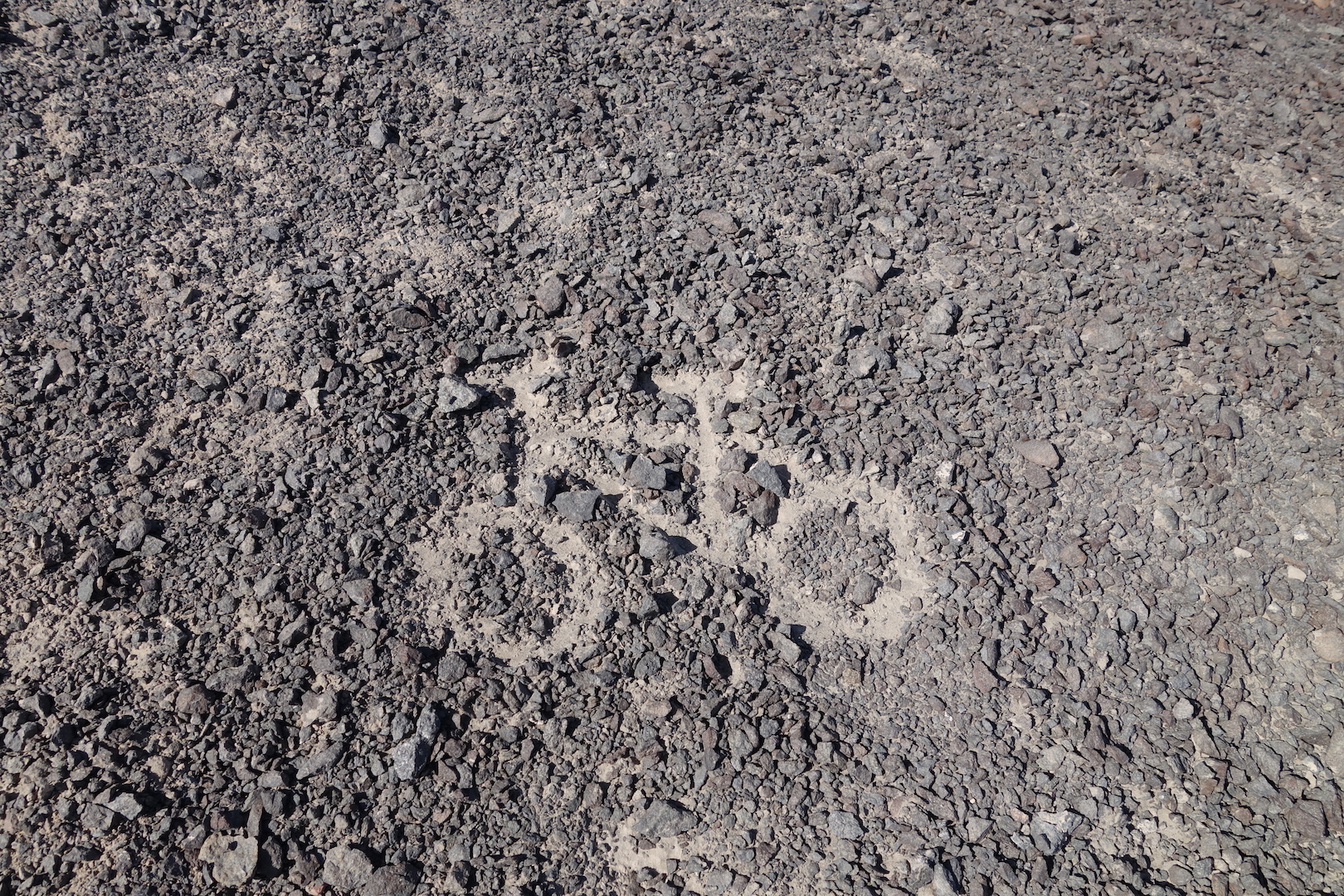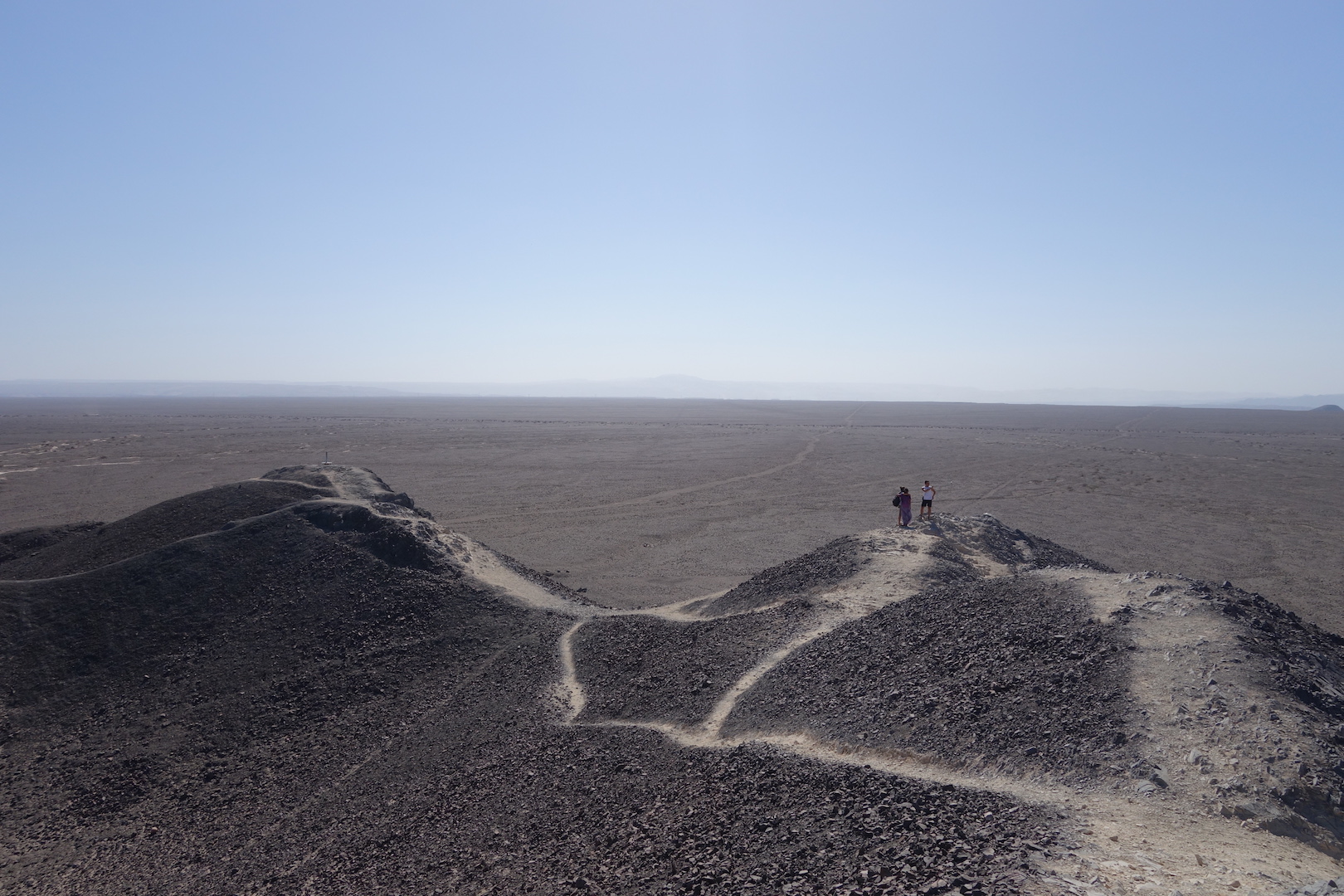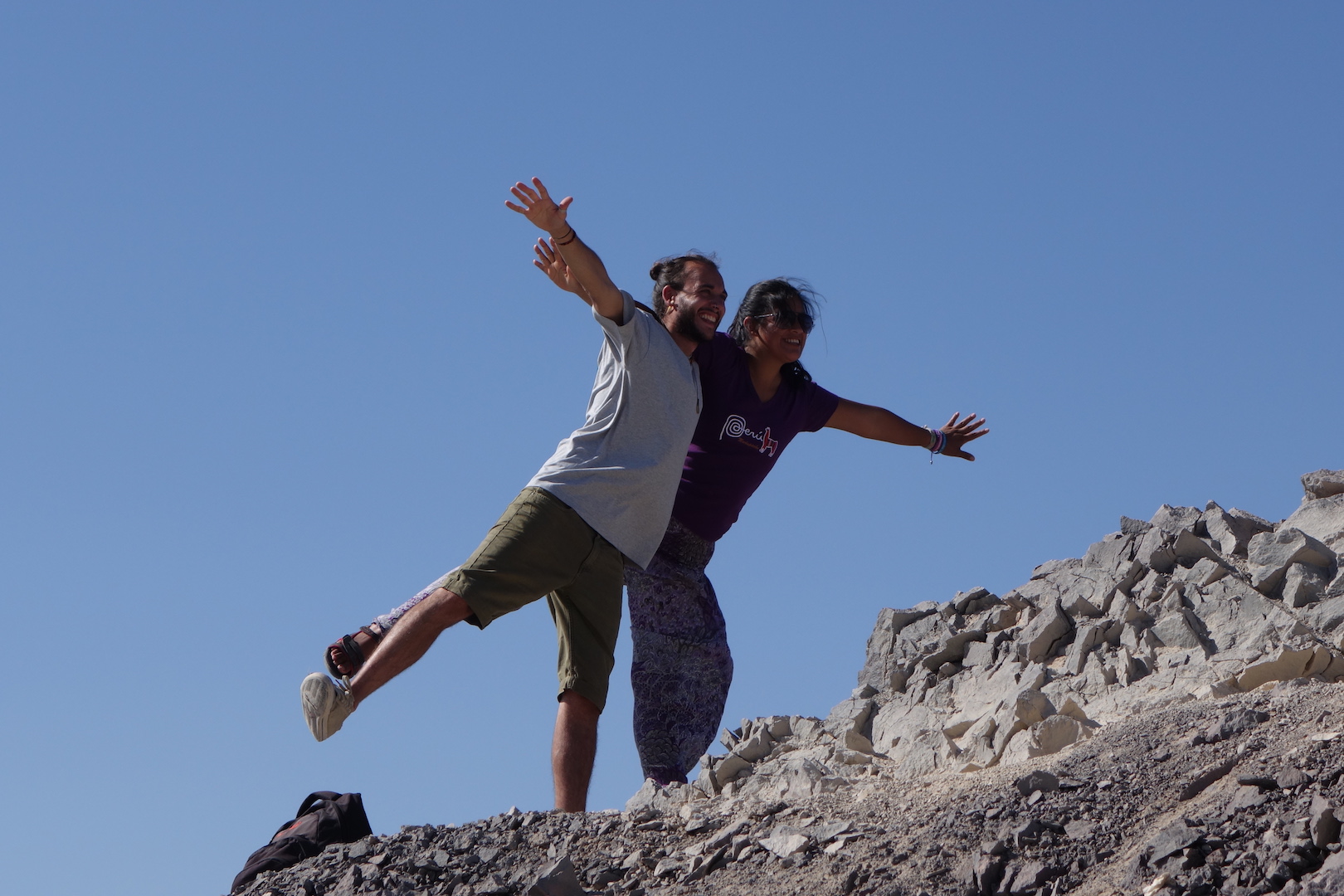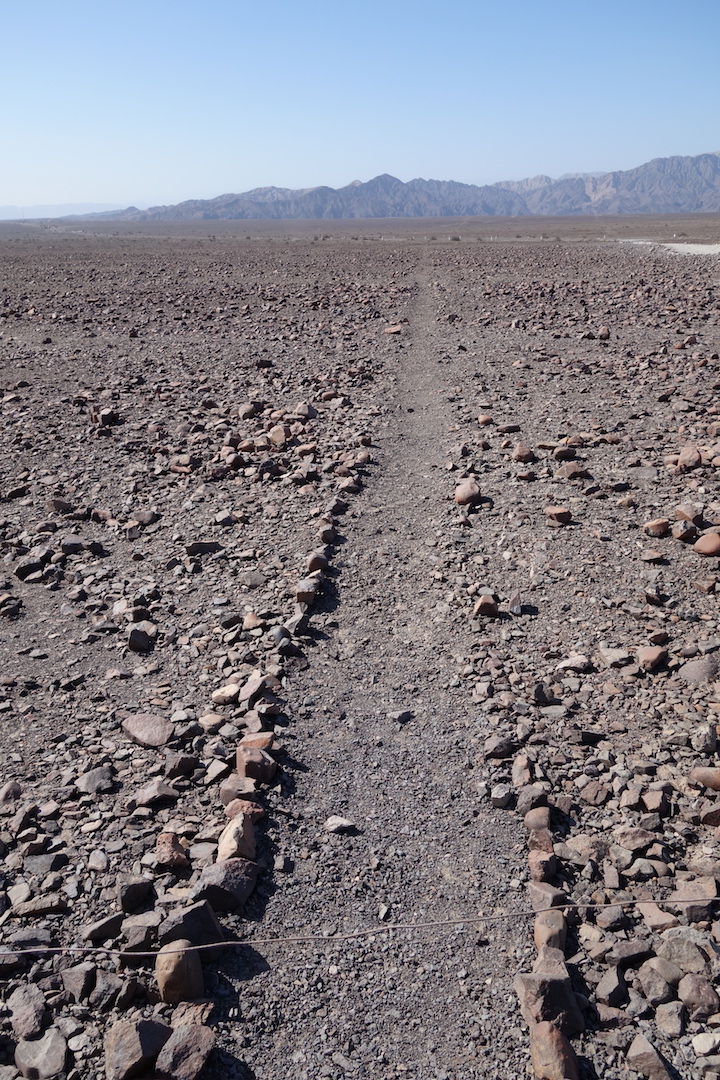 On the way home that evening, they insisted on cooking a traditional Spanish tortilla patata.
I often try to cook for my hosts, but it was nice to have someone else prepare a meal for a change.
And it was very good!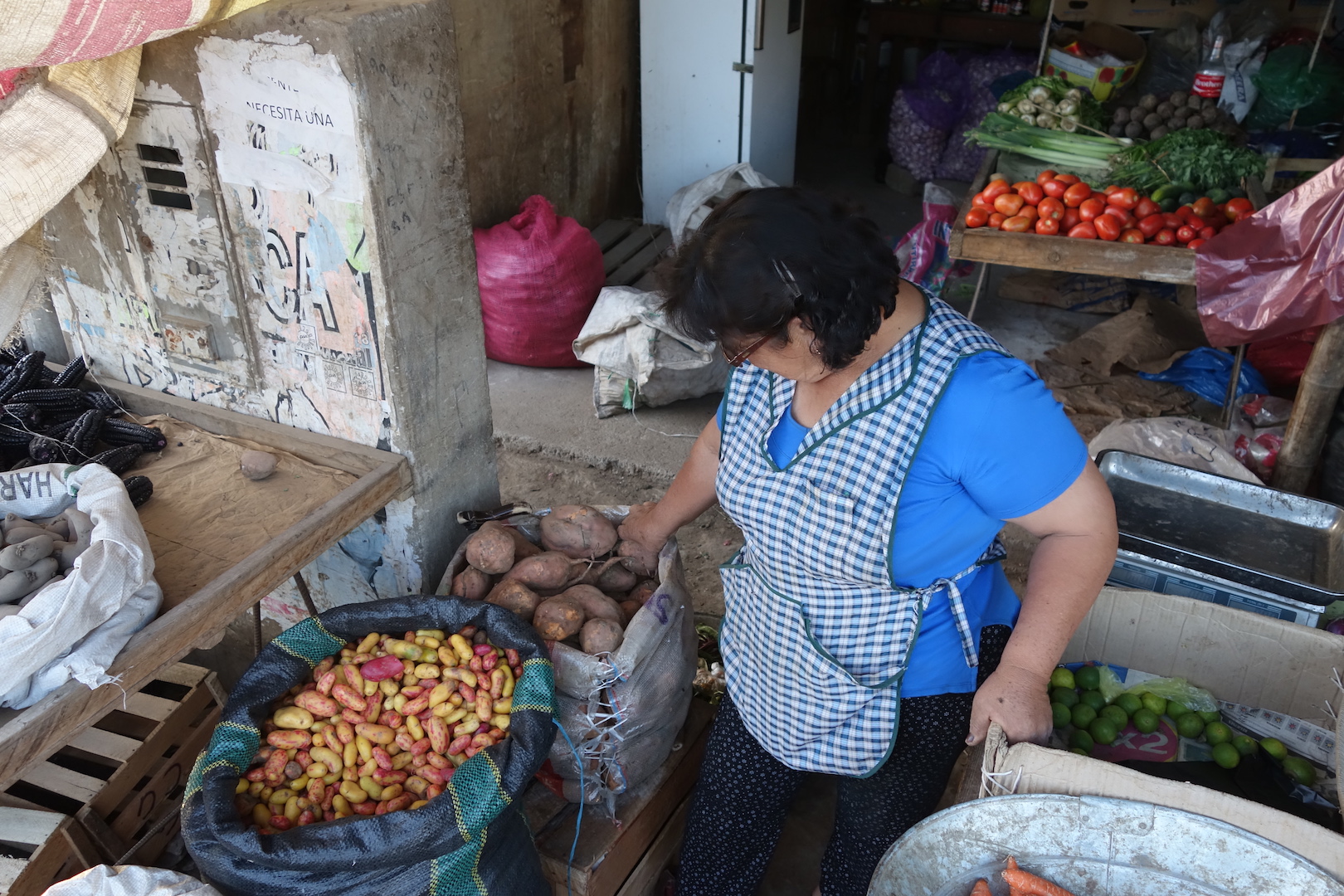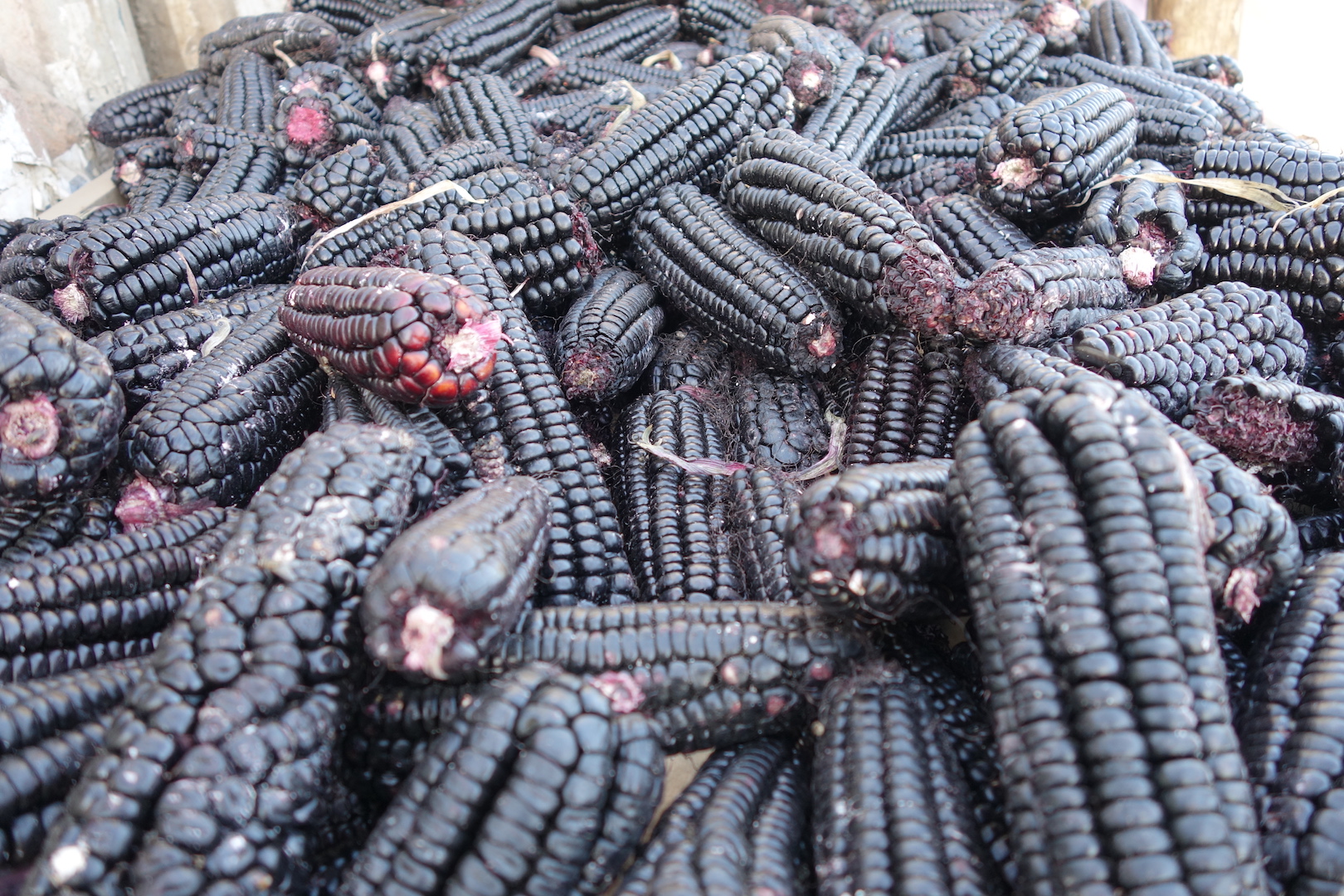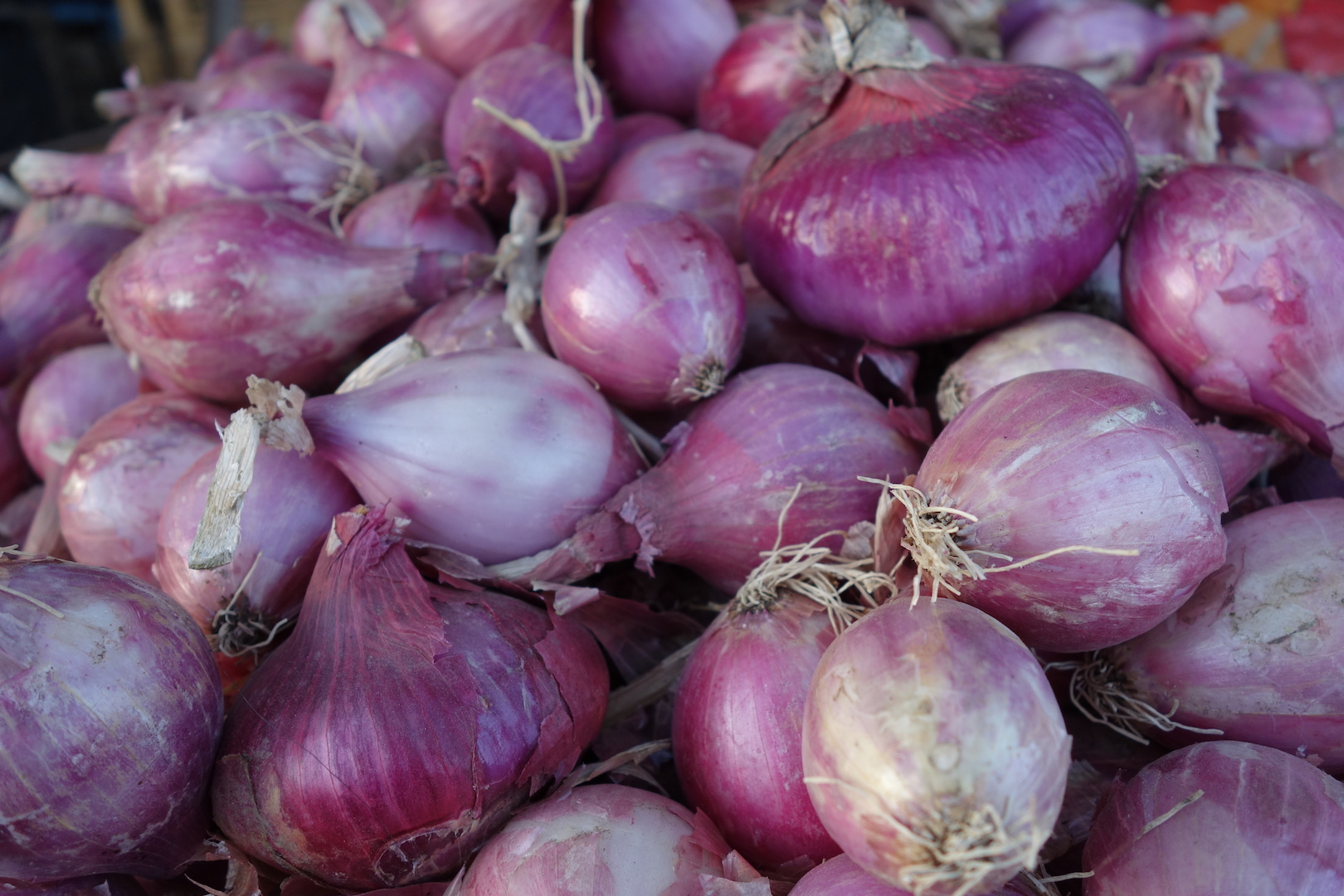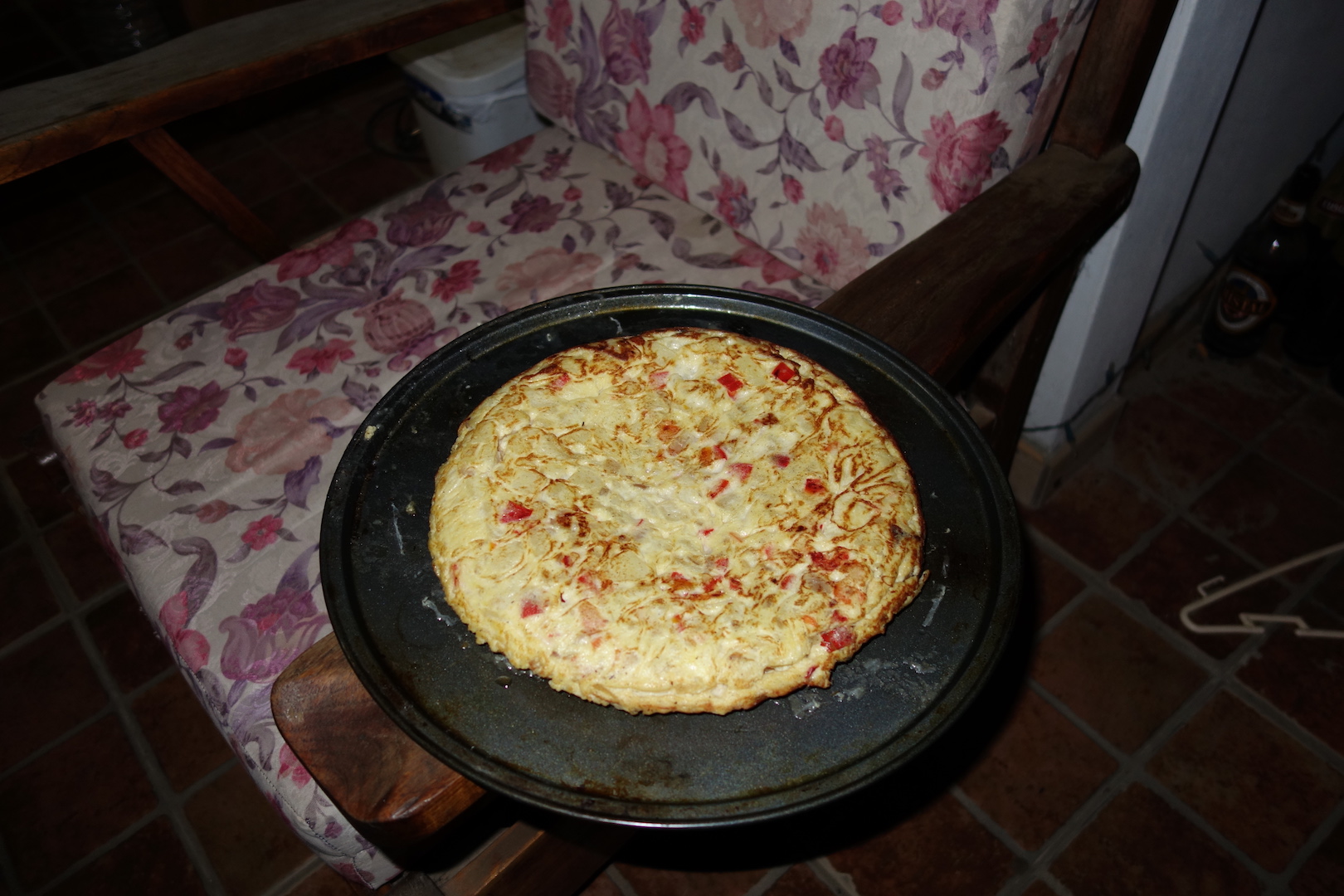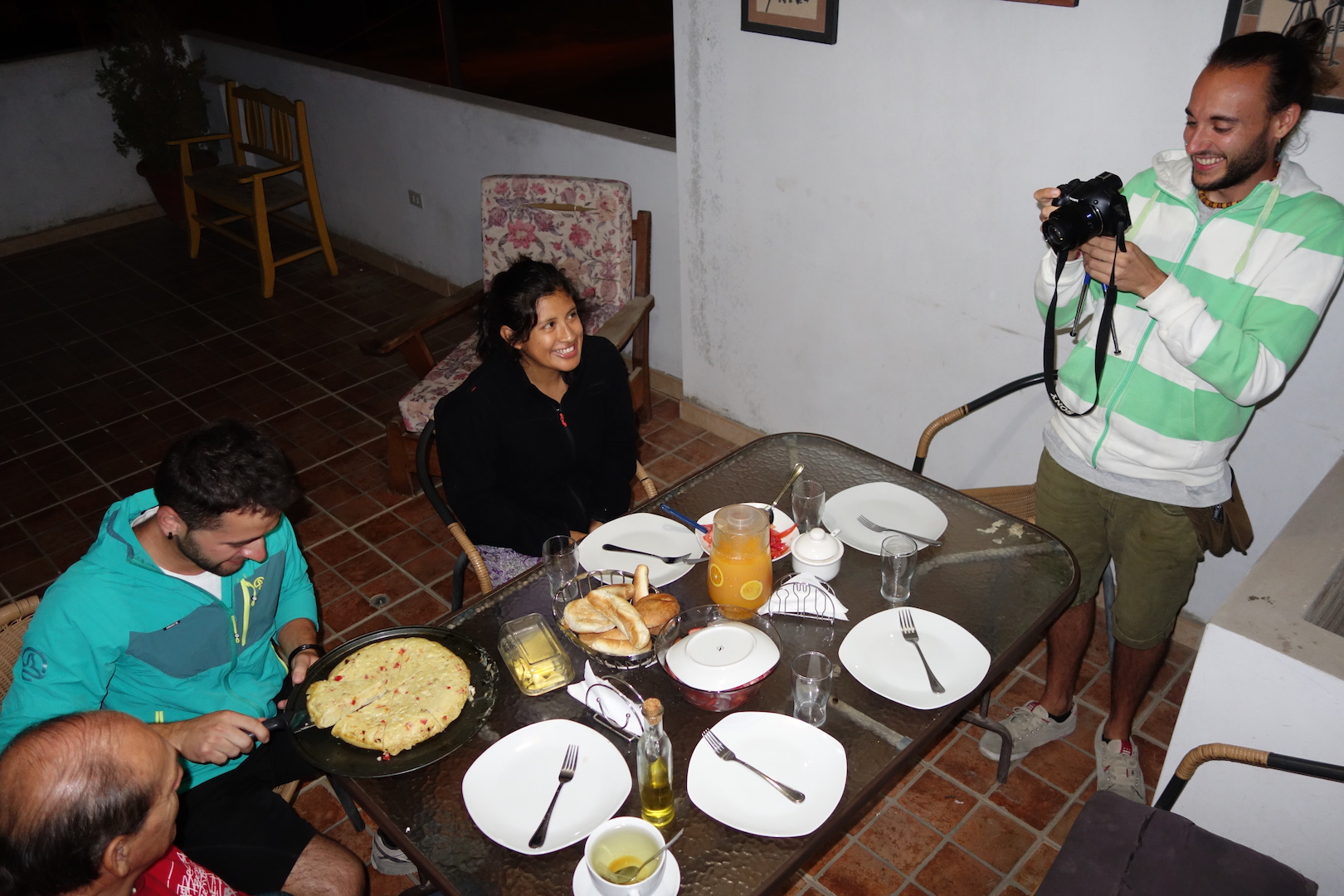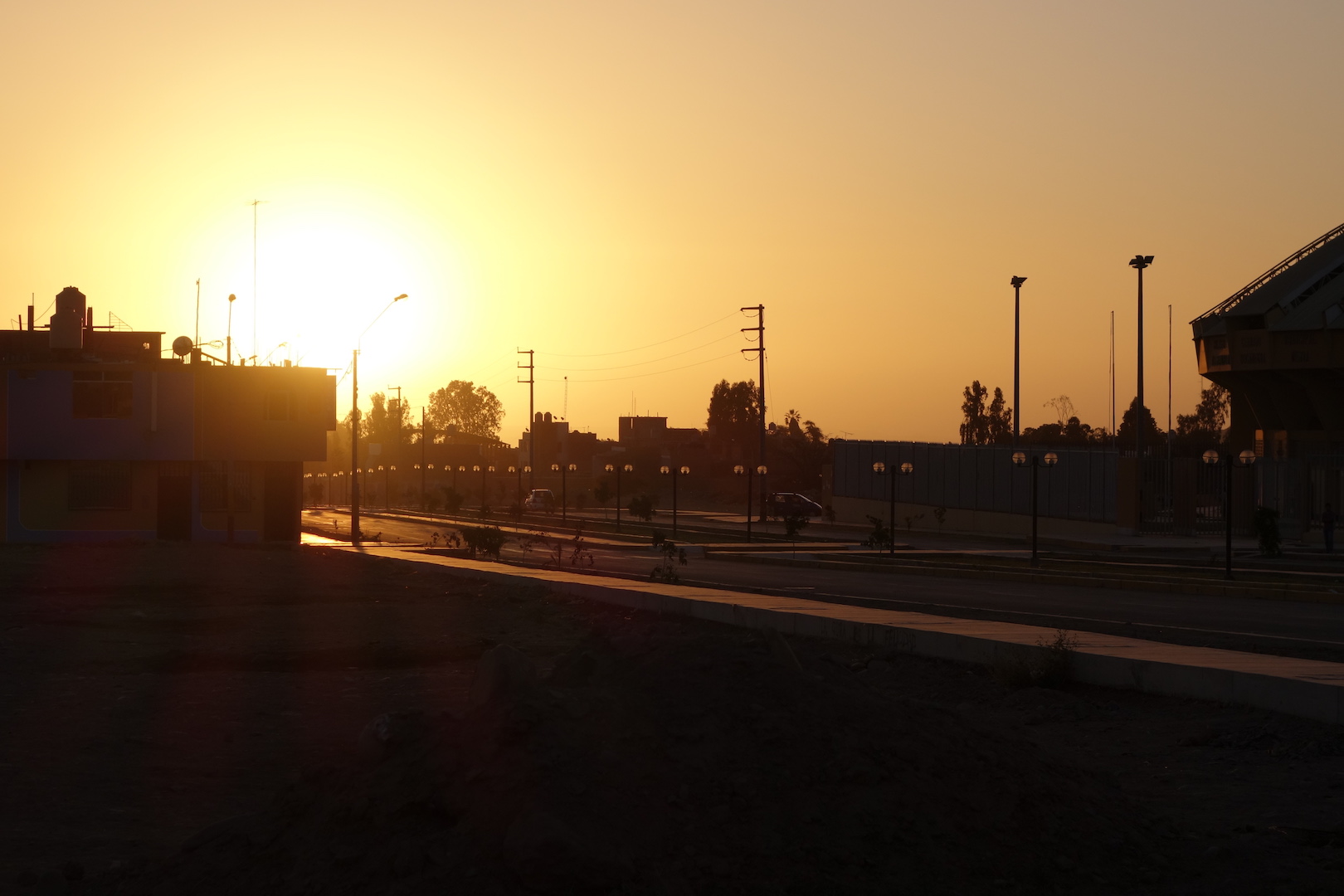 ---
The following morning I set off for Abancay and Cusco.
The desert heat arrived by 8 am and the continual climbing was very tough.
After a few hours, I stopped under the shade of a very pathetic bush to eat and drink
After a few minutes break, a road maintenance crew pulled up and refilled my water bottles.
They gave me advice about the road ahead but didn't seem to understand that there was no way I was going to do over 100 kilometres today to reach a rest area where I could camp.
"There is not much in-between", they told me.
"A couple of restaurants in about 20 kilometres but that is all"
Not encouraged by what they told me, I thought I might make that.
But the desert heat and climbing was taking its toll.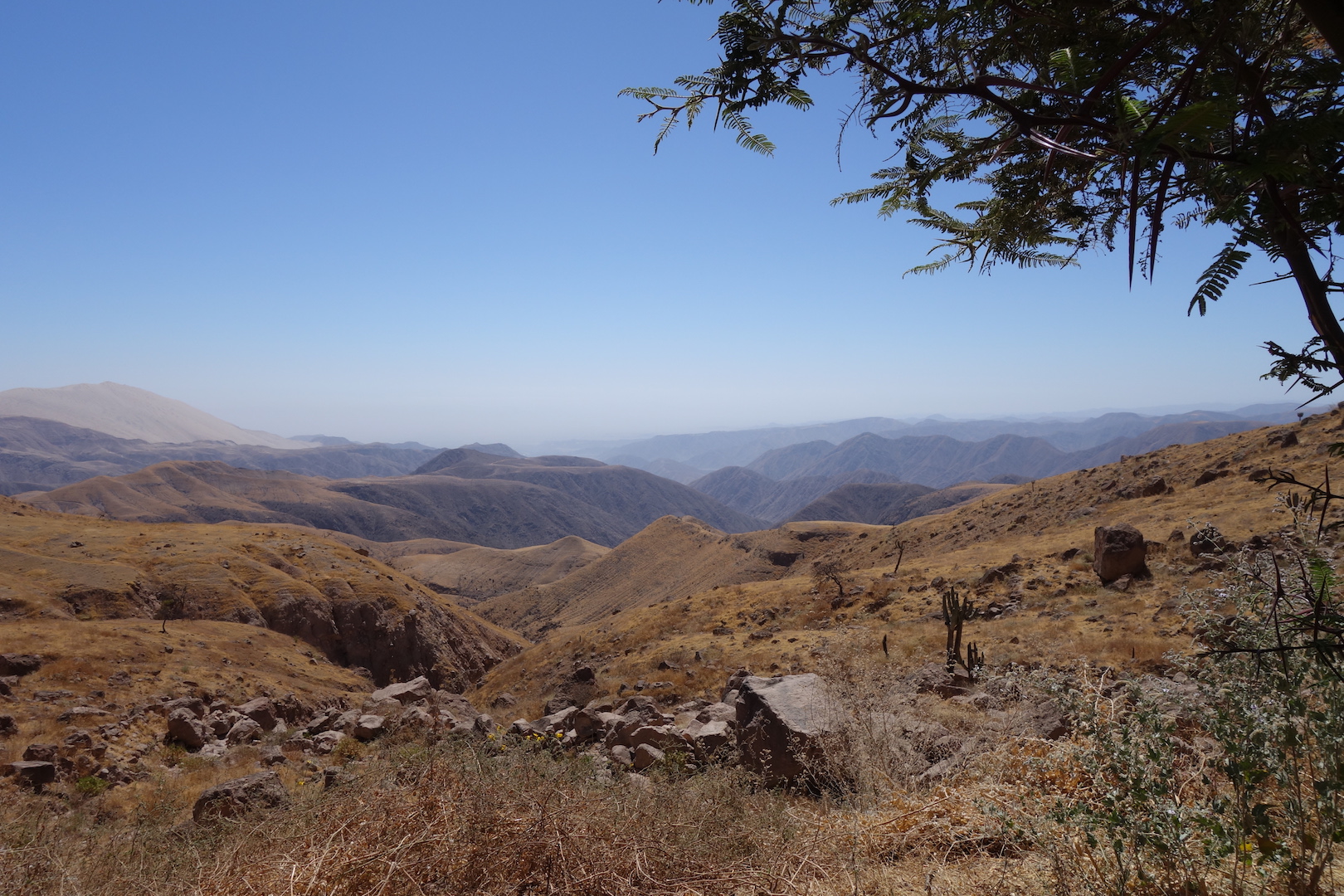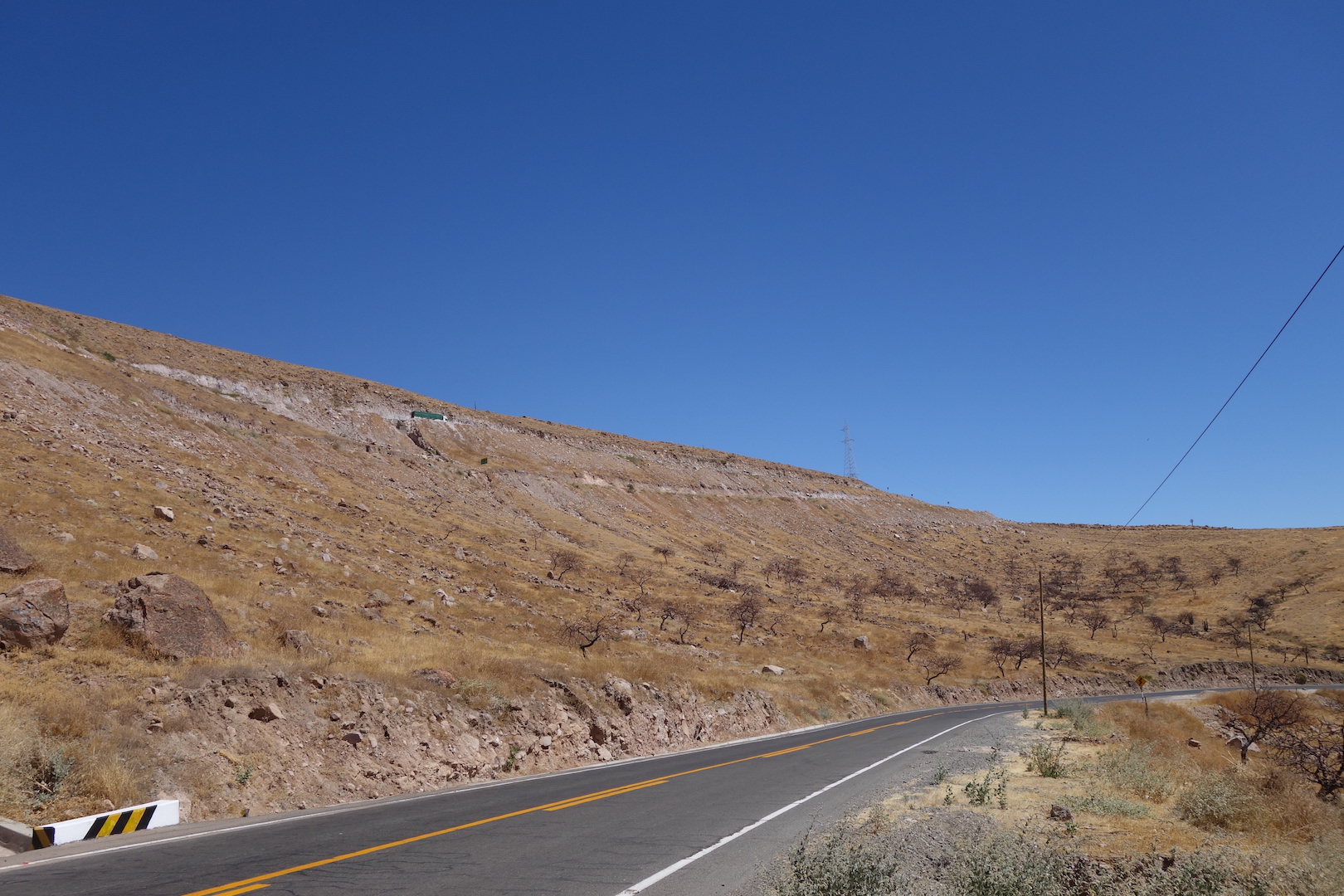 I spotted what I though was the restaurant the crew were talking of, but it was a different one.
Never mind, I stopped to eat and then asked about water.
"We have to bring it from Nasca" the lady told me.
We don't have any spare.
I had enough as it happens, but would have preferred to fill up my bottle not knowing the route ahead for the next day.
"And a toilet?" I asked.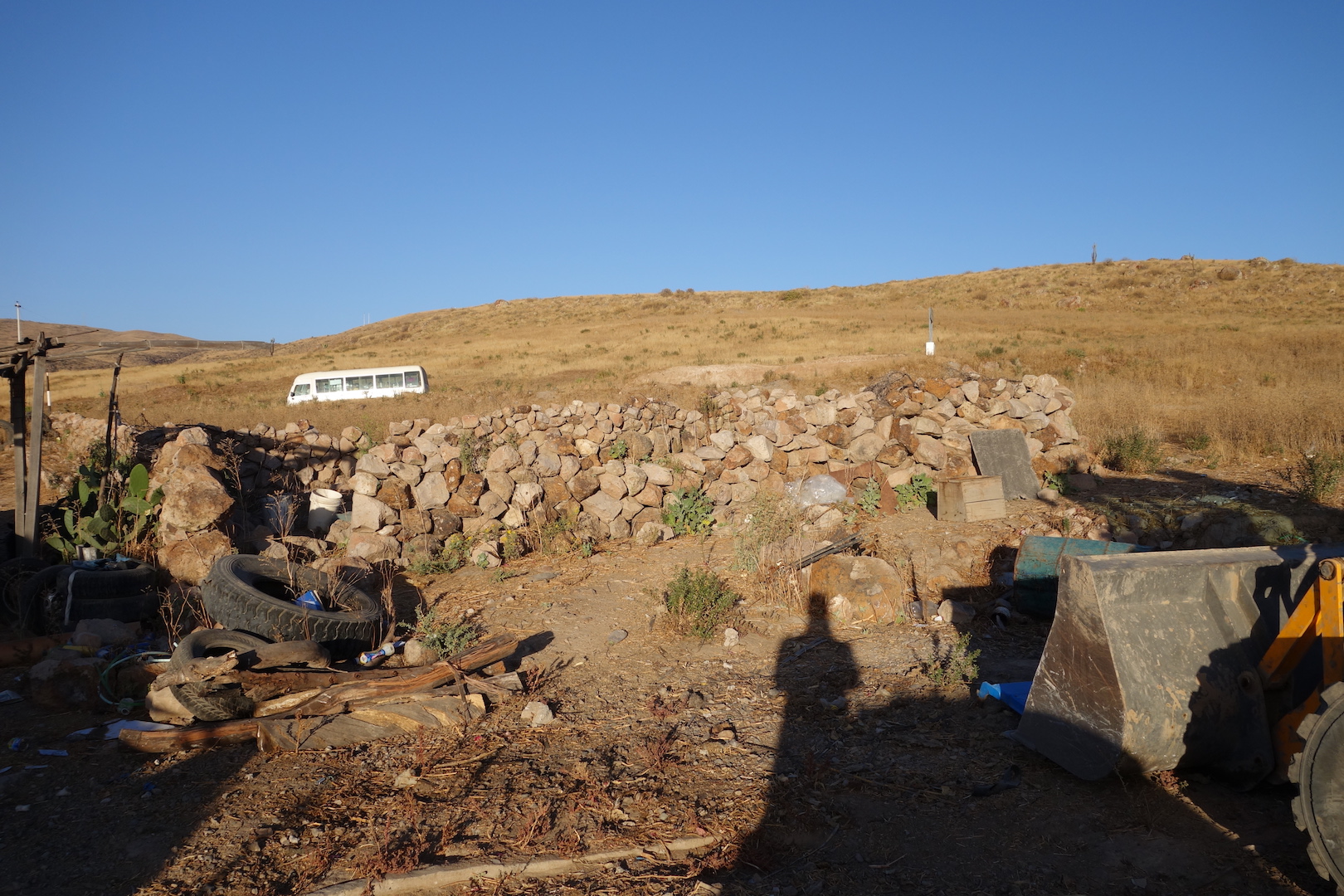 "Wherever you like!" She said, pointing at the extensive field behind her property.
The lady and her husband let me camp on a dusty patio at the rear of their property. Next to the 8x 1000 litre water butts.
As I was setting up, a JCB working in the nearby field parked up and the driver hopped on a motorbike and disappeared down the mountain.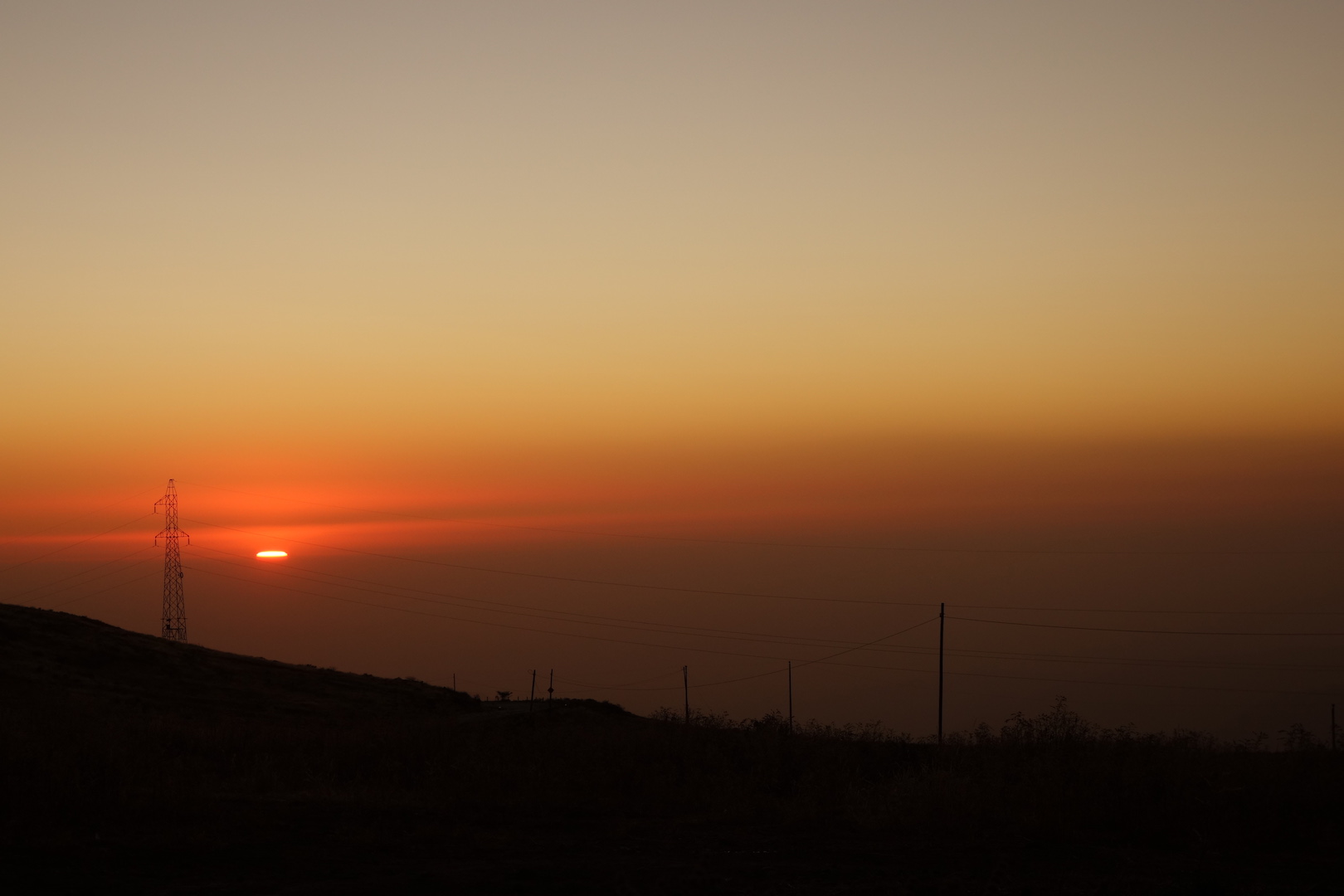 I finished the day having only ridden 48 kilometres.
The sun was setting, I found a private patch of tall grass and used the open air bathroom, wondering why the JCB could not be used to dig a more hygienic toilet.
Patches of brown and used white paper littered the field making me watch my every step.
10 minutes work, could make a latrine which would probably last several years.
As I walked back to the JCB and my tent, I noticed a box of drinking water behind the JCB.
It contained 20 litres so I 'borrowed' 2 litres and filled up my bottles.
I locked my bike up and now exhausted, I laid in my tent watching the stars rise before falling asleep.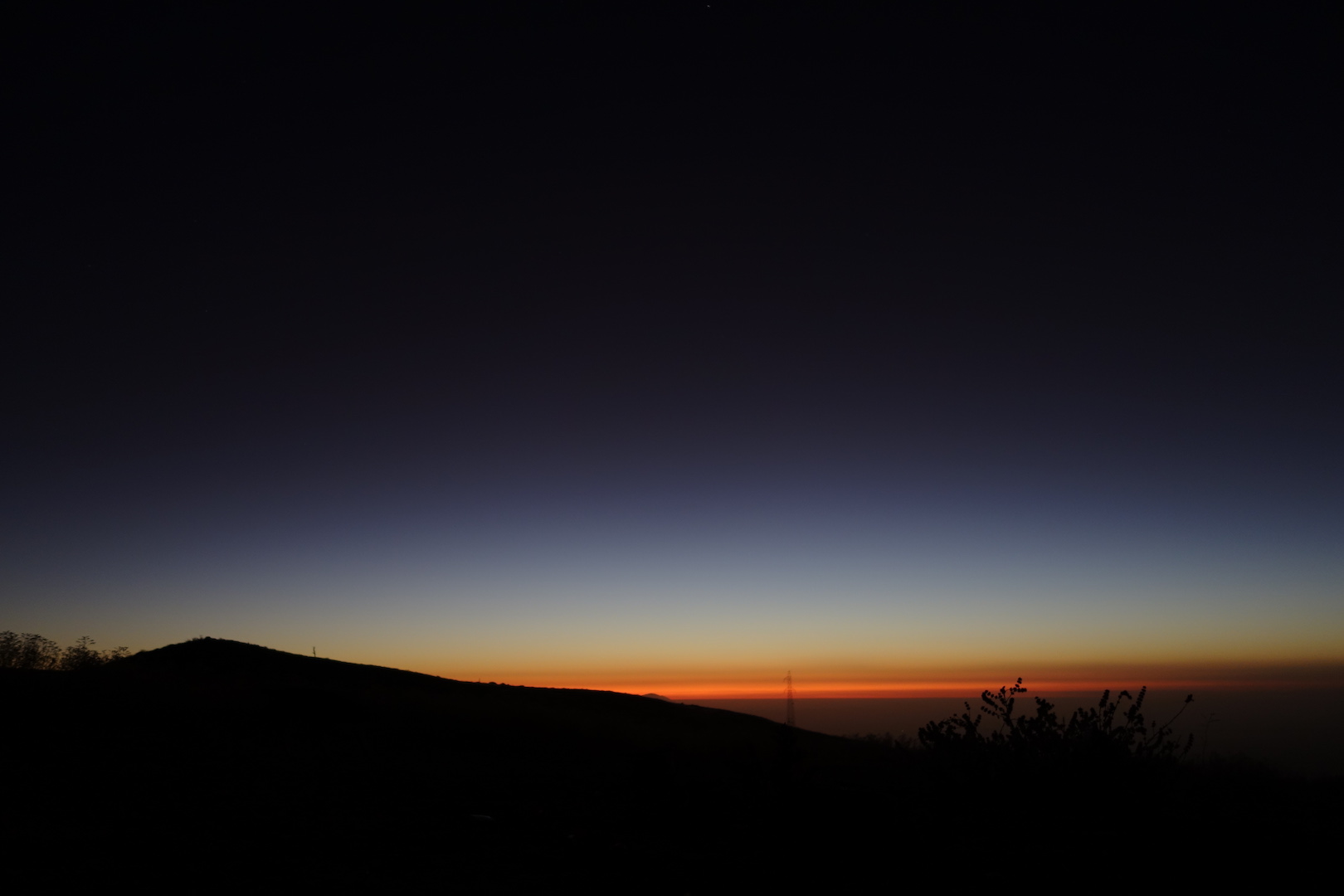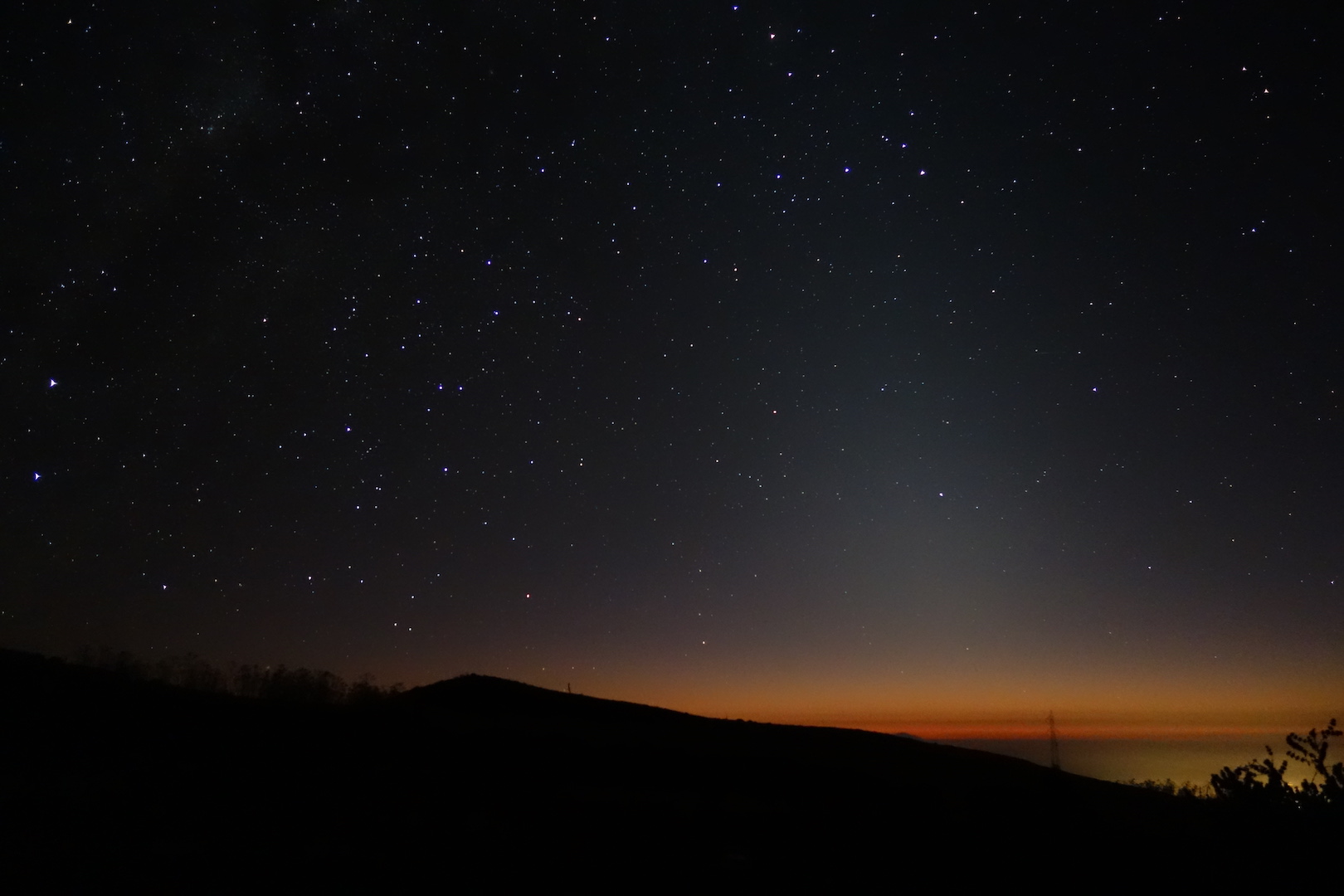 ---
The Lady gave me a breakfast called Cau-Cau.
It was a casserole with potatoes, vegetables and what I can only assume was either stomach tripe or intestines!
Not an ideal breakfast, but high in calories and my options were somewhat limited.
Heavily boiled, it didn't make the rubbery food easier to eat, but after the first couple of mouthfuls it became more edible and I finished the plate and finally I actually quite enjoyed it.
As I ate she told me about many other cyclists who took this route and stopped here for food and to camp.
I am glad was not the only one who was struggling up the mountain then!
As I looked around, I saw the stickers and cards left by others on their own journeys.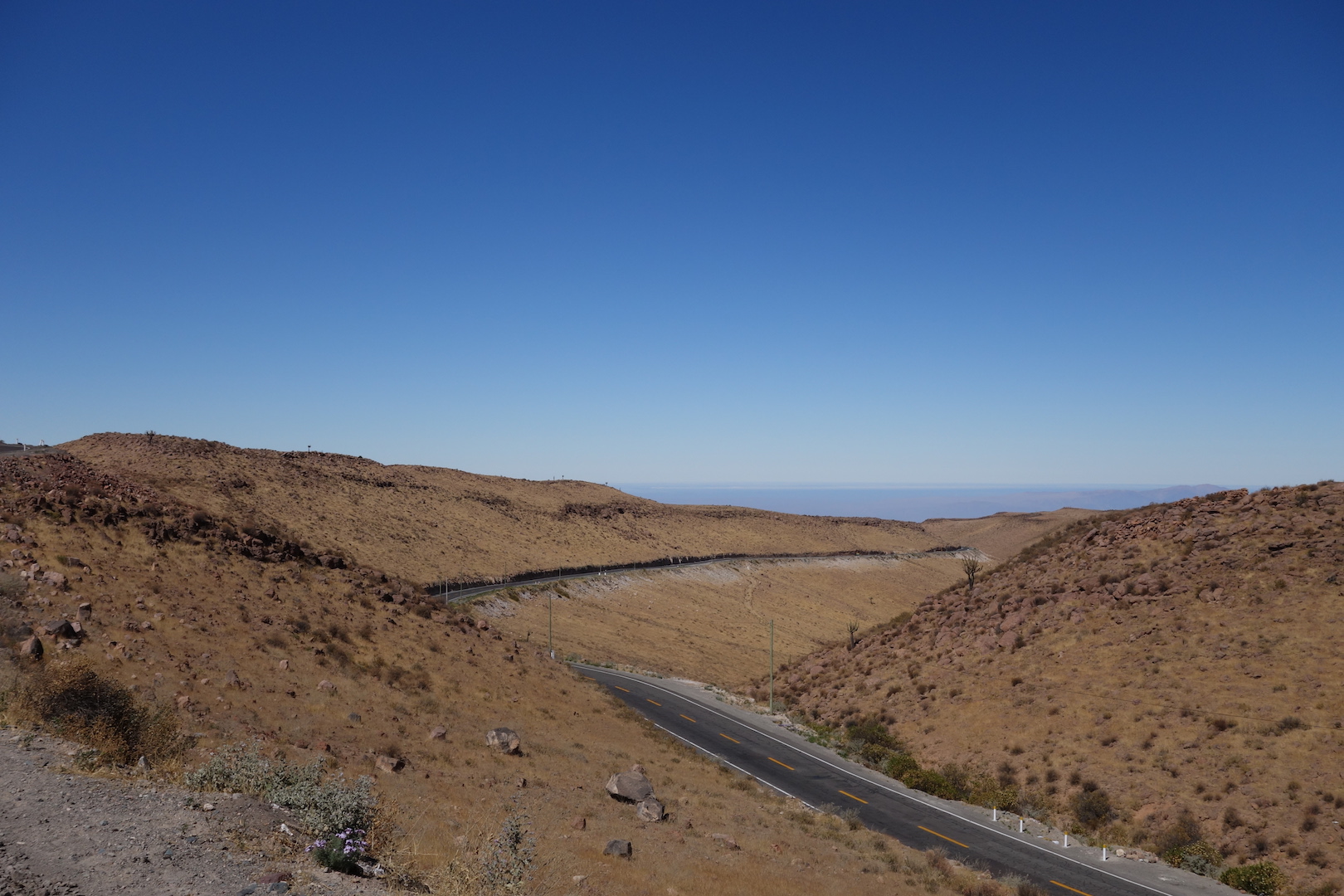 The road continued up and up and up.
After a few kilometres, I saw the restaurants and small village the maintenance crew were talking about yesterday and stopped for a drink and snacks.
A few more kilometres and I saw the maintenance crew again.
"You are moving slowly" They said. "You didn't get far yesterday?!"
Hmm, internally I was not very polite!
They offered me more water and then drove off again.
The day continued. The hot sun now cooled as the altitude brought the temperature down.
A wind picked up and pushed me a little.
I looked back and saw another sandstorm in the valley below and a large female Condor circling above the dust.
My first one.
A few Kilometres ahead, saw some Llamas grazing in the pampas at the side of the road.
As I got closer I could see they were not Llamas, but Guanacos.
A large cousin of Llamas and Alpacas.
There were 5 or 6 in the herd and they sprinted off when they saw me.
Too fast to take photos.
I continued.
Later, I saw the crest of the hill and a restaurant.
I stopped for some excellent Lamb casserole and carried on down the other side.
As I descended I saw more Guanacos.
But this time a herd of around 100. Casually walking and feeding along the roadside.
As I got closer I saw they were similar but much smaller,
These were Vicuñas.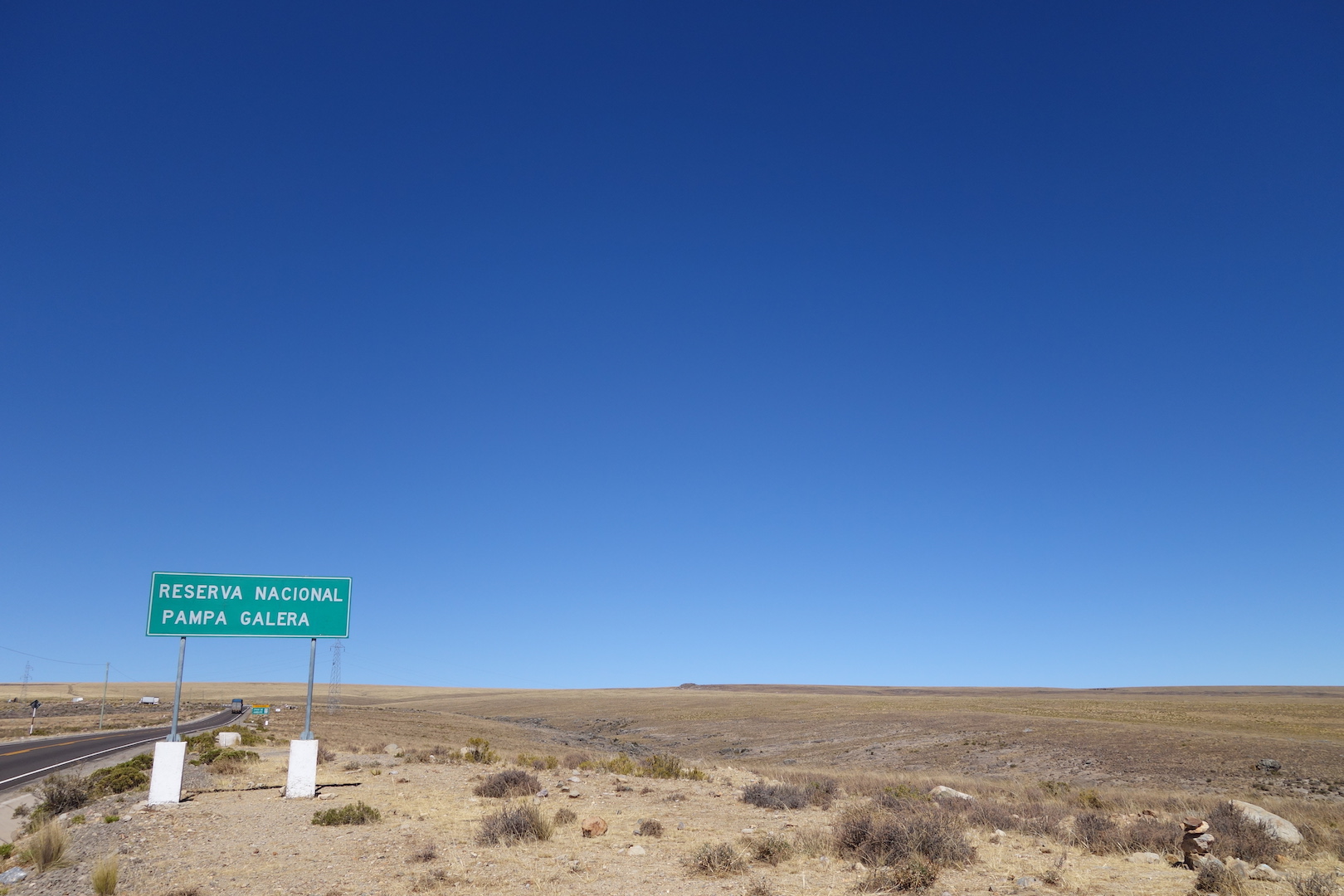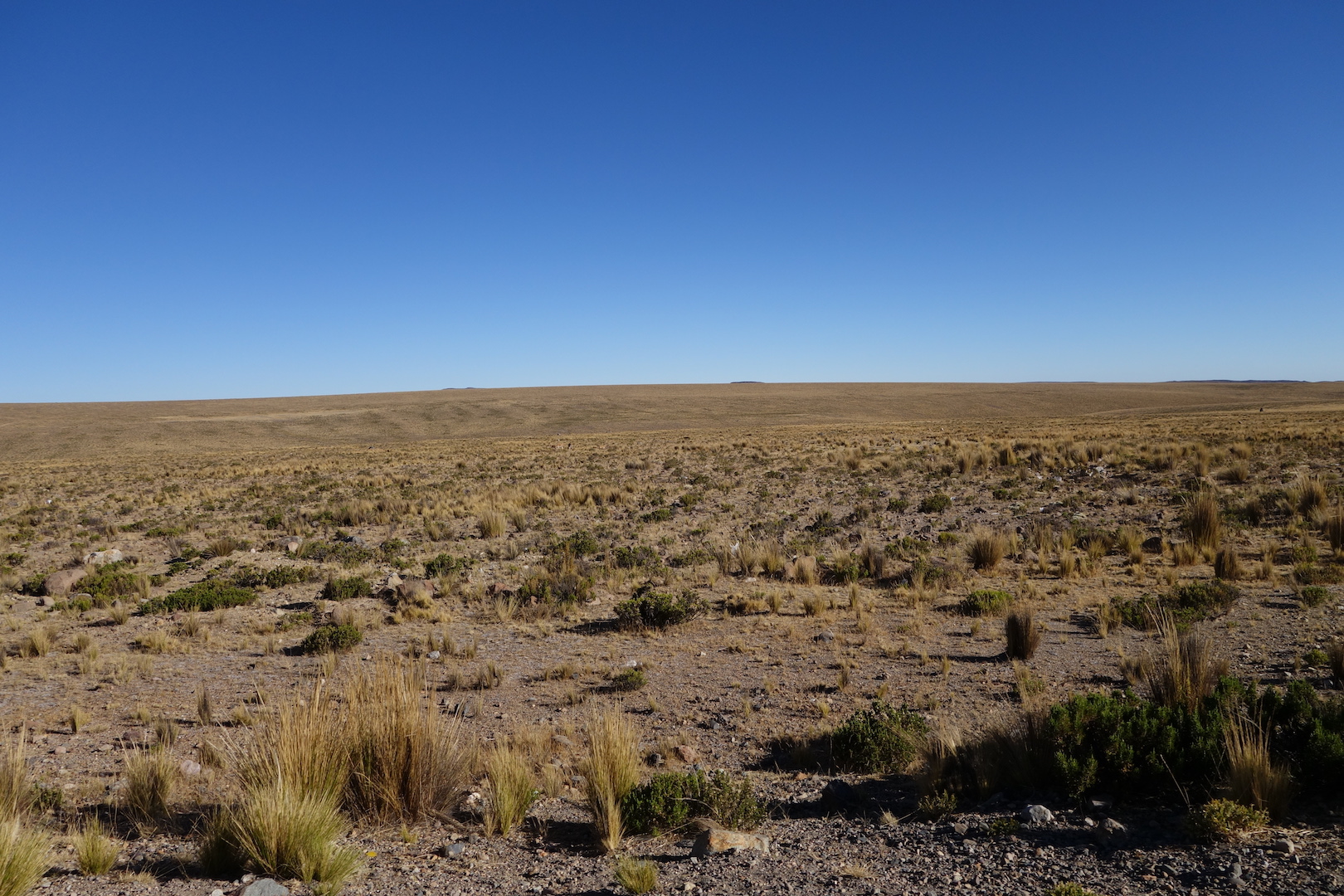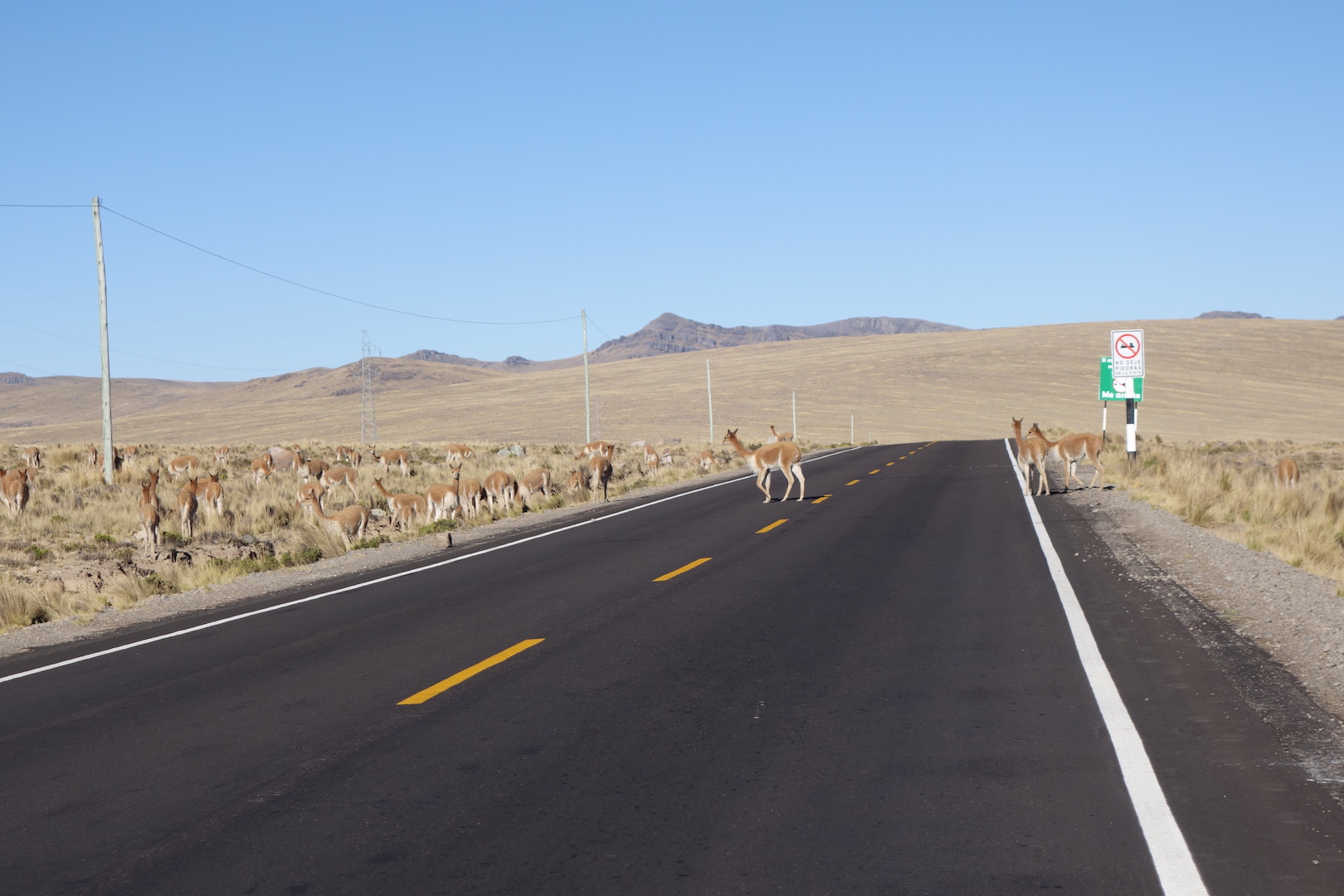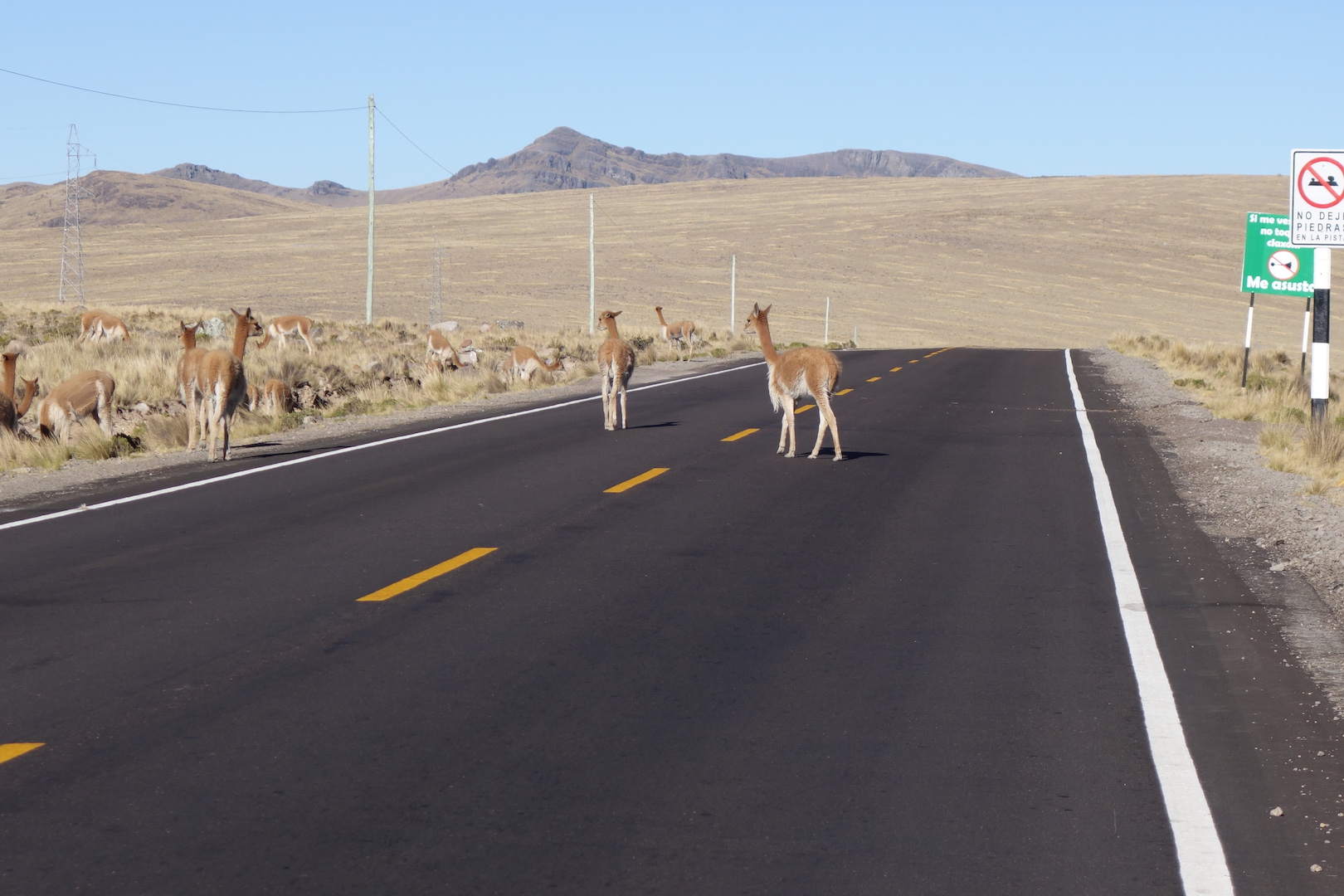 The baby cousin of Llamas and Alpacas.
And the last of the four native Camelids that live in South America.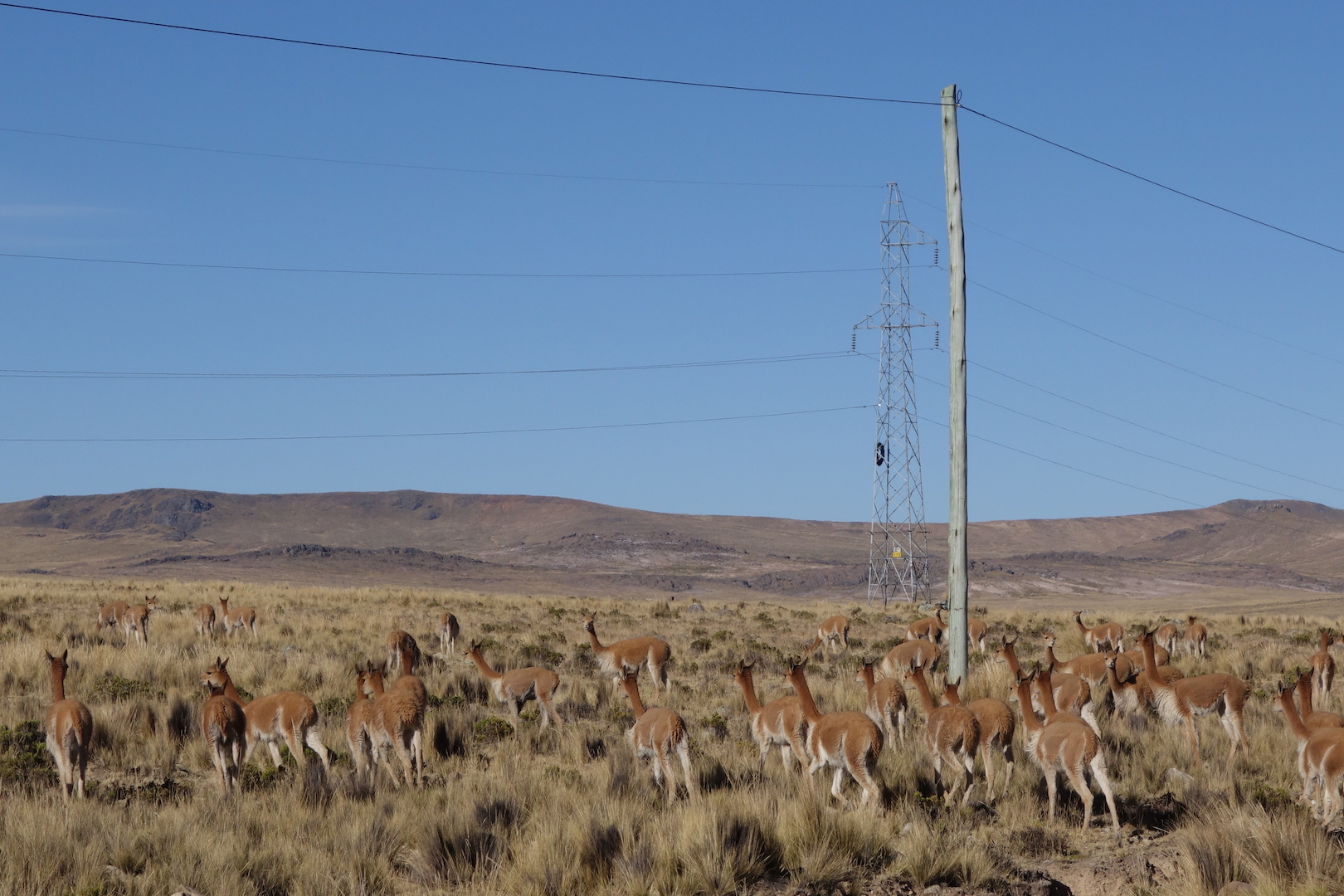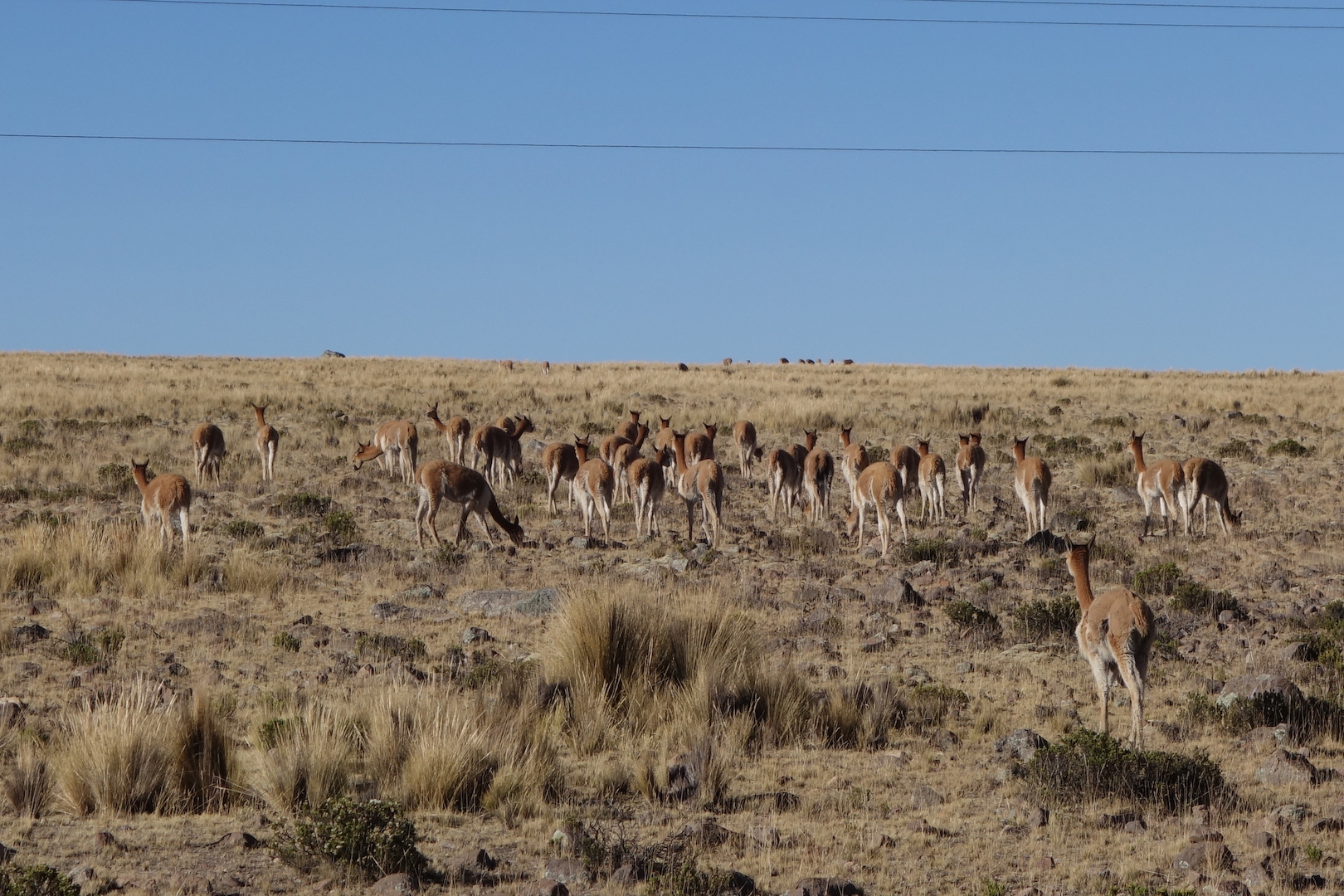 The heat turned to cool as I ended my days at the Pampas Galeras research station.
A sign advertising camping called me in but after discussing it with the girls there, I was given a spare dorm room.
" How much?" I asked.
"They muttered something, smiled and walked off.
I took that to mean zero…
Settling in, I was shown the solar powered shower.
"You might need to add some cold water, I was told. Depending on how hot the sun has been"
Grabbing my toiletries and towel, I turned the tap. It was warm, but not hot.
A comfortable temperature. It had been a very cool day.
I stepped in and within 10 seconds the real heat started coming through!
I almost cried out as scalding water burned my back and shoulders.
Was this just solar power?!
A bucket next to the shower was already half filled with cold water so I stood it under the flow and used it to wash myself.
Apart from the initial shock, it was one of the best showers I have ever had.
Why don't we use more solar energy?
It's free after all and this amount of heat was seriously impressive. Despite my now sore shoulders.
An evening meal of bread and a little salad followed. And a chat with the girl caretakers. There didn't appear to be many staff working there. I counted 5 in total.
I plugged in my phone and camera to charge and at sunset the light went off.
Solar power is not entirely great then.
One of the girls brought me a candle.
"The power comes on about 6 am" She told me.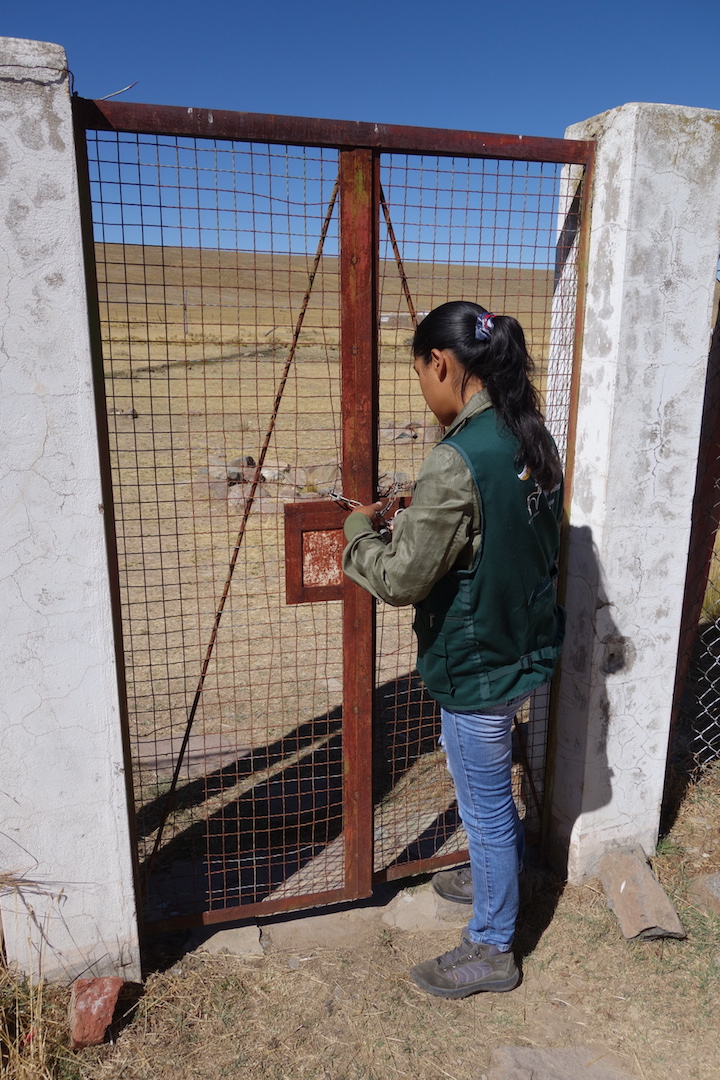 ---
Sunrise.
No power.
I was invited to breakfast and the girls had prepared a delicious pasta and vegetable soup.
And Coca leaf tea.
I would imagine like most, you might think this tea is a highly potent chemical mix giving you a tremendous high and a kick in the pants start to the day.
I think I got more of a buzz from Green tea.
It is no more a stimulant than Red bull, Coca-Cola or I imagine, a strong coffee.
It has a pleasant slightly sweet and bitter taste but personally, I didn't find it that exciting.
Each leaf typically has around 0.03% of the chemical alkaloid that people so desire. And is harmless in its raw state.
Only when it is intensively chemically processed does it become the dangerous and illegal drug Cocaine.
After a brief guided tour of the derelict facilities. It was explained to me that the government didn't invest much time or money in the station any more.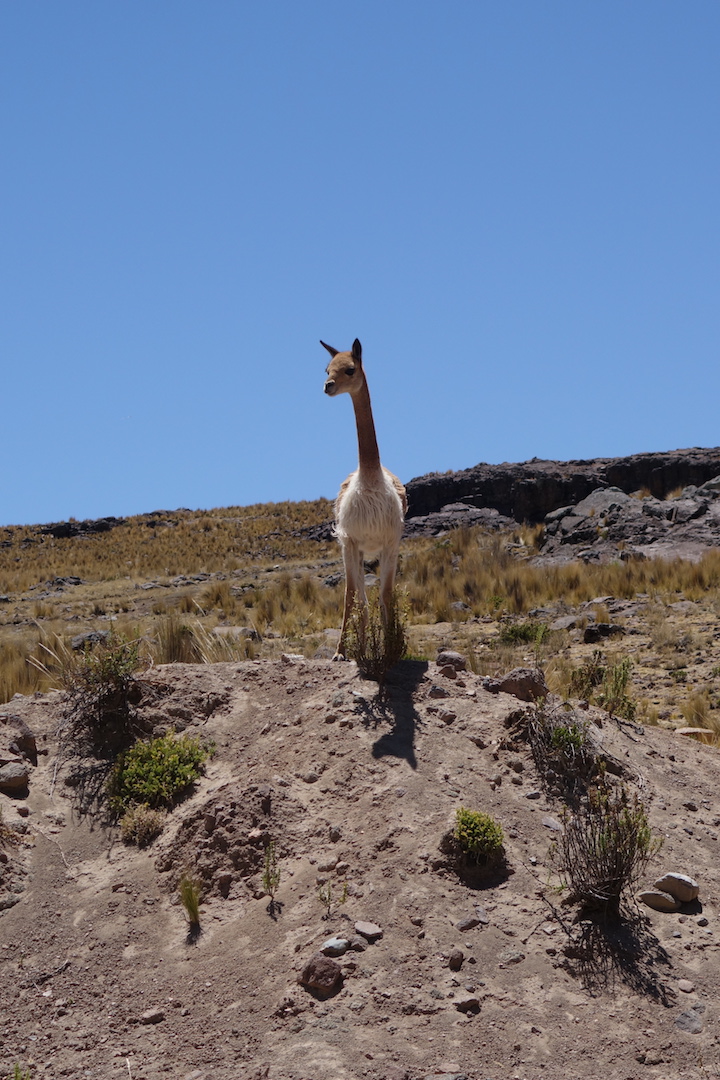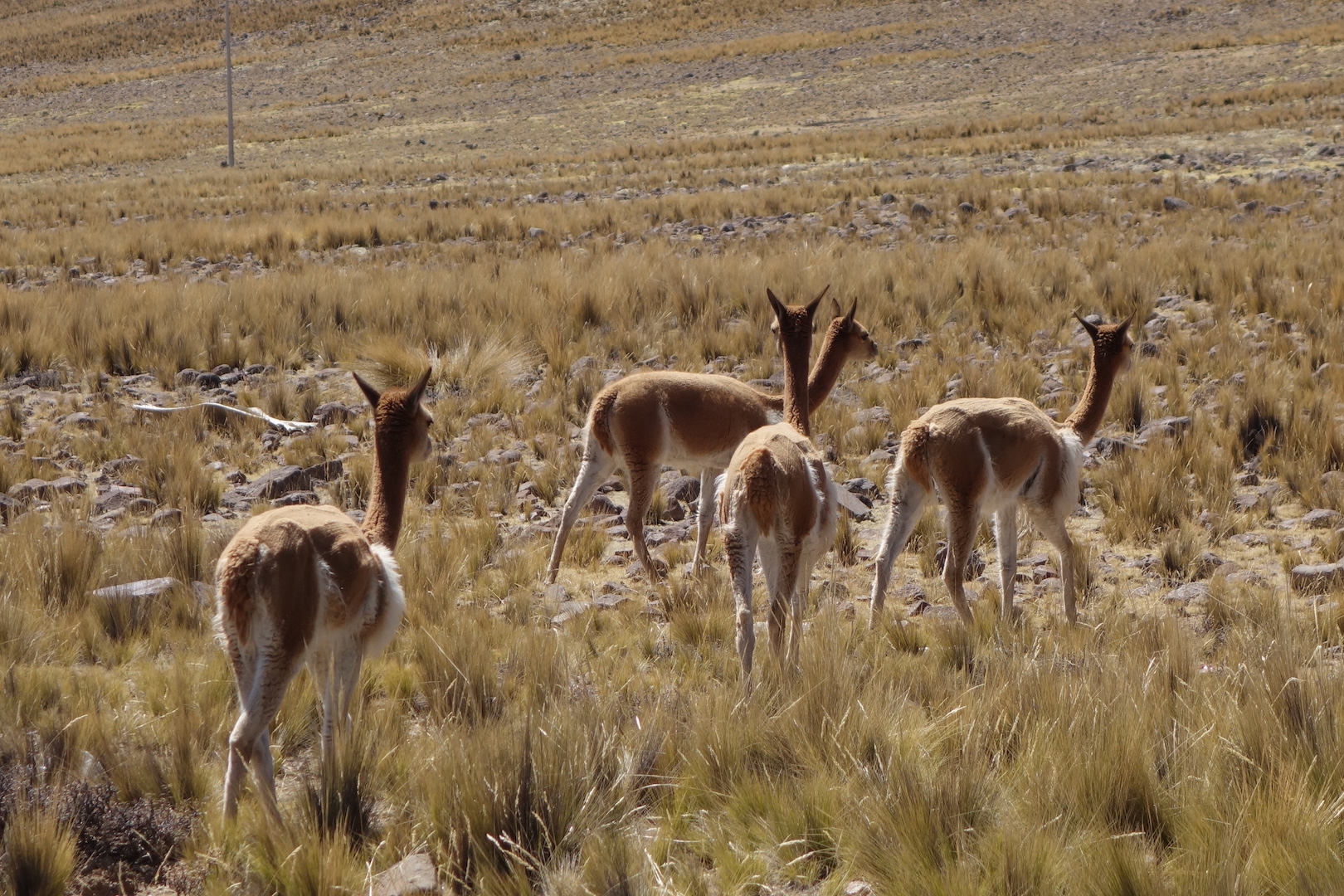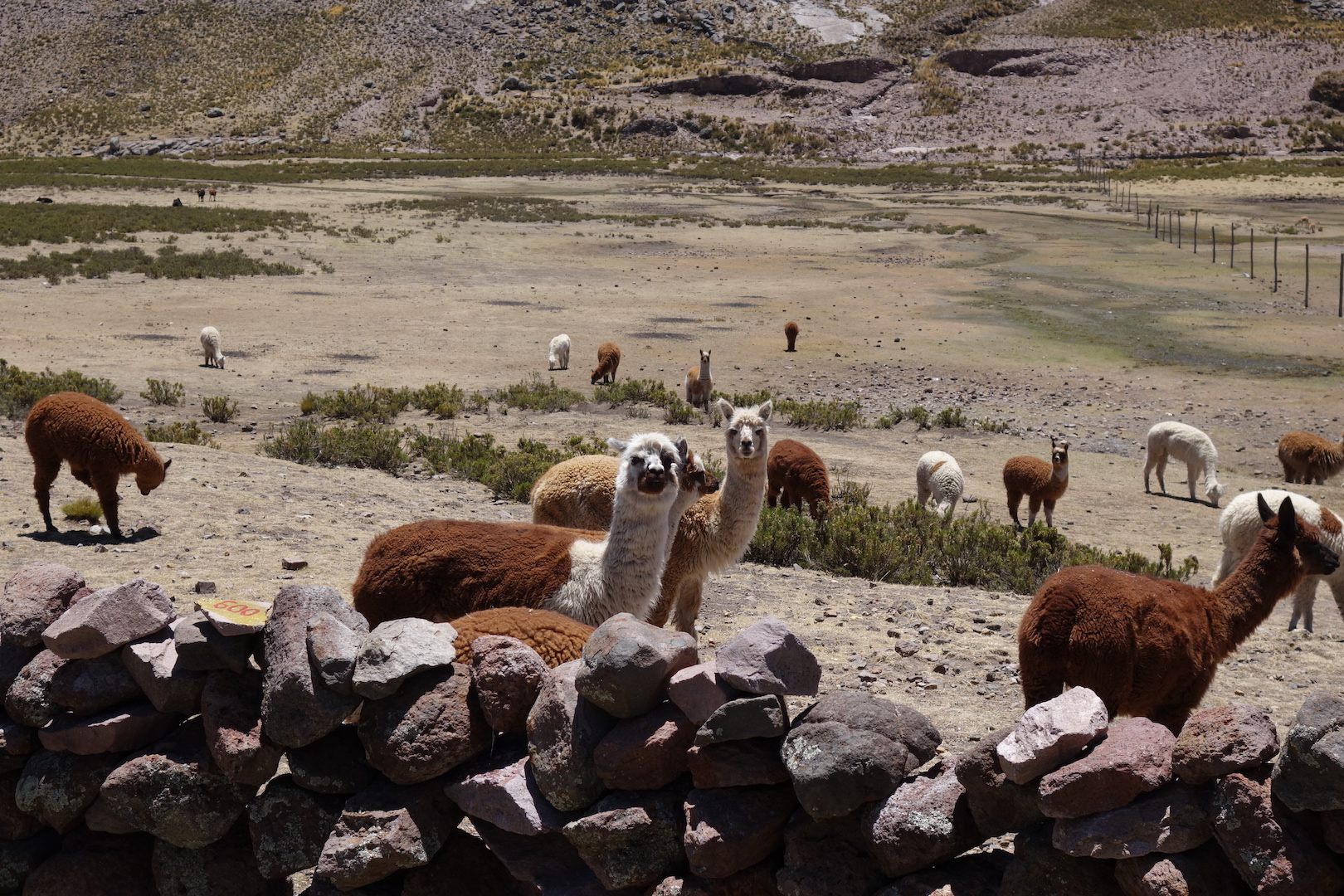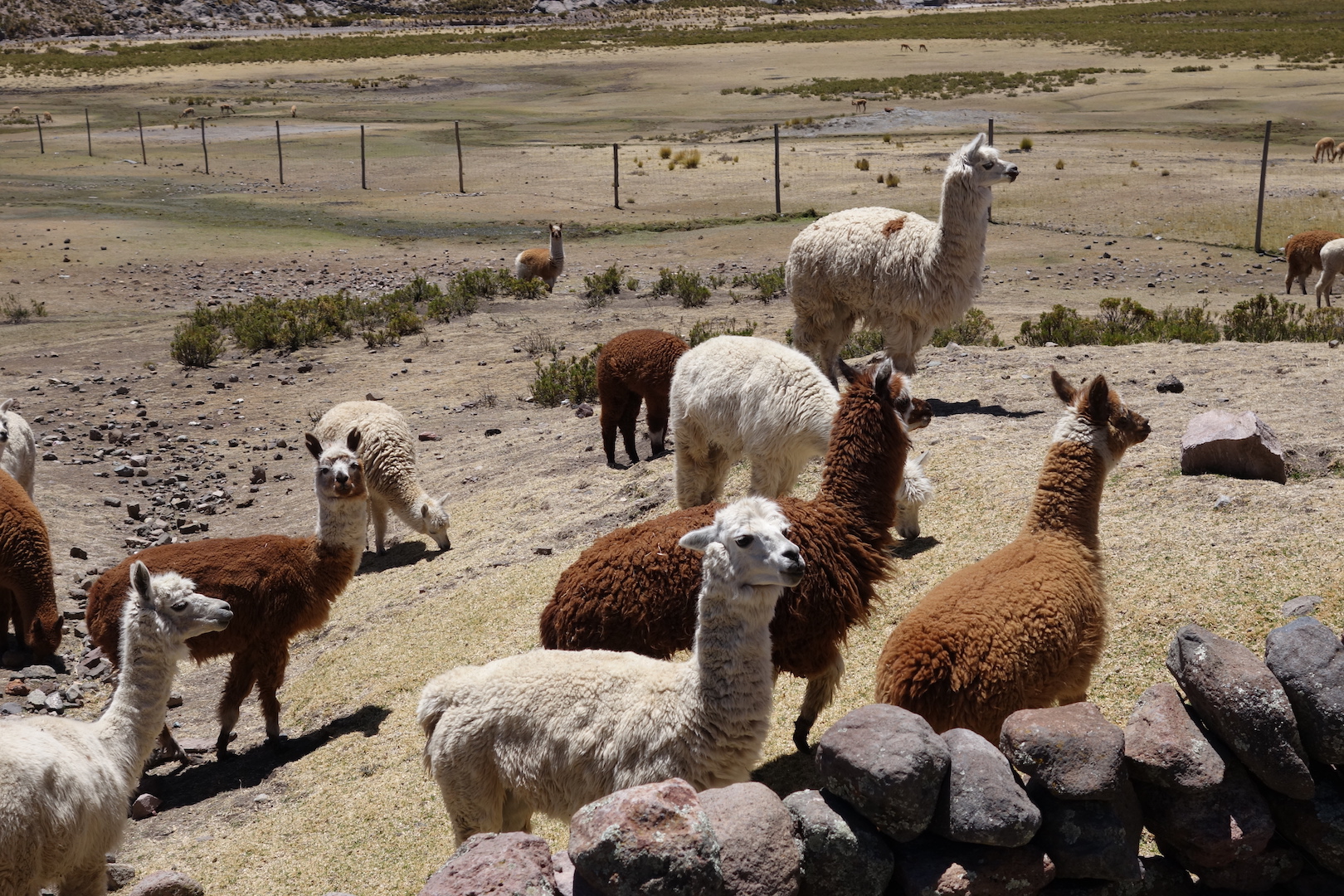 It still served an important function as the Vicuñas are an endangered species but the facility does not attract significant numbers of tourists any more.
The museum was a little old and tired and while the girls there were very enthusiastic, it was clear they were struggling having to spend weeks at at time away from friends and family and with no communications with the rest of the world.
" The facilities were destroyed by the terrorist groups in the 1980's. They cut the cables and communications as they didn't want the government knowing what they were doing. So they came and vandalised the property. Stole the equipment and destroyed everything."
Even though they are no longer a threat, the Peruvian government has not released the funds to restore the property.
They see priorities elsewhere like most other governments .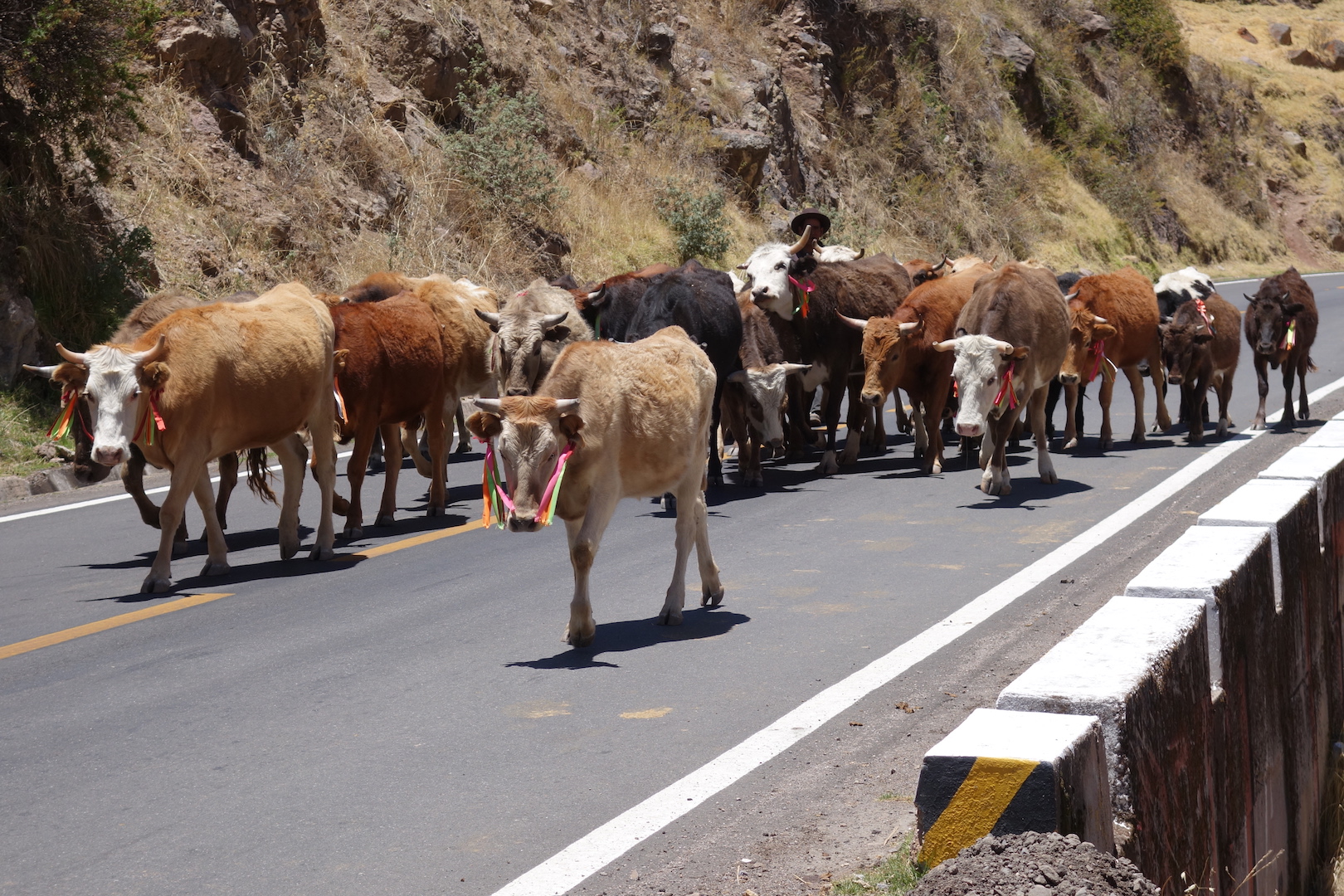 I cycled to Puquio and stayed in a hotel there. Then struggled up and over a huge pass towards Abancay.
I had to hitch a lift here. I was exhausted.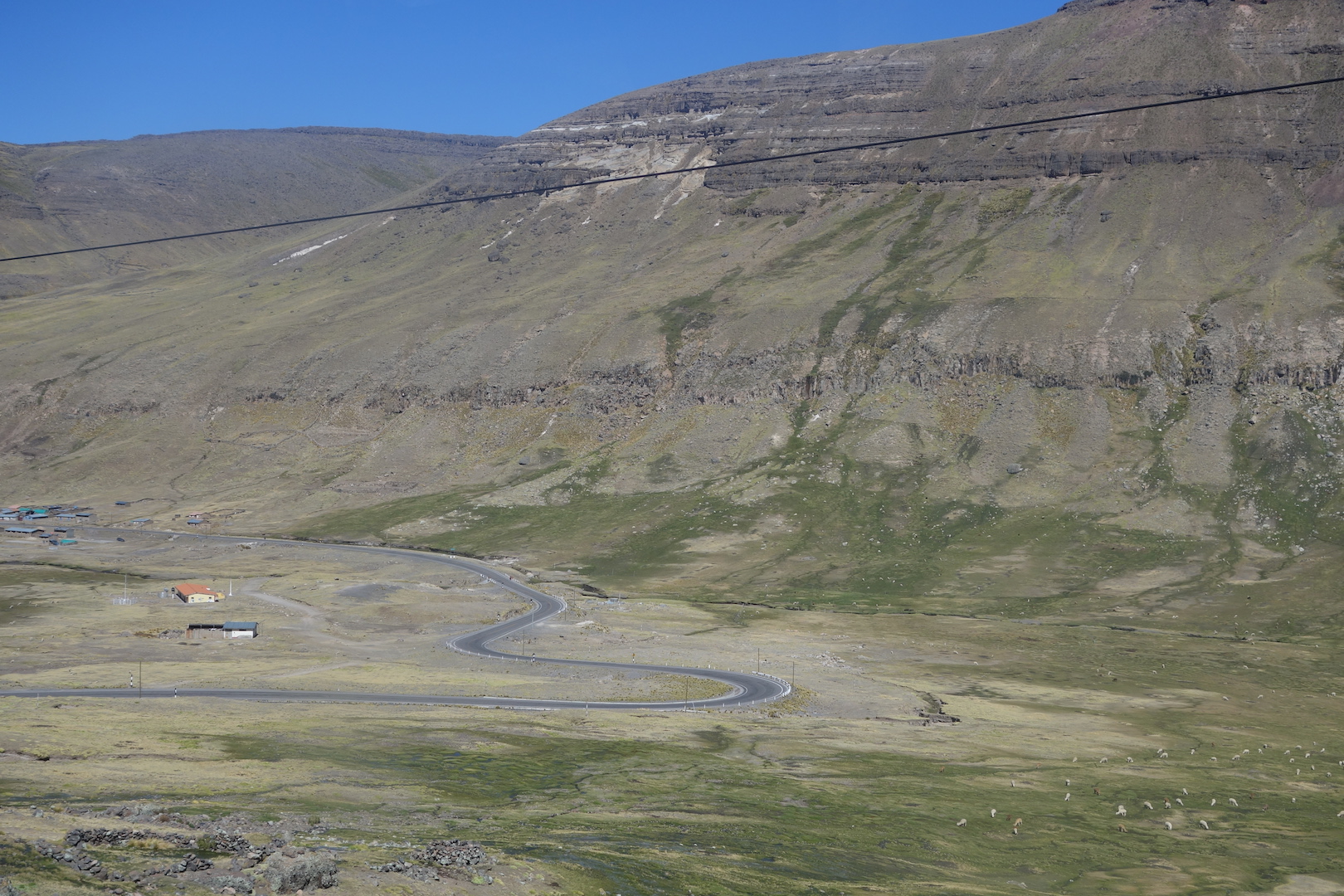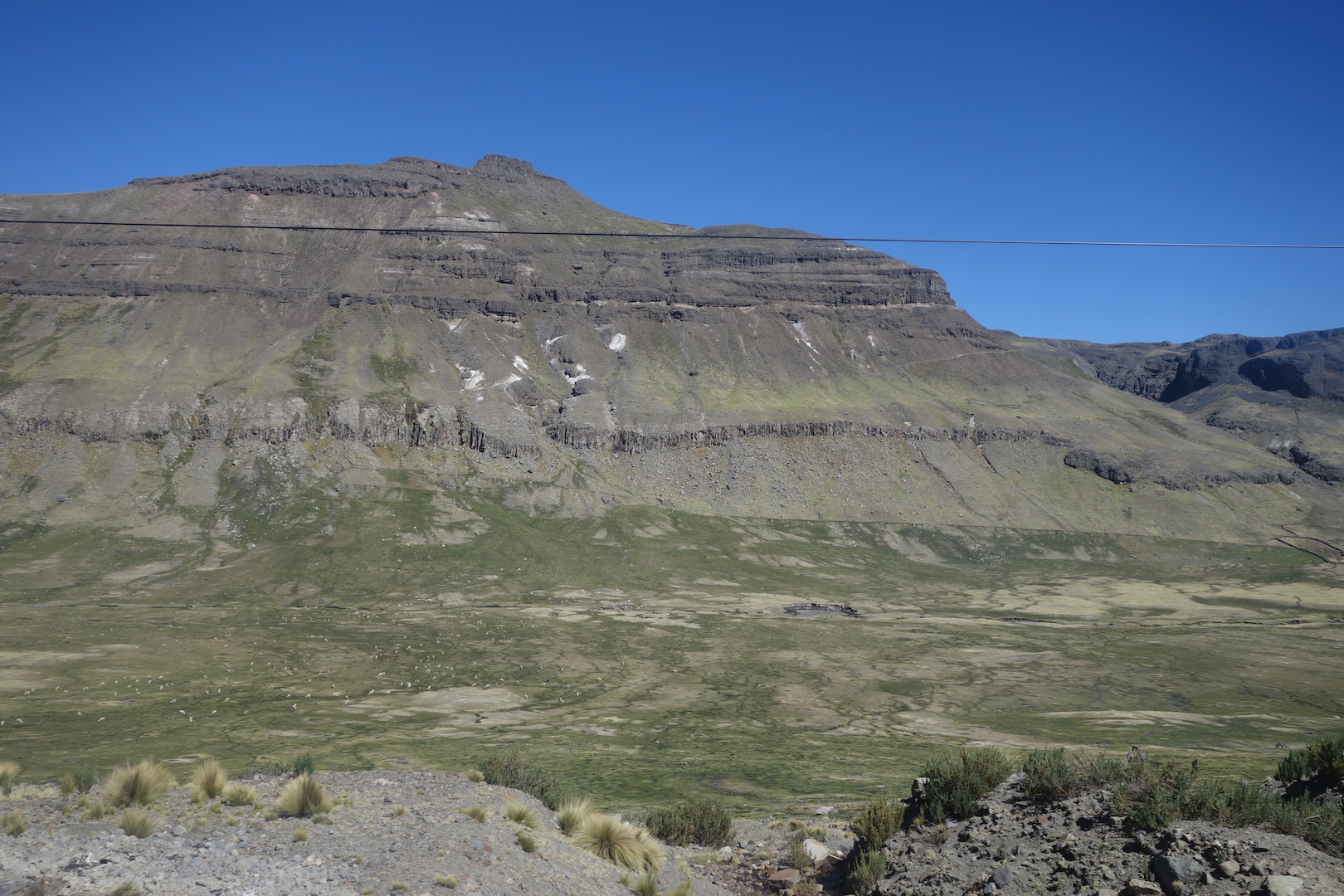 The height and altitude has left me struggling to breathe. My speed and daily distance has dropped and worryingly I am suffering with nausea and nose bleeds. I wake up most nights struggling to breathe as my nose is blocked and chest tight.
It was a tough few days.
From Abancay I decided to take the bus the final leg to Cusco. And I am glad I did.
A very steep climb out of the mountainside town and up into the cloud forest.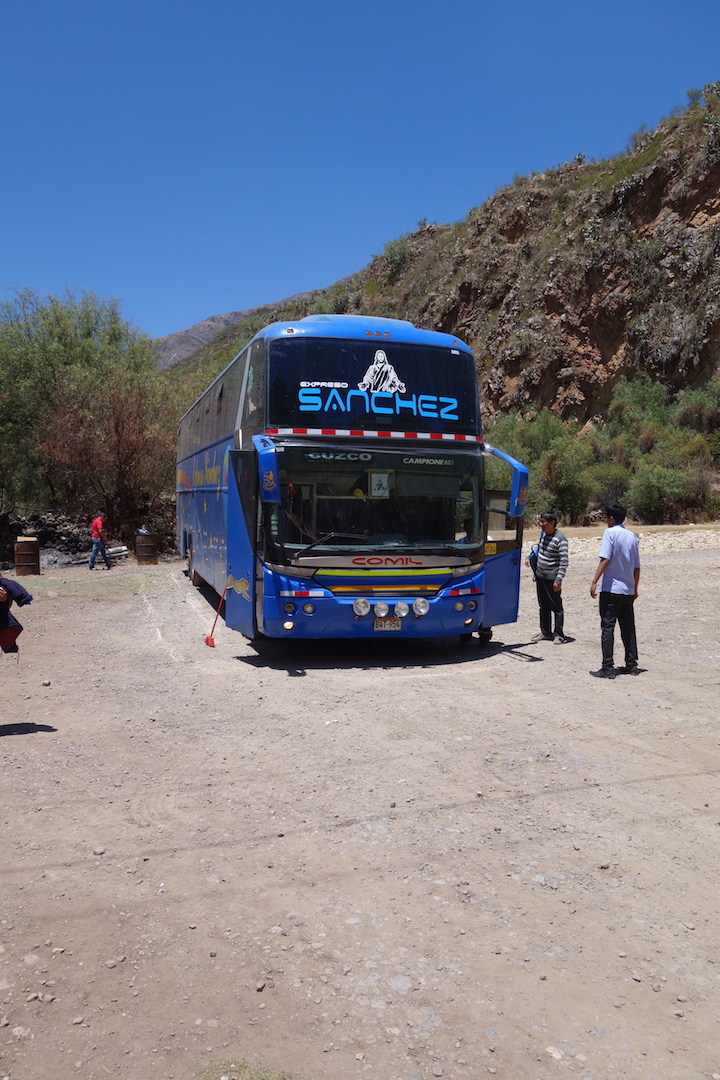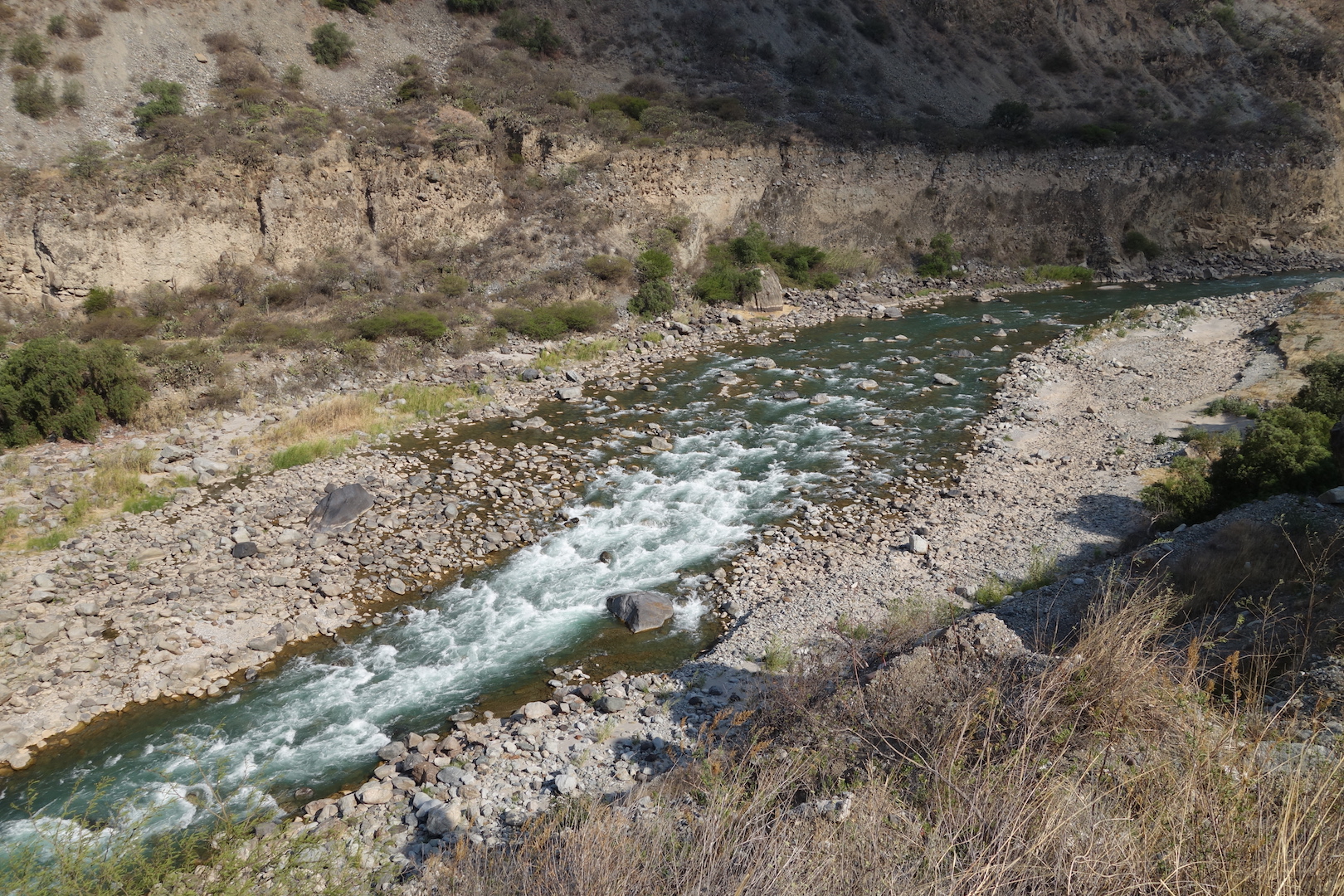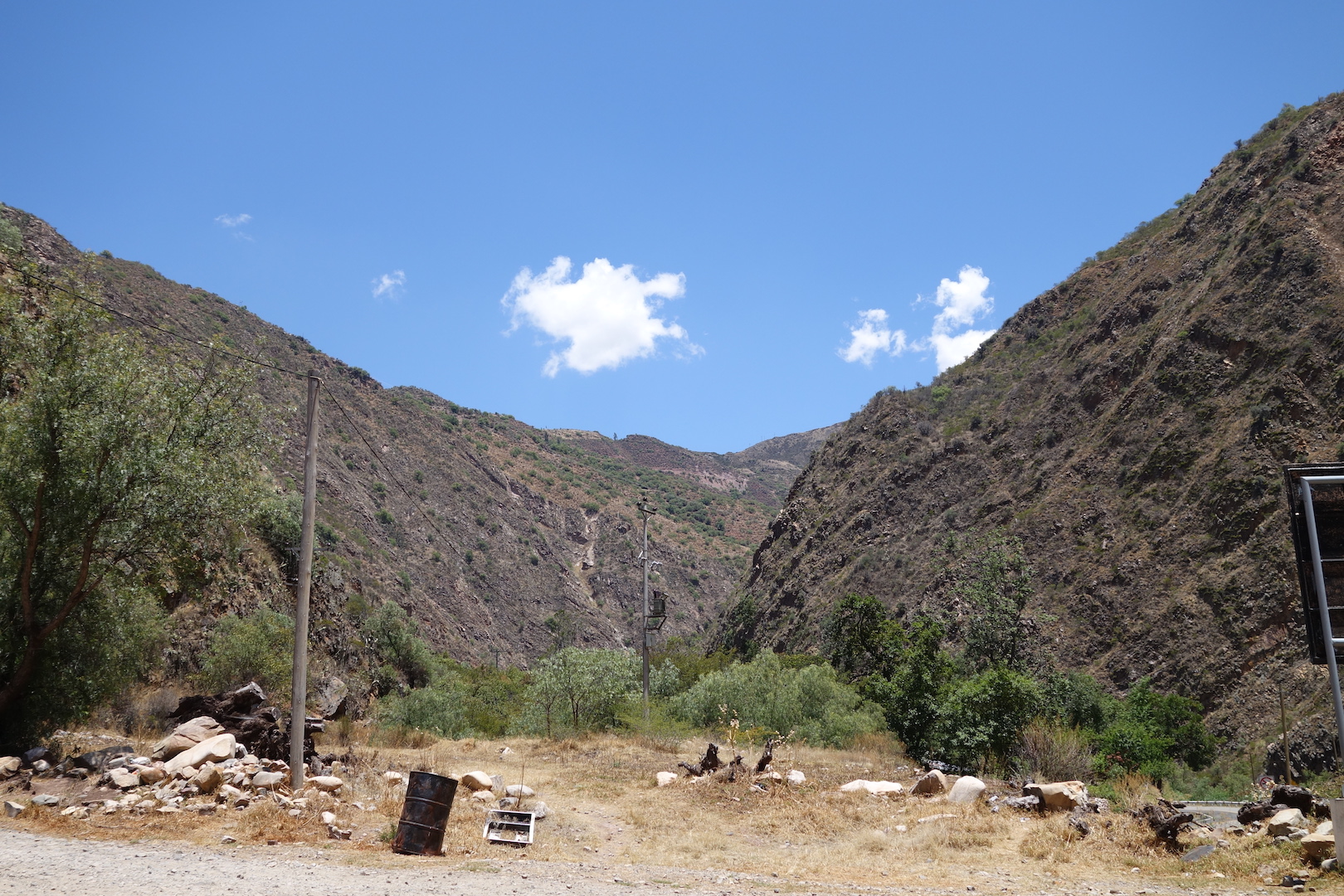 The bus arrived in Cusco after being delayed by some political protest that held up all the traffic on a narrow bridge for over 2 hours.
Seeing diggings and roadworks, I assumed at first it was maintenance, but when we finally moved passed, it was clear there was nothing happening apart from the Police moving groups of people back into there vehicles so we could pass.
Cusco is a pure tourist town.
I managed to find a cheapish hostel away from the centre and settled in.
Walking round the Plaza de Armas, I was quickly reminded why I generally avoid tourist centres.
Too many Gringos taking photos making noise and generally getting in the way.
While beautiful and busy, it was too busy for my type of travelling.
I was irritated already. More so when I asked the price of something to see it was around twice what I had paid only a day or so before in rural Peru.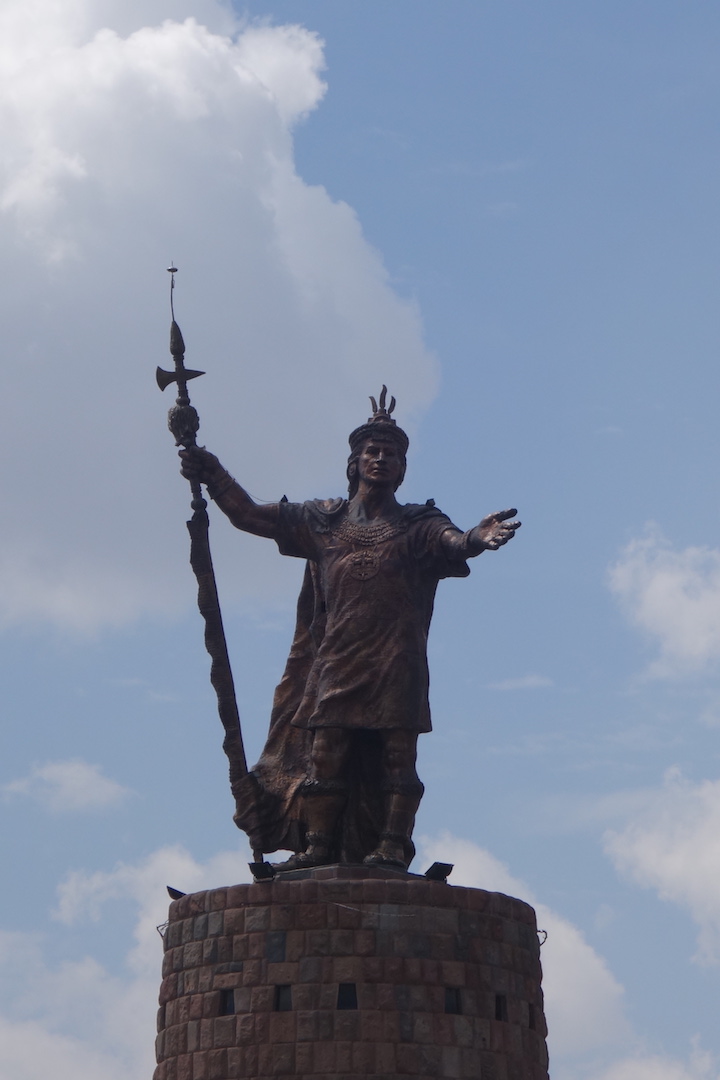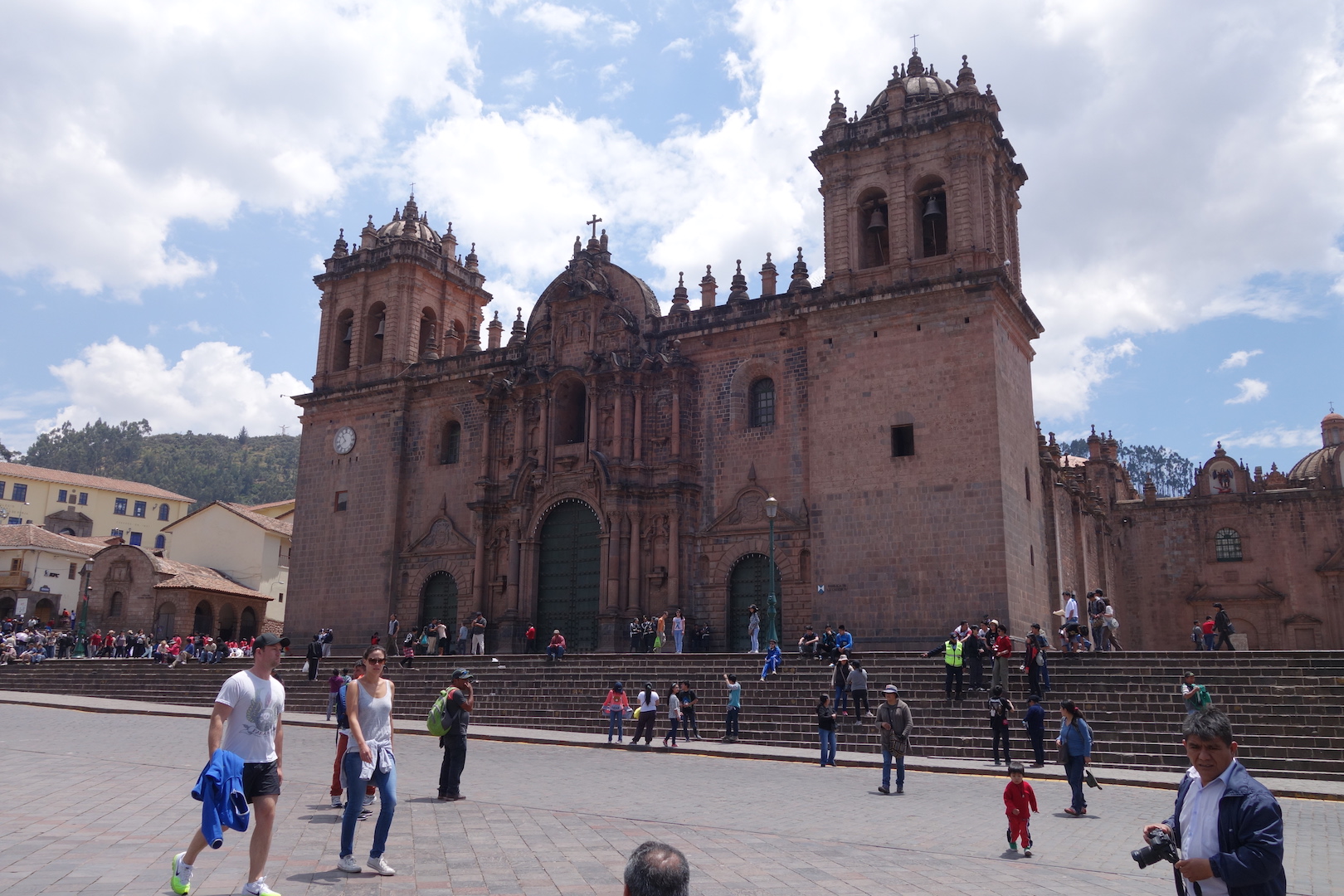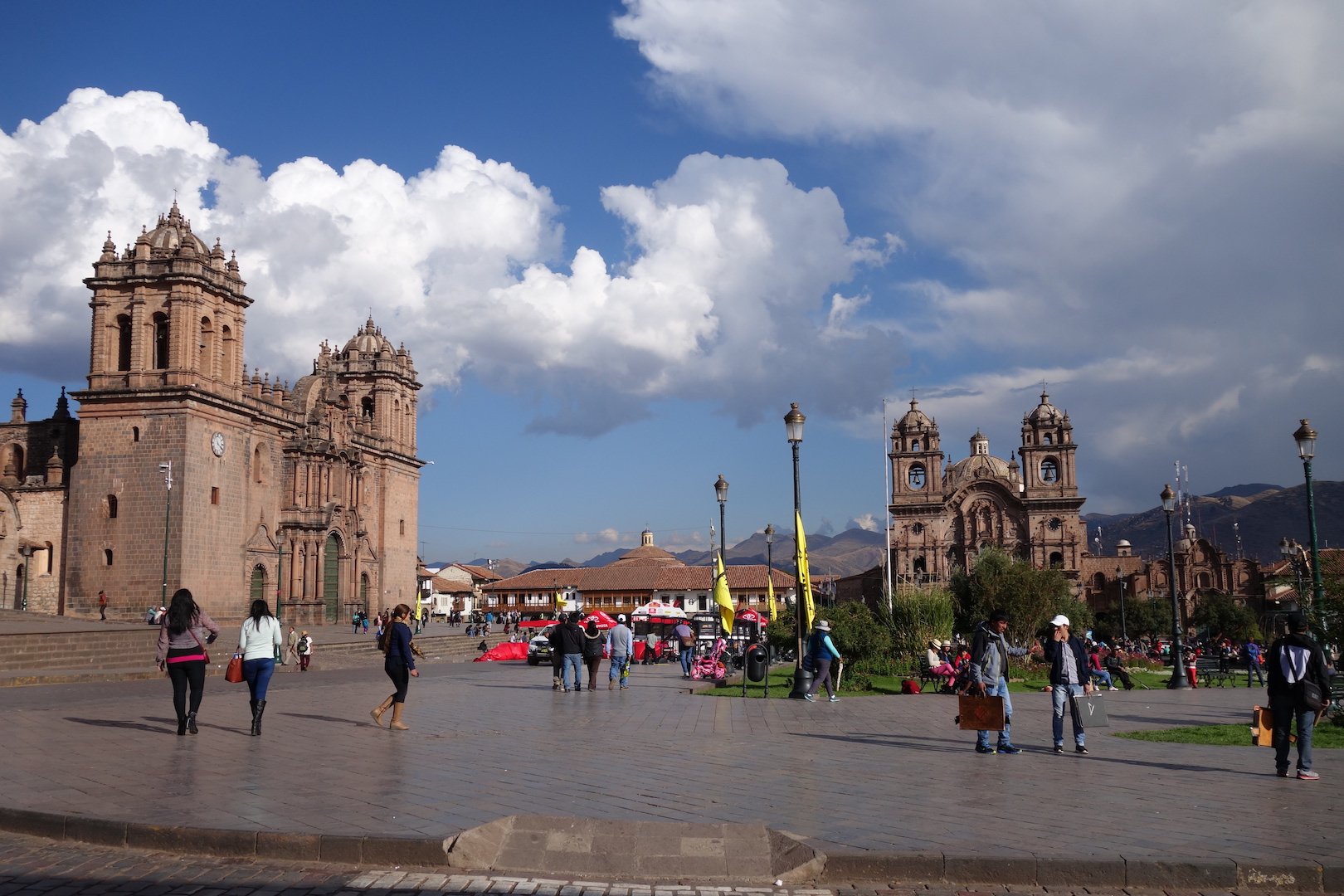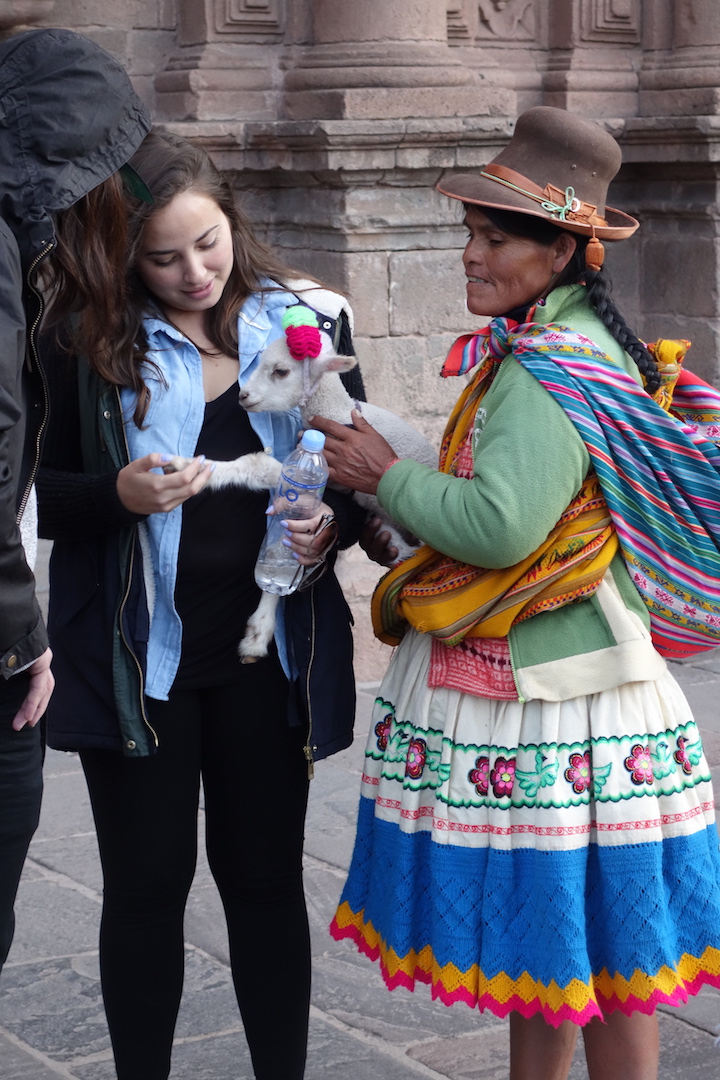 But the beginning of a Car rally livened things up a bit!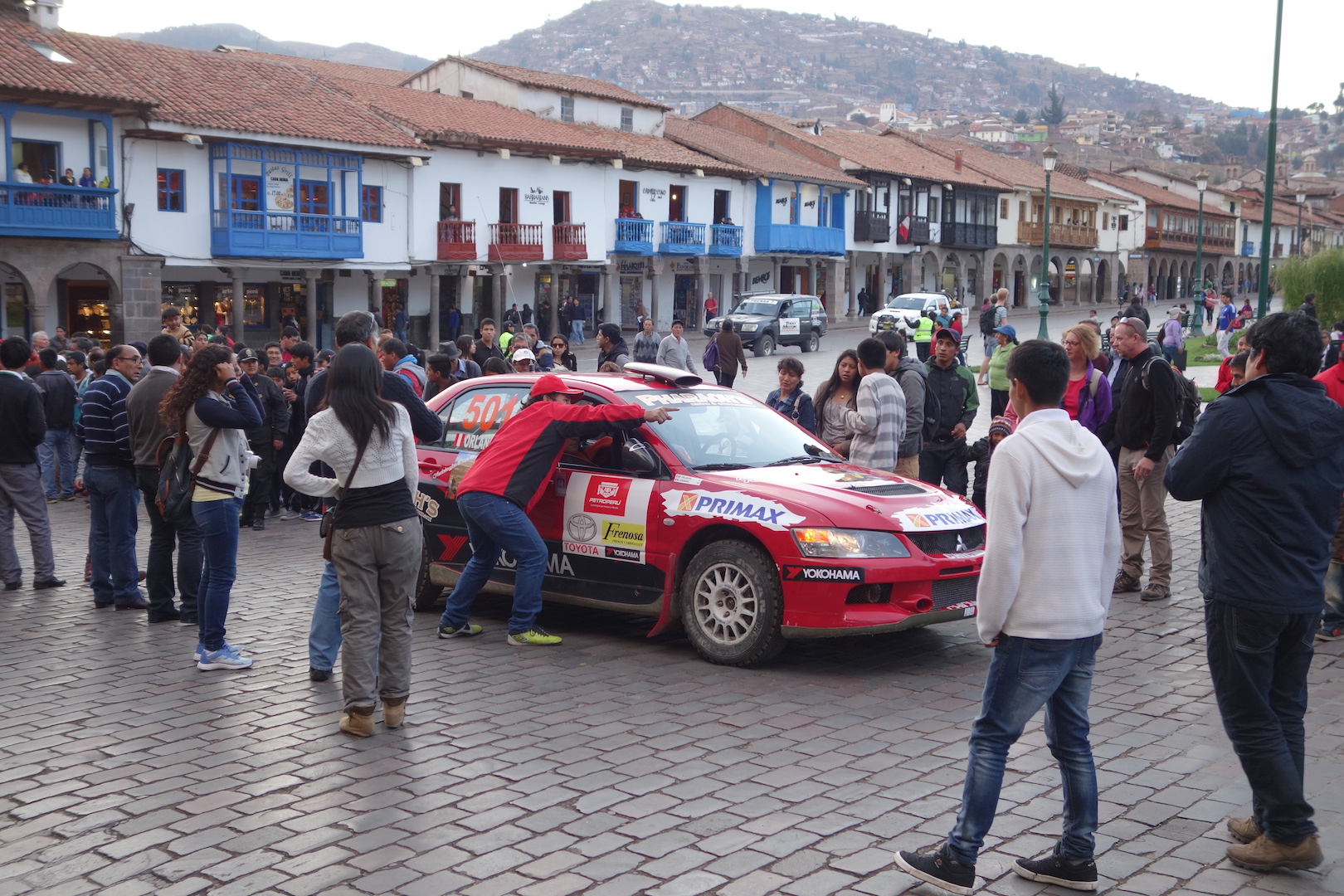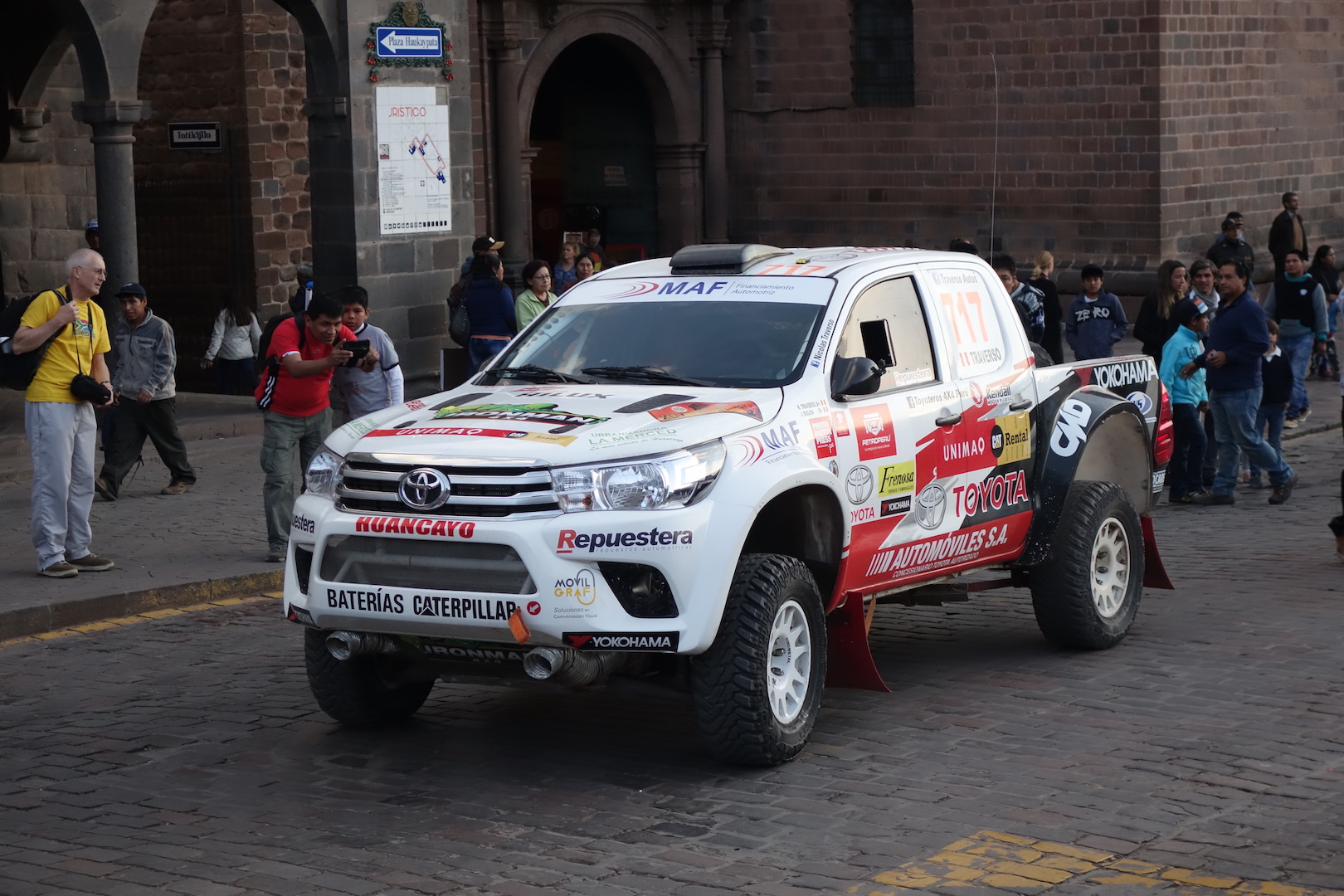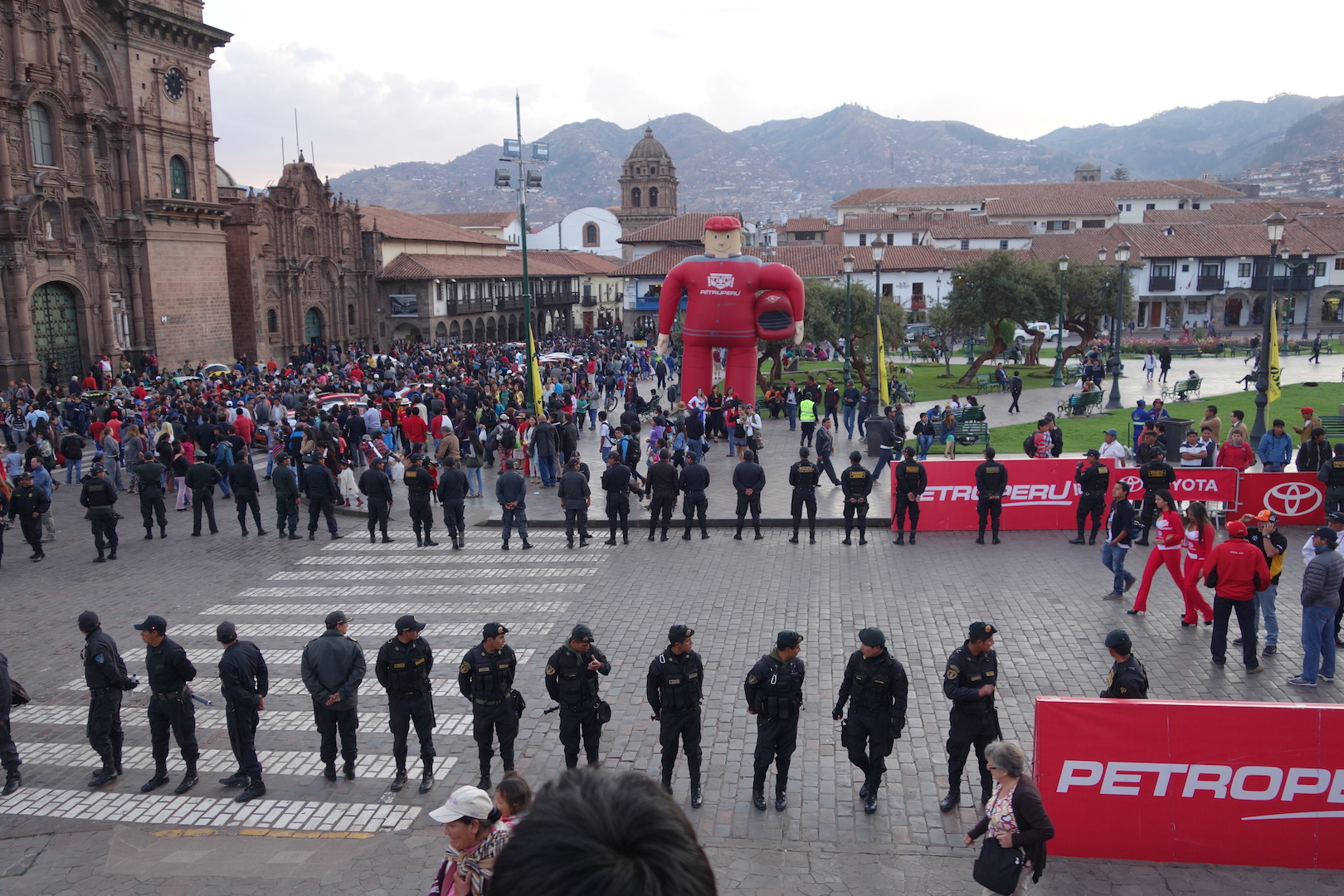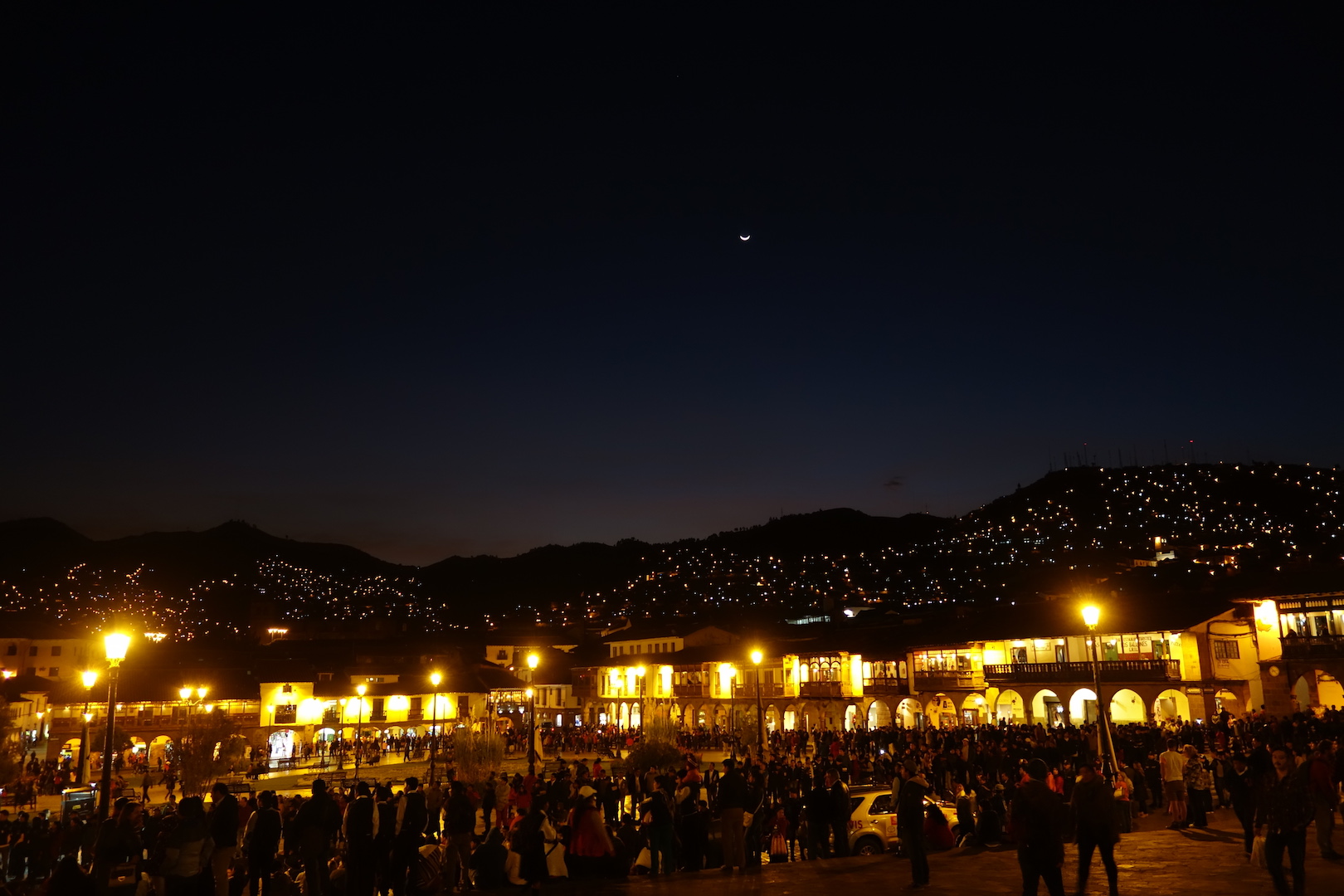 By chance I found out that my cheap little hostel was almost next door to the Hotel where BBC radio 1 DJ John Peel died in 2004.
While most of the world would probably not know who he was, to me he was an influential music DJ whose radio show I listened to during my teens. Especially at night when I was in pain and suffering with Colitis.
His music selections was eccentric and eclectic to say the least.
And just my style.
I have never been one to follow the world of celebrities and stardom, but I do remember feeling a little sad when his death from an altitude related heart attack was announced on the radio.
I wandered in and decided to have a meal in the restaurant in the evening. A sort of tribute.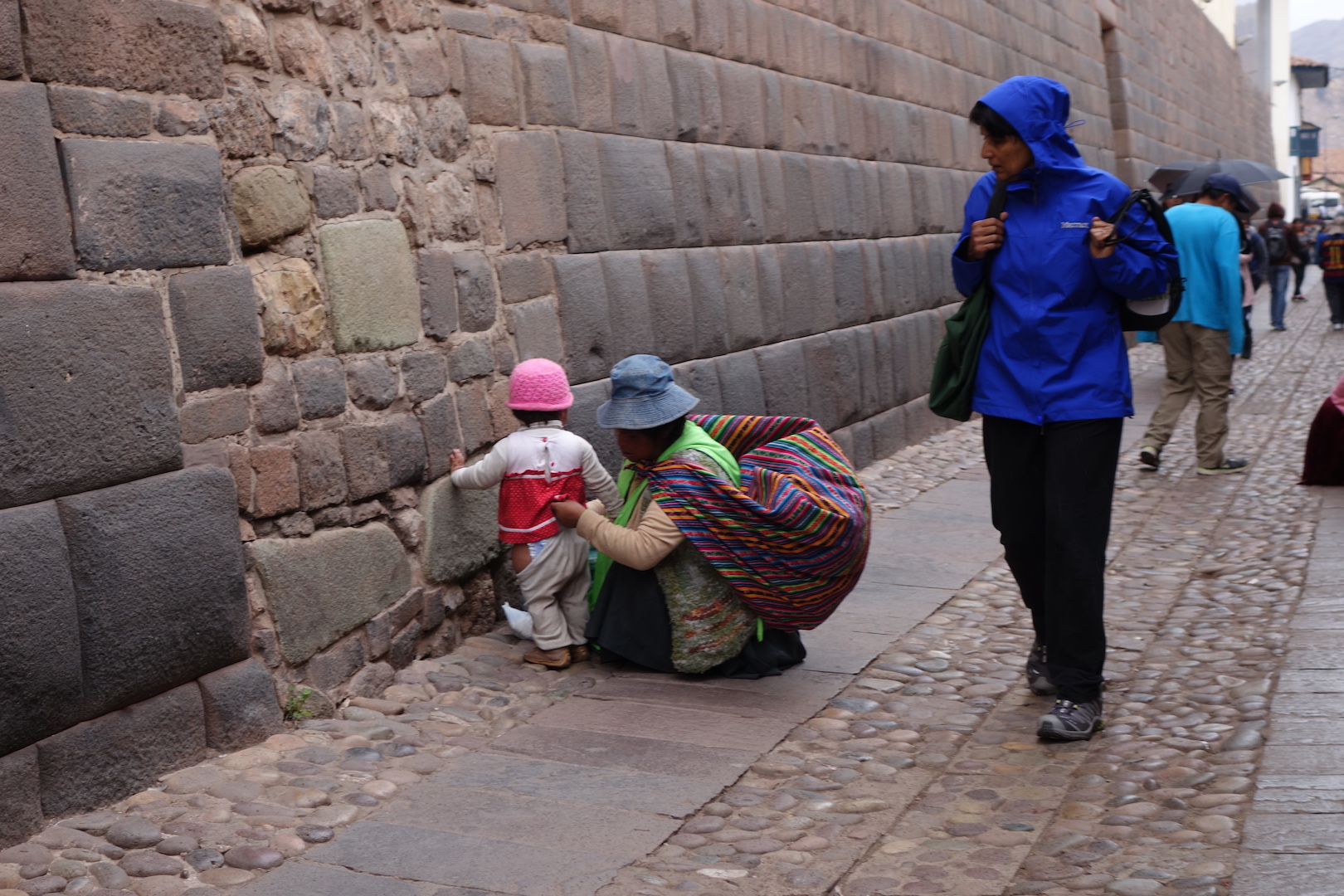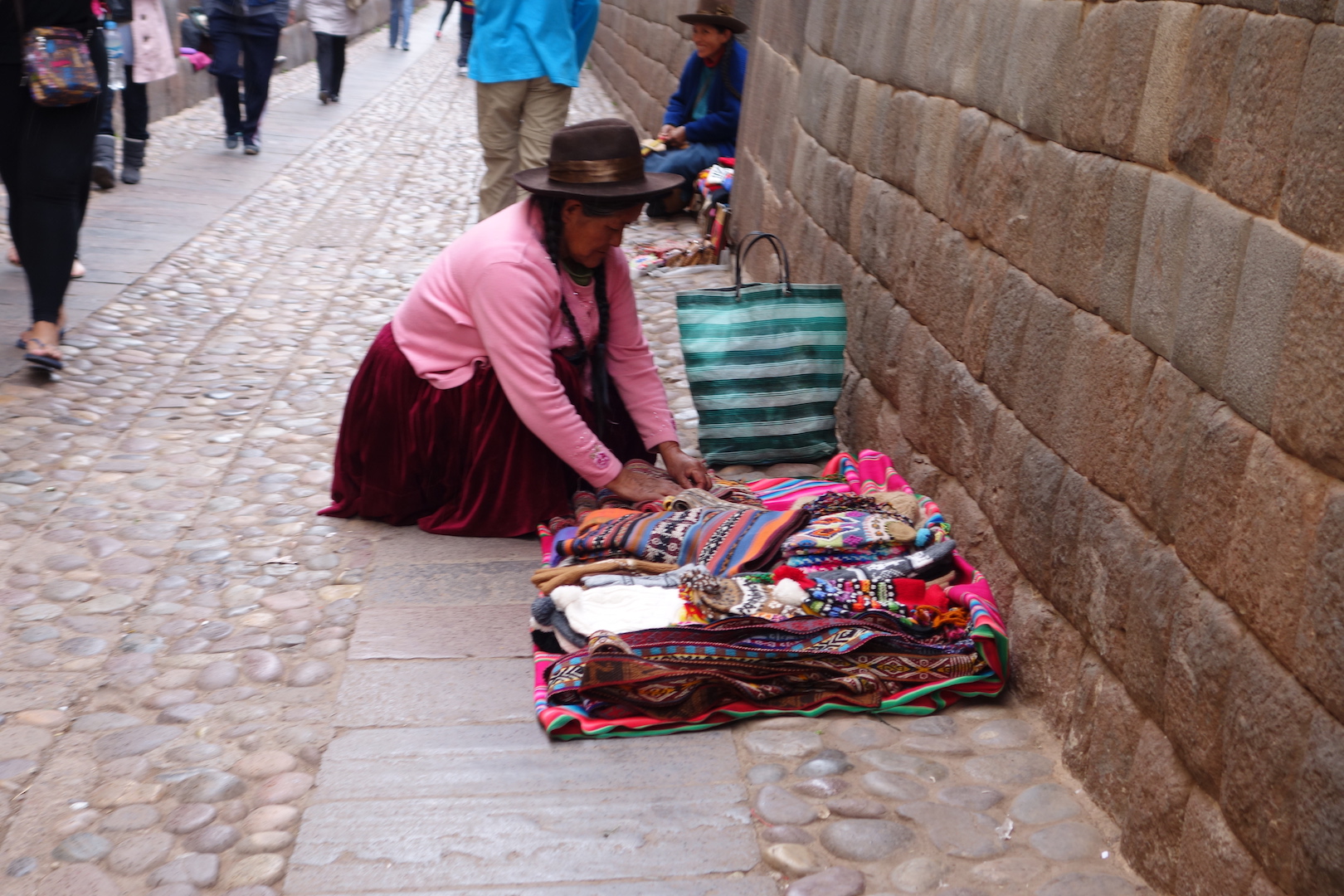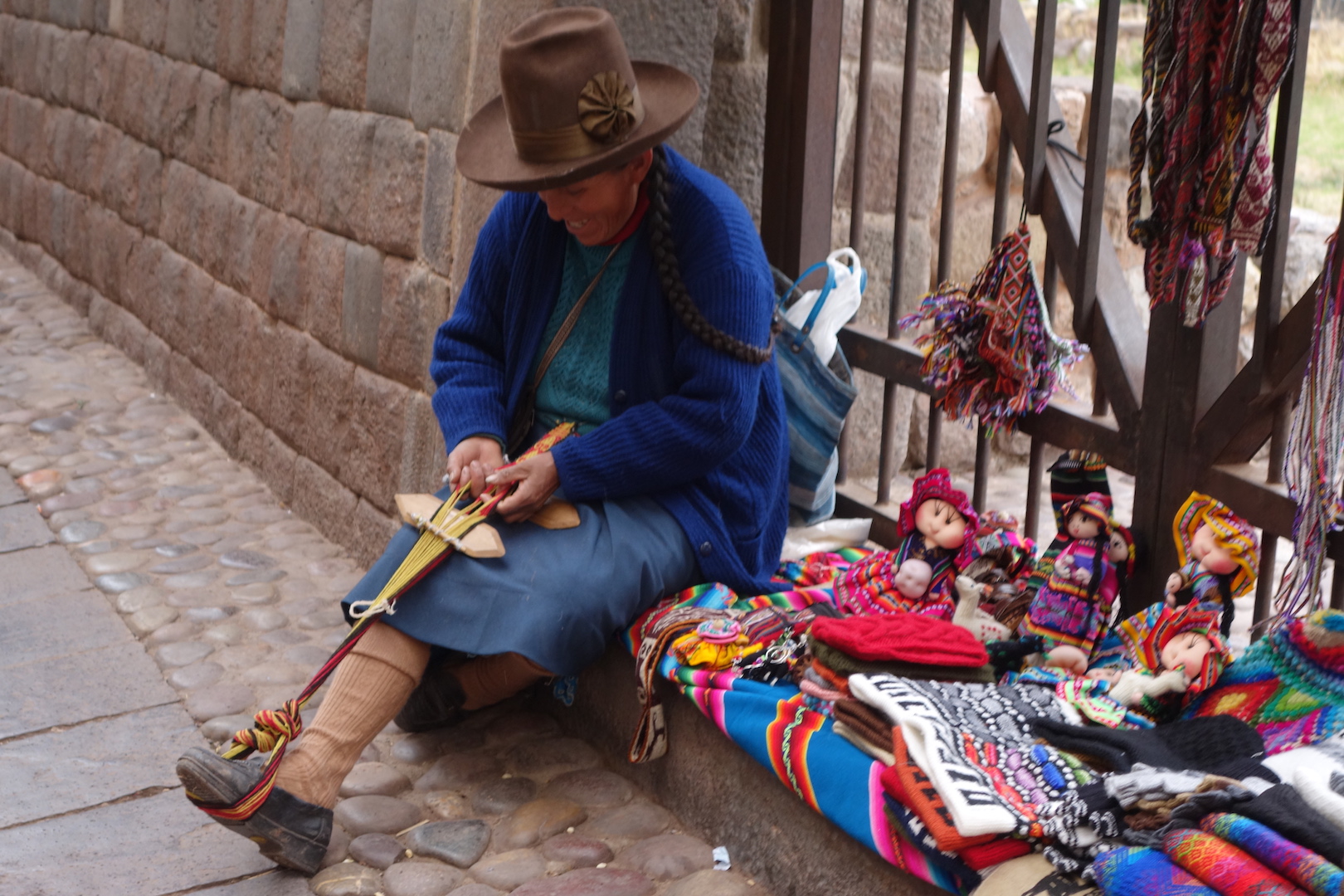 Later that afternoon though, I enquired about tours to Macchu Picchu and got quotes between $250 and $800!!
For what?!
They all seemed to offer more or less the same package. So why the huge price differences?
I didn't work it out.
I can't afford that, and am not willing to pay that either.
It may be one of the great wonders of the world, but it cannot justify that money.
I knew Max and Dev had been, so sent them a message on how they managed it.
Also Pedro, my host in Cuenca, Ecuador had done it cheaply too so was prepared to send him a message as well.
Wandering the streets the following day, I spotted a tour operator offering a $95 deal.
It was suspiciously cheap but I enquired anyway.
After checking and double checking the fact that it was all inclusive, I handed over my money and arranged to leave my bike and gear at my hostel.
The all inclusive deal wasn't quite so of course.
It clearly stated on my receipt, that I was travelling in a private car, but I arrived at the meeting point the next morning as did about 10-12 of the rest of my group. I didn't really mind as long as they got me there. And I quickly established we had all part more or less the same price.
After a 6 hour drive into the mountains, we arrived at the Hydro electric station where we were told there was a further 2 hour walk to Aguas Calientes, which would be our base.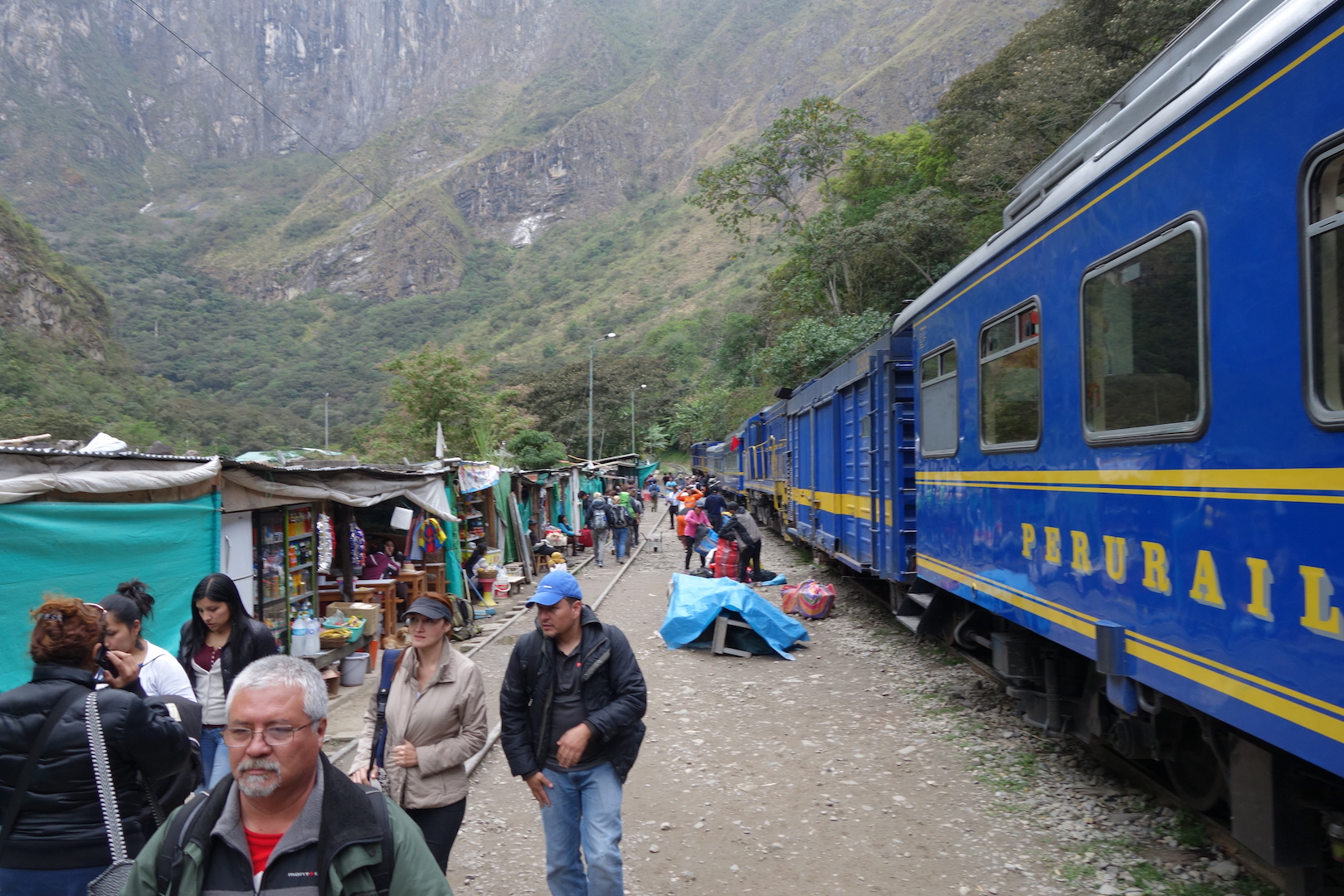 It was a pleasant walk and I chatted with Gaby and Jake about their adventures in Peru, as well as mine of course.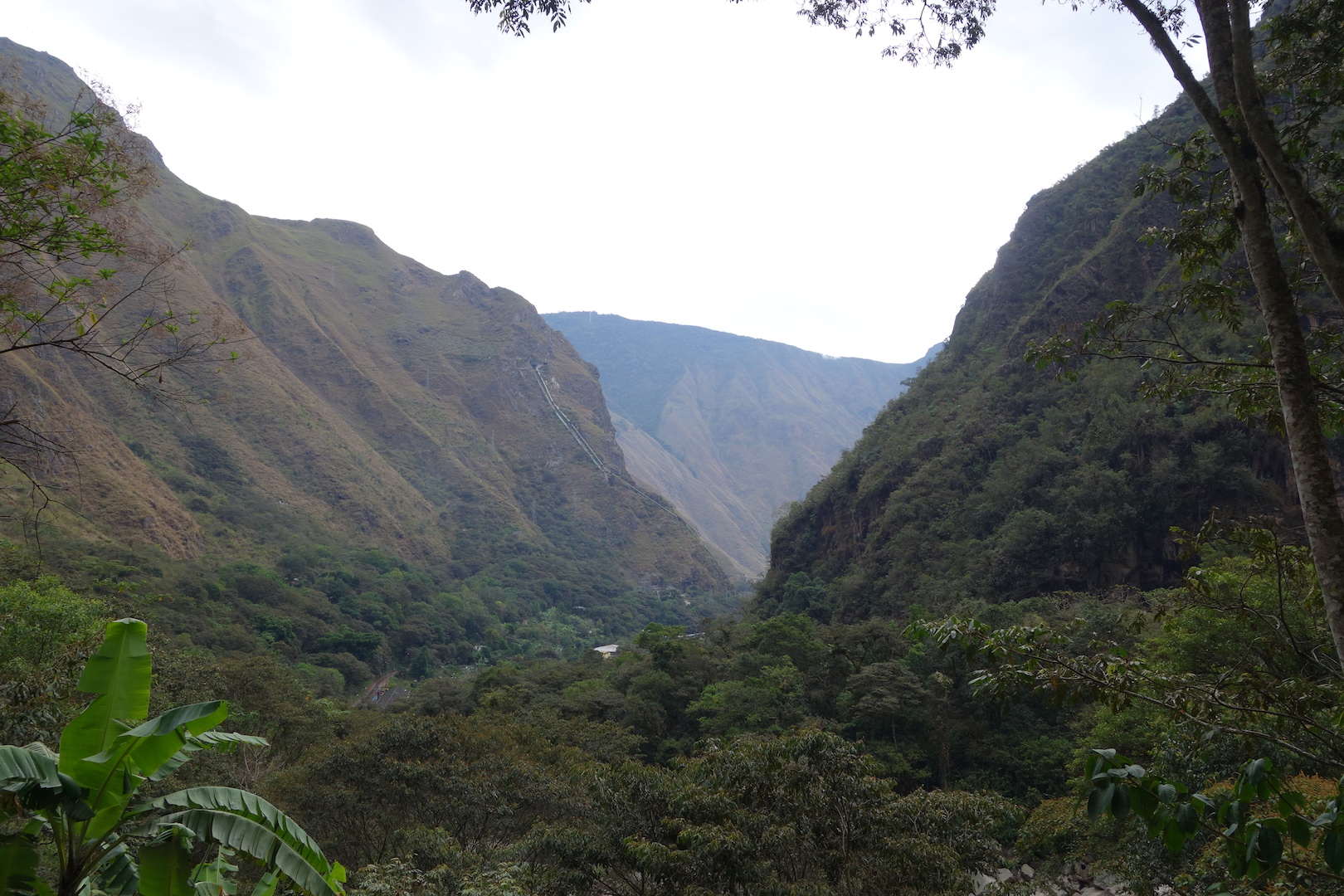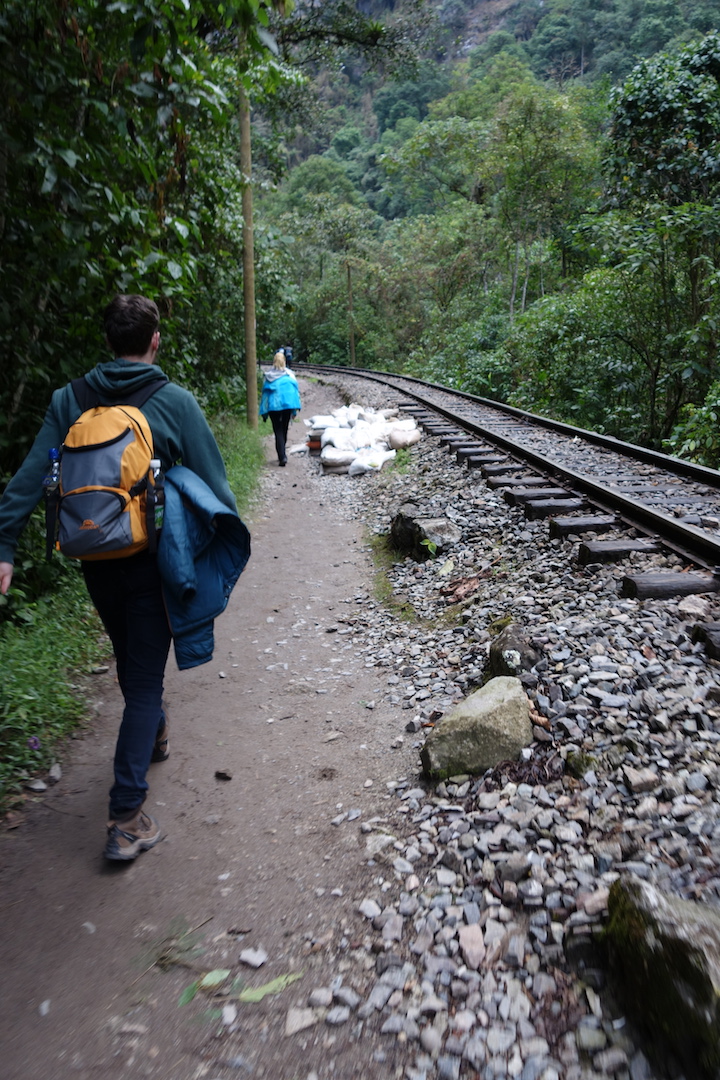 I was assigned a hostel that evening and after a very repetitive speech from the tour organiser, was advised to sleep early.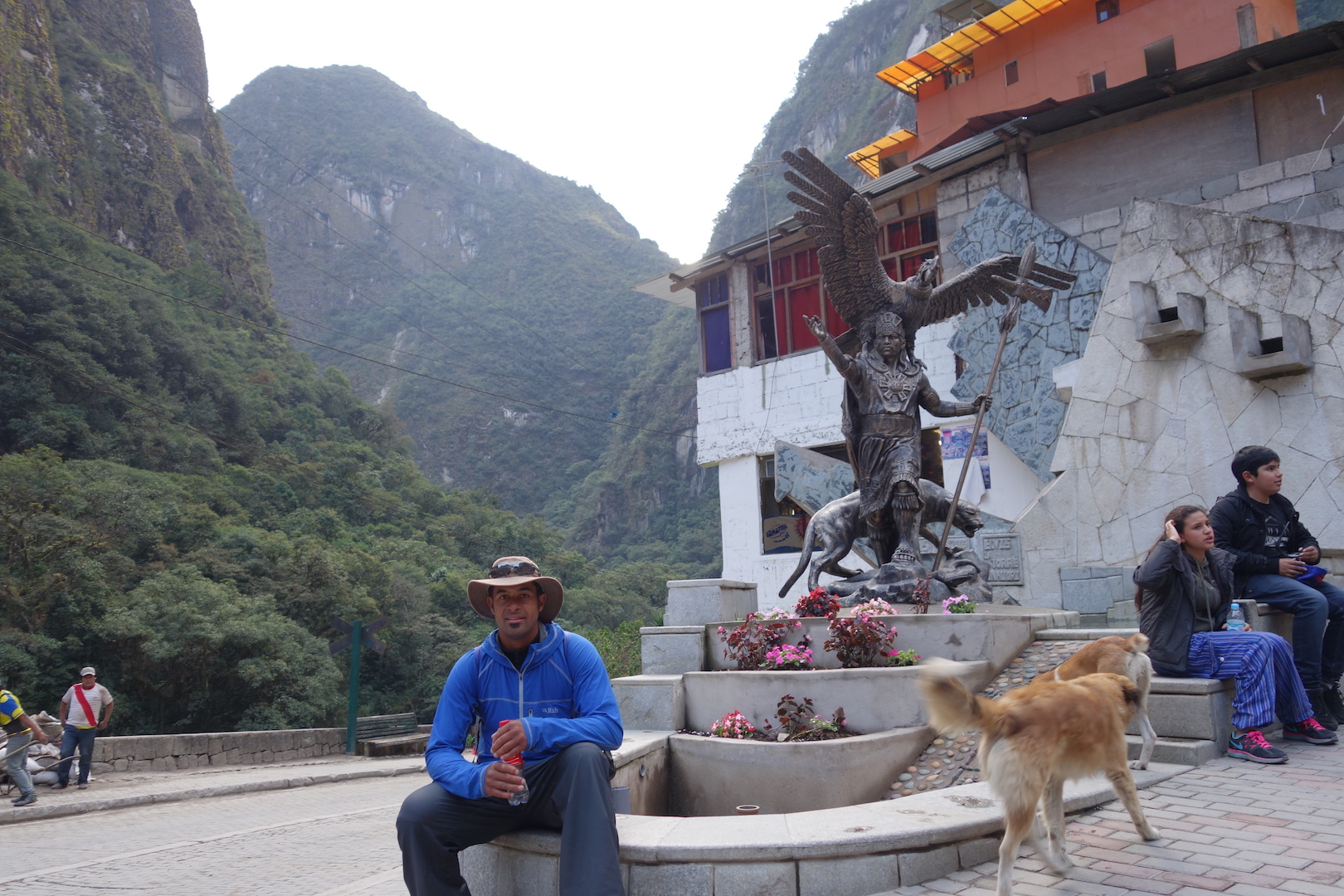 I was put into the hostel with a different group of 6 others and met Magdalena. A first time Polish traveller who had paid a ridiculous amount for her package.
"Well next time I will look for a much better deal" she complained.
We shared a terrible Pizza and had a long conversation about Classical music and North American politics with the Pizza store owner before returning to our dorm room and slept.
---
By the tour company, we were promised sunrise views of Macchu Picchu and told the restaurant for breakfast would open promptly at 4:20 a.m. so we could have a quick snack then begin the ascent to Macchu Picchu itself.
At 4:50 a.m. we were banging on the doors to wake up the owner who had overslept.
The dawn was beginning to break and black night was becoming indigo blue.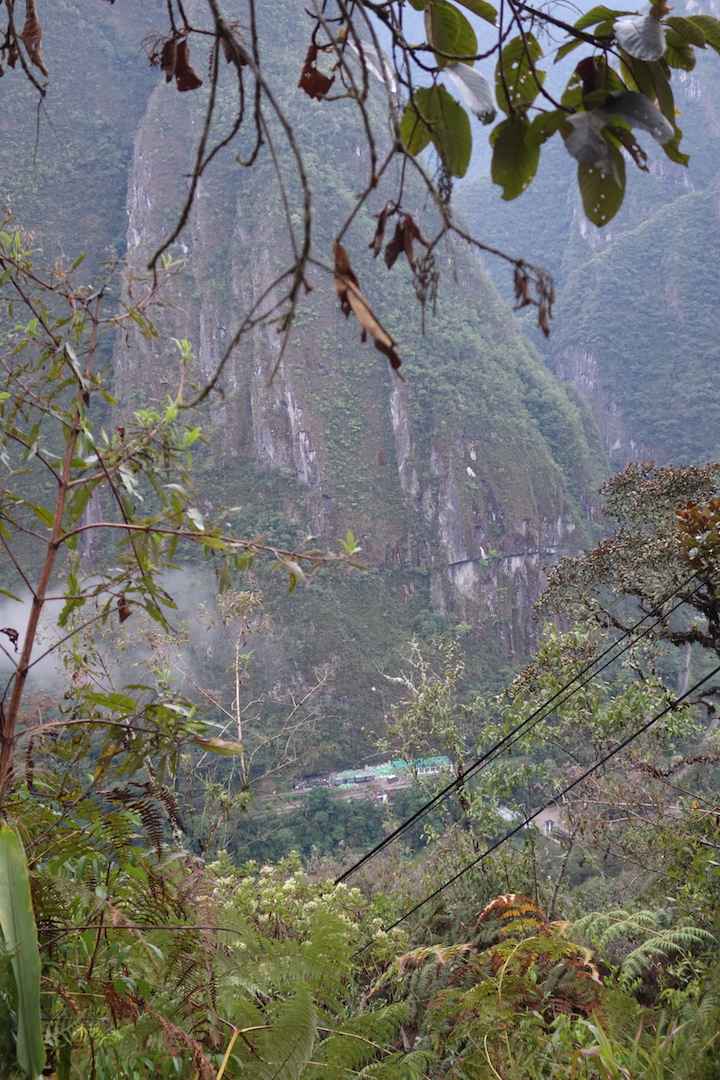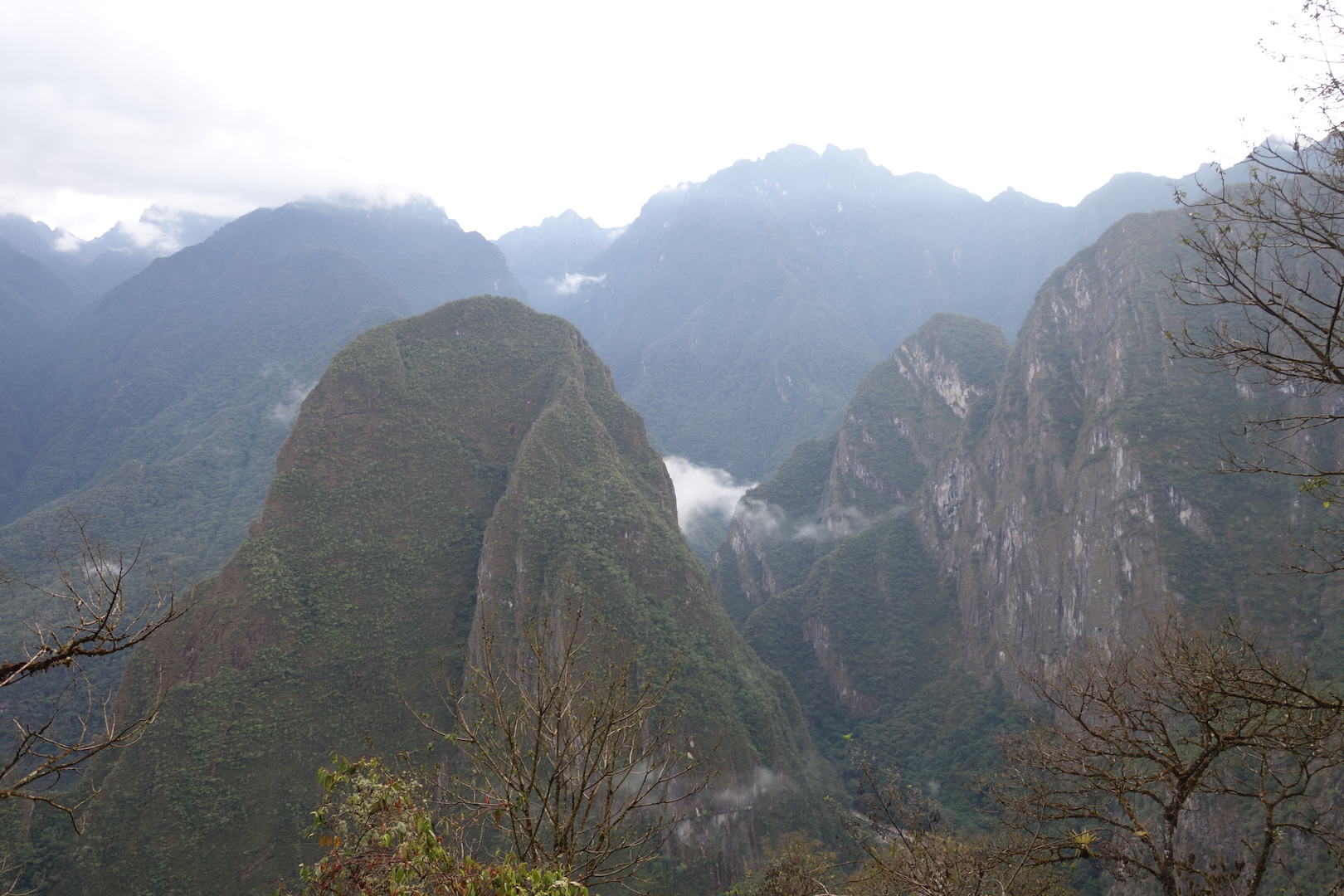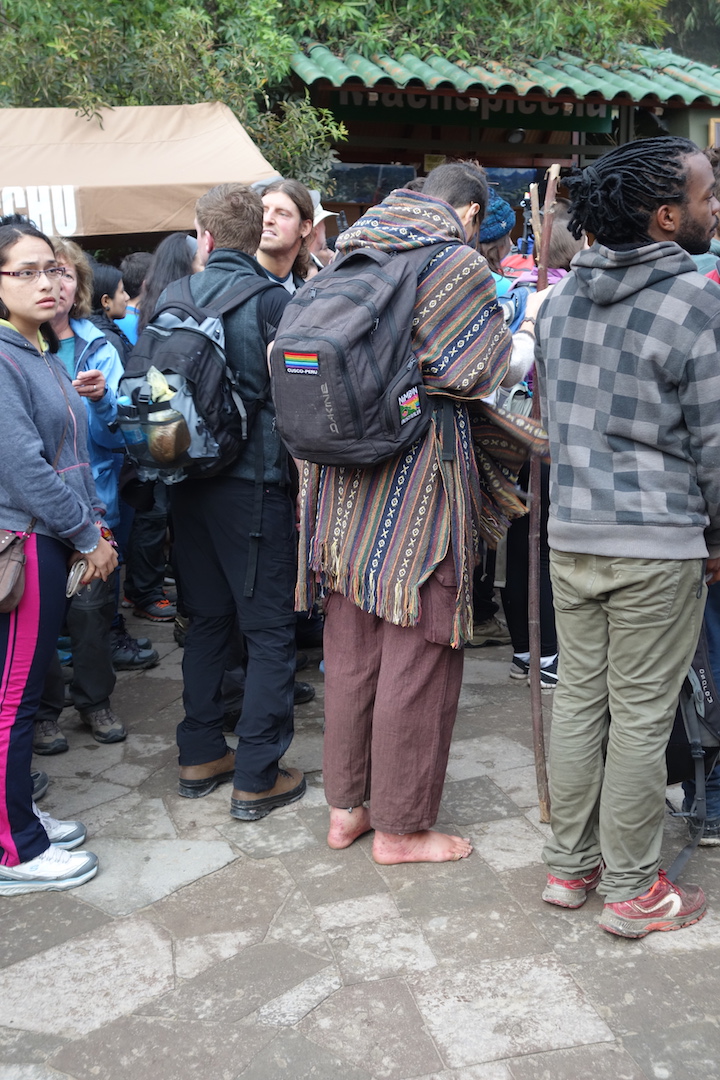 1673 steps and up a steep mountainside later we arrived at the entrance security check to be told the complex does not open till 6:00 am anyway! The Sun was very high by now.
So much for sunrise promises.
After a further 30 minutes wait and the long queues of hundreds of others promised the same, we finally entered Macchu Picchu.
After the almost farcical organisation of the route, food and hostel, I decided to forego the included tour and began wandering around by myself.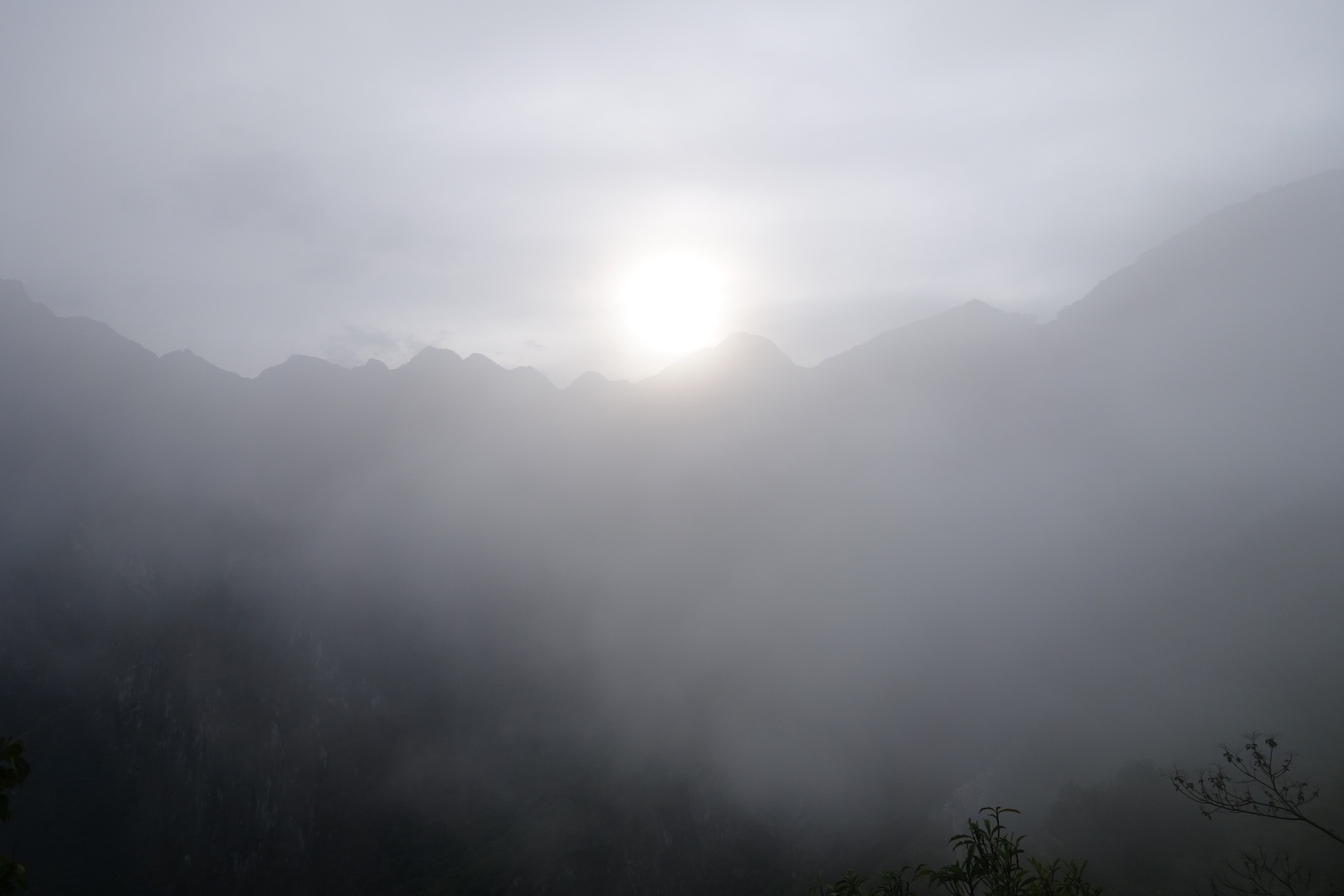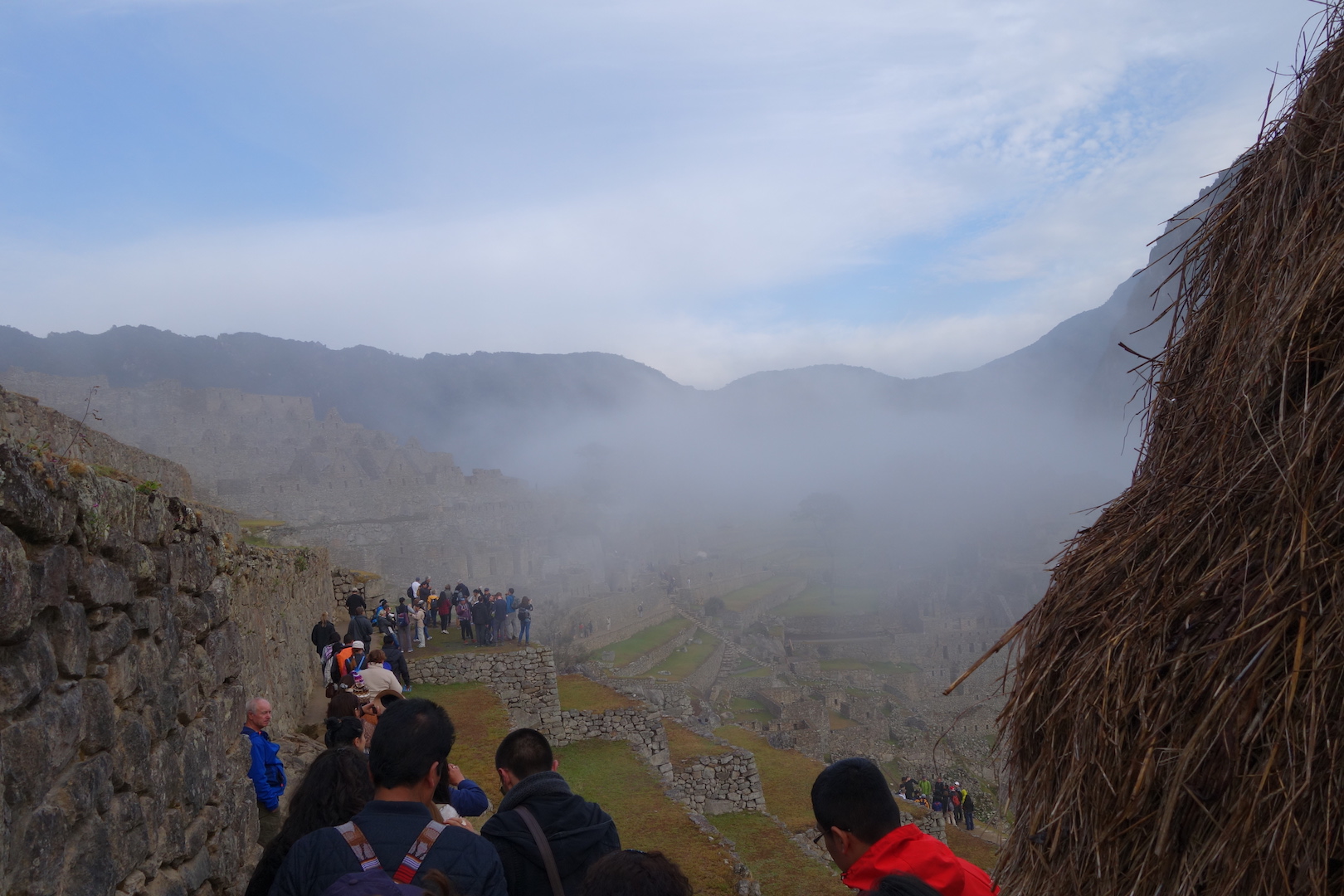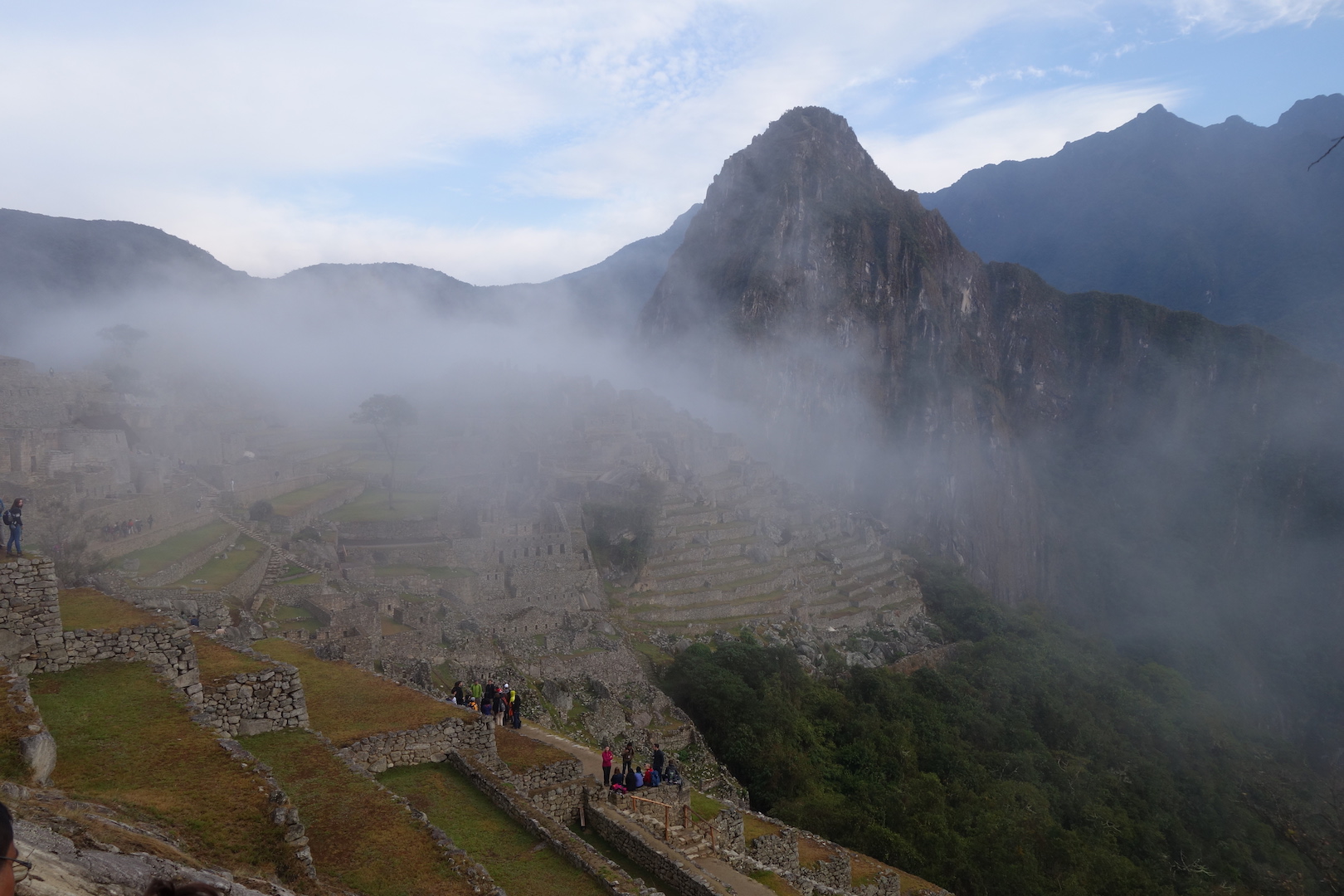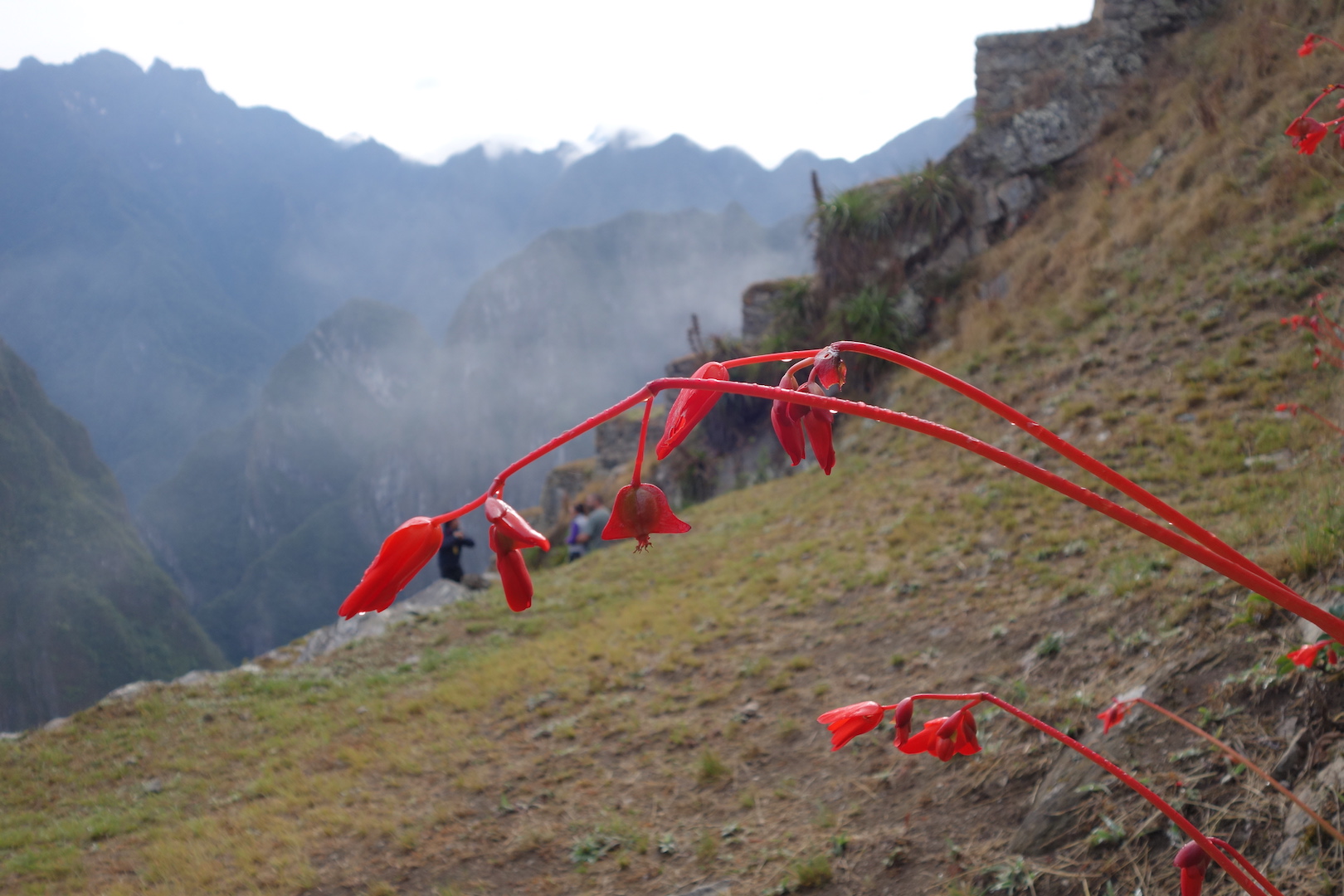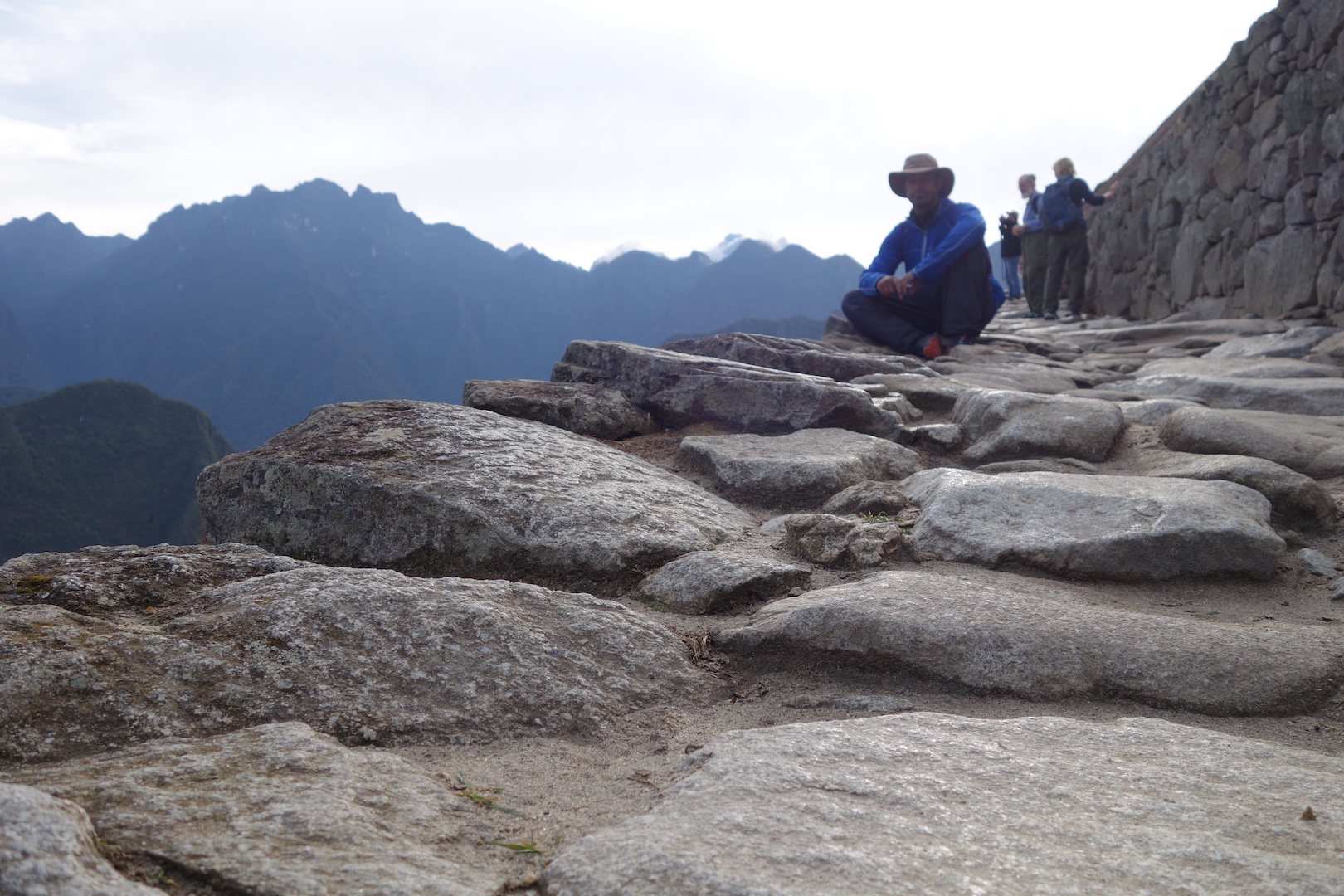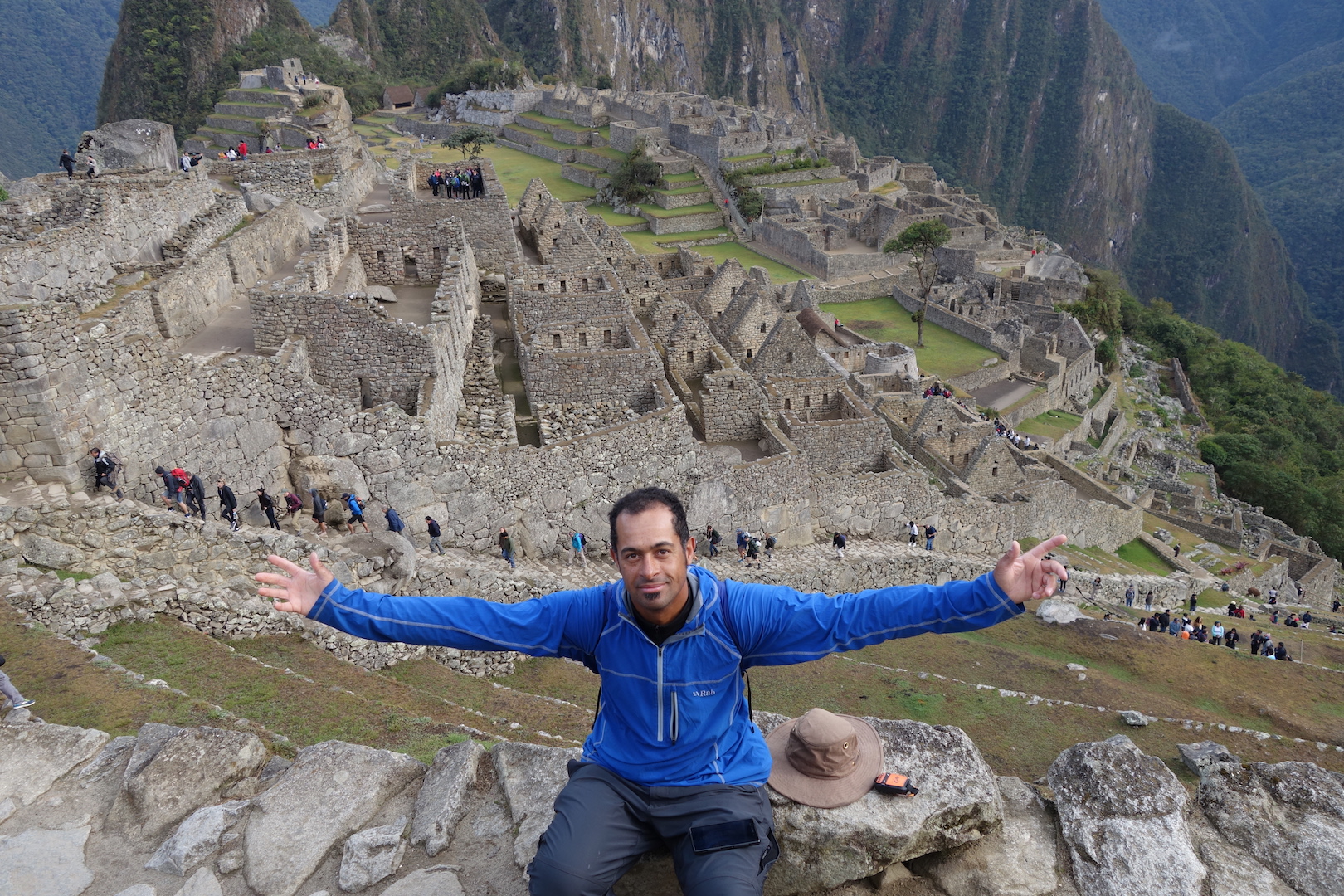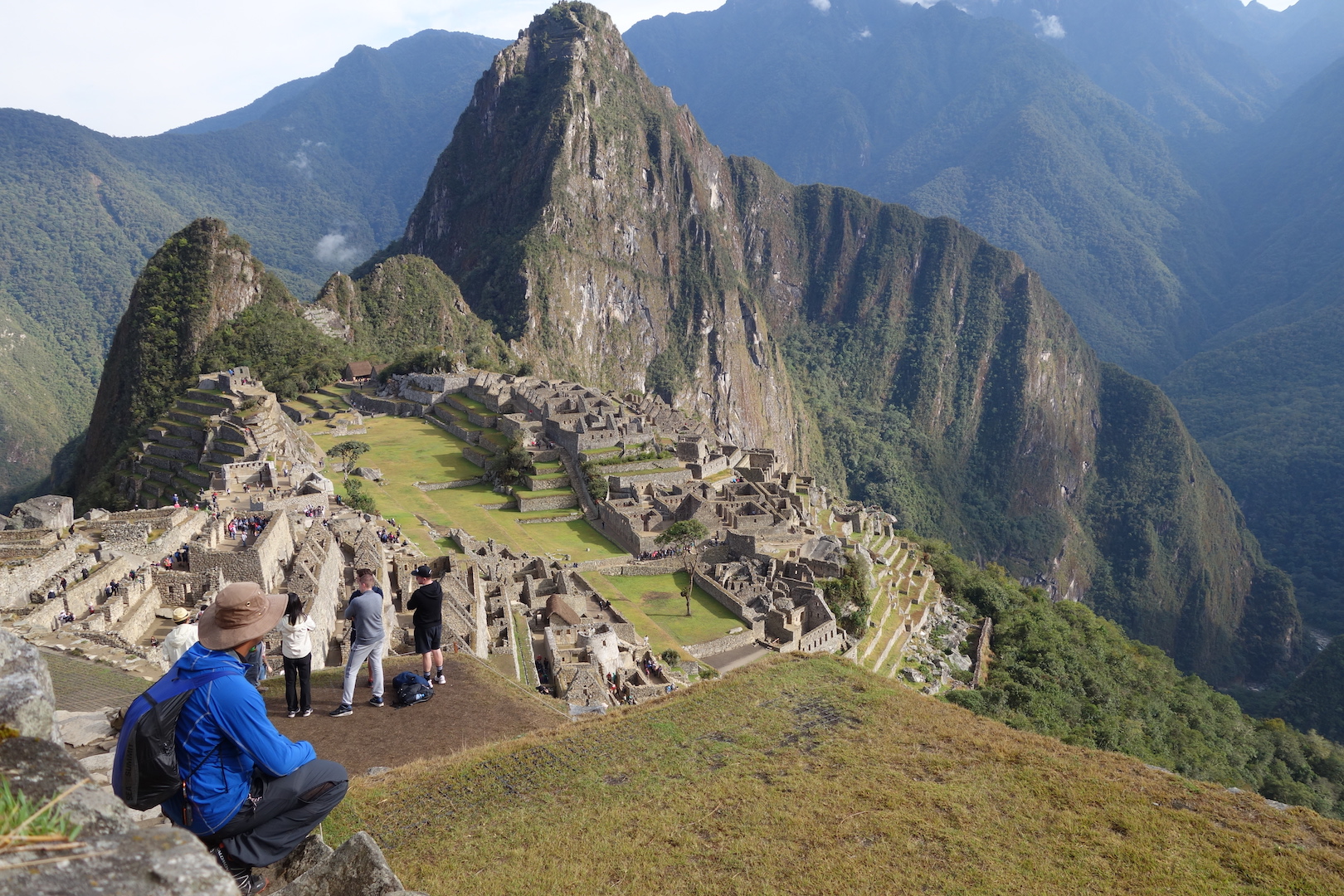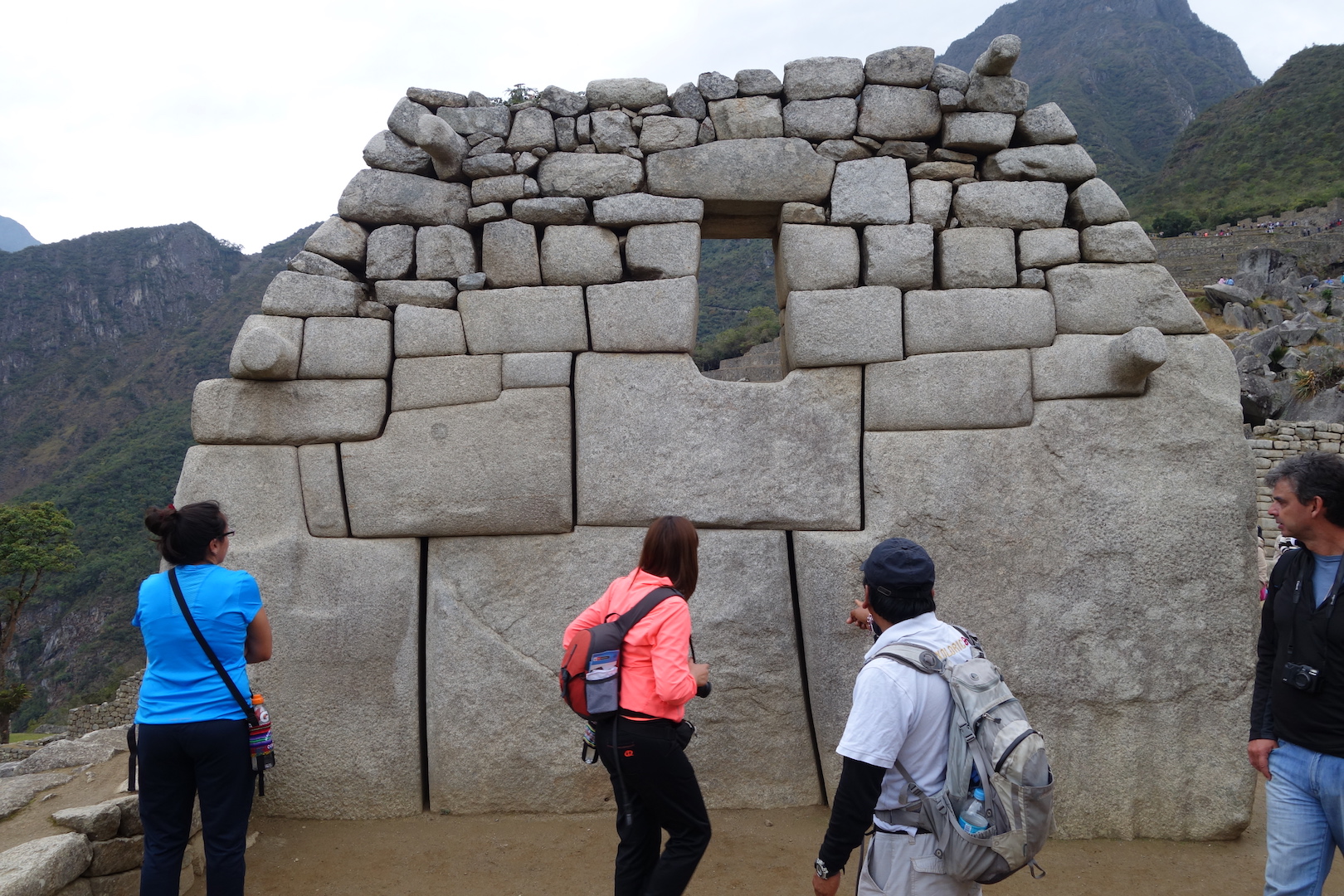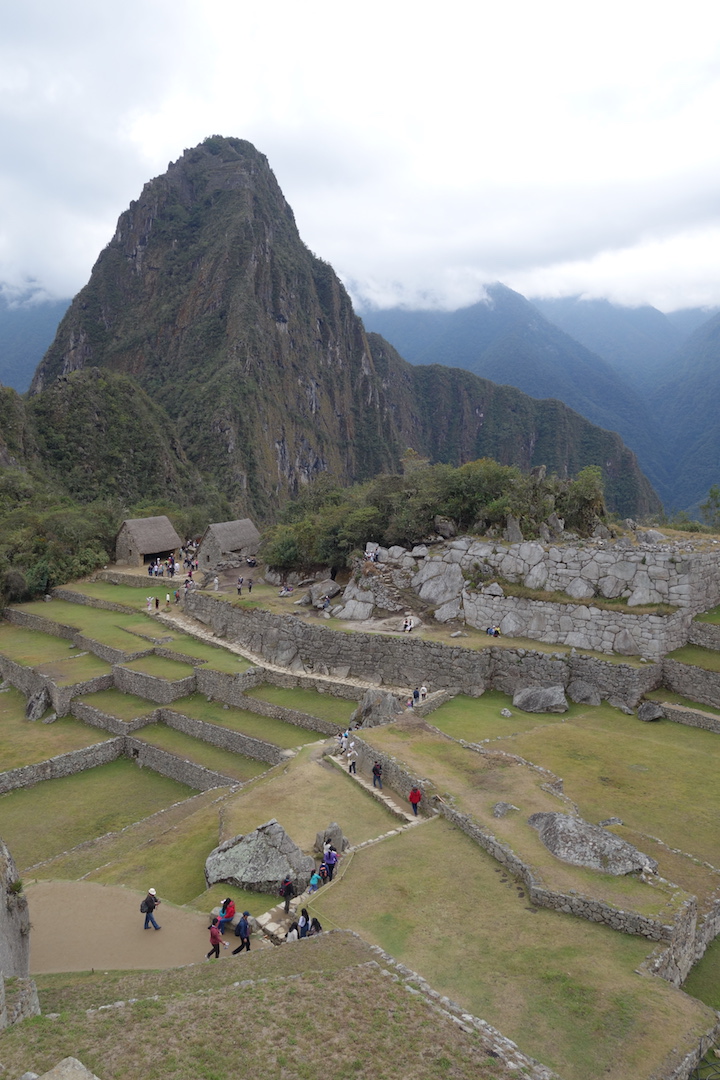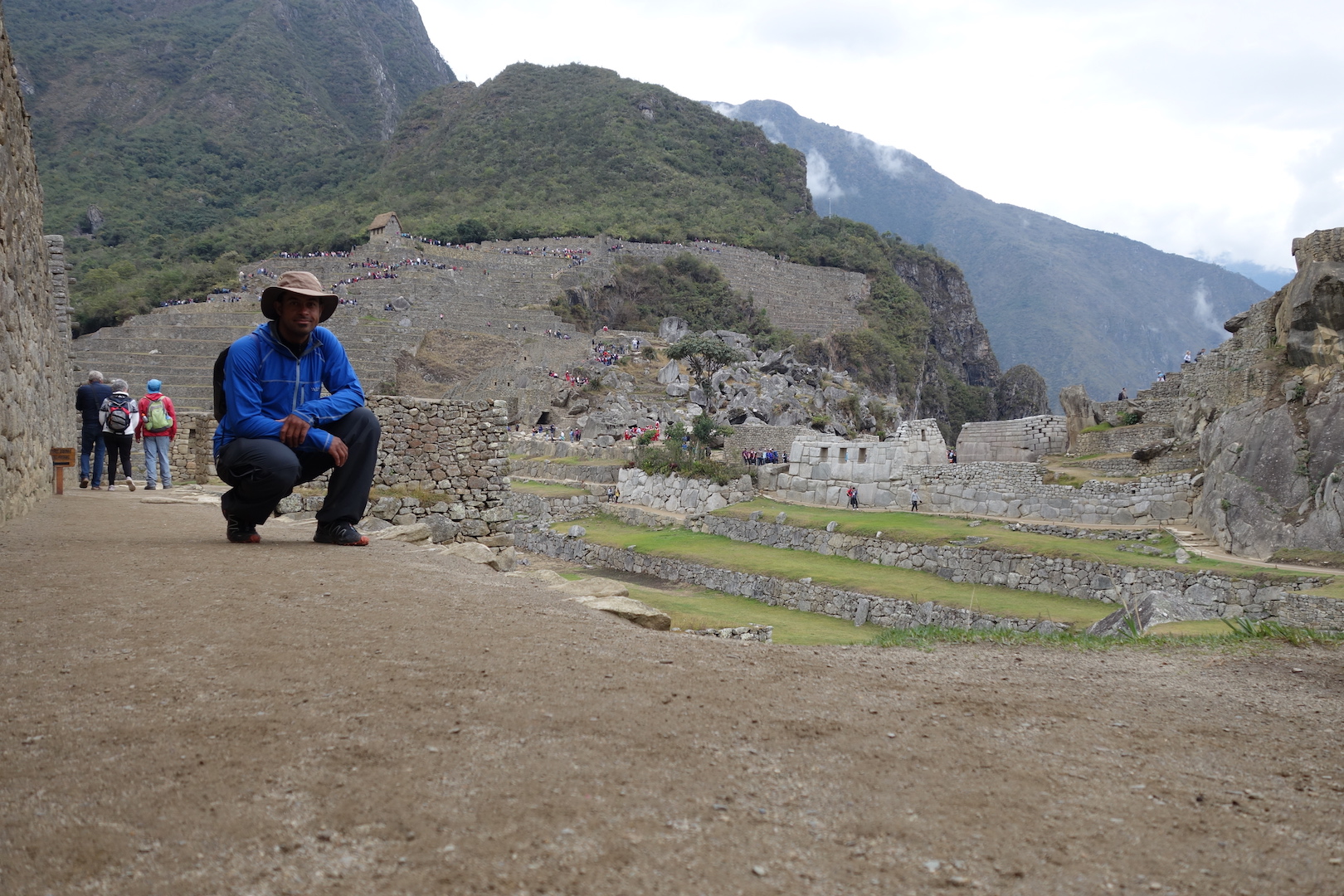 We were told, to meet the returning bus to Cusco it was advisable to leave the citadel at around 12:30 to walk back to the Hydro station car park before 14:45 otherwise we would miss the bus.
By 11:30 I had seen enough (and had enough of the tourists and security guards) so decided to walk down again. Then try to grab some lunch in the town before walking back to the bus.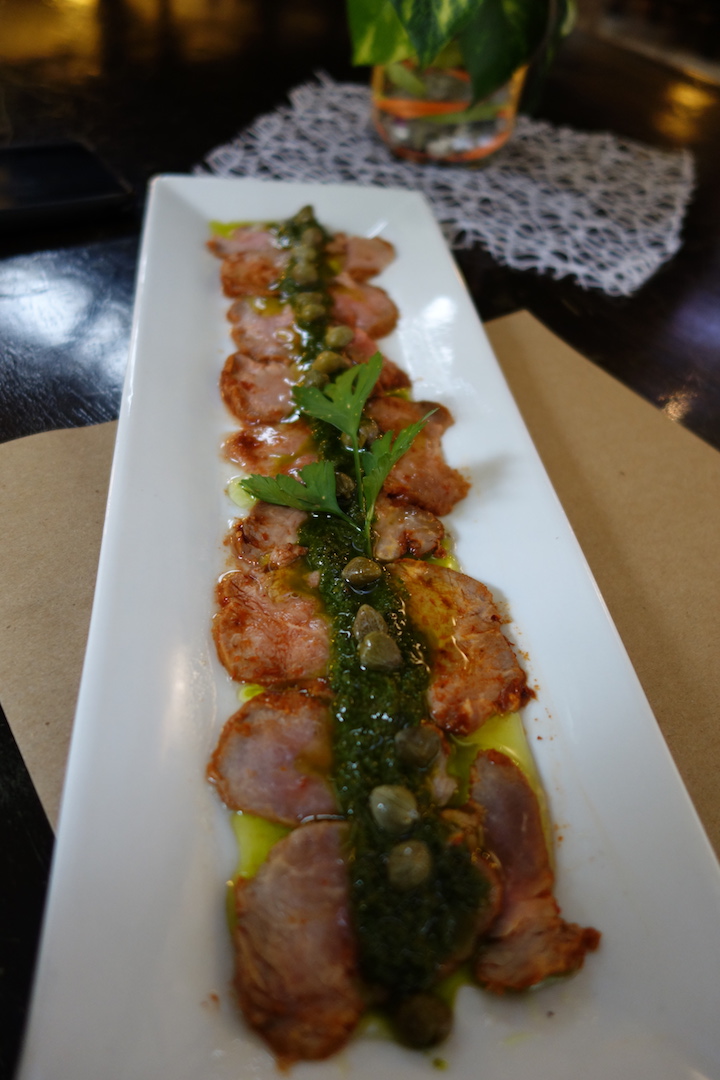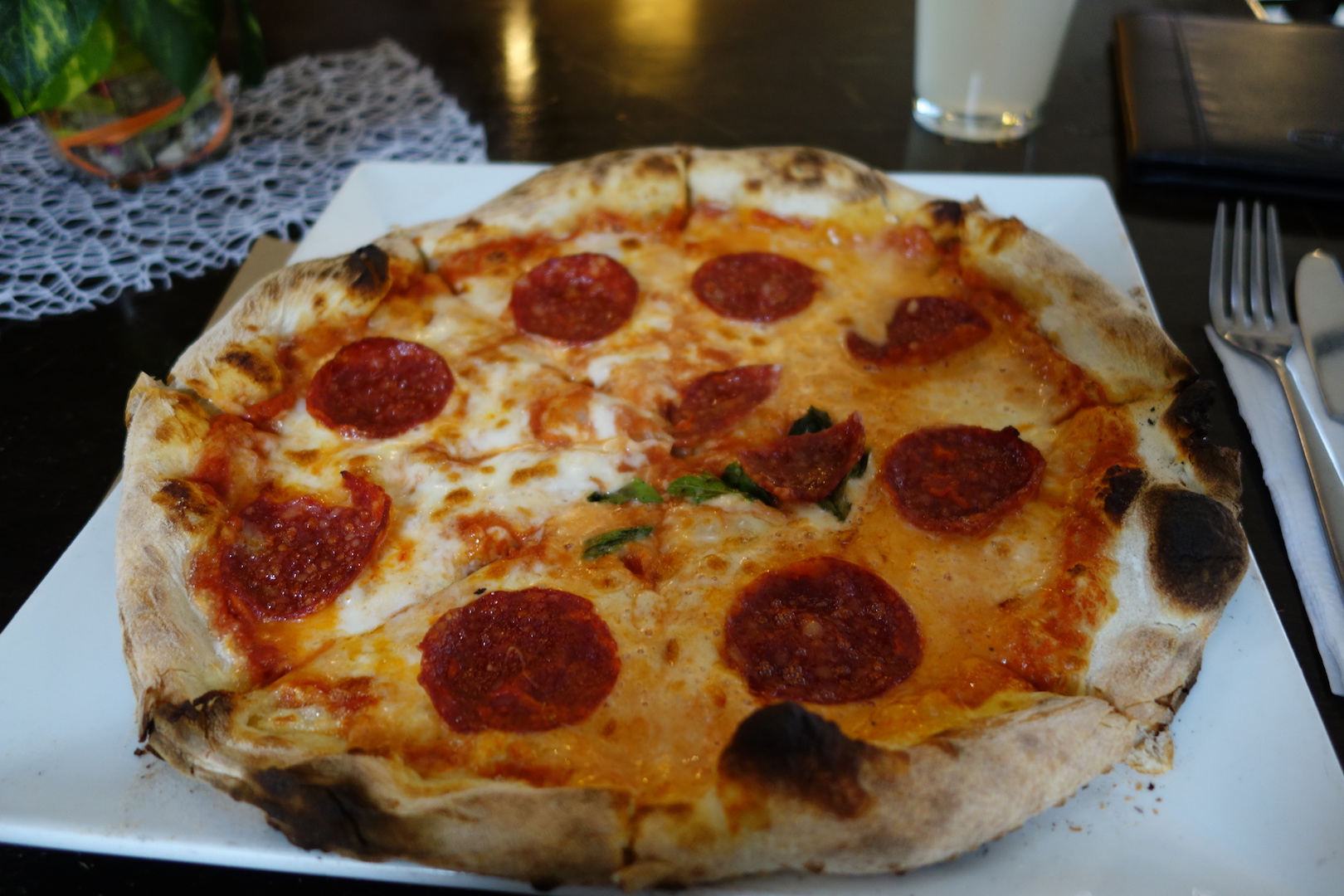 At 15:30 we were still waiting for the bus to depart.
The organisation would have been comical if I hadn't been awake since 4 a.m. and also hiked up over and around a really big mountain.
Scraps of paper and telephone calls trying to organise who should be on which bus.
Such a simple task made made mammoth by Peruvian organisational skills..
Given that these guys make a living doing this job 7 days a weeks and had likely done for several years, the whole operation should have been slick and smooth down to the second, but appeared like they were doing it for the first time.
I guess for the money I could not expect much, but given that many on my bus and tour had paid a lot more I felt a little sympathetic.
Actually I didn't. I was exhausted, irritated and just wanted to get back to Cusco and sleep.
---
A day to rest and then onto a Bus again to Puno and the shores of Lake Titicaca.
I had heard of cyclists getting attacked in the region and Max and Devora, a few days ahead of me told me I was not missing much by skipping this section. They too took the Bus to Juliaca and cycled to Puno and beyond.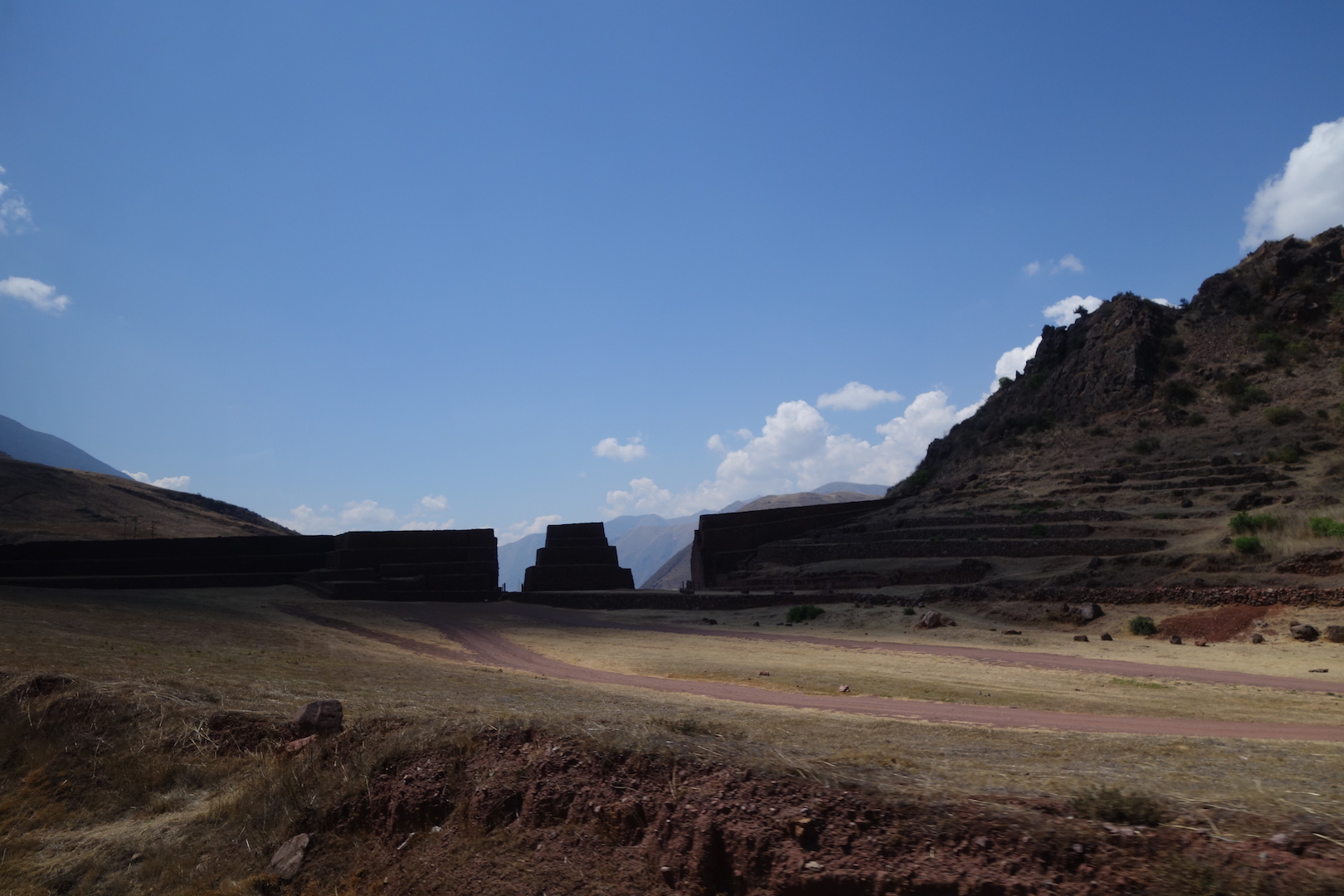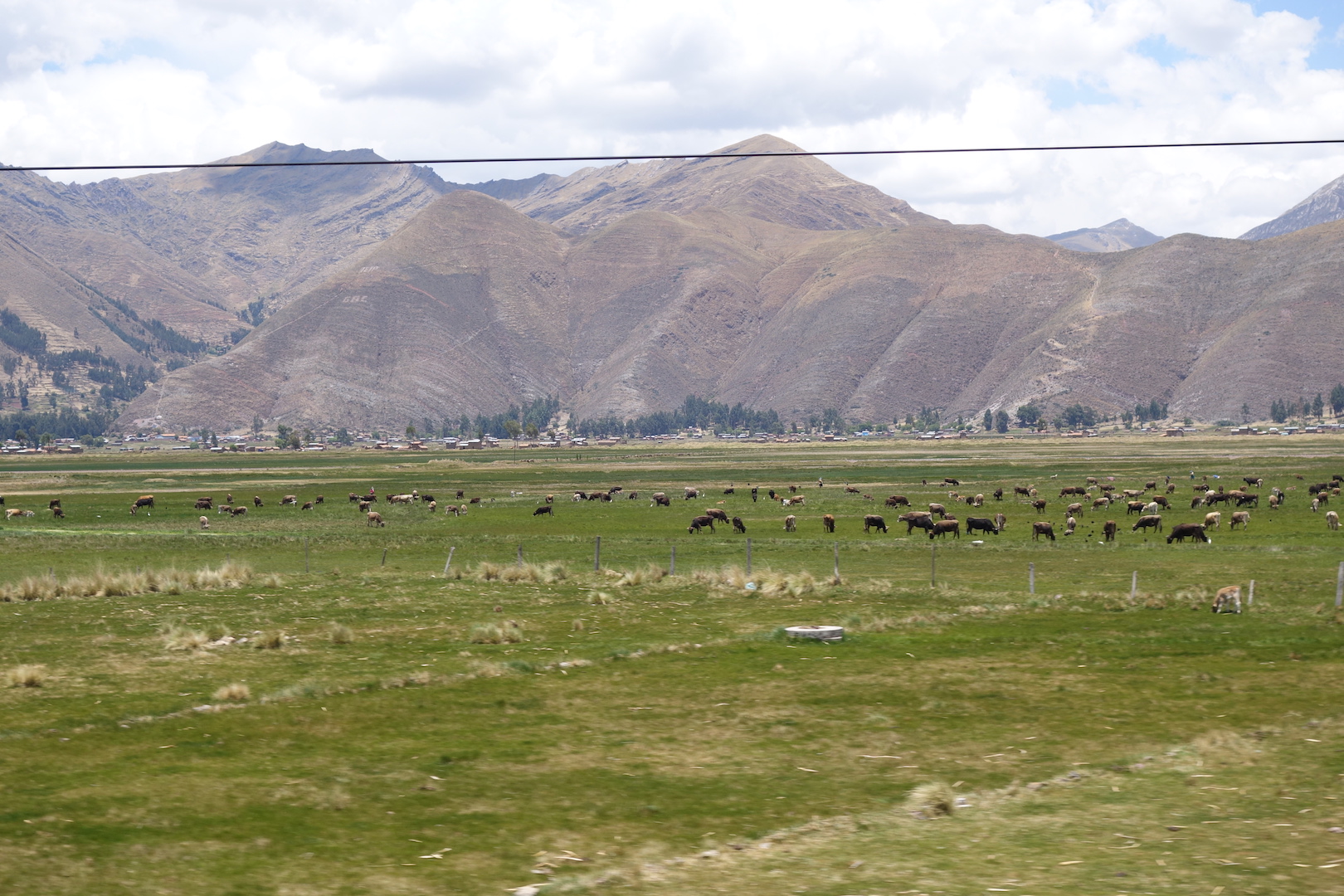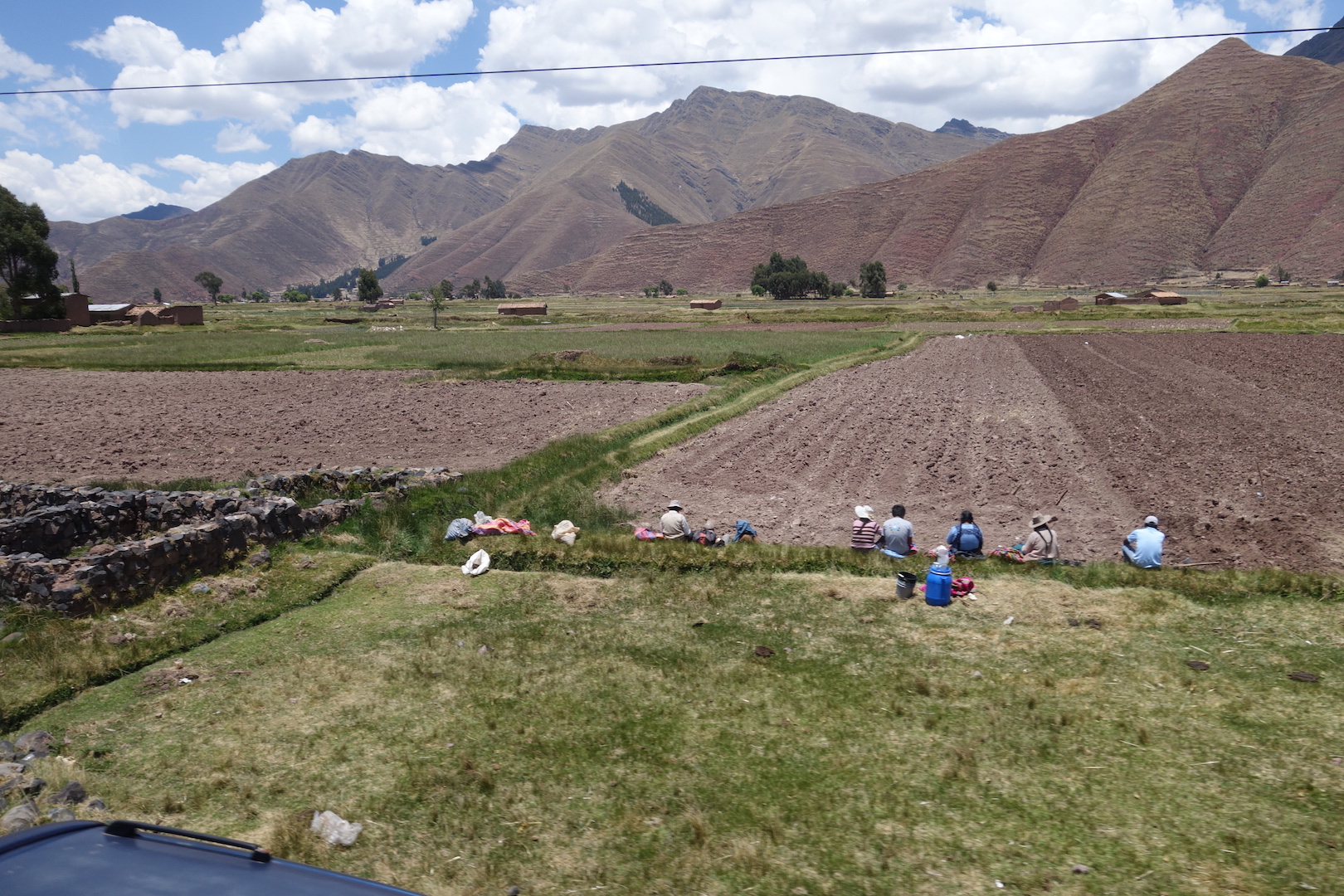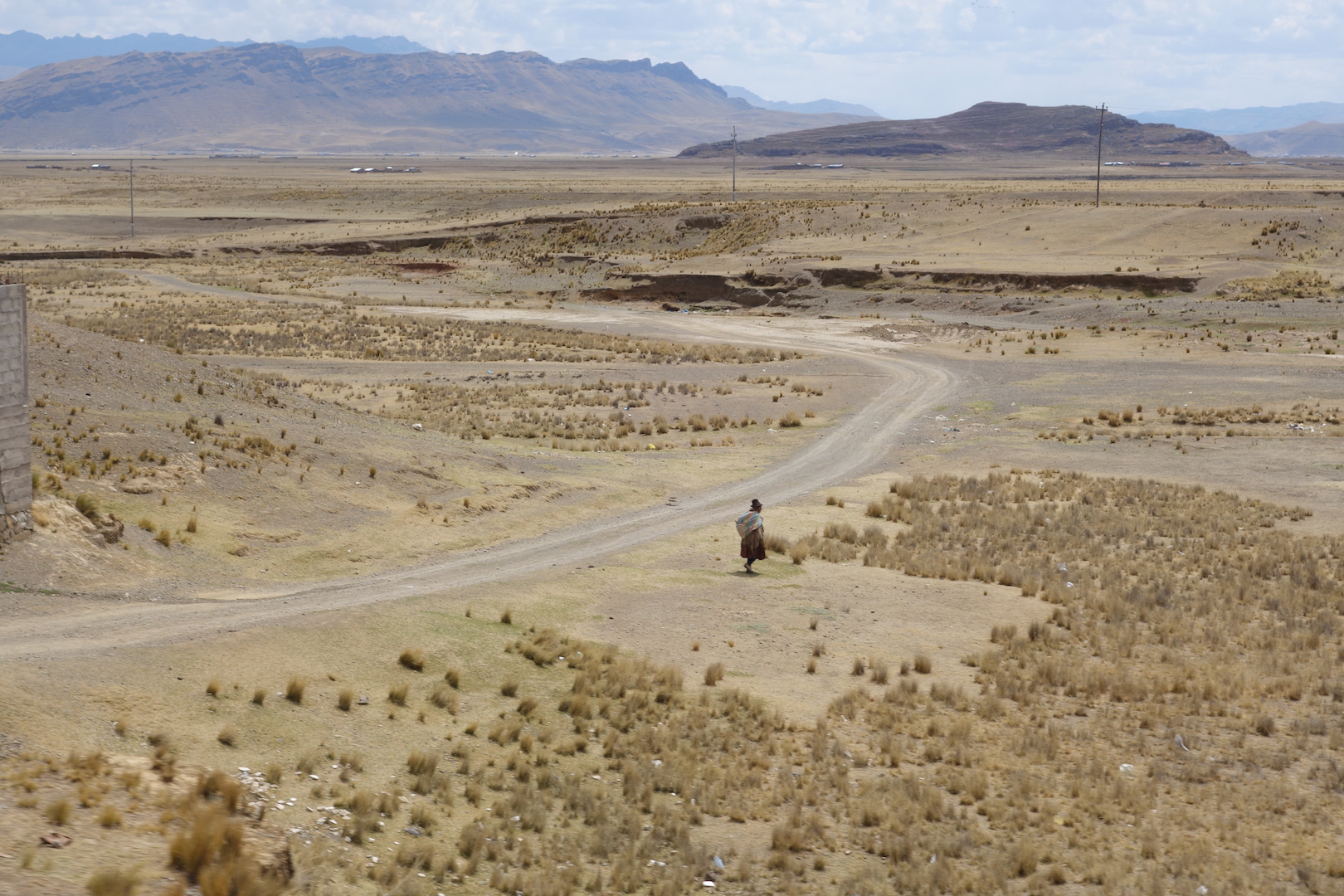 Arriving Puno, I found a cheap hostel.
The town was scruffy and uneventful place. But used as a staging point for boats across the lake. So had too many Gringos again.
I slept early then cycled the flat 146 km's along the shore of Lake Titcaca on my way to Desaguadero. The border town.
My next country Bolivia waited for me on the other side.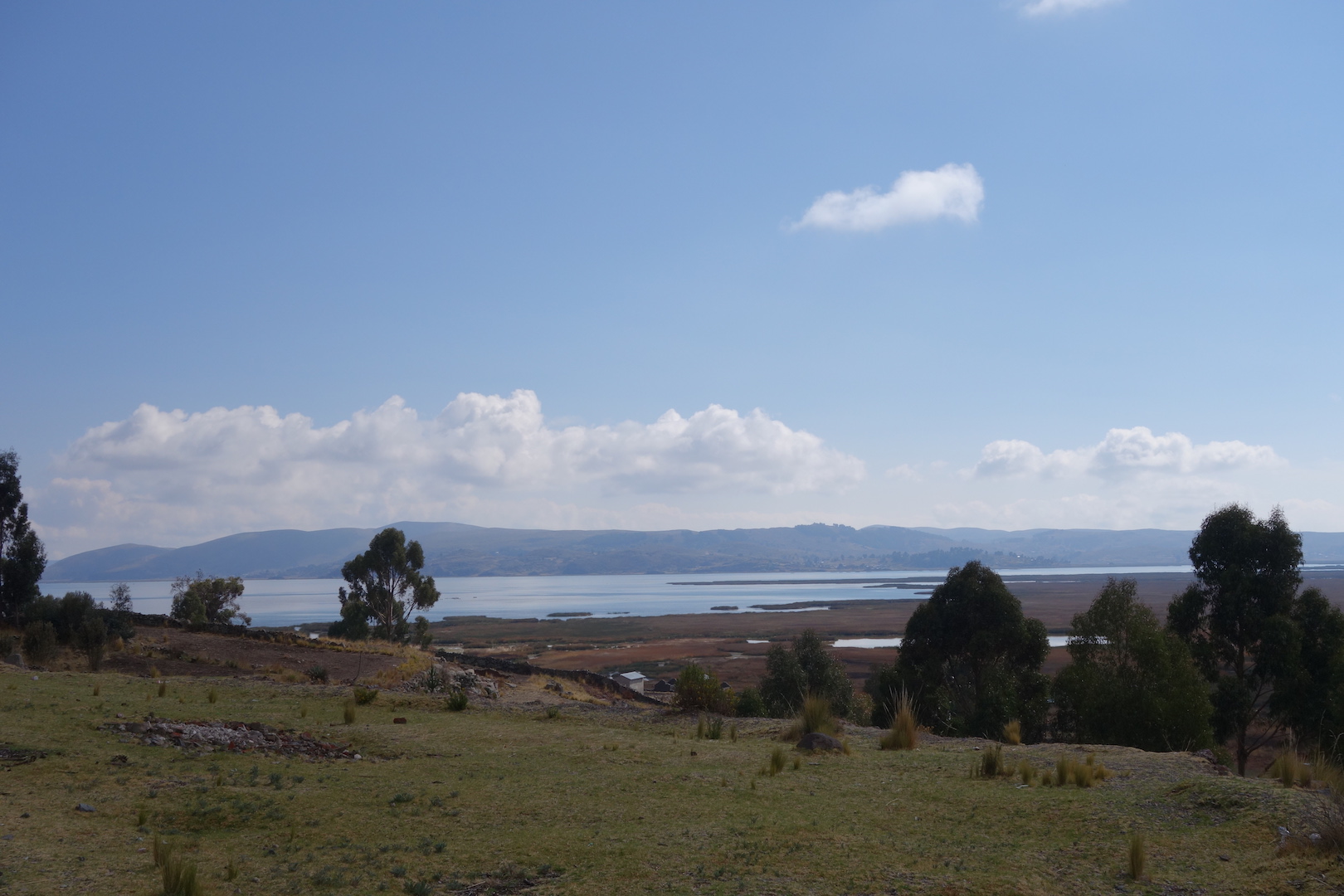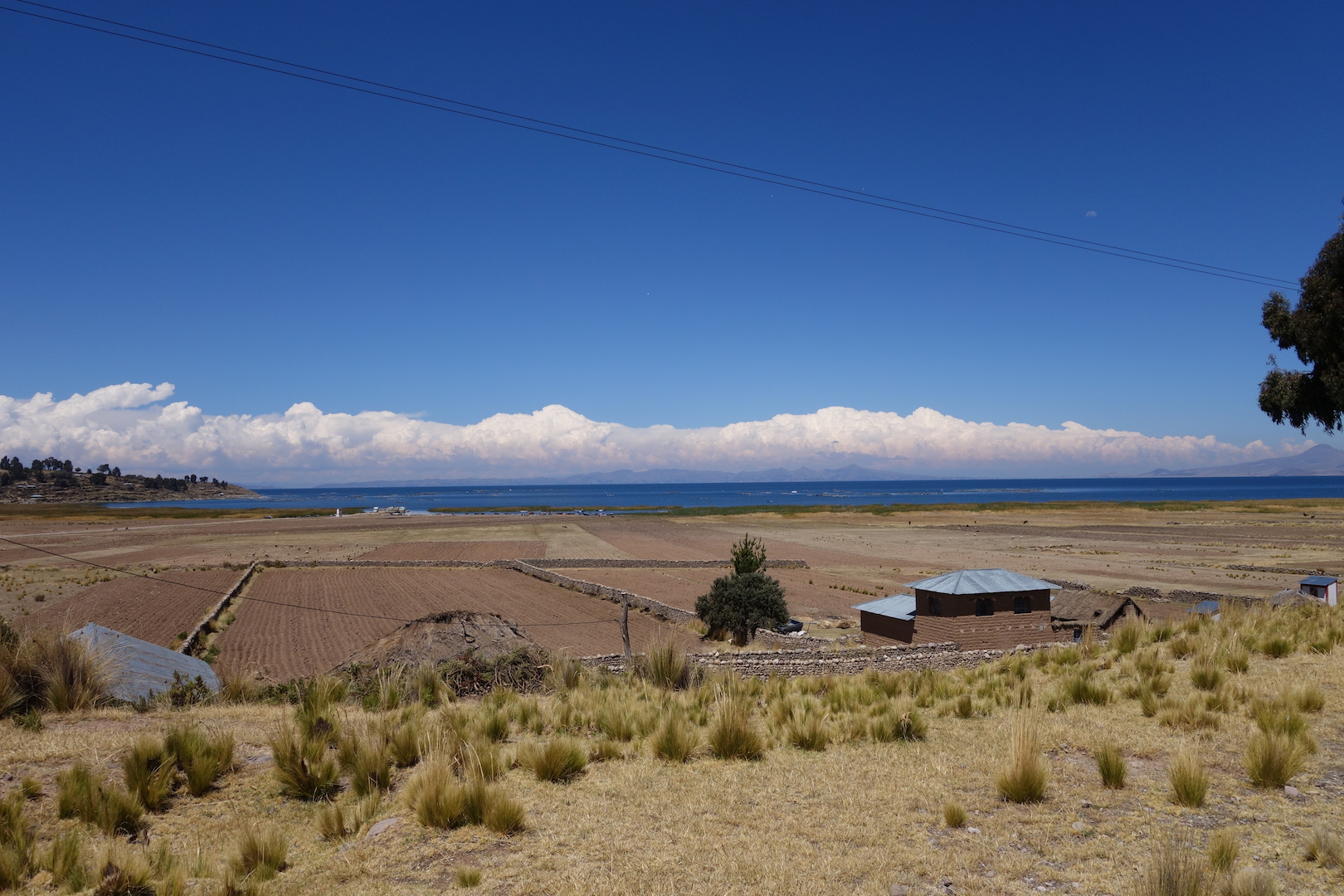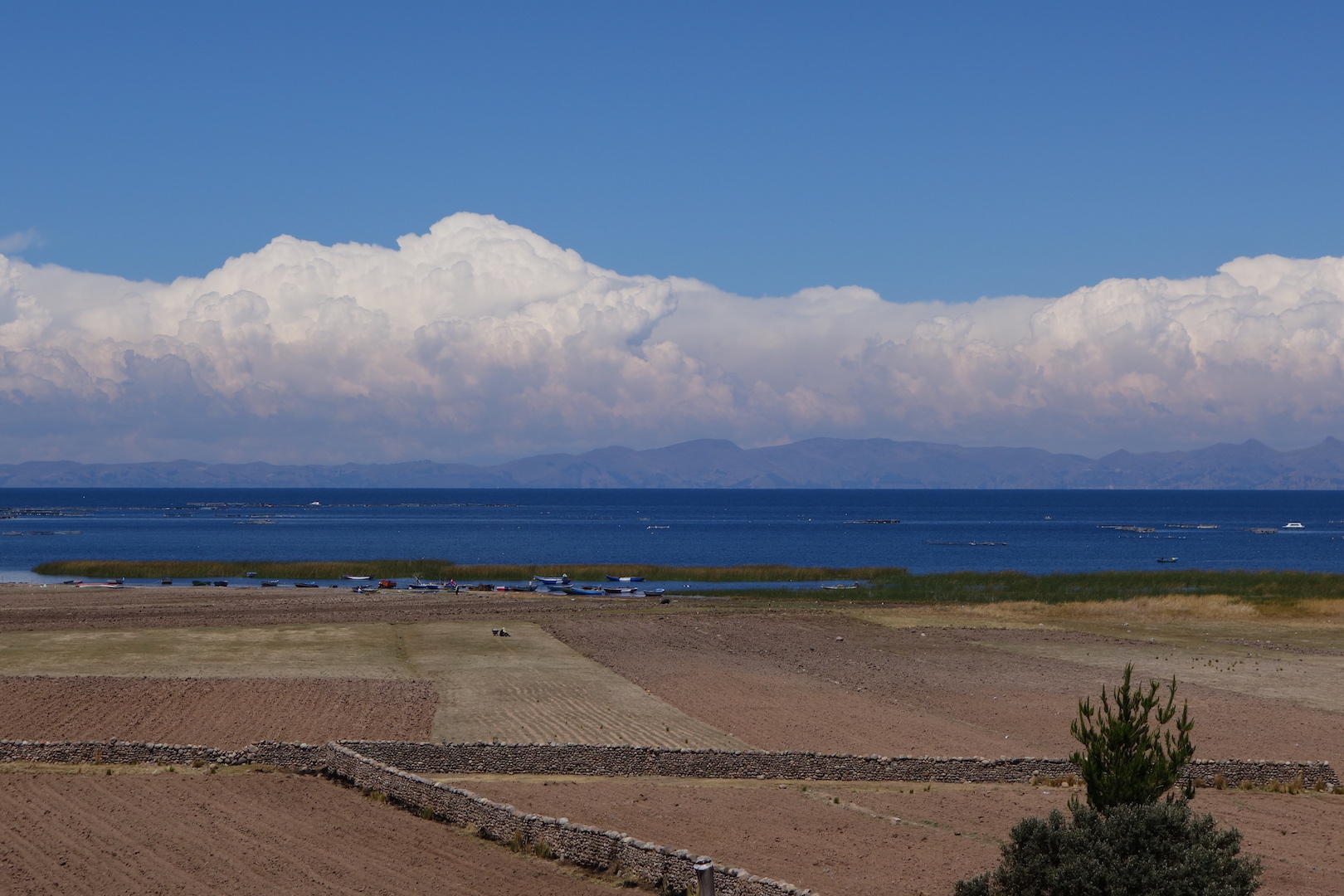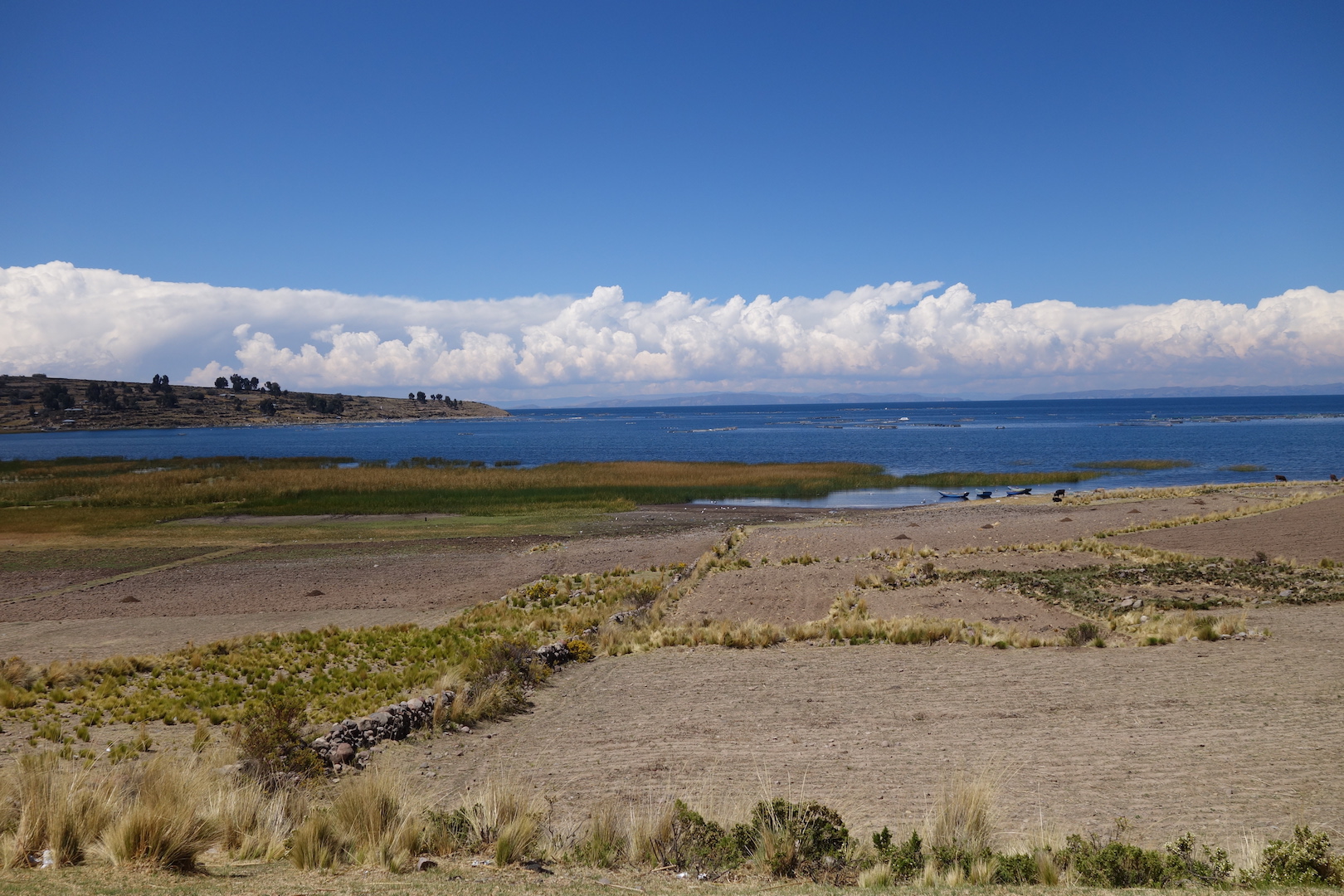 Peru has been the proverbial mixed bag. Both good and bad.
I wish I had a longer visa, but in 2 months I have still seen a lot.
The terrain has probably been the most varied of my entire journey.
High mountain passes, tropical jungle, Hot dry desert and cool cloud forest.
Despite the higher than usual reports of attacks and dangers to cyclists, once again, I have had no issues.
The people have been friendly and curious throughout the journey and while there were a couple of tense moment, nothing became of them.
And the few hosts I have stayed with have all been fantastic.
Most disappointingly, though, was that I heard so many good things about Peruvian cooking and how it rivalled the Mexican food I had last year.
Sorry, Peru.
While some of your food was good and some excellent.
Mexico wins…